Online Chat Module
Developed by
PrestaShop
(95 votes)
The average rating includes all reviews over the last six months.
PrestaShop's
Favorite
Made by
PrestaShop
+1000
downloads!
PrestaShop
1.6.0.4 - 1.7.1.2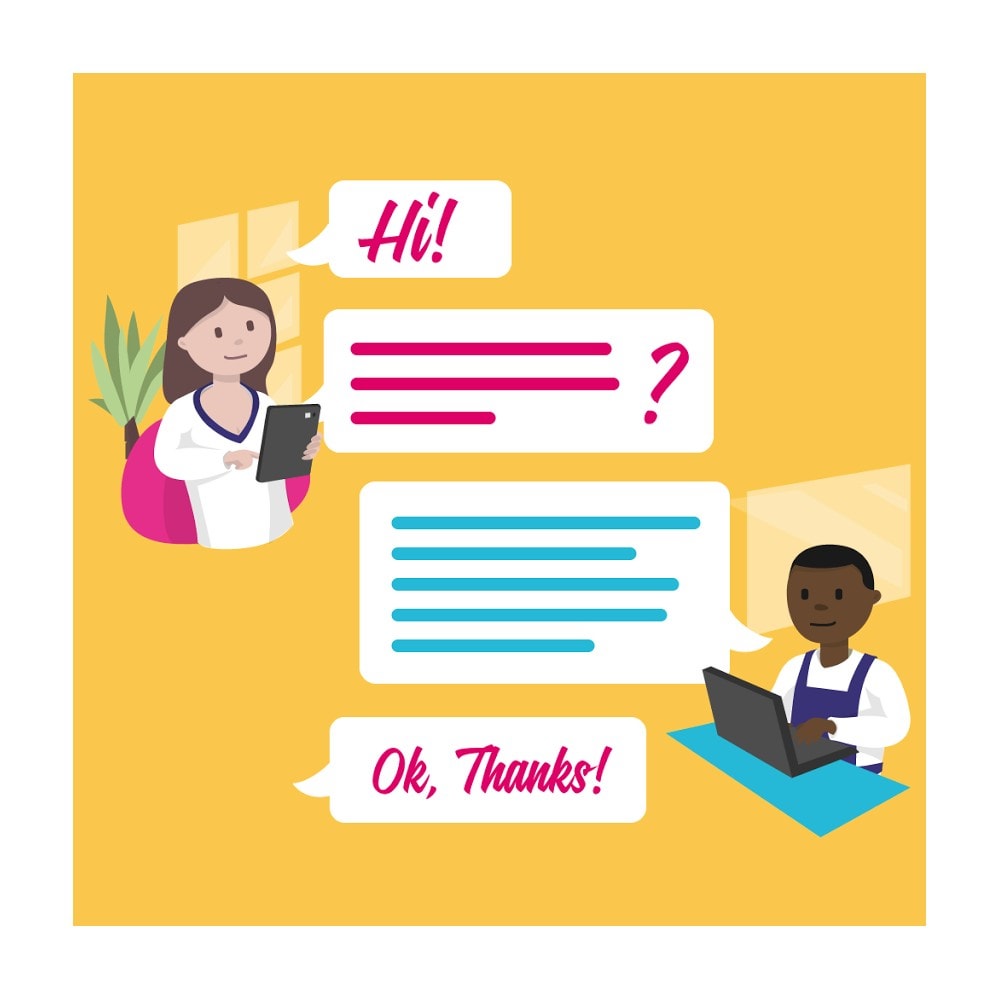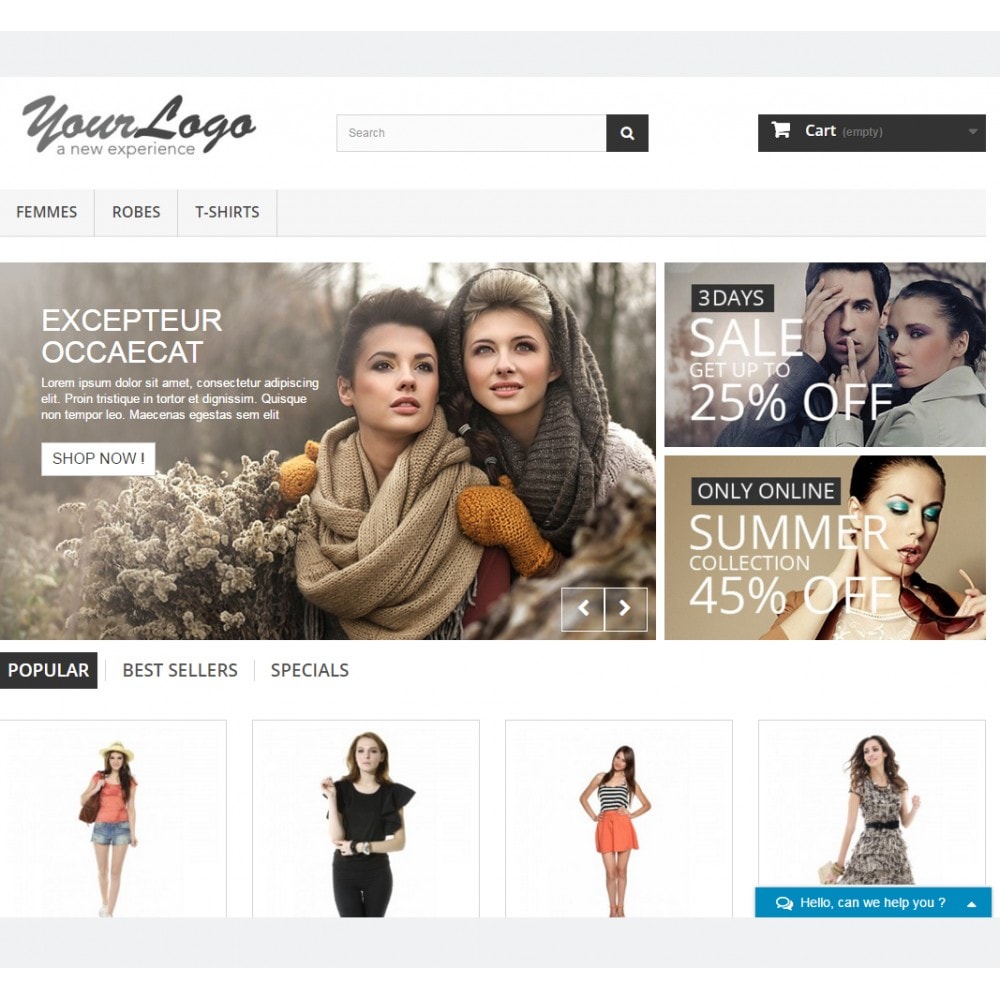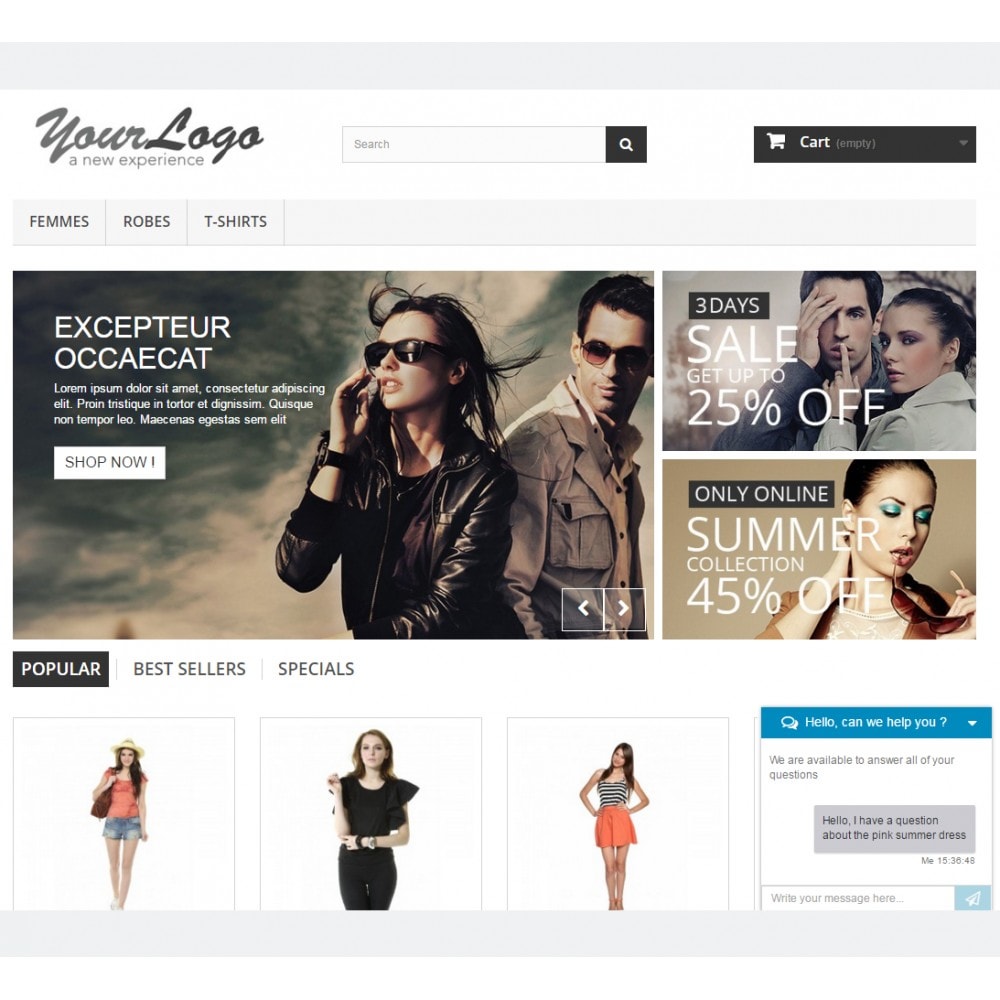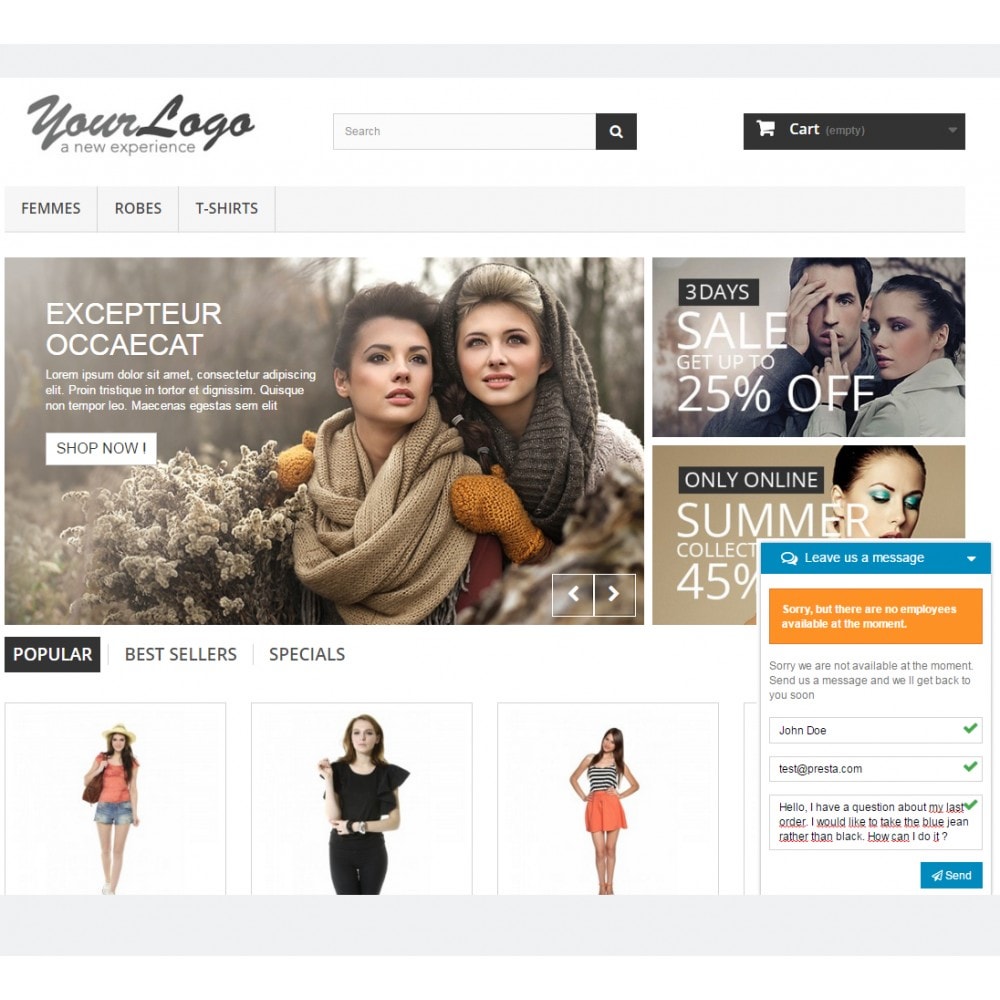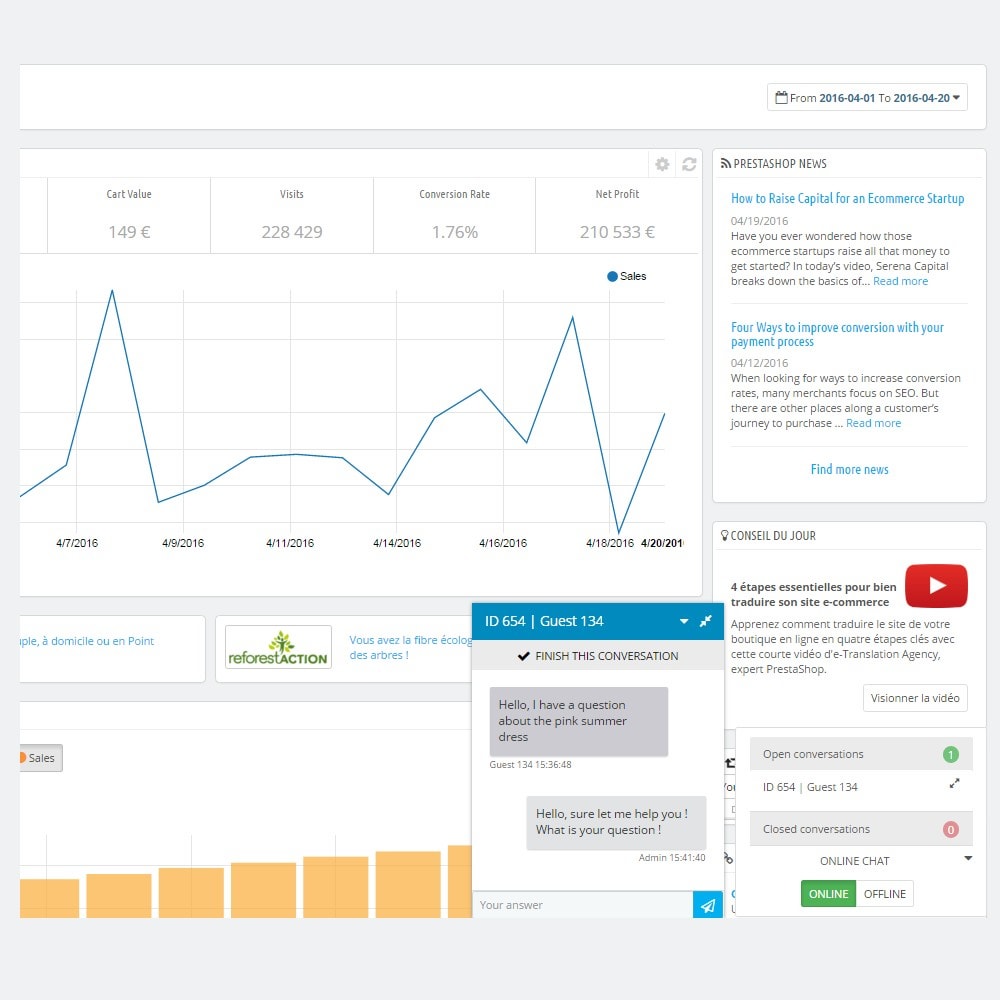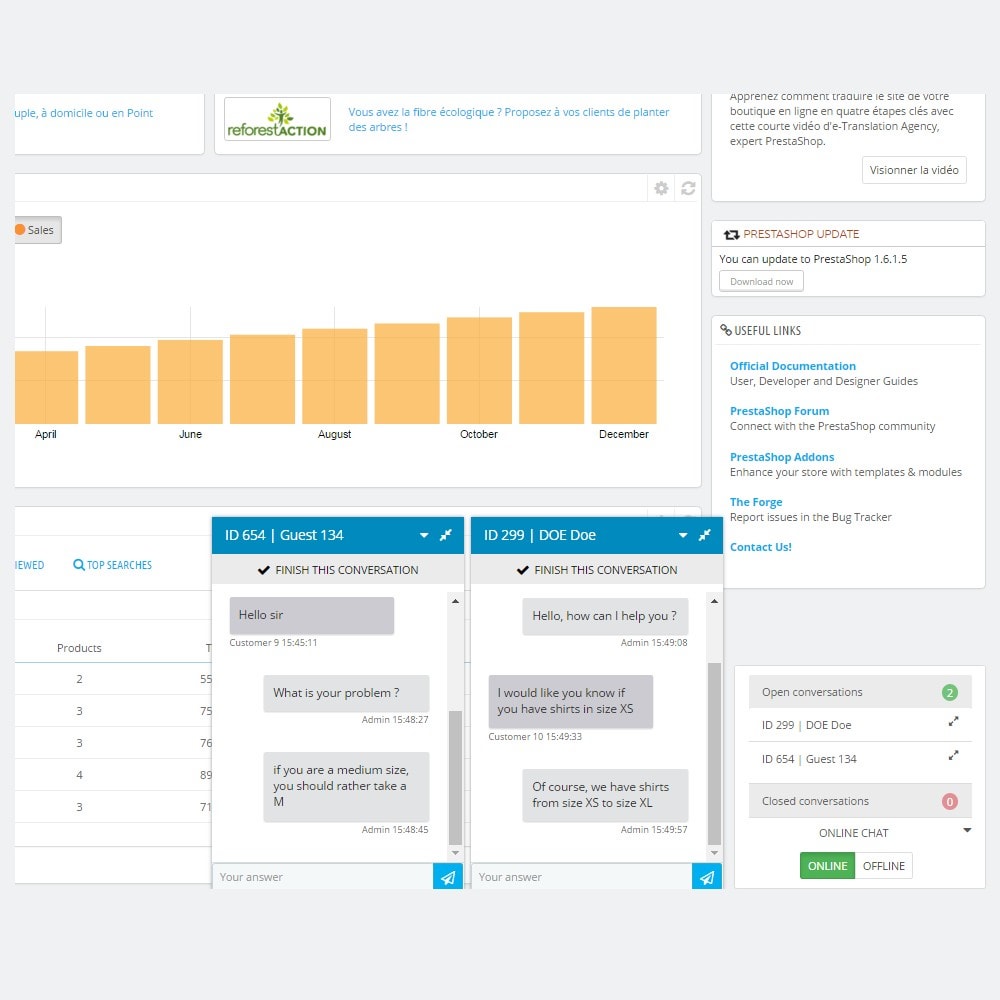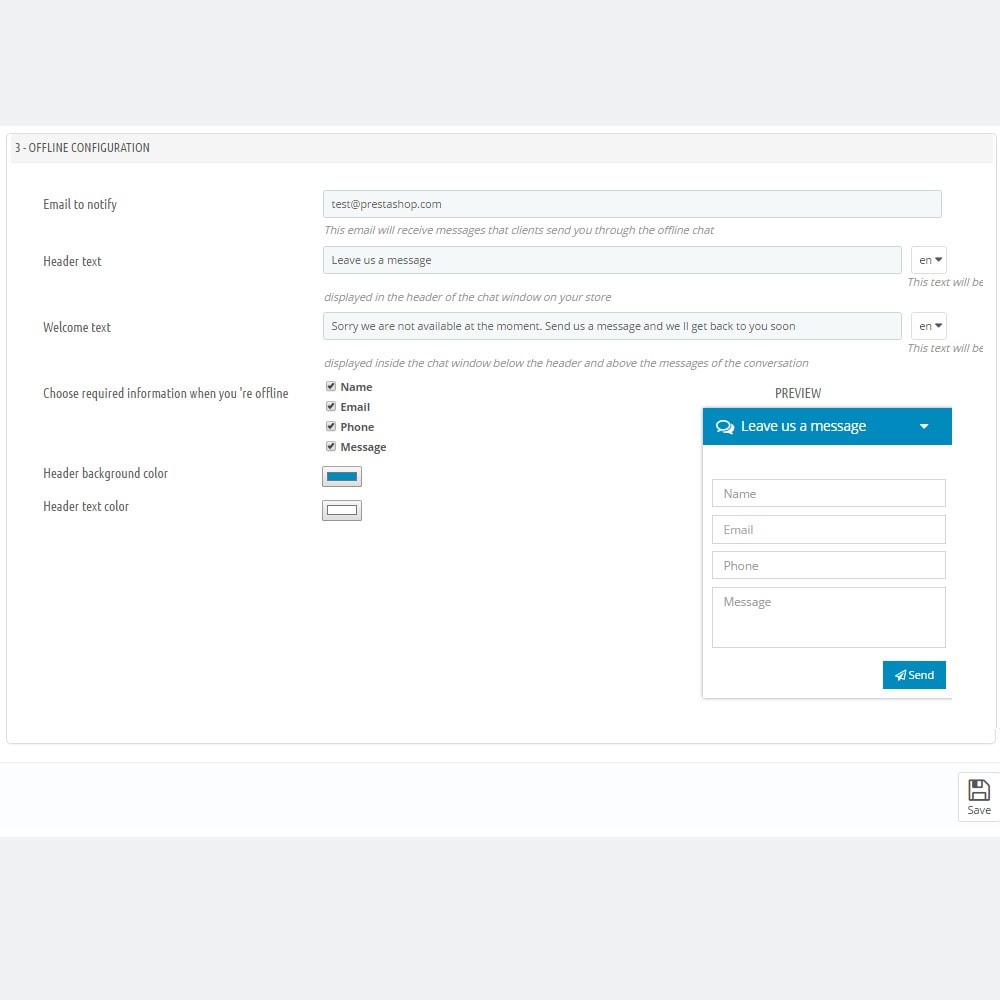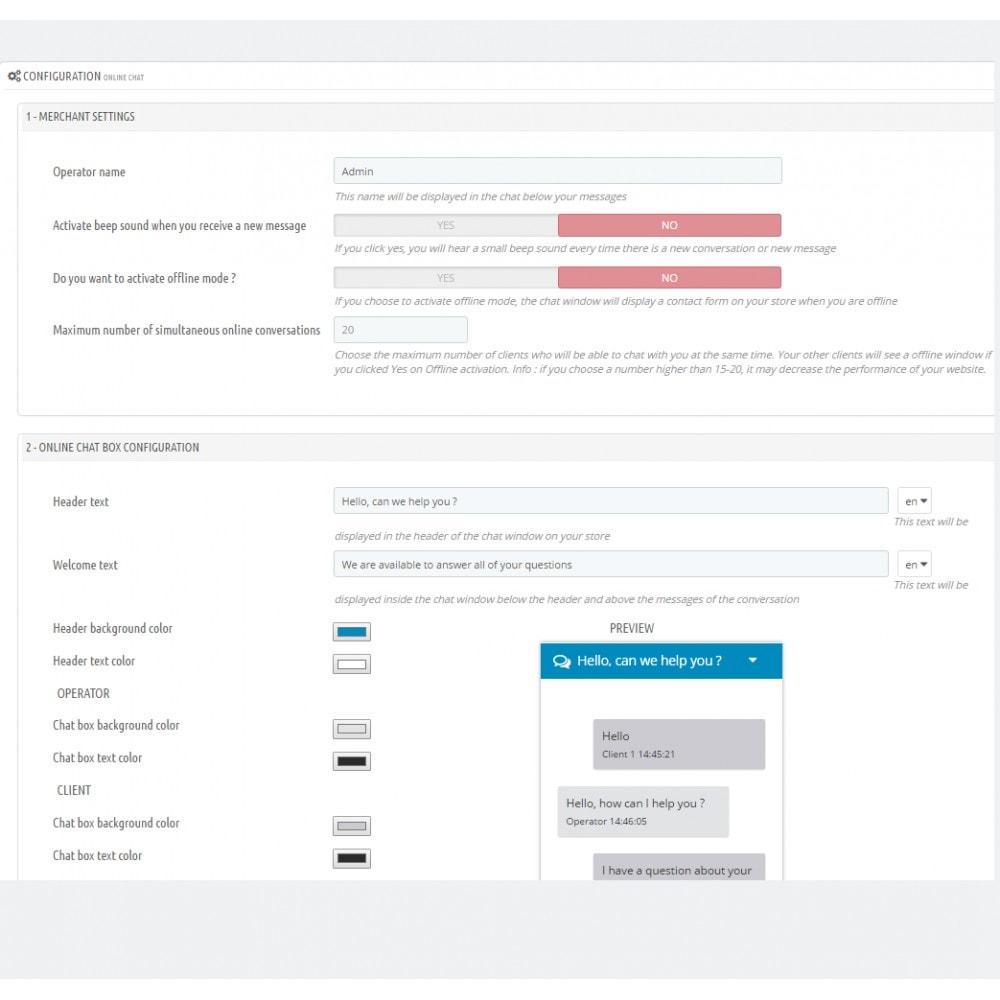 Overview
With the Online Chat module developed by PrestaShop, you can finally offer an online chat system on your shop to have discussions with your customers. This communication tool has become vital for e-commerce stores and allows you to create stronger relationships with your customers by guiding and advising them in their purchases in real time.


With this module that requires no subscription, improve your customer relations and your after-sales services, while increasing your conversion rate by up to 40%!
What this product does for you
Navigation Enhance user experience
Customer relations Improve customer relations
No subscription needed; in just a few clicks you can set up your module and begin conversing with your online customers!
You will find a simple, easy-to-use interface and a design that adapts perfectly to your site, in administration as for your store.
With online conversations, you build a stronger, more human relationship with your customers and improve loyalty to your brand.
You reduce the number of abandoned carts by answering your visitors' questions directly.
You save time in managing after-sales services by solving problems and requests live.
Features
The Online Chat module has a
quickly configured interface
and allows you to:
Use 2 modes: Online / Offline - and easily go from one to the other
Online: you can instantly discuss with as many customers as you want. The discussions show up as chat windows in the lower right corner of your back office. You are free to continue navigating in your back office while you speak with your customers.
Offline: when you are not logged in, you customers can still write to you directly in the discussion window. You will receive an email at your email address, and you can respond to them by email.
Communicate instantly with your customers without impacting your site's performance.
View the history of your archived online conversations and read them at any time.
Configure the various settings according to your needs, particularly how chat windows are displayed to adapt them to your store's colors and style.
What your customers will like
Your customers feel better accompanied and guided in your store and receive more personalized advice.
They get answers to their questions quickly, which allows them to make their selection more quickly, stay in your store and make their purchase in total confidence.
They have an improved online experience thanks to the chat window that perfectly integrates into your store.
Testimonials
added to future versions of the possibility of custom alert when the chat is offline, and a stronger notification than the simple beep
Massimo P. www.atala.it
The Online Chat is a easy to install and easy to use Chat tool. I personally prefer more options to configure, like position in back office, and the possibility to activate pro active invitations when a client is browsing more than 5 minutes. Overall a useful addon.
Bjorn O. swirlamp.nl
About the developer, PrestaShop
Discover all the modules developed by PrestaShop, and add to your online shop:
- payment modules and gateways to conquer new customers,
- features to increase your traffic as your sales,
- shipping and delivery solutions to increase your customer satisfaction,
- tools to facilitate your tasks on a daily basis and make you save time!
06/05/2009

PrestaShop member

France

Country
Question?
Need help?
This developer answers your questions in: