One page checkout for Prestashop Module
Developed by
Community developer
(273 votes)
The average rating includes all reviews over the last six months.
+5000
downloads!
PrestaShop
1.5.0.0 - 1.6.1.14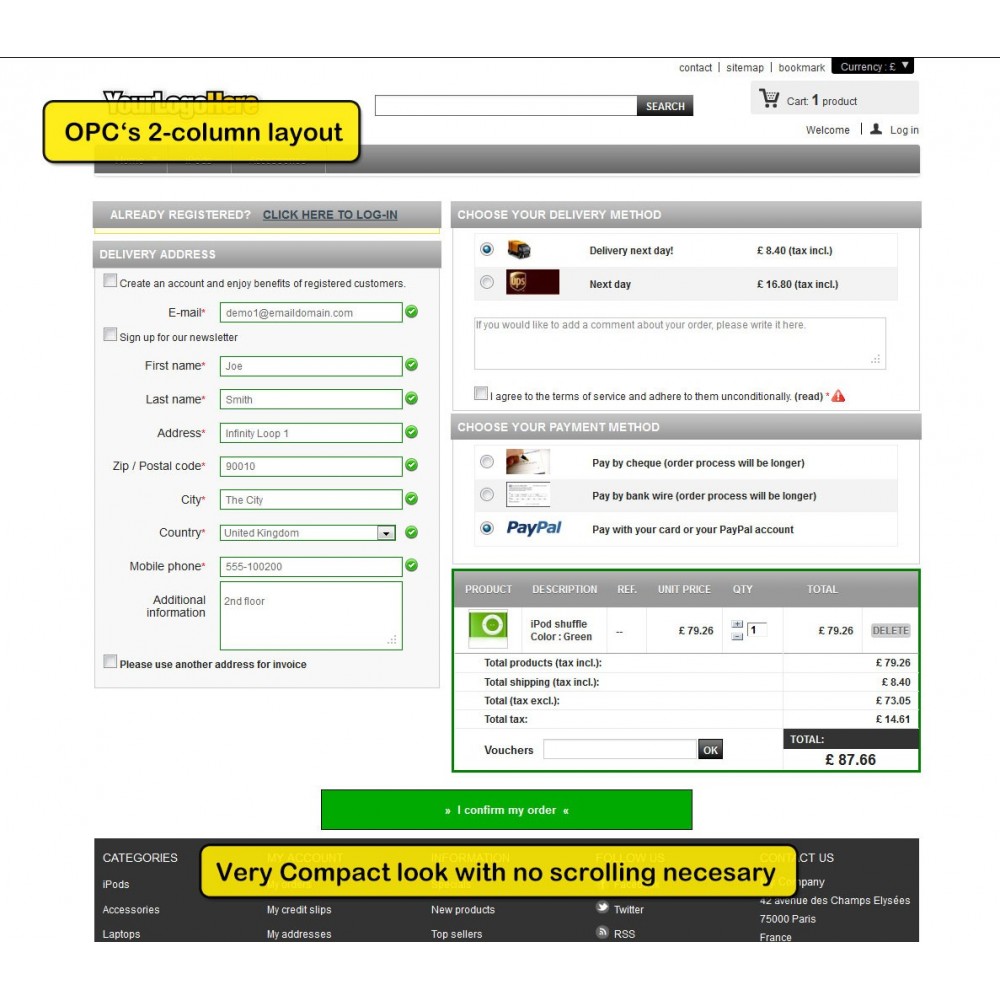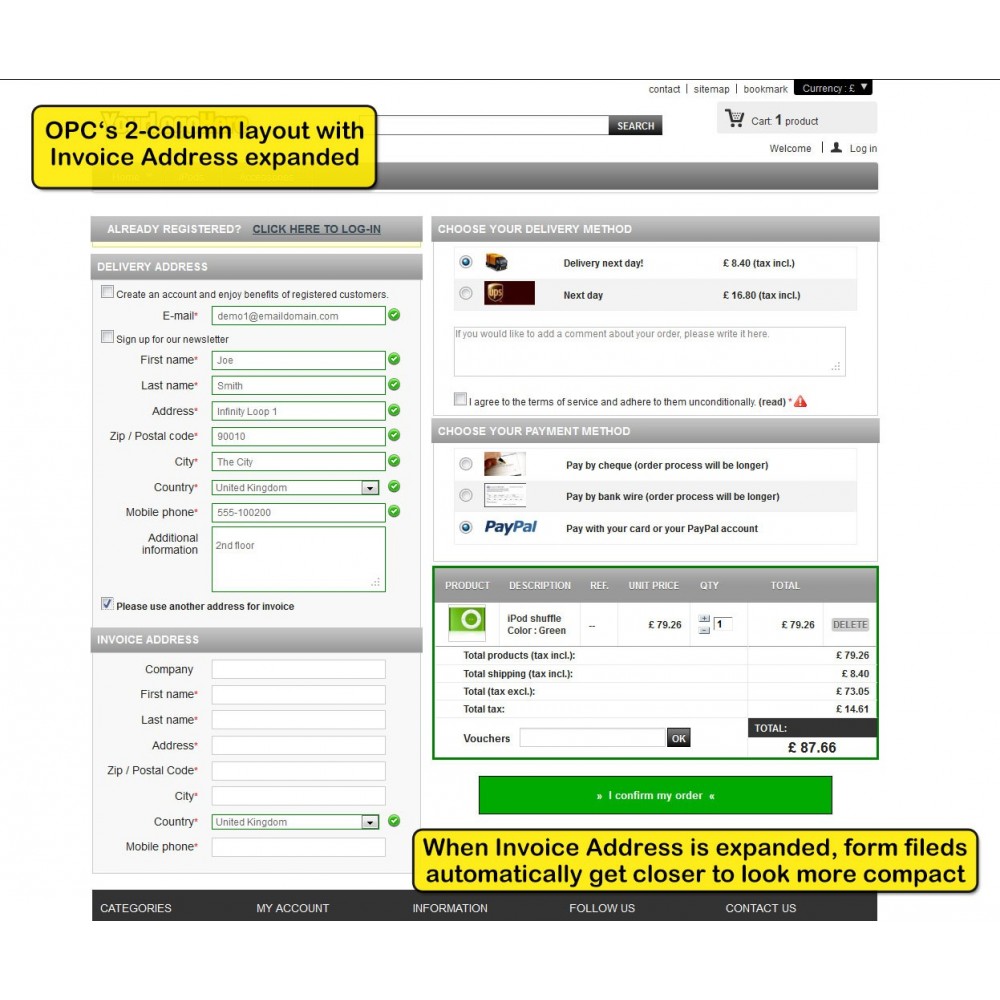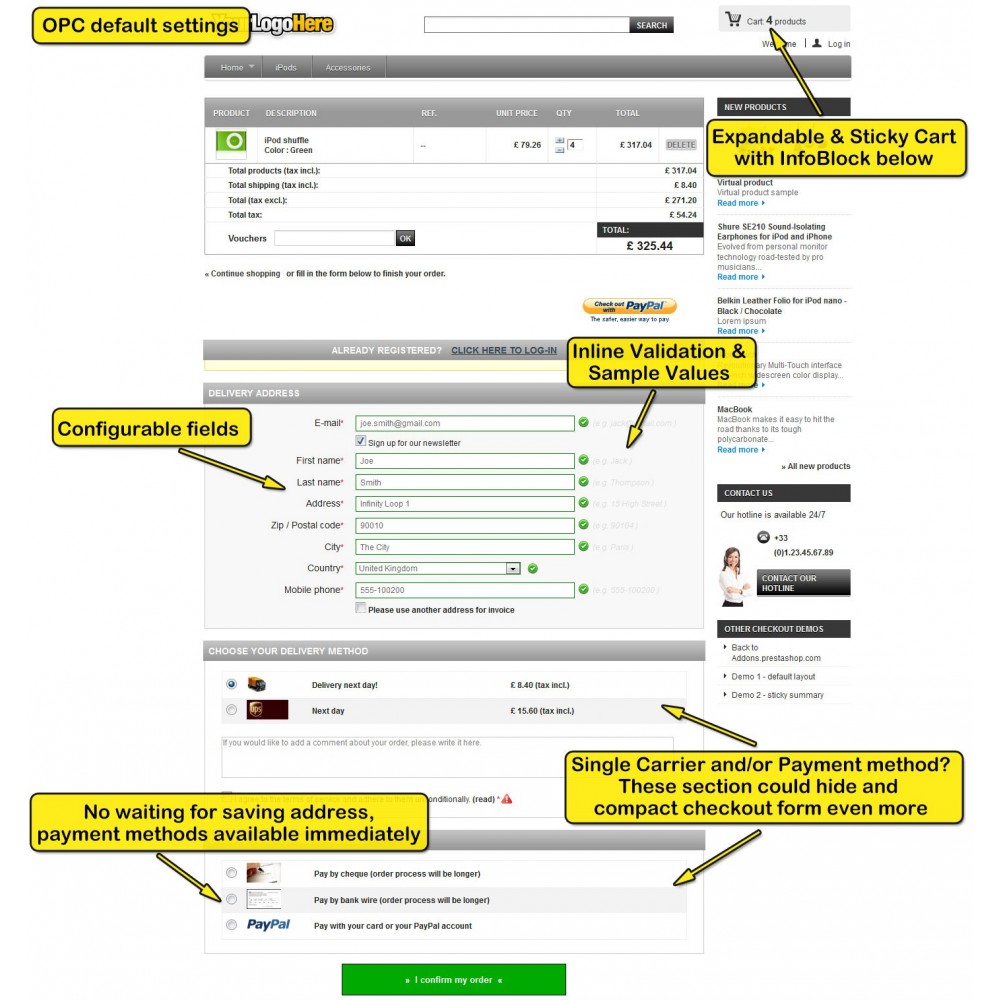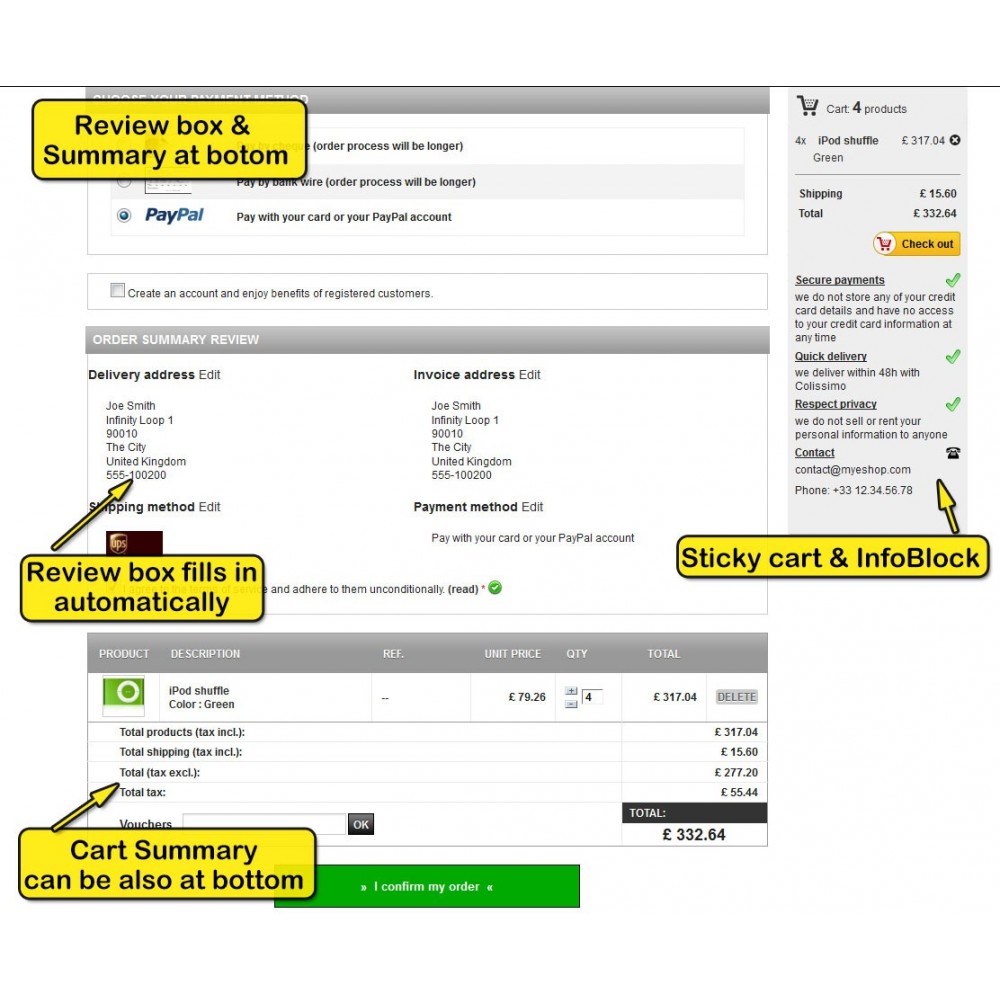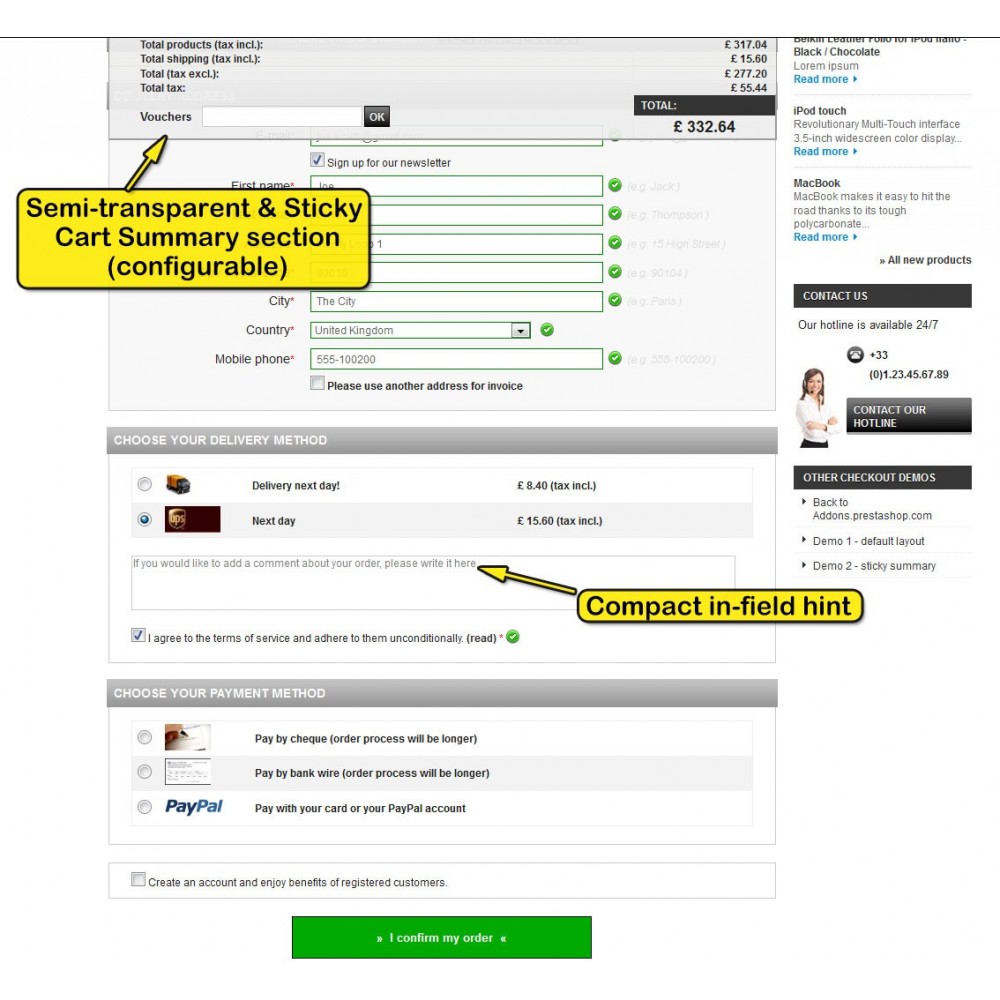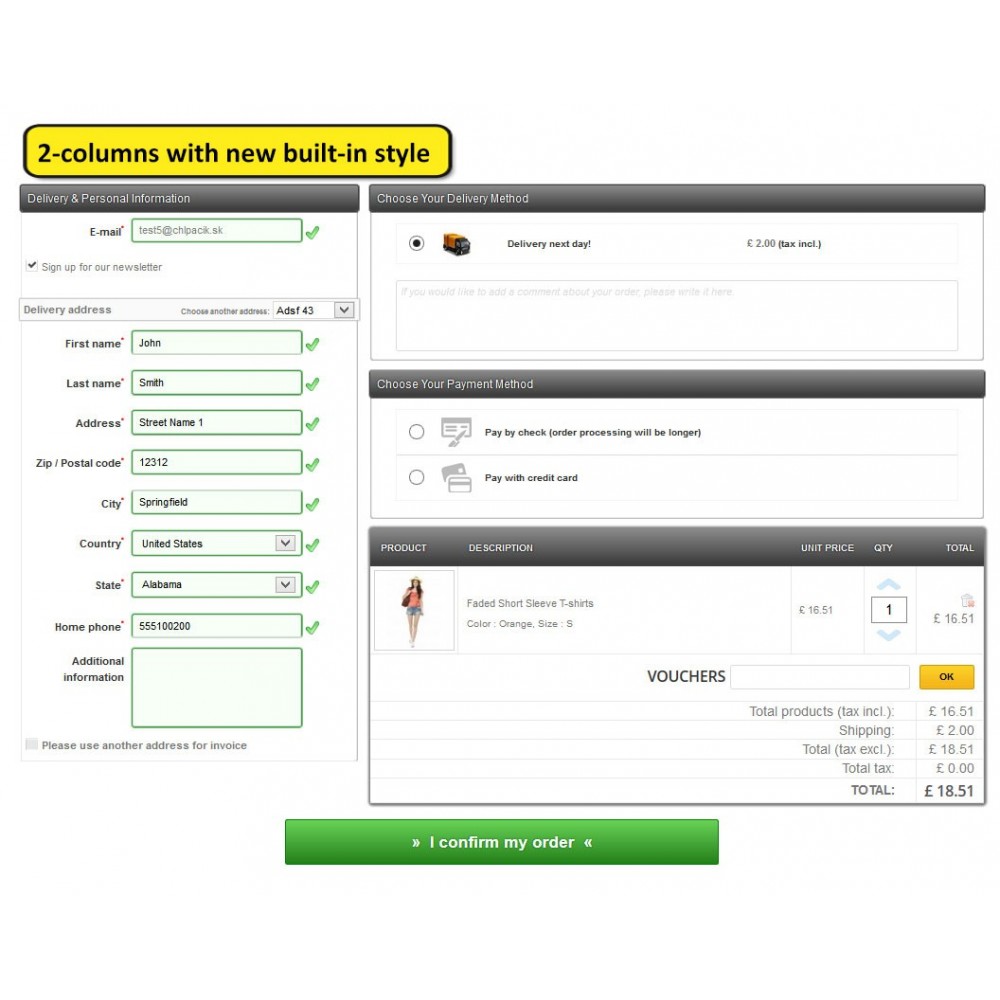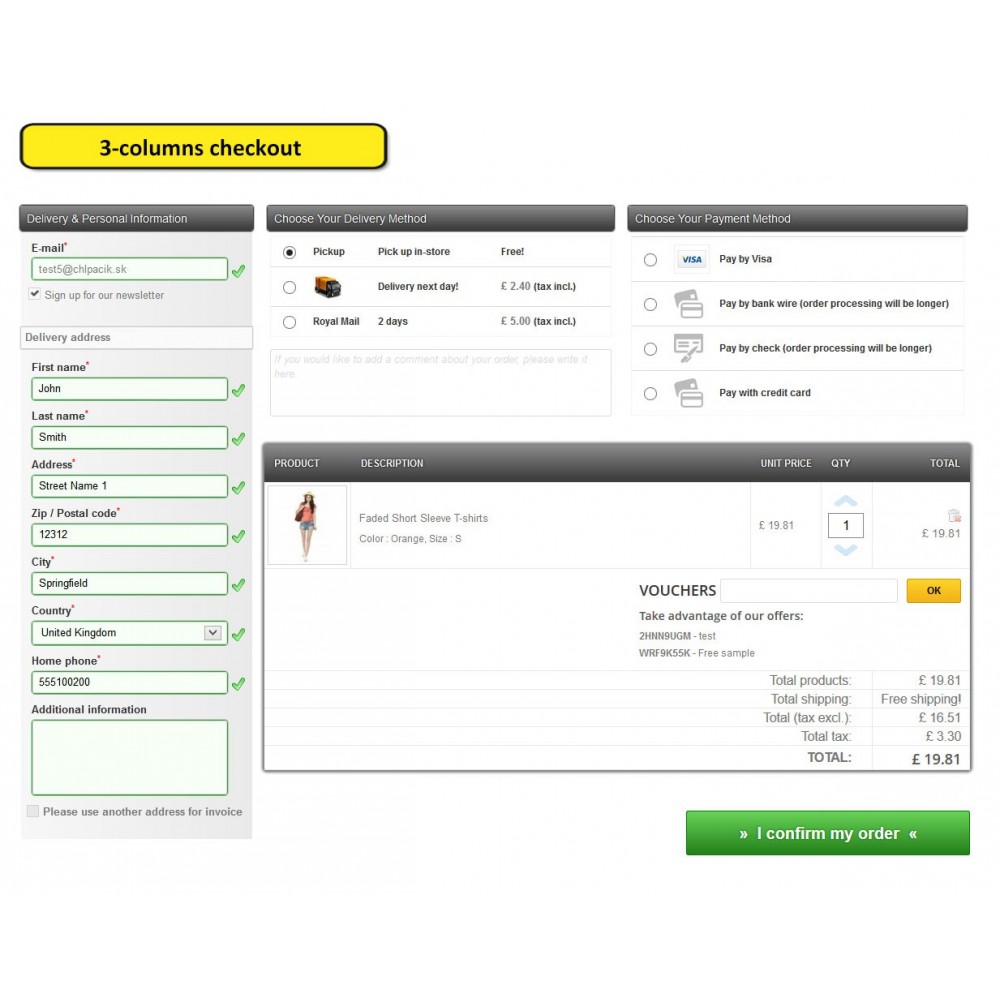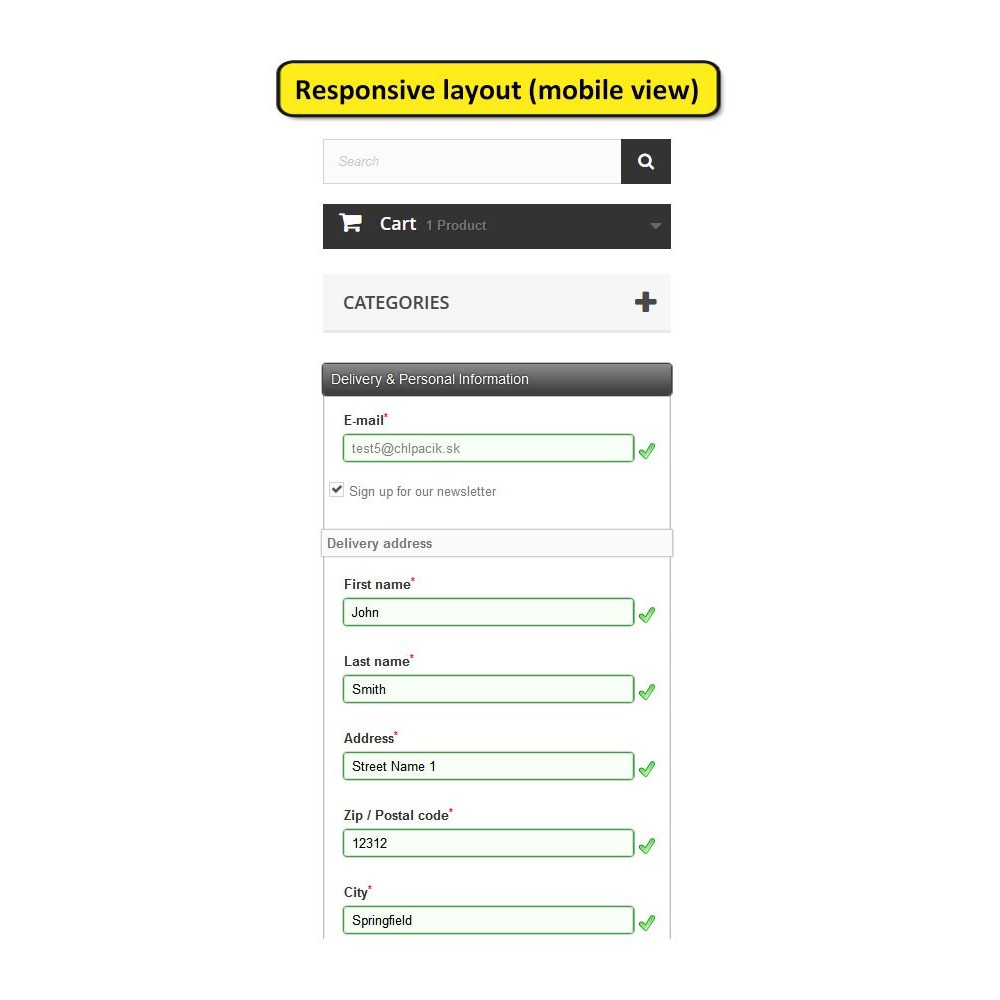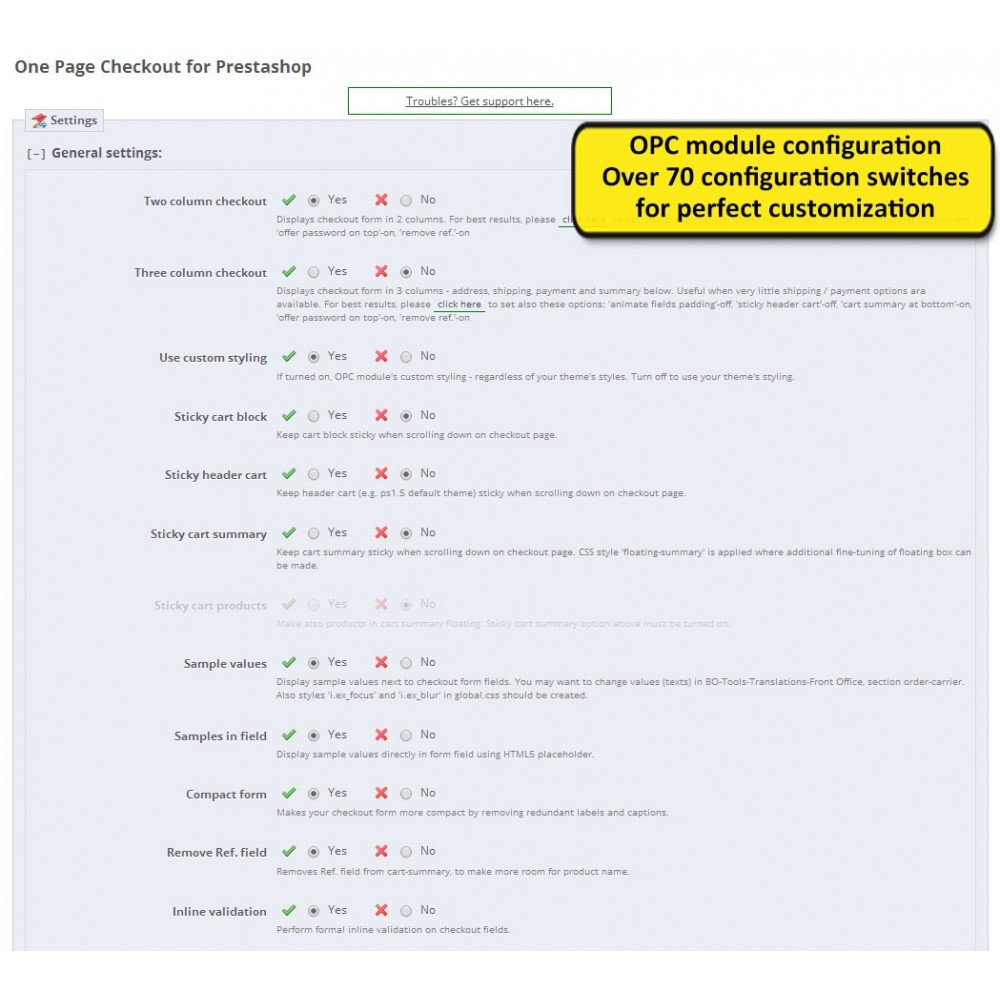 Overview
Intuitive. Powerful. Customizable. Responsive. One page checkout for Prestashop 

 
What this product does for you
Conversion rate Encourage visitors to complete purchases
Higher conversion rates.
Easily customizable checkout form.
Professionally looking and responsive checkout.

Our advantage over competitors?  We provide not only product as-is, but also Professional support, Consultations and Customization according to your special needs.
Features
One Page Checkout module is now a very mature product and when it comes to professional looking and powerful checkout it's being
No.1 choice since 2009.
While PrestaShop has it's own One page checkout since v1.4, many shop owners think it's just not it, that it lags behind especially in customer comfort and intuitiveness.
Following our successful One Page Checkout module for PrestaShop 1.2, 1.3 and 1.4, we've spent lot of time discussing with many business owners to help us design
really powerful OPC module for latest Prestashop.
We're bringing few new features and completely new styling which could help customer satisfaction and conversion even more.
Feature highlights - or what's changed compared to standard OPC:
No redundant clicks required - no buttons for choosing checkout type, no "Save" button, it's true One click checkout
Designed with customer visual comfort in mind - compact, not too much cluttered, no surprises, just simple understandable form
Inline validation - as per study (http://www.alistapart.com/articles/inline-validation-in-web-forms/), inline validation definitely helps to increase customer satisfaction and thus buying potential
Better error reporting - error messages are more unified in look and are displayed closer to problematic area and thus help customers to locate more easily what's wrong
Payment methods are displayed right away and in stylable fashion as radio buttons, no waiting for address fill-in and ToS confirmation
As with previous versions, very popular Sticky cart and/or Sticky summary, i.e. cart block or cart summary sections is always visible, it's floating.
Info block (also sticky!) ...everybody likes it, see for yourself on demo site
Page fading, for better focus on checkout while being on checkout form (fades out disturbing elements on checkout form)
Multiple addresses support, seamlessly integrated as in previous version
Finally, support for virtual goods! No delivery address, just email and payments.
Extensive configuration possibilities back office
Automatically localized to your language - reusing default translations + many translations contributed by our existing customers worldwide
Checkout form compliant with the new German e-shop law!
Integrated ship2pay module (restriction of payment modules based on carrier selected, payment modules are ajax-refreshed immediately)
3 layout options available - single column, two columns and three columns for even more compact look
Fully Responsive with all responsive templates for PS 1.5 and 1.6
Want more? Let us know, we're eager to know your opinion and we're prepared to develop this according to YOUR needs
What your customers will like
All checkout form options visible immediately.
No half filled-in forms to see the rest.
Very usable from any device - smartphone, tablet, laptop or big screens.
Peace of mind.


Suggested combinations:
For even better experience and increased sales, we suggest getting also Module Modal Cart with Full-ajax summary & Cross-selling module available here: http://addons.prestashop.com/en/front-office-features-prestashop-modules/9085-modal-cart-with-full-ajax-summary-cross-selling.html
Installation
Installation instructions are in enclosed document - Installation_and_Setup.pdf
 
Recommendation
Please check your PS version and get the right OPC module:
- for PS 1.2 and 1.3, you need to get "One page checkout" module
- for PS 1.4 it's "One page checkout for PS 1.4"
- for PS 1.5 and PS 1.6 it's "One page checkout for Prestashop"
... all of these sold here on Addons separately.
 
Testimonials
Great module and best support. Highly recommended.
Rafal G.
Great product and superb service from the seller! Just fantastic, can really recommend it!
Johan L.
Other
Module is compatible with any theme and any payment module, should something be incompatible, fix or refund is guaranteed.
 
What's New in Version 2.3.11(05/18/2017)
- feature: live VAT deduction when EU VAT is entered
- feature: inline styles directly in OPC module config
- feature: email / phone fields set to respective 'types' - so that mobile keyboard can change appropriately
- latest versions compatibility fixes
Frequently purchased together:
Community developer Developed by

PrestaShop v1.5.0.0 - v1.6.1.14 Compatibility

Community developer Developed by

PrestaShop v1.4.0.1 - v1.6.1.14 Compatibility

Community developer Developed by

PrestaShop v1.5.0.0 - v1.6.1.14 Compatibility
About the developer
10/28/2009

PrestaShop member

Slovakia

Country
Question?
Need help?
This developer answers your questions in: