Modulo SEO - disabled and deleted 301 redirect Products
Sviluppato da
Ether Création
(19 voti)
Oltre il 90 % dei merchant raccomanda questo prodotto
La valutazione media include tutte le recensioni degli ultimi sei mesi.
Partner
Agency
+500
downloads!
PrestaShop
1.4.0.1 - 1.7.2.4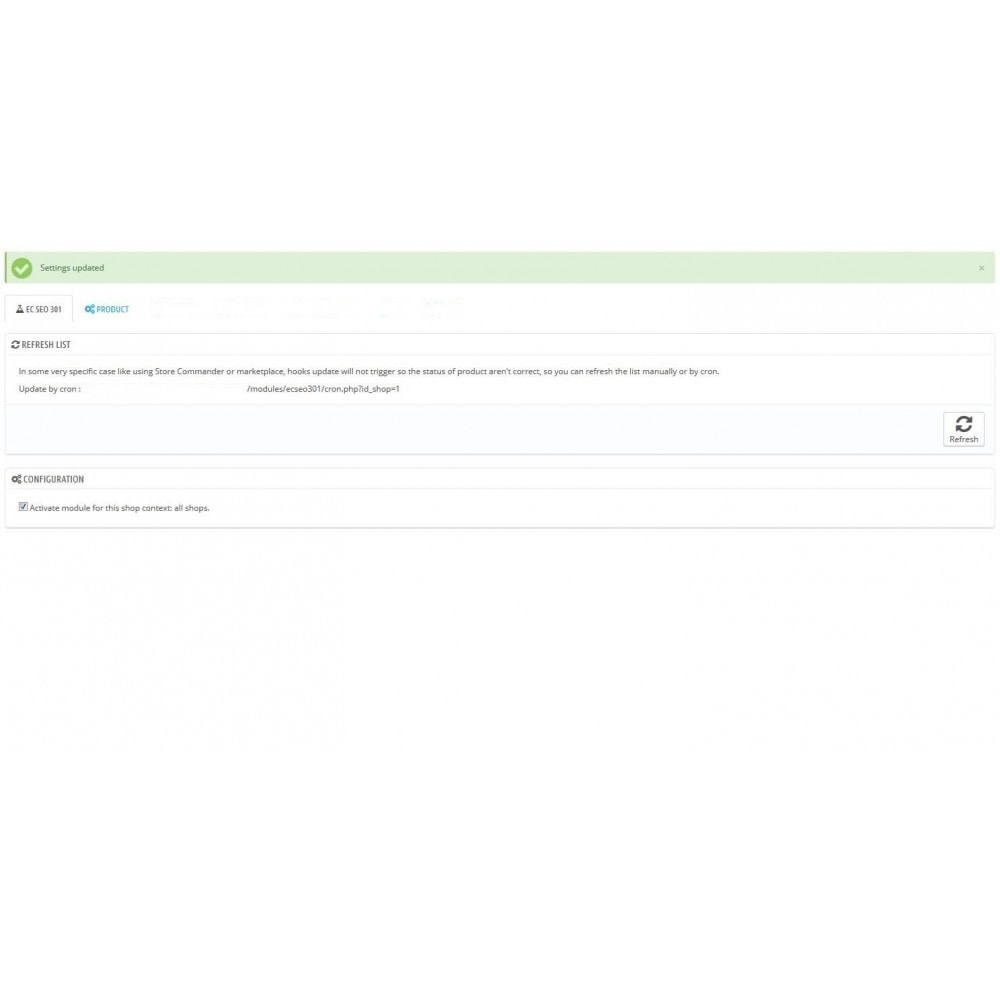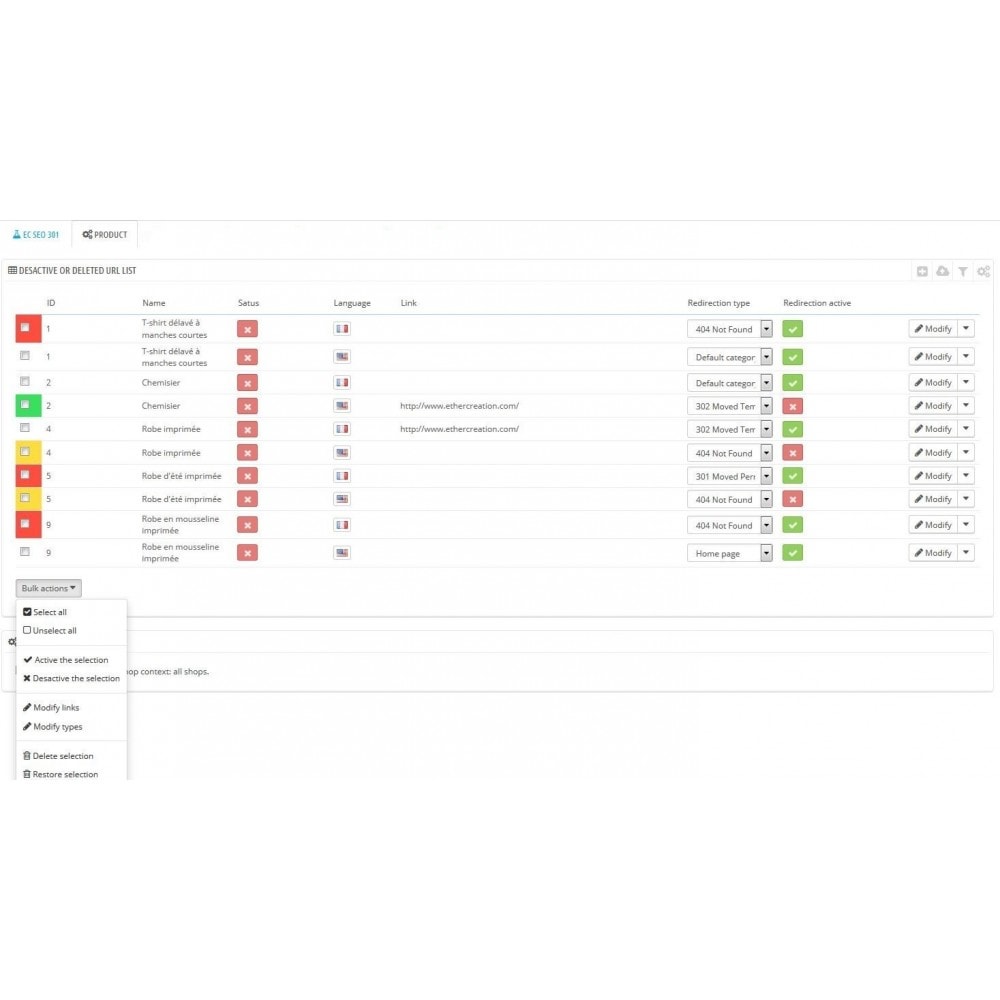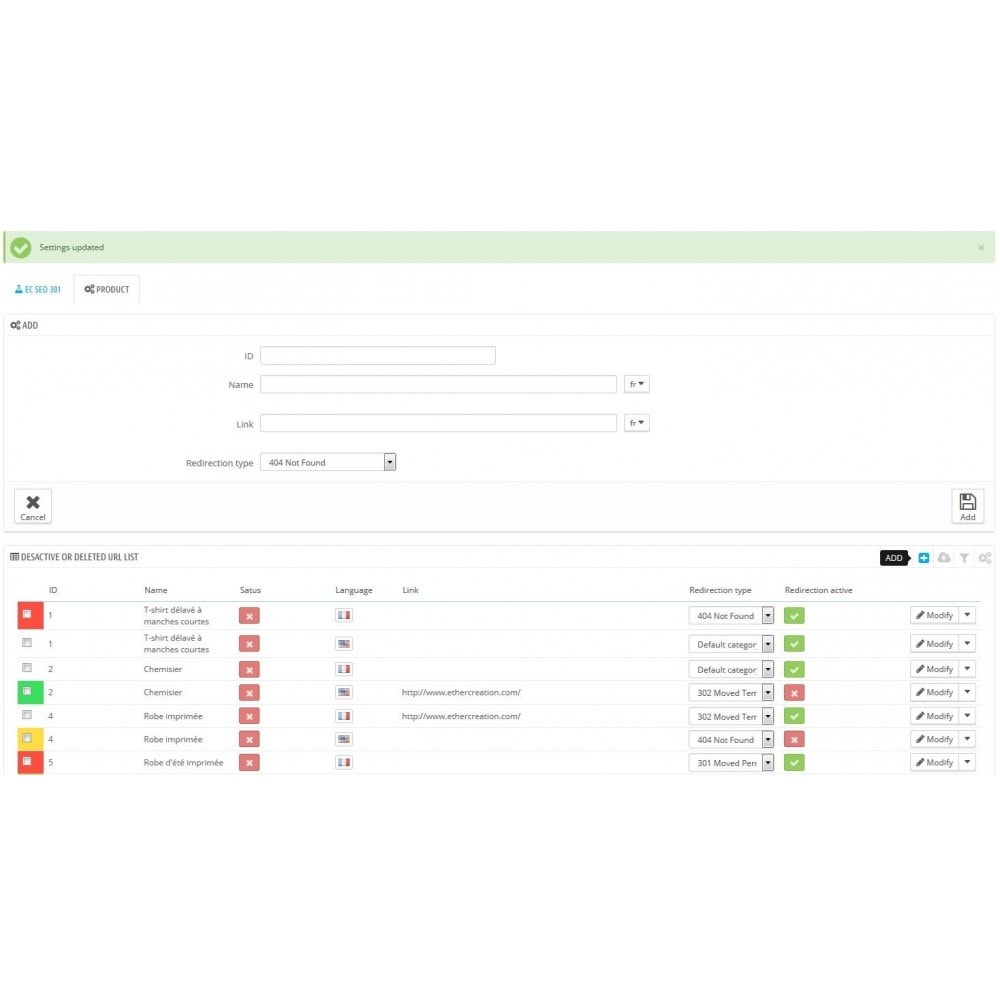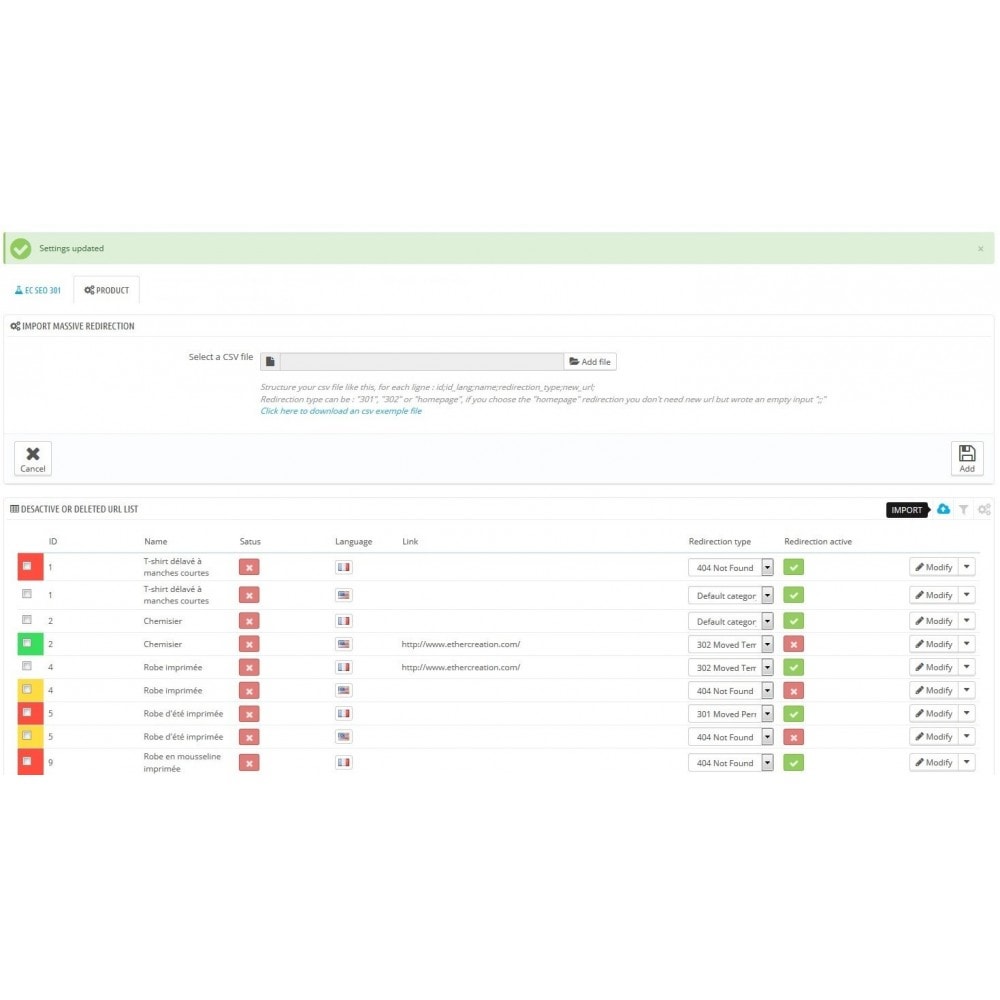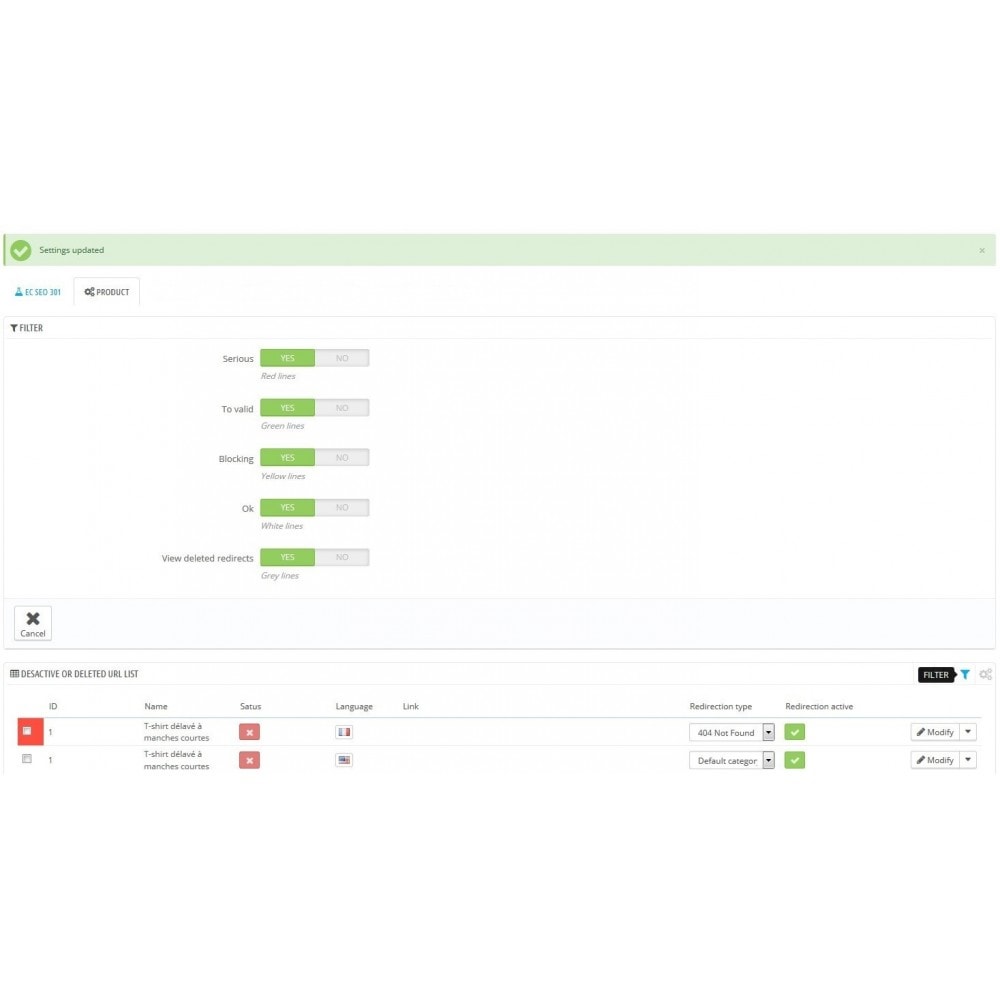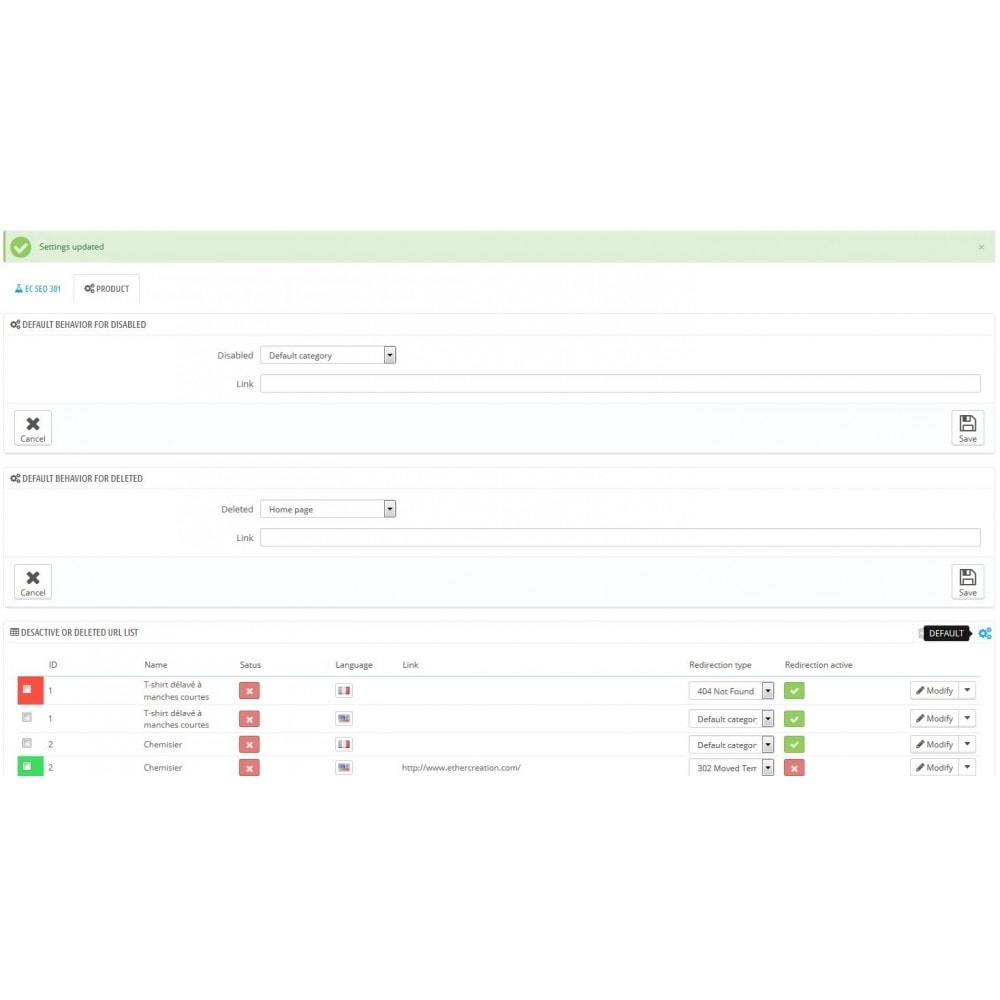 Descrizione
End with 404 pages and referencing loss for disabled or deleted product. You will be able to choose for each case a 301, 302 redirection, home page or default category (Ideal for SEO)
Ciò che questo prodotto ti offre
Traffico Ottimizza l'indicizzazione naturale (SEO) su tutti i motori di ricerca
Whenever a product will be deactivated or deleted, you will be able to assign a redirect (permanent: 301 not found: 404 temporary: 302, an url internal or external to your web site, the home page of your site or default category).

No need to turn your catalog to know what your pages are no longer valid link, the module will tell you. And this whatever the language or the store (if multi-boutique). In addition, you can manually add a link of your choice.
You can edit multiple products at the same time to save time if the rule is the same (parent category, home, etc ...)

You can define rules that will, in the future, when a product is disabled / deleted, created a redirection to a desired page.

When a product is reactivated, forwarding rules automatically deactivate.

Not overload your HTACCESS file and therefore no notion necessary to make it work, or any slowdown in browsing your site.

All referrals are importable one by one or en masse from a csv file whose example is provided.

So your referenced links will be redirected with confidence to not lose your positioning.

Through a system of colors, get a look to the status of your referrals to know what will or not :
- White => redirection is active!
- Green => as possible redirection for disabled or deleted page but the redirection is not active.
- Orange => can Redirection for disabled or deleted page but the redirection is not active and no link is entered for the redirection.
- Grey => redirection is inactive because the page has been reactivated.
- Red => Redirection enabled, but not here! So page 404 usual!

You also get a filter system depending on the state (broken links, error redirection, redirection to, etc ...) in order to act accordingly quickly.

With this module no more broken links on your site!

Two other augmented versions of the modules exist :
-  one with category page more :
http://addons.prestashop.com/en/seo-prestashop-modules/11258-seo-404-301-product-and-category-delete-or-disable.html

- The other pages with categories, brands, founisseurs, cms and specific urls!
http://addons.prestashop.com/en/seo-prestashop-modules/18272-301-seo-automatic-redirection-of-all-your-404.html
 
Acquistati di solito insieme
Ether Création Sviluppato da

PrestaShop v1.4.0.1 - v1.7.2.4 Compatibilità

Community developer Sviluppato da

PrestaShop v1.5.0.0 - v1.7.2.4 Compatibilità

Business Tech Sviluppato da

PrestaShop v1.5.4.1 - v1.7.2.4 Compatibilità
Funzioni
- Redirect 301, 302, 404, home, default category, URL for a product disabled or deleted
- No file to edit
- Mass edition redirects
- Disabling rules if the page is reactivated
- Setting up default forwarding rule
- No need to touch the .htaccess
- The module retrieves the URLs in real time that do not work
- Ability to add a page / url specific one by one or en masse via an import csv
- Significant improvement of the SEO of your shop
- No more visitor who arrives on page 404, which suddenly leaves your shop
- Ability to add your own forwarding rules
- Filter system to better manage your redirects
- Supports multi-language
- Supports multi-store
- Technical support available in case of problems
- Recommended for 100% of shops that wish to maintain their ranking
Supporto e aggiornamenti
Disponi automaticamente di 3 mesi di supporto per questo prodotto.
Per 90 giorni dopo l'acquisto, benefici di un'assistenza tecnica e funzionale, oltre che dell'accesso agli aggiornamenti disponibili per questo prodotto.
Novità nella versione 2.2.0(10/03/2017)
Informazioni sullo sviluppatore, Ether Création
Ether Creation exists since 2008. Partner and specialized PrestaShop for over 5 years, we offer multiple services from the creation of your shop to the development of modules with a large catalog related to all domains.
Following standards of PrestaShop to facilitate your future developments.
Trust us to designate, integrate and configure your shop!
23/04/2010

Venditore PrestaShop

France

Paese Regione
Hai una domanda?
Bisogno di aiuto?
Lo sviluppatore ti risponde in