moduł BlueSnap
Opracował
PrestaShop Partners
(3 głosy)
Na średnią ocenę składają się wszystkie głosy otrzymane przez ostatnie pół roku.
Official
Partner
+5000
downloads!
PrestaShop
1.6.0.4 - 1.6.1.15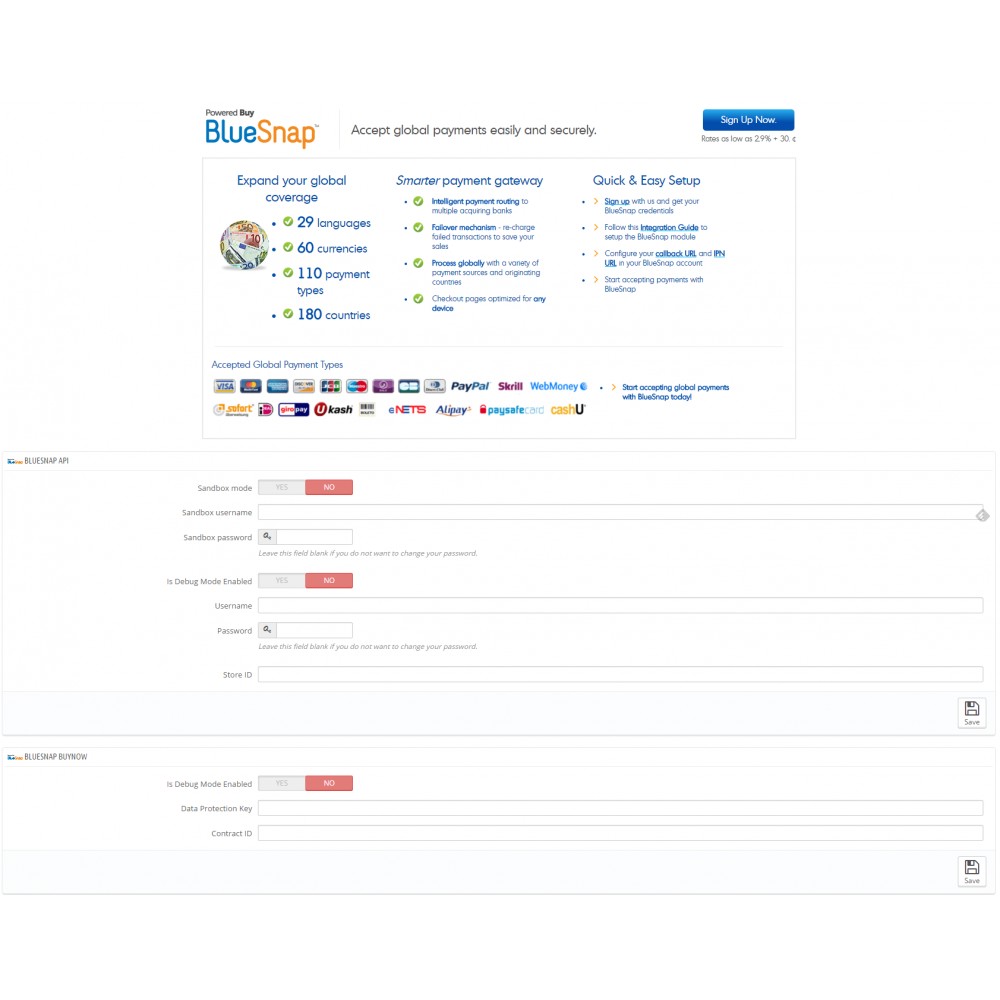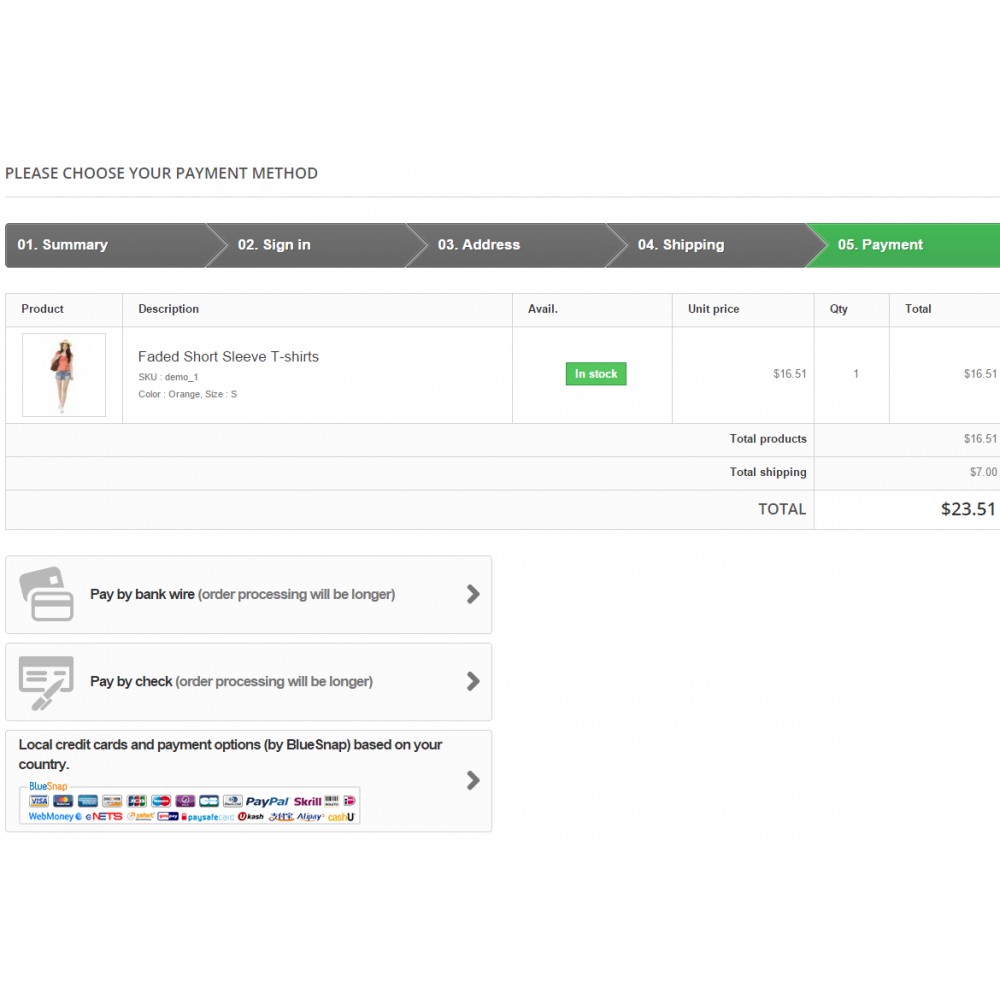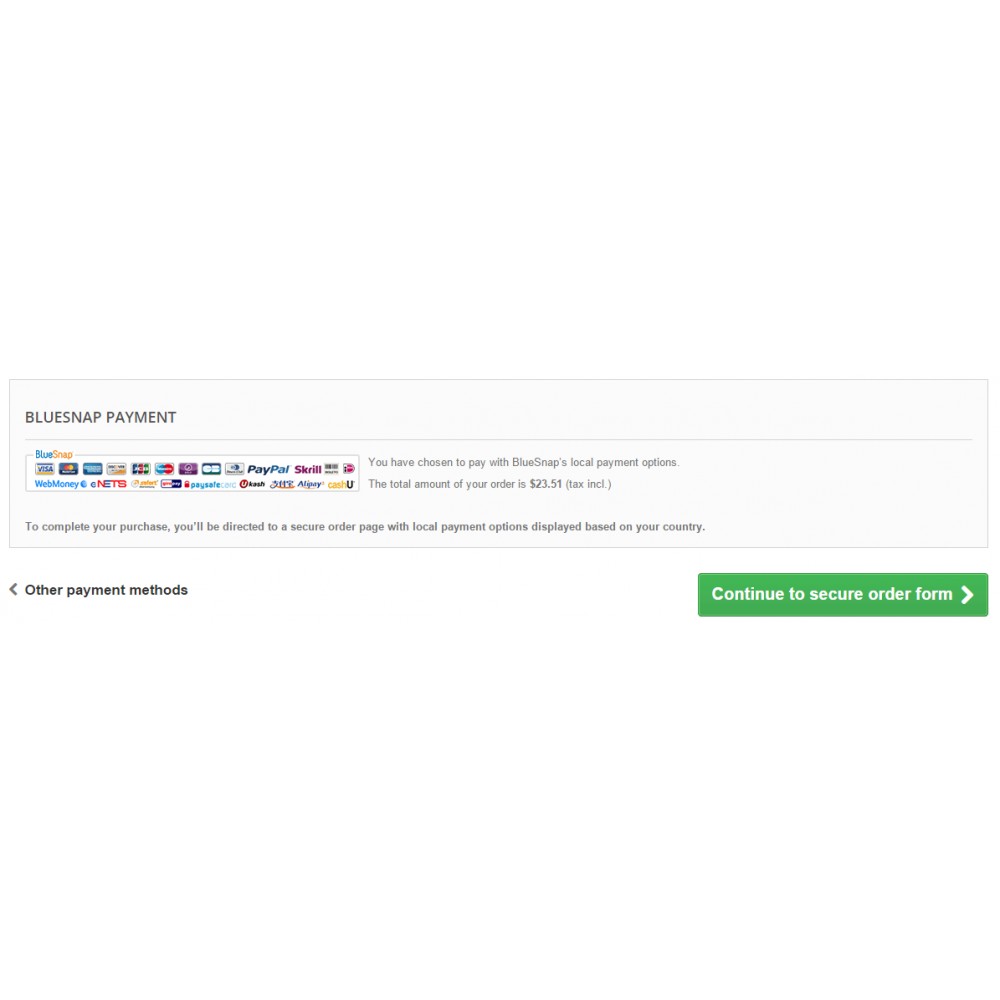 Prezentacja
BlueSnap is a global payment gateway and so much more. We offer the widest global support in the industry plus 110 different payment types including all of Tier 1 credit cards, diner cards, PayPal, E-checks and wire transfers. PrestaShop and BlueSnap help shoppers make purchases easily and securely with the free BlueSnap module.
Korzyści wynikające z tego modułu
Sell globally with no development
Easy all-in-one global payment module supporting

VISA, MasterCard, Amex, Discover, JCB, Diners Club, Carte Bleue
Paypal, Alipay, Ukash, Skrill, and more
+ 110 of the most preferred alternative payment methods worldwide

Don't install more than one module for payments
Reduce cart abandonment with localized checkout pages

Module automatically renders checkout page in shopper's local language, local currency, and preferred local payment type

More transactions approved because of our intelligent payment routing technology
Competitive pricing starting at 2.9% + 30C per approved transaction
Checkout page optimized for mobile and desktop
Funkcje
Localized checkout experience:

29 languages
60 Currencies
180 Countries

110 Local payment types in addition to all major credit cards
Optimized checkout for PC and mobile devices
Intelligent global payment routing
Easy and secure payment processing
Wsparcie techniczne oraz aktualizacje
Otrzymasz automatycznie 3 miesiące pomocy technicznej dla tego produktu.
Przez 90 dni po zakupie jesteś uprawniony do pomocy technicznej i funkcjonalnej, a także masz dostęp do aktualizacji dla tego produktu.
Oto co spodoba się Twoim klientom
Familiar checkout pages in their local language, currency and preferred method of payment, including many of the world's most popular local payment types
Simple, secure payment path to more than 110 payment types
Easy to checkout on mobile or desktop devices
Instalacja
Connecting your PrestaShop store with BlueSnap does not require any development from your side.
O wydawcy, PrestaShop Partners
2015-06-29

Sprzedawca PrestaShop

United States

Kraj region
Masz pytanie?
Potrzebujesz pomocy?
Wydawca odpowie Ci w ciągu