moduł Feed.biz (Amazon, eBay, Google, Mirakl integration)
Opracował
Community developer
(6 głosy)
Ponad 90 % użytkowników poleca ten produkt
Na średnią ocenę składają się wszystkie głosy otrzymane przez ostatnie pół roku.
Poziom kompetencji
Użytkownicy oceniają że wymagany poziom kompetencji do tego produktu jest:
Dla początkujących użytkowników
2
Dla średniozaawansowanych użytkowników
2
Dla zaawansowanych użytkowników
2
PrestaShop
1.5.0.0 - 1.7.2.4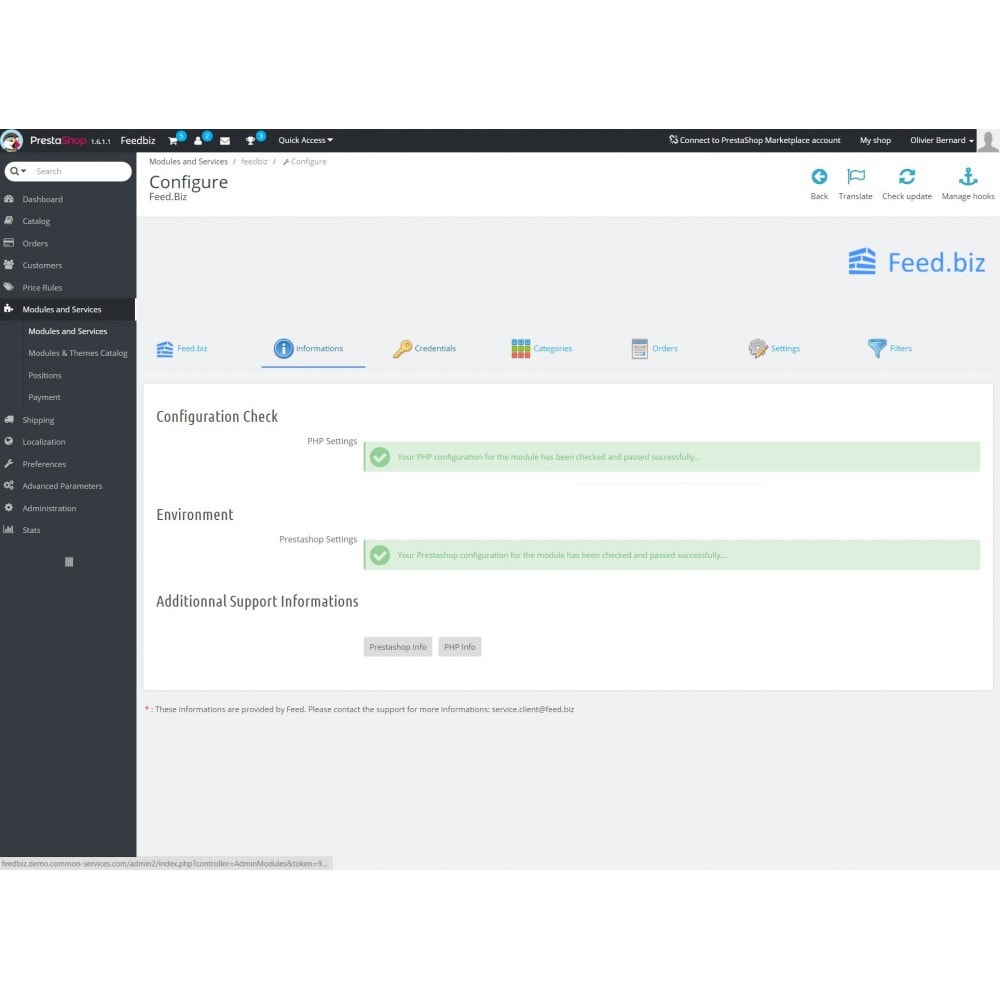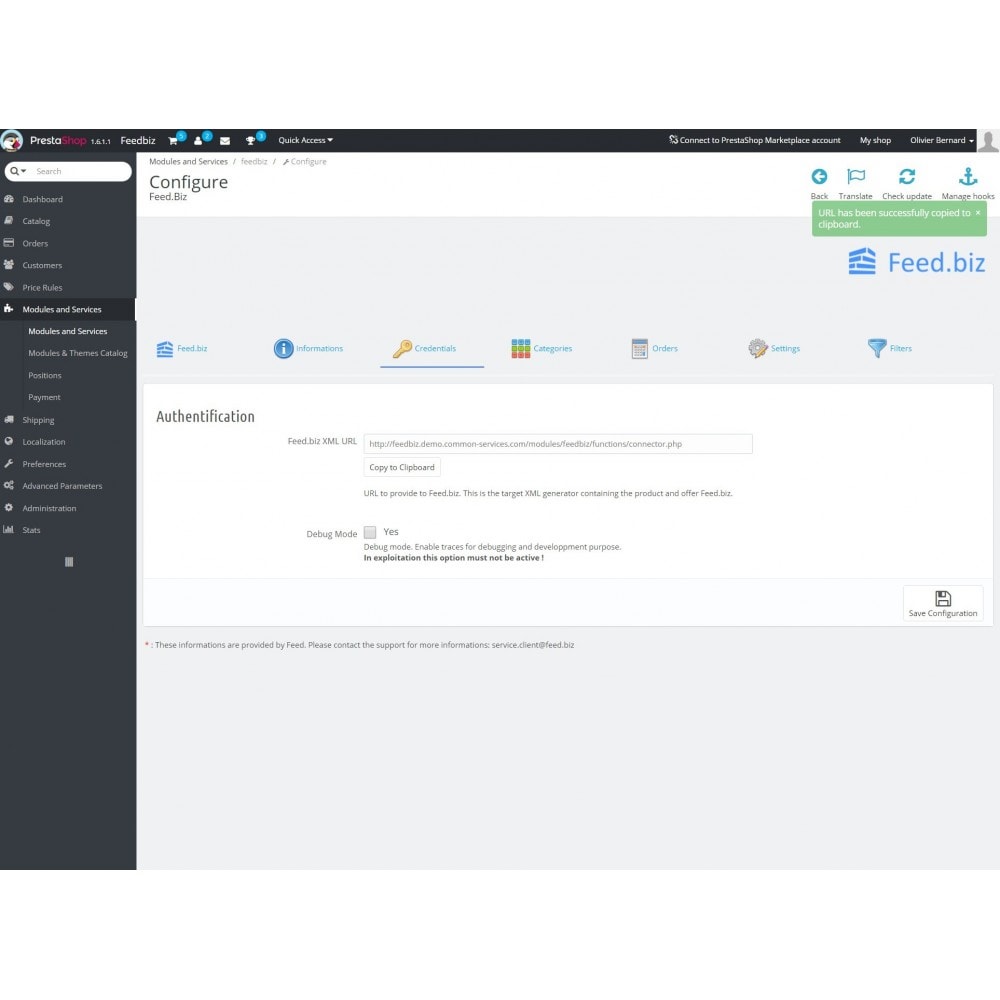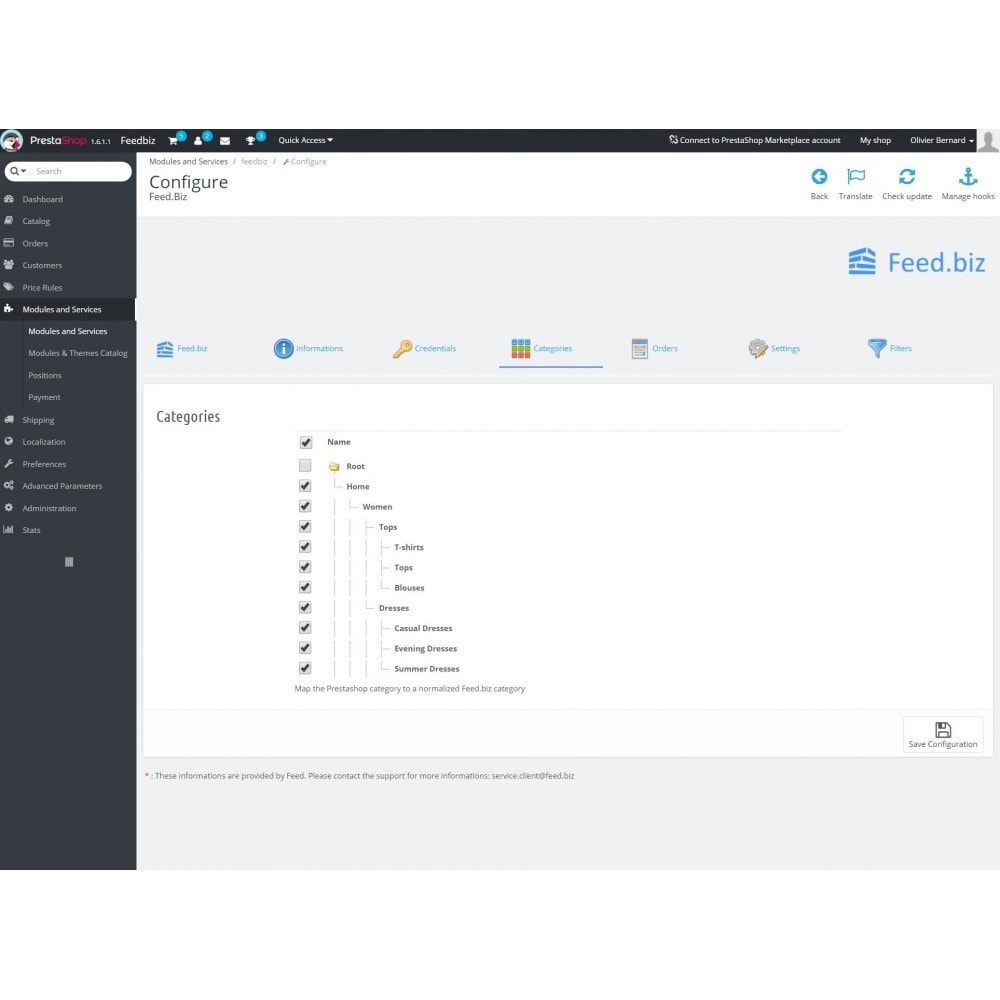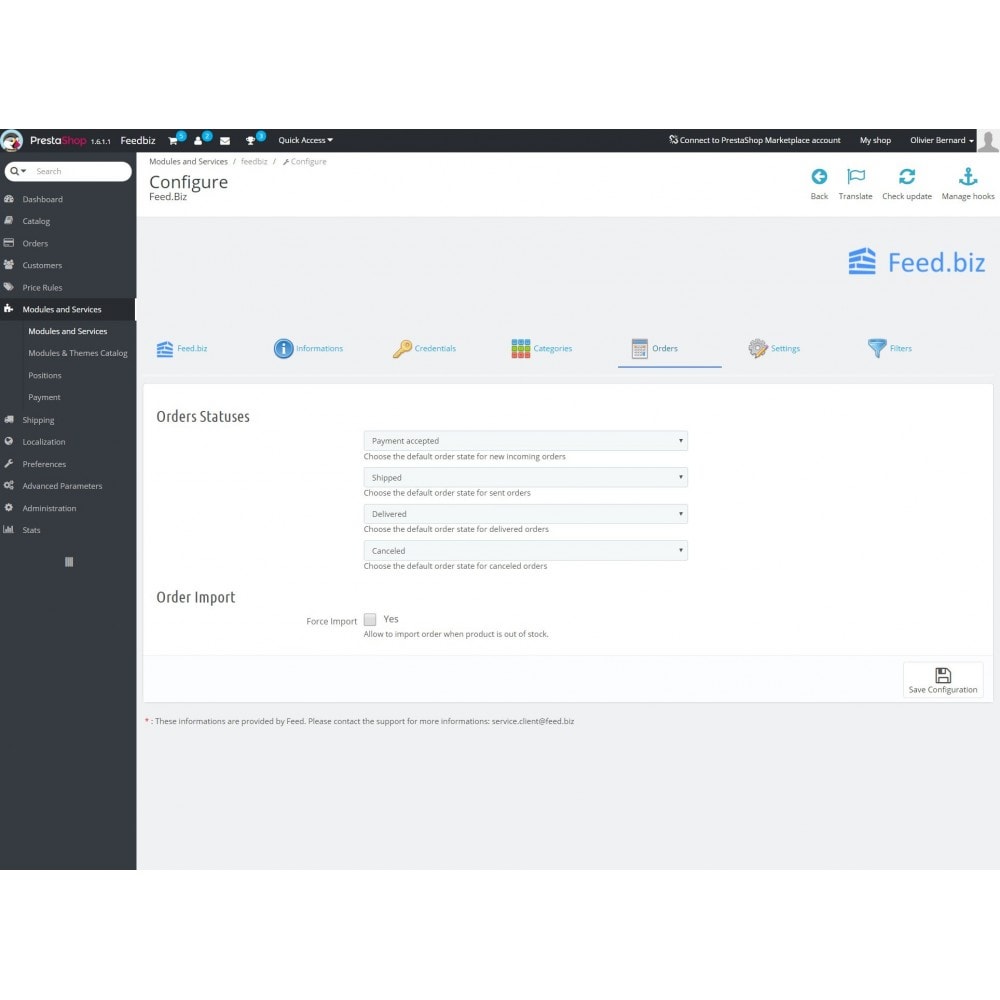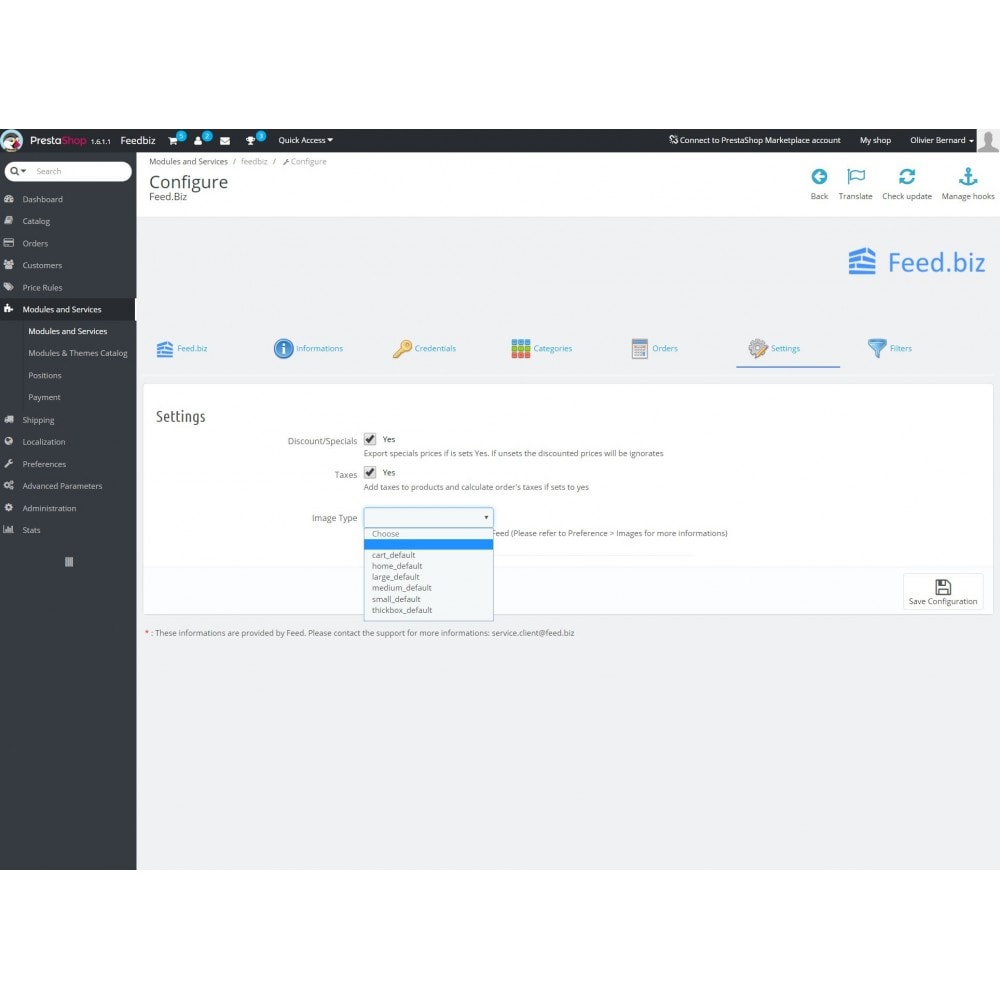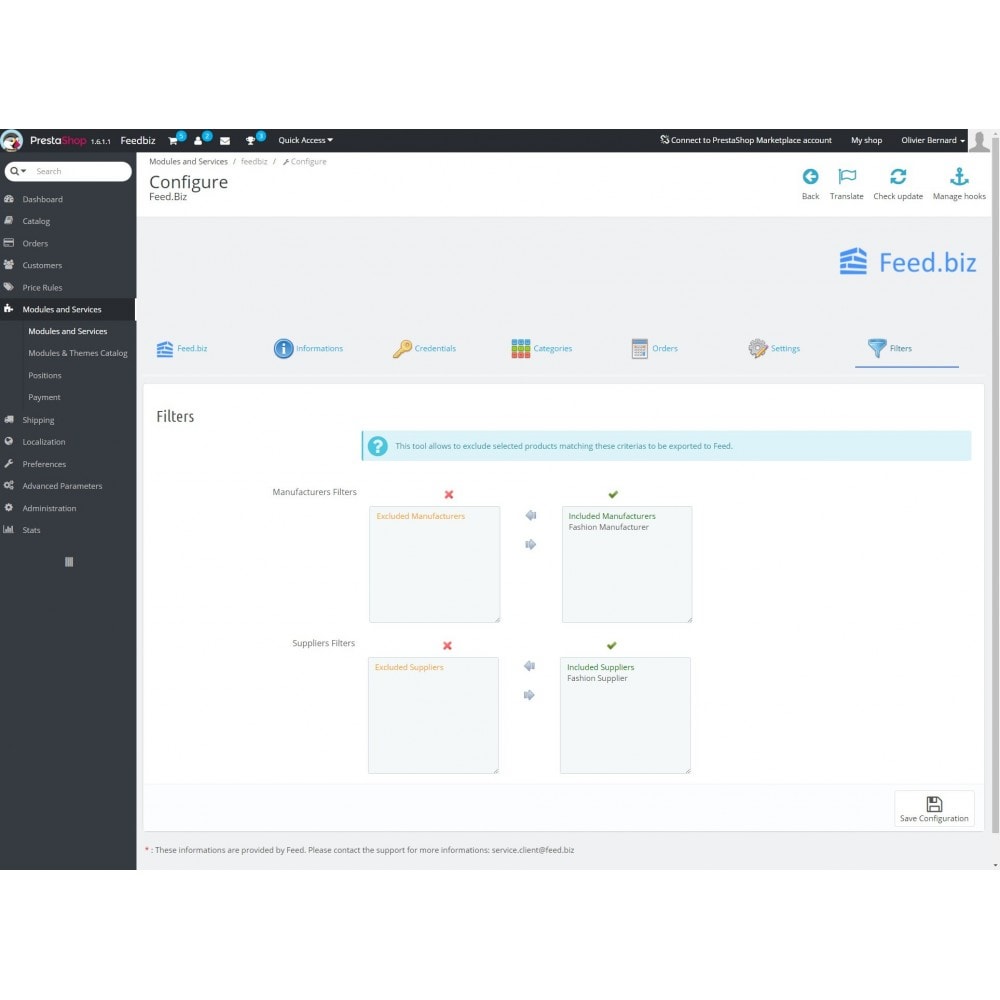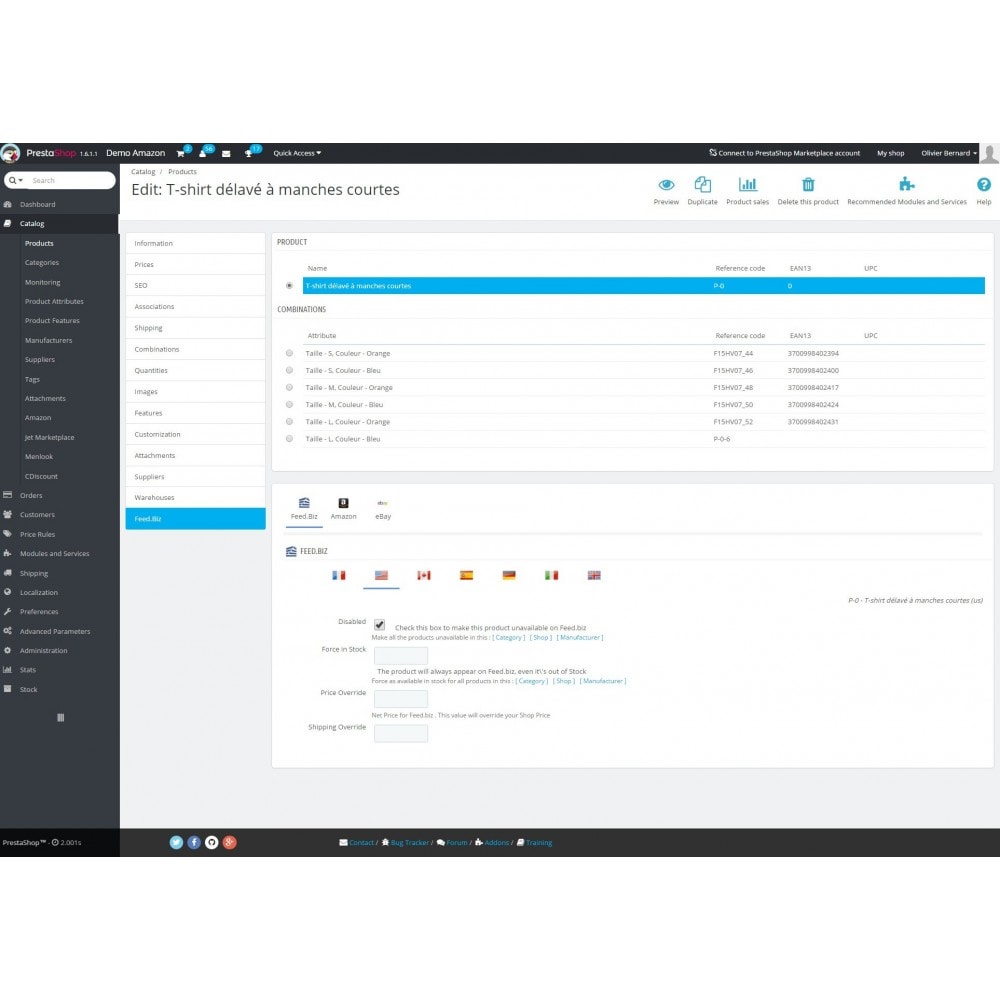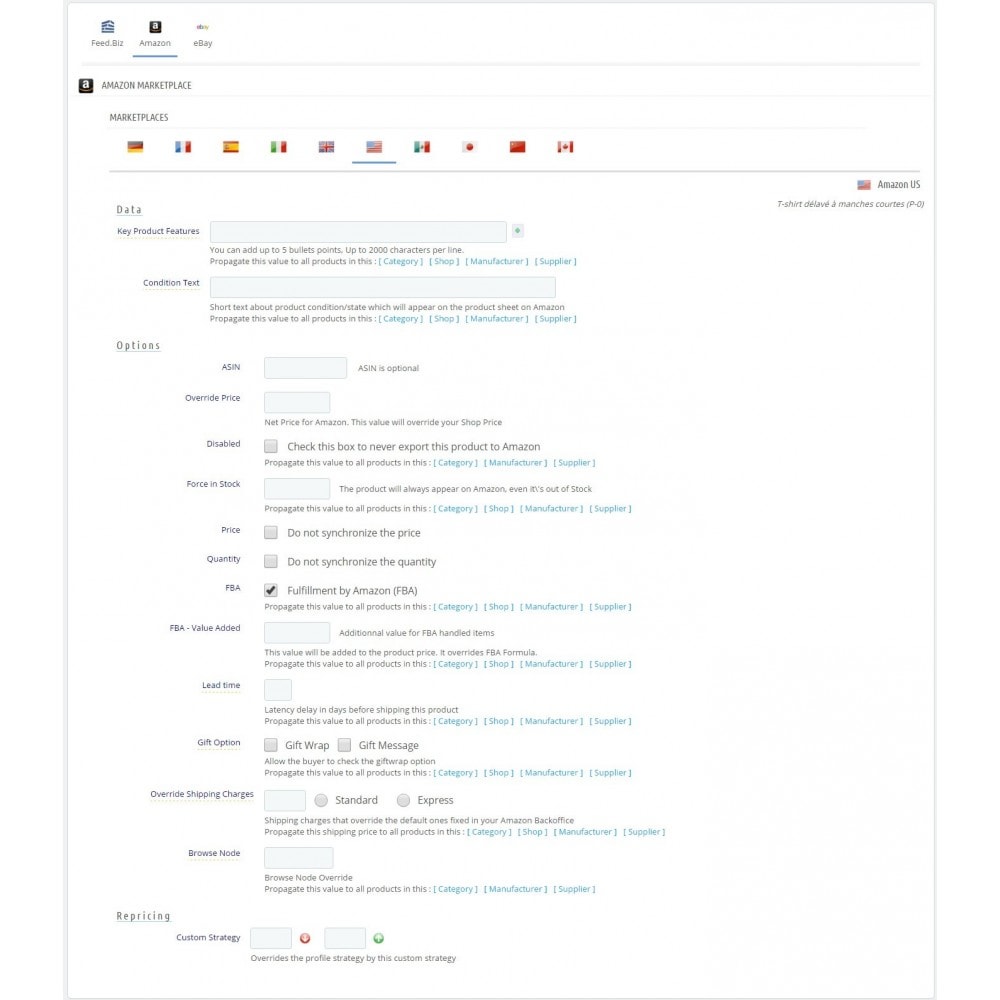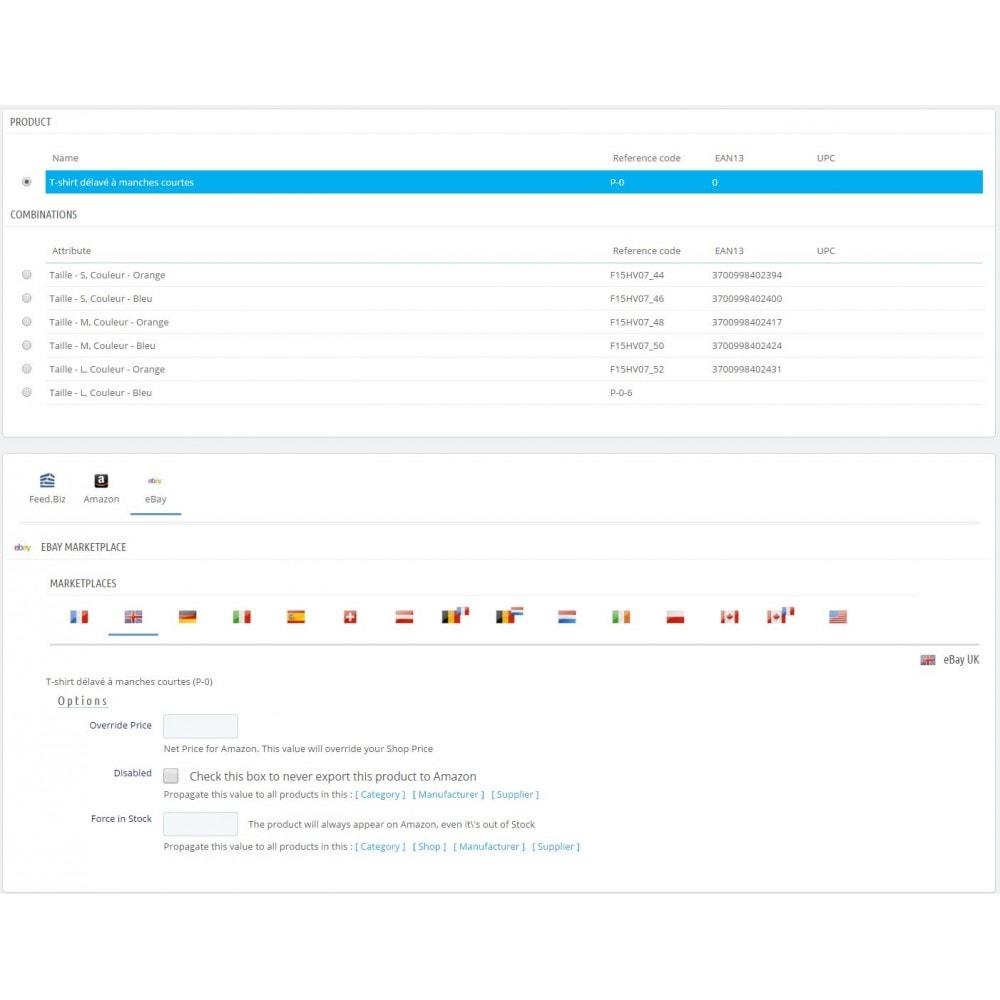 Prezentacja
Connect Prestashop with marketplaces yourself, save on the expensive subscription to a feed aggregator! Feed.biz is the cloud solution for managing marketplace feeds.
Korzyści wynikające z tego modułu
Konwersje Optymizuje widoczność Twoich produktów na platformach handlowych
Feed.biz is a cloud solution, fully automated in feed management from and to marketplaces, Amazon, eBay, Mirakl Marketplaces and soon others (Jet.com, Rakuten.com, Etsy.com etc.)

Feed.biz centralizes all of your feeds and redistributes them to marketplaces and vice versa; Feed.biz exports your offers and products to the marketplaces, imports orders in Prestashop, updating statuses and parcel numbers.

You only have one module that manages marketplace feeds, you preserve the performance of your Prestashop store.

You keep control of your feeds; a dedicated backoffice allows you to configure your feeds as you like; price increases in value, in percentage, exclusion of categories, products, suppliers, brands etc.

Your purchase is guaranteed by free technical support insured unconditionally until publishing products and importing your first orders. 

You can also hire a Feed.biz certified specialist if you don't want to manage your feeds by yourself.
Funkcje
How does it works, shortly :
You create a free Feed.biz account.
You install Feed.biz module in 5 minutes, the module exports your products to Feed.biz.
You configure Feed.biz yourself; you choose then to export to eBay, Amazon.
You choose your target countries; the module is compatible with all countries of North America, South America, Europe, Asia, Australia etc.
You choose the categories, by country, by marketplace.
You configure your feed; a tutorial will show you how to make this configuration in 20 minutes by marketplace.
Feed.biz will be connected to your shop and marketplaces and will be automatically carrying out all operations for you.
Billing ;
By purchasing the module you will benefit of;
Free and unconditional support during 3 months until your products are online on eBay marketplace, an Amazon marketplace
One year free subscription to Feed.biz (Professionnal), including your eBay and Amazon feeds management
Free Google Merchant feed
Major Features ;
Professionnal
Catalog synch, prices, quantities
Orders import, tracking number and orders statuses updates
Price Rules; ajdust the price for the marketplaces on the base of rules, per category, per product
Multi-countries, Multi-currencies
Google Shopping feed export
Advanced
Products Creation with support of attributes and variants (combinations)
Multichannel FBA (on order placed on eBay can be automatically shipped by Amazon FBA)
Repricing engine
Integrated Messaging ; Invoice by Email, Customer Support, Review Incentive (rating)
Many other features...
Często kupowane w zestawie
Community developer Opracował

PrestaShop v1.5.0.0 - v1.7.2.4 Kompatybilność PrestaShop

Community developer Opracował

PrestaShop v1.6.0.4 - v1.7.2.4 Kompatybilność PrestaShop

Community developer Opracował

PrestaShop v1.4.0.1 - v1.7.2.4 Kompatybilność PrestaShop
Inne
Online documentation is available in English, French.
Online video tutorials are available in English and French.
Rekomendacja
Technical Environment ;
We strongly recommend the use of a host recommended by Prestashop for optimal operation of the module. The choice of such host guarantees you the proper functioning of the module and optimal support in case of need. 
Requirements ;
The products must have an EAN code or to be eligible to a code exemption.
The products and combinations must have all an unique SKU (Reference)
Amazon:
It is necessary to have an Amazon professionnal account
Feed.biz doesn't support yet "Amazon Handmade"
eBay:
It is necessary to have an eBay professionnal account
Wsparcie techniczne oraz aktualizacje
Otrzymasz automatycznie 3 miesiące pomocy technicznej dla tego produktu.
Przez 90 dni po zakupie jesteś uprawniony do pomocy technicznej i funkcjonalnej, a także masz dostęp do aktualizacji dla tego produktu.
Instalacja
 Installation requires no technical expertise, the module is easy to install; the operation takes 5 minutes.
Co nowego w wersji 1.2.49(2018-01-03)
Prestashop 1.7.x compatibility improvements
O wydawcy
2016-03-13

Sprzedawca PrestaShop

United States

Kraj region
Masz pytanie?
Potrzebujesz pomocy?
Wydawca odpowie Ci w ciągu