Modulo Savvy Search Autocomplete
Sviluppato da
Community developer
(14 voti)
La valutazione media include tutte le recensioni degli ultimi sei mesi.
+100
downloads!
PrestaShop
1.6.0.4 - 1.7.1.2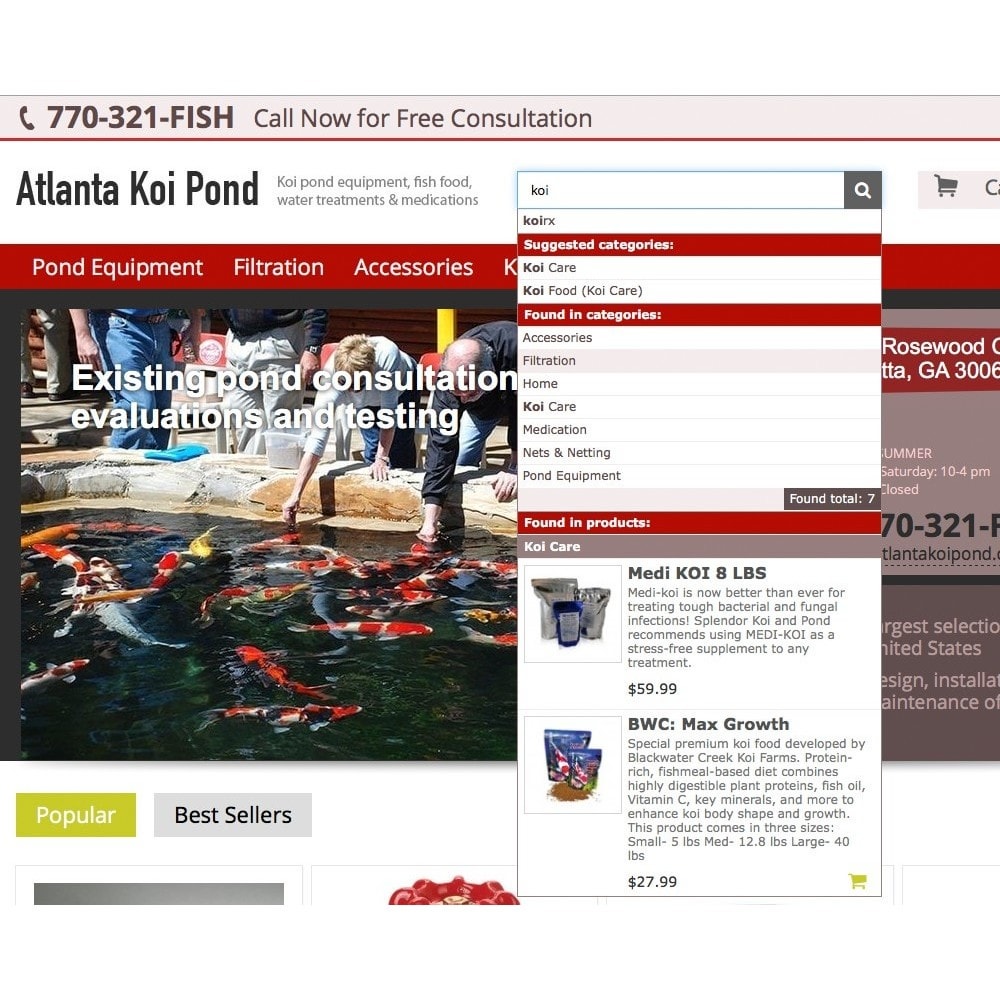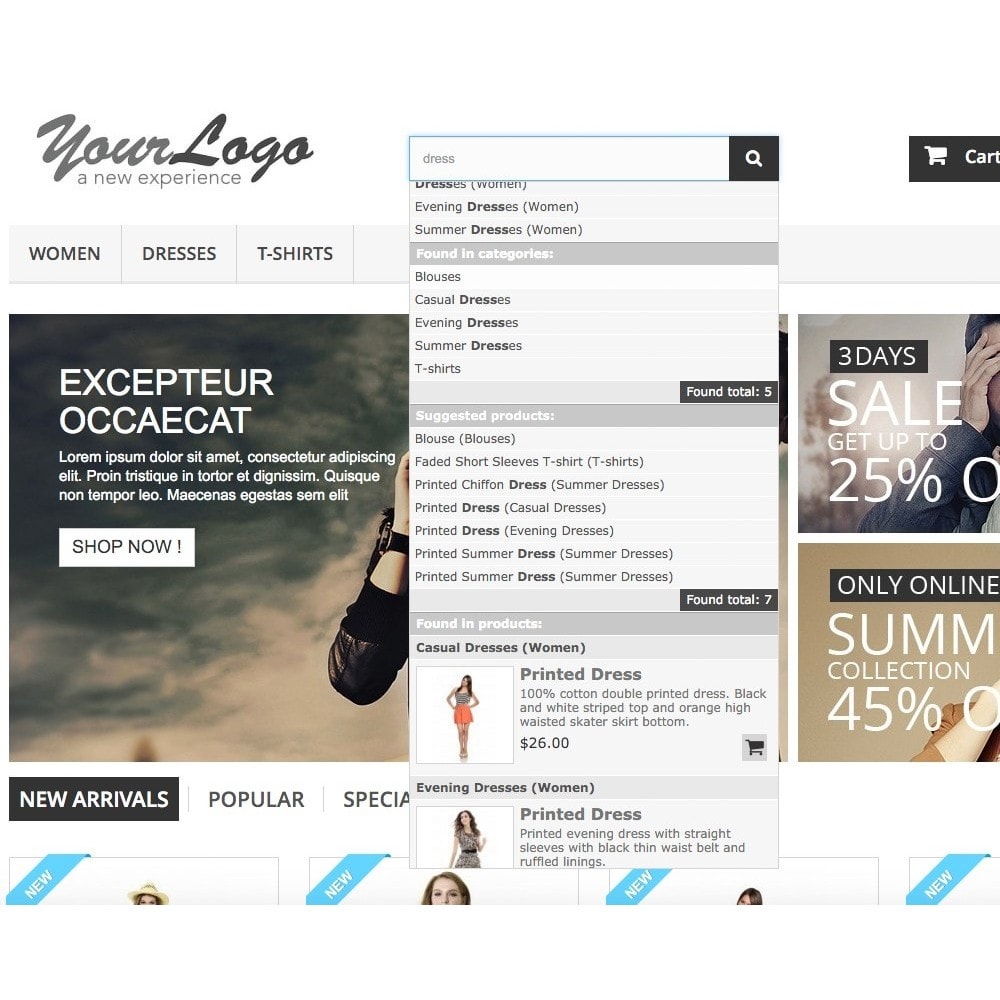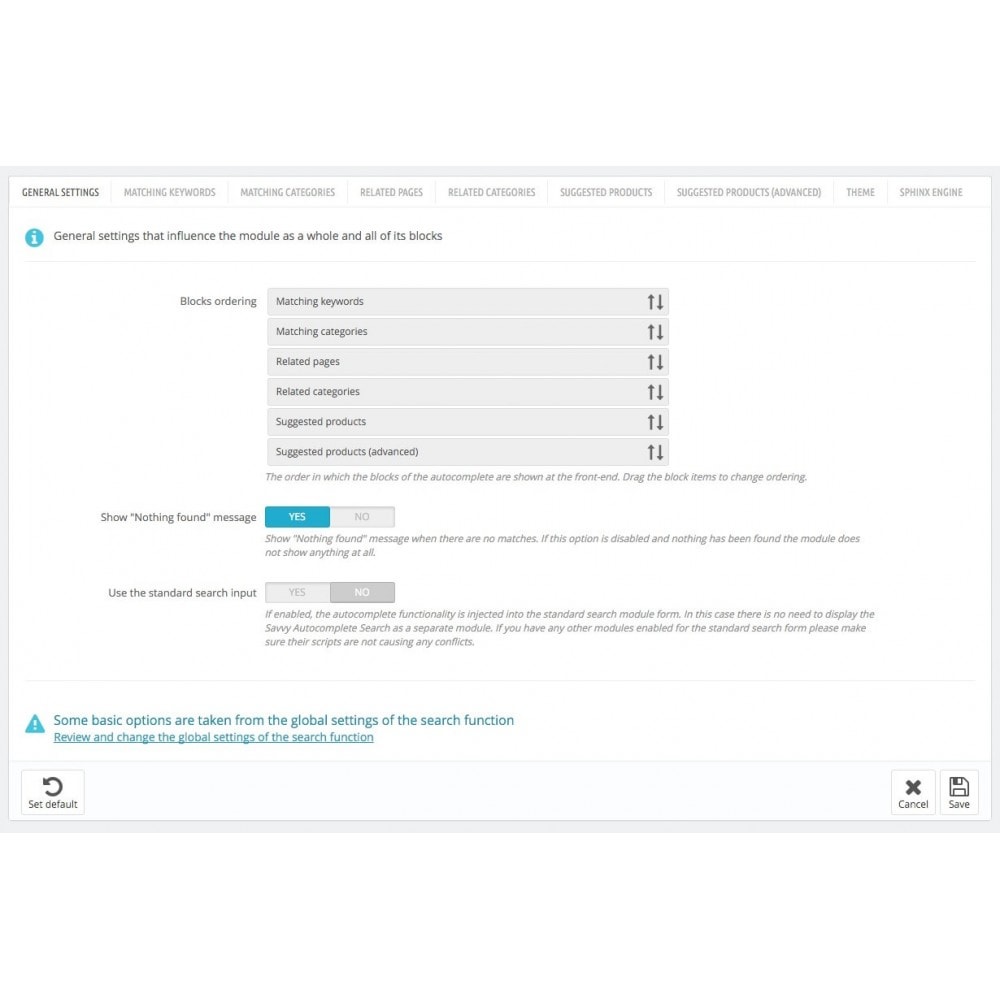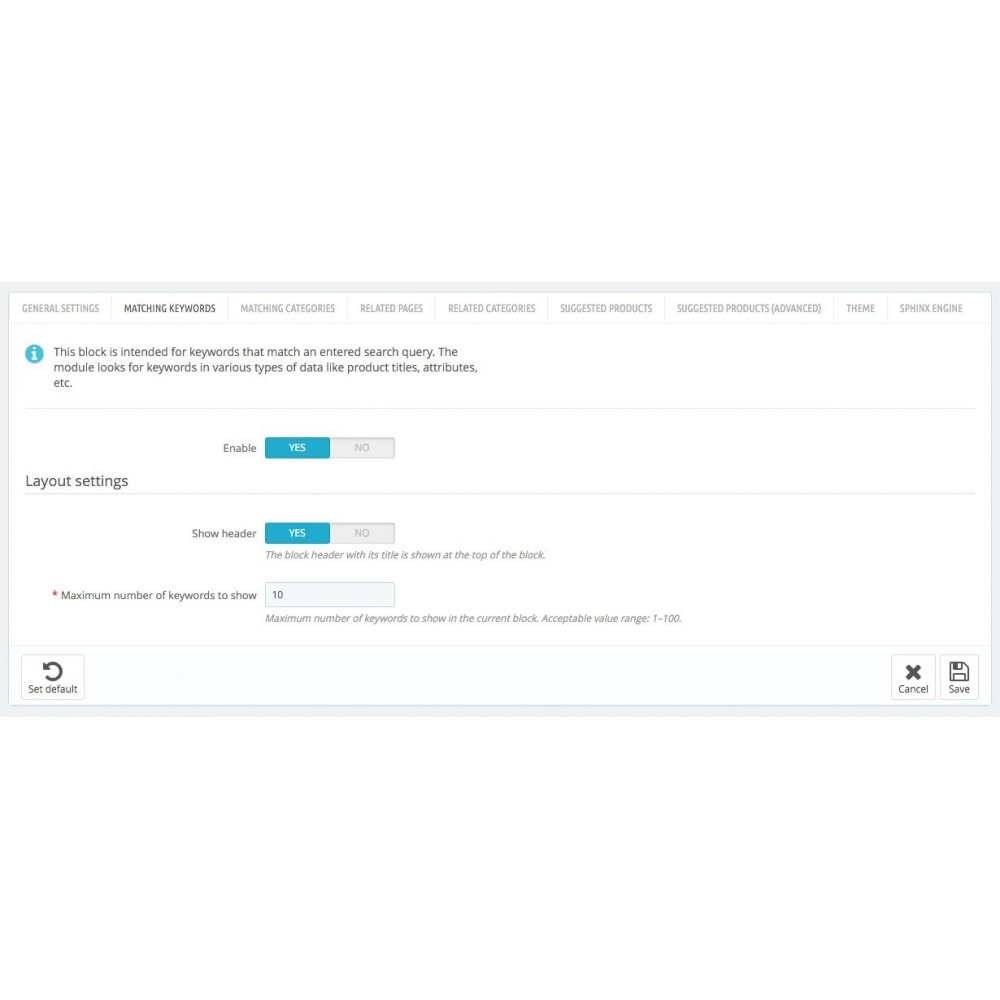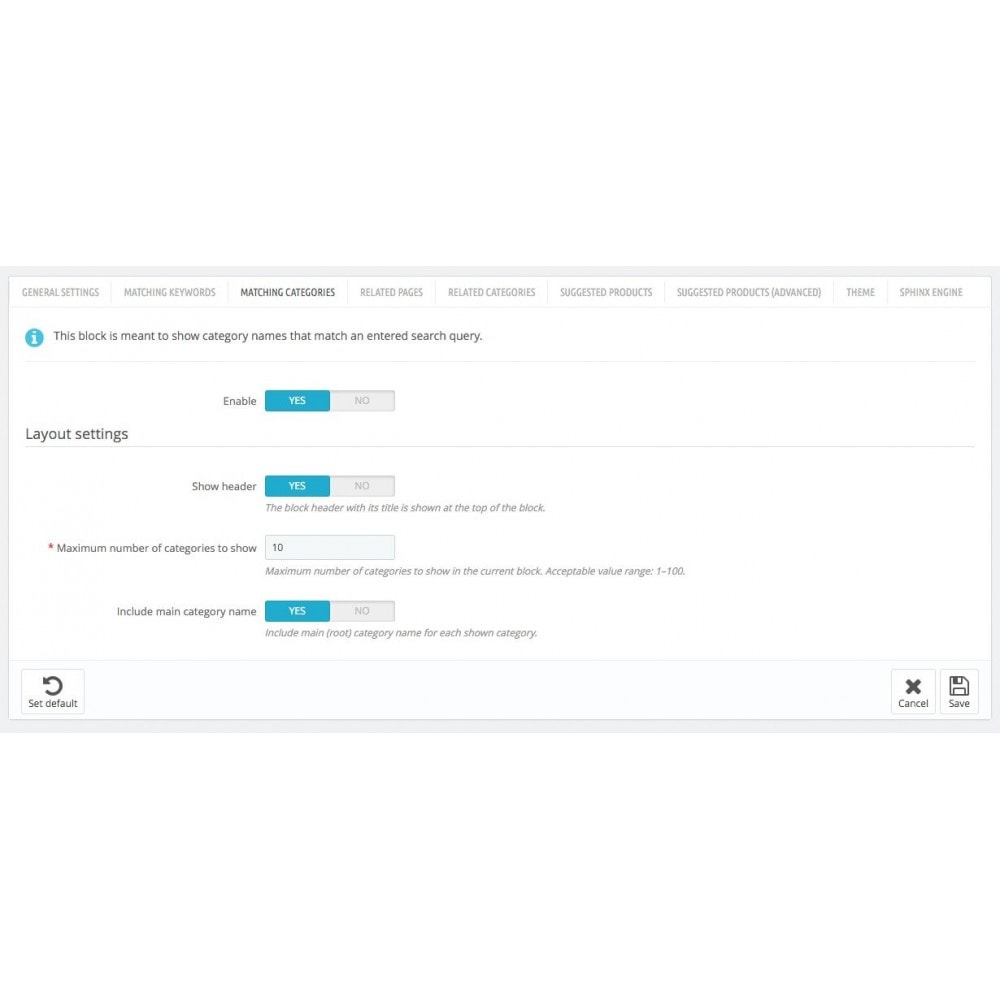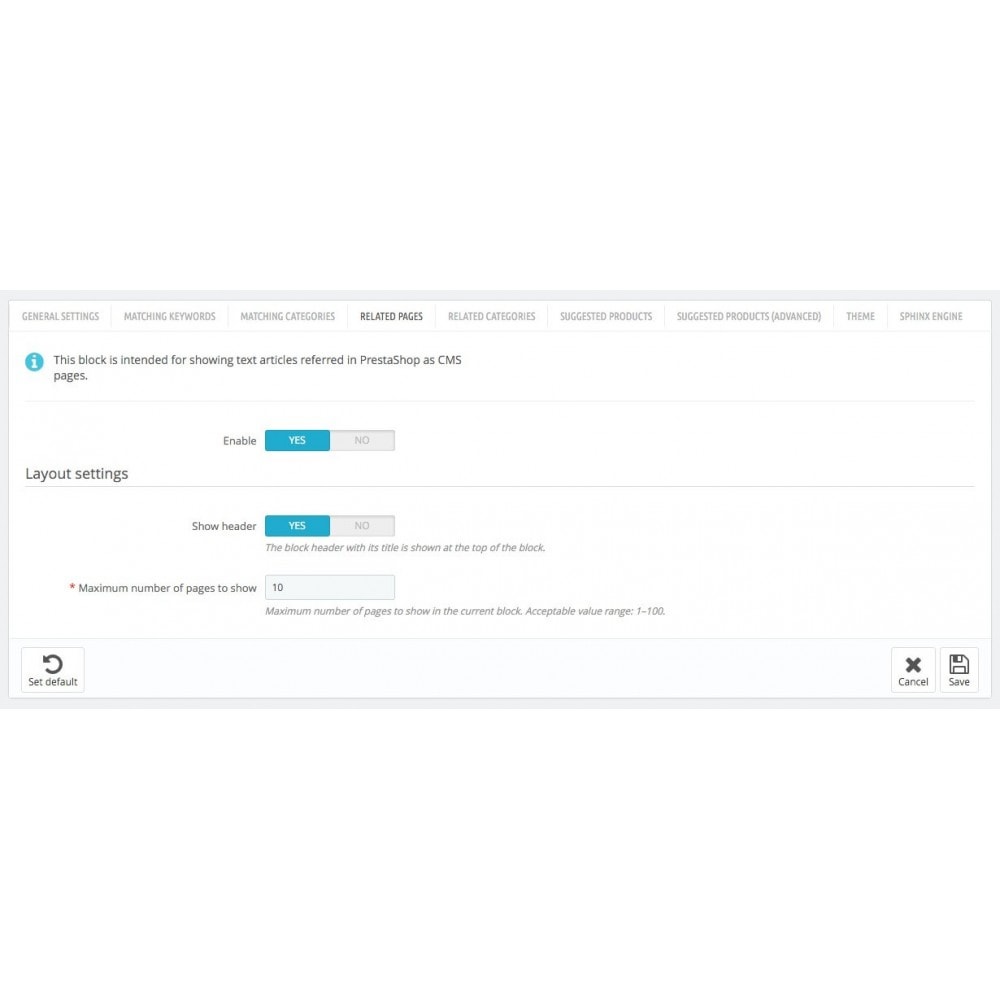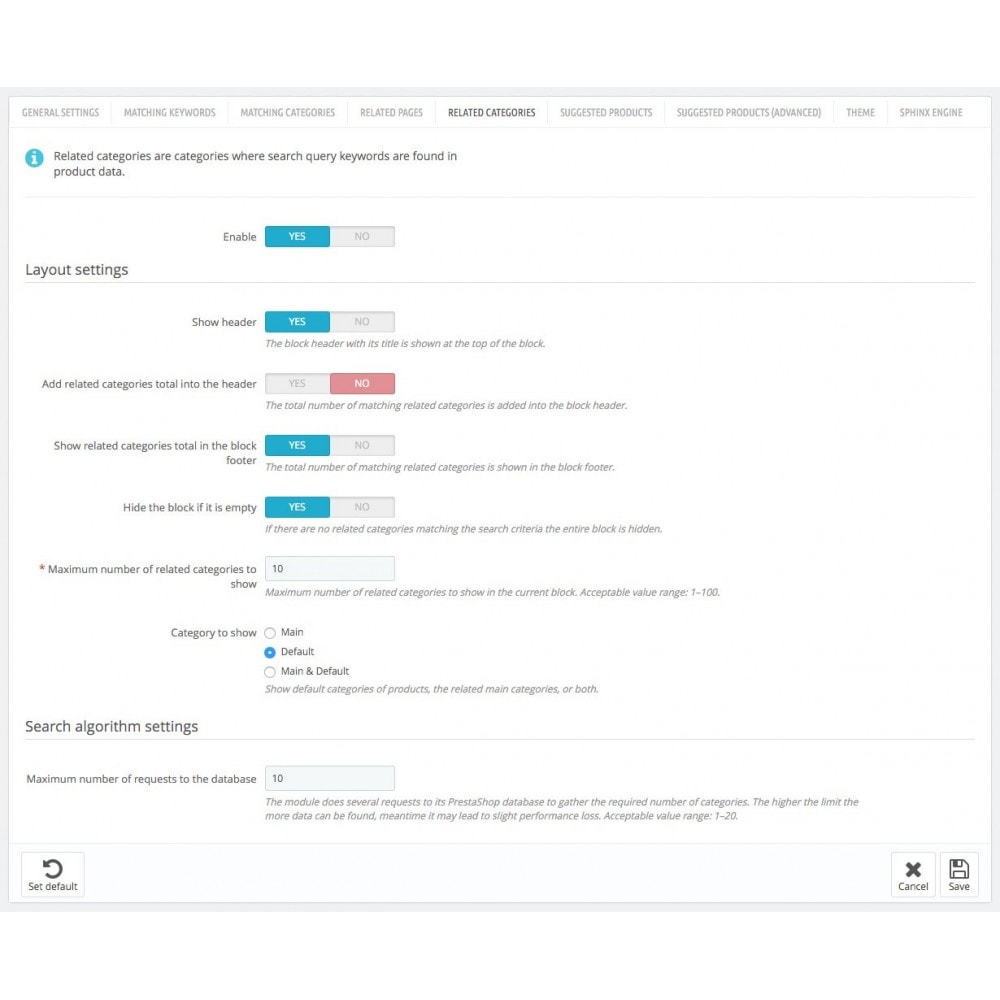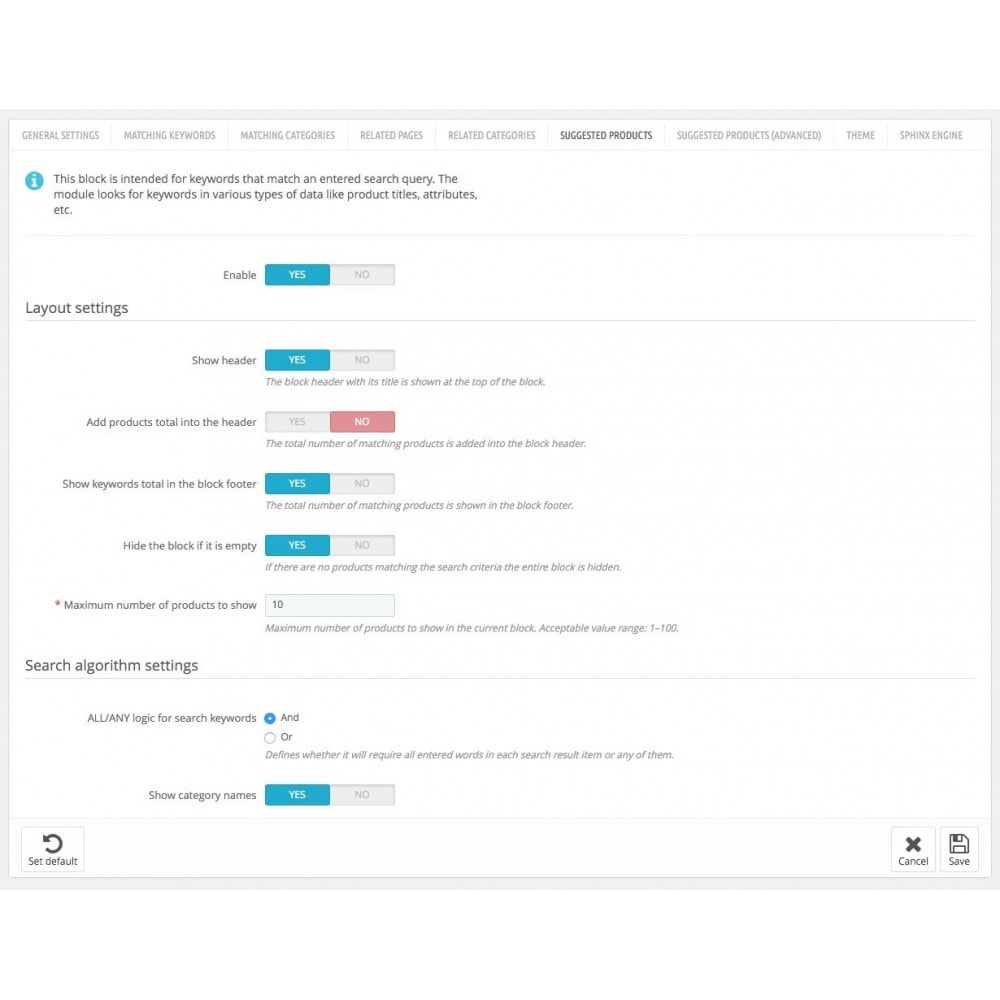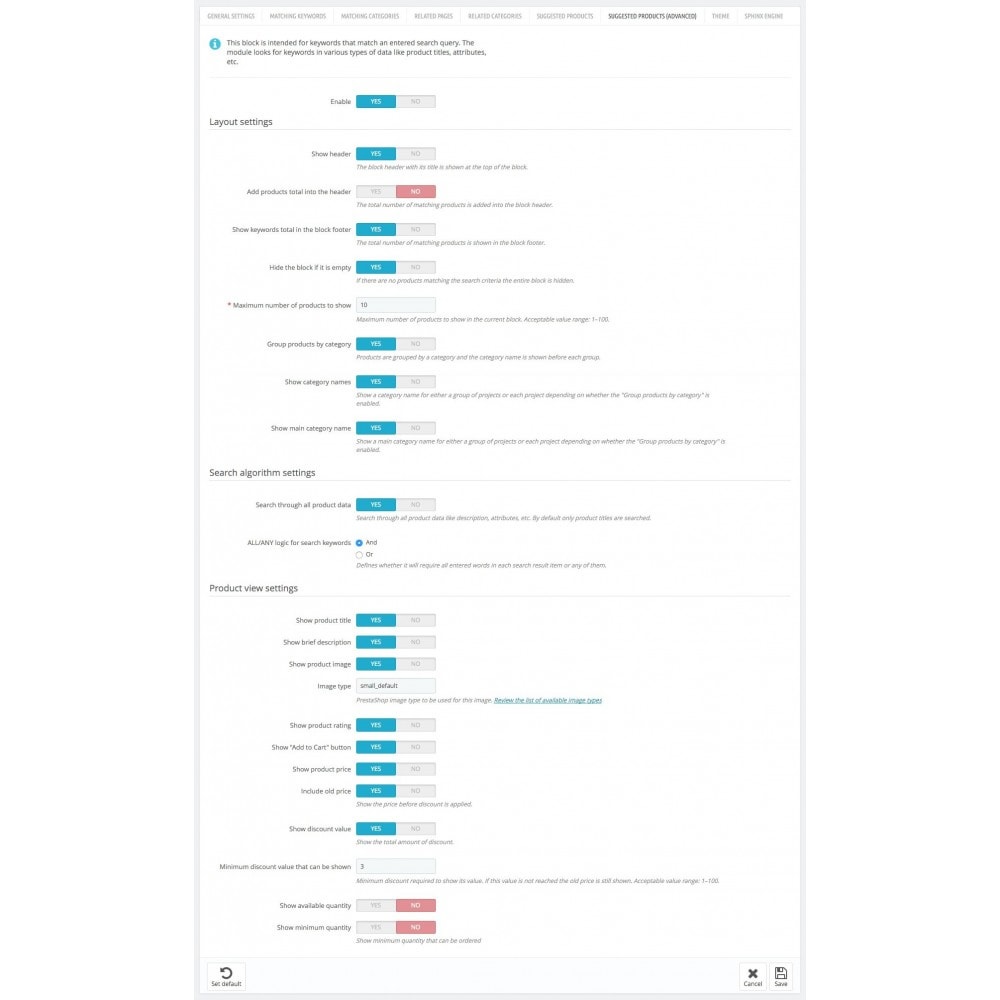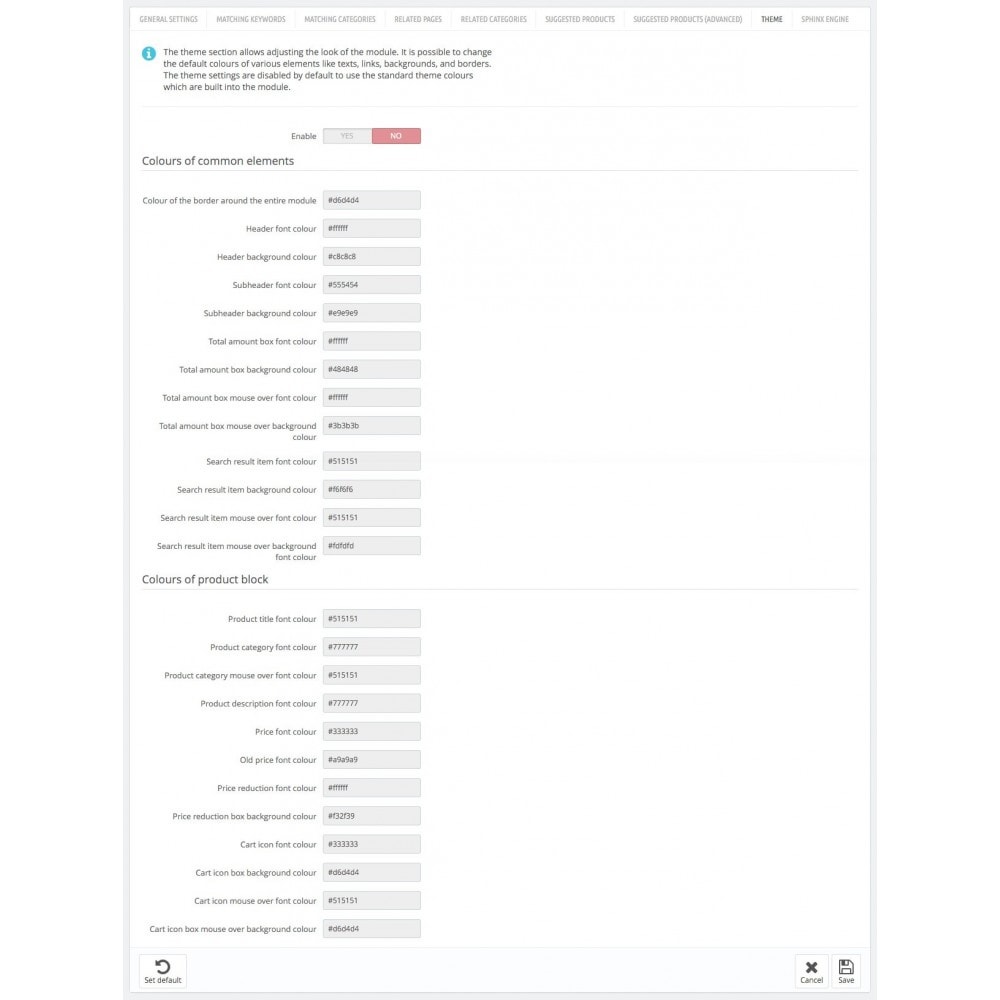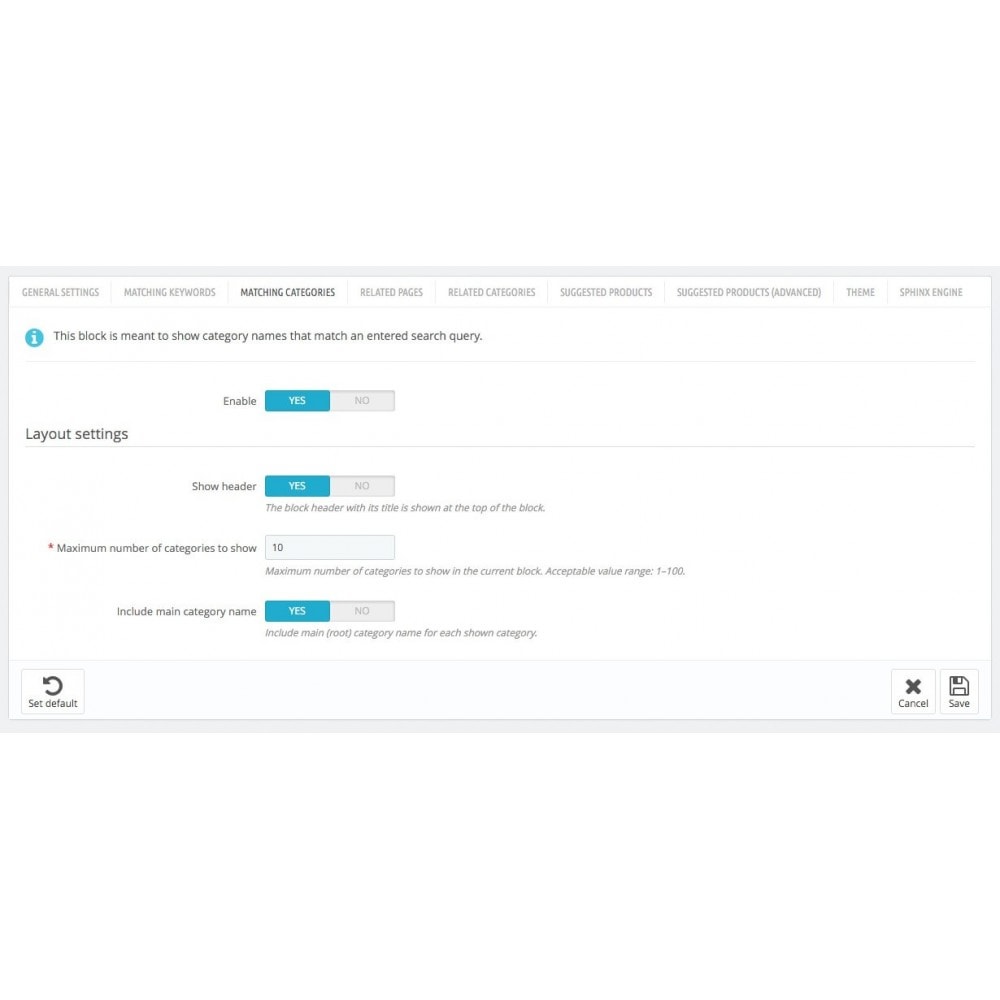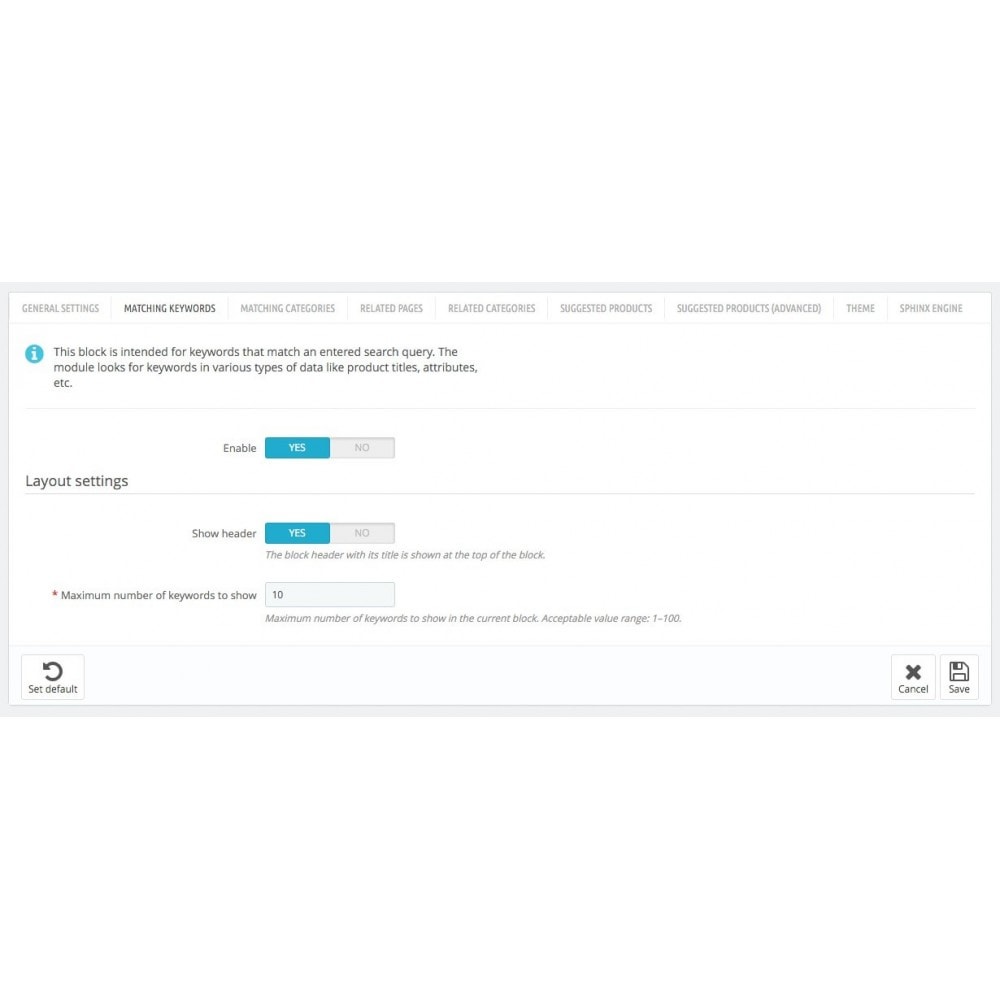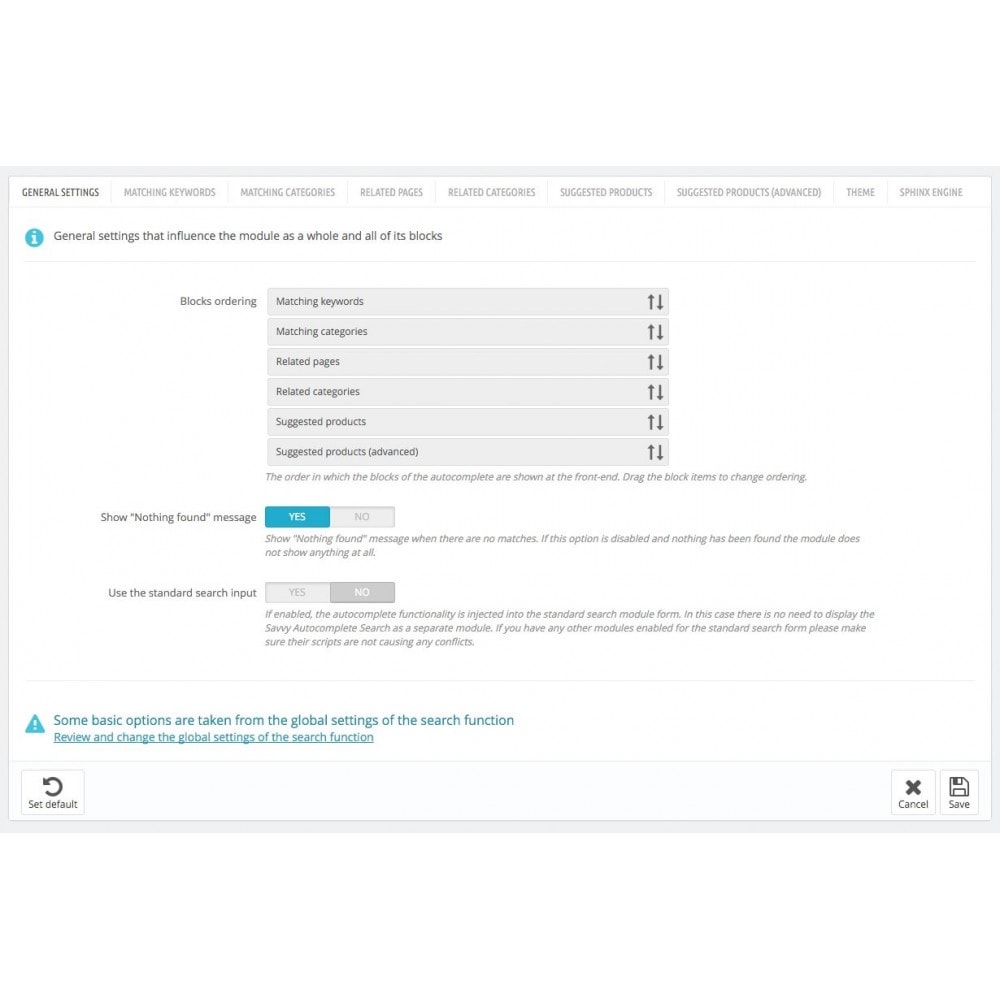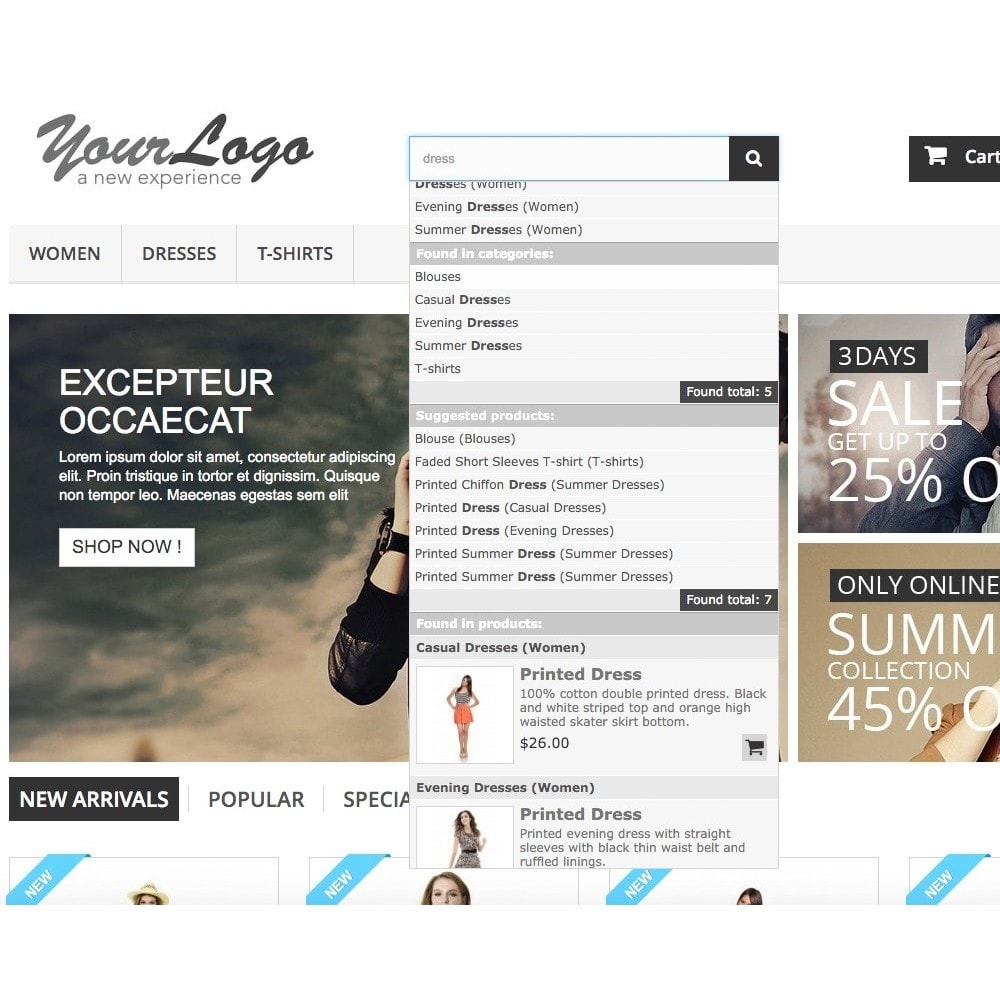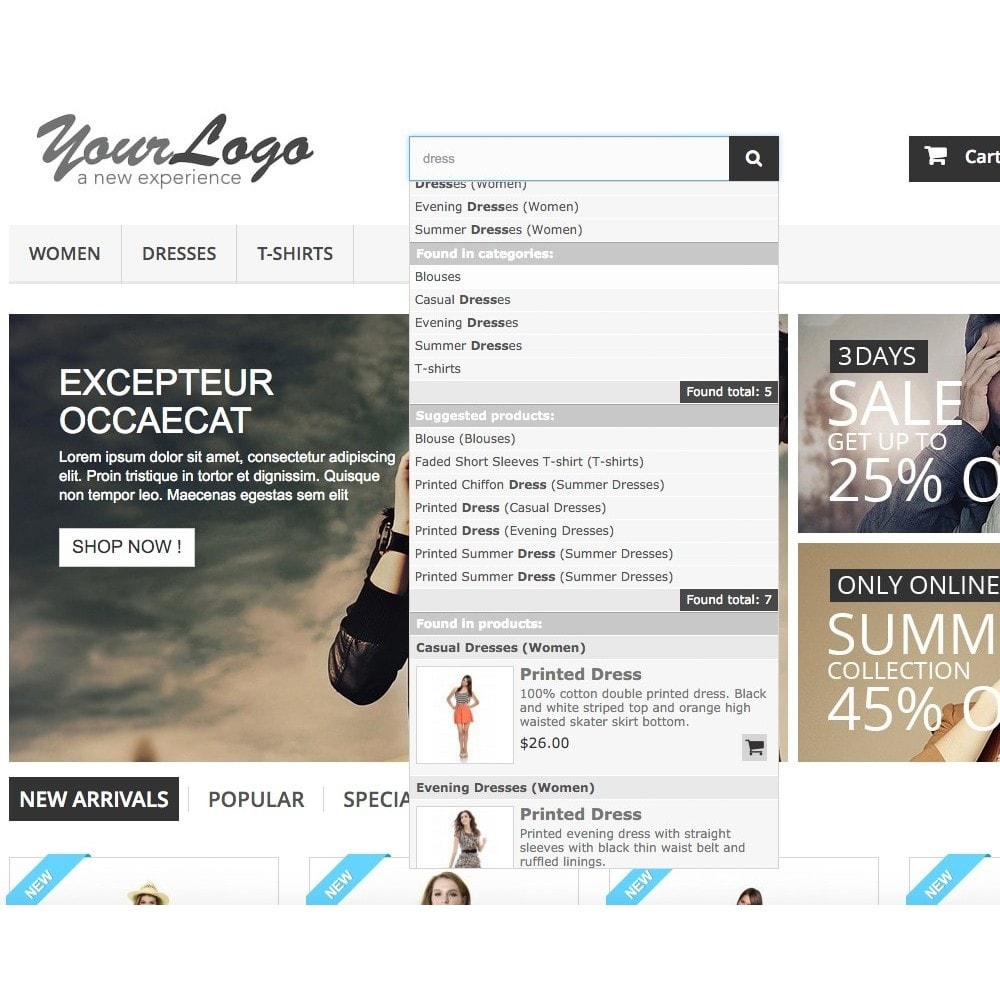 Descrizione
A truly advanced autocomplete module that can improve usability of any online store. The module shows a lot of data relevant to typed words like attributes, tags, categories, products with pictures and descriptions, and even links to text CMS pages.
Ciò che questo prodotto ti offre
Conversioni Propone un prodotto adatto ai tuoi clienti
Navigazione Facilita le ricerche degli utenti sul tuo sito
Savvy Search Autocomplete will become a strong point of your online store that attracts customers and improves their shopping experience. It may show plenty of data relevant to entered keywords indicating that your store has a lot to offer. Besides that it provides quicker access to categories and products that match user search phrases. If a user can find what he is looking for faster he is likely to make a purchase faster and receive better impressions from your online store.

The control panel of the module provides plenty of settings to manage every aspect of its functionality and look. There are settings related to shown data, module layout, search algorithms, etc.

The module is tidy and neat out of box. It can be up and running in minutes. Additionally it includes an admin interface that allows customizing its look by changing colours of its elements.
Funzioni
Ability to find and show plenty of data relevant to user search keywords while he is typing. You can choose to display any of the following:

Keyword suggestions (taken from attributes, tags, and other data).
Category suggestions that match an entered search query.
Suggestions of categories that contain products that match an entered search query.
Product suggestions that are available in simple and advanced views.
CMS page suggestions.

Fast optimized requests to the server that can work with large volumes of data.
A lot of options to customize the layout, data shown, behaviour, and the theme of the filter.
Very well written bugless code.
PrestaShop compliant HTML and CSS.
Support of multi-shop functionality.
Supporto e aggiornamenti
Disponi automaticamente di 3 mesi di supporto per questo prodotto.
Per 90 giorni dopo l'acquisto, benefici di un'assistenza tecnica e funzionale, oltre che dell'accesso agli aggiornamenti disponibili per questo prodotto.
Installazione
Please follow the standard PrestaShop guidance to install the module either on your hosted PrestaShop store or into the cloud (http://addons.prestashop.com/en/content/21-how-to). The module does not require any specific actions during its installation. Once it is installed you may want to go through the module settings in the control panel to customize its look and behaviour.
Acquistati di solito insieme
Community developer Sviluppato da

PrestaShop v1.6.0.4 - v1.7.1.2 Compatibilità

Community developer Sviluppato da

PrestaShop v1.5.5.0 - v1.7.1.2 Compatibilità

Community developer Sviluppato da

PrestaShop v1.3.0.1 - v1.7.0.6 Compatibilità
Novità nella versione 3.3.3(26/06/2017)
Added a new option to change PrestaShop maximum search string length
Code improvements and bug fixes
Informazioni sullo sviluppatore
12/07/2015

Venditore PrestaShop

Ukraine

Paese Regione
Hai una domanda?
Bisogno di aiuto?
Lo sviluppatore ti risponde in