City Autocomplete Module
Developed by
Community developer
(19 votes)
The average rating includes all reviews over the last six months.
+100
downloads!
PrestaShop
1.5.0.0 - 1.7.1.2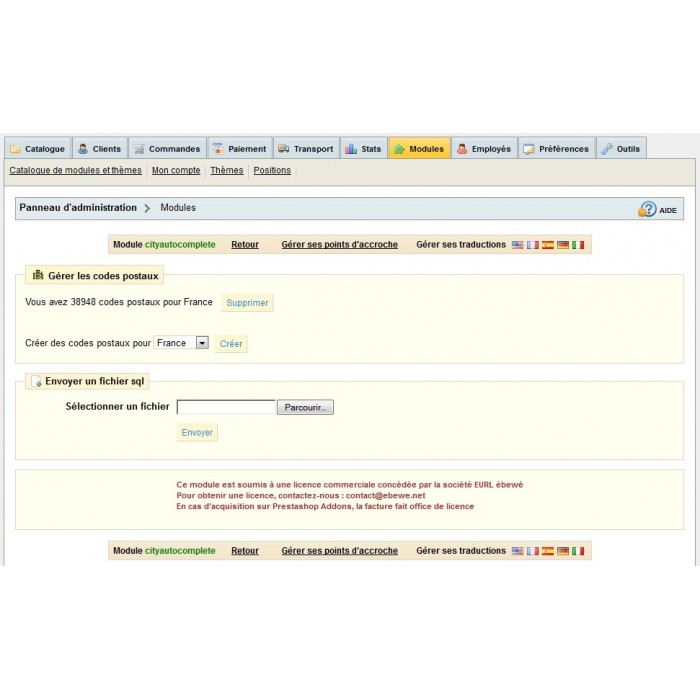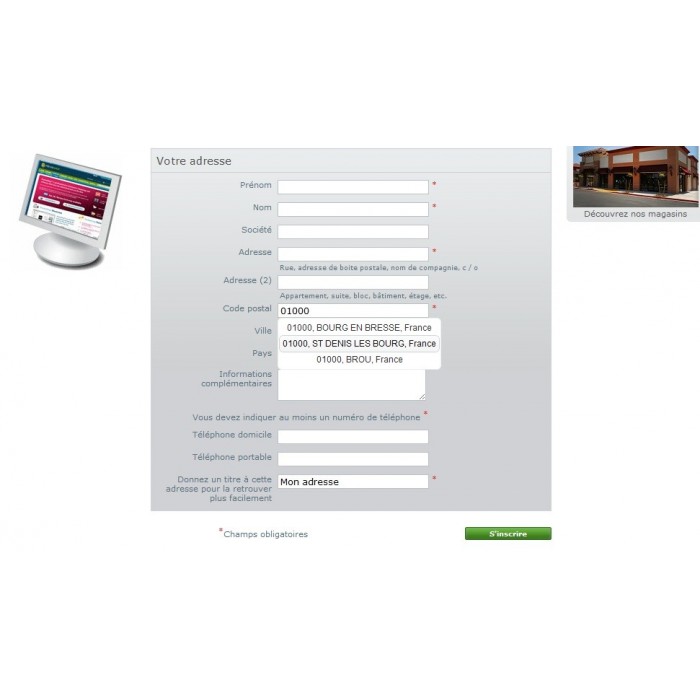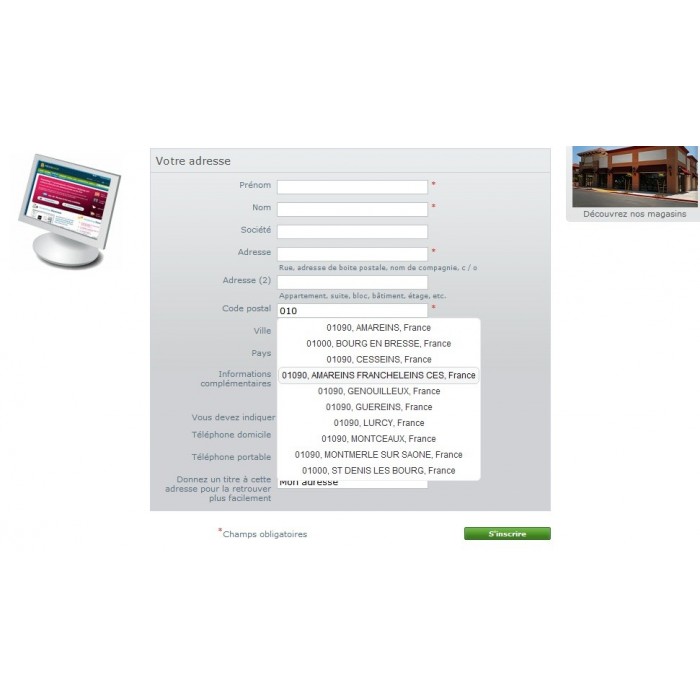 Overview
Add an autocomplete function of the "city" and "country" inputs according to postcode on the "new account" and "new address" forms.
What this product does for you
There are several advantages for you and your customers :
You facilitate and accelerate your customers completion
You avoid eventual mistakes from your customers
Thus, you eliminate mistakes in the choice of the carrier and the delivery fees
Frequently purchased together
Community developer Developed by

PrestaShop v1.5.0.0 - v1.7.1.2 Compatibility

Community developer Developed by

PrestaShop v1.4.0.17 - v1.7.1.2 Compatibility

Community developer Developed by

PrestaShop v1.5.1.0 - v1.7.0.6 Compatibility
Features
Postcodes for all the following countries are available :
Andorre (AD)
Argentine (AR)
Samoa Américaines (AS)
Autriche (AT)
Australie (AU)
Iles d'Aland (AX)
Bangladesh (BD)
Belgique (BE)
Brésil (BR)
Canada (CA)
Suisse (CH)
Allemagne (DE)
Danemark (DK)
République Dominicaine (DO)
Algérie (DZ)
Espagne (ES)
Finlande (FI)
France (FR)
Royaume-Uni (GB)
Guyane Française (GF)
Guernesey (GG)
Groenland (GL)
Guadeloupe (GP)
Guatemala (GT)
Guam (GU)
Guyana (GY)
Ile de Man (IM)
Inde (IN)
Islande (IS)
Italie (IT)
Jersey (JE)
Japon (JP)
Liechtenstein (LI)
Sri Lanka (LK)
Luxembourg (LU)
Monaco (MC)
Moldova (MD)
Iles Marshall (MH)
Macédoine (MK)
Iles Mariannes du Nord (MP)
Martinique (MQ)
Mexique (MX)
Malaisie (MY)
Pays-Bas (NL)
Norvège (NO)
Nouvelle-Zélande (NZ)
Philippines (PH)
Pakistan (PK)
Saint-Pierre-et-Miquelon (PM)
Porto Rico (PR)
Portugal (PT)
Ile de la Réunion (RE)
Suède (SE)
Svalbard et Ile Jan Mayen
Saint-Marin (SM)
Thaïlande (TH)
Etats-Unis (US)
Saint-Siege Vatican (VA)
Iles vierges des Etats-Unis (VI)
Mayotte (YT)
Afrique du Sud (ZA)
Testimonials
Supergood and useful module! Excellent support!
Adam D. agoora.es
What's New in Version 1.8.9(06/19/2017)
Correct bug on PrestaShop 1.5
About the developer
08/09/2011

PrestaShop member

France

Country
Question?
Need help?
This developer answers your questions in: