senangPay Module
Developed by
Community developer
Recommended
local module
PrestaShop
1.6.0.4 - 1.7.2.4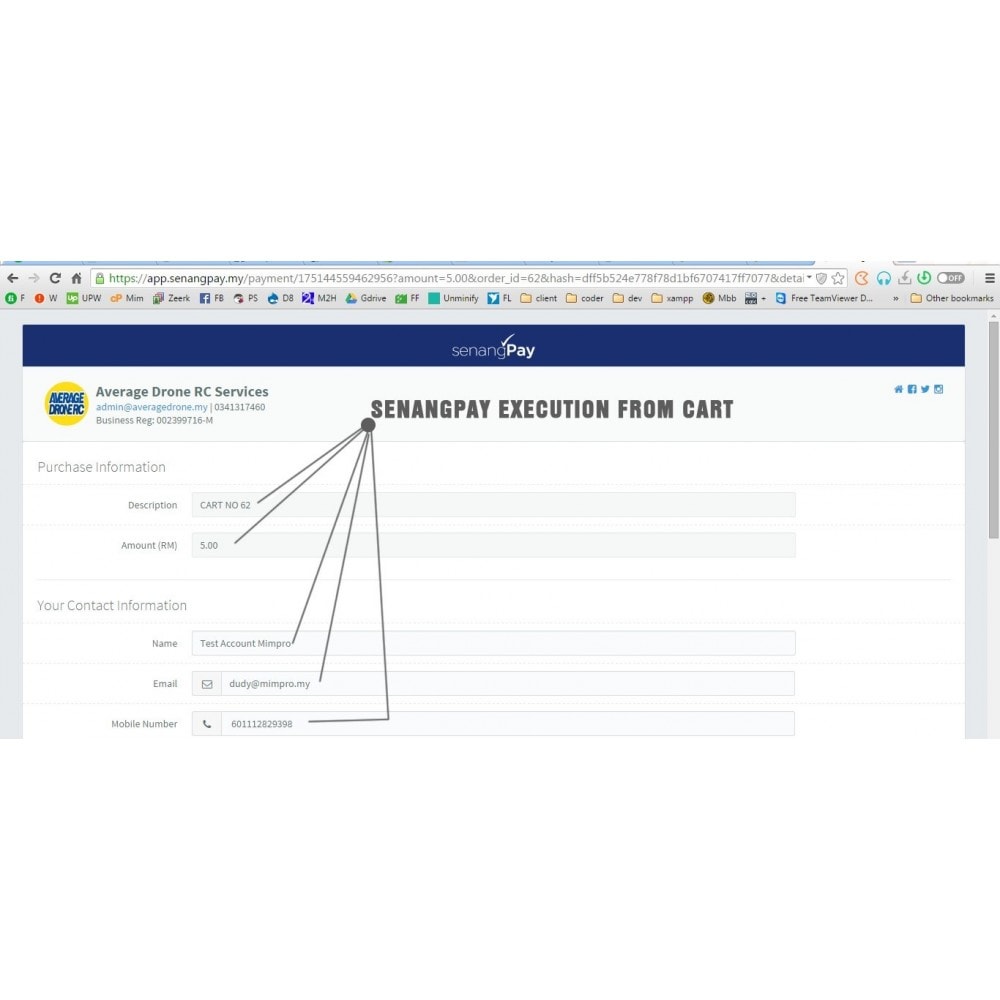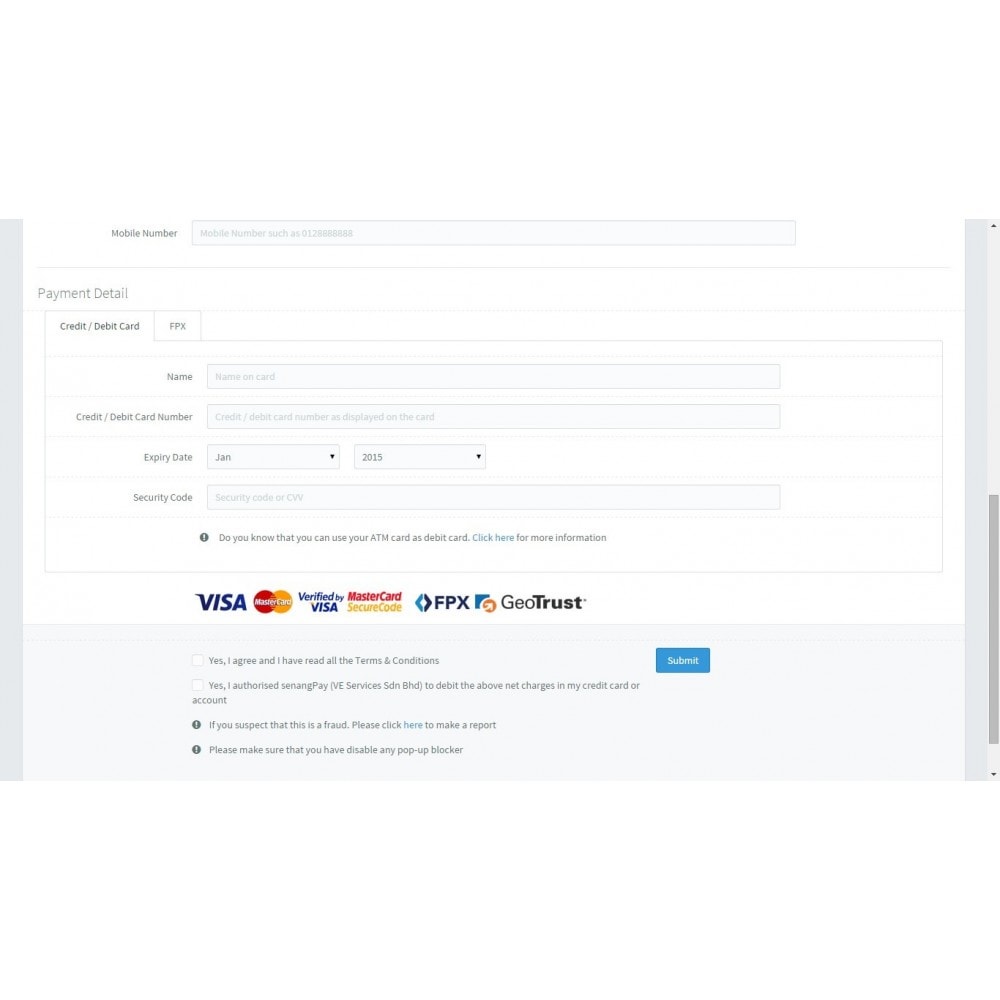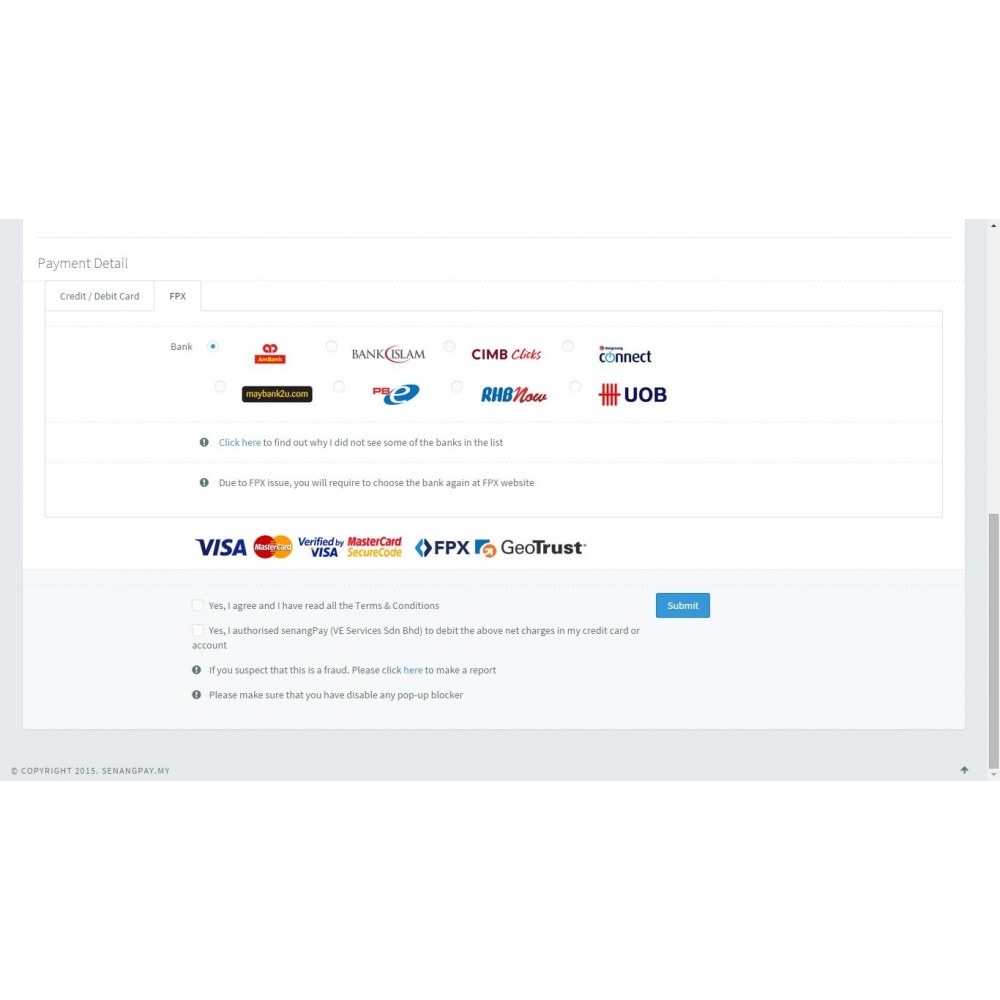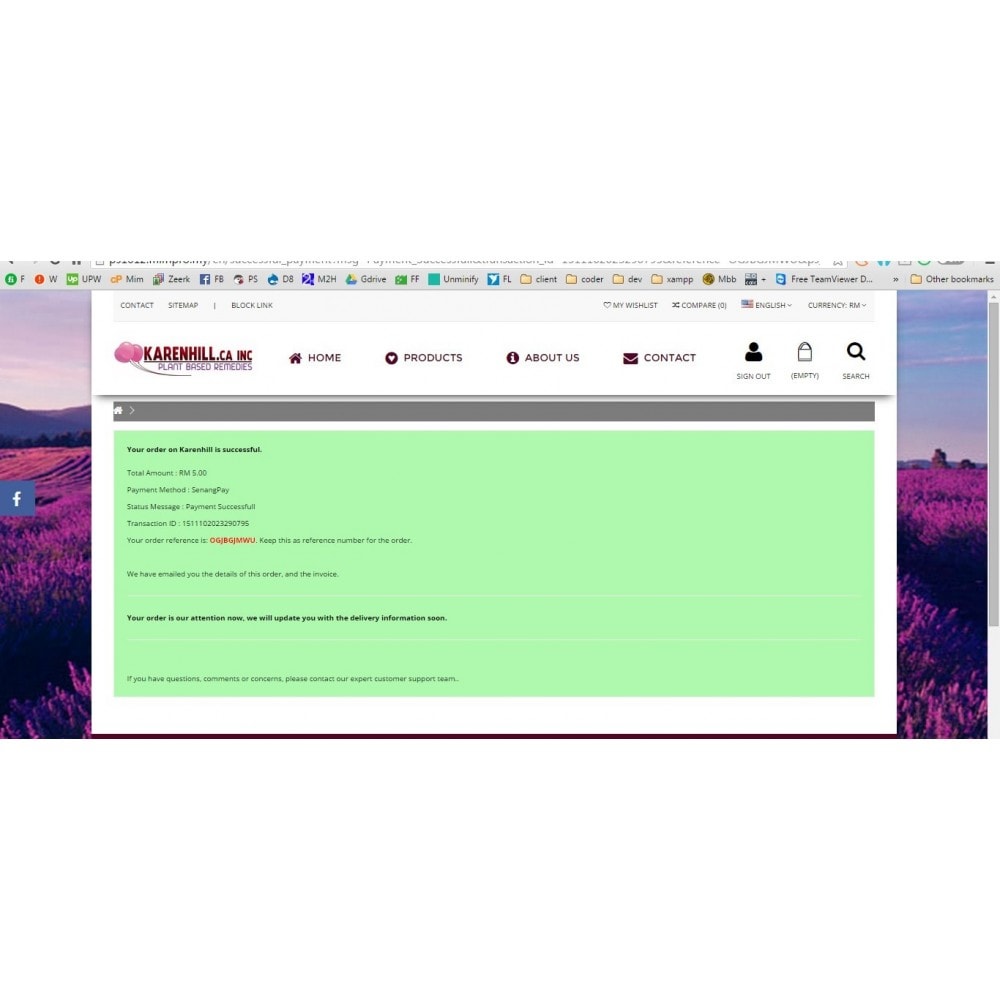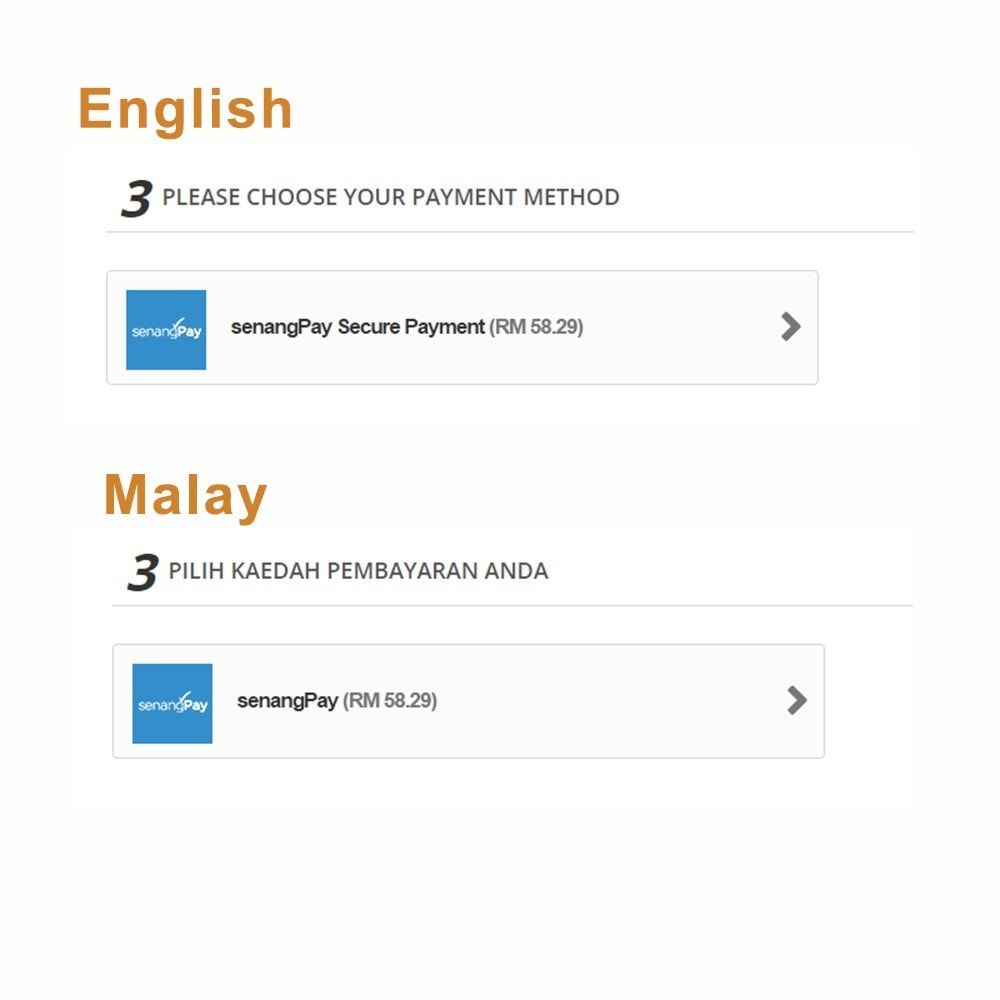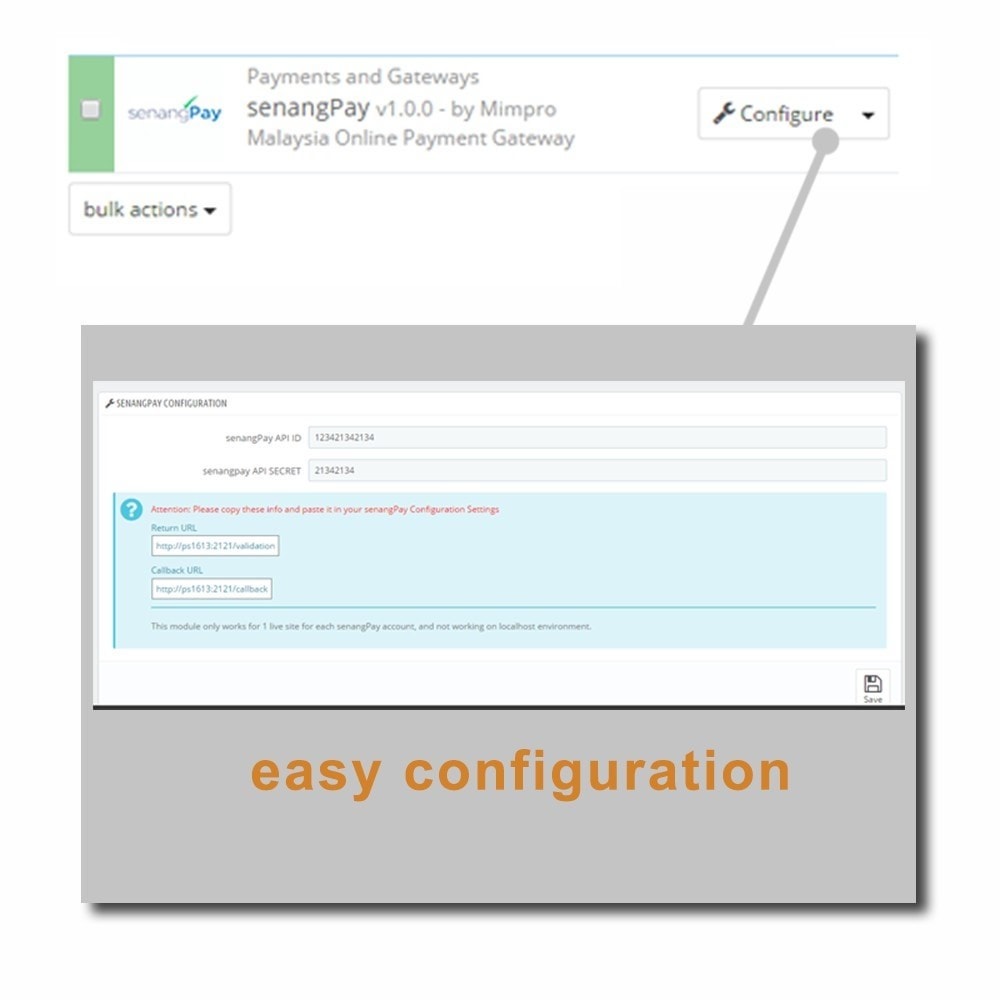 Overview
SenangPay autopayment module enables secure payments directly in your Prestashop store.
It verifies the payment and order status and allows better payment execution in order to increase your conversion.
What this product does for you
Conversion rate Encourage visitors to complete purchases
Conversion rate Provides a payment method suitable to your customers
Enjoy the autopayment facility with this senangPay PrestaShop Module. Integrated with API for high security & payment is executed in Safe Secured Layer (SSL / HTTPS://) mode to ensure no fraud in the execution
Your customer has less process in purchasing and finish transaction in just few clicks. Successful payment updates order status to Payment Accepted, and it automatically verifies the payment into your Prestashop backend
No manual transfer is required in this module
Payment is available in your account in the shortest time, and the lowest annual fee is applied
Boost your marketing and selling with automated senangpay PrestaShop module for easier and more joy on user experience through your PrestaShop store
This module is built by MIMPRO, a dedicated and highly skilled PrestaShop Agency partner.
Features
Creditcard / Debitcard / Visa / Mastercard
Payment automatically in Ringgit Malaysia in default. Auto conversion to Ringgit Malaysia if you offer multi-currency shop.
Module completed with Bahasa Melayu and English translation set, and able to add more languages upon request.
Easier experience with senangPay gateway registration. No hassle with unnecessary rules, pay less and benefit more.
Very fast payment to your account, with guarantee less than 1 week
Fixed, low transaction fee of RM1.50 per FPX transaction only. No limits on how big the transaction to enjoy this low rate.
FPX transaction is the ability to receive payment from any local banks, and you don't need to have a registered account in all banks, the FPX will arrange the fund from any banks to your bank by senangPay.
Autopayment execution: smart verification of successful payment and order status update, so that both customers and merchant will shorten the order process, and no fraud payment guaranteed.
Frequently purchased together
Community developer Developed by

PrestaShop v1.6.0.4 - v1.7.2.4 Compatibility

PrestaShop Developed by

PrestaShop v1.6.0.4 - v1.7.2.4 Compatibility

PrestaShop Developed by

PrestaShop v1.5.3.1 - v1.7.2.4 Compatibility
Other
The default currency used via senangPay is Ringgit Malaysia. If you offer multicurrency shop, other currency will be asked to be copnverted to Ringgit Malaysia by dialog box for customer to confirm agree to use Ringgit Malaysia with your currency exchange rate settings in your Prestashop.
 
What your customers will like
Customers are able to use Creditcard / Debitcard / Visa / Mastercard, and also FPX payment to pay from any local bank online transaction interface regardless you have that particular account registered on such banks
Customers will get automatically verified on each successful payment and orders updated automatically. If the purchase concerns virtual product / online bookings / ticketing system, the product / booking confirmation is executed and transfered to the buyer a few seconds only after payment
Safe and secure payment, within Safe Secured Layer sessions. Customers data on creditcard / login is safe
Payment execution just takes a few clicks
It is easy and fast for customers to purchase
No need to copy account number or key in product price manually
No need to print or provide screenshot /snapshot on receipts
Recommendation
Registered with senangPay. You may register later but to complete the installation setup you will need the Merchant ID and secret code, which you only get upon senangPay account registration.
 
Support and updates
You automatically get 3 months of support for this product.
For 90 days after your purchase, you can enjoy technical and feature support, as well as access to updates available for this product.
Installation
Just install and put your data of senangPay accounts. You will be provided with links to API payment page to update (just copy and paste) into your senangPay merchant settings page.

Not registered yet with senangPay? Sure you can contact senangPay or register online. Registration will be very easy.

 
What's New in Version 1.0.4(11/21/2017)
1.0.4 added Version Compatibility PS1.7+
About the developer
03/05/2013

PrestaShop member

Malaysia

Country
Question?
Need help?
This developer answers your questions in: