pacote Product promotion Advanced
desenvolvido pela
Invertus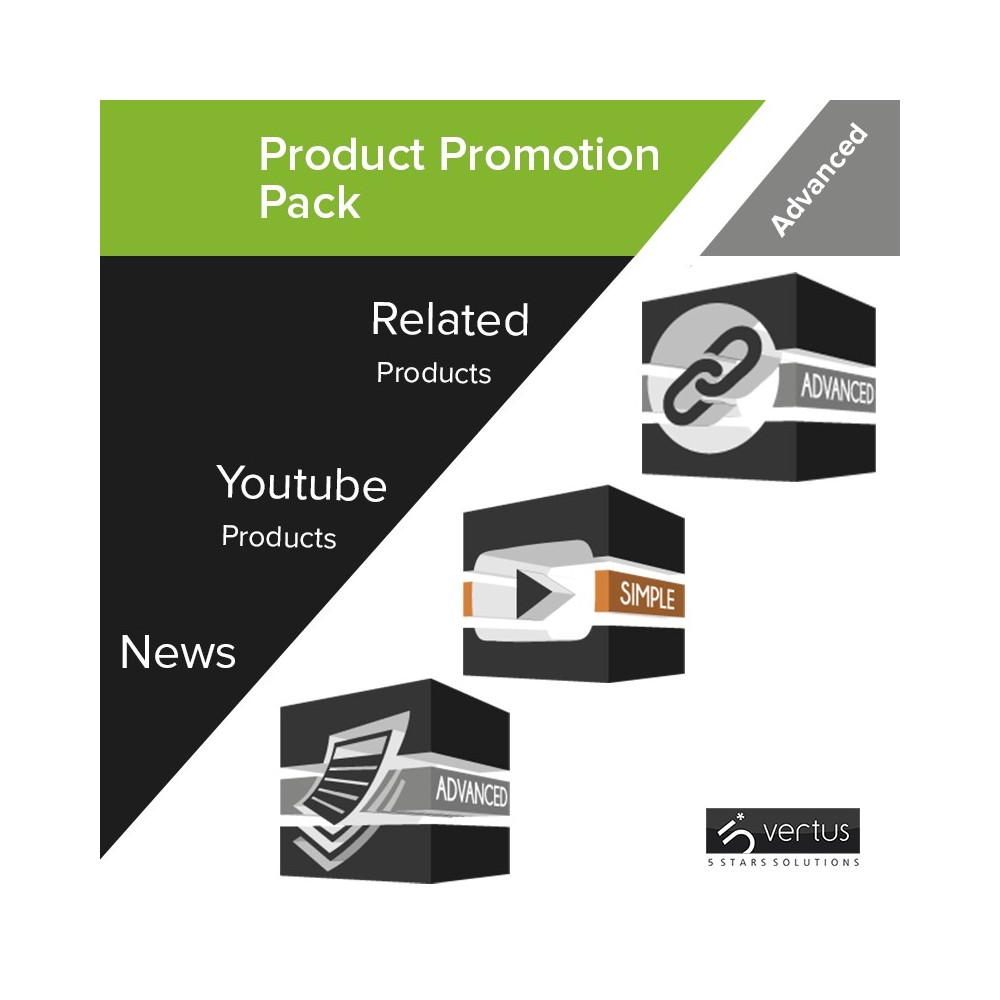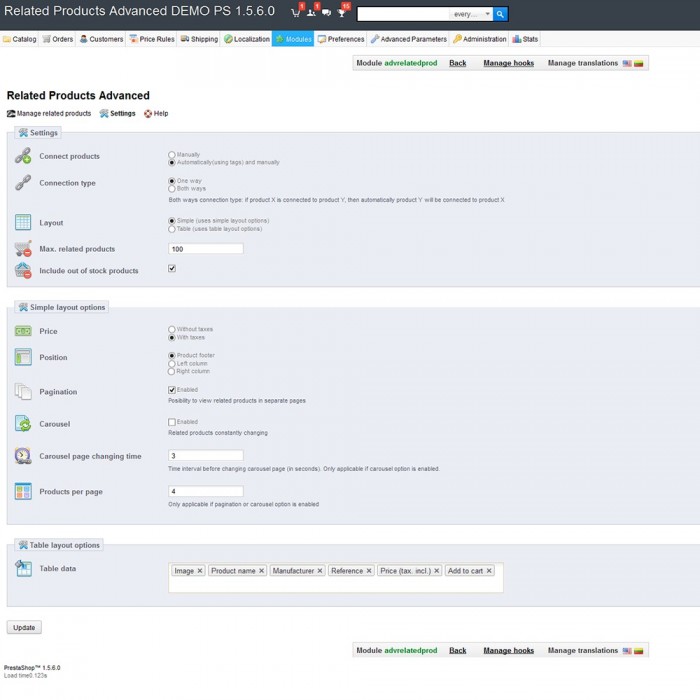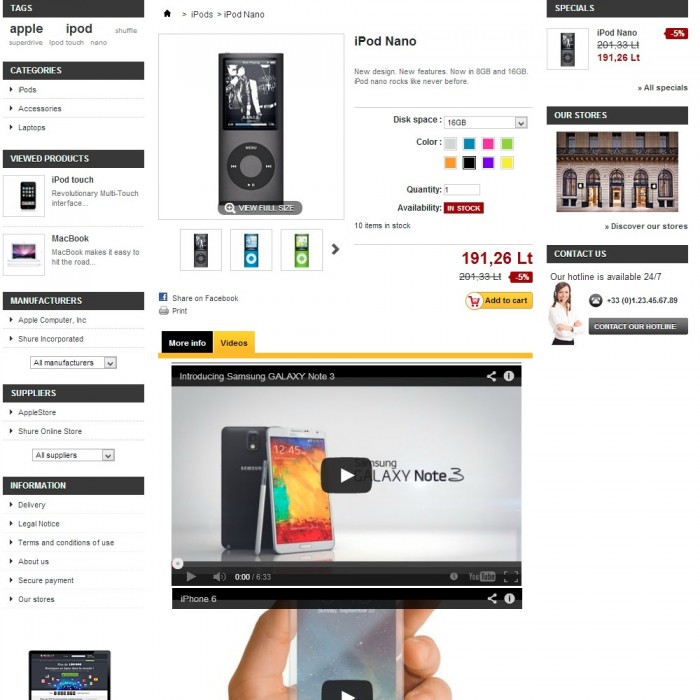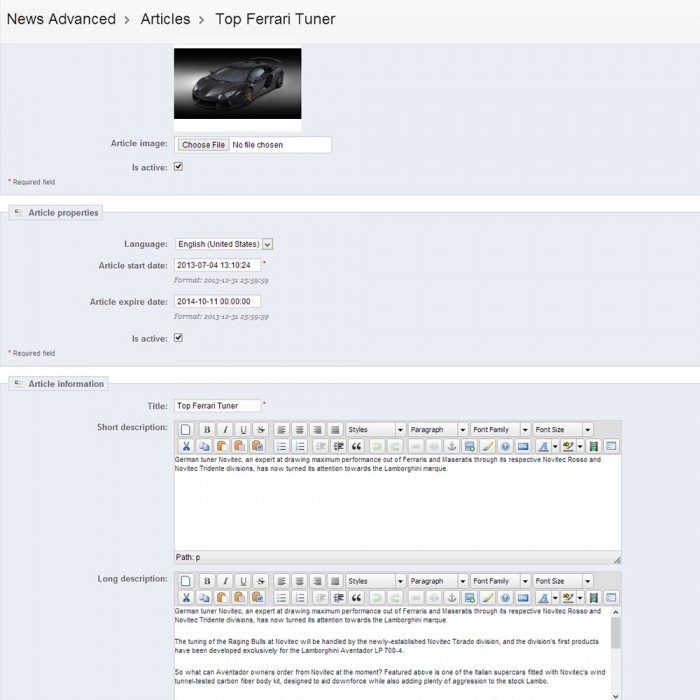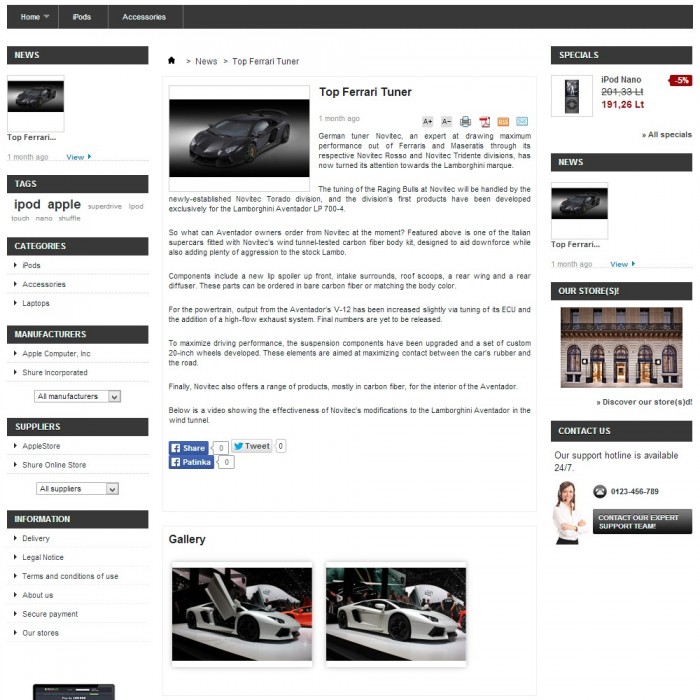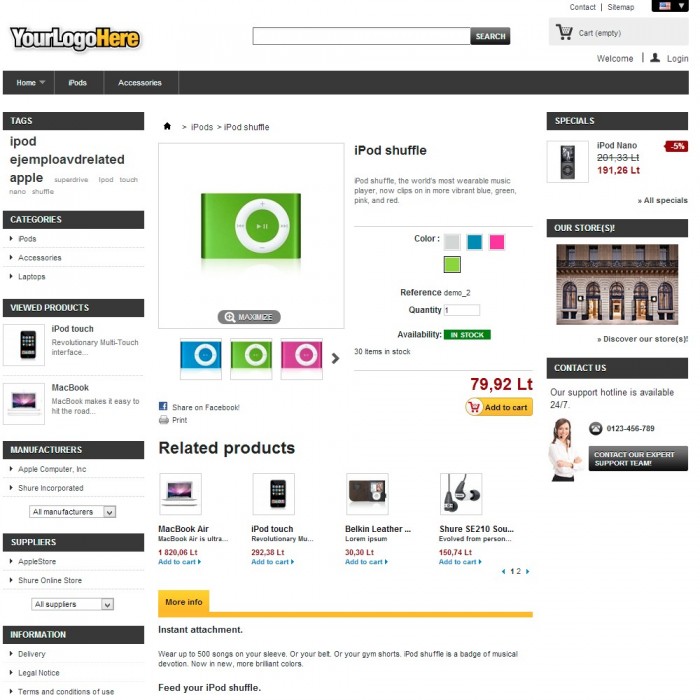 Apresentação
Interactive, innovative, compelling – Product promotion Advanced Pack helps for You to attract customer attention, encourage interest, causes desire and leads to faster buying decision!

O que este pacote oferece
Boost profit, and offset shipping fees.
The source code is clean and commented so it's possible to make changes easily.
Present products in a carousel or left/right column.
Related products increase per-customer sales.
Relate products one or both ways.
Display add to cart button.
Tell a memorable story about a product or service.
Show price with taxes or without.
Helps customers to make faster buying decision.
YouTube video is SEO Friendly.
Increased bandwidth, exposure to your business from everyone who sees your video.
More effective way to present a product or service.
Visualize benefits for clients.
Helps to build reputation as as an expert in a field.
Latest information promotes new products.
News articles provides easy customer access to new deals.
Articles SEO friendly URL's will improve your web store SEO.
Easy article management saves time.
Many settings options help to display the news exactly the way you want.
Características
Administrator
Manage related products
Change module settings
Manage videos
Manage articles
Manage comments
Change main settings
Manage module hooks settings
Change module comments settings
Change module images settings
Change Facebook like button settings
Change sharing settings
Change Layout settings
View module help information
User
View related products in a product page
Add related products to the shopping cart instantly
View videos embedded directly in product page
Read news articles
Change article font size
Print article
Download article as PDF
Generate article RSS feed
Email article to friends
Browse news archive
View news article gallery
Share article on Facebook
Like article on Facebook
Share article on Twitter
View related news articles
Comment article
View news article comments
Comment other people opinion
Report inappropriate comments
outro
Support

If you have any questions do not hesitate to ask. We can also develop custom modules for you or make some core modifications for your PrestaShop web store if needed.

Our company is dedicated to your satisfaction and is always open to your feedback. If you have an issue with our module, please fill in this contact form https://invertus.worketc.com/forms?7 or contact us at help@invertus.eu and we'll do our best to help you.

We are always happy if we can help our customers!
O que seus clientes apreciarão
Related products reminds users what they may need or want.
Possibility to see compatible or similar products.
Ability to add related products to the shopping cart instantly.
Saves time by searching for the products.
Product review videos helps to get better insight about the product.
Leads customers to faster buying decision.
Helps to memorize the characteristics of the product.
Saves time spent looking for product videos.
Web store news provides all the relevant information and saves time.
Comments left by other customers help to make a faster decision.
News Article gallery captures attention and enhance customer experience.
Instalação
We are constantly updating our modules, therefore modules are fully compatible with all PrestaShop 1.5.x versions.

To successfully install our modules, please follow these installation instructions:

Related Products Advanced:
https://invertus.atlassian.net/wiki/display/RPA/Installation+instructions+v2.0

Youtube Product Simple:
https://invertus.atlassian.net/wiki/display/PRYOUTBE/Installation+instructions+V+2.0

News Advanced:
https://invertus.atlassian.net/wiki/display/ADVNEWS/Installation+instructions+V++2.1
sobre o desenvolvedor, Invertus
***PRESTASHOP PREMIUM AGENCY***

Based in Copenhagen and as the only exclusive PrestaShop Premium Partner in Denmark we are acknowledged as PrestaShop Certified Partners in Scandinavia, UK and Lithuania. Through many years our team has gained wide experience in designing, developing, marketing, training and supporting scalable e-commerce solutions for SME, international multichannel retailers and e-commerce solution providers. As PrestaShop Premium Partners we guarantee high standards and exquisite quality.
As PrestaShop Premium Partners we guarantee high standards and exquisite quality.
2010-07-12

Vendedor PrestaShop

Denmark

País região
Alguma pergunta?
Precisa de ajuda?
O colaborador responde às suas perguntas em: