moduł AttributeList – Customized list of attributes
Opracował
Community developer
PrestaShop
1.6.1.0 - 1.6.1.17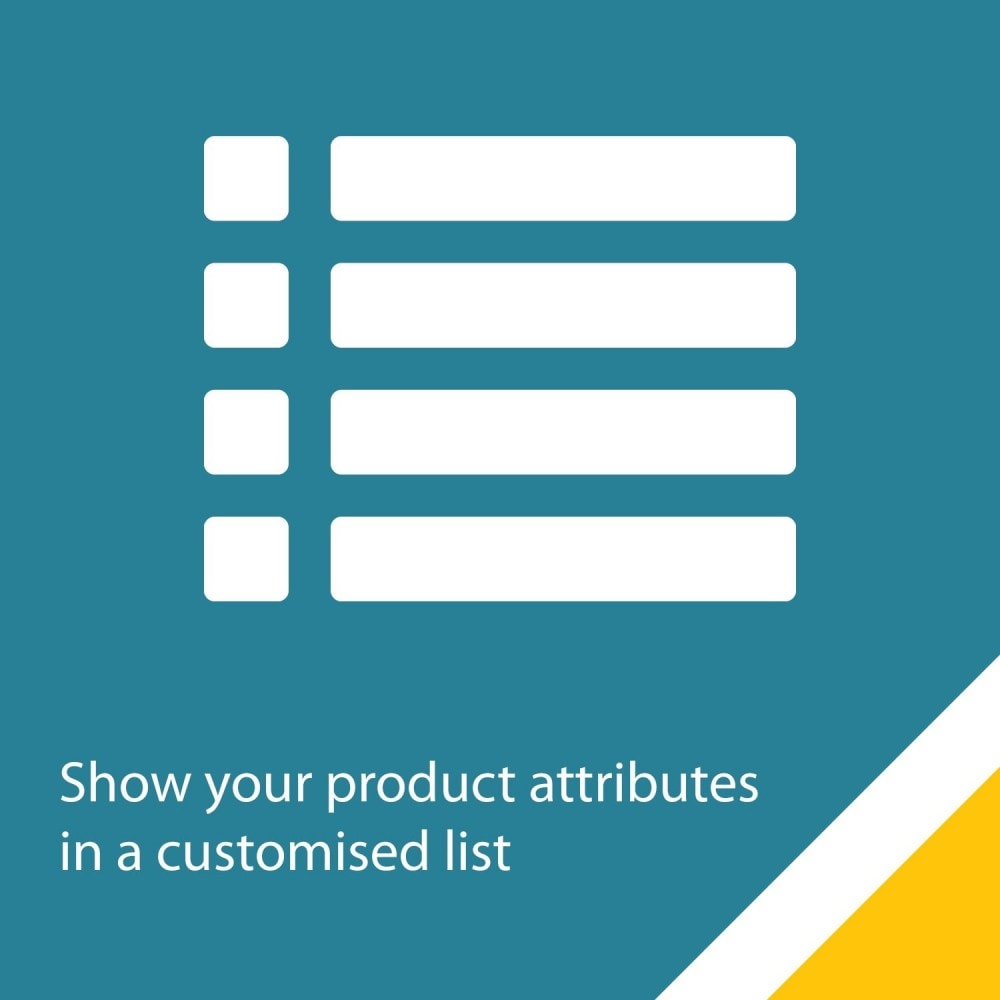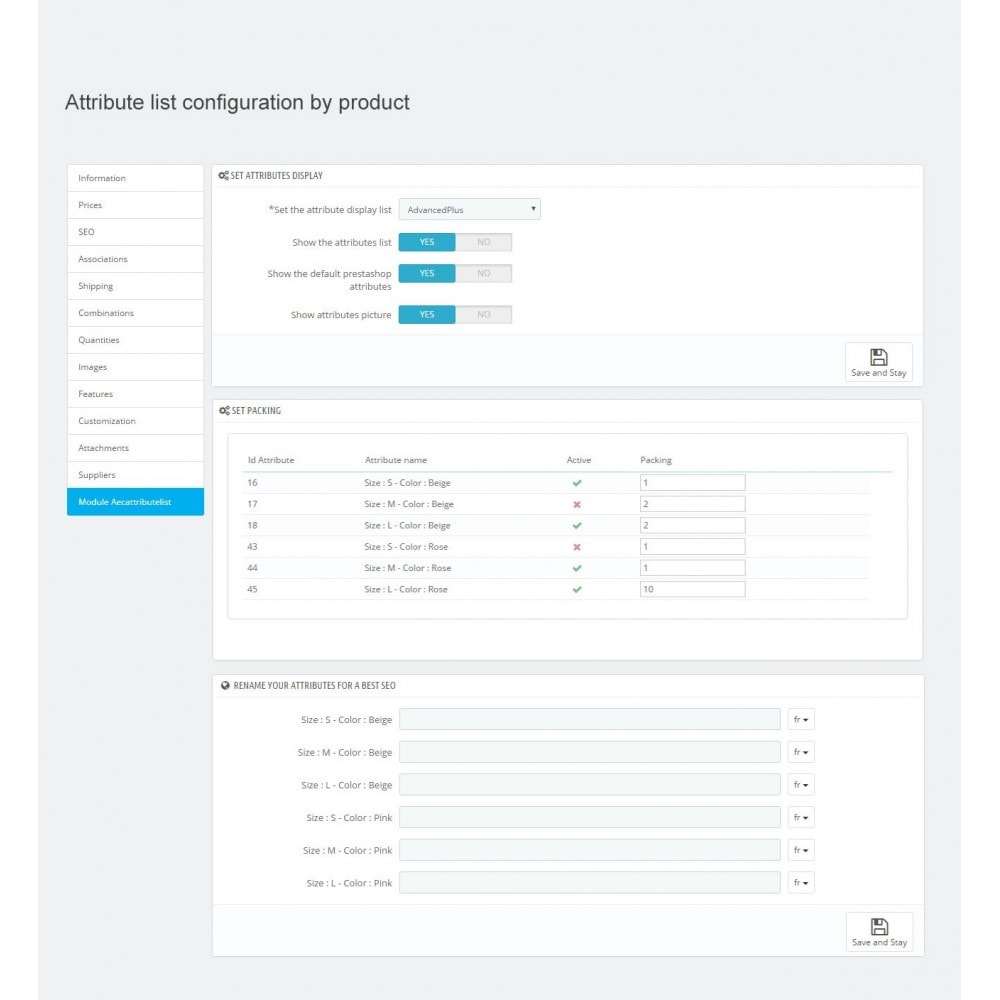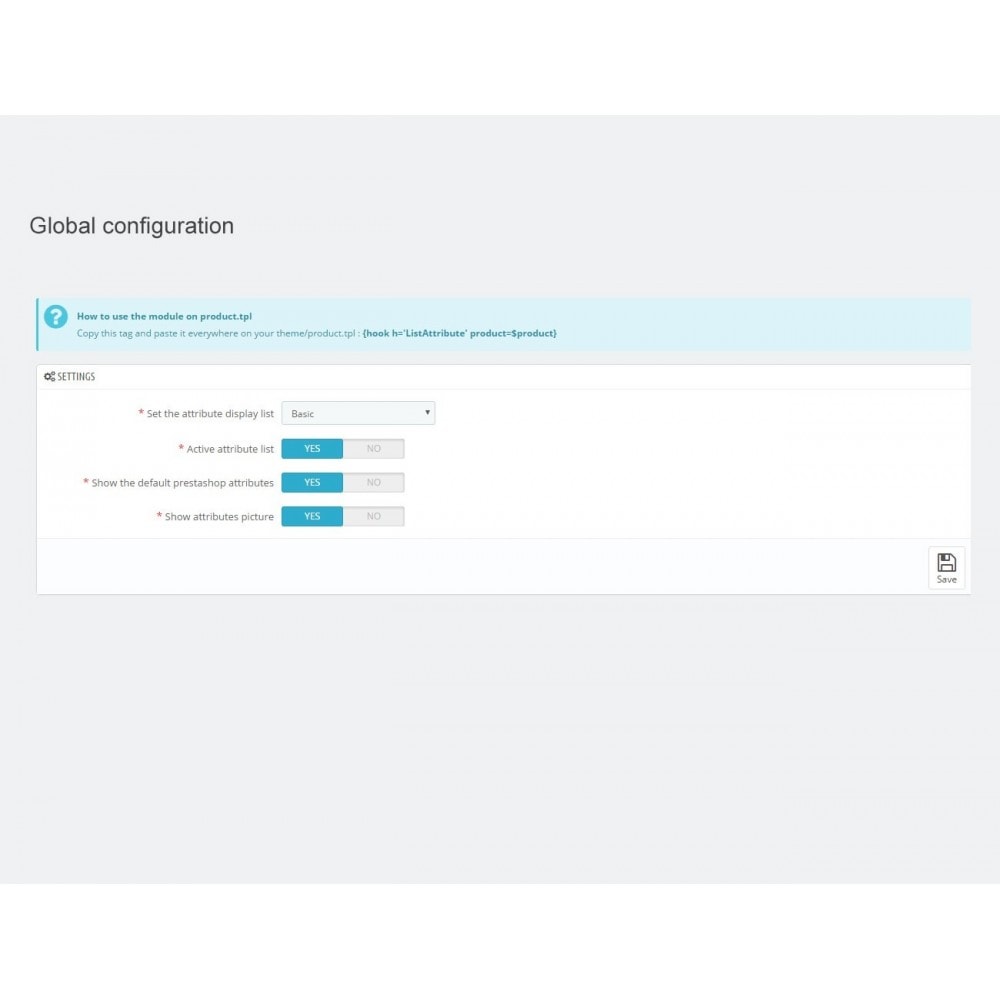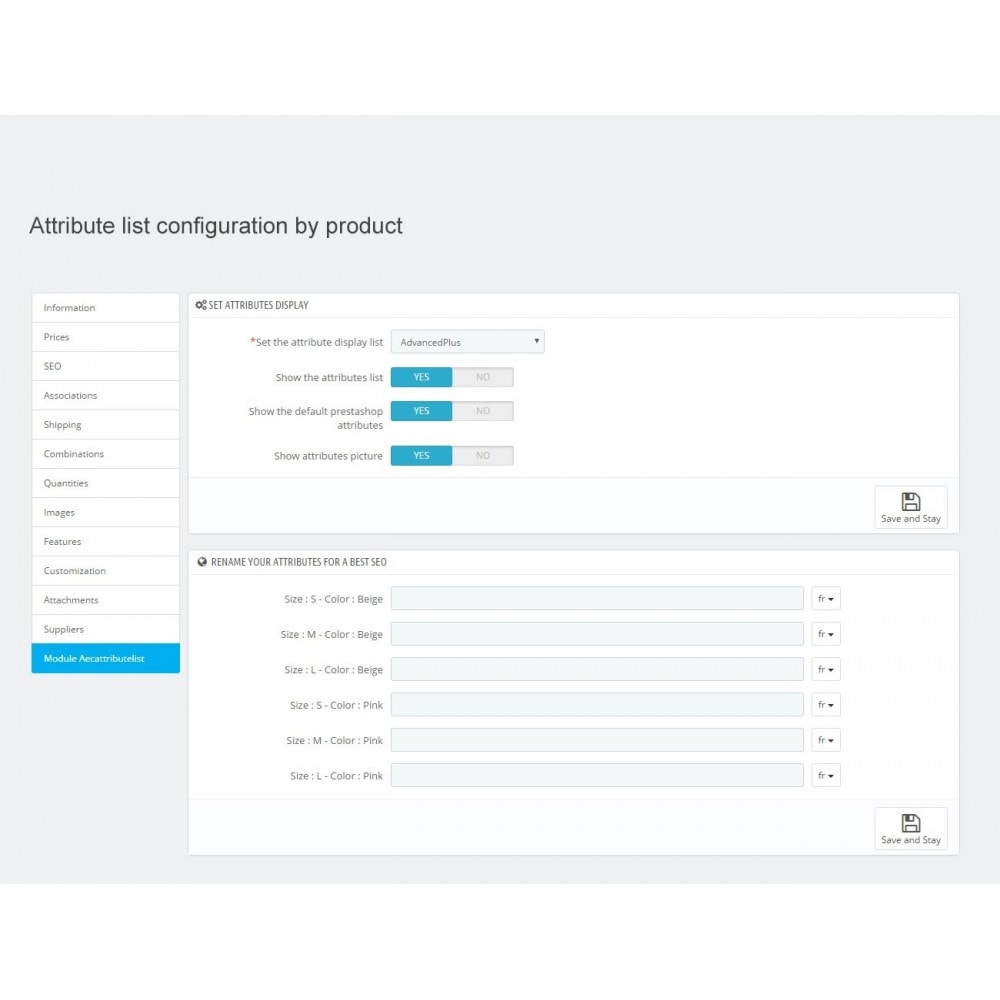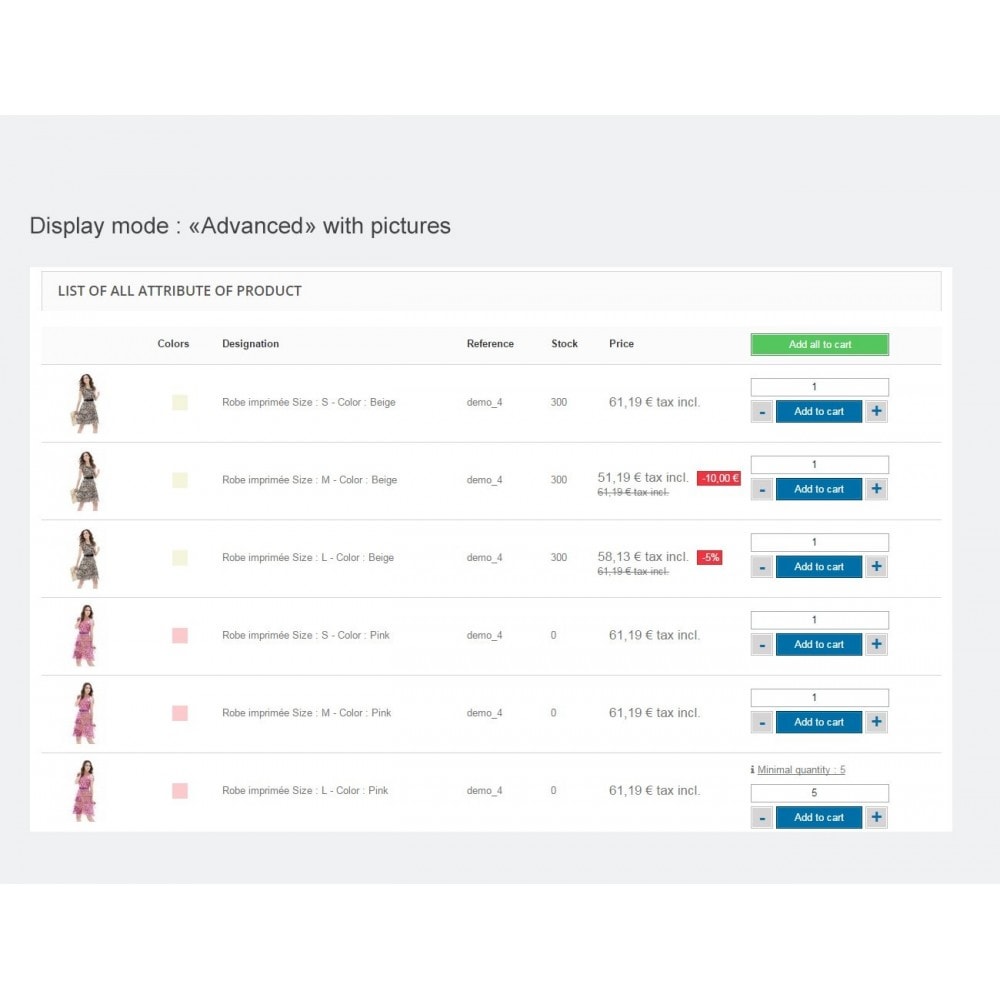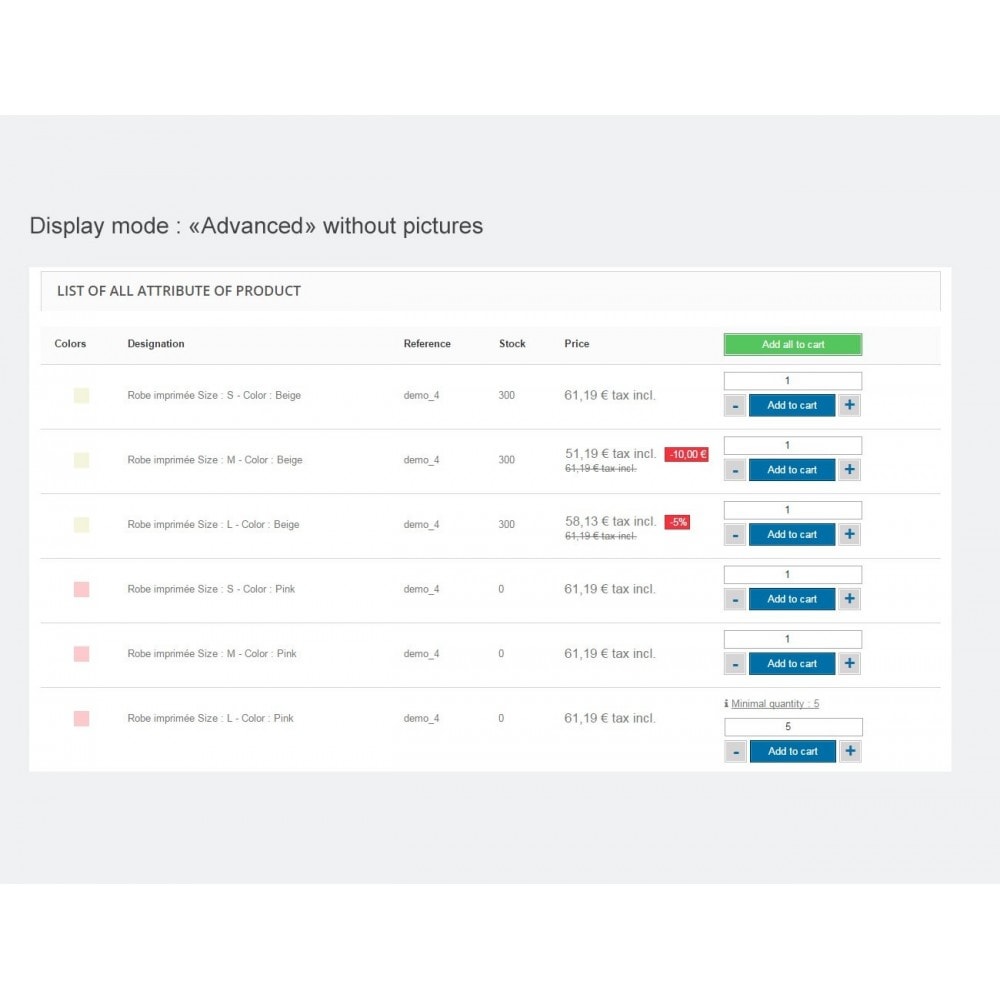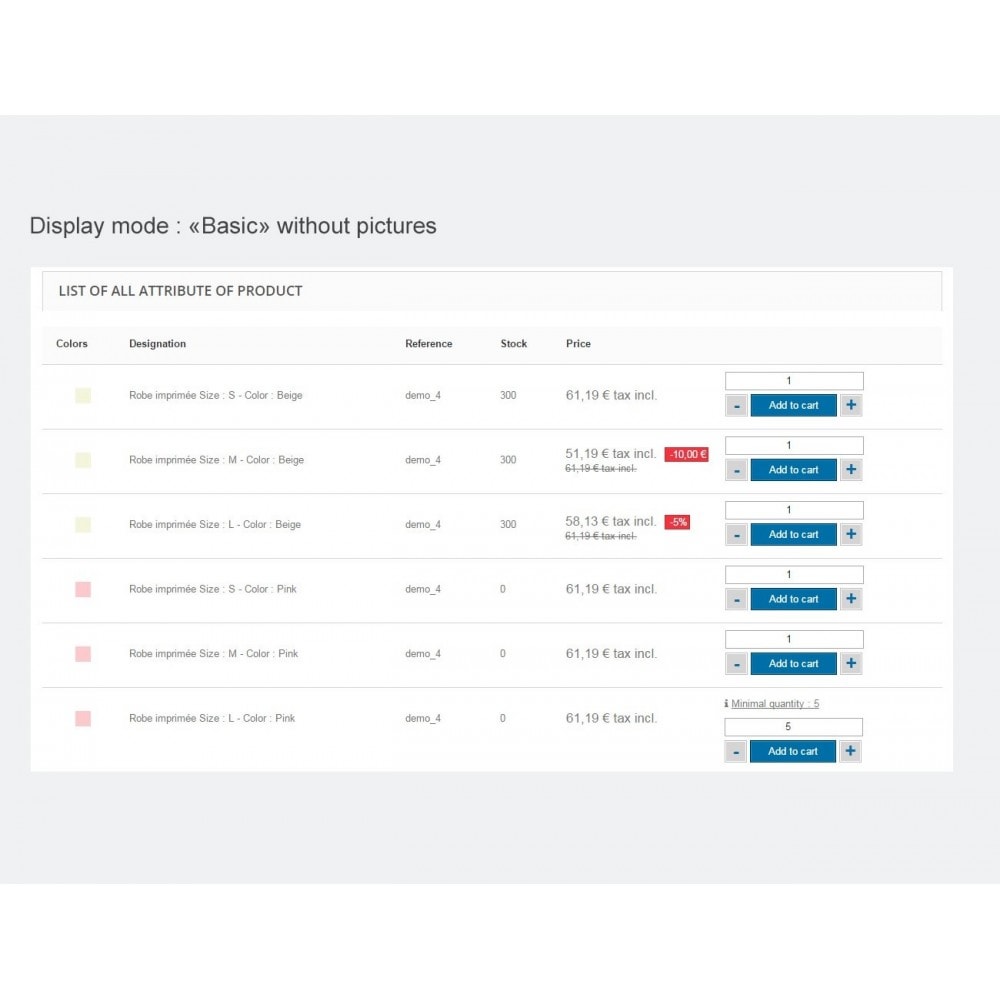 Prezentacja
 Show and customize the list of attributes for all of your products. Configuration is general or by article.
Korzyści wynikające z tego modułu
Nawigacja Optymizuje doświadczenie użytkownika
Decreases the number of customer click on the purchase of the product with an attribute.
Choose to apply the configuration of the whole of products or a single item.
Standard installation.
No override needed.
No code changes required.
Chart responsive versions.
The prices include all available discounts and displayed with reducing its amount or percentage.
If the shop is in catalog mode, columns Stock, Price and buttons do not appear.
Improve your SEO by customizing the names of attributes.
Disable some combinations and dont let your customers go.
Filling the "packaging" and easily display the unit price.
Często kupowane w zestawie
Community developer Opracował

PrestaShop v1.6.1.0 - v1.6.1.17 Kompatybilność PrestaShop

Línea Gráfica Opracował

PrestaShop v1.5.0.0 - v1.7.2.4 Kompatybilność PrestaShop

Silbersaiten Opracował

PrestaShop v1.6.0.4 - v1.7.2.4 Kompatybilność PrestaShop
Funkcje
Select from three modes for displaying the list.
Basic: Displays columns: colors, Designation, reference, Stock, Price.
Advanced: Allows the customer to purchase all versions of a single click
AvancéPlus: Allows the merchant to improve SEO by changing the title of each attribute
Activate or not the listing of attributes.
Display or not display versions of PrestaShop's attributes
Display or not the image of each attribute.
Set the display of the list directly in the Back Office section.
If no configuration is specified for an item, the overall configuration of the module will be used.
Enable or disable one or more combination easily in product back office.
Display the unit price for each combination.
Inne
By default the module is attached to FooterProduct hook. However,you can unhook and use the tag described in the Back Office module to display your list where you want on the product page.
Oto co spodoba się Twoim klientom
From a glance, check availability of desired variations.
Due to combination desactivation end the "out of stock" for combinations.
Display the unit price if your declination contains packing.
In Advanced mode, send all declensions to cart with one click.
Wsparcie techniczne oraz aktualizacje
Otrzymasz automatycznie 3 miesiące pomocy technicznej dla tego produktu.
Przez 90 dni po zakupie jesteś uprawniony do pomocy technicznej i funkcjonalnej, a także masz dostęp do aktualizacji dla tego produktu.
Instalacja
 Use the button "Add a new module" from the page modules in the back office and upload the .zip file.
Co nowego w wersji 1.5.26(2016-03-03)
Show or hide combination image
Desactivate one or more combination
Set a packing for one or more combination
O wydawcy
2010-06-02

Sprzedawca PrestaShop

France

Kraj region
Masz pytanie?
Potrzebujesz pomocy?
Wydawca odpowie Ci w ciągu