moduł SmartSearch - Improved and optimized quick search
Opracował
Community developer
(3 głosy)
Na średnią ocenę składają się wszystkie głosy otrzymane przez ostatnie pół roku.
PrestaShop
1.5.4.0 - 1.6.1.17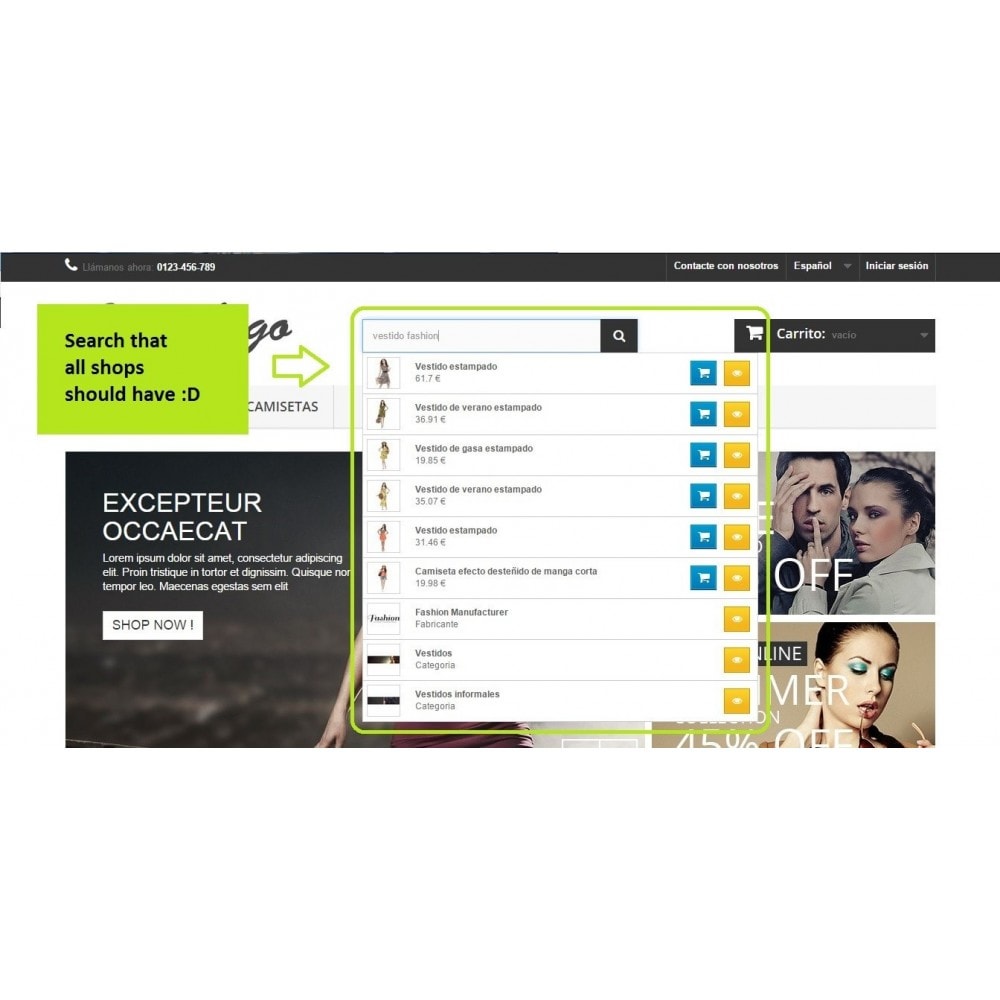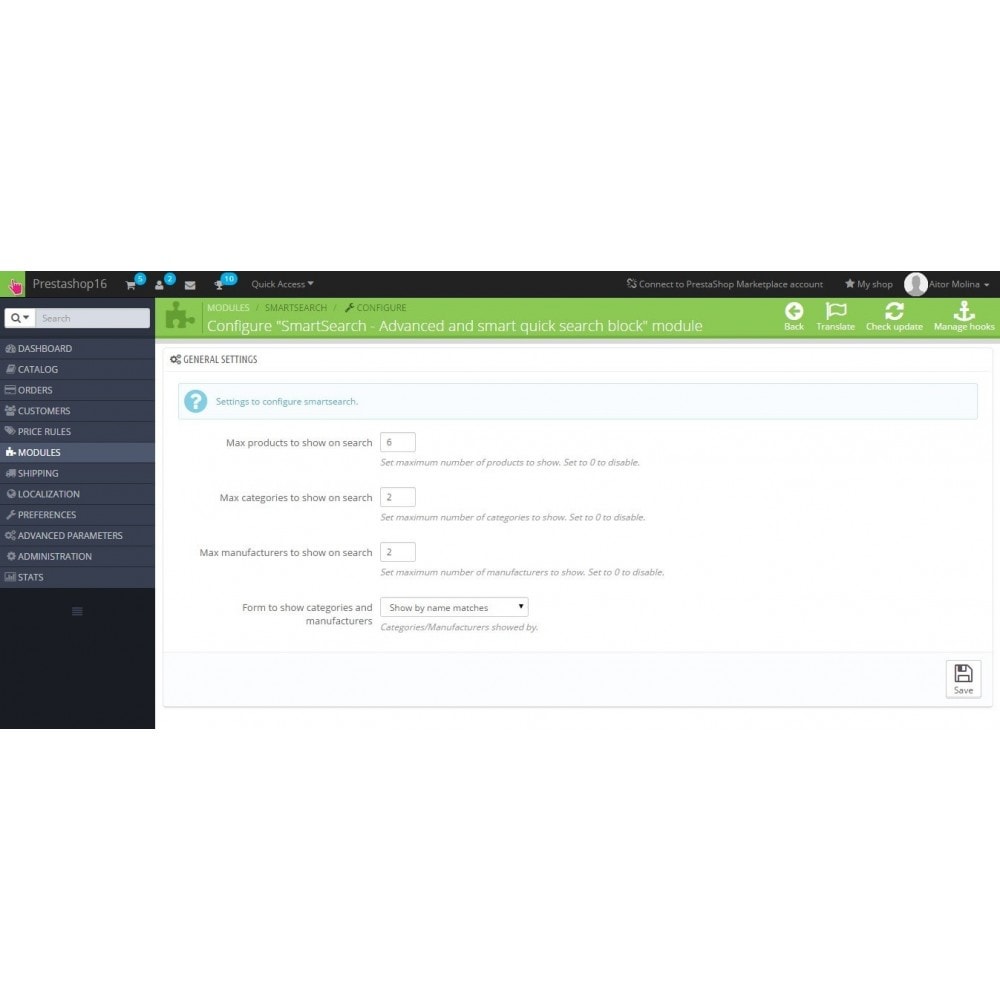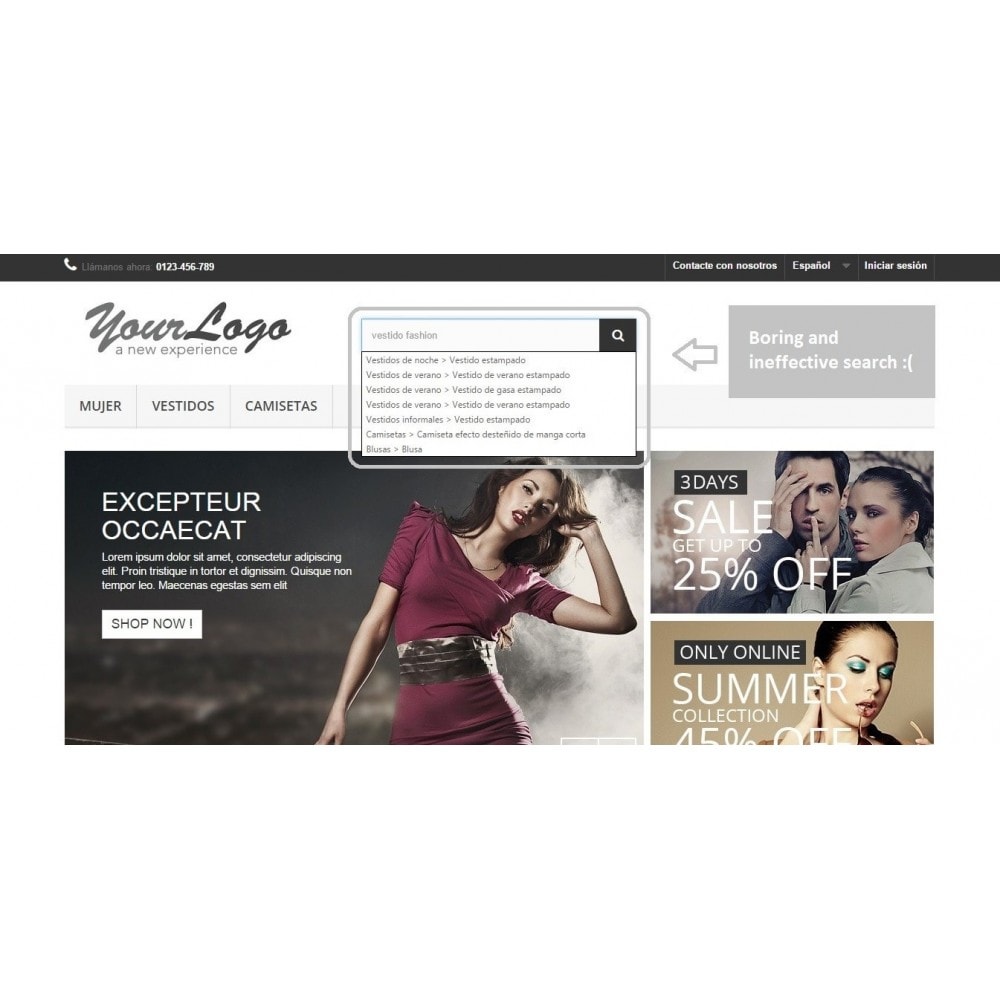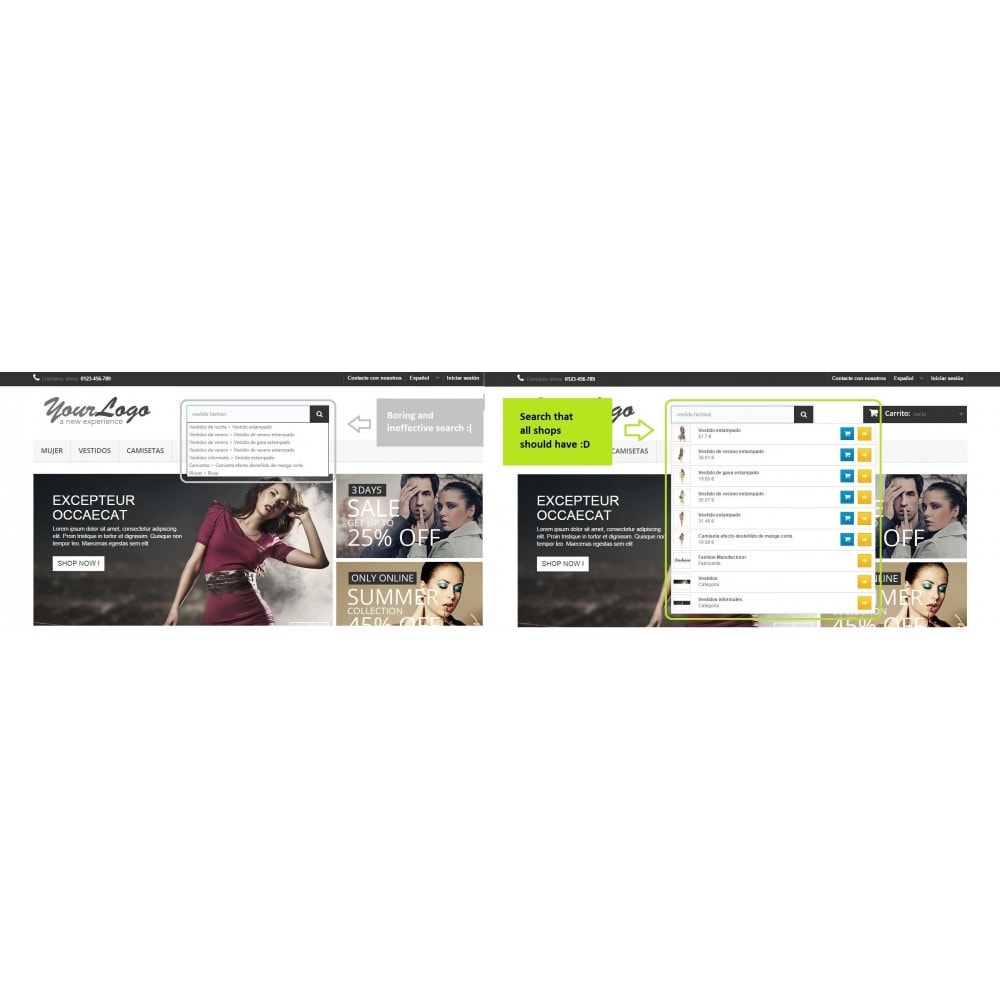 Prezentacja
Facilitates your customers to find what they are looking for! Allow your customers looking at your store products, brands and categories quickly and smartly. With a design and operation designed and adapted to increase your sales.
Korzyści wynikające z tego modułu
Hassle free! We know your time is precious ... Totally intuitive and easy to set up, in two clicks you'll have it running.
Sell more! Increase your sales conversion easier for your customers find what they are looking for.
A satisfied customer is a return customer! :)
We are here! This is just the beginning, we will improve every day. Do you you're going to lose?
Funkcje
Improve your search engine! This module replaces the boring and ineffective quick search Prestashop. Allows users to search brands plus product categories.
Designed to sell more! From the browser itself the customer can add to cart products found.
Stylish and Effective! The results show more accurate products found, such as the thumbnail of the main image and price information.
No surprises! Make sure that adapts to your store. Use the installed theme styles to fit 100% to any topic on the market.
Customizable! Choose the maximum number of products, brands and categories to display. Additionally, you can choose whether brands and categories shown are based on the products found or of the terms, to show what you think best.
Często kupowane w zestawie
Community developer Opracował

PrestaShop v1.5.4.0 - v1.6.1.17 Kompatybilność PrestaShop

PrestaShop Opracował

PrestaShop v1.6.0.4 - v1.7.2.4 Kompatybilność PrestaShop

PrestaShop Opracował

PrestaShop v1.5.3.1 - v1.7.2.4 Kompatybilność PrestaShop
Oto co spodoba się Twoim klientom
Do not waste time! Show your customers what they are looking for quickly and efficiently. The search begins to find results as you type the client to save time and improve the shopping experience.
A unique user experience! The speed of results and stylish design with the most relevant information ensure that your customers enjoy shopping at your store.
Make it easy! Your customers can purchase any product from any page of your website through the add to cart button incorporating the results of the search.
Rekomendacja
This module replaces the Quick Search module comes standard with Prestashop, so we recommend that once our Blocksearch uninstall the module module installed.
To display thumbnails of the results of small_default images are used, if for whatever your template does not have them should create the corresponiente section of the admin panel.
Wsparcie techniczne oraz aktualizacje
Otrzymasz automatycznie 3 miesiące pomocy technicznej dla tego produktu.
Przez 90 dni po zakupie jesteś uprawniony do pomocy technicznej i funkcjonalnej, a także masz dostęp do aktualizacji dla tego produktu.
Instalacja
SmartSearch is so easy to install and configure that it will not require any manual for operating. We like to make things simple.
Co nowego w wersji 1.2(2015-04-03)
Improved quick search, design and functionalities
O wydawcy
2015-03-29

Sprzedawca PrestaShop

Spain

Kraj region
Masz pytanie?
Potrzebujesz pomocy?
Wydawca odpowie Ci w ciągu