moduł Product Video Pro
Opracował
Community developer
PrestaShop
1.6.0.4 - 1.6.1.17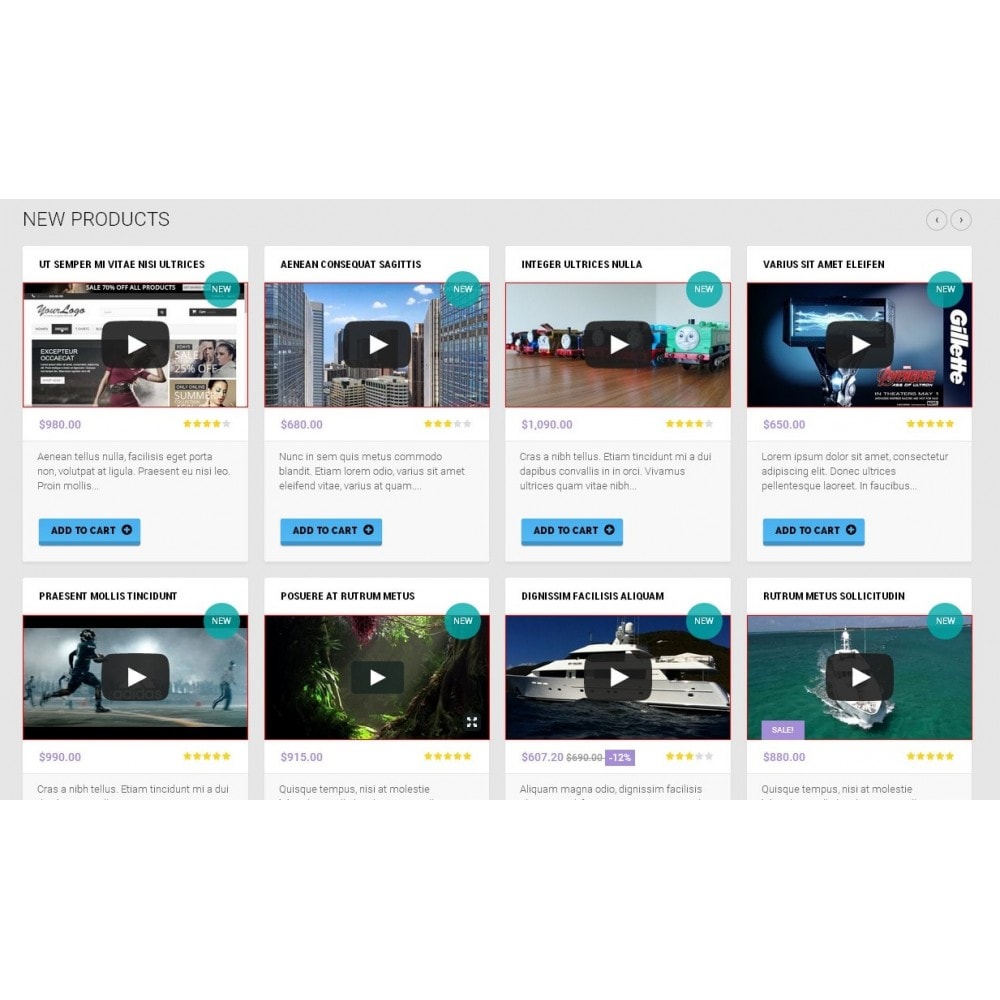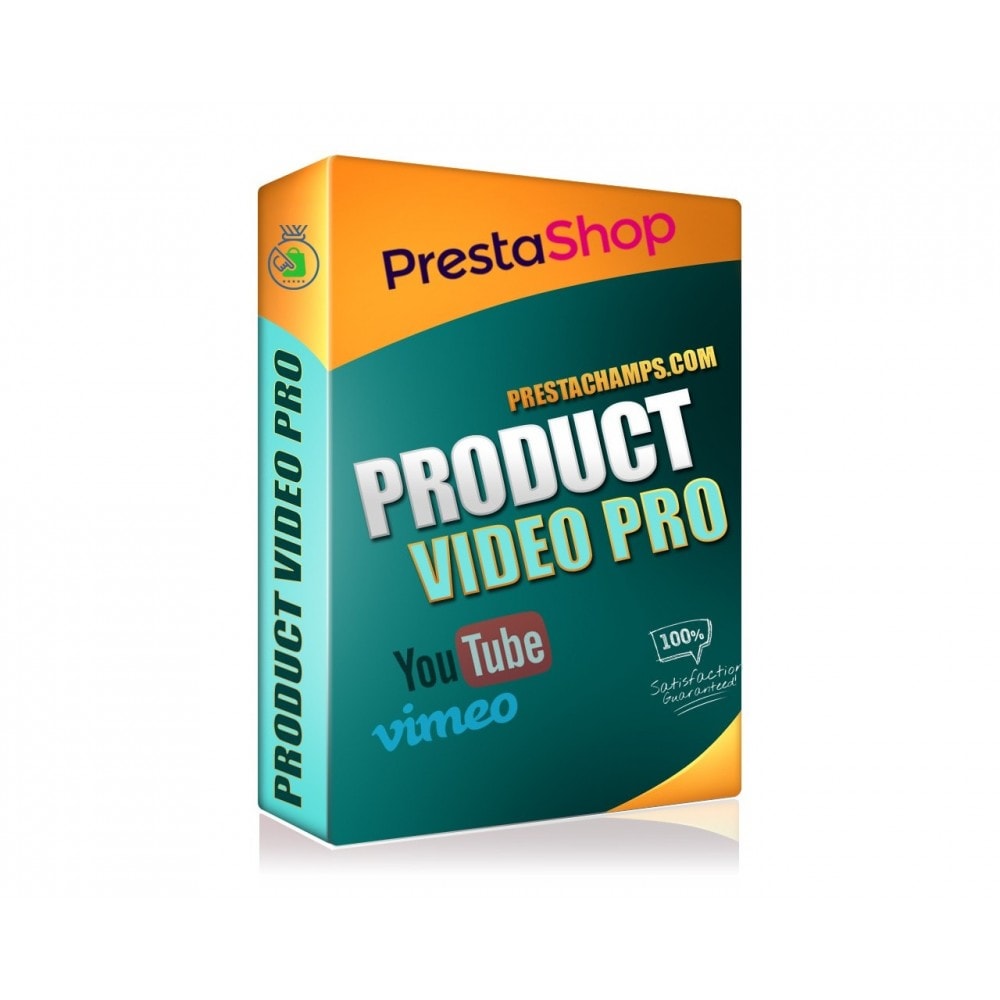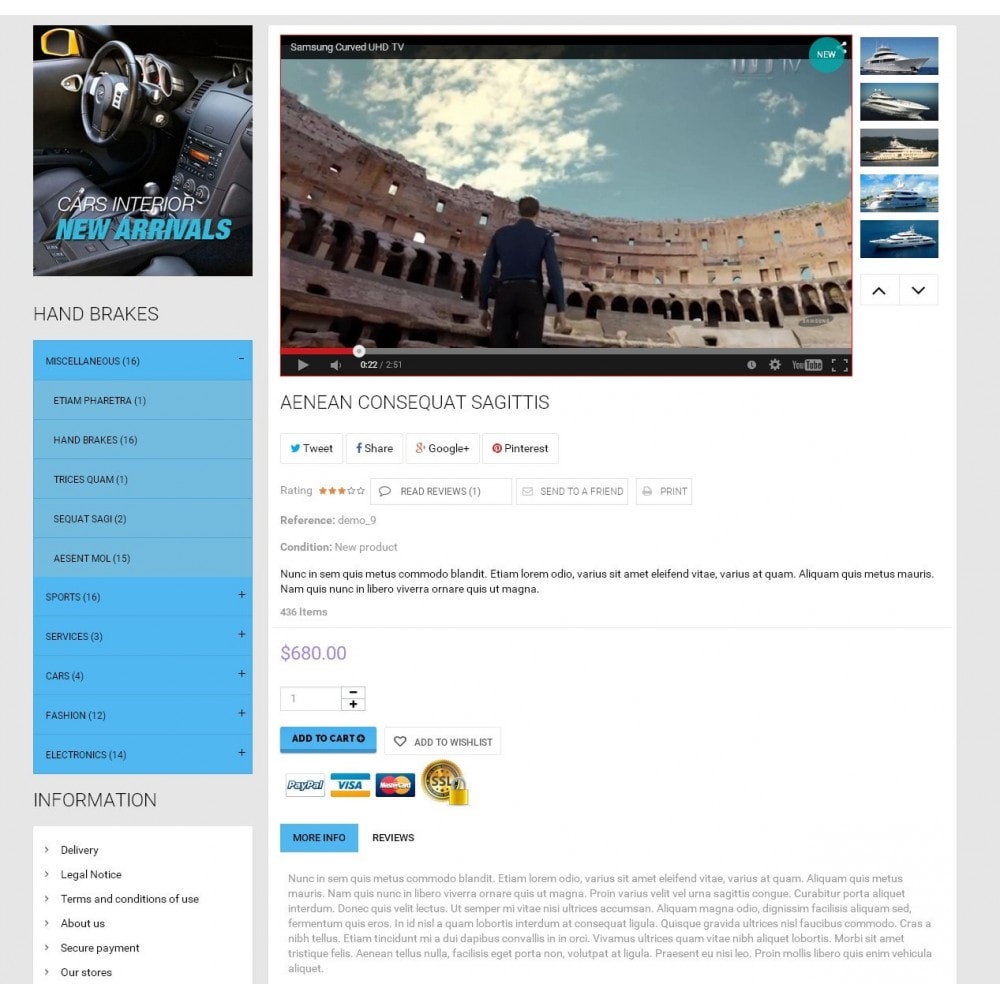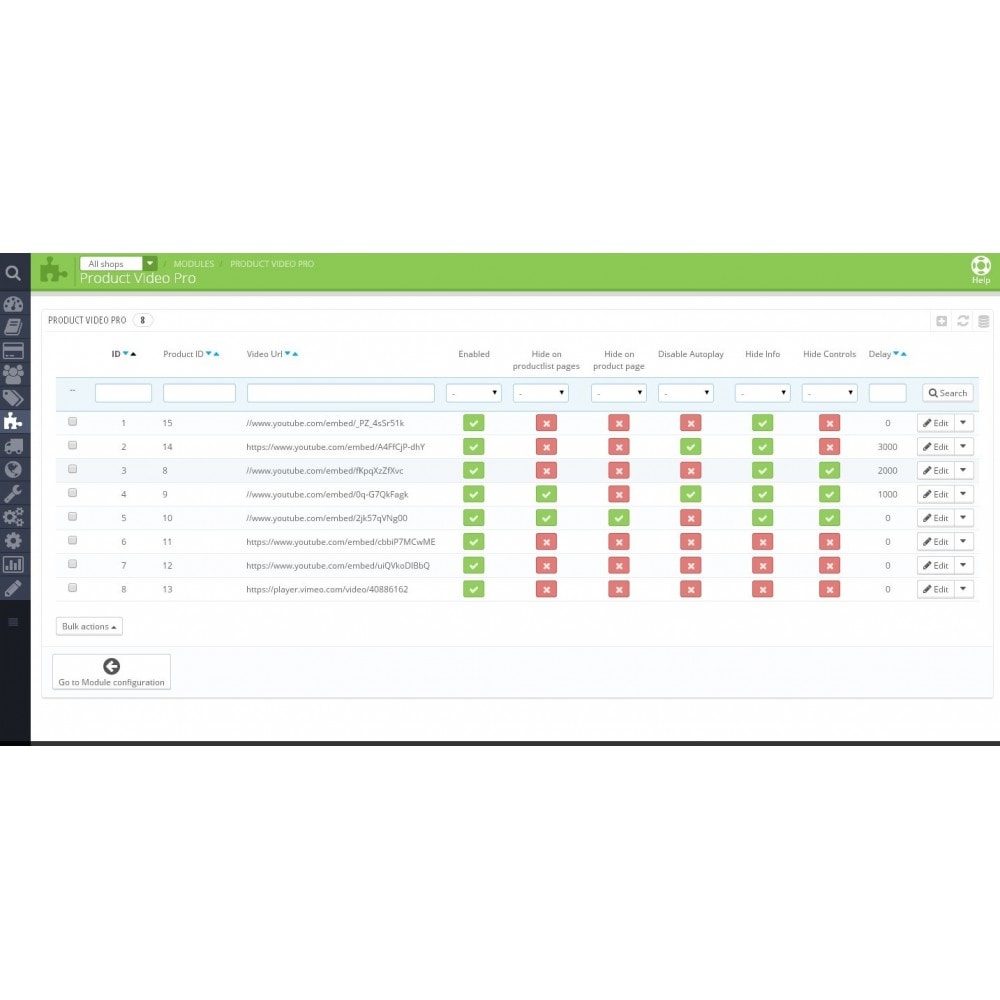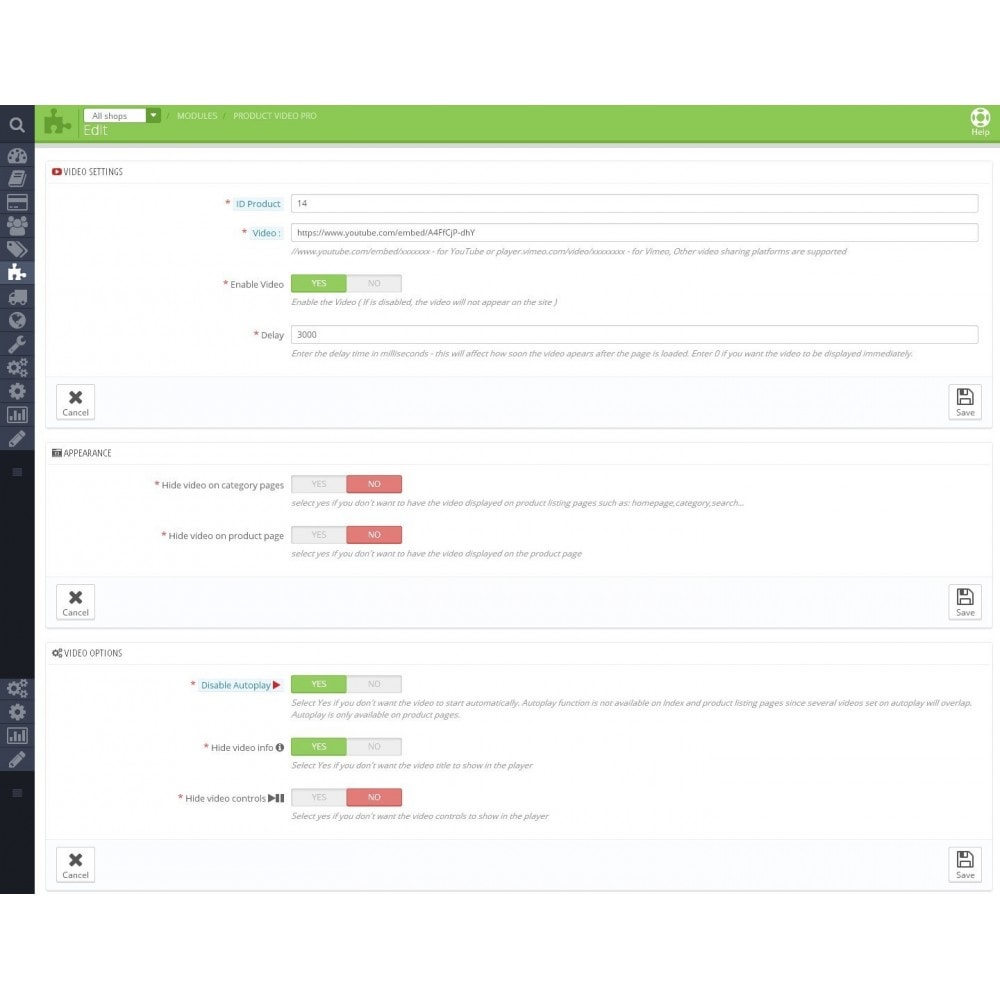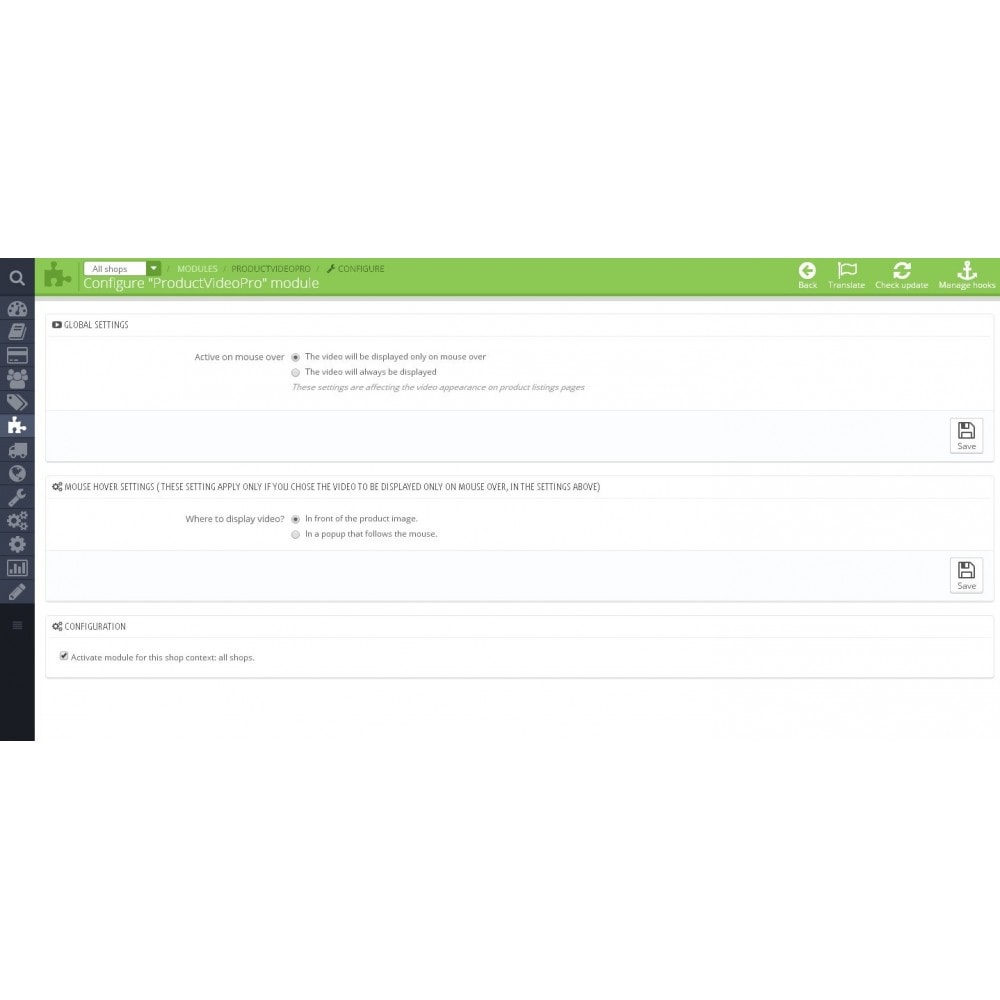 Prezentacja
Have a video instead of product images - on home page, product page, category pages and any other product listing pages. Use your own videos or the manufacturer's commercials in order to offer more value to your customers and increase sales.
Korzyści wynikające z tego modułu
Konwersje Waloryzuje Twoje produkty
You have the opportunity to keep visitors longer in your store and to increase sales by inspiring confidence and leading the consumers to take a decision. Having videos right on the first page the user sees, rather than hidden below the fold on the product page, will entice them to stop and see more.

Why do you need this video module?

Because it will inspire trust to your visitors.
Because it will generate more traffic
Because it will generate more sales
Because you will be one huge step in front of your competition
Because your store will be fun to navigate
Because you will use the marketing tool of the future 
Często kupowane w zestawie
Community developer Opracował

PrestaShop v1.6.0.4 - v1.6.1.17 Kompatybilność PrestaShop

PrestaShop Opracował

PrestaShop v1.7.0.0 - v1.7.2.4 Kompatybilność PrestaShop

PrestaShop Opracował

PrestaShop v1.7.0.0 - v1.7.2.4 Kompatybilność PrestaShop
Funkcje
Easy to use and configure, Product Video Pro gives you the opportunity to have a video of your product ( or service) right where it belongs, in the same place as the product images are.

- Add videos from YouTube, Vimeo or any other source
- Chose product for which you want to have a video instead of product image
- Chose pages where the video will appear ( everywhere the product appears, home page, category page listings or product page)
- Auto play ( the video has the option to auto play when the page is opened, this option can be disabled)
- Auto play delay ( you can set a delay in milliseconds for the video start. For example you want the visitor to be able to grasp the feeling and structure of your page, before you redirect his attention to the main presentation point, so you set the delay to 3000 ms ( 3 seconds)
- Hide info ( you can hide the info bar that is shown by the streaming )
- Hide controls ( you can hide the video controls such as volume, watch later, watch on YouTube or settings)
- Video always show or only on mouse over ( video can be set to be always visible on the page or only when the visitor points the mouse over it)
- Video displayed in front of the product image ( the video will be displayed in front of the product image in product listings and on product pages)
- Video displayed in a popup that follows the mouse
- Compatible with Prestashop 1.6.x.
- Mobile compatible
- Multishop compatible

Visit our demo front page to see our module in action.
Check out also the demo admin page to see all configuration options.
Inne
Several other features are already in development and testing. 
We will soon add the possibility to have the video available in a popup both on product listing pages and product pages. 
Oto co spodoba się Twoim klientom
Customers will trust your store even more.
They can get a better "feel" of your products.
It will help them make purchasing decisions.
It will be fun for them to shop on your store.
They will always return to your shop with interest and a nice feeling.
Rekomendacja
Product Video Pro Module uses YouTube, Vimeo or other streaming sources in order to display videos. Videos uploaded on these sources are usually wide screen. So the best way to present your products with videos would be to chose a theme where the product images, both on product listing pages and on product page, are wide and not tall. Of course, small modifications can be made to pretty much any theme in order for the product videos to look good
Wsparcie techniczne oraz aktualizacje
Otrzymasz automatycznie 3 miesiące pomocy technicznej dla tego produktu.
Przez 90 dni po zakupie jesteś uprawniony do pomocy technicznej i funkcjonalnej, a także masz dostęp do aktualizacji dla tego produktu.
Wykup opcję Zen i zagwarantuj sobie prawidłowe działanie tego produktu w swoim sklepie przez 12 miesięcy!
Za sprawą opcji Zen zyskujesz dostęp do WSZYSTKICH aktualizacji dla Twojego produktu przez rok od jego zakupu. Twórca produktu będzie służył Ci pomocą, odpowiadając przez e-mail na wszystkie Twoje pytania techniczne lub dotyczące jego funkcji.
Czym jest Opcja Zen?
Opcja Zen obejmuje dwie usługi:
nieograniczone wsparcie posprzedażowe przez okres obowiązywania opcji;
dostęp do wszystkich aktualizacji produktu w tym okresie.
Opcję Zen możesz nabyć w promocyjnej cenie w chwili zakupu produktu oraz, jeśli potrzebujesz więcej czasu na decyzję, także po zakupie, z poziomu konta klienta.rnZapewnia Ci ona ochronę przez rok od daty zakupu produktu. Tak więc im wcześniej ją kupisz, tym dłużej będziesz z niej korzystać!
Co zawiera opcja Zen?
Opcja Zen uwzględnia:
pytania dotyczące użytkowania modułu/szablonu;
rozwiązywanie problemów technicznych związanych z modułem/szablonem;
dostęp do wszystkich aktualizacji modułu lub szablonu.
Opcja Zen nie obejmuje:
personalizacji i przeróbek;
usług związanych z instalacją i aktualizacją modułu lub szablonu;
rozwiązywania problemów dotyczących innych serwisów, hostingu, serwera lub oprogramowania PrestaShop.
Co nowego w wersji 1.1.0(2016-11-07)
compatible with PS 1.6.1.8
O wydawcy
2011-05-06

Sprzedawca PrestaShop

Romania

Kraj region
Masz pytanie?
Potrzebujesz pomocy?
Wydawca odpowie Ci w ciągu