moduł SoftVines - Complete The Look
Opracował
Community developer
PrestaShop
1.5.0.0 - 1.6.1.17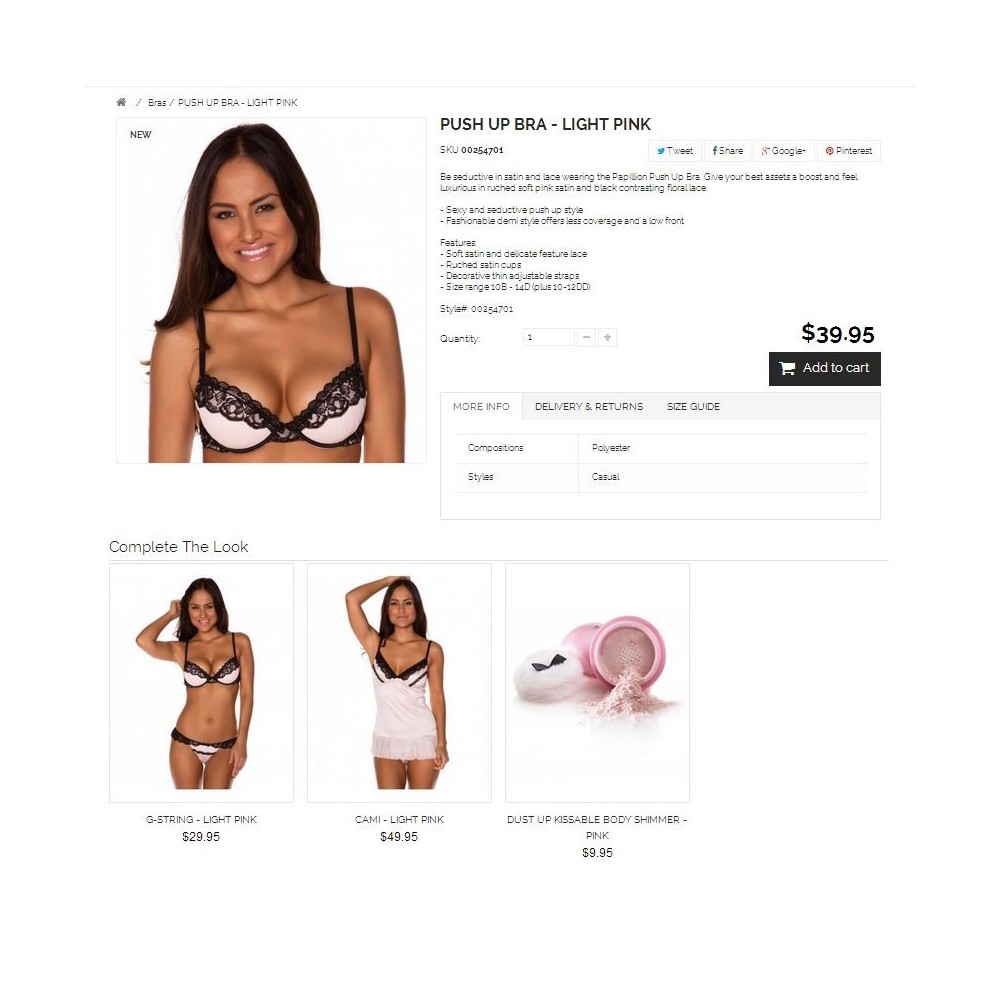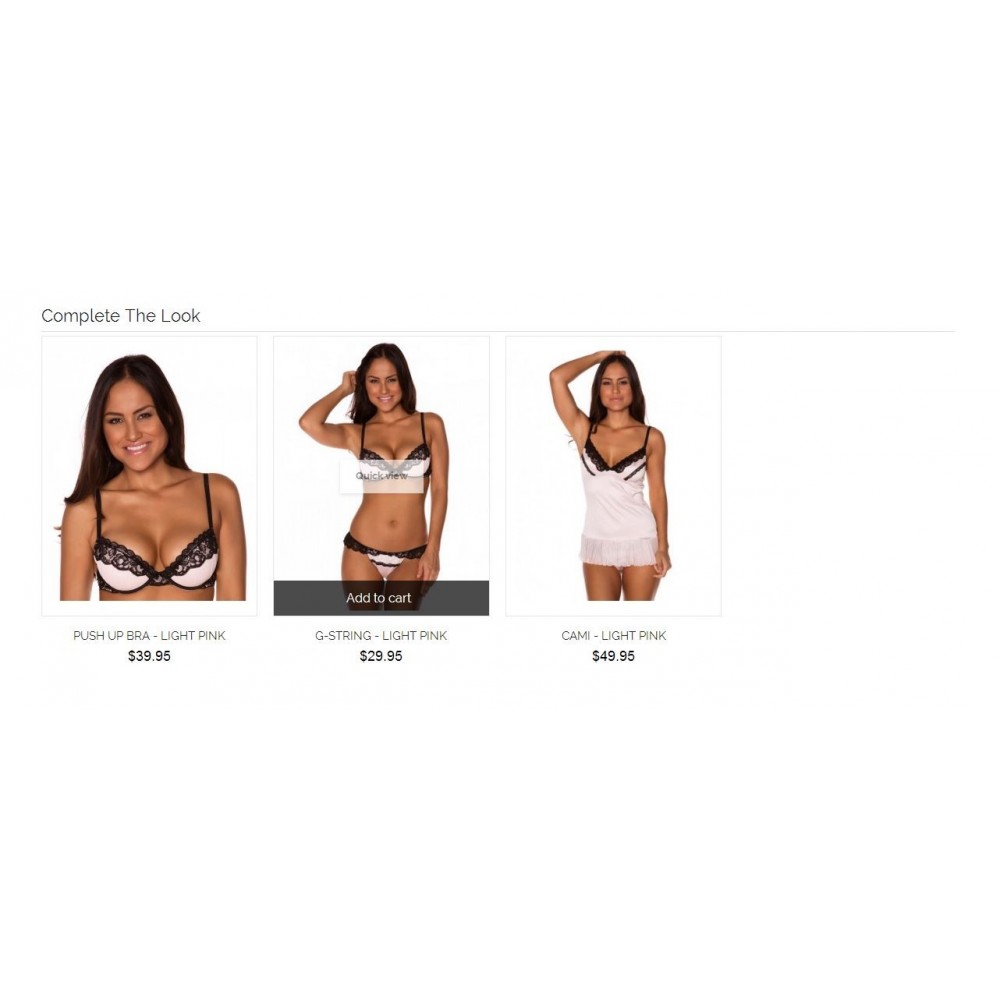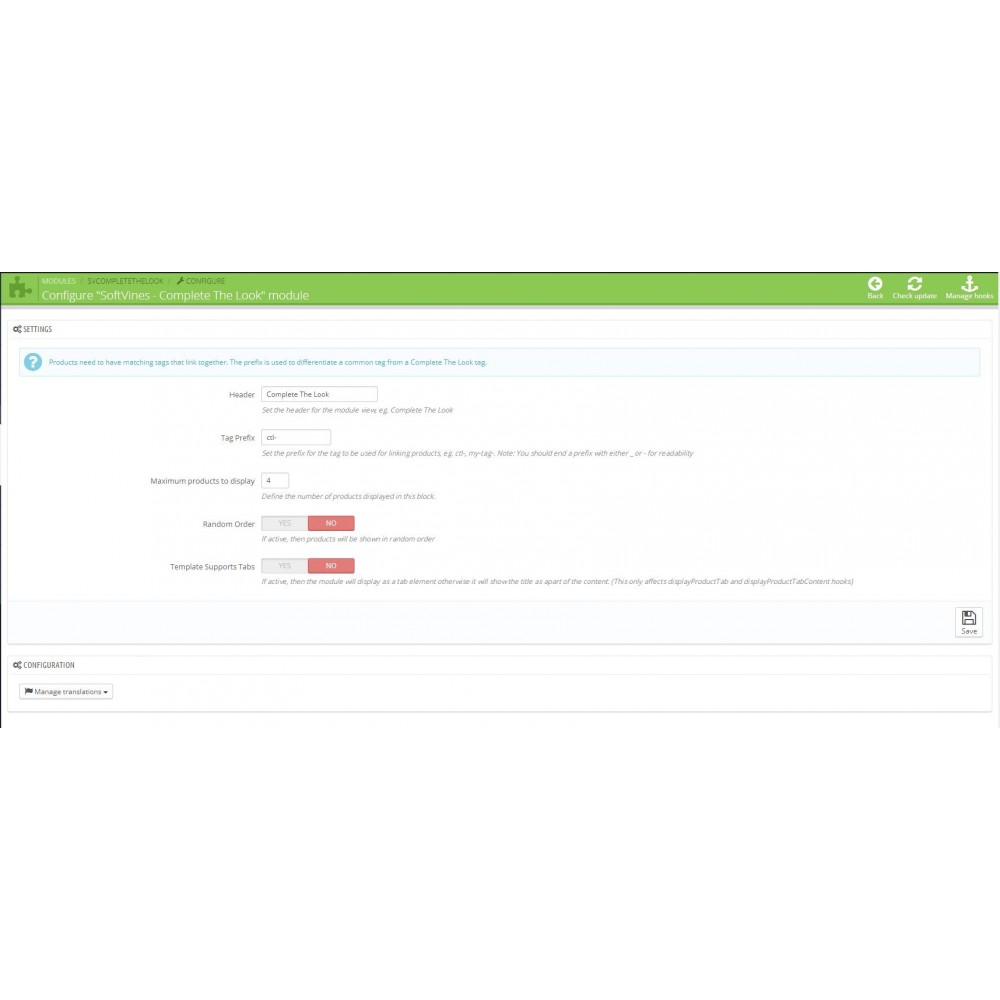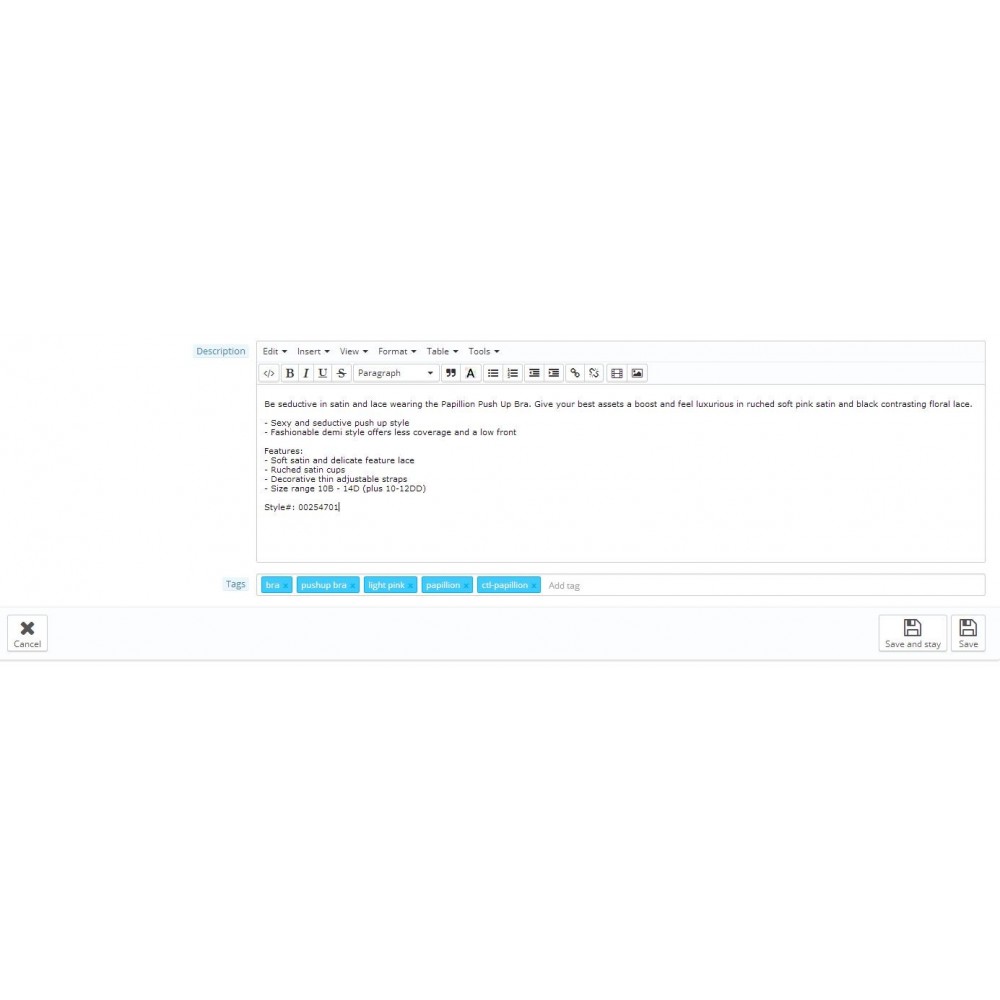 Prezentacja
Have you ever wanted to show your customers other products that are similar to the specific products they are looking at? This module allows you to use product tags that link similar products together within the currently viewed product.
Korzyści wynikające z tego modułu
Customer more likely to purchase additional products.
Easily offer to complete outfit/ range on a single product page.
No extra work required, just use product tags to mesh products together.
Uses the same layout that the theme's uses.
Multiple hook positions for flexibility.
Perfect for dress stores, that wish to expose the complete outfit.
Proven to increase sales.
Perfect for dress stores that wish to offer the complete outfit eg. matching bras, panties, tops and pants that are all similar or are from the same product line.
Funkcje
Unlimited products to be meshed together
Easy Install and set up with full documentation
No additional work required, just add or remove tags based on the products you wish to link.
Uses a tag prefix that is customizable to separate common tags from this module tags.
Display products in random order.
Multi-Language support.
One click install.
Często kupowane w zestawie
Community developer Opracował

PrestaShop v1.5.0.0 - v1.6.1.17 Kompatybilność PrestaShop

Prestalia Opracował

PrestaShop v1.5.6.2 - v1.7.2.4 Kompatybilność PrestaShop

PrestaShop Opracował

PrestaShop v1.6.0.4 - v1.7.2.4 Kompatybilność PrestaShop
Inne
This module is for Presta 1.5 and above.

This modules uses the following hook: displayProductTab, displayProductTabContent (default), displayLeftColumn, displayLeftColumnProduct, displayRightColumn, displayRightColumnProduct

The product tags are designed to allow no limits in regards to how many tags can be used for each product. They support full customization and can be used multiple times to cross match other tags assigned to other products, allowing products to be grouped.

Complete The Look is the perfect solution to start cross selling products on your store.
Oto co spodoba się Twoim klientom
Easier to find products that match the product they are currently viewing
Find products that they wouldn't generally overcome.
Only cross sell products that they are interested in, not just random products.
Raise interest in products that they wouldn't had been aware of.
Easier to find and adding multiple products to cart.
Complete outfit/ range to be easily accessible.
Rekomendacja
This module requires the blocktag module to be present (which is by default for prestashop).

Check that theme supports at least displayProductTab and displayProductTabContent positions.
Wsparcie techniczne oraz aktualizacje
Otrzymasz automatycznie 3 miesiące pomocy technicznej dla tego produktu.
Przez 90 dni po zakupie jesteś uprawniony do pomocy technicznej i funkcjonalnej, a także masz dostęp do aktualizacji dla tego produktu.
Instalacja
Full 10 page documentation guide that outlines installation and setup. Designed to be easy to follow for any experience level.

Co nowego w wersji 1.3.0(2016-06-26)
Packaged Versions Seperately
Installation VIA backend now supported
O wydawcy
2014-07-11

Sprzedawca PrestaShop

Australia

Kraj region
Masz pytanie?
Potrzebujesz pomocy?
Wydawca odpowie Ci w ciągu