moduł PresyDeal
Opracował
Community developer
PrestaShop
1.6.0.9 - 1.6.1.17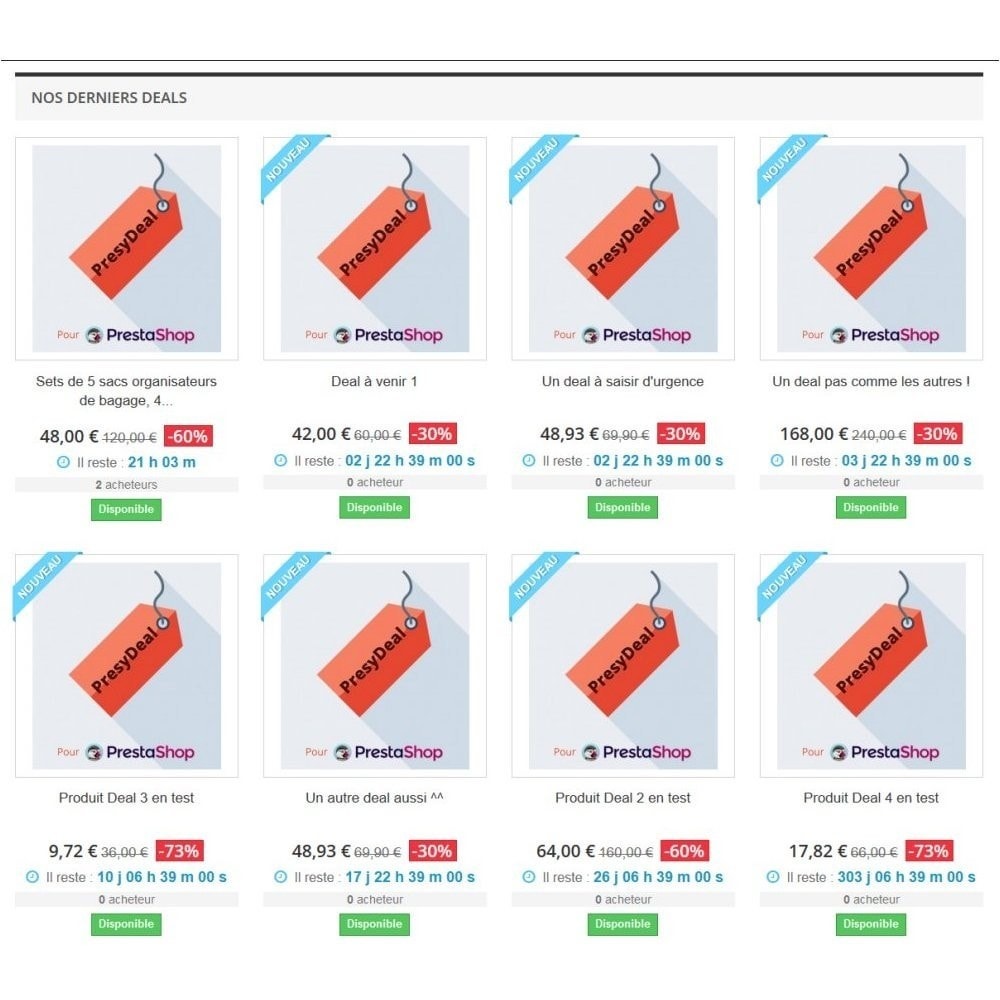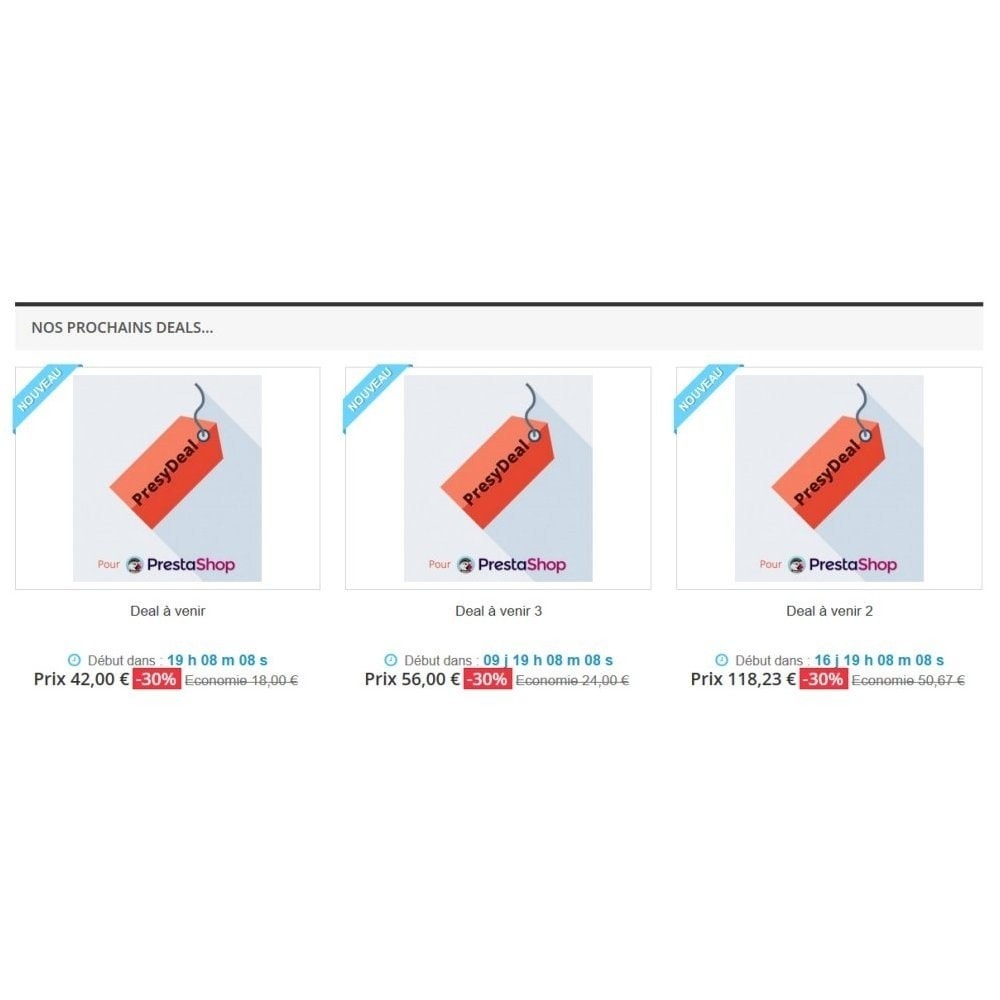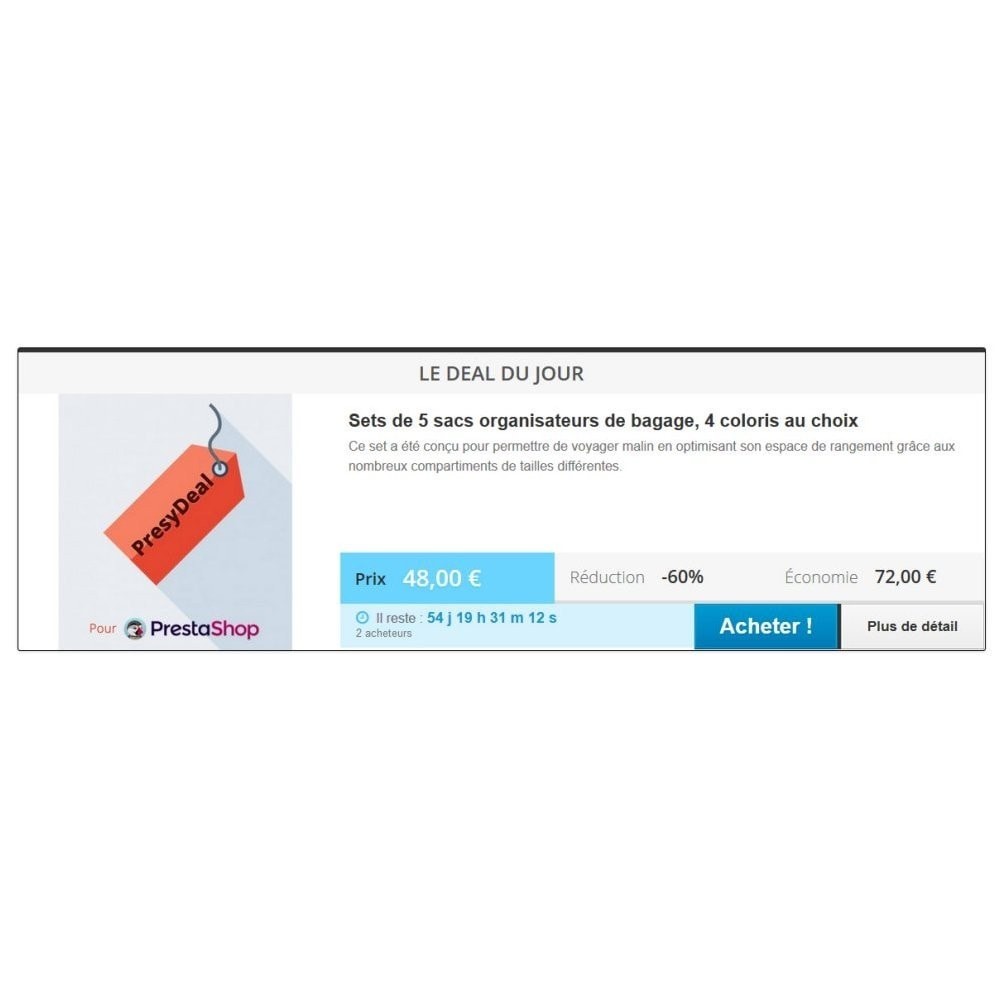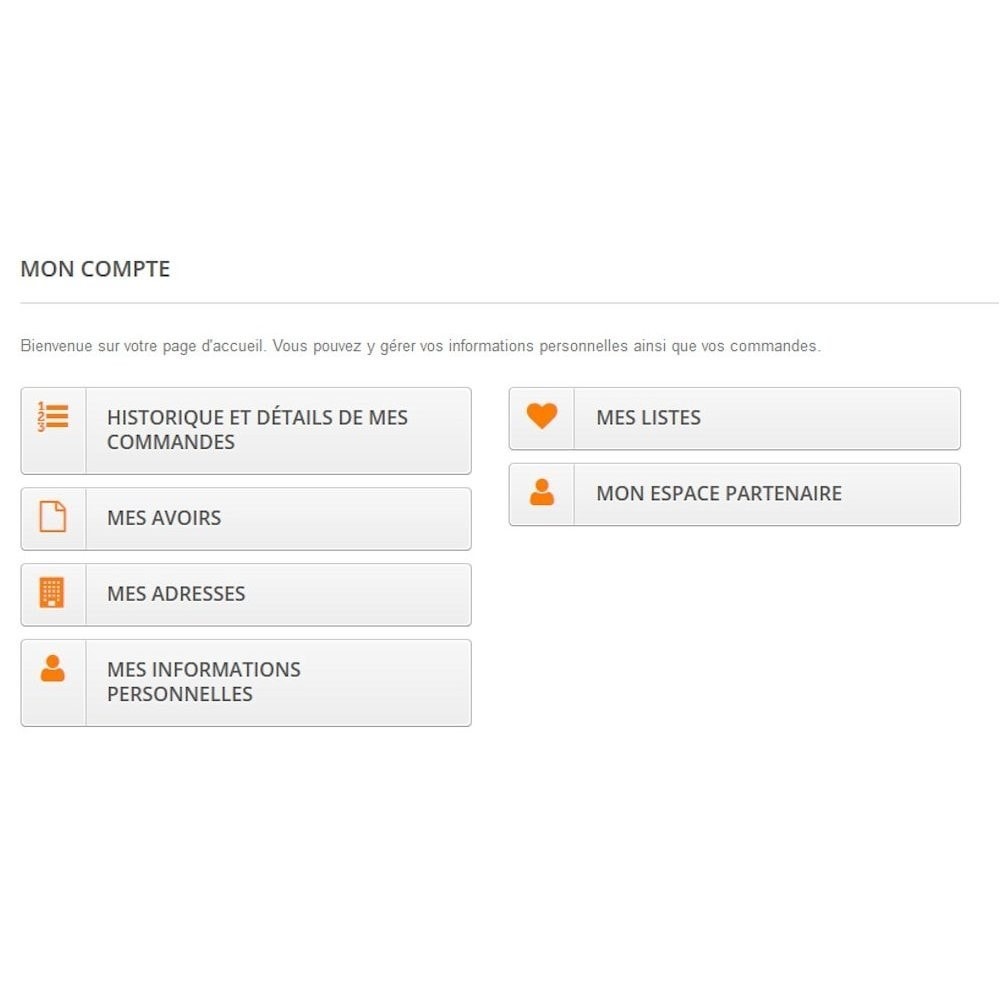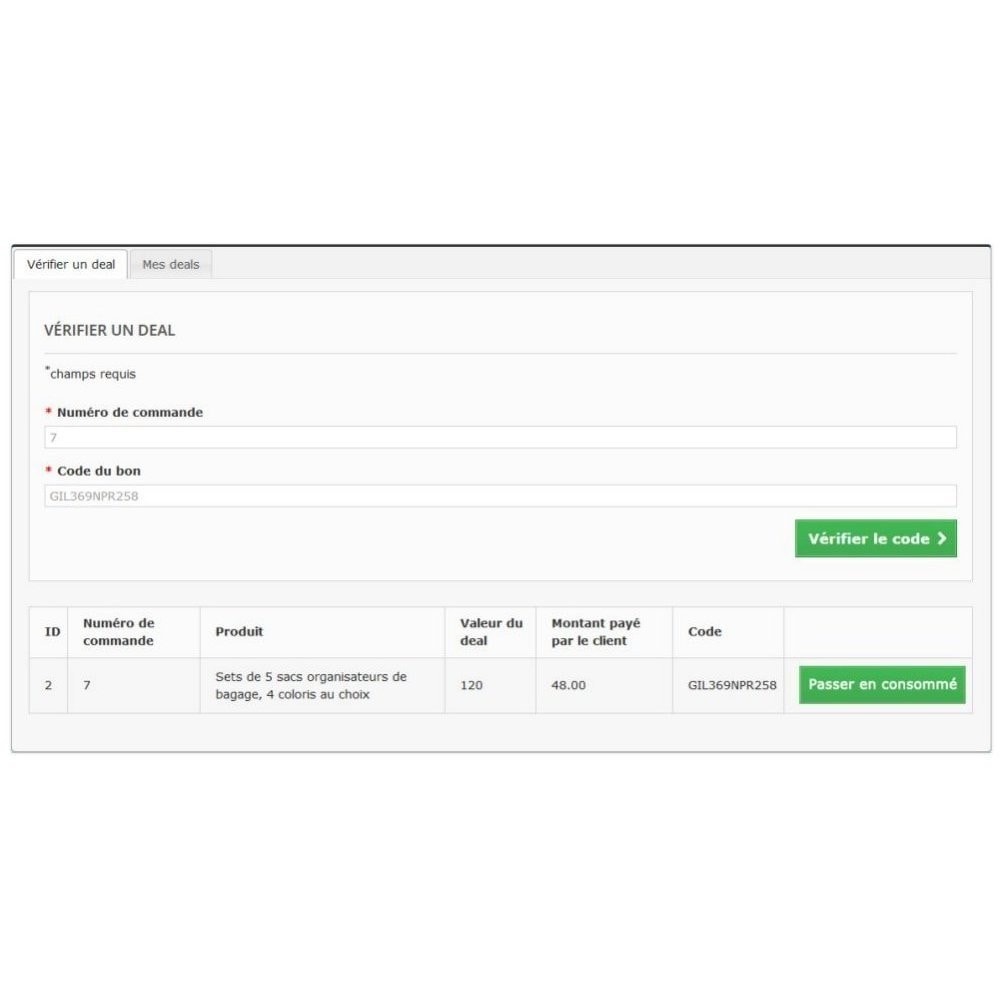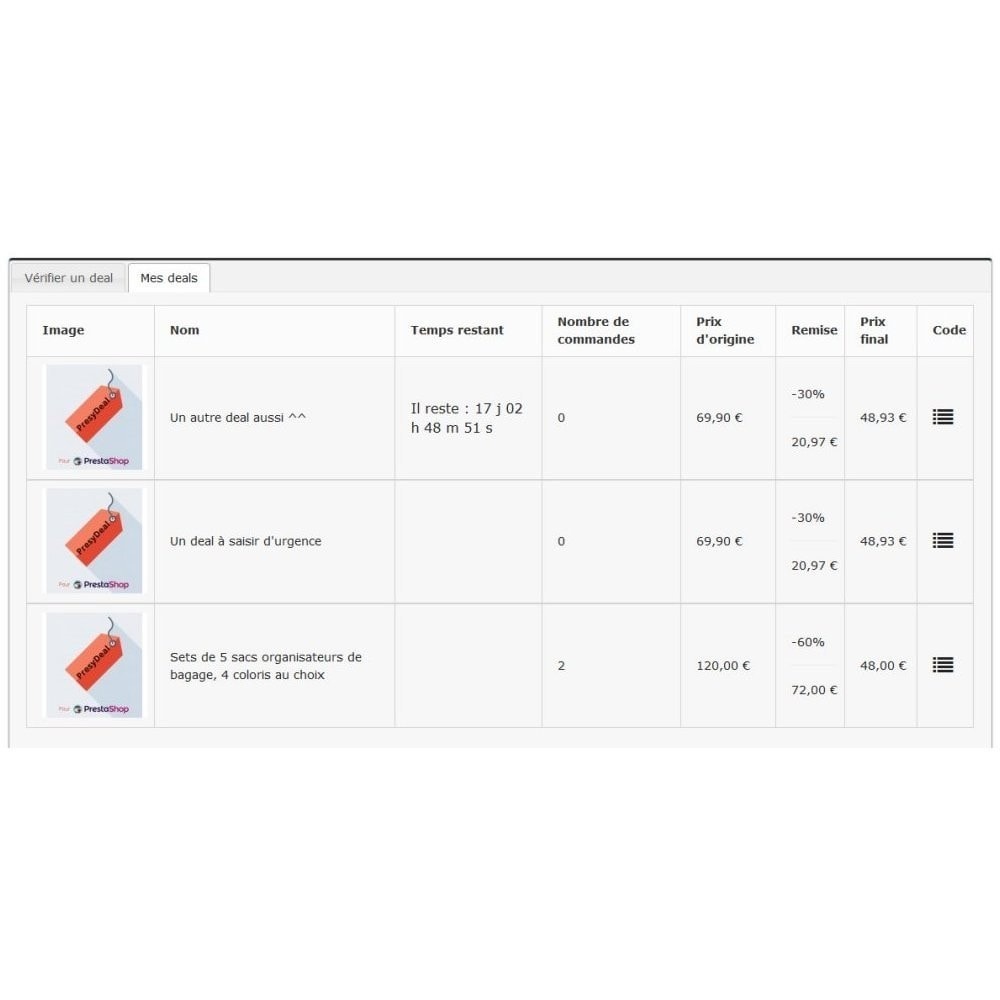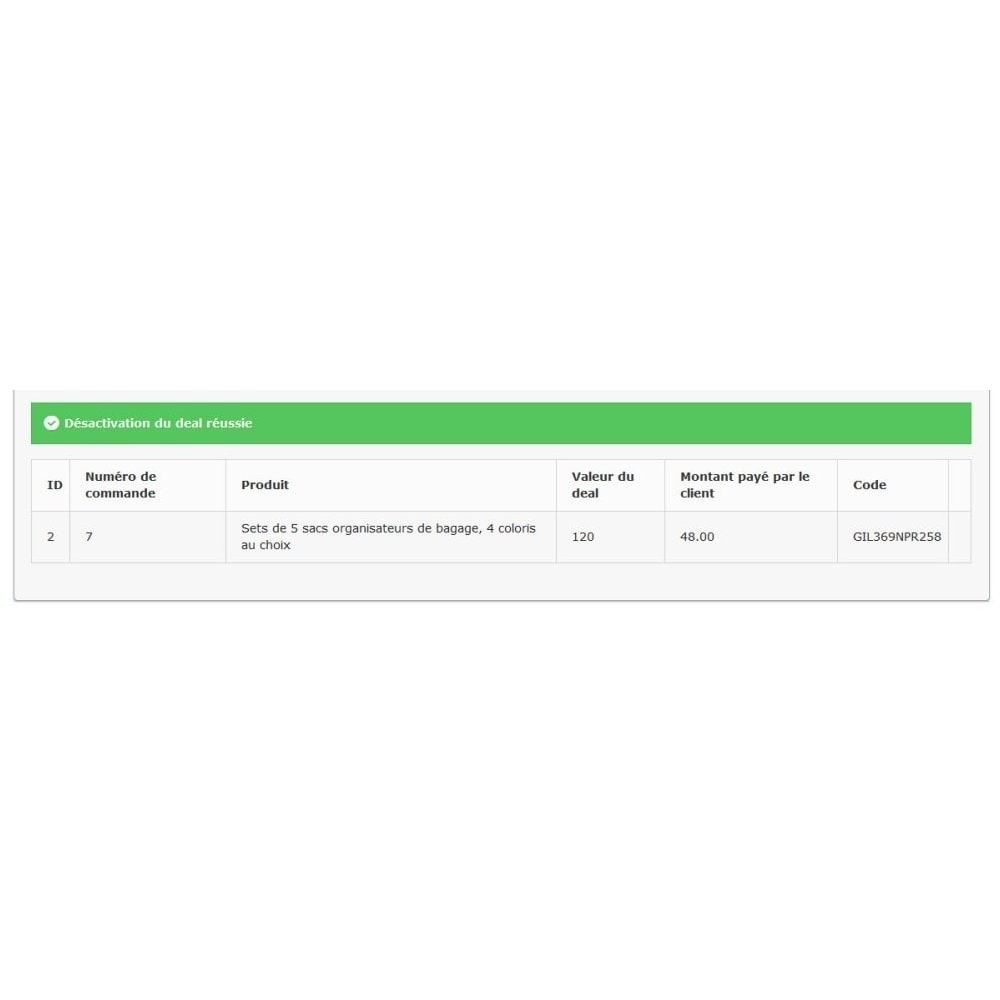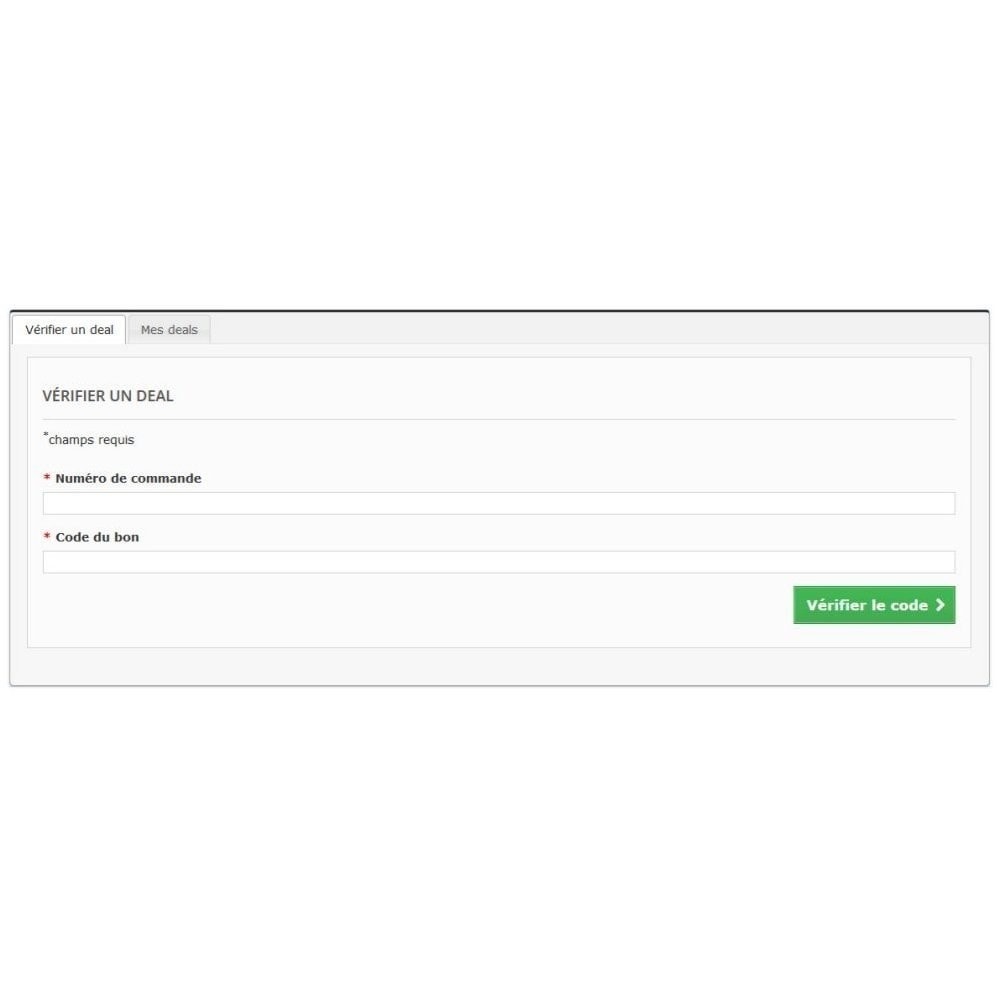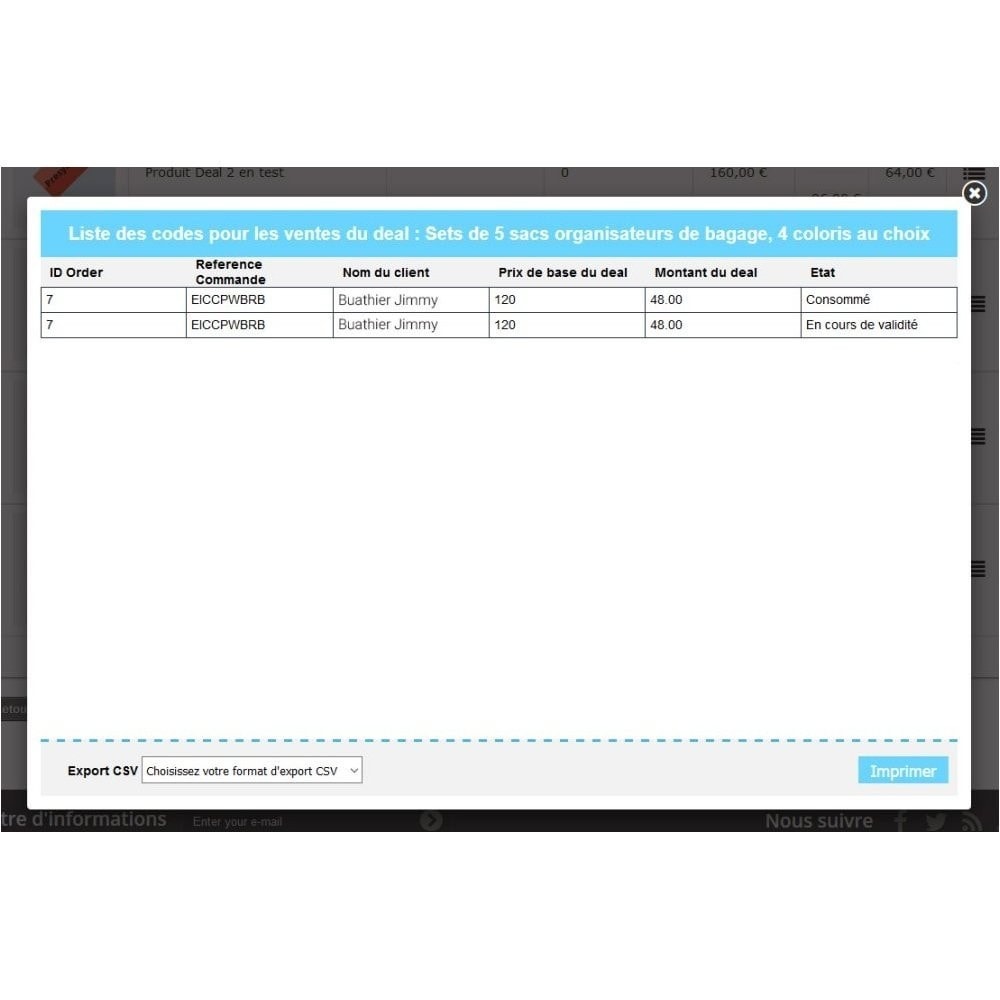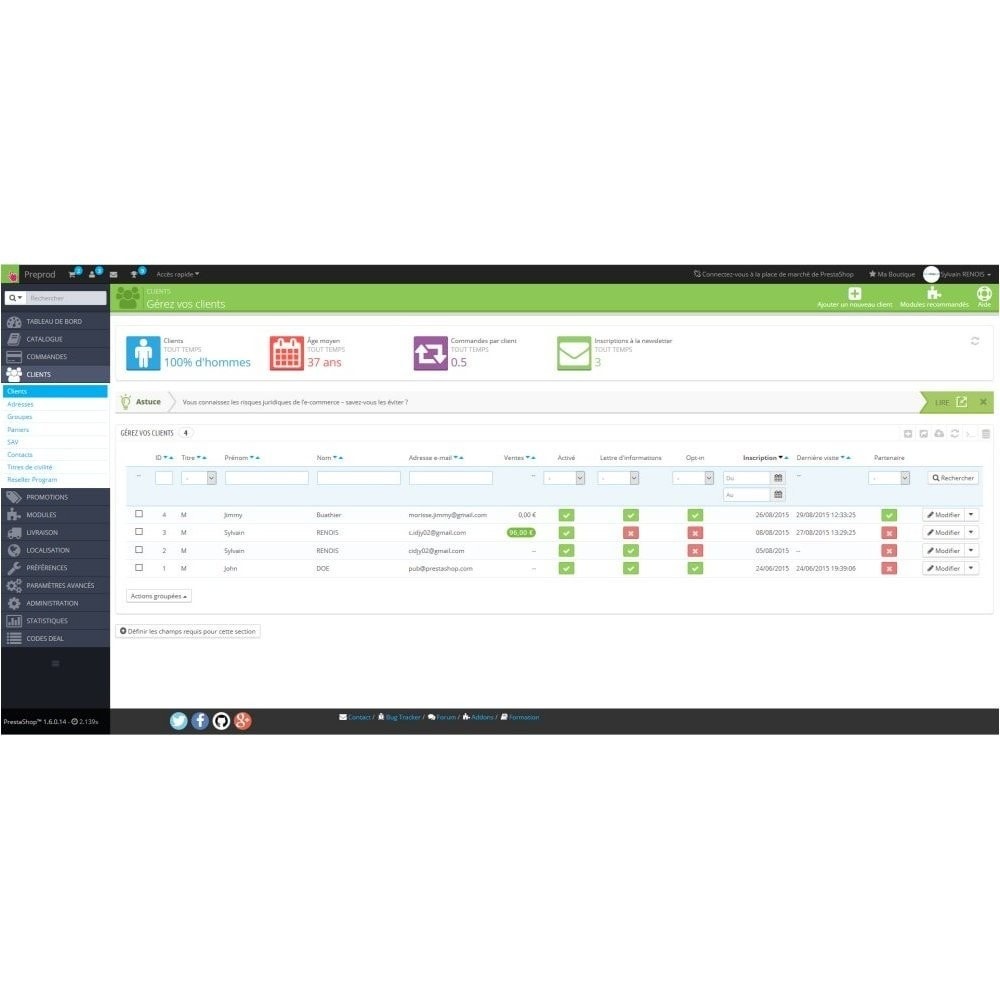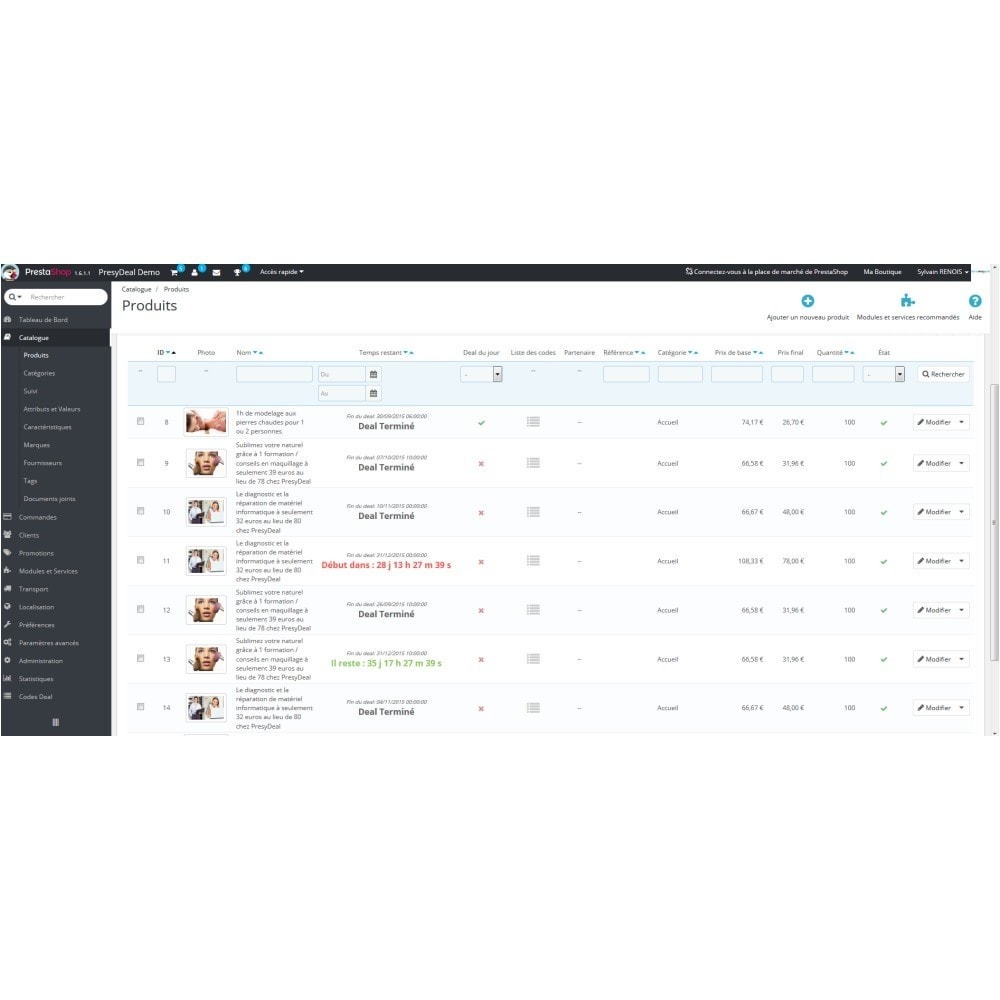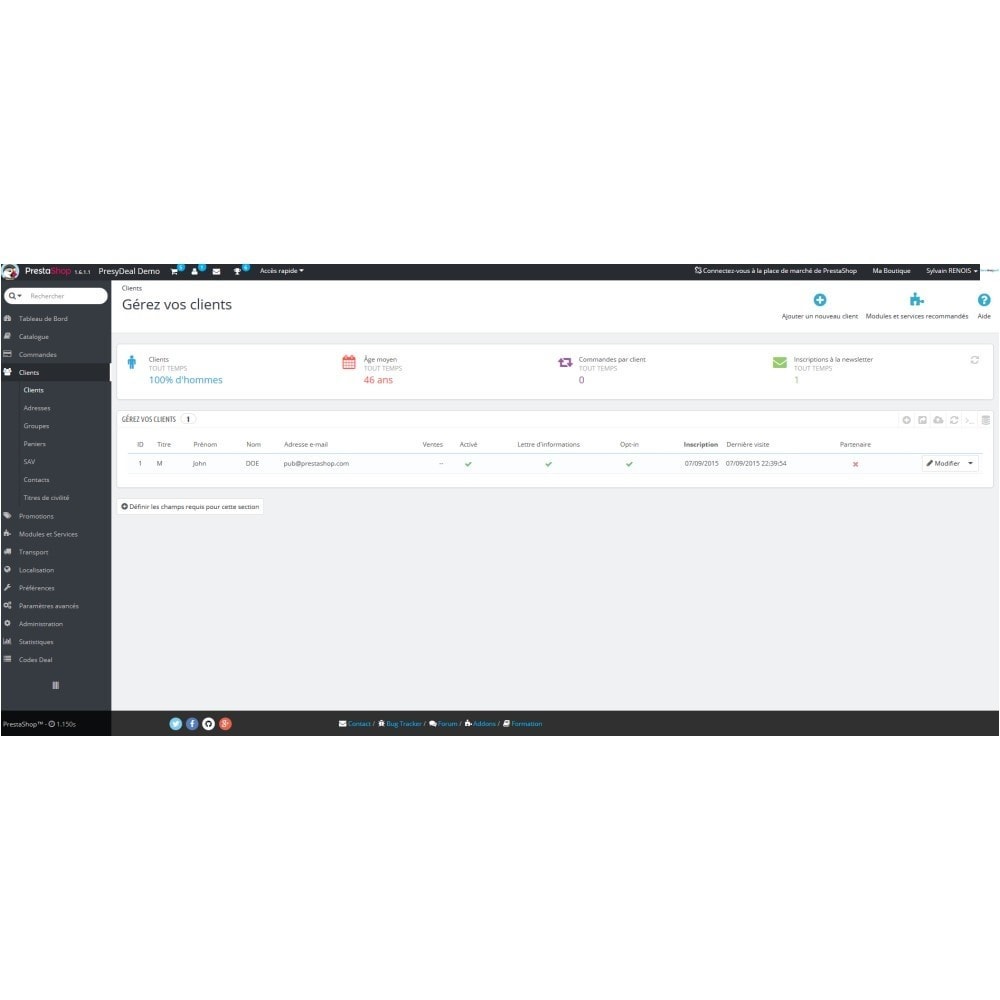 Prezentacja
PresyDeal module is the most ADVANCED and FLEXIBLE of it's kind, you can manage your deals with efficiency and simplicity.
Feel the power of PresyDeal for your shop.
PresyDeal integrates your shop with all the features of Group a Buying website.
 
Korzyści wynikające z tego modułu
Konwersje Faworyzuje zakupy kompulsywne
A powerful and efficiency tools for your business. Implement your e-commerce deals with PrestaShop and PresyDeal.
Exclusive :
Manage your partners easily with impressive functionality easy to use:
Export your sales list in a CSV format
Printable Sales.
Partner Management :

space partner in the clients' account.
checking and validation of the Deal by the partner
Deals board allocated to the partner

automatic Géo-localization of Deals with Google-map.
Programming of Deals in advance with automatic starting.
Fully customizable with simplified CSS
Sending  won deals in PDF format to your customer via mail when accepted payment .
Funkcje
 Back Office :
Create "Deals" products with the PrestaShop engine
Convert a PrestaShop clients' account into account Partner.
Choose the Deal related to partner.
Choose your date/time of beginning and your date/time of end (the countdown is displayed in real time on product description).
Unite one or more postal addresses with a Deal.
Integrate condition on every deals.
Send a deal in "Daily Deal" in one click.
Reach your deals sales easily
Sales printing
Reach your deals codes sold in the orders
Return bought Deals customers by the order page.
Launch/put on standby/Modify/Remove Deals for a certain number of days, hours or minutes.
Shows discount percentage and discount amount on product listing page
Create Deal for any type of product (simple, configurable, Bundle, grouped, virtual and downloadable).
Multiboutique and 100% responsive design layout.
And so many more...
Front Office
Display real-time countdown on all your deals
Manage your "Coming Soon"/"forthcoming" deals
Disabled the "sale button" if your deal is over or coming soon/forthcoming or stock=0
Disable the product after the deal ends or after the product's quantity reaches 0.
Partner Space (Front Office)
Space partner in the clients' account.
Deals Checking and validation by the partner.
Deals Board associated to the partner in real-time
Często kupowane w zestawie
Community developer Opracował

PrestaShop v1.6.0.9 - v1.6.1.17 Kompatybilność PrestaShop

PrestaShop Opracował

PrestaShop v1.6.0.4 - v1.7.2.4 Kompatybilność PrestaShop

PrestaShop Opracował

PrestaShop v1.5.3.1 - v1.7.2.4 Kompatybilność PrestaShop
Oto co spodoba się Twoim klientom
 With PresyDeal, your customer can visualize your deals thanks to an ergonomic, optimized and intuitive navigation system.
Your customer can see immediately where the Deal is located geographically (with Google map).
As soon as the payment is accepted, your customer receive automatically their coupon in PDF format, to quickly benefit.
Thanks to Deals countdown, your customer never miss any deals which interest him: he knows in real time, when they expire
Wsparcie techniczne oraz aktualizacje
Otrzymasz automatycznie 3 miesiące pomocy technicznej dla tego produktu.
Przez 90 dni po zakupie jesteś uprawniony do pomocy technicznej i funkcjonalnej, a także masz dostęp do aktualizacji dla tego produktu.
Instalacja
To install PresyDeal, please consult the install instructions supplied in the download package. 
Co nowego w wersji 1.0.1(2015-11-30)
First version of PresyDeal module 1.0.0
Code optimized module 1.0.1
O wydawcy
2010-05-18

Sprzedawca PrestaShop

France

Kraj region
Masz pytanie?
Potrzebujesz pomocy?
Wydawca odpowie Ci w ciągu