moduł Prestashop SEO Booster
Opracował
Community developer
(7 głosy)
Ponad 90 % użytkowników poleca ten produkt
Na średnią ocenę składają się wszystkie głosy otrzymane przez ostatnie pół roku.
+100
downloads!
PrestaShop
1.5.0.0 - 1.6.0.11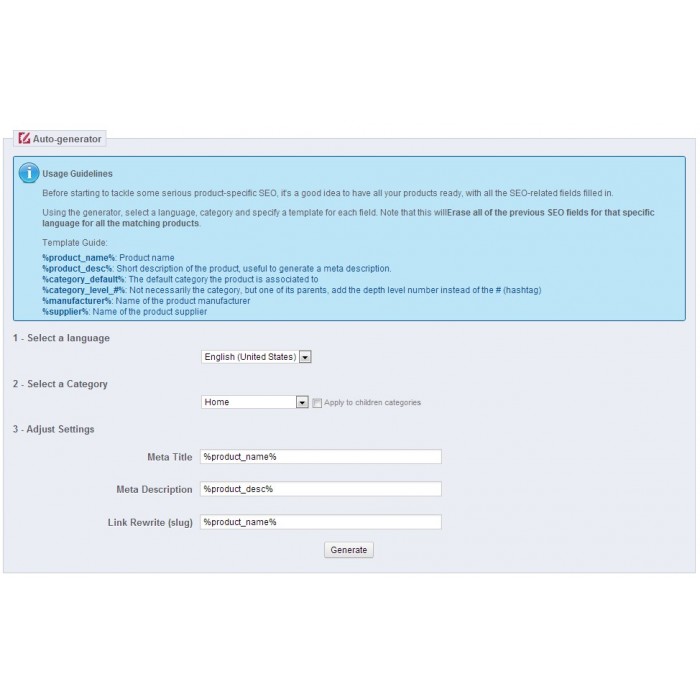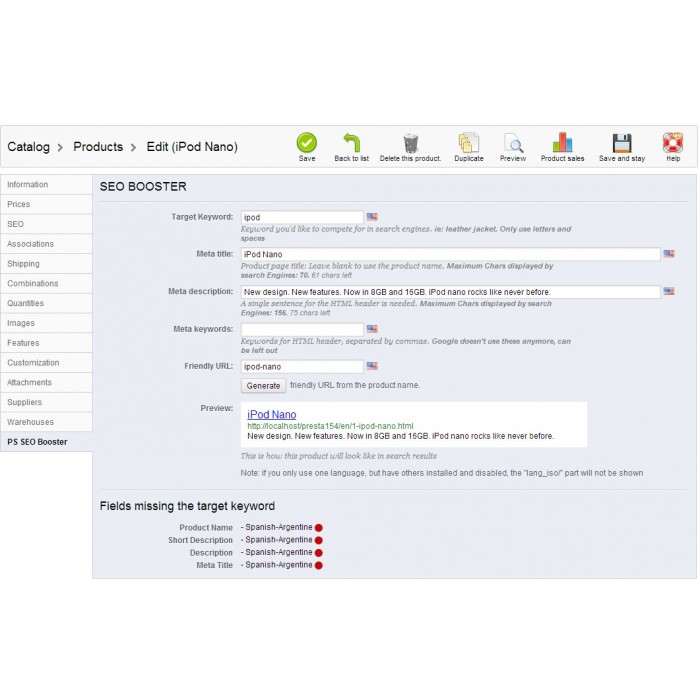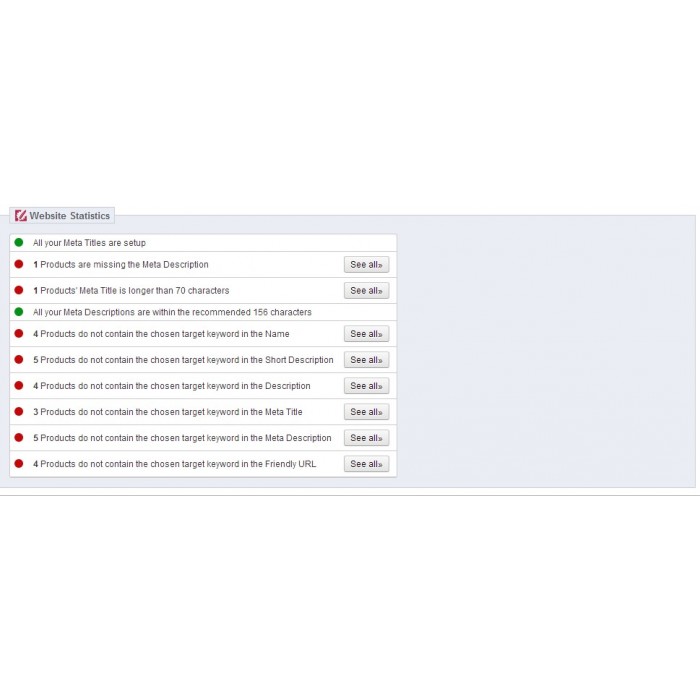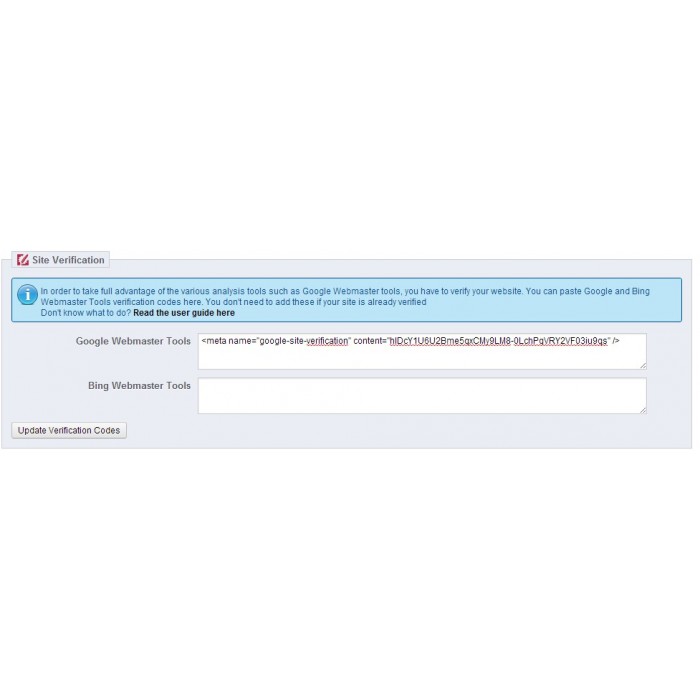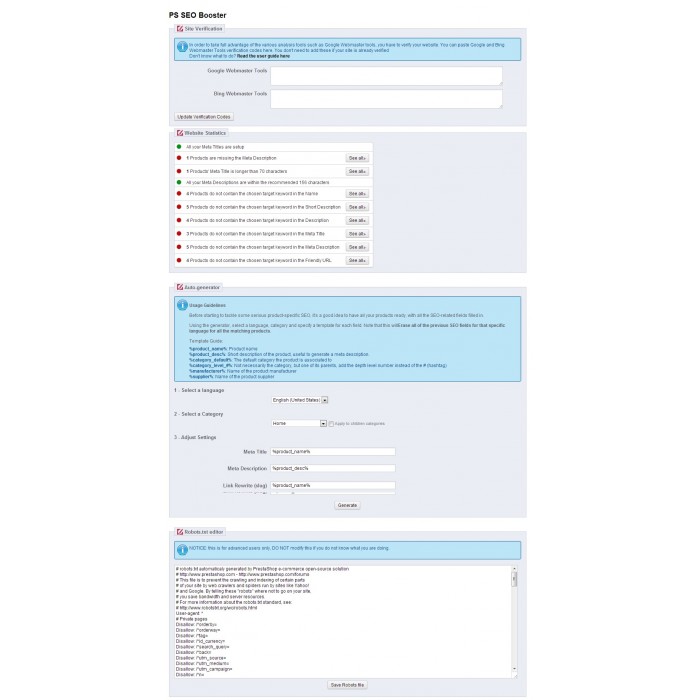 Prezentacja
PrestaShop SEO Booster will make your shop rank at the top of Search Engines results and increase your visibility amongst your competitors!
Korzyści wynikające z tego modułu
REQUEST BACK OFFICE DEMO
Prestashop SEO Booster is simply the best SEO module for Prestashop, prividing the widest range of features at the best price of the market. If you want to seriously start an SEO campaign and make your competitors bite the dust, this is the tool you need for your Prestashop store!
Product Specific optimization
Prestashop undoublty has some of the coolest SEO features of the market. This module extends them even further, providing a length checker for Meta Fields. In addition to this, you will always be able to have a real time preview of how the link to your product will look on Google search results page! Not only, but the Prestashop SEO Booster also adds a new field, Target Keyword, to your products, so that you can always aim for the best results by focusing your SEO Campaign on a specific keyword, a fundamental step for who wants to serioudly tackle SEO Optimization!
SEO Statistics
Are you missing meta fields for some products? Is your target keyword present in all the relevant fields? Prestashop SEO Booster's Website Statistics table will tell you this and more, even if your meta title, description or friendly url are too long for Search Engine's likes.
Bing and Google Webmaster Tools verification
If you ever used Google Webmaster Tools, or Bing's version. you know how the process of verifying your site can be tedious. Thanks to Prestashop SEO BOoster it will be a matter of seconds. Add your site on Webmaster Tools, grab the code and paste it into the module. You can verify it right after hitting "update", no file upload is needed!. No other Prestashop Module has this feature!
Meta fields generator
Adding Meta fields for your entire catalog can take a whole lot of time. With Prestashop SEO Booster's builtin Meta Tags Generator, you can easily create your meta fields for the entire catalog with one single click. Choose your category, even the root one (to apply to the whole catalog), the language, and the template for each meta field. You will be able to add any kind of text to them, ranging from the Product Name to the Supplier Name, including, for example, any of the names of the parent categories of the product!
Robots.txt Editor
...And, for the more experienced user, the module also includes an editor which will enable you to tweak the robots.txt file without having to mess with FTP every time!
Funkcje
Core Features
Multilanguage support
Full Multistore Support (multidomain license needed!)
Meta Fields Generator
Bing and Google Webmaster Tools verification box (1-click, no file uploads needed!)
Target Keyword for each product
Meta fields length realtime checker
Realtime Google Search Results Preview for each Product
Robots.txt editor
Często kupowane w zestawie
Community developer Opracował

PrestaShop v1.5.0.0 - v1.6.0.11 Kompatybilność PrestaShop

Community developer Opracował

PrestaShop v1.5.0.0 - v1.6.1.17 Kompatybilność PrestaShop

ModuleFactory Opracował

PrestaShop v1.5.0.0 - v1.7.2.4 Kompatybilność PrestaShop
Wsparcie techniczne oraz aktualizacje
Otrzymasz automatycznie 3 miesiące pomocy technicznej dla tego produktu.
Przez 90 dni po zakupie jesteś uprawniony do pomocy technicznej i funkcjonalnej, a także masz dostęp do aktualizacji dla tego produktu.
Instalacja
It's plug and play. Install from the back office or upload via ftp
O wydawcy
2011-04-09

Sprzedawca PrestaShop

Italy

Kraj region
Masz pytanie?
Potrzebujesz pomocy?
Wydawca odpowie Ci w ciągu