moduł Automatic prepayment processing (HBCI)
Opracował
Community developer
Recommended
local module
PrestaShop
1.6.0.4 - 1.7.2.4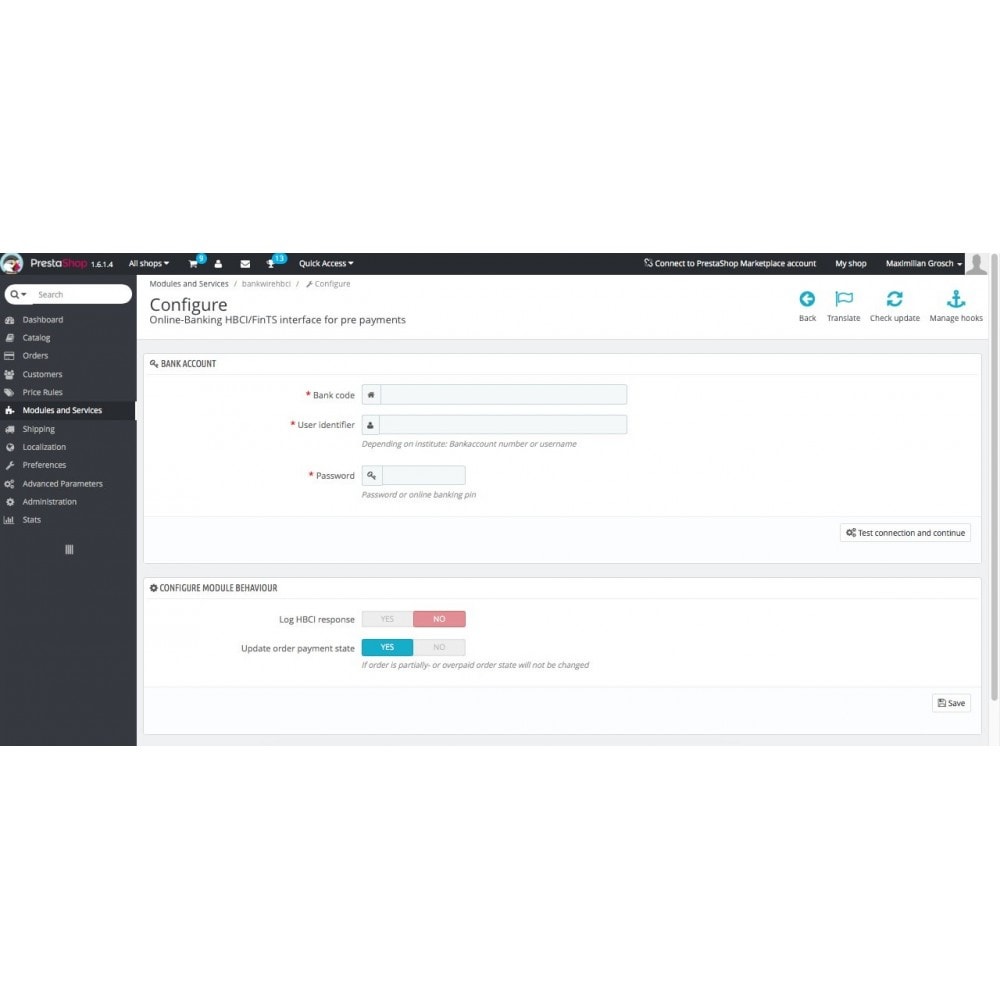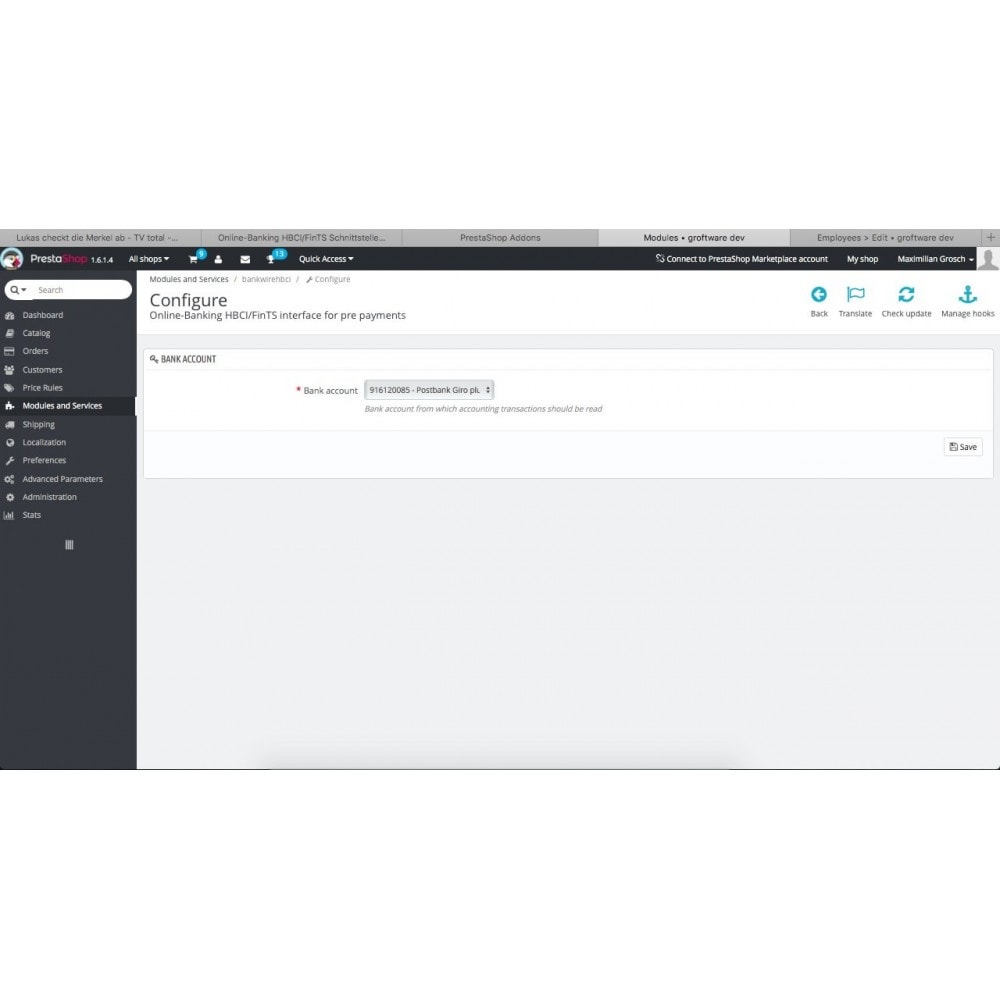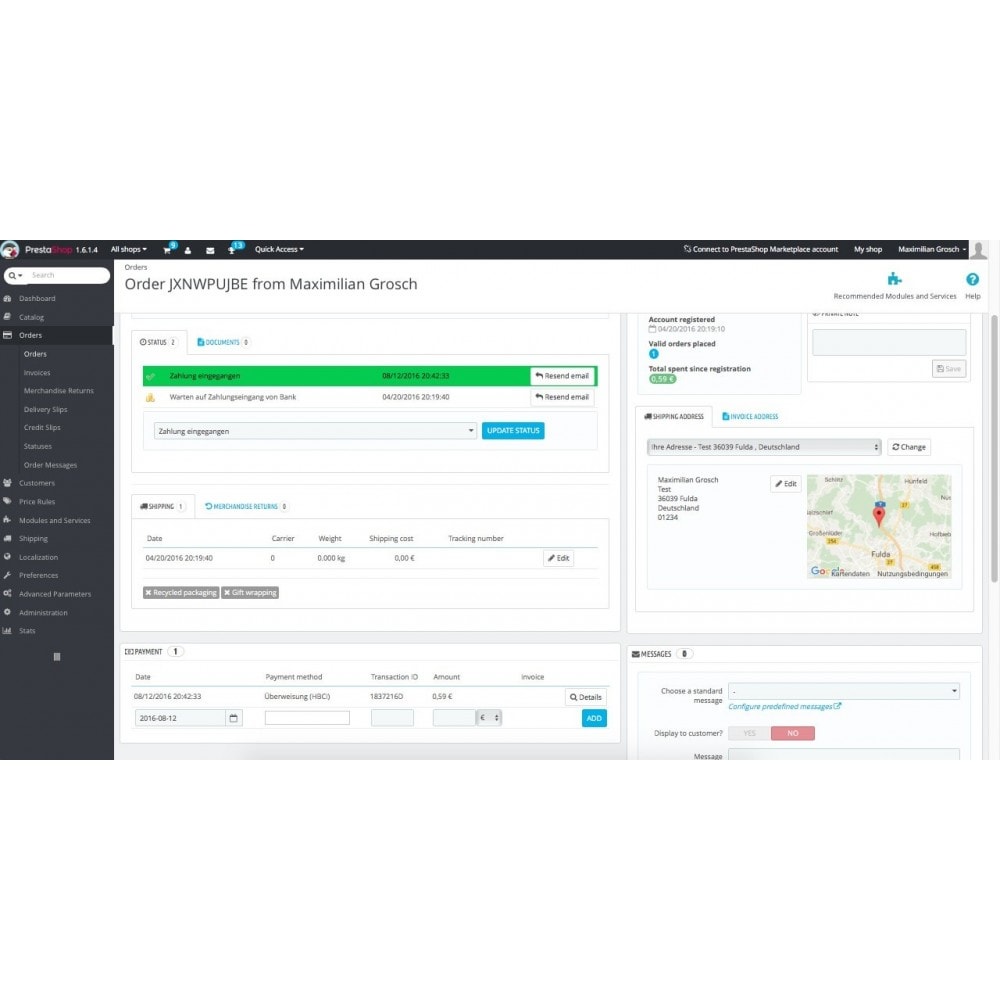 Prezentacja
Prepayment received? Order state: paied! Connect your PrestaShop to your own business bank account. Order state changes to "payment received" if a payment could be associated to an order.
Korzyści wynikające z tego modułu
Konwersje Oferuje środek płatności dostosowany do Twoich klientów
Prepayment orders no longer needs to be checked for ingoing payments manually
The order state for fully paied orders will automaically change to payment received
Funkcje
Bankwire transfers which could be associated to an order will automatically be added as payment to the prestashop order. Your customer pays the order with more than one bankwire payment? No problem: Also multiple bank transfer payments can be added to the order.
Possibility to disable the automatic order state change
Ready to go: Received bankwire payments of the last three days could already be processed after installation
Często kupowane w zestawie
Community developer Opracował

PrestaShop v1.6.0.4 - v1.7.2.4 Kompatybilność PrestaShop

Community developer Opracował

PrestaShop v1.3.0.1 - v1.7.2.4 Kompatybilność PrestaShop

Common-Services Opracował

PrestaShop v1.2.0.0 - v1.7.2.4 Kompatybilność PrestaShop
Inne
This module does only contain the bank interface. It complements the free bankwire addon provided by PrestaShop. The communication between your shop server and the bank (HBCI/FinTS 3.0) is transport encrypted using HTTPS. Prerequisite is that your customer provides the order reference number within the bankwire field "reason to pay". Splitting one bankwire payment to multiple orders is not supported.
 
Rekomendacja
Please check whether your bank account supports HBCI/FinTS Version 3.0 with PIN/TAN (only german bank accounts) before buying this module. Some banks may charge a fee for using the HBCI service. You could ask your bank If you're not sure
PHP >= 5.3 with mcrypt, mbstring & curl extensions is required
Inform your customers that a prepayment could only be processed if they provide the order reference number within the reason for payment
For now only the account currency EURO is supported
Notice for use with multishops: The order reference number must be unique for all shops.
If you're using an order number format other than prestashop default please contact us to check compatibility
Wsparcie techniczne oraz aktualizacje
Otrzymasz automatycznie 3 miesiące pomocy technicznej dla tego produktu.
Przez 90 dni po zakupie jesteś uprawniony do pomocy technicznej i funkcjonalnej, a także masz dostęp do aktualizacji dla tego produktu.
Instalacja
Install the module and open up the module settings dialog 
First enter the bank code and then your online banking credentials. Verify your input by clicking "Check connectivity". Every bank account associated to your given credentials is also checked for compatibility.
Now pick the bank account of your choice and click "Save".
On the last page you'll get an URL. Your bank account will be checked for new bankwire payments every time the URL is called. Please setup a cronjob for this url so that this url is going to be called on bank busines days. For security reason we recommend an external conjob service to save the decryption key which is contained within the URL seperate from the encrypted pin (it is only possible to decrypt the PIN if both the encrypted pin and the decryption key are known).
Back on the module settings dialog you are also able to configure modul behaviour regarding automatic order state change including target order state
Co nowego w wersji 1.3.3(2017-10-03)
Fixed Bug: Regarding specification the field reason for payment may also contain reference numbers which may affect transaction to order mapping
O wydawcy
2014-01-23

Sprzedawca PrestaShop

Germany

Kraj region
Masz pytanie?
Potrzebujesz pomocy?
Wydawca odpowie Ci w ciągu