moduł Mega Feed - All Comparison Engines in Just One Place
Opracował
Community developer
PrestaShop
1.5.1.0 - 1.6.1.12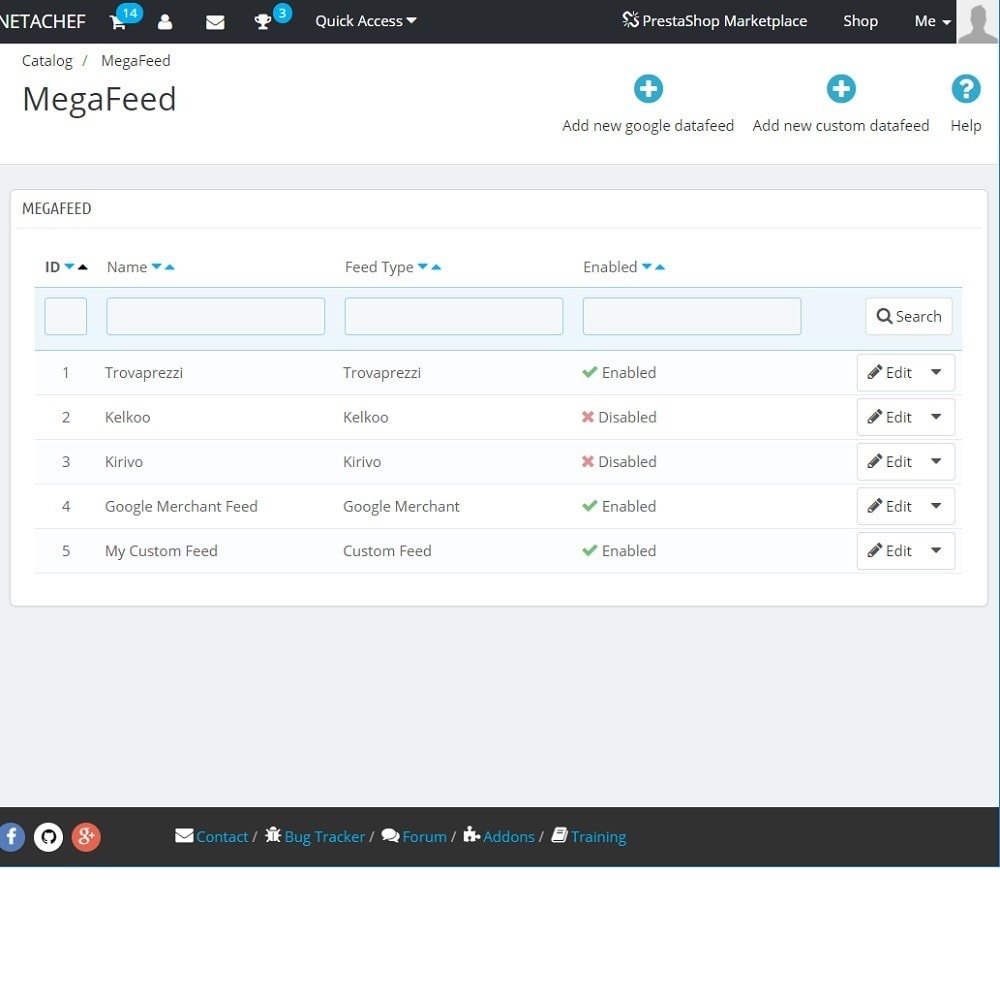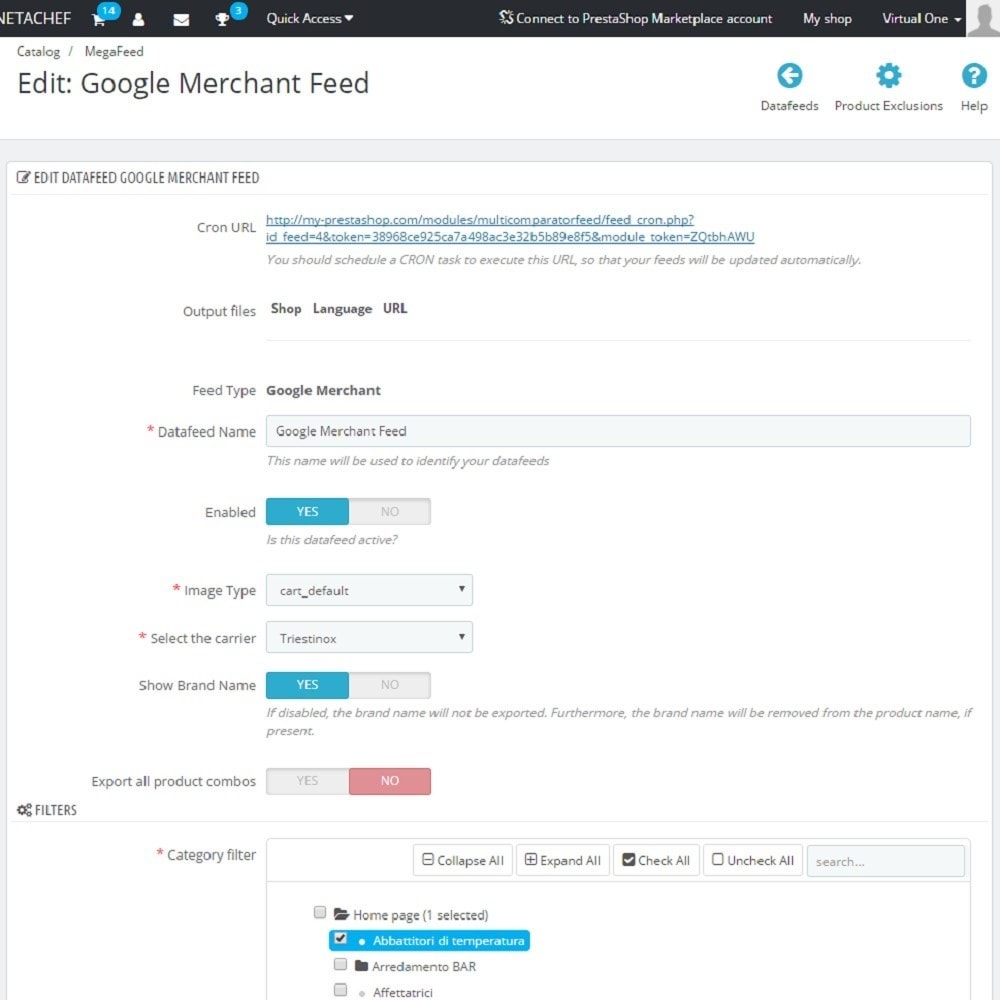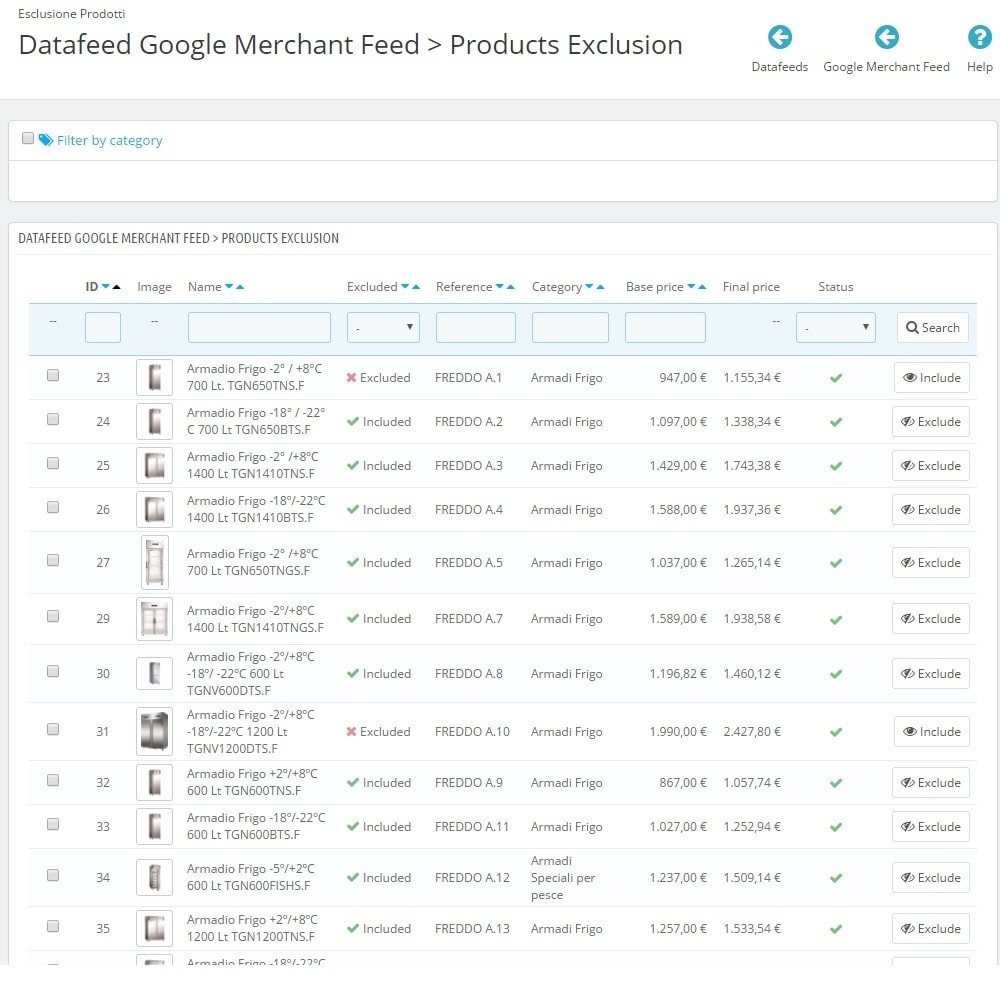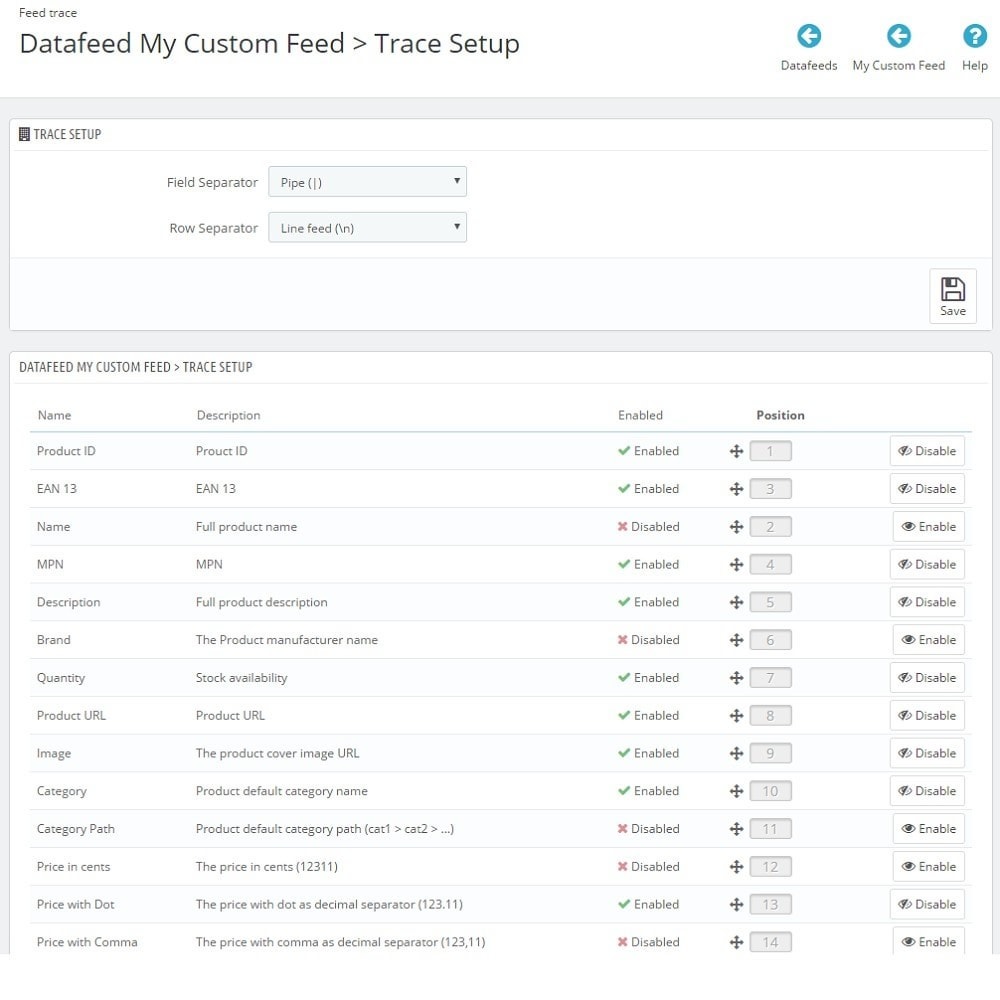 Prezentacja
Easily export your products catalog to many comparison websites including Google Shopping, Trovaprezzi, Kirivo and many others
Korzyści wynikające z tego modułu
Ruch Pozwala na pozyskanie nowych klientów
With Megafeed, you won't have to worry about exporting your products again.
Manage all your comparison feeds from one place
Full control over any single feed
Inclusion/Exclusion by category, brand and price range
Intuitive interface for mass/precise product inclusion/exclusion
The ability to create custom feeds for any comparison engine
Funkcje
This module aims to be powerful and provide a full set of functionalities including
Multishop: You can configure it depending on your various shop if you have many shop defined.
International: You have titles and descriptions written in multiple languages ? No worries, our module is multi-language-aware!
Carrier: You can define a carrier of your choice in order to calculate the shipping price and improve the position of your products in the comparison websites
Attributes: Your products have attributes like Size and Color. Some comparison website like Google Shopping use them and we consider it important in order to improve the positionning of your products in the search results. Our module provide a set of multiple attributes to map with your products in order to better integrate with the comparison websites.
Powerful generation of feed: Our module comes with a CRON script capable of handling even the biggest catalog, it uses low low resources.
Product Exclusion: exclusion filters are applied per feed. You have full control over what is exported and what is not.
Google Analytics tracking: It is possible to add custom parameters to the product URLs, in order to track visit by the comparison engine
Custom Product Name & Description: It is possible to customize the product name and product description attributes for the exported feed.
Powerful inclusion/exclusion tools: Ability to massively filter products by category, brand, price range. Intuitive user interface for precise product exclusion.
Predefined feed templates: Ability to setup your favorite comparison engines in a breathe: Google merchant, Trovaprezzi, Kelkoo, Kirivo
Custom feed: Ability to define any custom feed template for any new comparison engine. If you have any issue creating your custom feed, don't esitate to contact us!
Często kupowane w zestawie
Community developer Opracował

PrestaShop v1.5.1.0 - v1.6.1.12 Kompatybilność PrestaShop

PrestaShop Opracował

PrestaShop v1.6.0.4 - v1.7.2.4 Kompatybilność PrestaShop

PrestaShop Opracował

PrestaShop v1.5.3.1 - v1.7.2.4 Kompatybilność PrestaShop
Oto co spodoba się Twoim klientom
With only One Addon the webmaster is able to manage ALL feed and is able to filter all products for any feed
Rekomendacja
This module should work with any recent version of PHP and doesn't require any particular tool or library.
Wsparcie techniczne oraz aktualizacje
Otrzymasz automatycznie 3 miesiące pomocy technicznej dla tego produktu.
Przez 90 dni po zakupie jesteś uprawniony do pomocy technicznej i funkcjonalnej, a także masz dostęp do aktualizacji dla tego produktu.
Co nowego w wersji 1.0.4(2016-09-21)
O wydawcy
2016-01-19

Sprzedawca PrestaShop

Italy

Kraj region
Masz pytanie?
Potrzebujesz pomocy?
Wydawca odpowie Ci w ciągu