moduł Payment by Boleto Bancário
Opracował
BM Services
(8 głosy)
Ponad 90 % użytkowników poleca ten produkt
Na średnią ocenę składają się wszystkie głosy otrzymane przez ostatnie pół roku.
Poziom kompetencji
Użytkownicy oceniają że wymagany poziom kompetencji do tego produktu jest:
Dla początkujących użytkowników
5
Dla średniozaawansowanych użytkowników
0
Dla zaawansowanych użytkowników
0
Partner
Agency
Recommended
local module
PrestaShop
1.5.3.1 - 1.6.1.17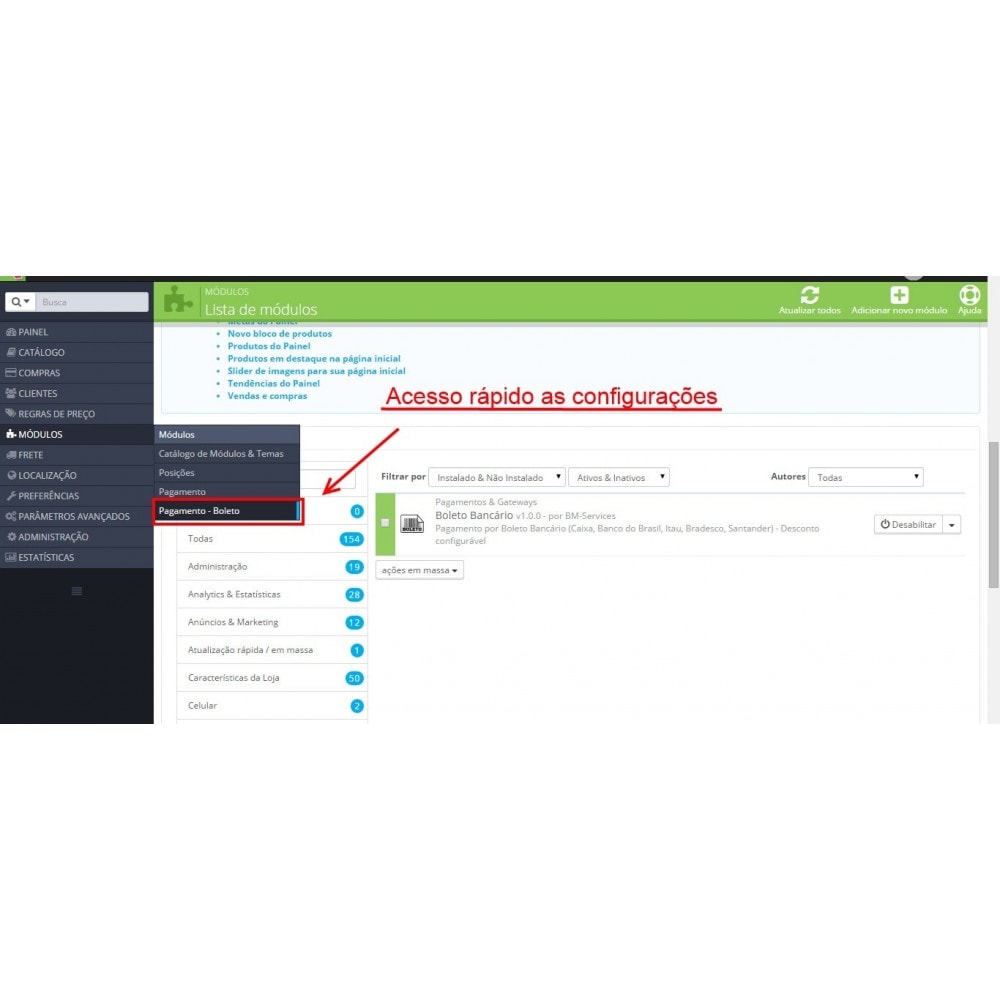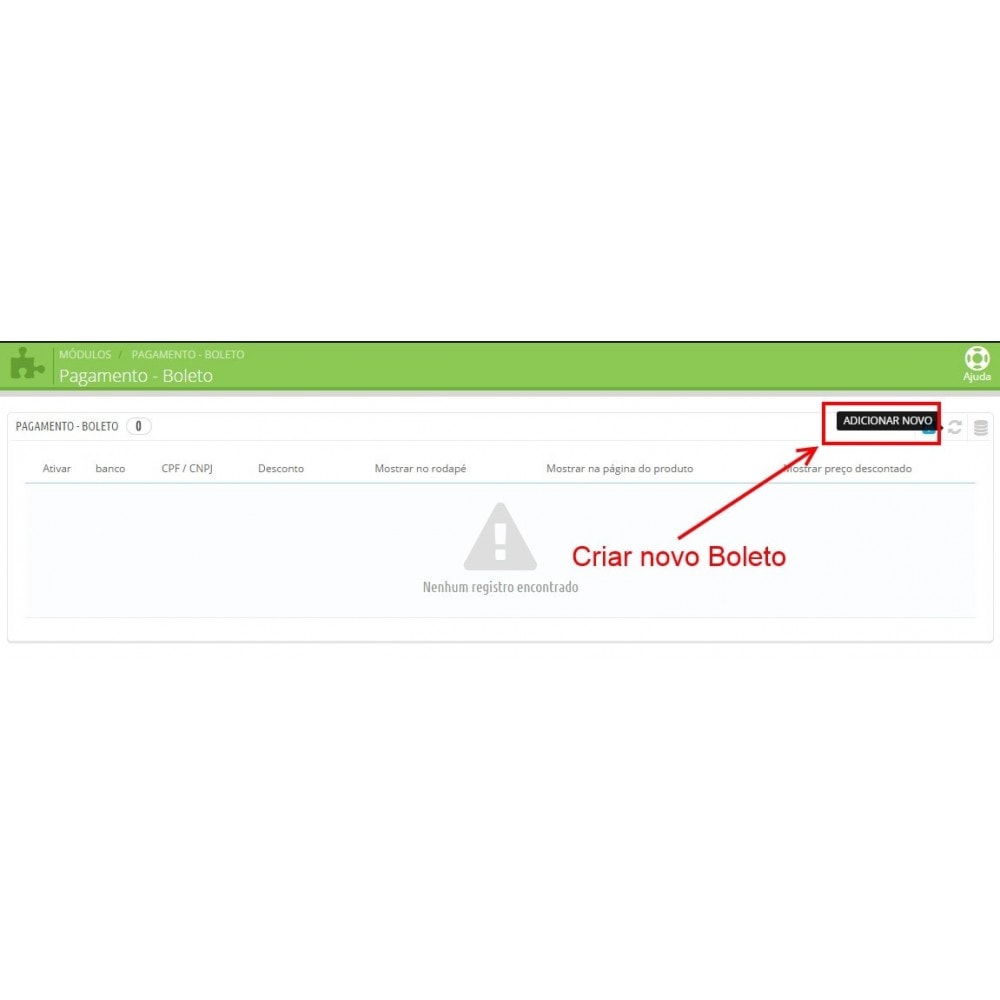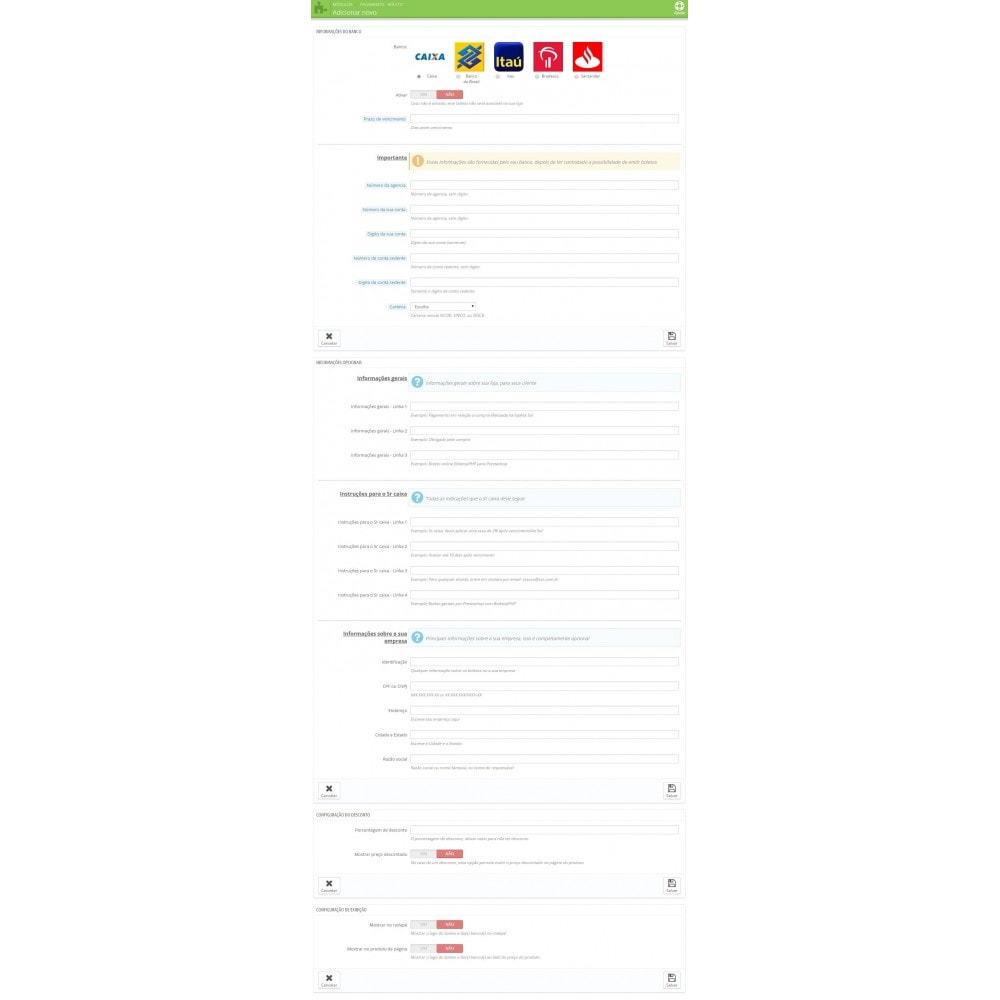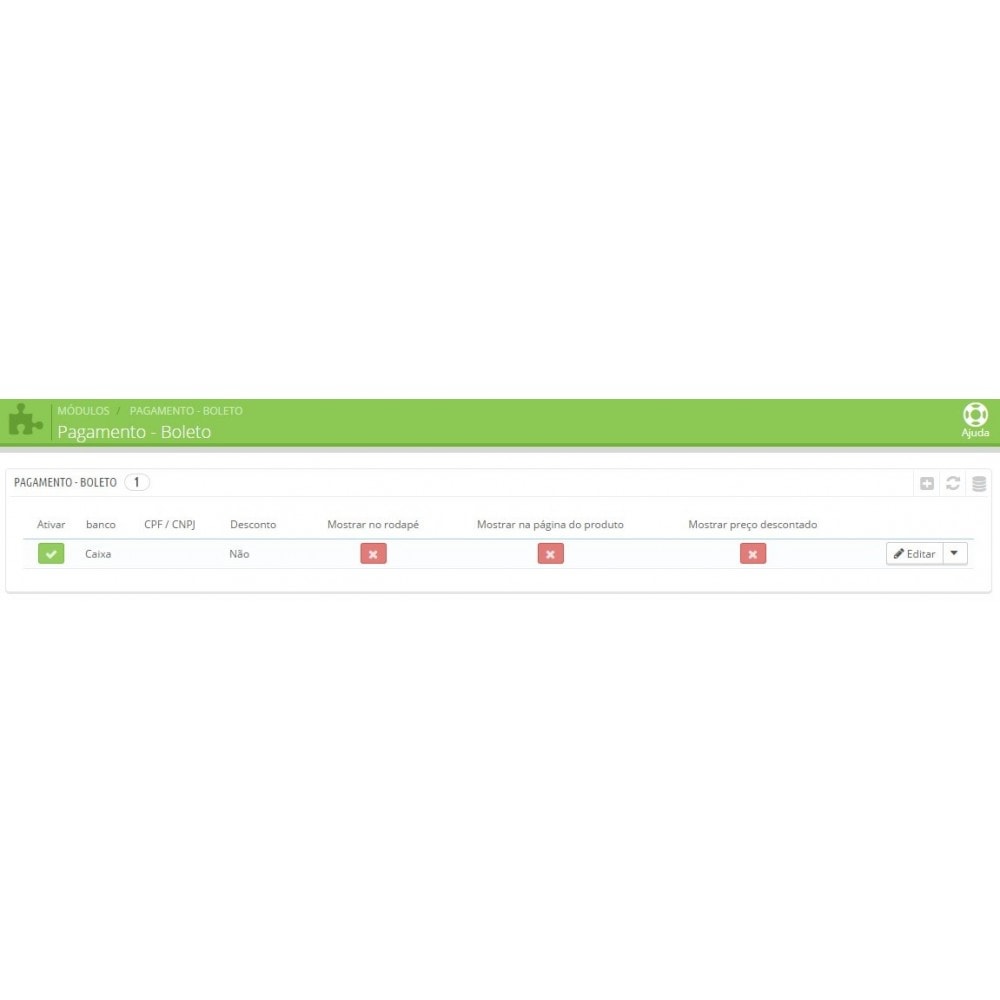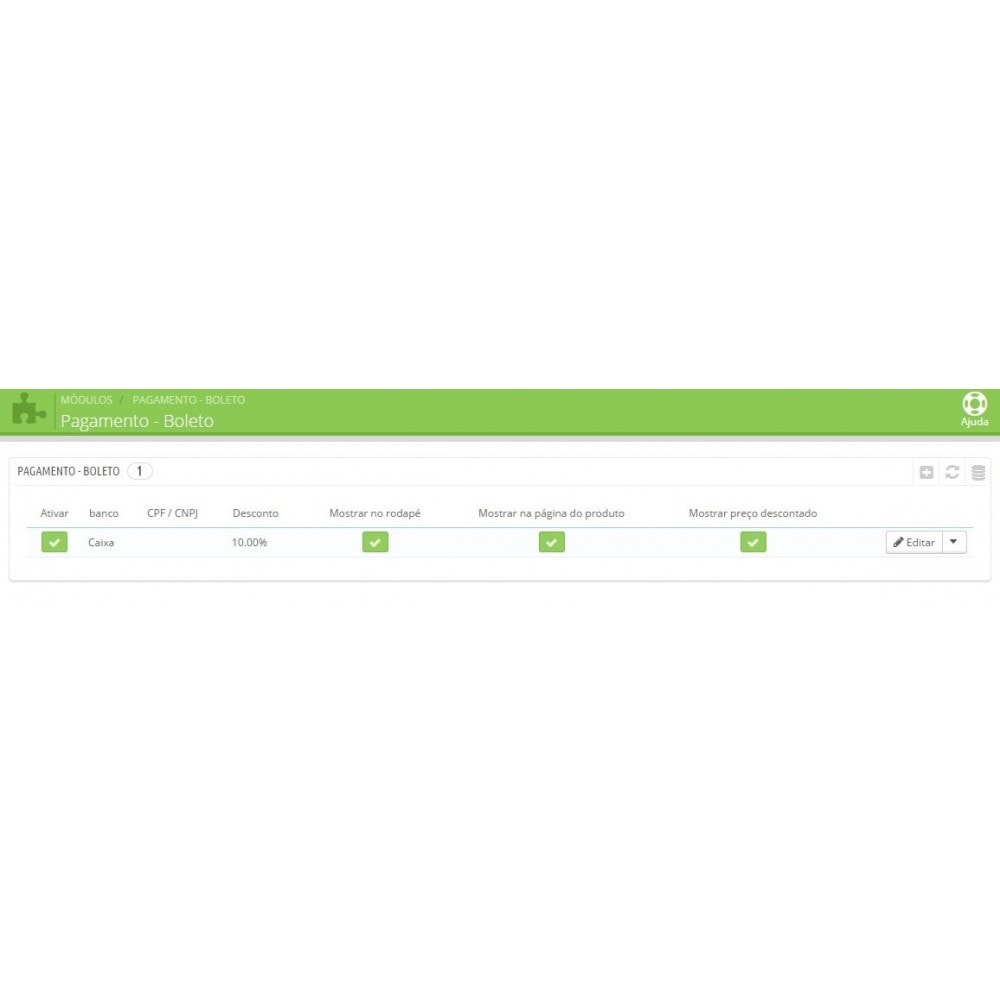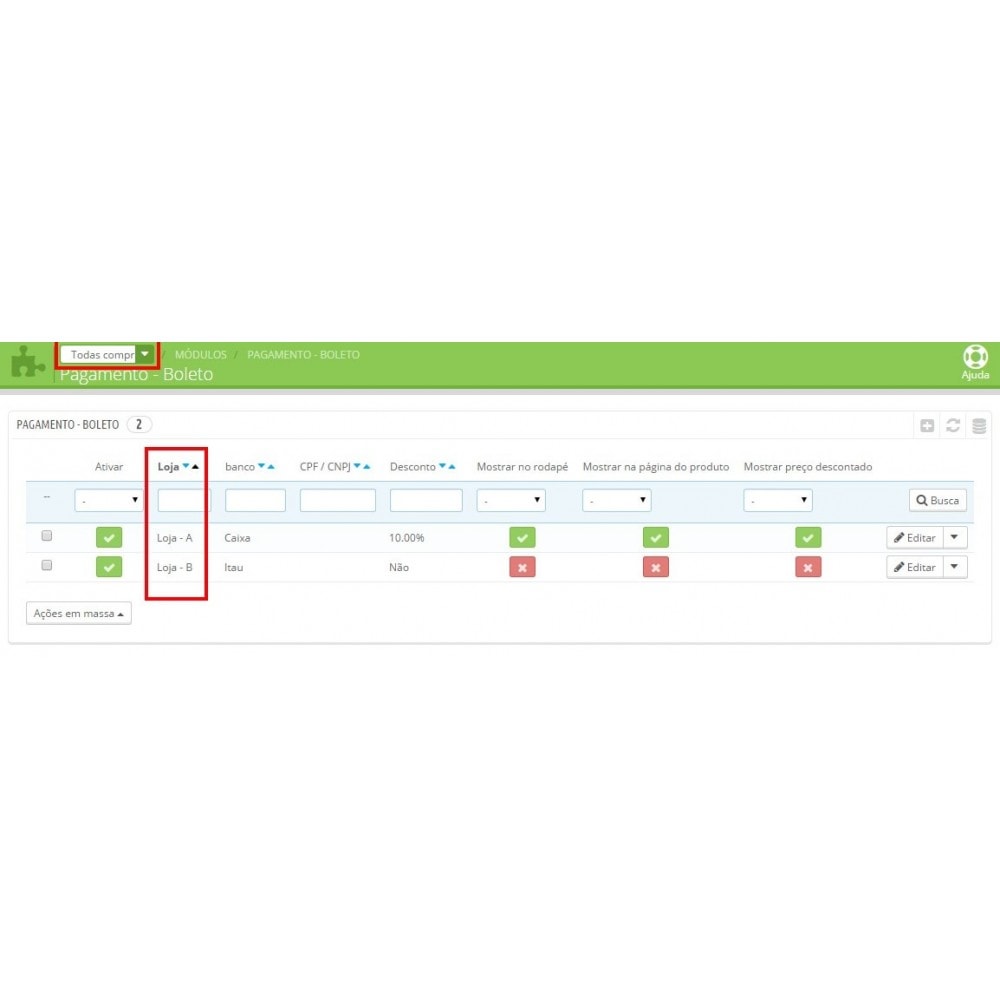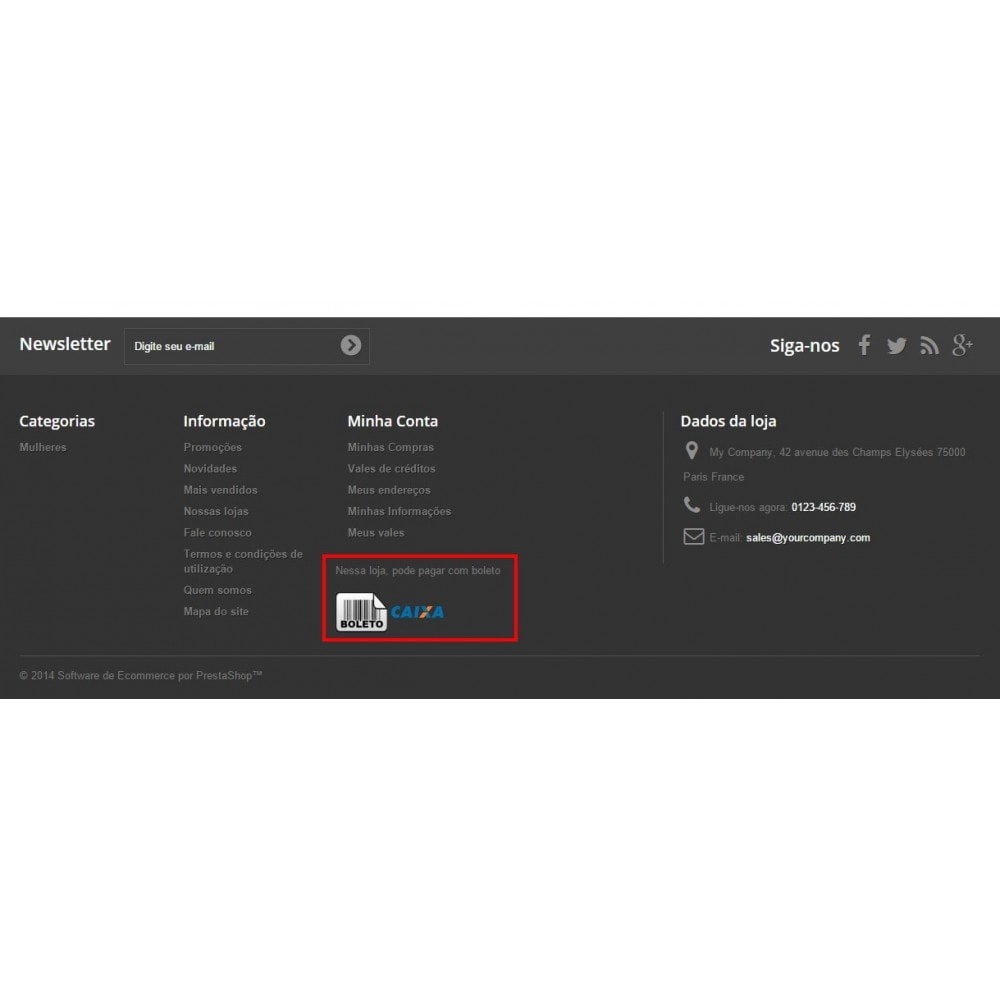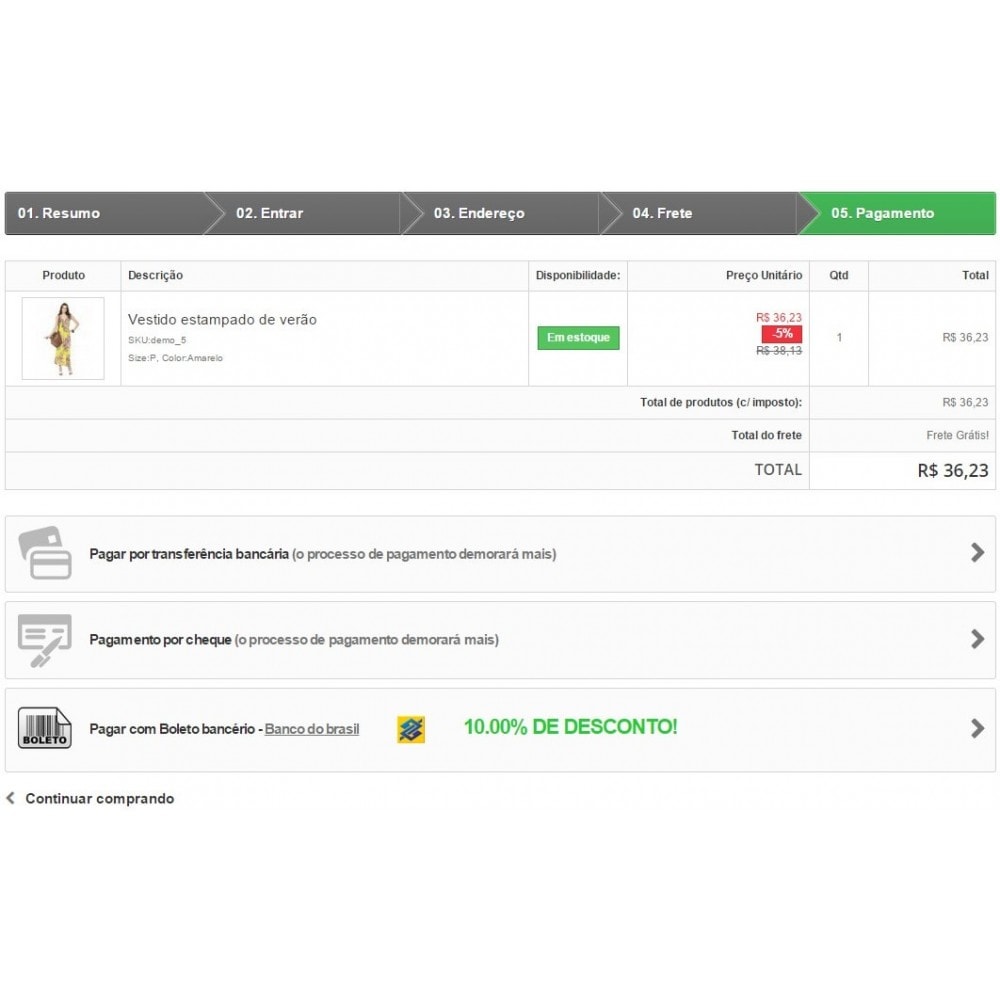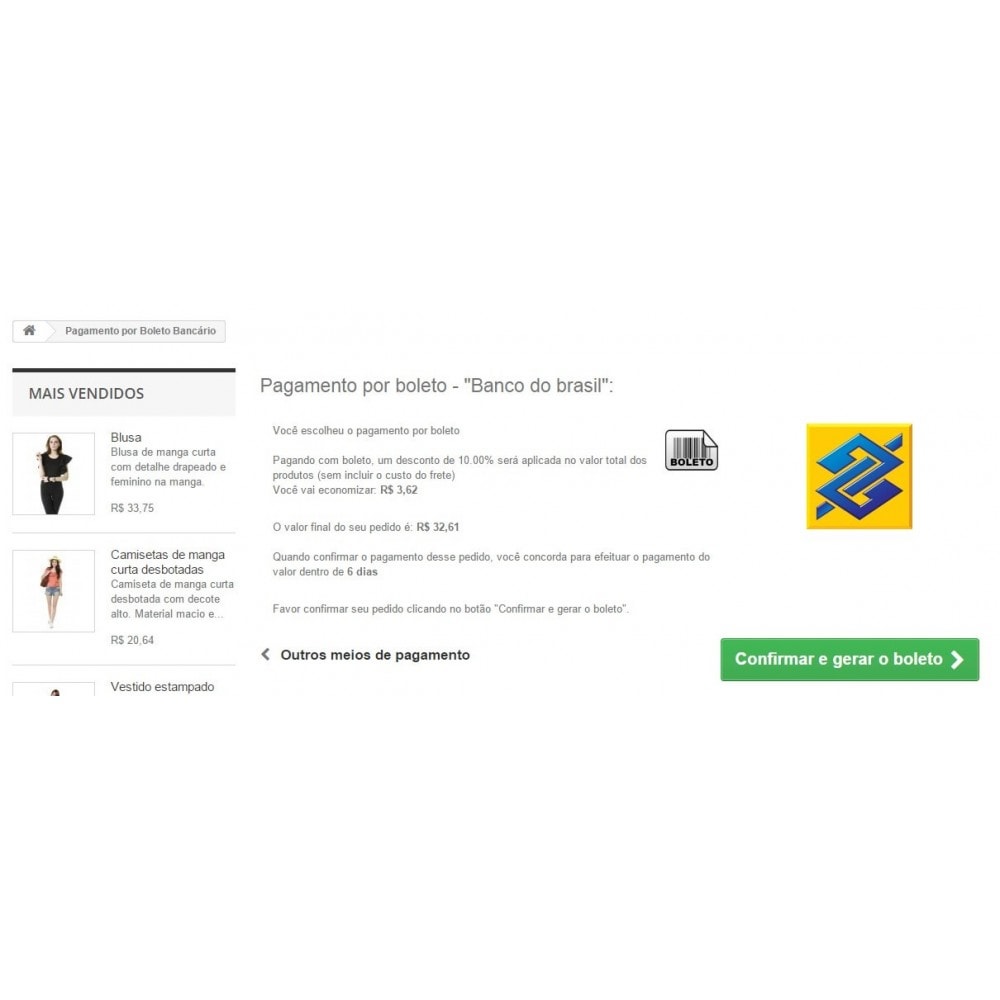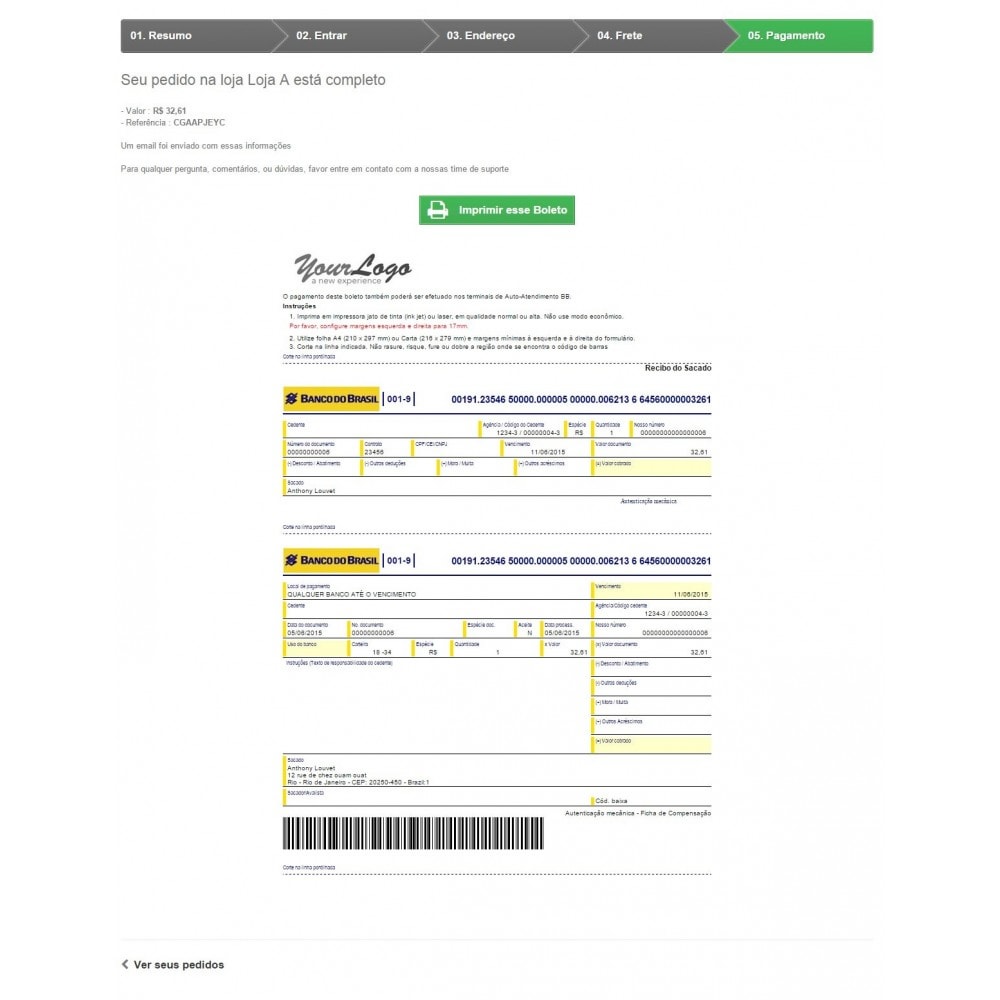 Prezentacja
This module enables the registration of your bank account to receive Boleto payments. Boleto is a widespread payment method in Brazil, made available by the country's main banks.
Korzyści wynikające z tego modułu
As a pre-requisite, the merchant must sign a specific contract with the bank to activate this resource. This module for Boleto payment is compatible with all the great Brazilian banks (Caixa Econômica, Banco do Brasil, Itaú, Bradesco, Santander).
The merchant can easily configure his bank account to generate and send Boletos to his clients. The merchant will choose between the several available compatible banks, as so with the different "Carteiras" for each bank (The "Carteiras are the types of accounts for traders.).
Beyond that, the merchant will have the option to apply a discount on sales paid with Boleto. The merchant configures the value of said discount.
The merchant will then, insert several bank accounts and as many discounts as he wants, then he can alternate between which ones he wants displayed on the site. This is done easily by activating or deactivating bank accounts and discounts in the back-office.
Funkcje
Full support for Prestashop 1.6 and Prestashop Cloud
Multilingual compatibility
Multi-store compatibility
Full management via back-office of the configuration for the Boletos and discounts
Compatibility with the banks: Caixa Econômica, Banco do Brasil, Itaú, Bradesco, Santander
Possibility to insert multiple accounts and discounts
Possibility to activate several accounts and discounts on the site
Display of the price with a discount for Boleto payments on the product page
Footer display of the banks that are configures to receive the Boleto payment
Possibility to generate a copy of the boleto from the back-office or the client's account on the site
Często kupowane w zestawie
BM Services Opracował

PrestaShop v1.5.3.1 - v1.6.1.17 Kompatybilność PrestaShop

PrestaShop Opracował

PrestaShop v1.6.0.4 - v1.7.2.4 Kompatybilność PrestaShop

BM Services Opracował

PrestaShop v1.6.0.4 - v1.6.1.17 Kompatybilność PrestaShop
Oto co spodoba się Twoim klientom
The Boleto is a widespread payment method in Brazil on account of its simplicity and versatility for the customer. Your client will be able to finish the buying process assured that he won't have a problem with the generation of the Boleto and that the payment will go through.
Besides, clients can take advantage of discounts linked to this payment method, as they do on the greatest websites in the country.
Wsparcie techniczne oraz aktualizacje
Otrzymasz automatycznie 3 miesiące pomocy technicznej dla tego produktu.
Przez 90 dni po zakupie jesteś uprawniony do pomocy technicznej i funkcjonalnej, a także masz dostęp do aktualizacji dla tego produktu.
Co nowego w wersji 1.0.1(2015-09-21)
Possibilidade da configurar uma taxa de emissão
O wydawcy, BM Services
"BM-Services is a Prestashop Gold partner agency for the last 6 years.  BM-Services creates Prestashop-based E-shops, intervenes for Prestashop Search Engine Optimizations (SEO), maintains websites, makes specific developments and develops addons for software editors (Paybox, Videodesk …)  or to add new functions to Prestashop. BM-Services team counts 20 fully-trained professionals and has already developed hundreds of Prestashop sites and addons."
2012-08-02

Sprzedawca PrestaShop

France

Kraj region
Masz pytanie?
Potrzebujesz pomocy?
Wydawca odpowie Ci w ciągu