moduł YesByCash
Opracował
PrestaShop Partners
(8 głosy)
Ponad 90 % użytkowników poleca ten produkt
Na średnią ocenę składają się wszystkie głosy otrzymane przez ostatnie pół roku.
Poziom kompetencji
Użytkownicy oceniają że wymagany poziom kompetencji do tego produktu jest:
Dla początkujących użytkowników
5
Dla średniozaawansowanych użytkowników
1
Dla zaawansowanych użytkowników
0
Official
Partner
+1000
downloads!
PrestaShop
1.4.0.1 - 1.6.1.17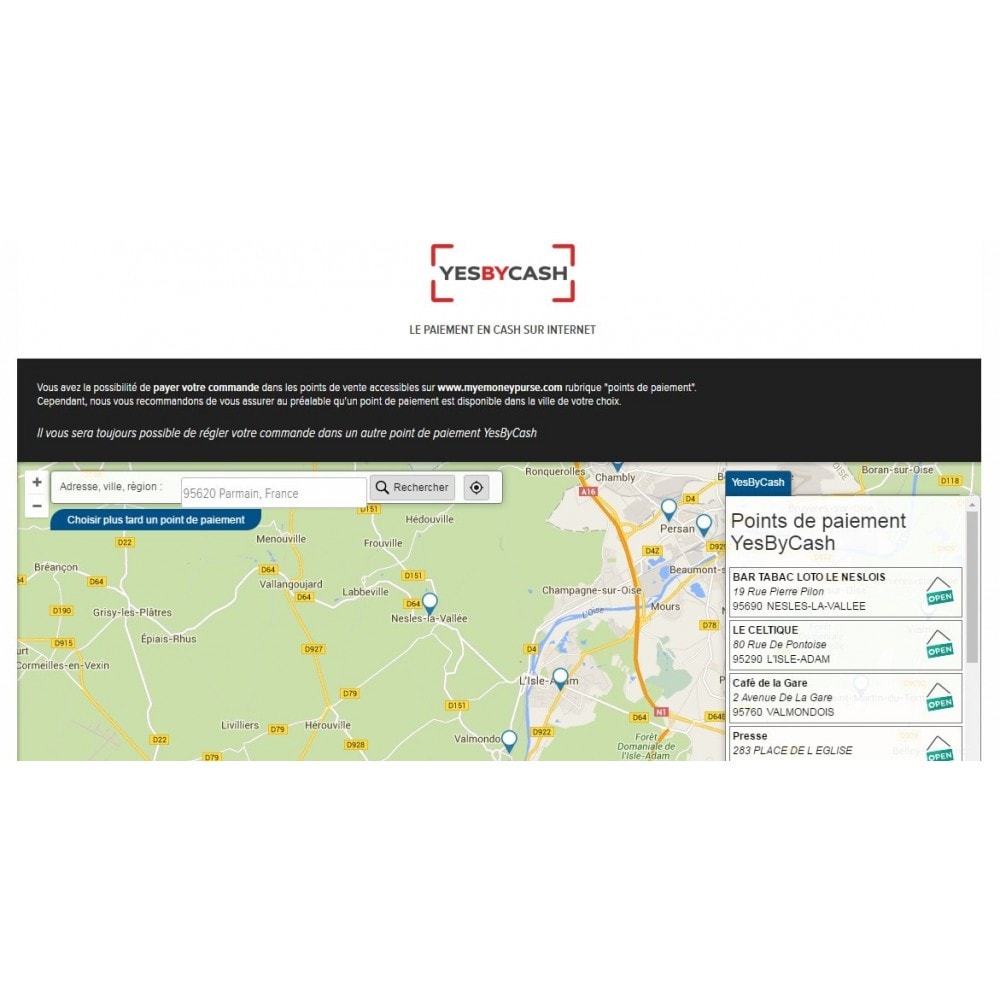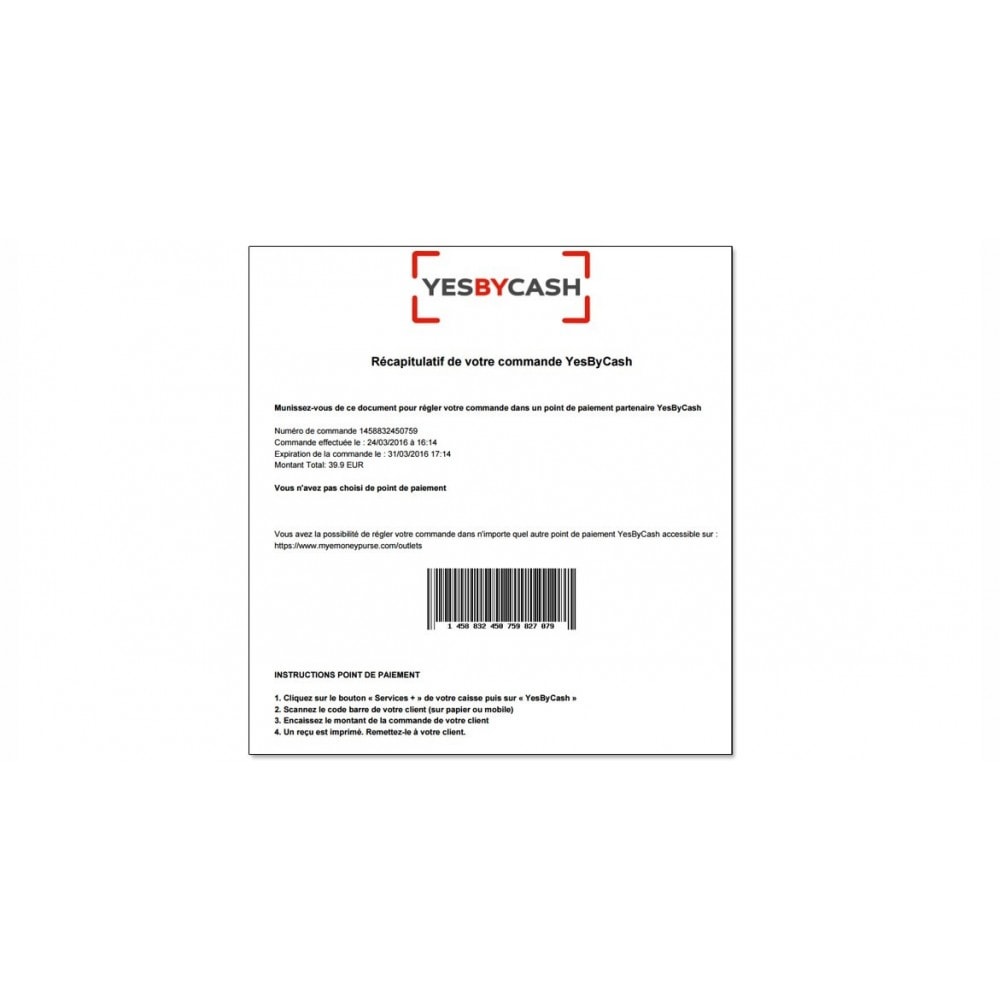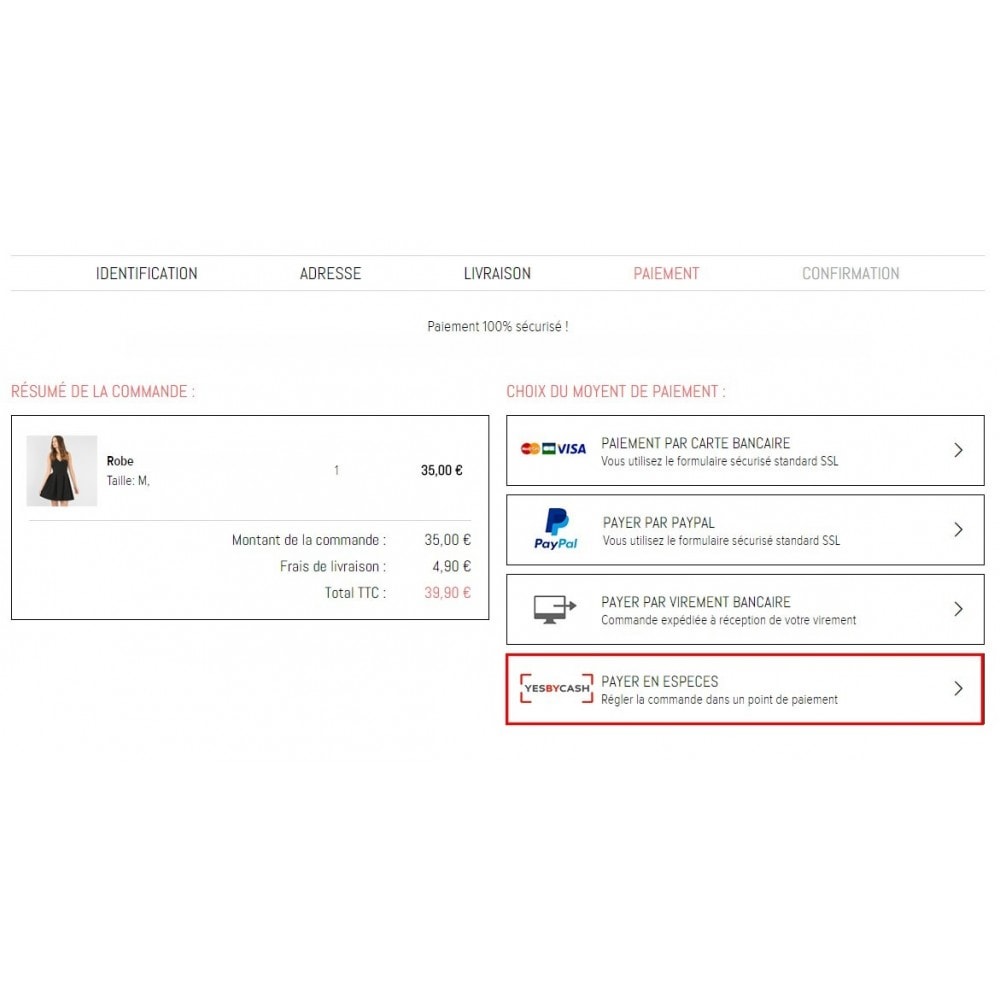 Prezentacja
15% of payments realized by credit cards are rejected! YesByCash will enable you to increase your revenue by retrieving bank card rejections. Customers fill up their shopping basket on your website and pay with cash in one of the 5 600 retail outlets
Korzyści wynikające z tego modułu
Konwersje Oferuje środek płatności dostosowany do Twoich klientów
Ruch Pozwala na pozyskanie nowych klientów
15% of payments by credit card are rejected : YesByCash will allow you to retrieve bank card rejections.
94% of French people are reluctant to see a hacking of their bank account: Boost and optimize your sales and marketing investments by reaching a new customer segment: reluctant payers.
Provide a payment method suitable to your customers by giving them the opportunity to finalize their orders
YesbyCash helps e-merchants to reach a new customer segment:
People excluded from banking system: 6 millions in France (Observatoire des inégalités 2013)
Immigrants residents who don't have a bank account: 5,5 milions in France (INSEE)
People who are reluctant to the idea of paying with a credit card online: 24 milions in France (INSEE)
Teenagers from 15 to 18 years old : 3,3 millions in France (INSEE)
Funkcje
The customer journey is extremely simple:
The customer fills up his shopping basket and chooses the YesByCash solution.
He prints the bar code received through his email address
He presents it to the retail outlet in order to pay his order in the time defined by the e-merchant.
Finally, he receives his article.
Oto co spodoba się Twoim klientom
Propose an alternative to your traditional means of payment: 9% of French people who already knew a bank card rejection confirm that YesByCash responds to their needs.
YesByCash enables customers to make online purchases in cash thanks to a huge networks of 5.600 retailers.
YesByCash is aimed at people who do not have a credit card and/or who do not wish to use their credit cards on the Internet.
Payment flexibility and freedom: The possibility to pay in cash for online purchases
Easy payment: All you have to do is present your barcode in order to conclude the order
Payment security: No personal information or bank details need to be given
Ideal in situation of mobility: works on all channels: mobiles, tablets, computers, etc.
Rekomendacja
To sign up to YesByCash plug-in, please contact our sales department at commercial@yesbycash.com or click on : http://www.yesbycash.fr/inscription.php
The subscription is simple, without distance selling contract.
Instalacja
EASY INTEGRATION, FREE, WITHOUT DISTANCE SELLING CONTRACT AND WITHOUT OBLIGATION

This module is compatible with all prestashop versions
For any information about the installation, please refere to the documentation
More than one hundred e-merchants propose our solution… why not for you?
Co nowego w wersji 1.2.6(2016-01-28)
O wydawcy, PrestaShop Partners
2014-08-13

Sprzedawca PrestaShop

France

Kraj region
Masz pytanie?
Potrzebujesz pomocy?
Wydawca odpowie Ci w ciągu