moduł Worldpay US Payments
Opracował
PrestaShop Partners
(5 głosy)
Na średnią ocenę składają się wszystkie głosy otrzymane przez ostatnie pół roku.
Official
Partner
+500
downloads!
PrestaShop
1.6.0.4 - 1.6.1.17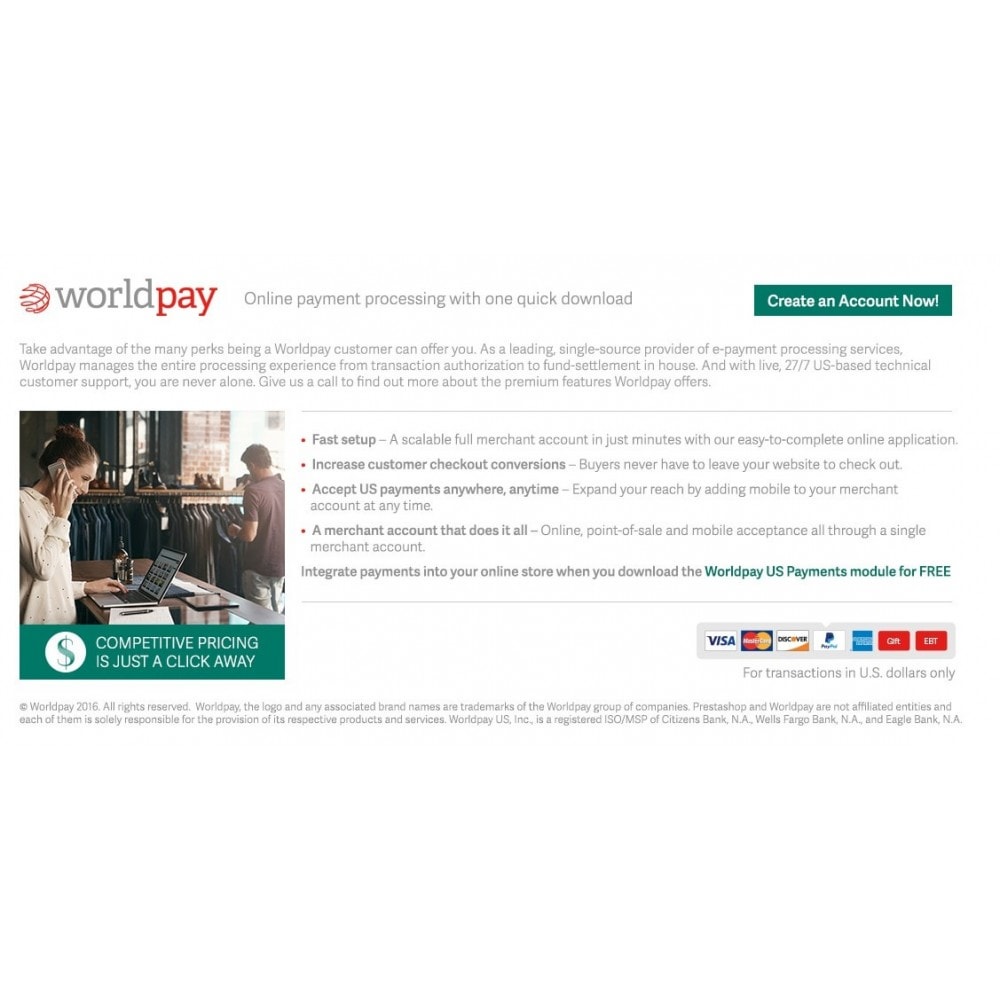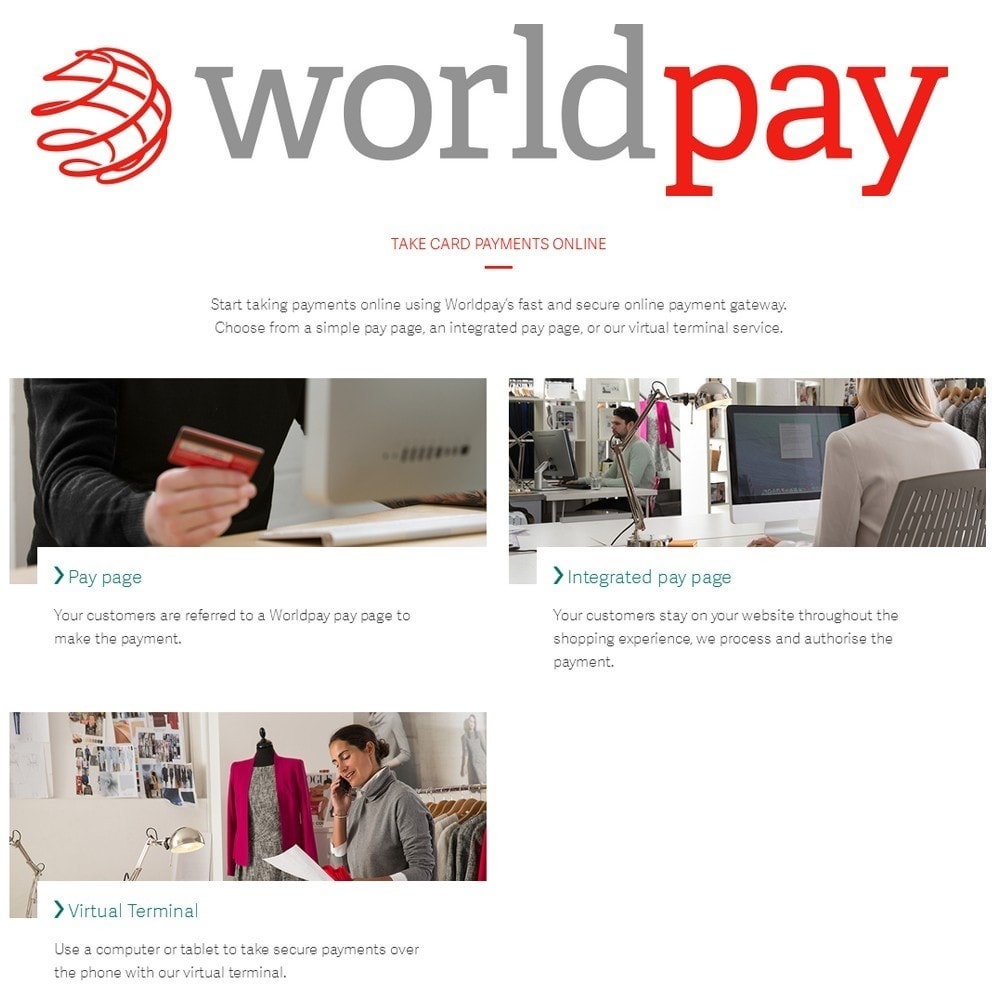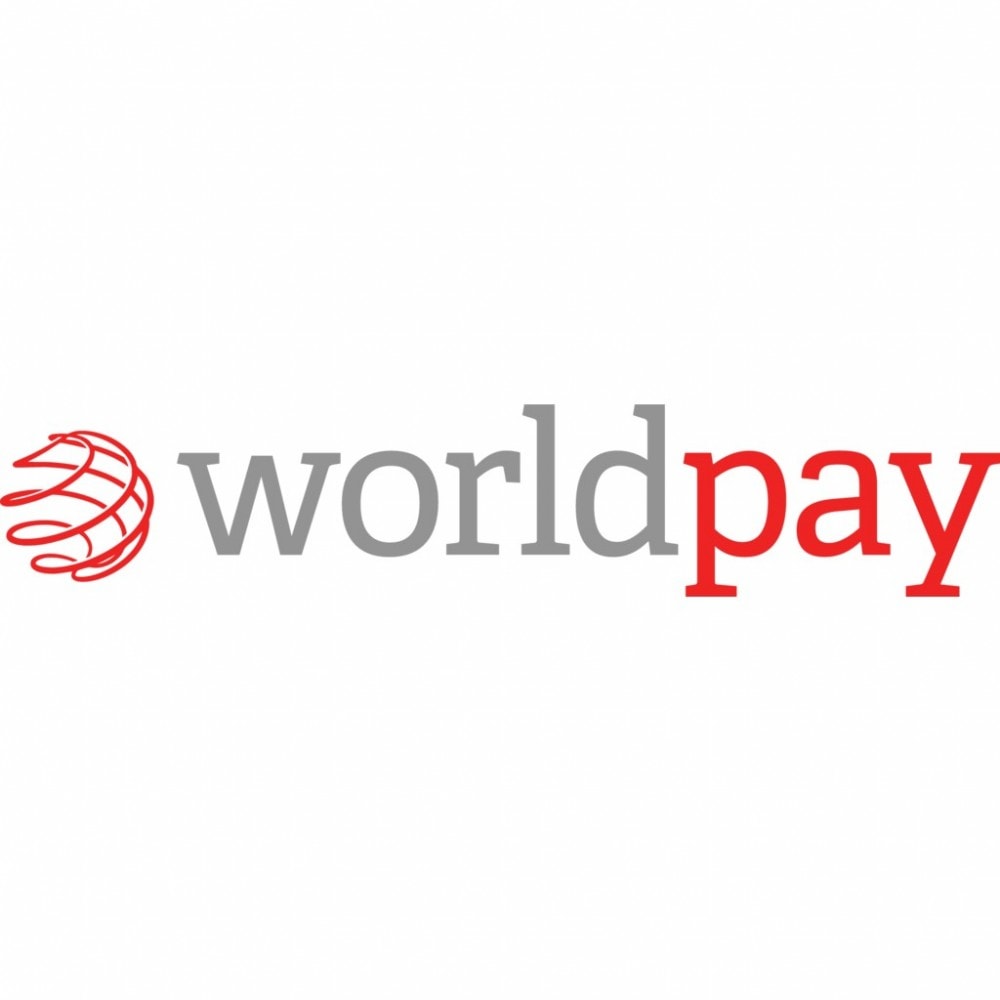 Prezentacja
Worldpay is a leading provider of electronic payment processing. Worldpay manages the processing experience, from transaction authorization to fund settlement. We provide value pricing, excellent customer service and programs for your business.
Korzyści wynikające z tego modułu
Konwersje Oferuje środek płatności dostosowany do Twoich klientów
Worldpay processes millions of transactions daily for businesses of all sizes. This quick and efficient payment platform allows you to accept payments by credit card, electronic check and phone.
Limitless advantages - Security, back office functionality, and an easy user design gives you a well-rounded reliable experience.
Eliminate an overburden server - Use tokenization to transmit cardholder data, avoiding the need to store and relay sensitive customer information.
Accept payments anywhere, anytime - Expand your reach by adding mobile to your merchant account at any time.
Funkcje
Worldpay gives you the tools your business needs to grow:
Fast setup - A full merchant account in just minutes with our easy-to-complete online application.
Live 24/7 technical support - Get assistance from real people whenever you need it.
Increase customer checkout conversions - Buyers never have to leave your website to check out.
A merchant account that does it all - Online, point-of-sale and mobile acceptance all through a single merchant account.
Never outgrow us - Our solutions scale to grow with your business.
Oto co spodoba się Twoim klientom
Worldpay processes millions of payments a day. For more information on what we can do for your business click the link above and visit www.worldpay.com
Co nowego w wersji 1.0.1(2016-10-08)
Change URL for Account detail
O wydawcy, PrestaShop Partners
2011-09-01

Sprzedawca PrestaShop

Canada

Kraj region
Masz pytanie?
Potrzebujesz pomocy?
Wydawca odpowie Ci w ciągu