moduł Snap* - Virtual Payment Gateway by Popular Payments
Opracował
PrestaShop Partners
Official
Partner
+100
downloads!
PrestaShop
1.5.0.0 - 1.6.1.5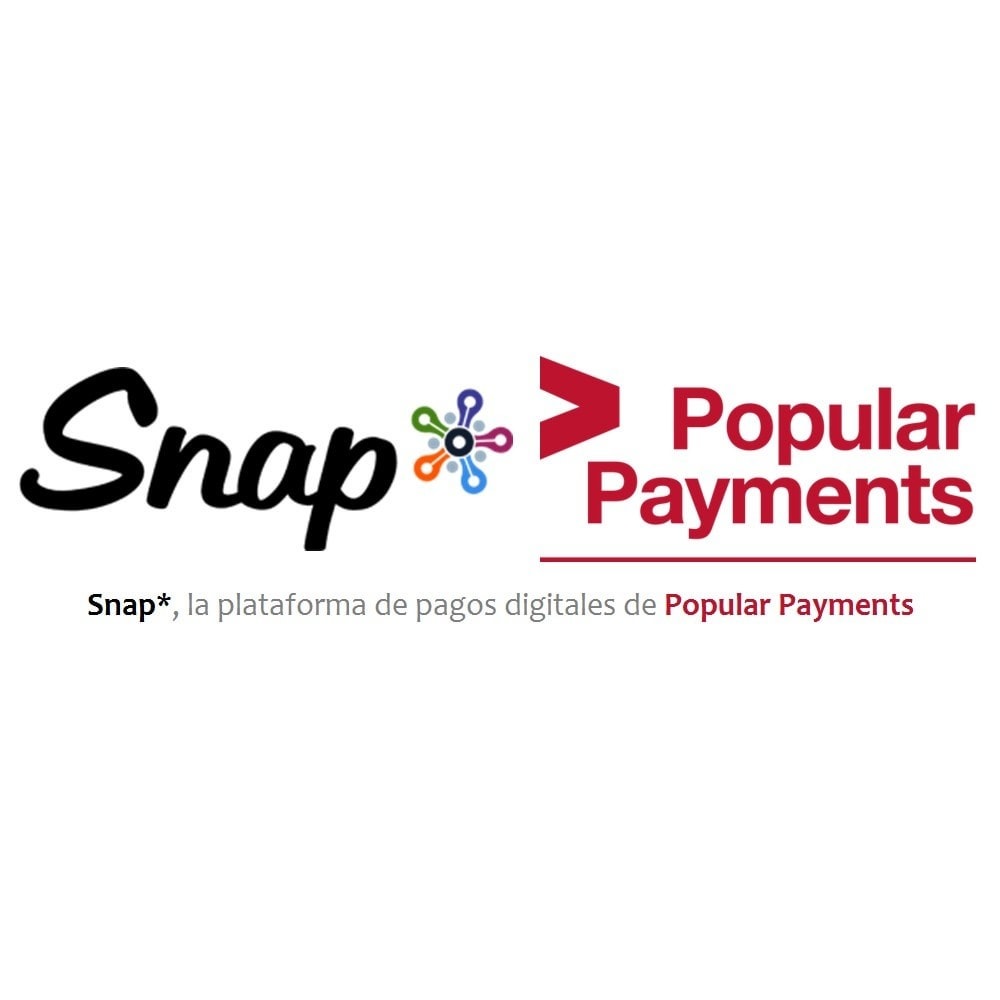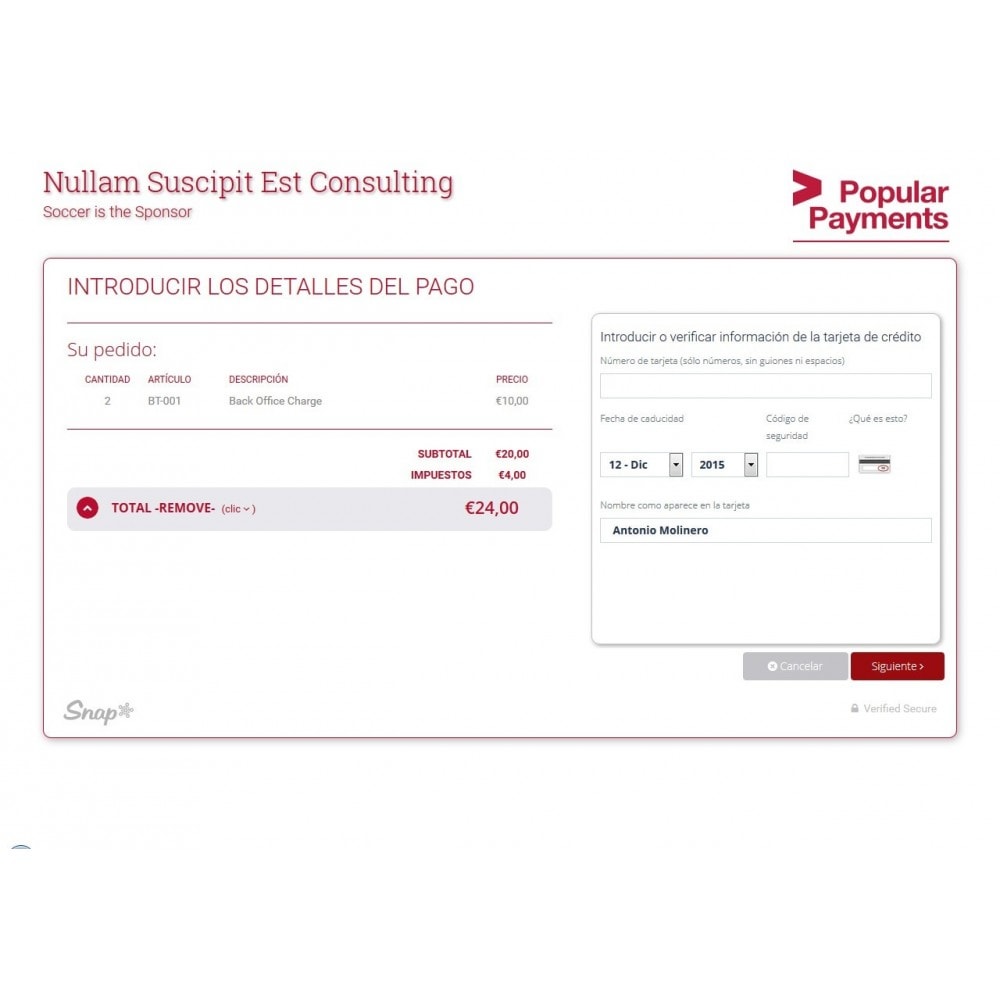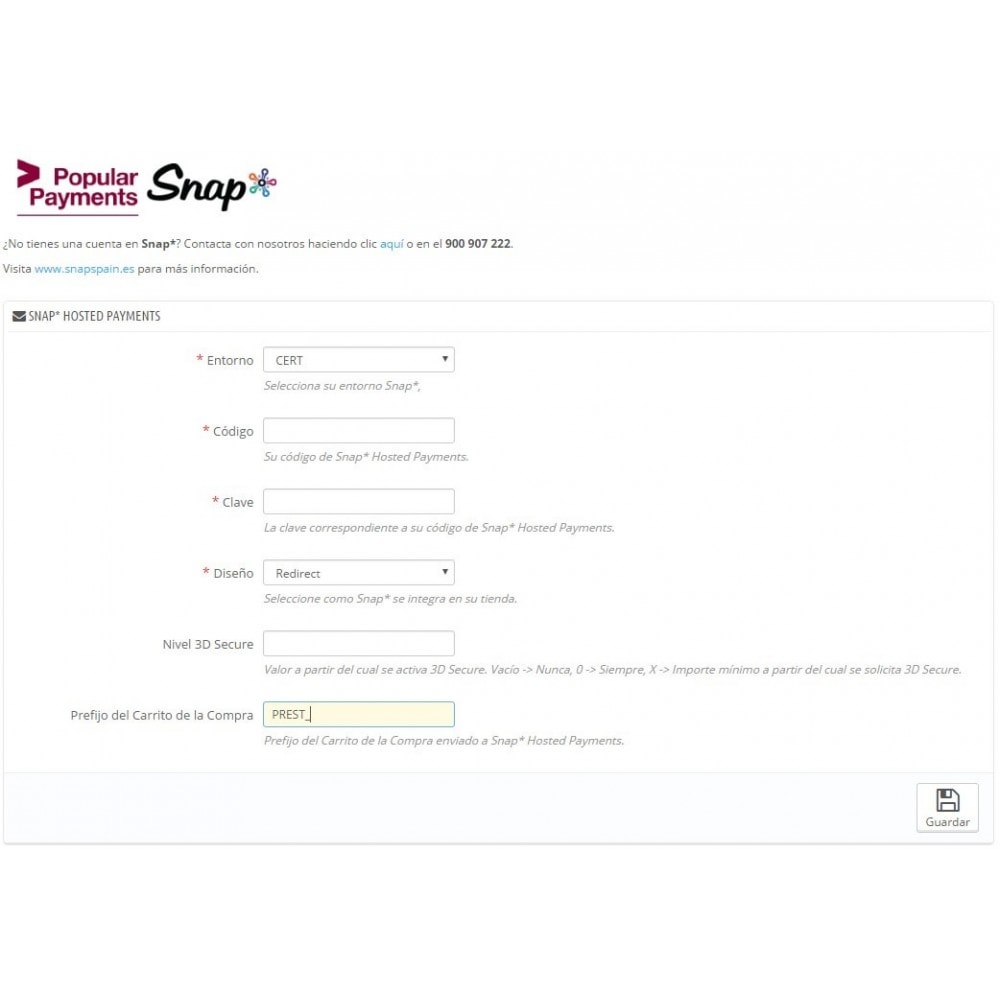 Prezentacja
With the payment gateway by Popular Payments, based on our solution for payments Snap*, you can accept payments from Visa, MasterCard and Maestro in a secure and fast way.

Korzyści wynikające z tego modułu
Konwersje Oferuje środek płatności dostosowany do Twoich klientów
Working with
Popular Payments
you enjoy the following advantages:
Settlement in any European bank.
Online sales and technical support.
Secure online management tool to track sales, manage orders and subscriptions, process returns and more.
Clear and short processing fees.
Monthly and daily detailed reports
Multicurrency settlement: accept over 10 different currencies!
Multicurrency processing: process more than 100 different currencies!
Funkcje
Secure environment for processing payments.
Pay with Visa, MasterCard and Maestro Credit & Debit Cards.
Test or Production environment
Checkout page fully customized.
Multi-language
Multi-currency
Multi-store
Iframe or redirect integration.
Responsive.
3D Secure ready. Flex 3D Secure ready

Oto co spodoba się Twoim klientom
Pay with Visa, MasterCard and Maestro Credit & Debit Cards.
Pay in their own currency.
Pay in their own language.
Rekomendacja
If you want to test the addon before going live, just set up this credentials:
Merchant Code: popularpaypresta
Password: 2rDbDCiMMujke3FdGK
Remember to enable the "CERT" Mode.
Instalacja
Download the addon
Configure the addon with those credentials after contacting to us
Choose if you want to work on secure or non secure mode.
Write the initials of your online store at the field: "Prefix of your checkout shopping cart"
Enjoy, now you can receive money!
If you have any question, please send us an email, don't hesitate to contact us!
Co nowego w wersji 1.0.4(2016-05-19)
Shopping cart customer validation
O wydawcy, PrestaShop Partners
2015-12-21

Sprzedawca PrestaShop

Spain

Kraj region
Masz pytanie?
Potrzebujesz pomocy?
Wydawca odpowie Ci w ciągu