moduł Moip Transparent Checkout
Opracował
BM Services
(5 głosy)
Na średnią ocenę składają się wszystkie głosy otrzymane przez ostatnie pół roku.
Partner
Agency
Recommended
local module
PrestaShop
1.6.0.4 - 1.6.1.3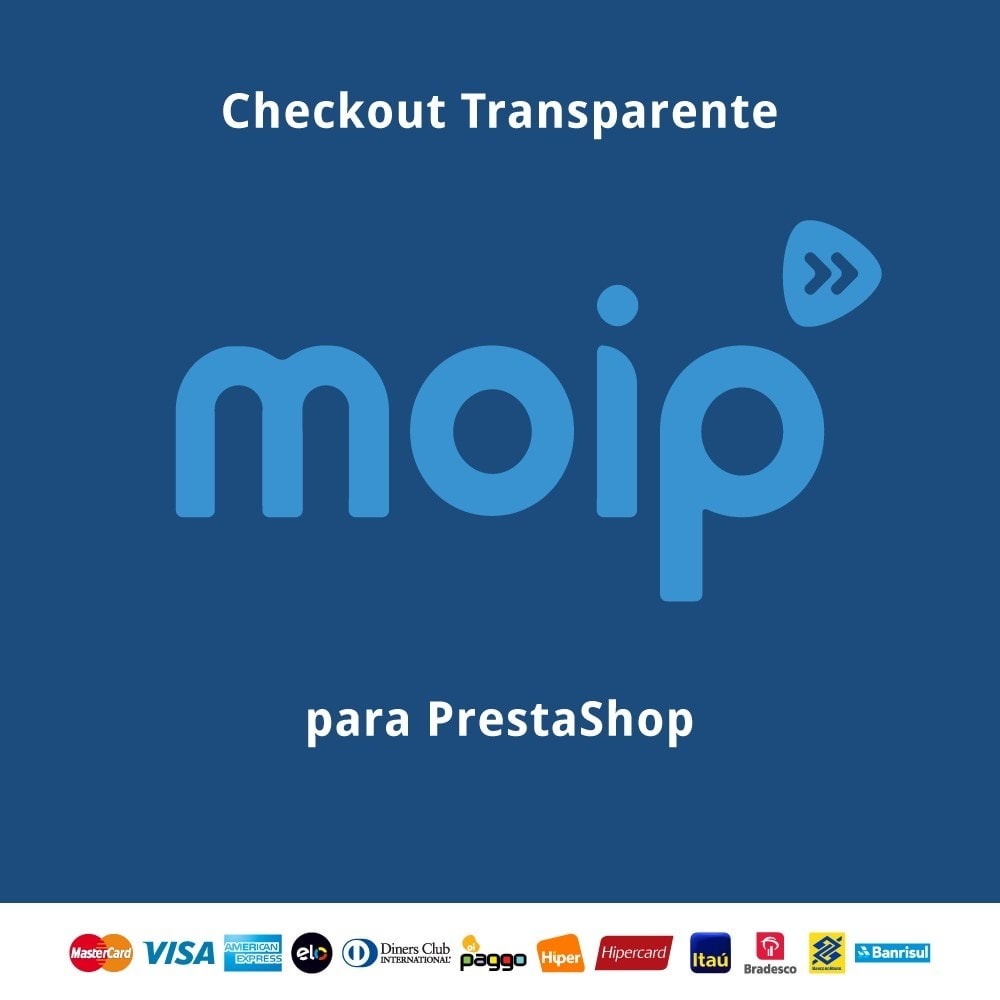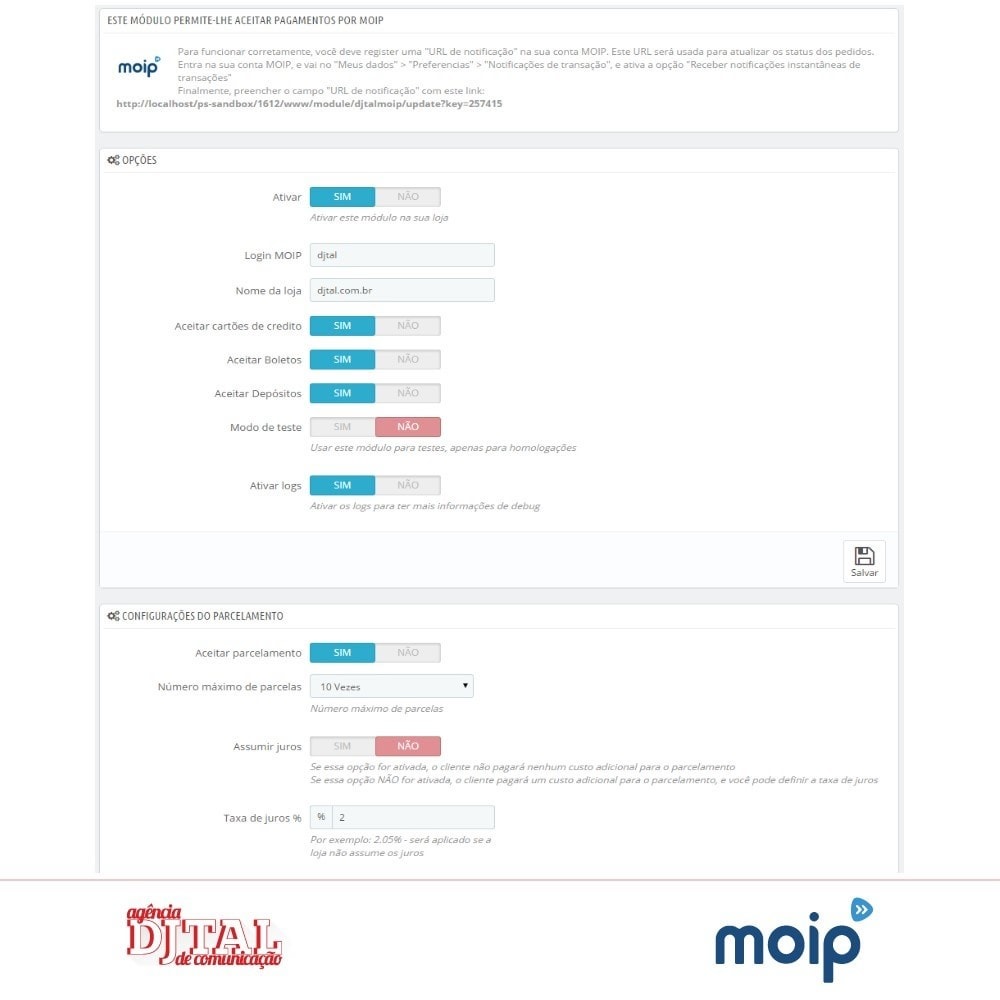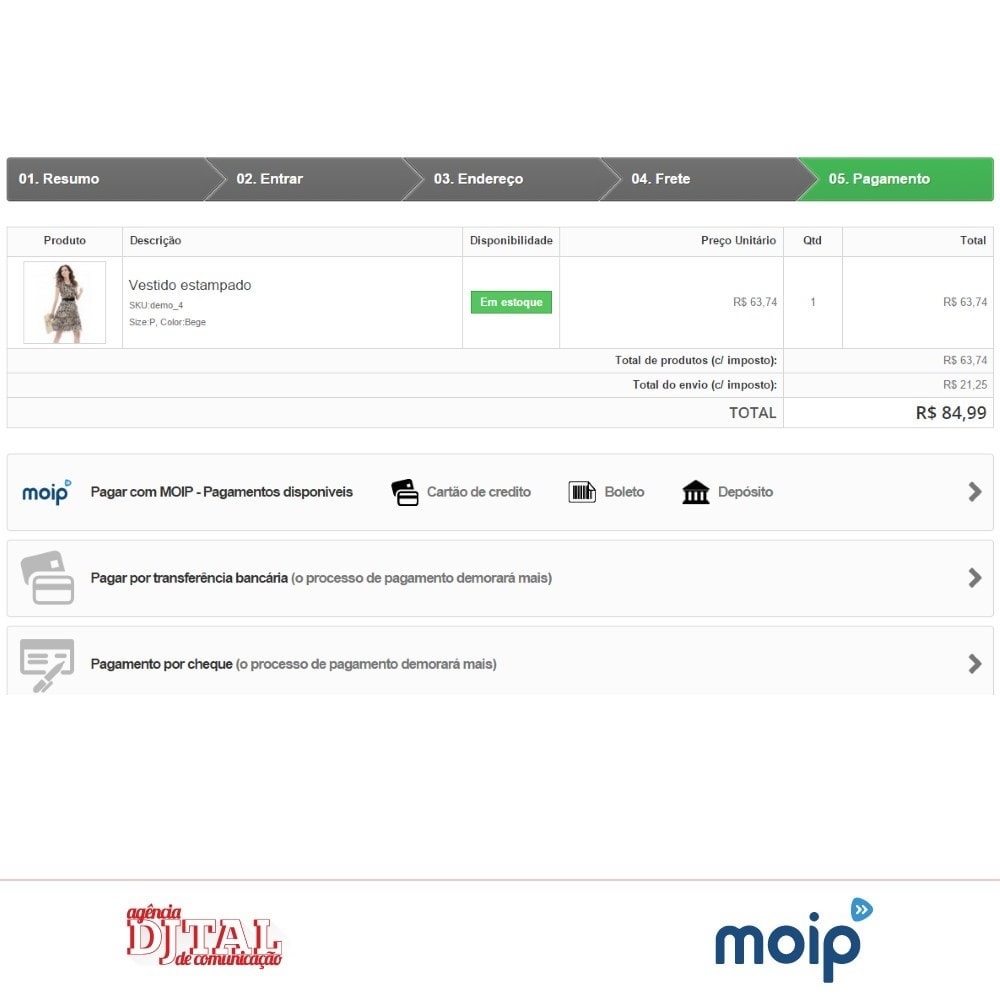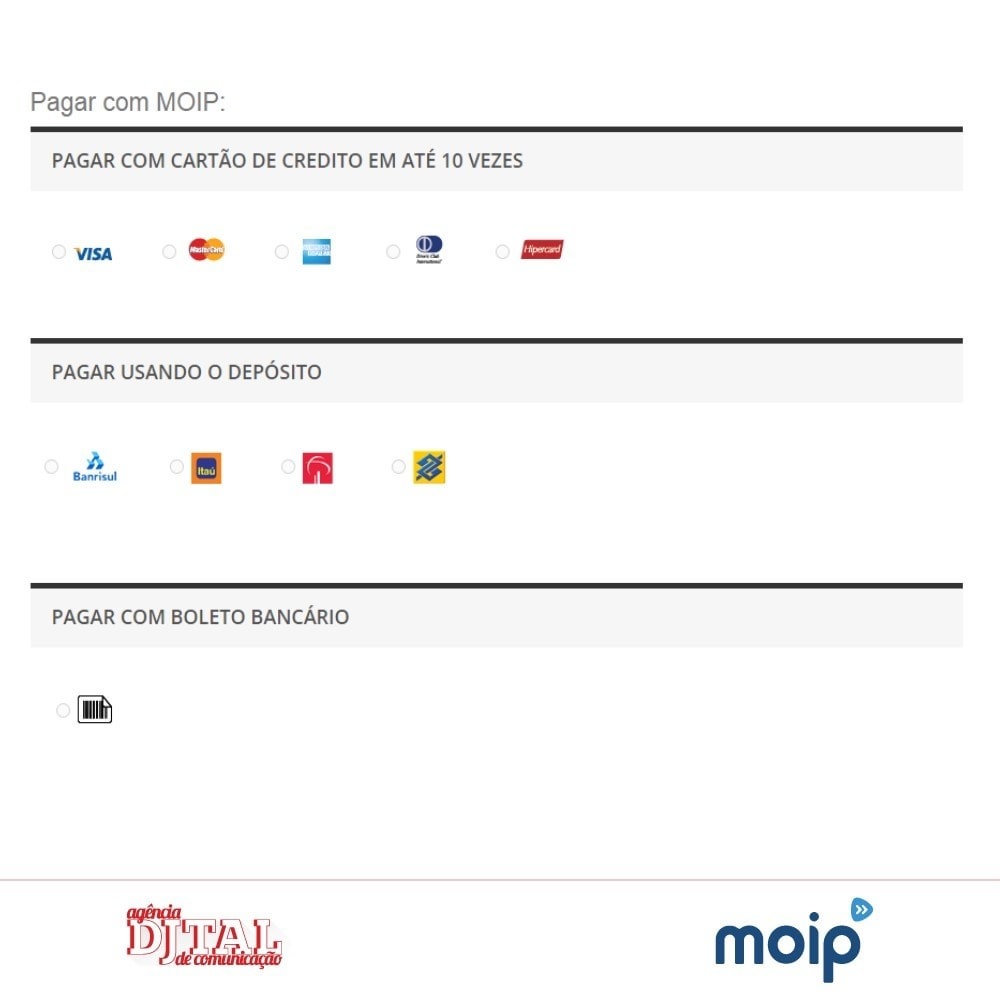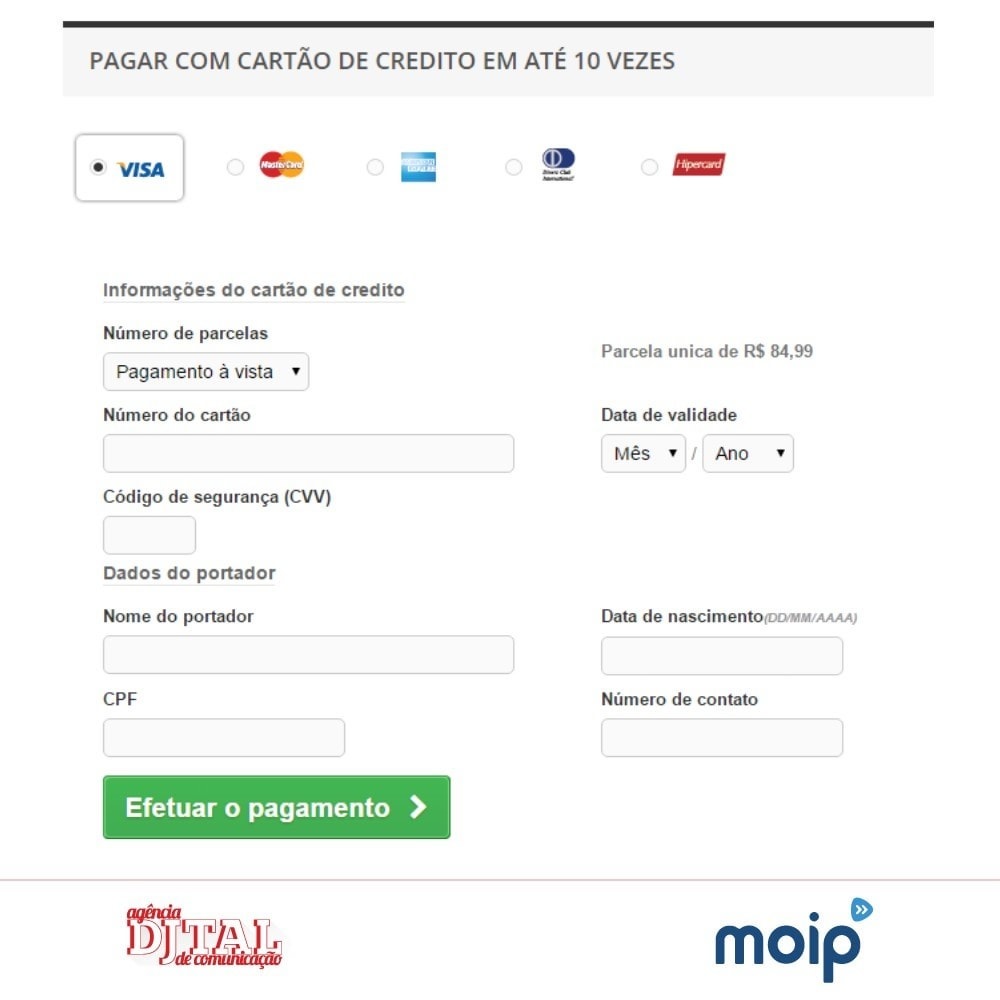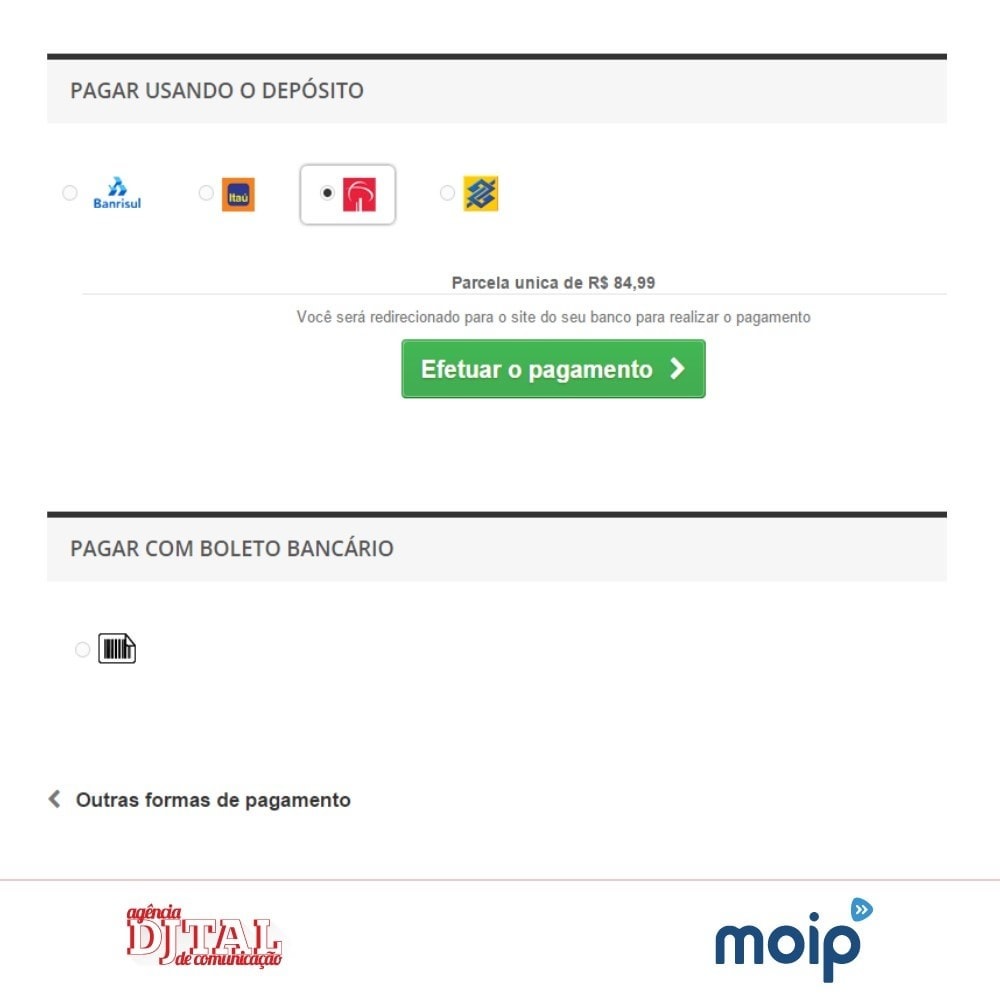 Prezentacja
Keep an up-to-date online store with "Moip Transparent for Prestashop". Checkout without website redirection is a required feature by clients. Have a payment method that keeps up with Prestashop updates and increase conversions in up to 30%.
Korzyści wynikające z tego modułu
Konwersje Oferuje środek płatności dostosowany do Twoich klientów
Full integration of Moip's checkout inside the online store and its resources with Prestashop's last version.
Checkout inside Prestashop – Your client won't be redirected outside your online store.
Credit cards, online debit system and Boleto – Acceptance of a wide range of Credit cards. Compatibility with Boleto, Brazilian's favorite payment method, and the banks Bradesco, Itaú, Banco do Brasil and Banrisul.
Moip's total security – Have the security of your transactions granted by a company trusted by more than 50 thousand users.
Funkcje
The module "Moip Transparent for Prestashop" features:
Checkout inside the Prestashop online store.
Credit Cards: Elo, Diners, Visa, Mastercard, Hiper, Hipercard and American Express.
Online debit system for: Banrisul, Itaú, Bradesco and Banco do Brasil.
Boleto for Bradesco.
Wsparcie techniczne oraz aktualizacje
Otrzymasz automatycznie 3 miesiące pomocy technicznej dla tego produktu.
Przez 90 dni po zakupie jesteś uprawniony do pomocy technicznej i funkcjonalnej, a także masz dostęp do aktualizacji dla tego produktu.
Oto co spodoba się Twoim klientom
Since the first time payment process was done entirely inside an ecommerce website, clients loved and started demanding it. If you still have a checkout that redirects your customer to other website, it is expected an increase of 30% in conversions with this feature.
Moip's checkout inside your Prestashop online store.
Diversity of payment methods.
Instalacja
Default Prestashop module installation. A Moip account is needed.
Create here your Moip account
Enter your Prestashop dashboard and go to your modules list.
Click in "Add a module" and select the "zip file" path.
Now the module appears in the list and is ready to be installed.
Często kupowane w zestawie
BM Services Opracował

PrestaShop v1.6.0.4 - v1.6.1.3 Kompatybilność PrestaShop

Community developer Opracował

PrestaShop v1.5.0.0 - v1.6.1.15 Kompatybilność PrestaShop

BM Services Opracował

PrestaShop v1.6.0.4 - v1.7.2.2 Kompatybilność PrestaShop
Co nowego w wersji 1.0.0(2015-12-01)
O wydawcy, BM Services
"BM-Services is a Prestashop Gold partner agency for the last 6 years.  BM-Services creates Prestashop-based E-shops, intervenes for Prestashop Search Engine Optimizations (SEO), maintains websites, makes specific developments and develops addons for software editors (Paybox, Videodesk …)  or to add new functions to Prestashop. BM-Services team counts 20 fully-trained professionals and has already developed hundreds of Prestashop sites and addons."
2012-08-02

Sprzedawca PrestaShop

France

Kraj region
Masz pytanie?
Potrzebujesz pomocy?
Wydawca odpowie Ci w ciągu