moduł Auriga PlainPay – Easy Payment Solution
Opracował
Community developer
PrestaShop
1.4.11.1 - 1.6.1.17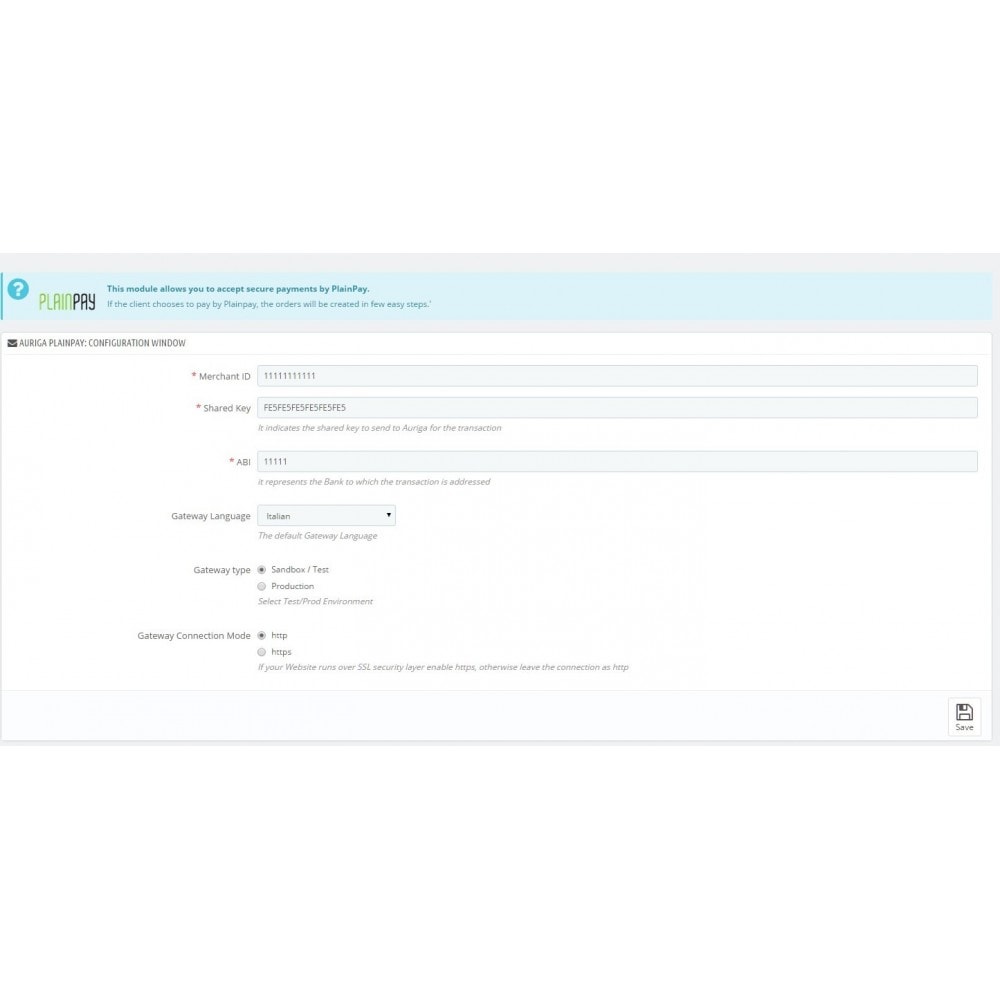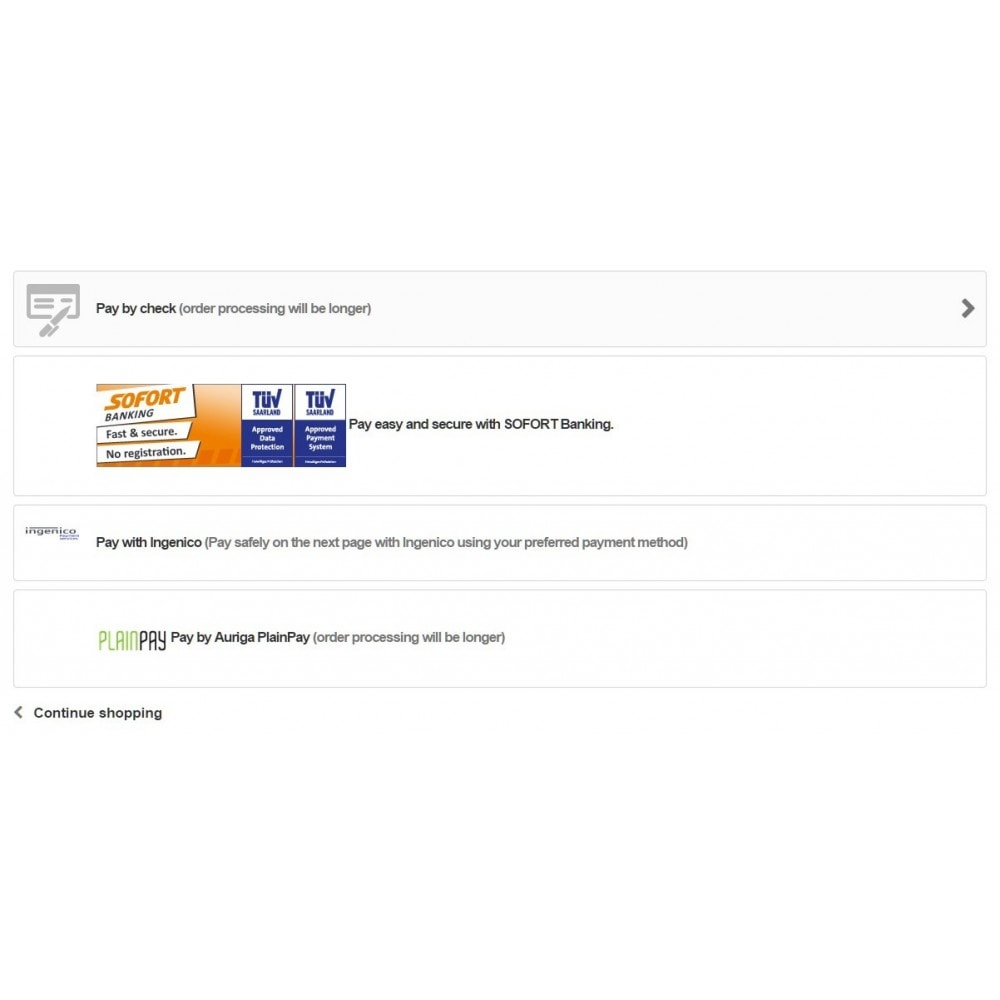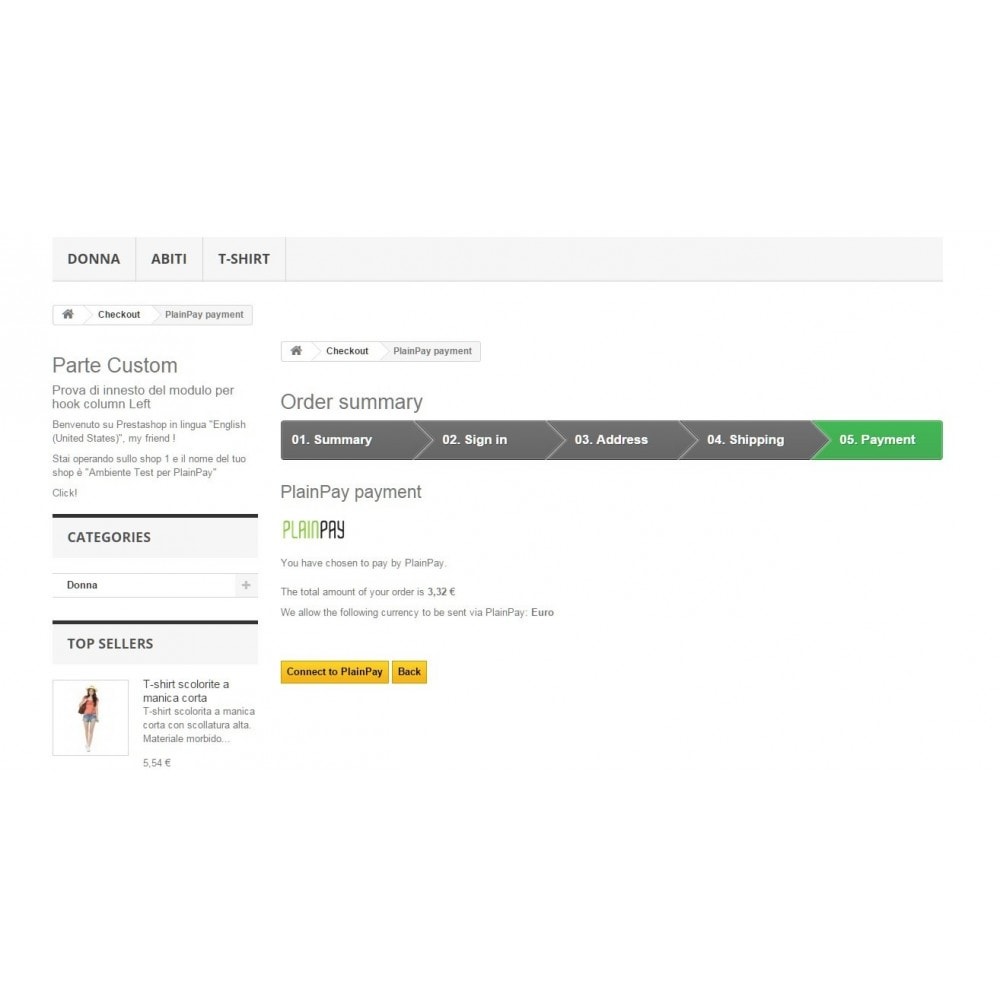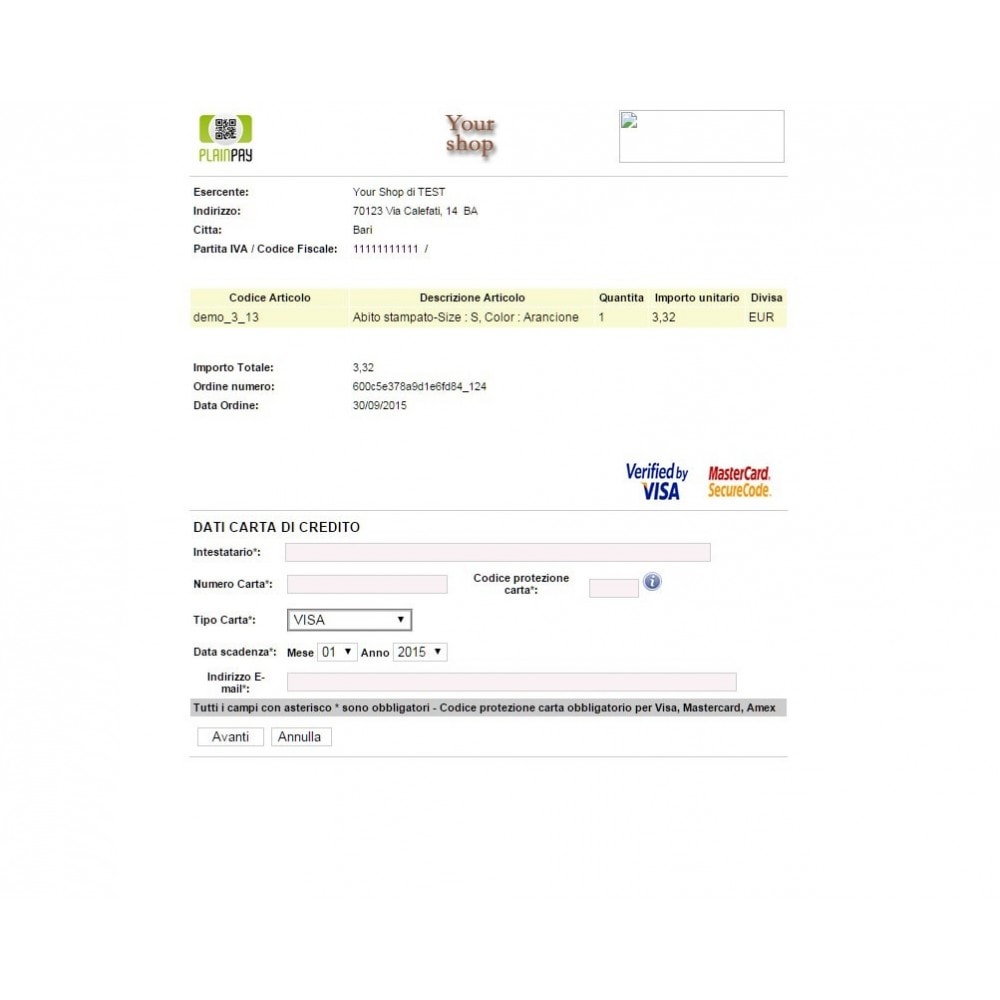 Prezentacja
Easy, fast and practical to use. PlainPay allows customers to purchase their orders by connecting to the payment gateway in a very easy way.
Korzyści wynikające z tego modułu
Konwersje Oferuje środek płatności dostosowany do Twoich klientów
This module is customizable for any kind of Storefront, where a merchant needs to configure just few parameters and get ready to sell. In fact the configuration takes place once the plugin has been installed and it doesn't take more than 3 minutes.
Funkcje
With PlainPay you can:
rapidly configure the gateway parameters;
connect to the Sandbox for local tests;
turn your tests into effective payments with credit card;
guarantee security during the payment process by activating https (http over ssl or http Secure);
Inne
This module has been primarily developed in English language but has been translated into Italian Language as well.

Oto co spodoba się Twoim klientom
Customers can place orders in just few steps. They can:
add products to cart
connect to the PlainPay gateway
review and confirm the order and get back to the merchant's Storefront to display the order summary.
Rekomendacja
If you are determined to utilize http over SSL, after enabling it from the plugin, you first need to have a public key with its certificate, then you access Preferences->General and enable the "Force SSL" option.
About payments, you need to know that PlainPay works with EURO currency only; none of the orders made by any other currency will be accepted by the gateway.
Wsparcie techniczne oraz aktualizacje
Otrzymasz automatycznie 3 miesiące pomocy technicznej dla tego produktu.
Przez 90 dni po zakupie jesteś uprawniony do pomocy technicznej i funkcjonalnej, a także masz dostęp do aktualizacji dla tego produktu.
Instalacja
To get started with Plainpay all you need to do is:
Go to the store's administration panel (Back Office), then select the Administration Panel -> "Modules and Services" section and click on "Add a new Module". From there you can upload the downloaded .zip file; next install and activate it ( you can alternatevely unzip the provided archive to a local folder and copy it to the Prestashop modules folder);
Configure the plugin with the following parameters:

Merchant ID: unique Merchant's ID;
Shared Key: the secret that merchant and gateway need to share;
ABI: the bank to which the transaction is addressed;
Gateway Language;
Gateway Type: it indicates either Test or Prod. environment;
Gateway Connection Mode: it allows selecting either http or https for secure connection;

Save your own configuration;
The StoreFront is ready to accept online payments.
NB. In order to guarantee that this plugin works fine with your store, you first need to check whether your selected country is enabled for payments; otherwise you cannot complete the order properly.
Verify that by accessing Modules and Services->Payment. At the very bottom of the page, there is the "country restrictions" section: check your country for your PlainPay Gateway and save it.
Często kupowane w zestawie
Community developer Opracował

PrestaShop v1.4.11.1 - v1.6.1.17 Kompatybilność PrestaShop

PrestaShop Opracował

PrestaShop v1.6.0.4 - v1.7.2.4 Kompatybilność PrestaShop

PrestaShop Opracował

PrestaShop v1.6.0.4 - v1.6.1.17 Kompatybilność PrestaShop
Co nowego w wersji 1.1.0(2016-03-30)
changelog: fix charset encoding
O wydawcy
2015-09-21

Sprzedawca PrestaShop

Italy

Kraj region
Masz pytanie?
Potrzebujesz pomocy?
Wydawca odpowie Ci w ciągu