moduł Jet Integration
Opracował
Community developer
PrestaShop
1.6.0.4 - 1.6.1.17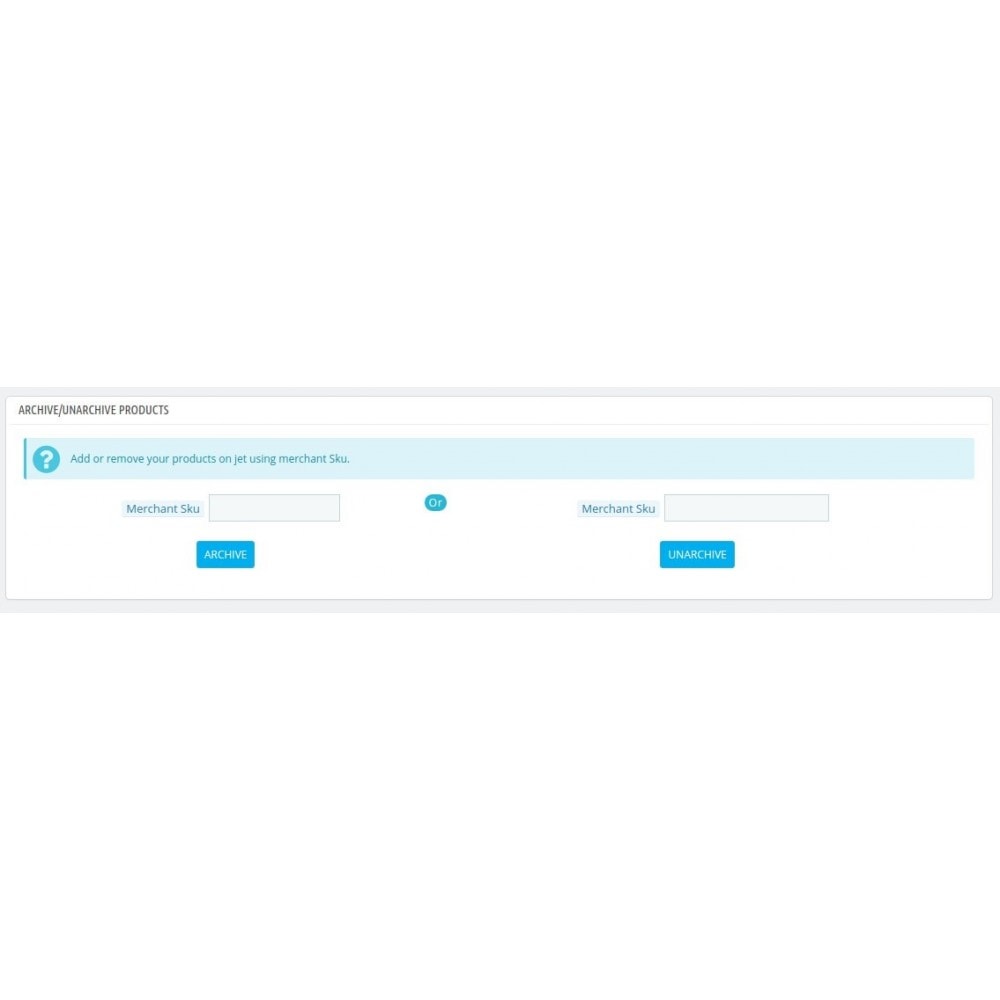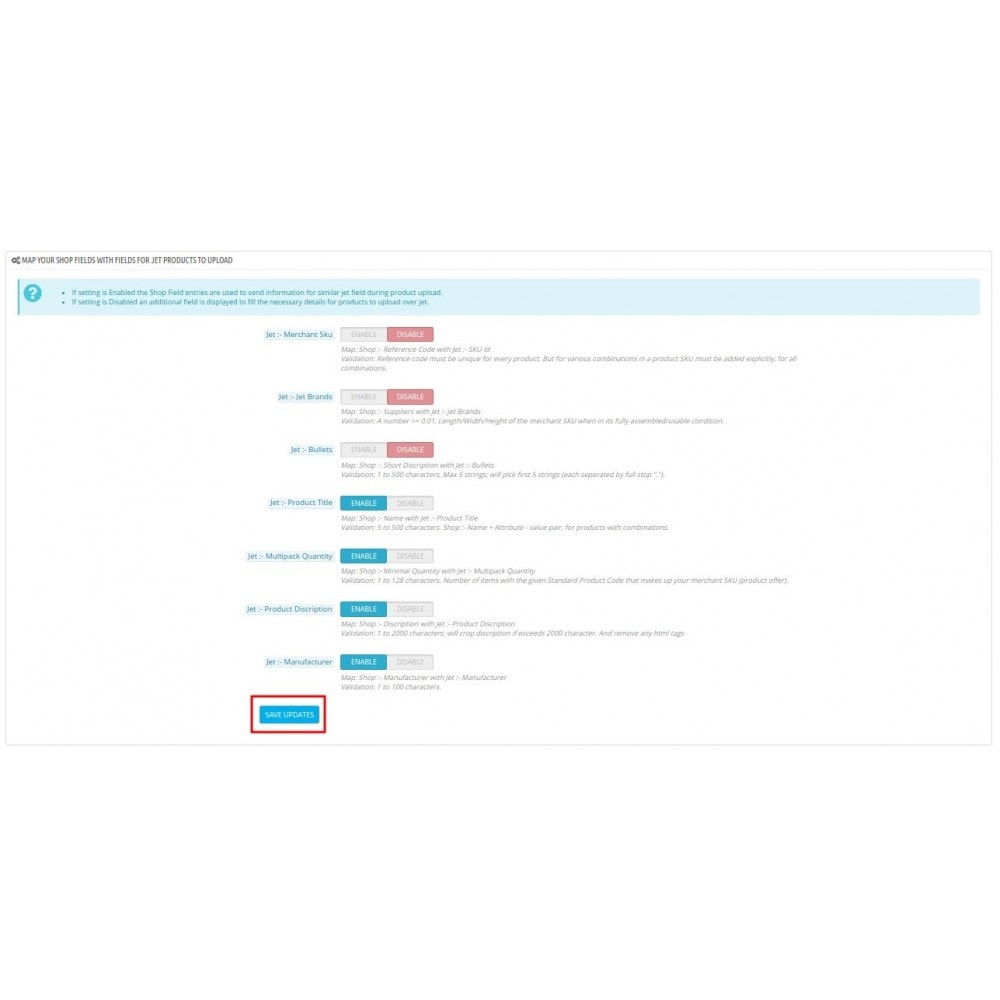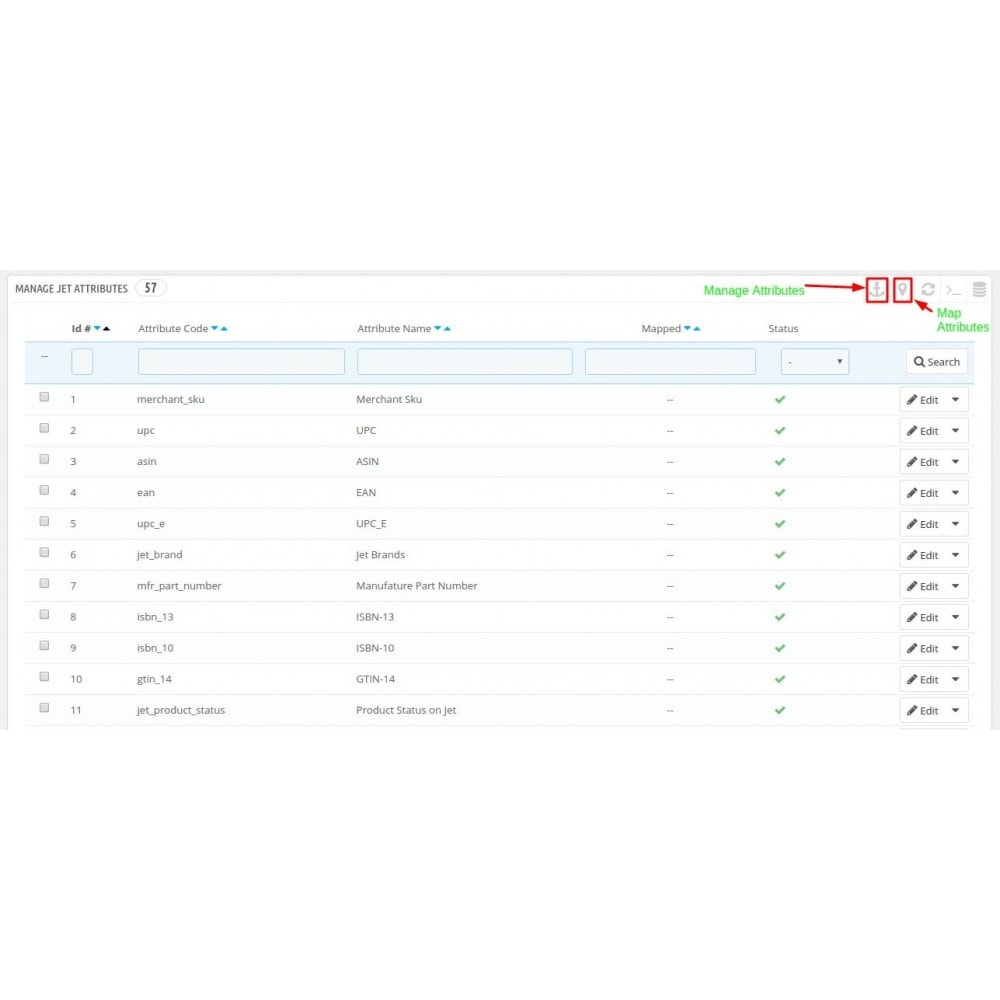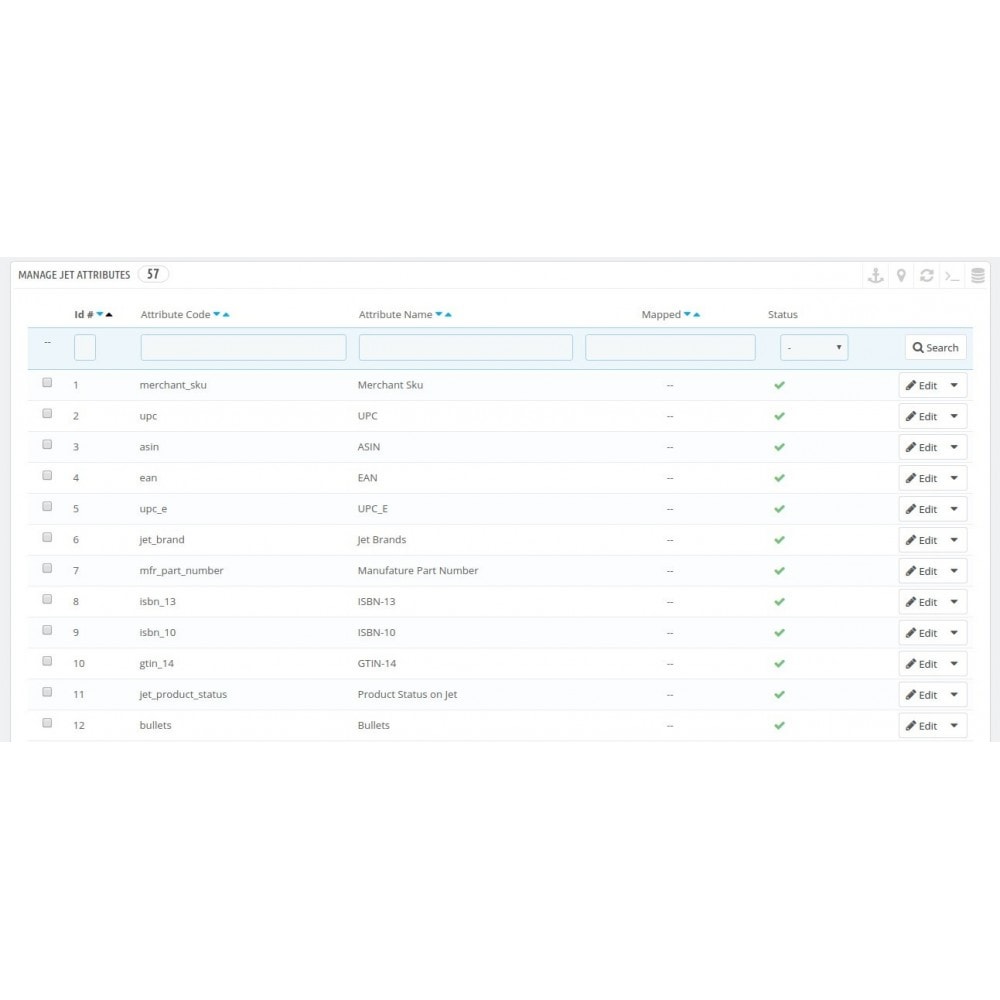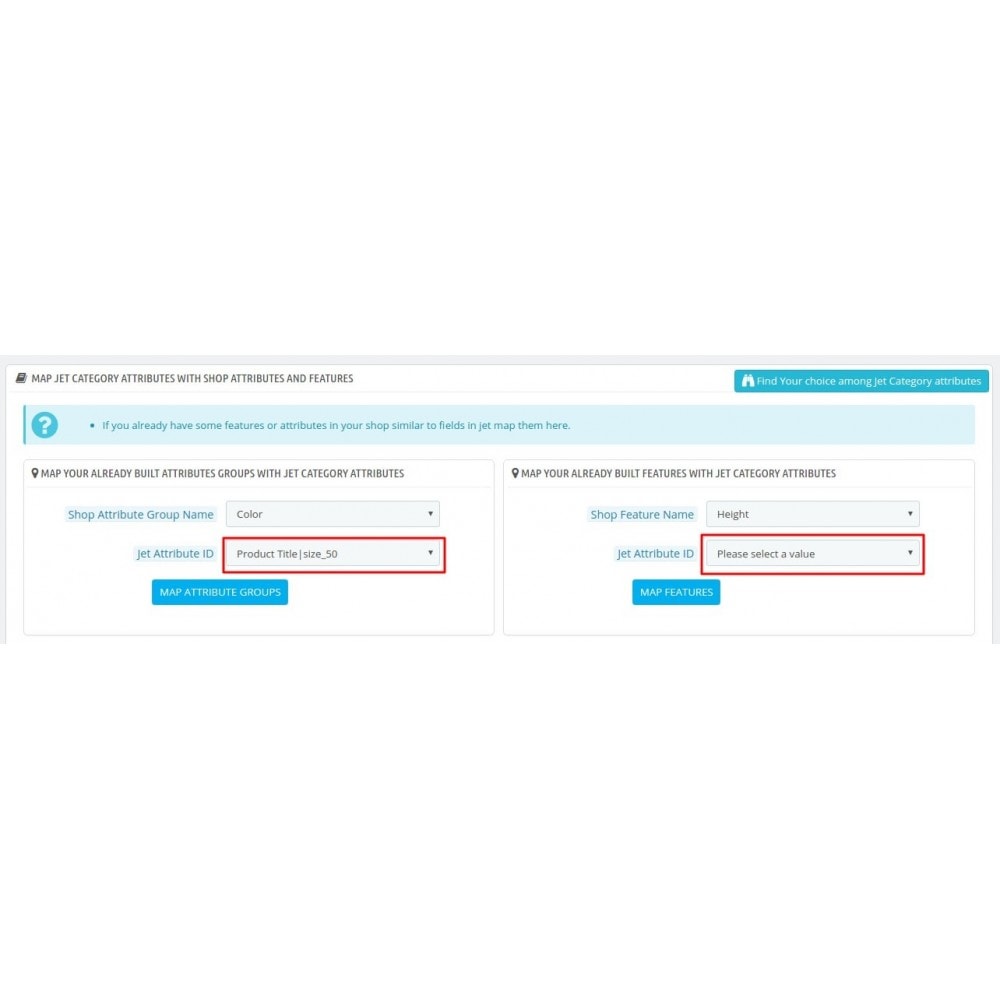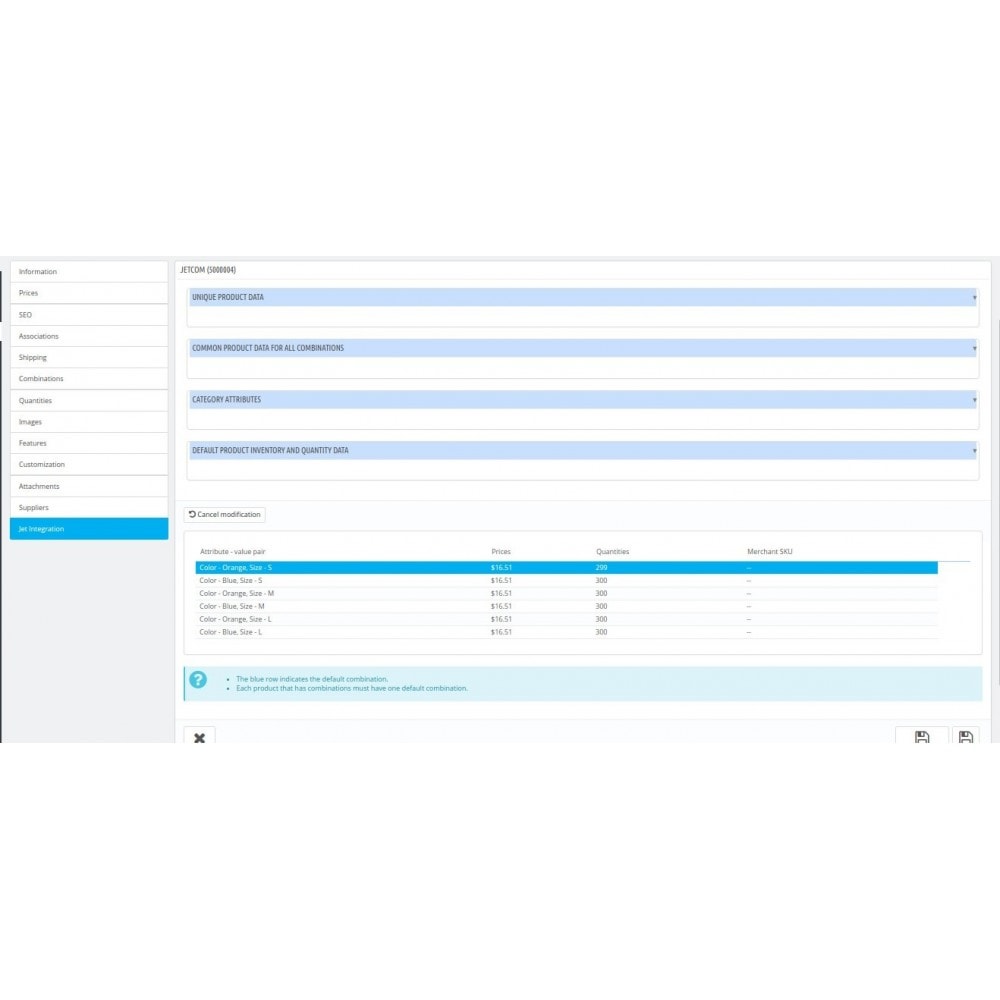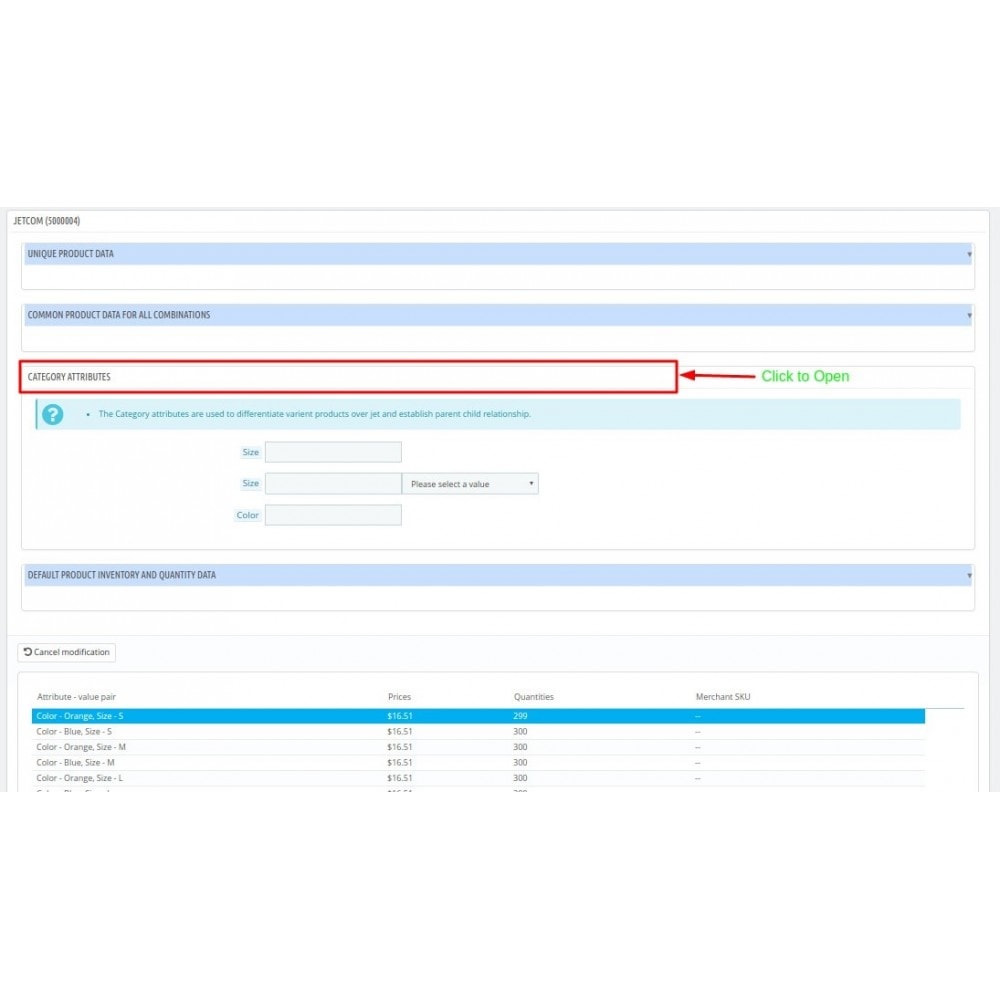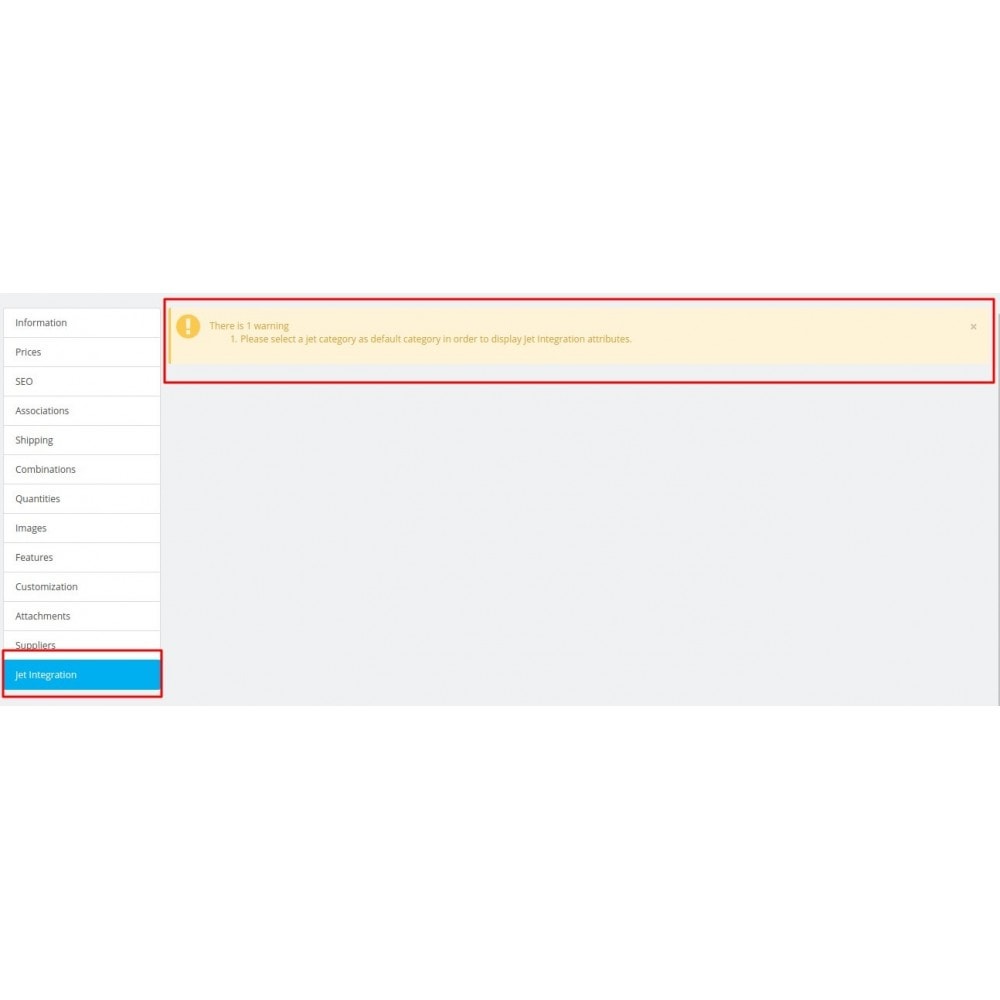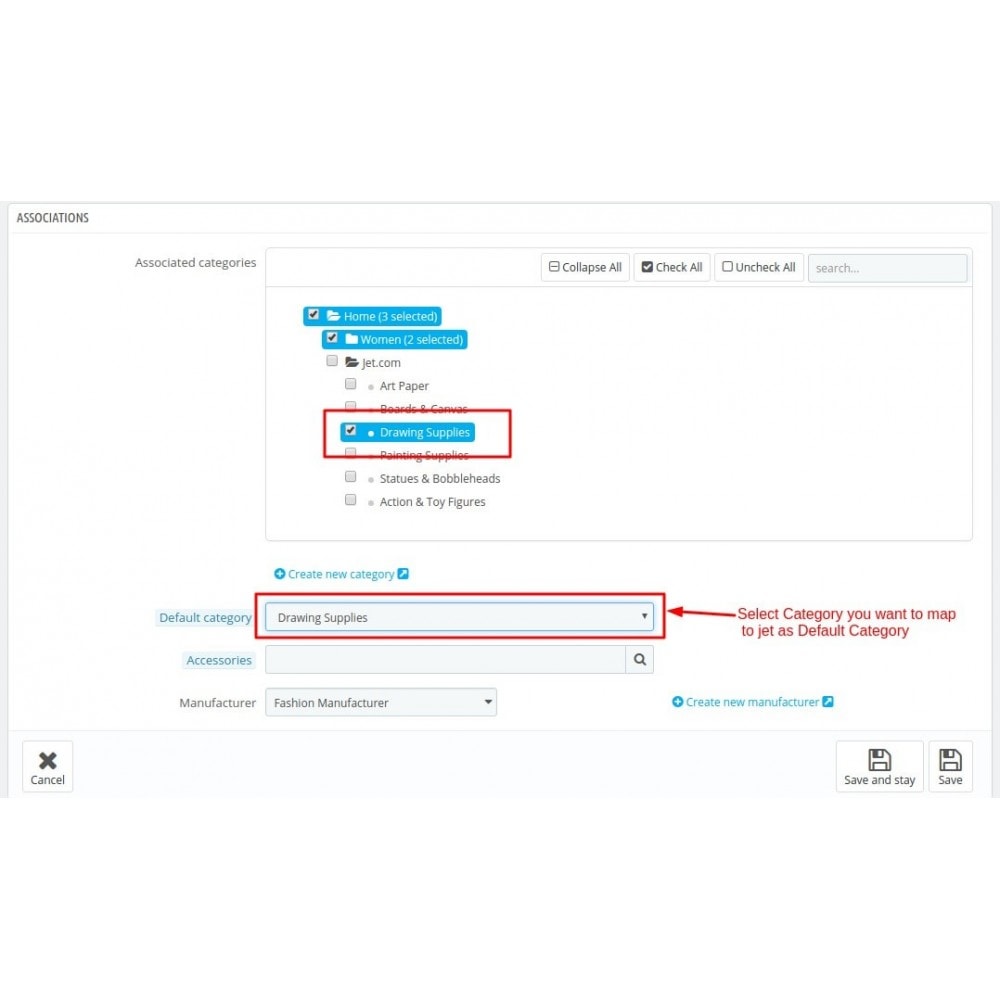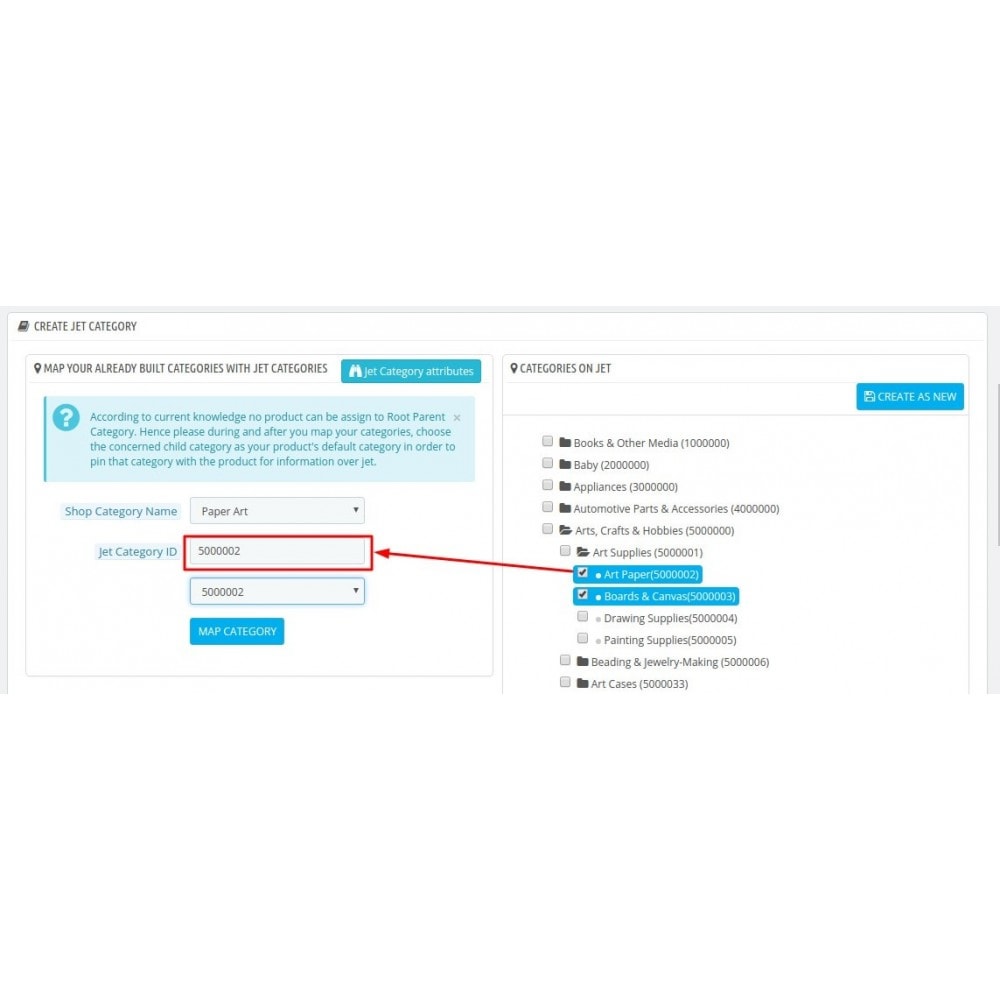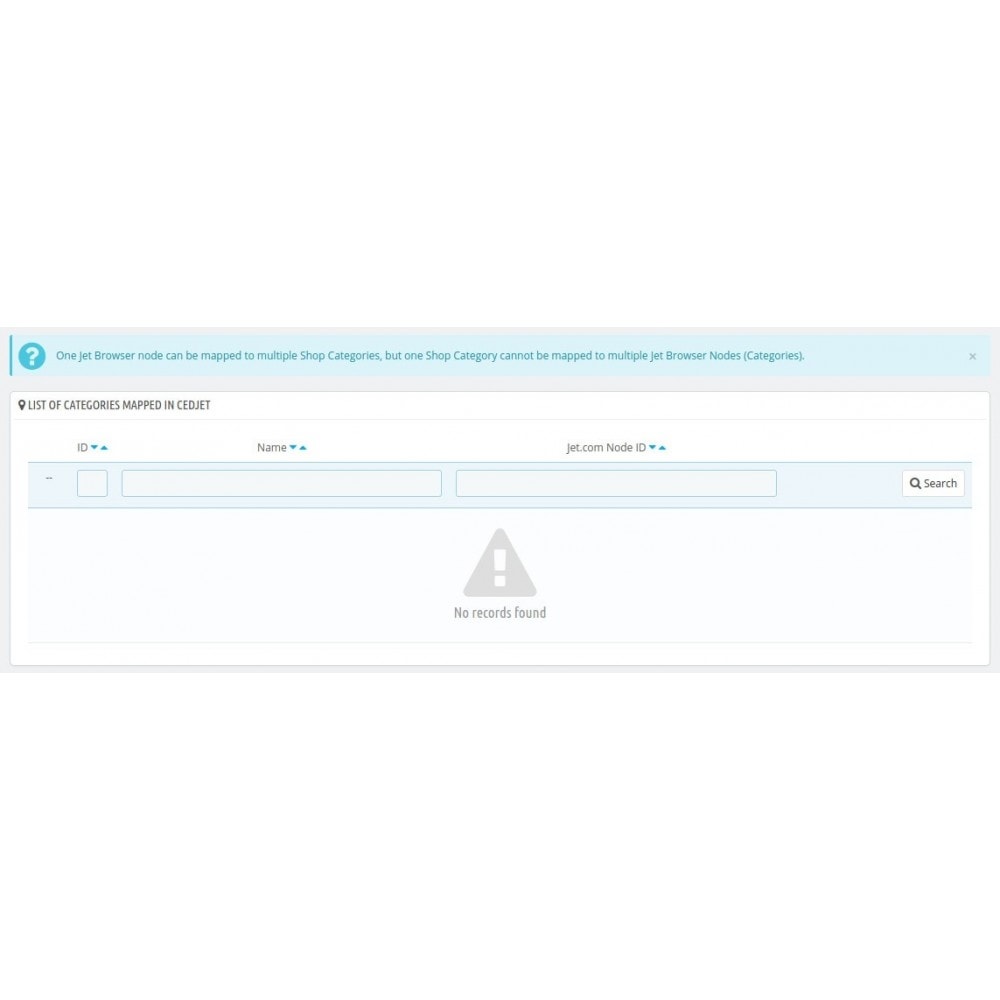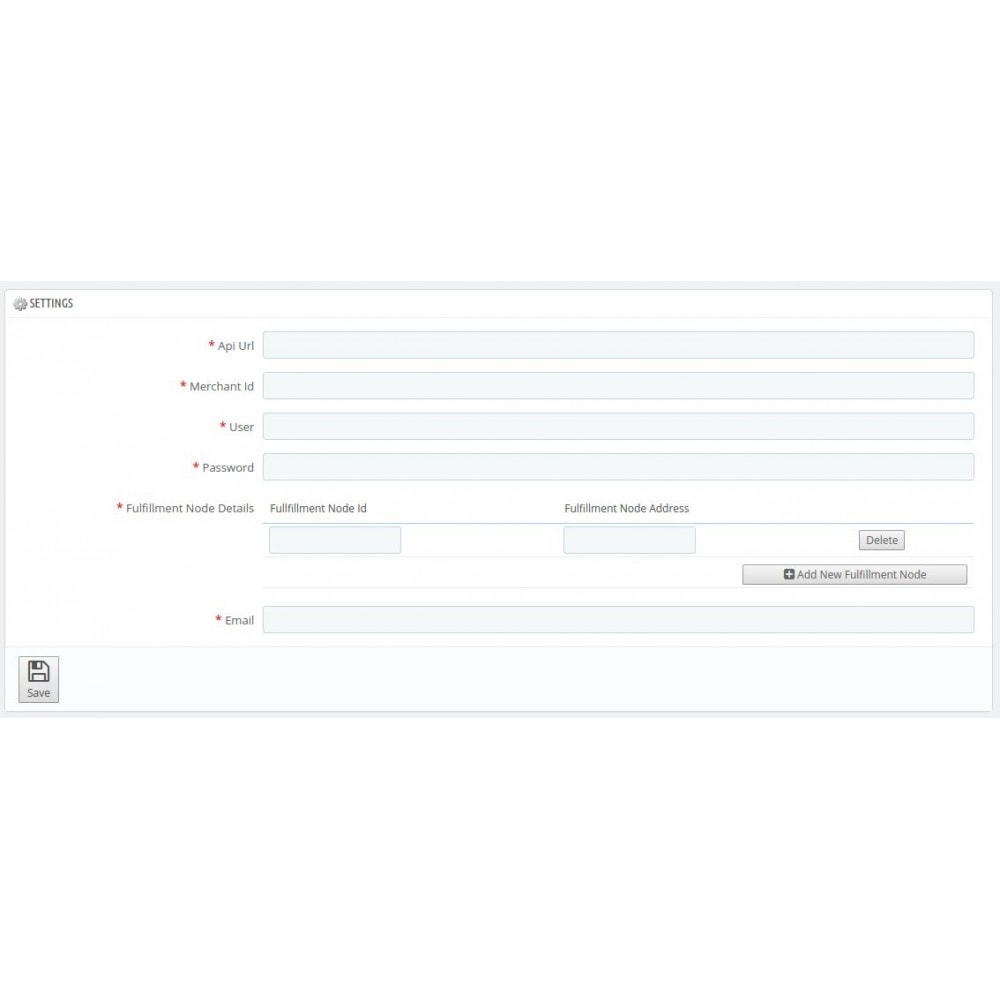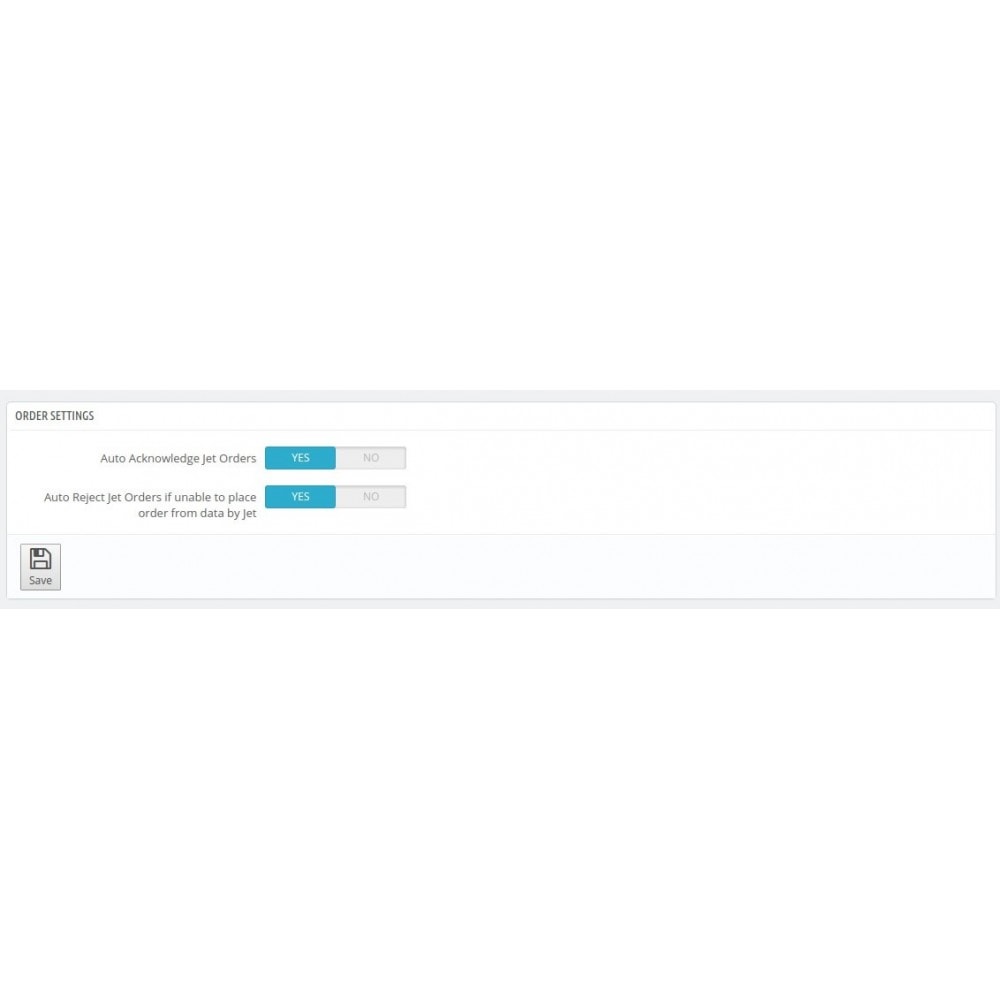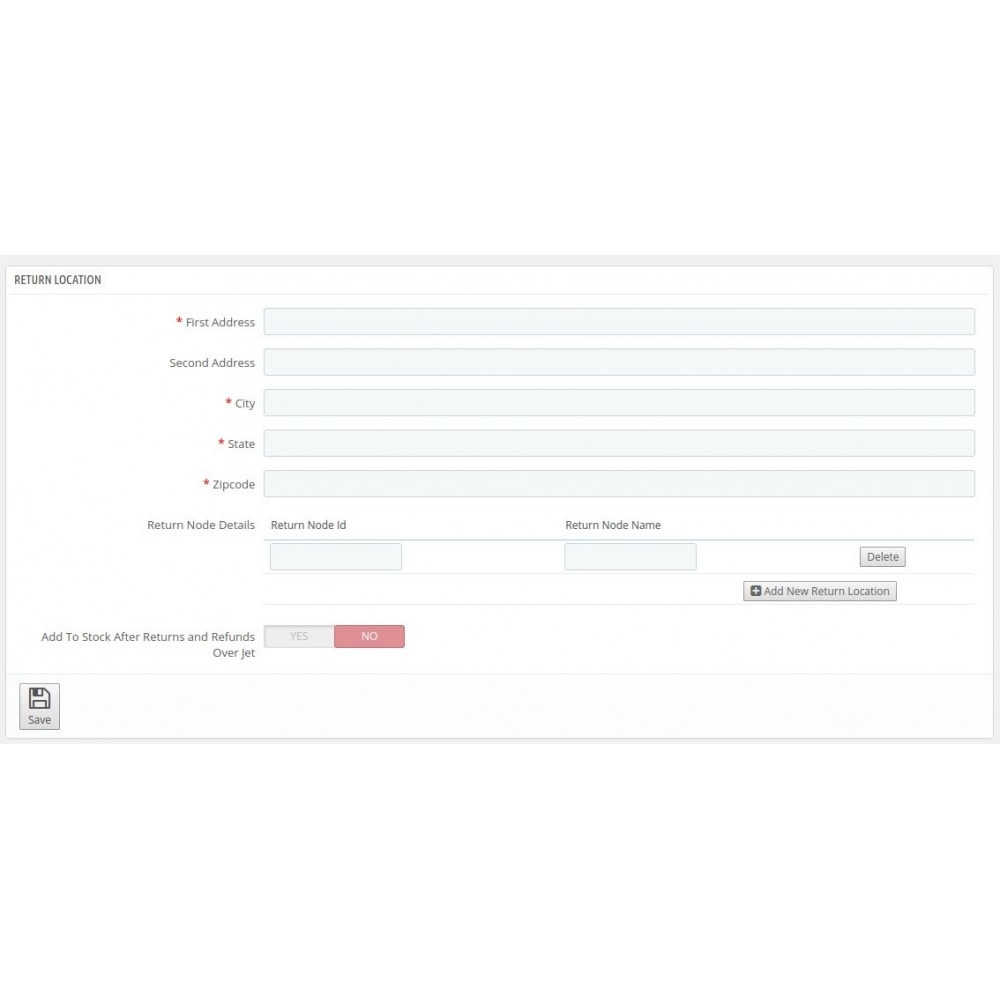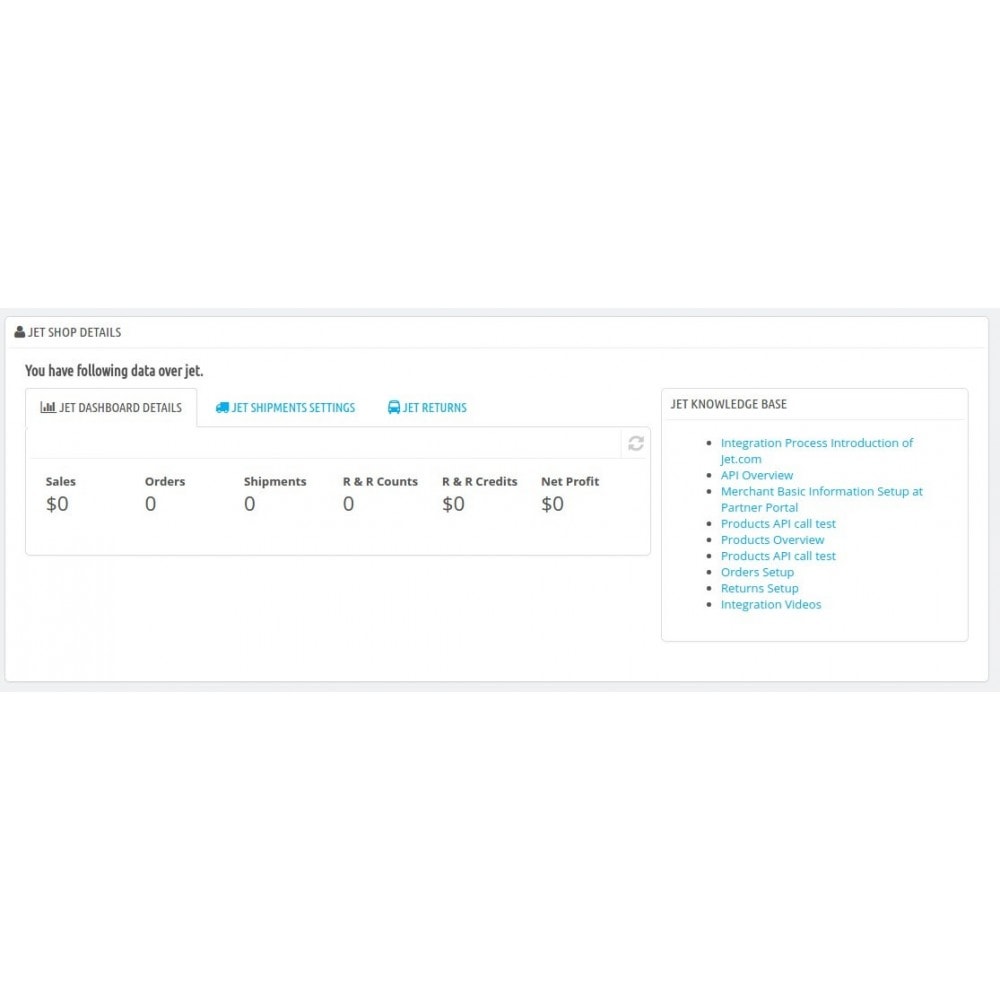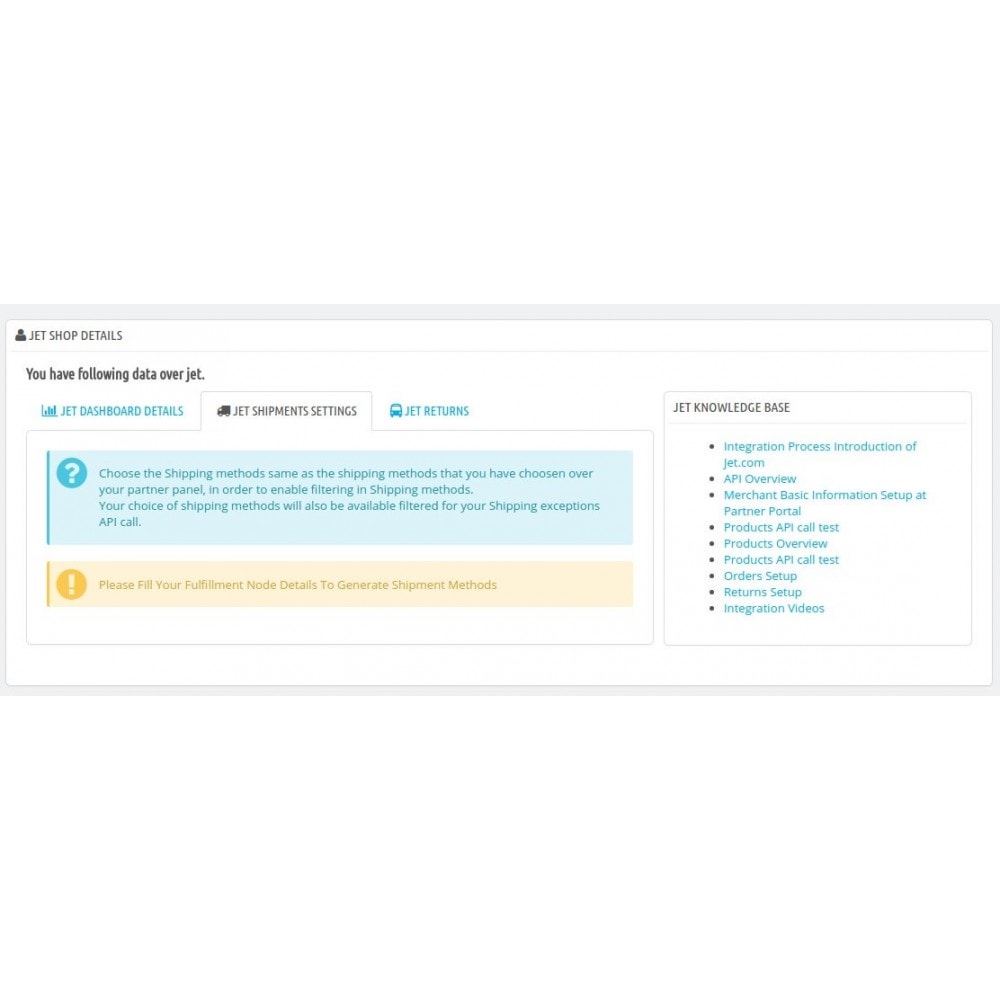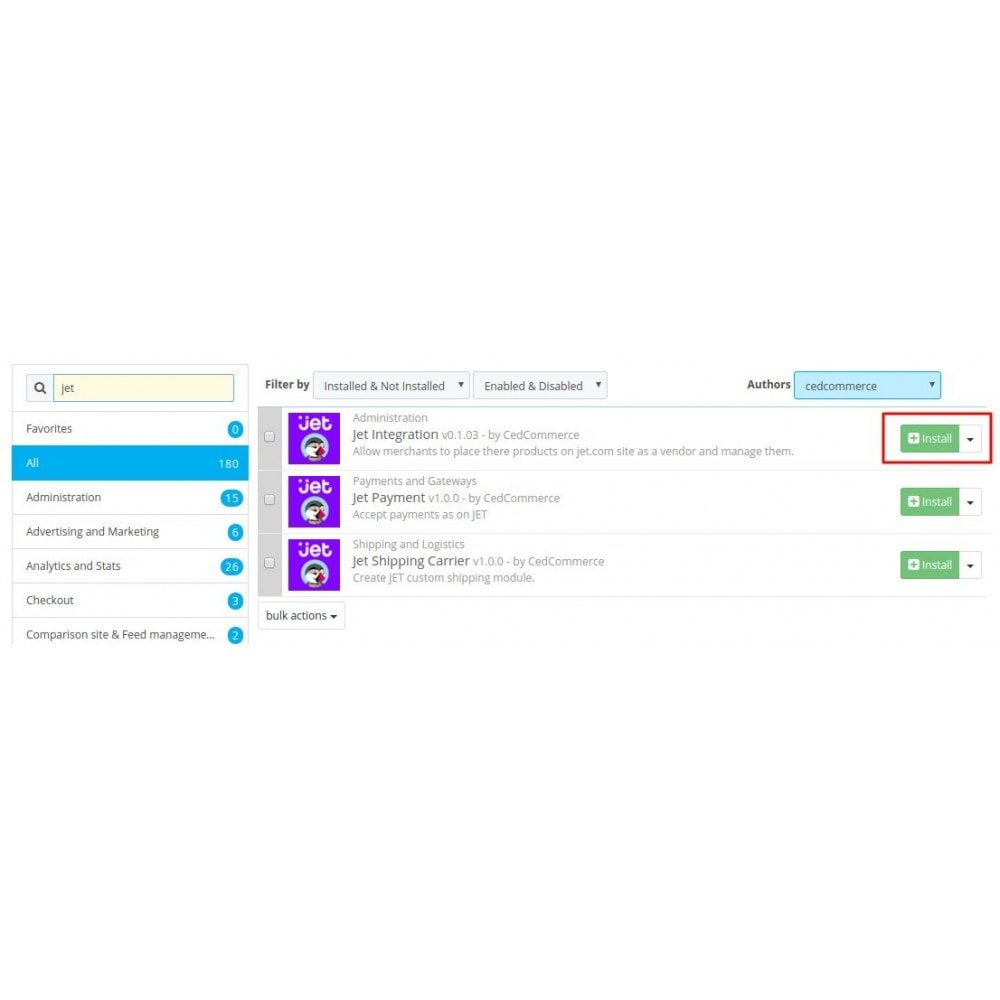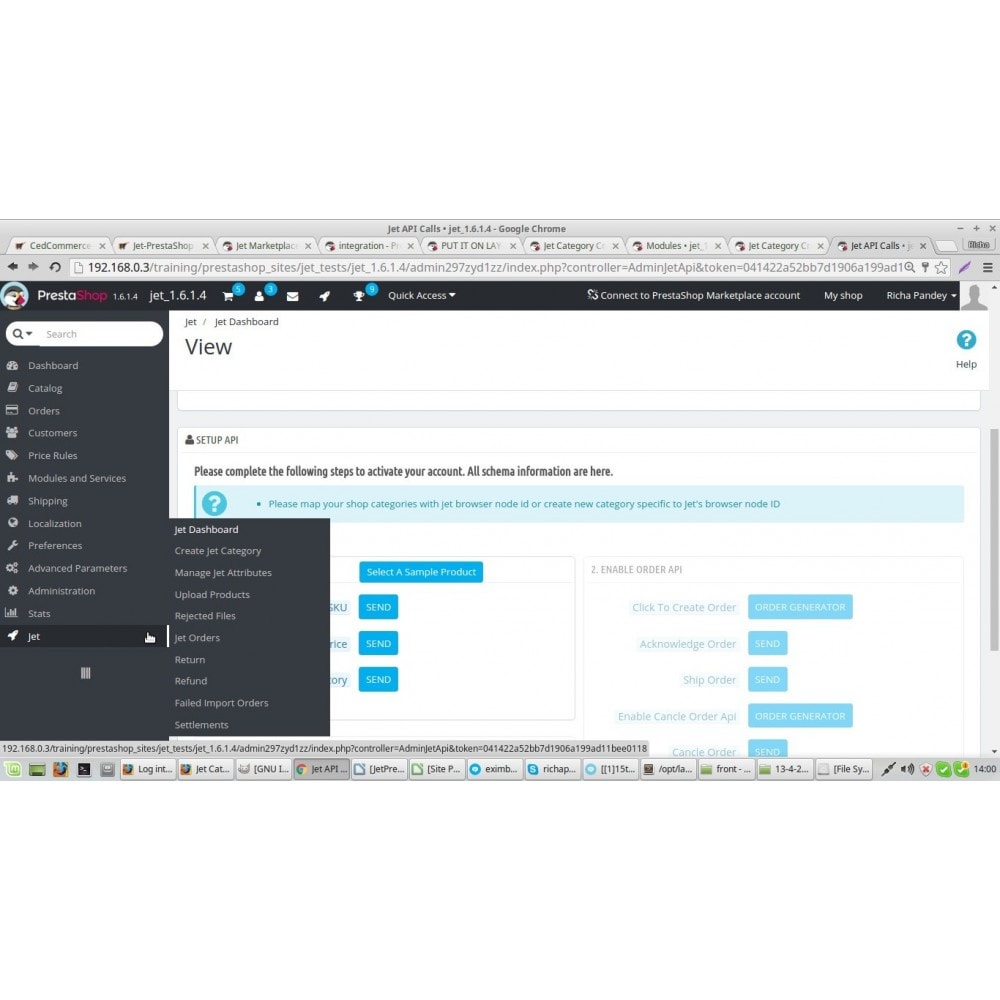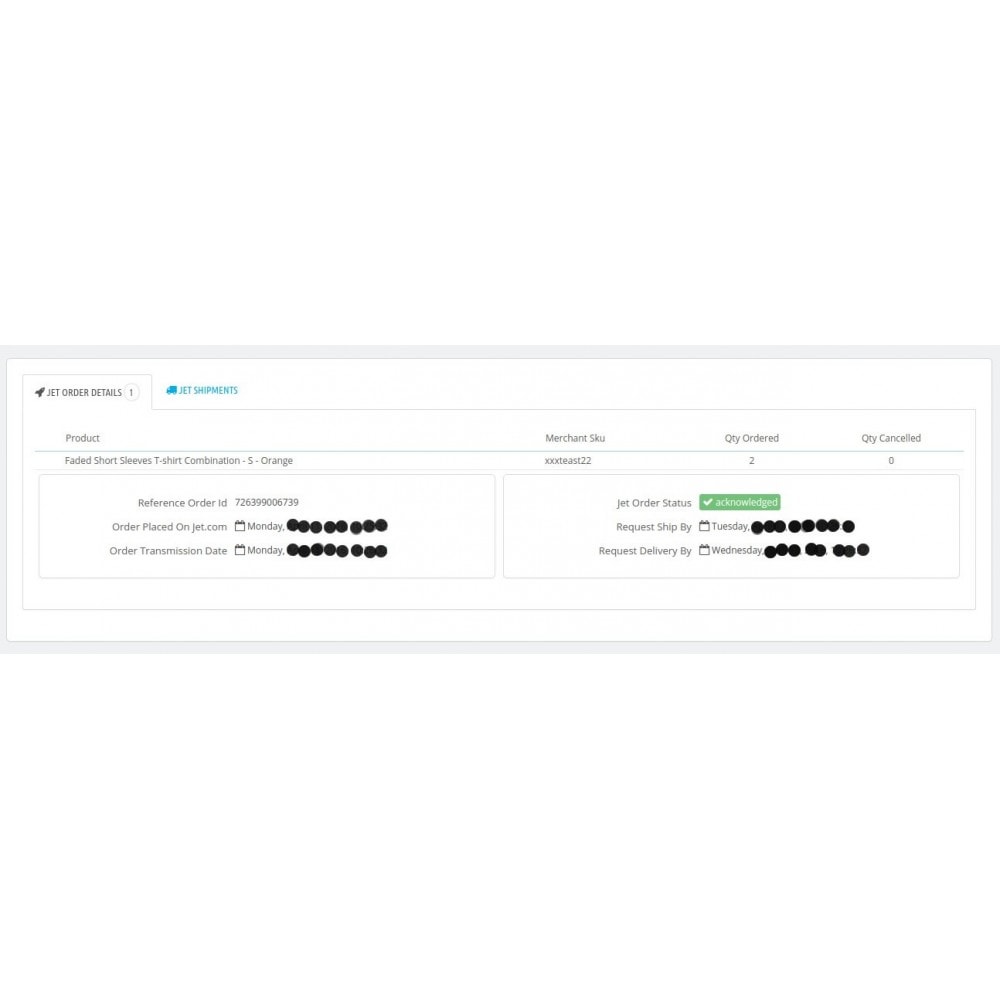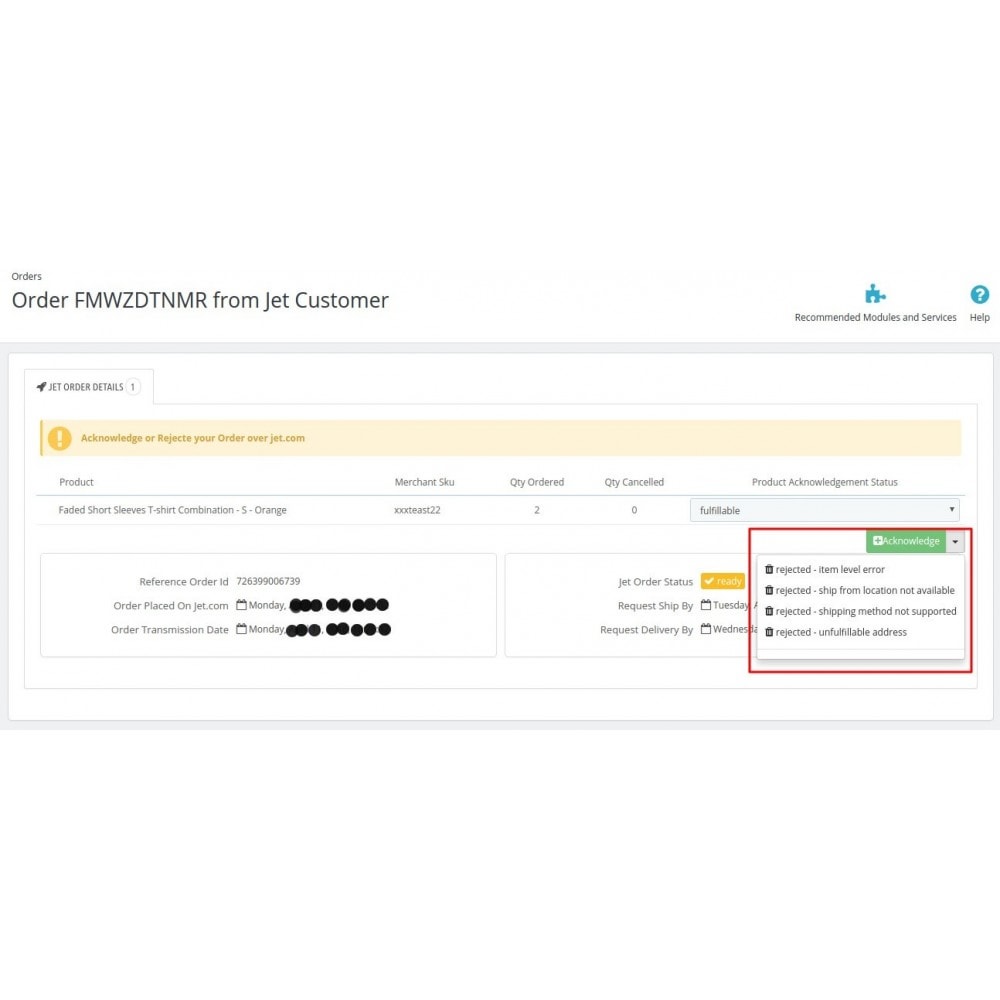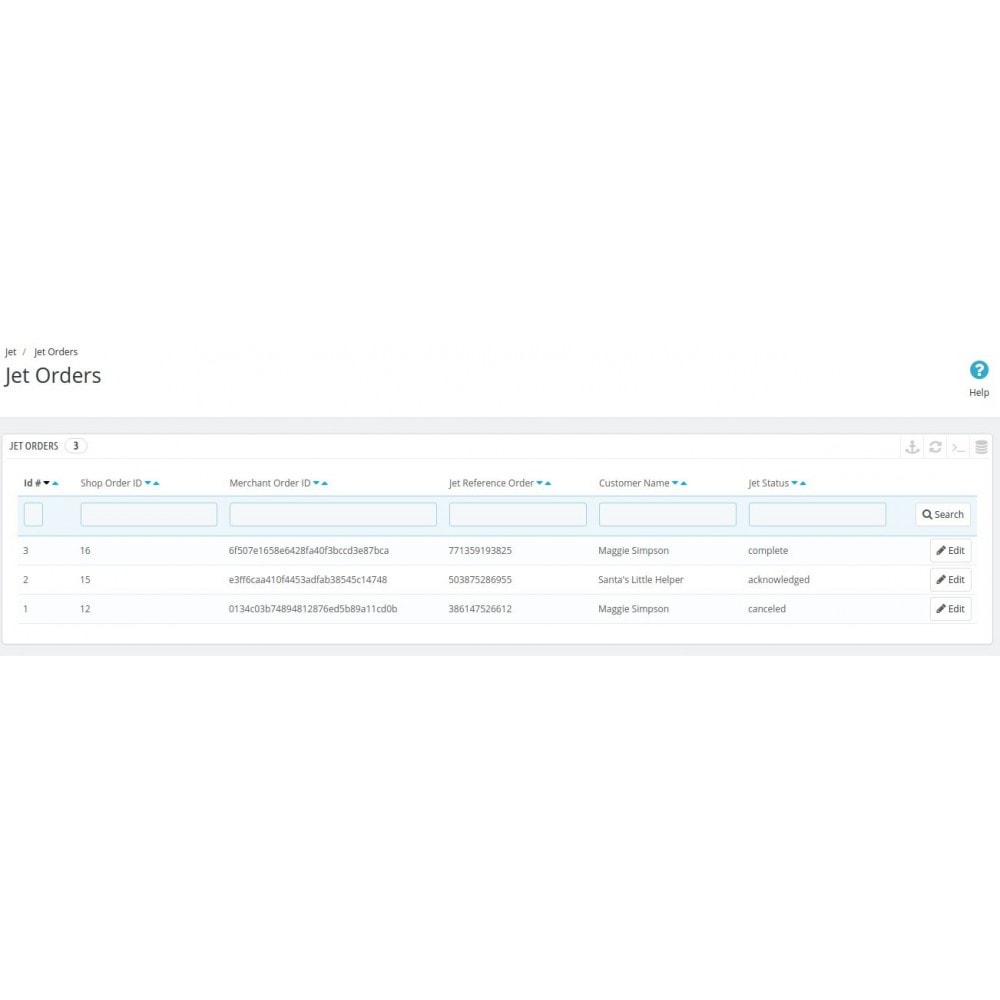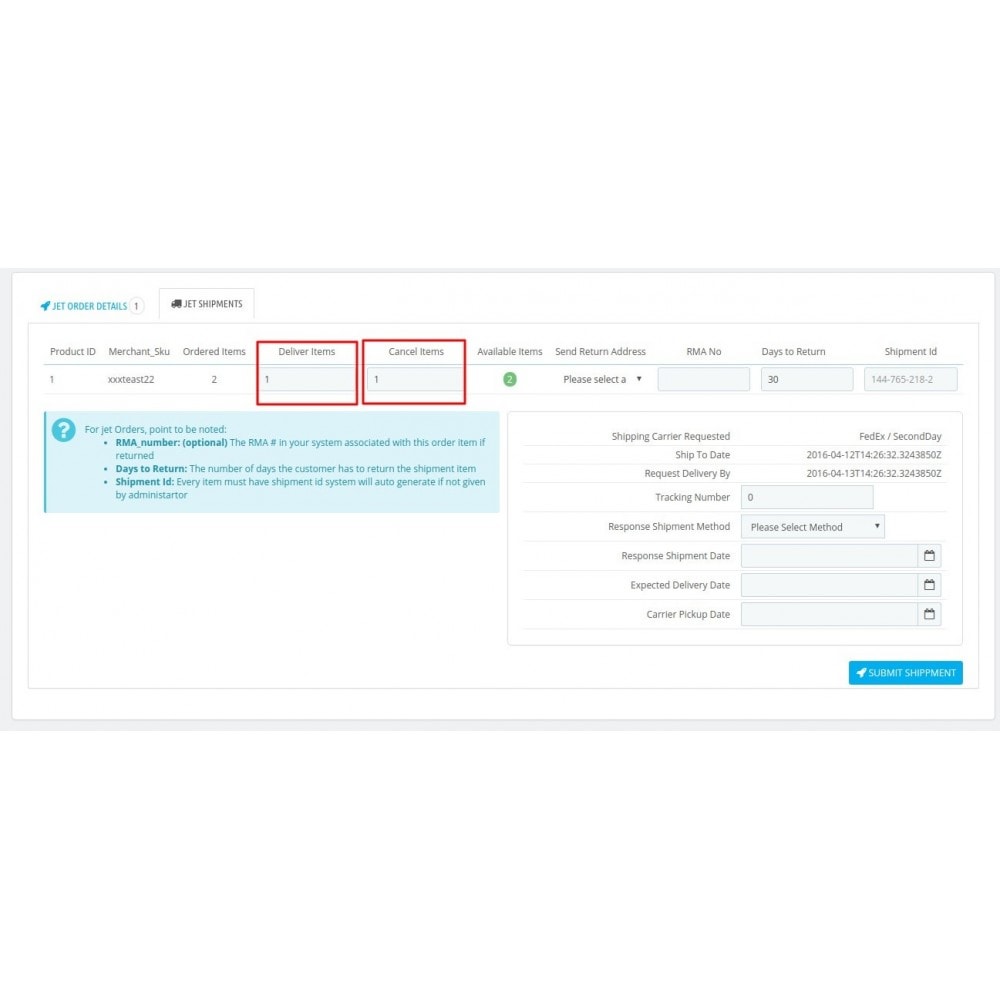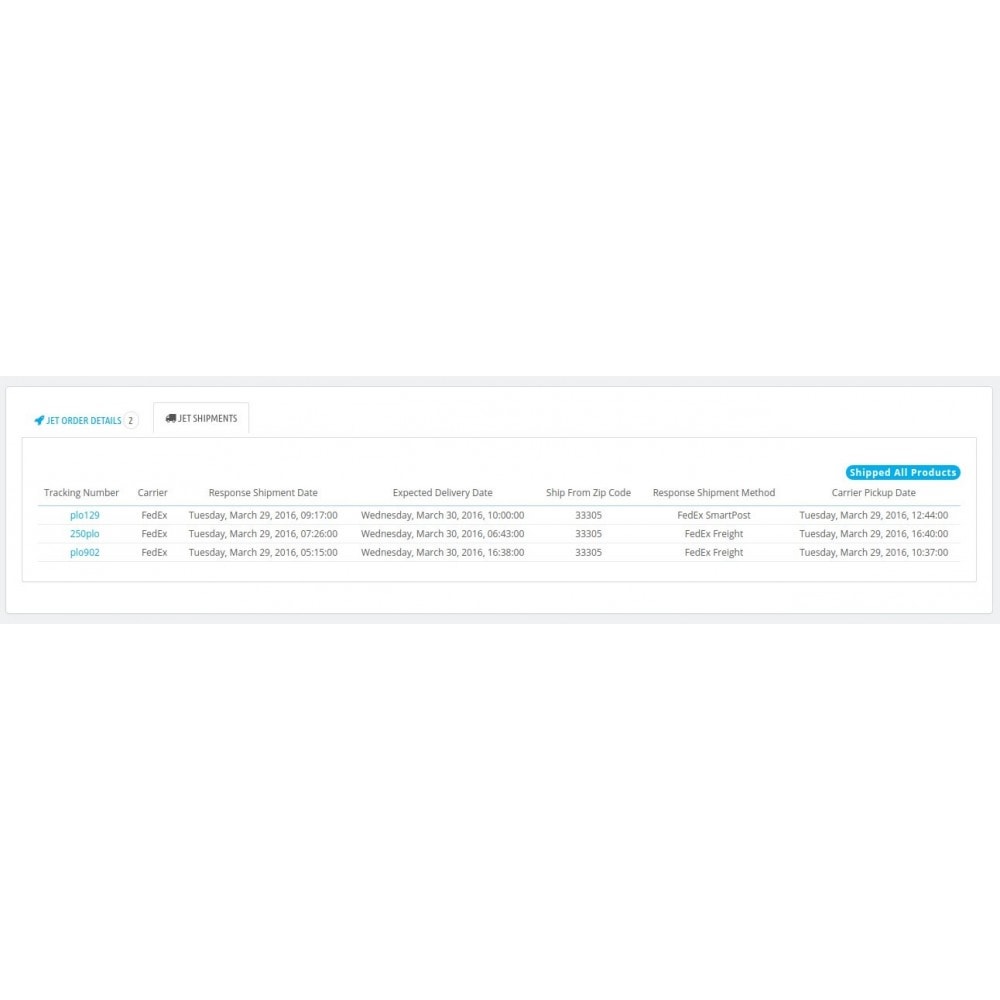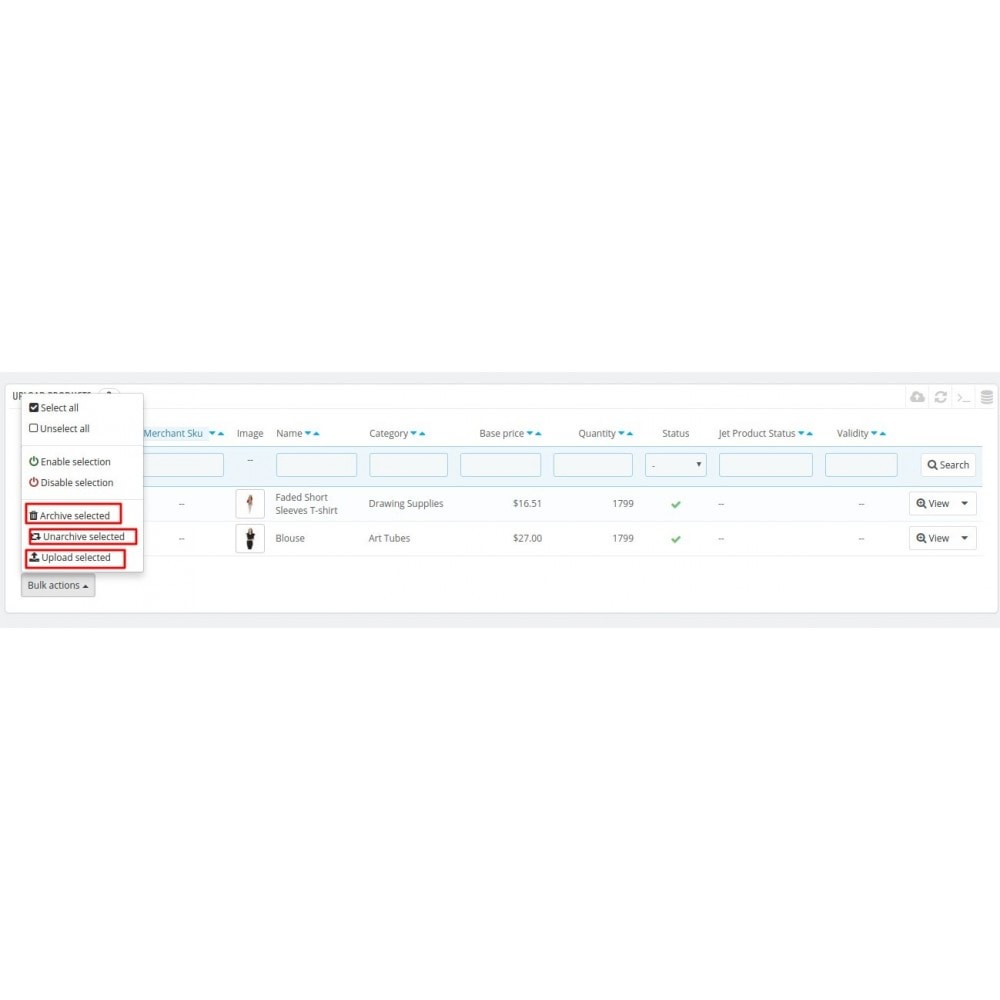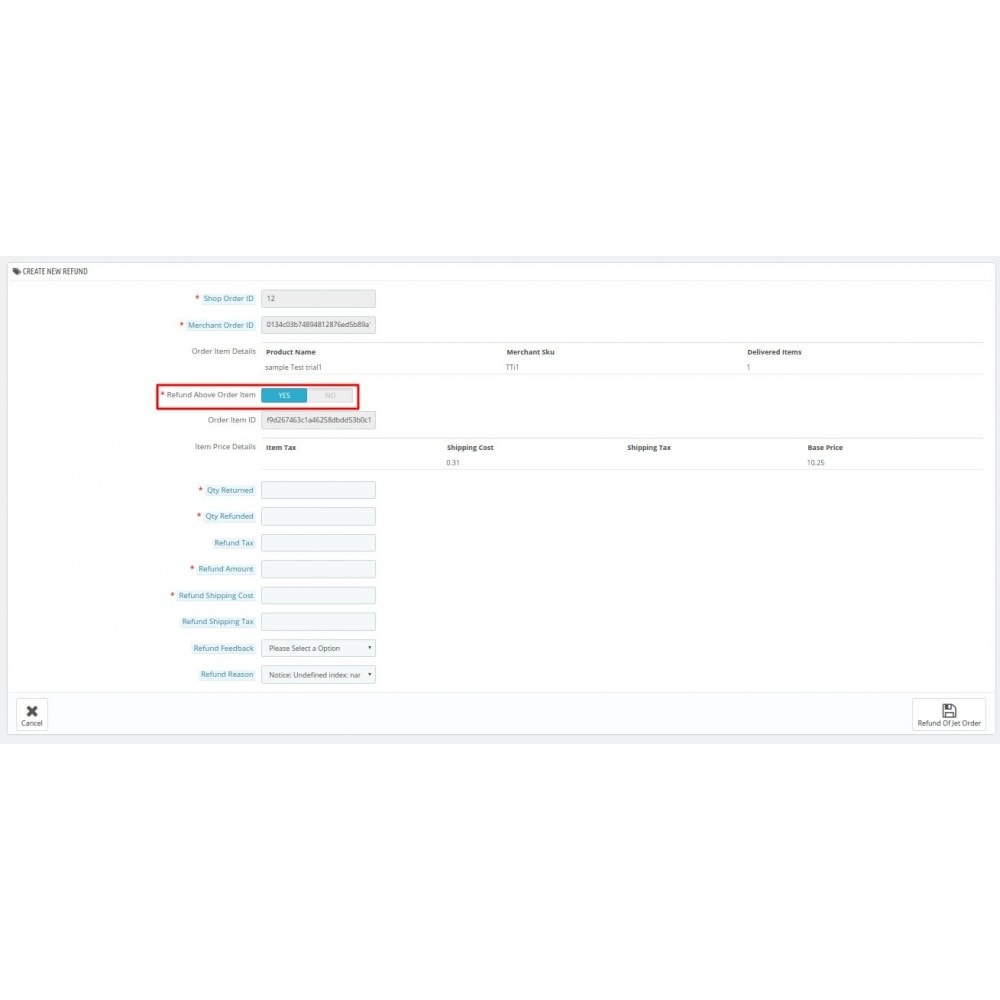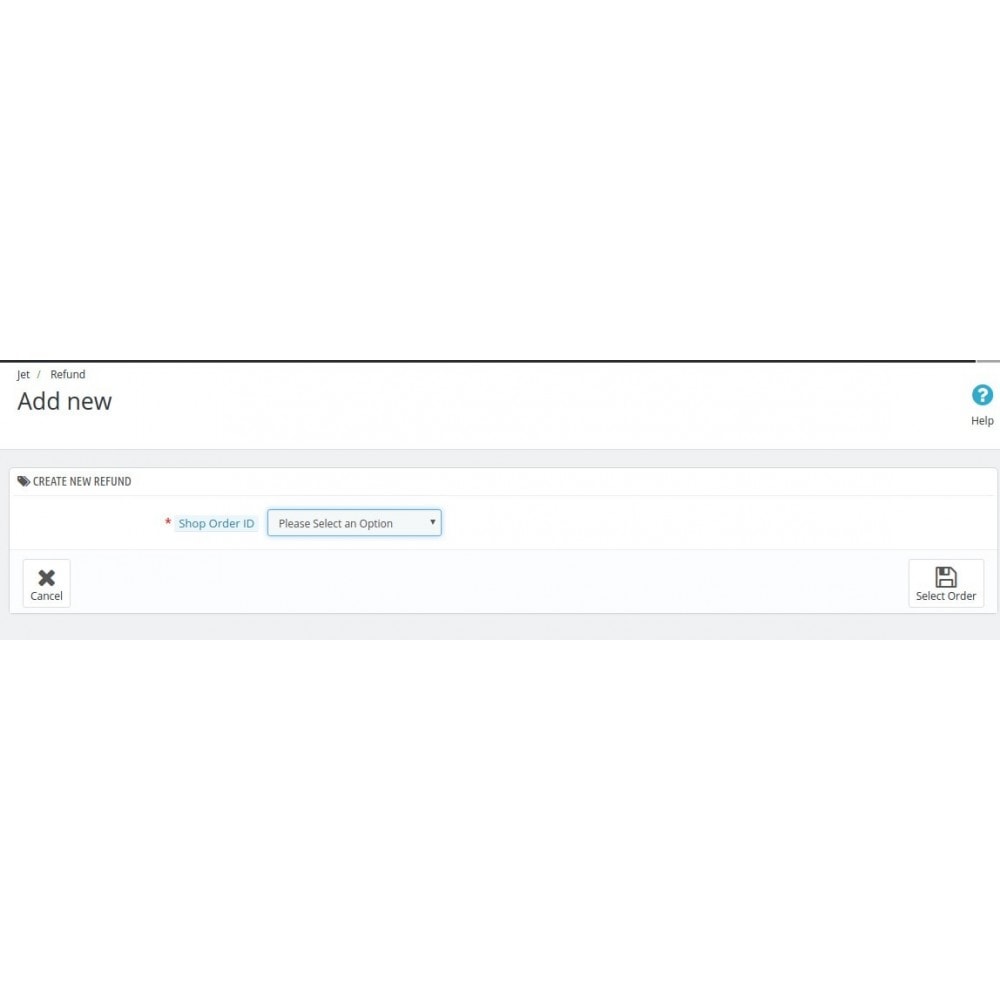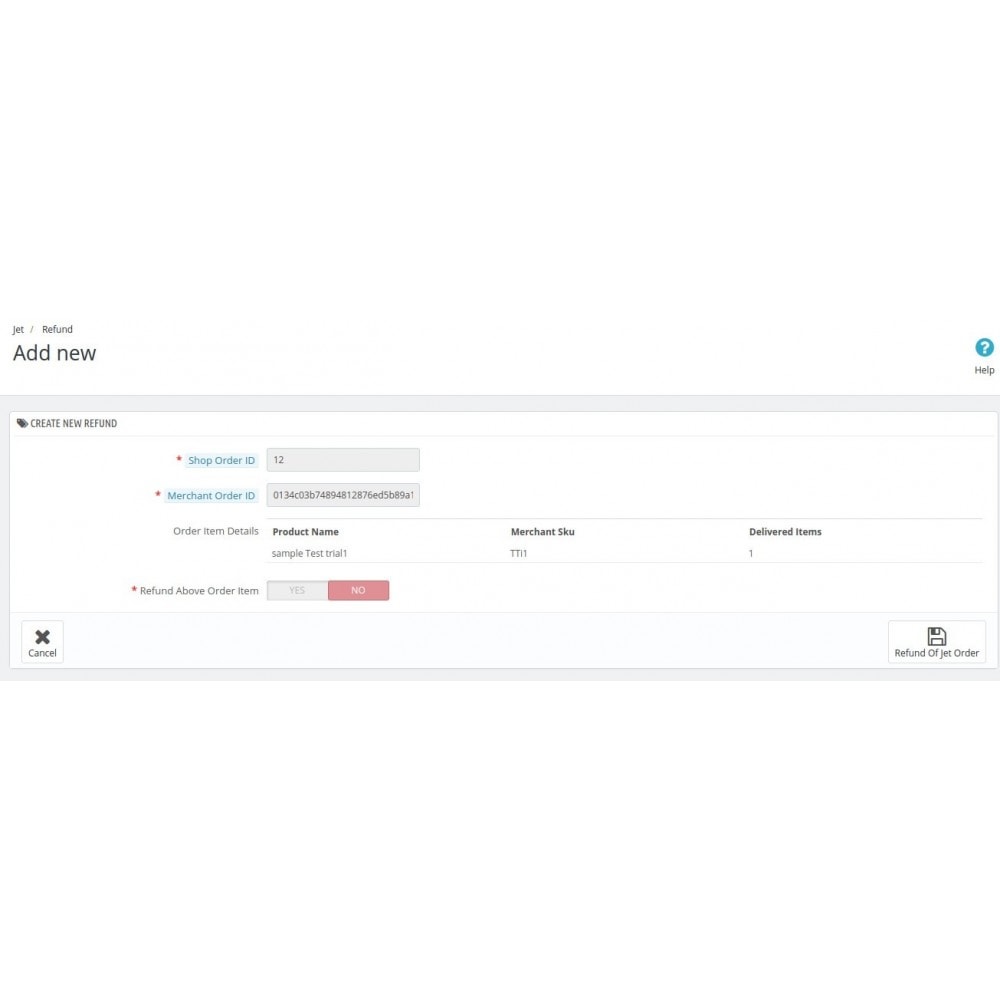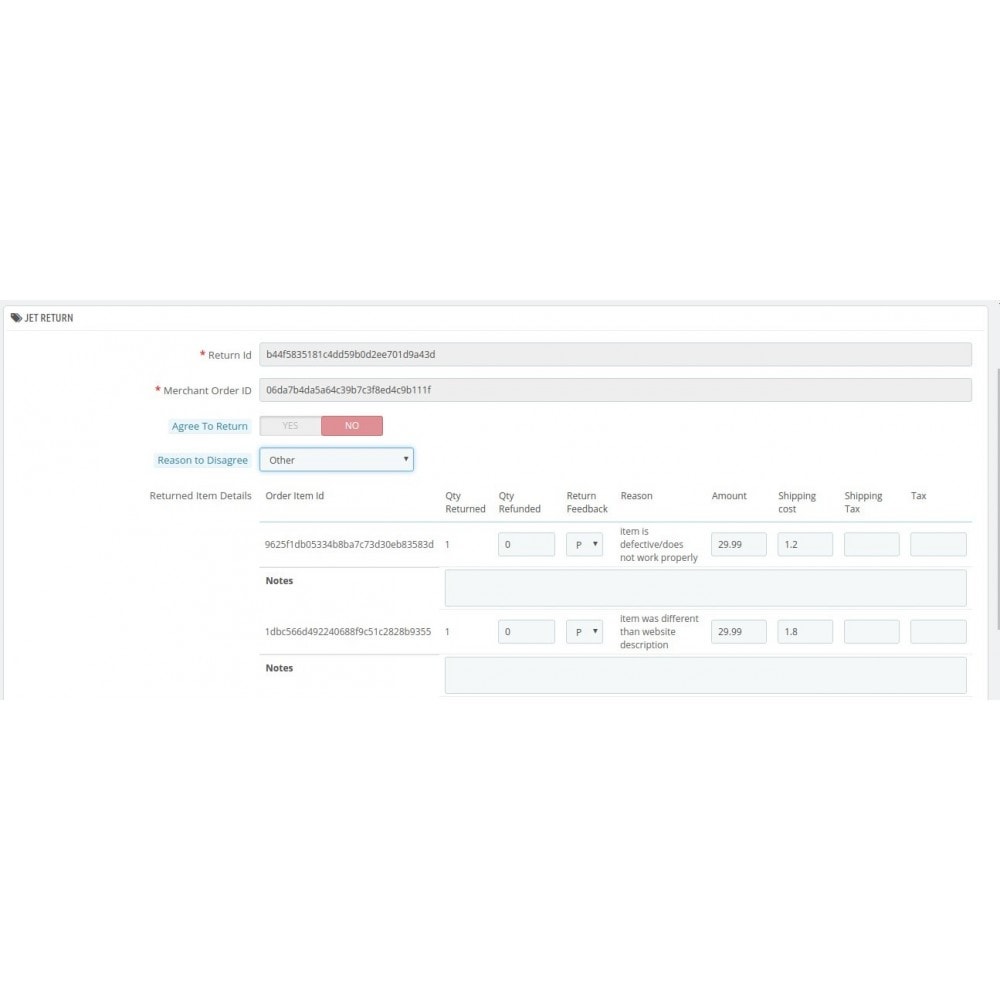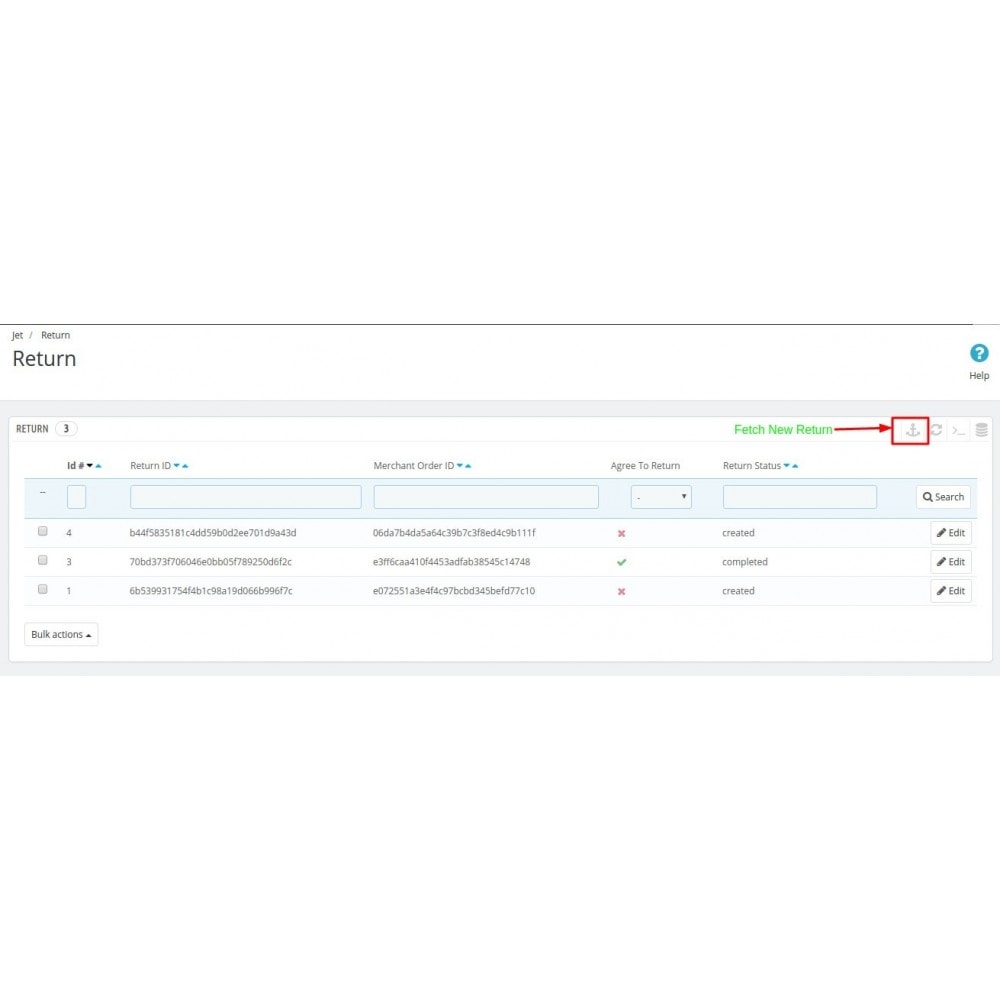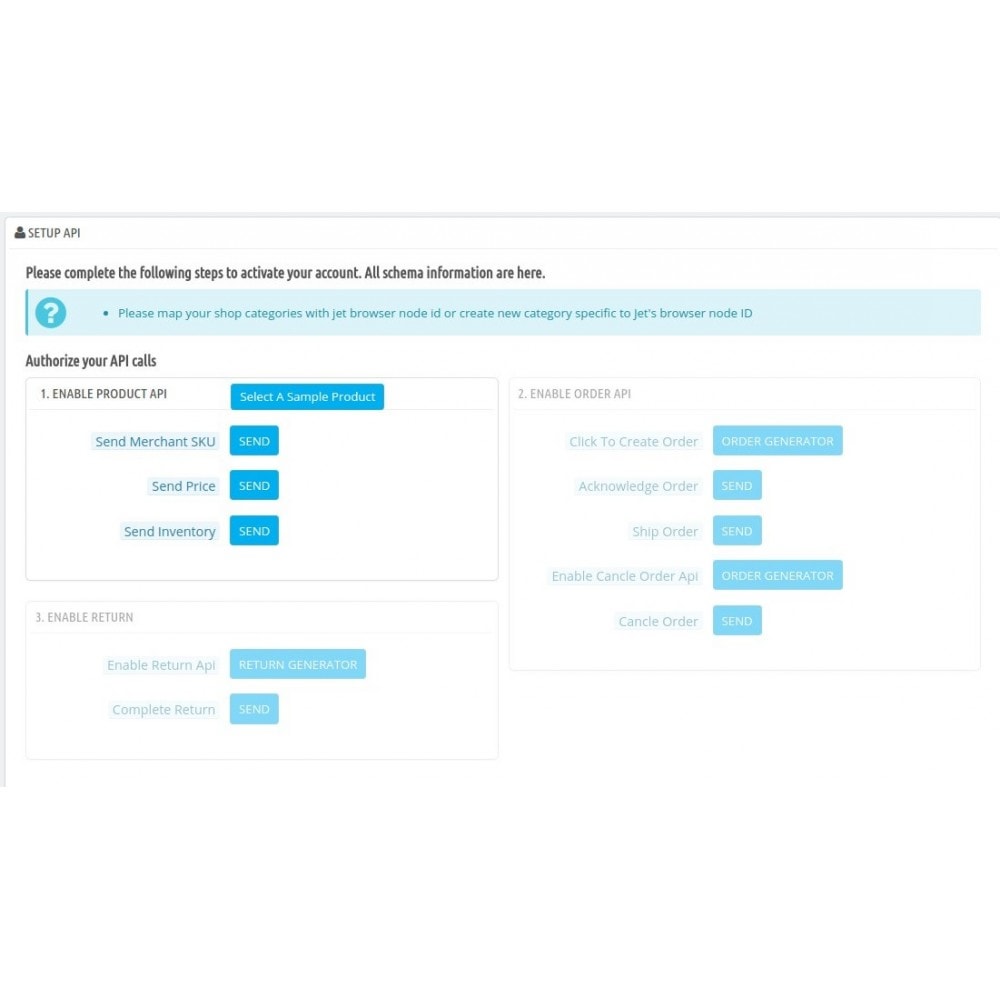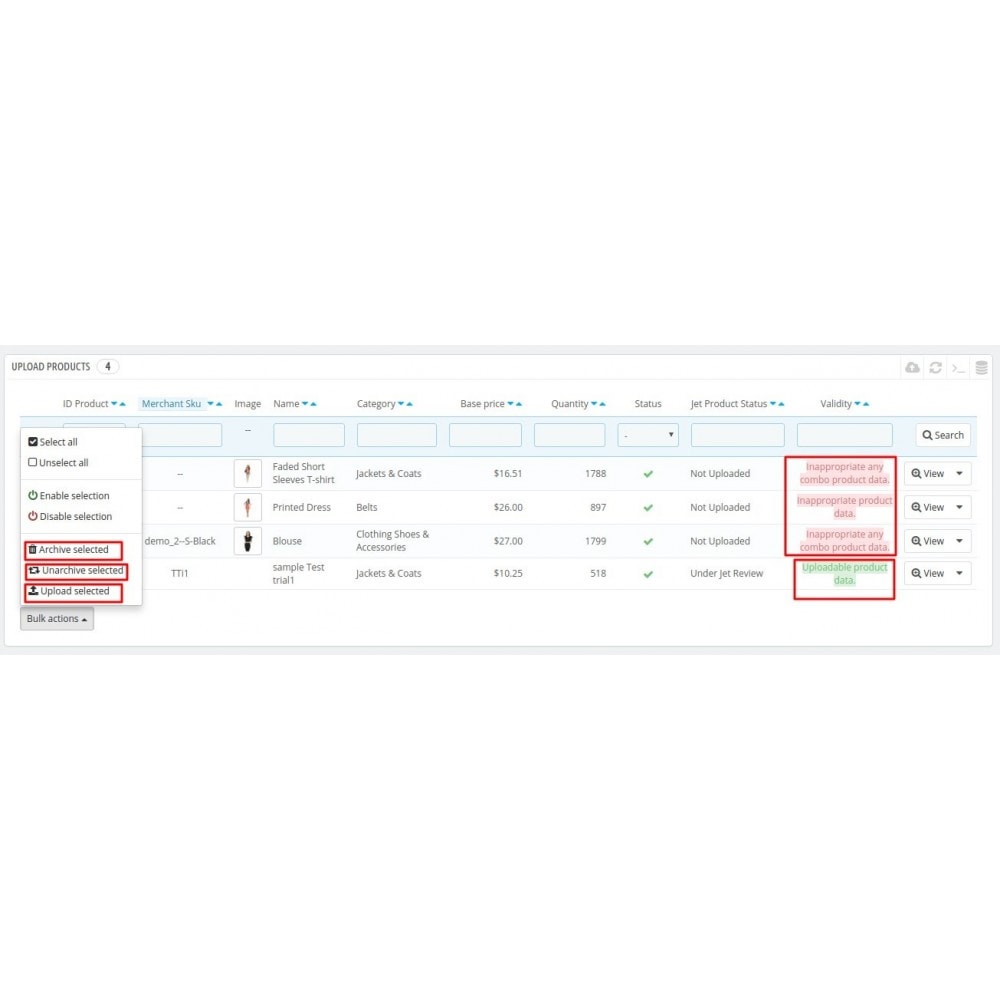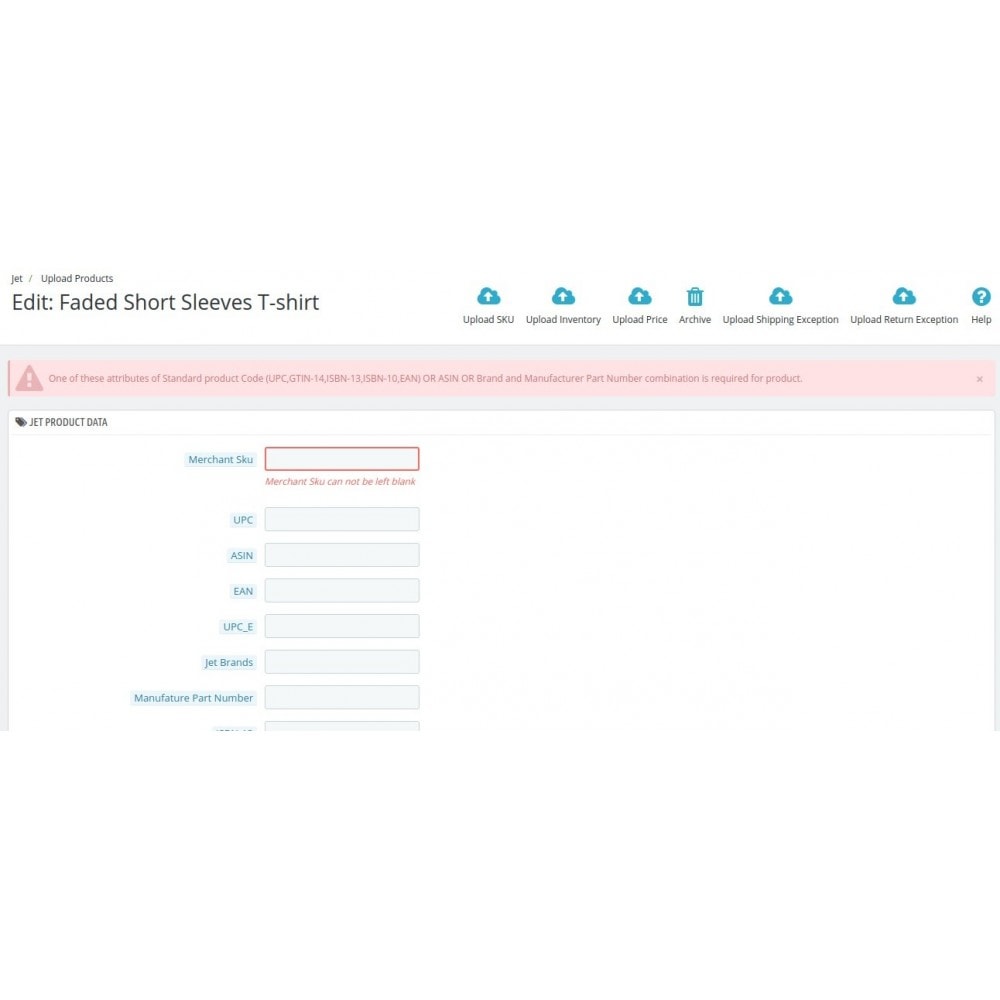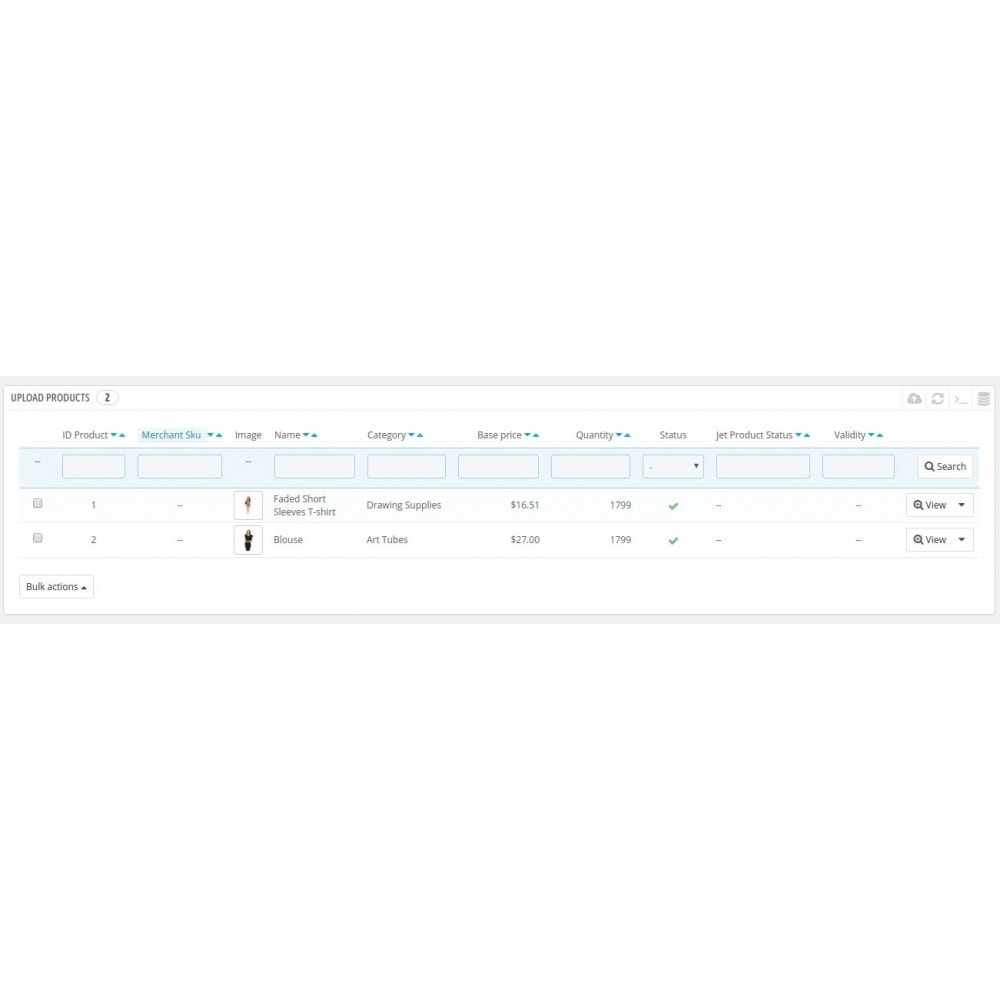 Prezentacja
Jet Integration, creates synchronization of inventory, price, other product details for product creation and its order management between PrestaShop store and Jet.com. The smooth harmonization is established with help of Jet.com REST API.
Korzyści wynikające z tego modułu
Konwersje Optymizuje widoczność Twoich produktów na platformach handlowych
CedCommerce Jet-PrestaShop Integration extension interacts with Jet Marketplace to integrate the synchronized product listing between PrestaShop and Jet.com retailers. After extension installation, merchant can create Jet Categories & their dependent attributes on PrestaShop store. The process will enable merchant to configure the desired product category into PrestaShop, for automatic submission of the selected product to the same Category on Jet.com.
Jet integration extension provides management of following features with help of Jet API:
Products
Orders
Shipments
Return
Refunds
Settlement of merchant payment sold on jet.com
Merchant information setup to sell on jet.com
Funkcje
Product listing is synchronized between PrestaShop & Jet.com with the help of various templates.
Realtime Order Synchronization of Jet.com marketplace to Prestashop store.
Any update on merchant's PrestaShop product will be updated at once on Jet.com.
PrestaShop shipping system is customized to Jet.com shipping system.
Merchant can archive / unarchive bulk Products on Jet.com.
Create New Returns as they are created on Jet.com
Access sattelement reports on Prestashop from Jet.com
Supported variant types of products upload to Jet.com
Easy sell on Jet.com
Auto Acknowledge / Rejects orders to Jet.com automaticaly.
Jet.com recent activity notification added for better operation.
Często kupowane w zestawie
Community developer Opracował

PrestaShop v1.6.0.4 - v1.6.1.17 Kompatybilność PrestaShop

Community developer Opracował

PrestaShop v1.3.0.1 - v1.7.2.4 Kompatybilność PrestaShop

Common-Services Opracował

PrestaShop v1.2.0.0 - v1.7.2.4 Kompatybilność PrestaShop
Oto co spodoba się Twoim klientom
Customer can now also purchase merchant's products from jet.com. And avail various facilities provided by jet.com for customers.
 
Rekomendacja
Please Download readme_en.pdf and follow the steps to successfully connect your Prestashop store with JET marketplace
✔ Free support. If you are having problems while using our module, contact us and we'll help you.
✔ Are you having problems with the installation? If the module advices you about override conflicts, please tell us and we'll merge them for you. Contact us and we'll solve the problem.
✔ Help while installing and configuring: if you're having doubts installing or configuring our module, contact us and our team will help you for free.
✔ Updates: Our modules are always up to date in order to guarantee that the work correctly with every Prestashop version.
✔ We can customize the module for you, please contact us and tell us how would you like the module to be.
Wsparcie techniczne oraz aktualizacje
Otrzymasz automatycznie 3 miesiące pomocy technicznej dla tego produktu.
Przez 90 dni po zakupie jesteś uprawniony do pomocy technicznej i funkcjonalnej, a także masz dostęp do aktualizacji dla tego produktu.
Instalacja
Download the latest package from Prestashop Extensions Market 
Upload "cedjet" folders from the extension folder to your server under the "modules" . This can be parallel to "admin" and "classes" folders. e.g. /public_html/store or /public_html
Now go through admin panel and install the extension
Step 1 - Go through menu "Modules"/ "Modules and Services".
Step 2 – You will see a list of all the modules present in your store among those you have to  find the module "Jet Integration Module".
Step 3 - Then Click on "Install" button to start the installation. When installation is complete you will get a success message.
Or you can directly select zip file "cedjet" and upload it from install module section.
Co nowego w wersji 0.1.08(2016-04-18)
Integrate Shop with Jet.com using REST API and sell over jet.com
Updated notofications and Taxanomy File
Updated coding standards and added new features for auto sync
O wydawcy
2015-06-24

Sprzedawca PrestaShop

India

Kraj region
Masz pytanie?
Potrzebujesz pomocy?
Wydawca odpowie Ci w ciągu