moduł Import eBay, the essential addon for the eBay module
Opracował
202 ecommerce
(8 głosy)
Ponad 90 % użytkowników poleca ten produkt
Na średnią ocenę składają się wszystkie głosy otrzymane przez ostatnie pół roku.
Poziom kompetencji
Użytkownicy oceniają że wymagany poziom kompetencji do tego produktu jest:
Dla początkujących użytkowników
2
Dla średniozaawansowanych użytkowników
1
Dla zaawansowanych użytkowników
1
Partnerski
Kreator Modułów
PrestaShop
1.5.0.0 - 1.6.1.17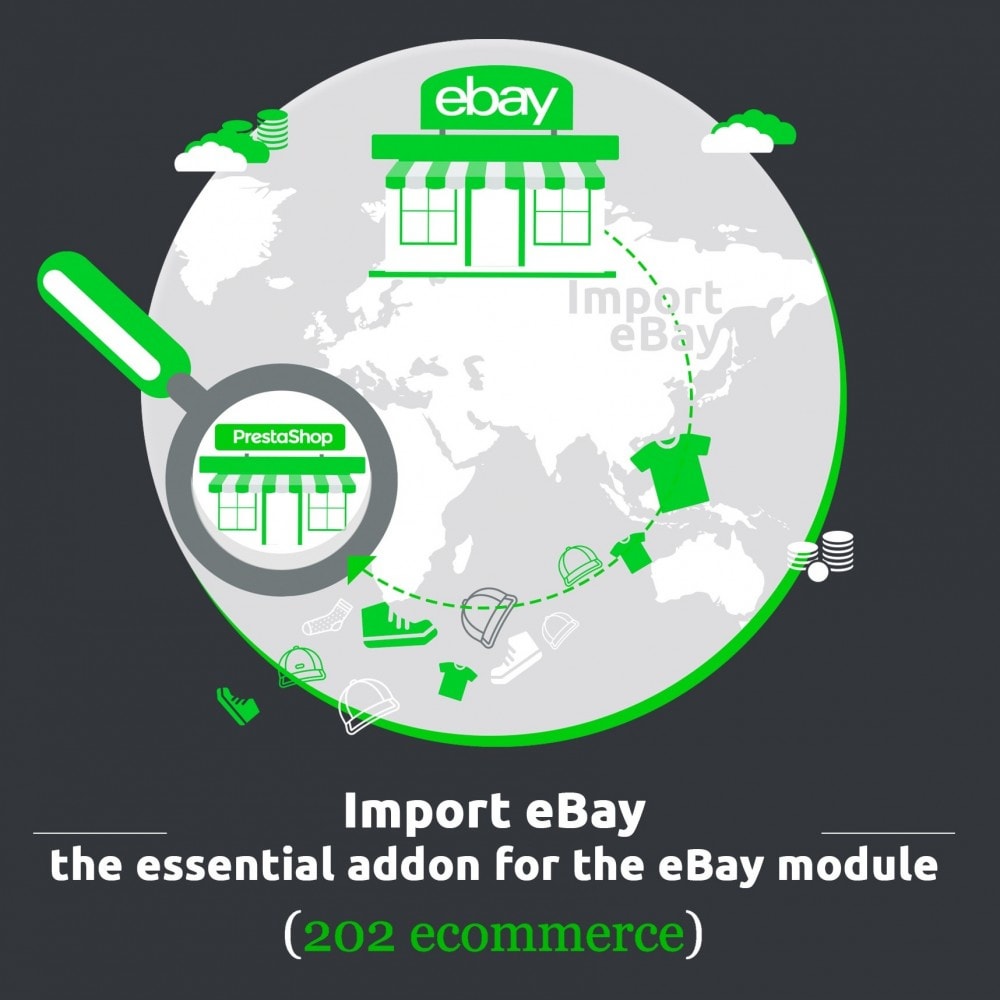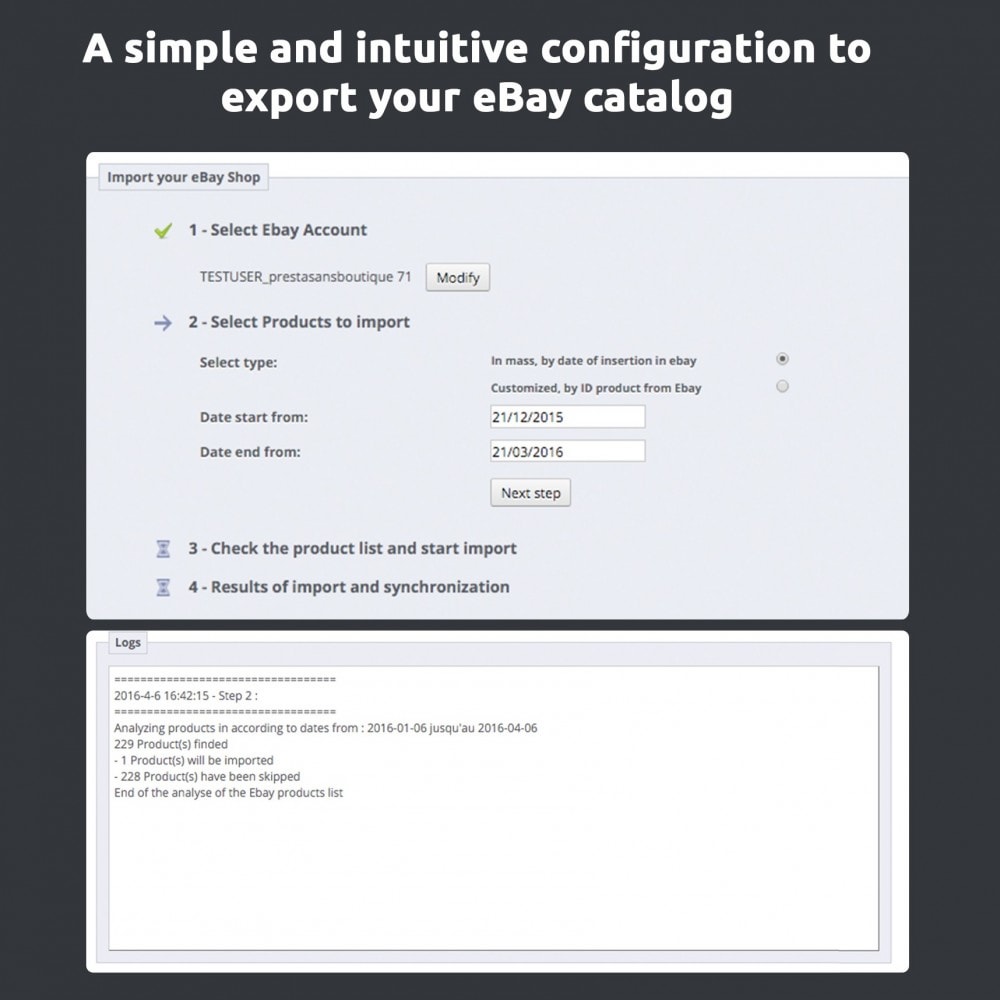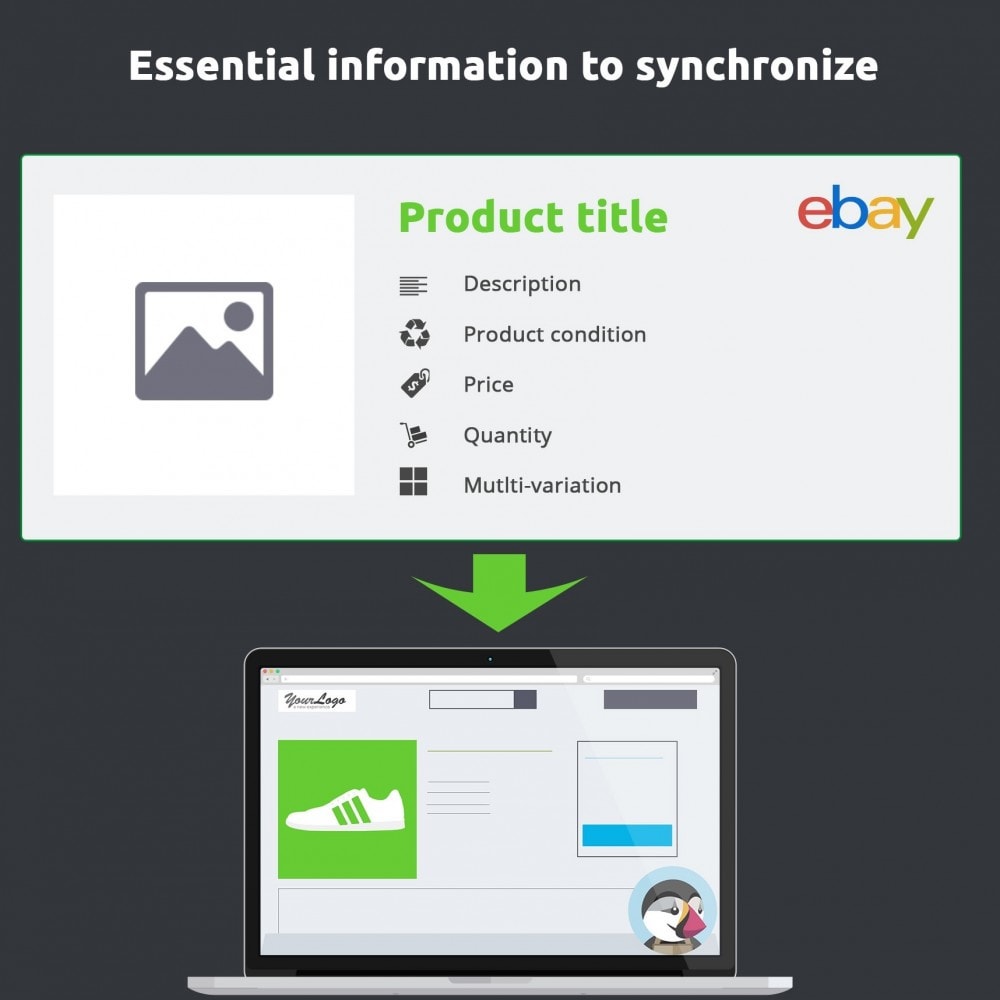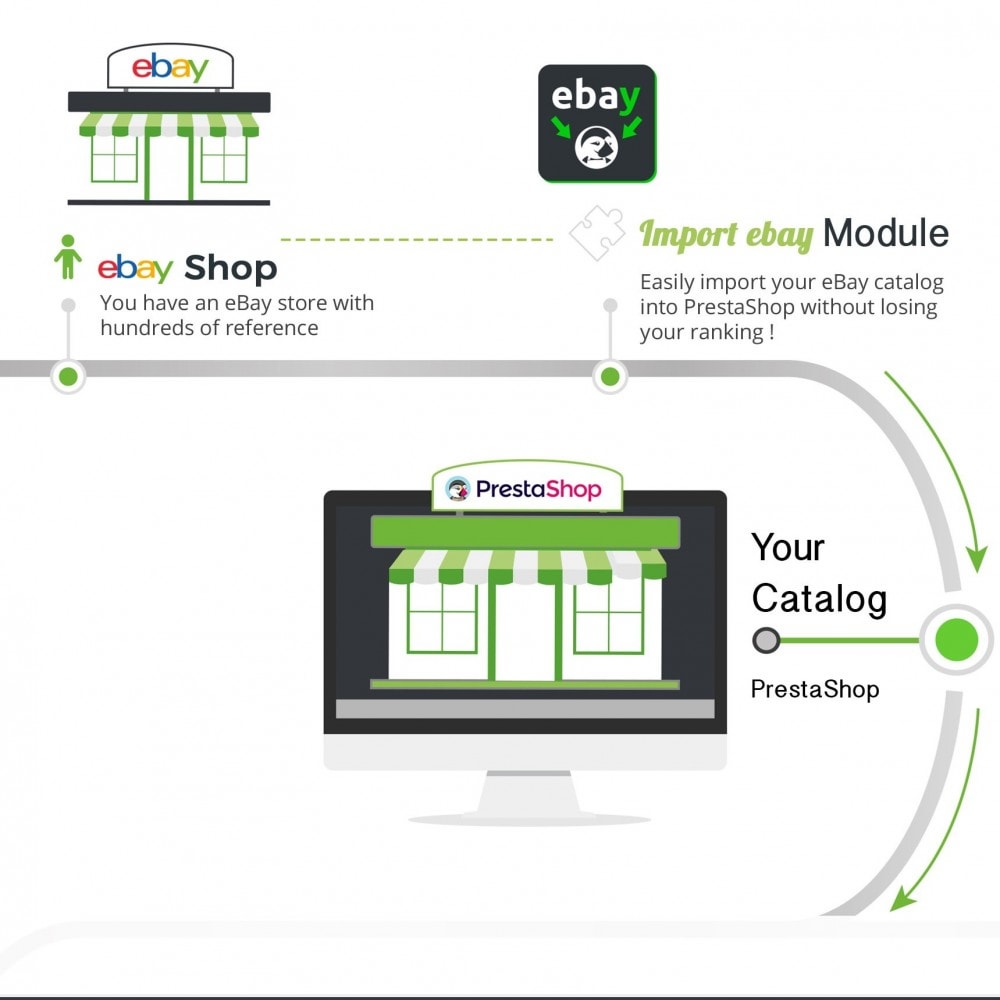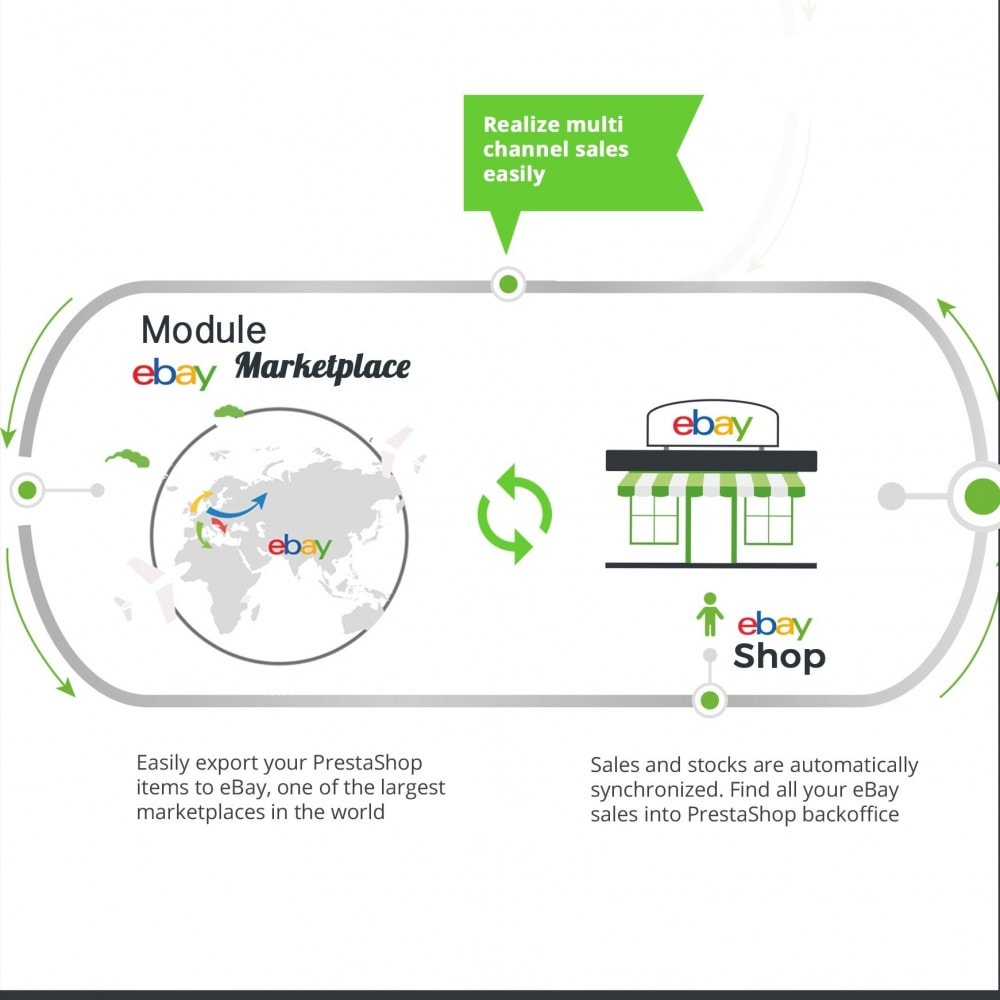 Prezentacja
This module is the best way to import and synchronize your eBay shop with a new PrestaShop account. Import your eBay catalog into PrestaShop and set up synchronization between PrestaShop and eBay while retaining your existing eBay listings.
Korzyści wynikające z tego modułu
Produktywność Optymizuje zarządzanie katalogiem
Avoid creating new products sheets : The official marketplace eBay module allows to transform your PrestaShop products into eBay listing. However, it does not allow to create Prestashop products from your eBay store. The Import module eBay is here to make this operation possible.
 
Avoid losing your eBay ranking: Manually Copy your existing eBay listings on eBay PrestaShop would lose your rankings.
 
Interconnection with the official eBay module : The « eBay import » module will allow you to import eBay products into PrestaShop and sale in your eBay store thanks to the eBay official module. It allows to transfer the invisible technical information that ensure the association of PrestaShop with eBay listings.
 
A listing improved product in your eBay store : With the official "eBay marketplace" module synchronize your Prestashop product with your eBay listing. So give the opportunity to your customers to enjoy a product sheet more functional and aesthetic.
Funkcje
When transferring your products from your eBay store in PrestaShop, the following information is imported:
                  -  Product illustration 

                  -  The name of your item 

                  -  Product condition : new, second-hand 

                  -  Text description of your product 

                  -  Sell price excluding VAT 

                  -  The quantity 

                  -  Different versions including quantities and prices 

 
PLEASE NOTE: NO PRICE CONVERSION HAS BEEN MADE. THEREFORE THE CURRENCY FOR YOUR EBAY ACCOUNT MUST BE THE SAME CURRENCY USED IN YOUR PRESTASHOP ENVIRONMENT! 


This module is accompanied by documentation detailing each step of the configuration and installation process. This one is available for download in PDF file in this product sheet. Due to the complexity for configuring the module, 202-Ecommerce offers a paid service to install and configure it in your PrestaShop environment. If you're interested, thank you to contact us directly from this product sheet.
Inne
Other modules 202-ecommerce
We suggest the "Splash Screen" module for displaying your newsletter and a link to your Facebook fan page, so you can promote a product or to make an advertisement in your shop.

About 202-ecommerce
Web agency specialized in ecommerce web sites, we adapt web technologies to online sales. Composed of passionate web professionals in online retail, we are working alongside of e-businessmen enlivened by the same wish to always sell more.
Oto co spodoba się Twoim klientom
 Your customers will appreciate to visit your eBay catalog from your PrestaShop store. They thus benefit of consistency between your PrestaShop and eBay store.
Wsparcie techniczne oraz aktualizacje
Otrzymasz automatycznie 3 miesiące pomocy technicznej dla tego produktu.
Przez 90 dni po zakupie jesteś uprawniony do pomocy technicznej i funkcjonalnej, a także masz dostęp do aktualizacji dla tego produktu.
Wykup opcję Zen i zagwarantuj sobie prawidłowe działanie tego produktu w swoim sklepie przez 12 miesięcy!
Za sprawą opcji Zen zyskujesz dostęp do WSZYSTKICH aktualizacji dla Twojego produktu przez rok od jego zakupu. Twórca produktu będzie służył Ci pomocą, odpowiadając przez e-mail na wszystkie Twoje pytania techniczne lub dotyczące jego funkcji.
Czym jest Opcja Zen?
Opcja Zen obejmuje dwie usługi:
nieograniczone wsparcie posprzedażowe przez okres obowiązywania opcji;
dostęp do wszystkich aktualizacji produktu w tym okresie.
Opcję Zen możesz nabyć w promocyjnej cenie w chwili zakupu produktu oraz, jeśli potrzebujesz więcej czasu na decyzję, także po zakupie, z poziomu konta klienta.rnZapewnia Ci ona ochronę przez rok od daty zakupu produktu. Tak więc im wcześniej ją kupisz, tym dłużej będziesz z niej korzystać!
Co zawiera opcja Zen?
Opcja Zen uwzględnia:
pytania dotyczące użytkowania modułu/szablonu;
rozwiązywanie problemów technicznych związanych z modułem/szablonem;
dostęp do wszystkich aktualizacji modułu lub szablonu.
Opcja Zen nie obejmuje:
personalizacji i przeróbek;
usług związanych z instalacją i aktualizacją modułu lub szablonu;
rozwiązywania problemów dotyczących innych serwisów, hostingu, serwera lub oprogramowania PrestaShop.
Instalacja
Caution : If an ERP is connected directly to eBay for your order management you need to connect it to PrestaShop before starting an import.
 
Prerequisite – Installation of Ebay module
Step 1 : In your environment, go to the modules tab to find the « Ebay Marketplace » module and install
Step 2 : In the module, connect using your eBay log in and password

Step 3 : Fill in all the requested parameters on the "Account Settings" and save your
changes
Step 4 : Go to "Advanced Settings" and select the radio button "by cron task" parameters "Sync orders" and "Sync Products".
Step 5: Finally, turn off eBay Module
 
 
Installation of the Import Ebay module
Step 1 : Download the module on addons.prestashop.com
Step 2 : Load the module into your Prestashop environment
Step 3 : In the « modules » tab of your backoffice, look for the « Import Ebay » module in the search bar.
Step 4 : After having clicked on « configure », the module will confirm if the installation has been successful.
 
 
Setup the official « eBay maketplace » module to synchronize 
After importing your eBay products into your Prestashop store with the Import eBay module, you must now synchronise your store. The official eBay module allows you to synchronise content information to your Prestashop product sheets and quantities available after an order, with your eBay store.
To begin synchronisation you must now enter the rest of the settings requested in your eBay module. If needed, a help is available for the official eBay module.
 
Due to the complexity for configuring and use the module, 202-Ecommerce offers a paid service to install and configure it in your PrestaShop environment. If you're interested, thank you to contact us directly from this product sheet.
Często kupowane w zestawie
202 ecommerce Opracował

PrestaShop v1.5.0.0 - v1.6.1.17 Kompatybilność PrestaShop

PrestaShop Opracował

PrestaShop v1.6.0.4 - v1.7.2.4 Kompatybilność PrestaShop

PrestaShop Opracował

PrestaShop v1.5.0.0 - v1.7.2.4 Kompatybilność PrestaShop
Co nowego w wersji 2.1.1(2016-10-03)
[*] Not displaying debug tools
O wydawcy, 202 ecommerce
202 ecommerce is composed of experimented and passionate web professional in online sale. With a strong backgound on IT projects management, we also work with our customer on webmarketing topics. Our modules are based on our experience made at working with our customers.
202 ecommerce is a young dynamic ecommerce agency based in Paris.  
2009-09-11

Sprzedawca PrestaShop

France

Kraj region
Masz pytanie?
Potrzebujesz pomocy?
Wydawca odpowie Ci w ciągu