moduł Maintenance
Opracował
BM Services
(6 głosy)
Ponad 90 % użytkowników poleca ten produkt
Na średnią ocenę składają się wszystkie głosy otrzymane przez ostatnie pół roku.
Poziom kompetencji
Użytkownicy oceniają że wymagany poziom kompetencji do tego produktu jest:
Dla początkujących użytkowników
4
Dla średniozaawansowanych użytkowników
0
Dla zaawansowanych użytkowników
0
Partner
Agency
PrestaShop
1.6.1.0 - 1.6.1.17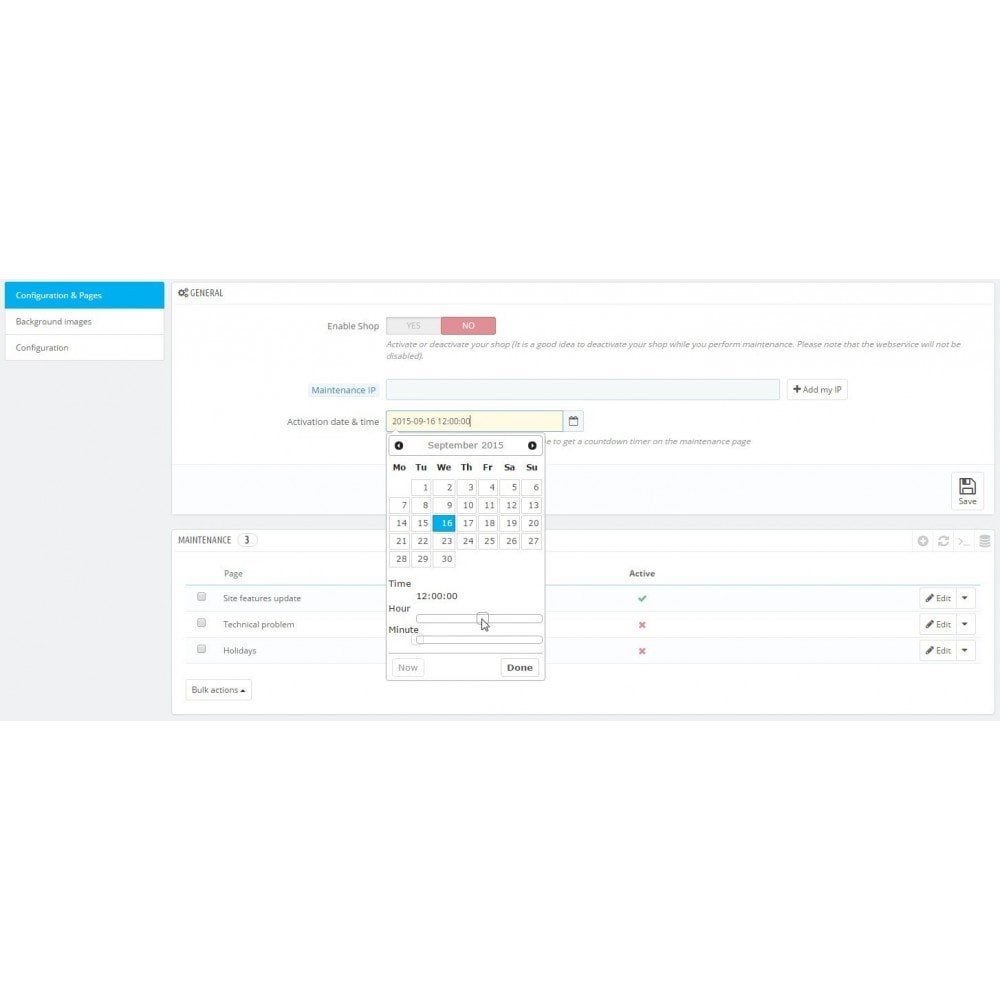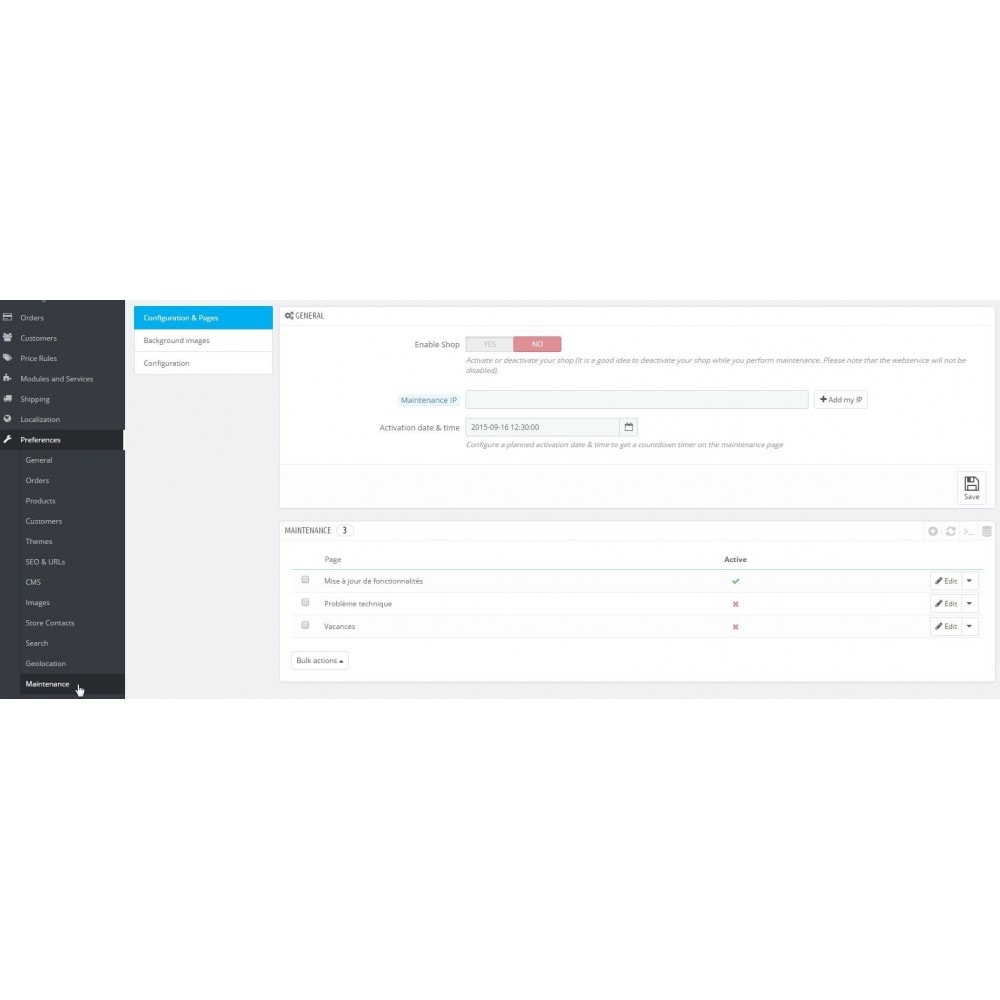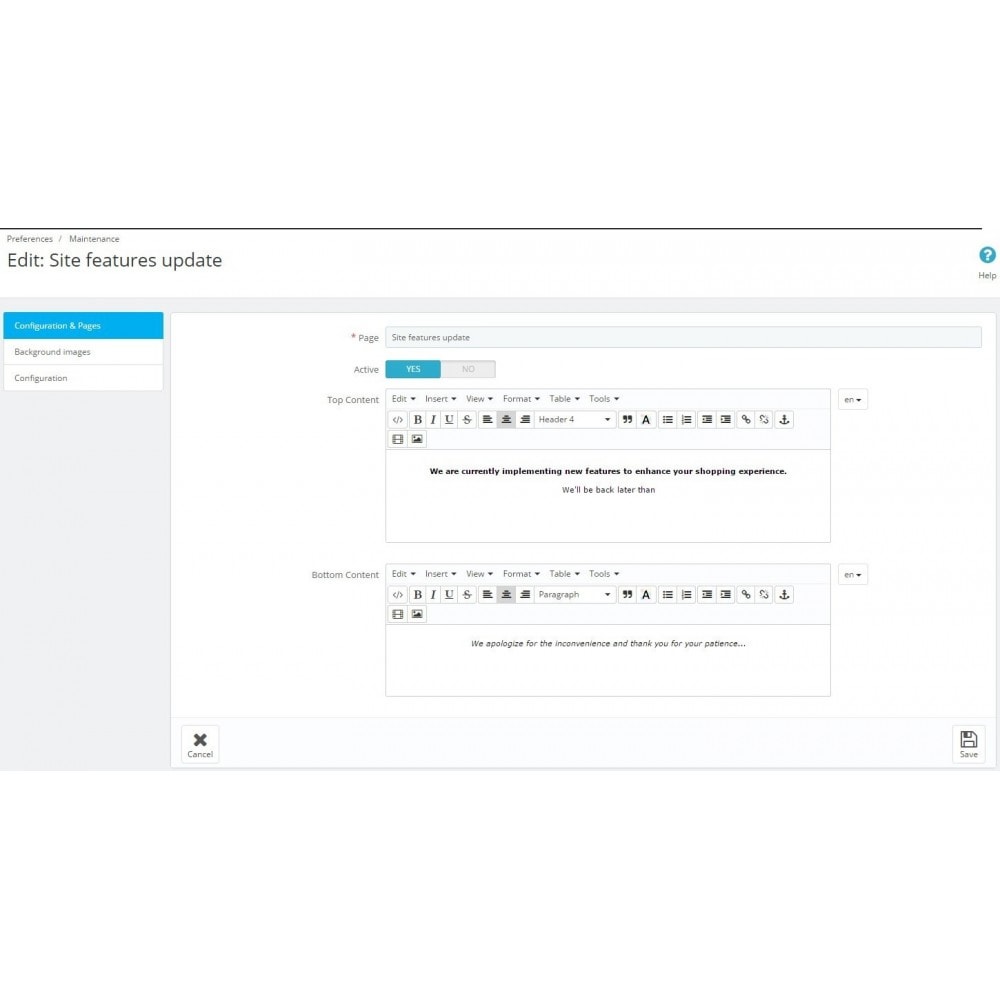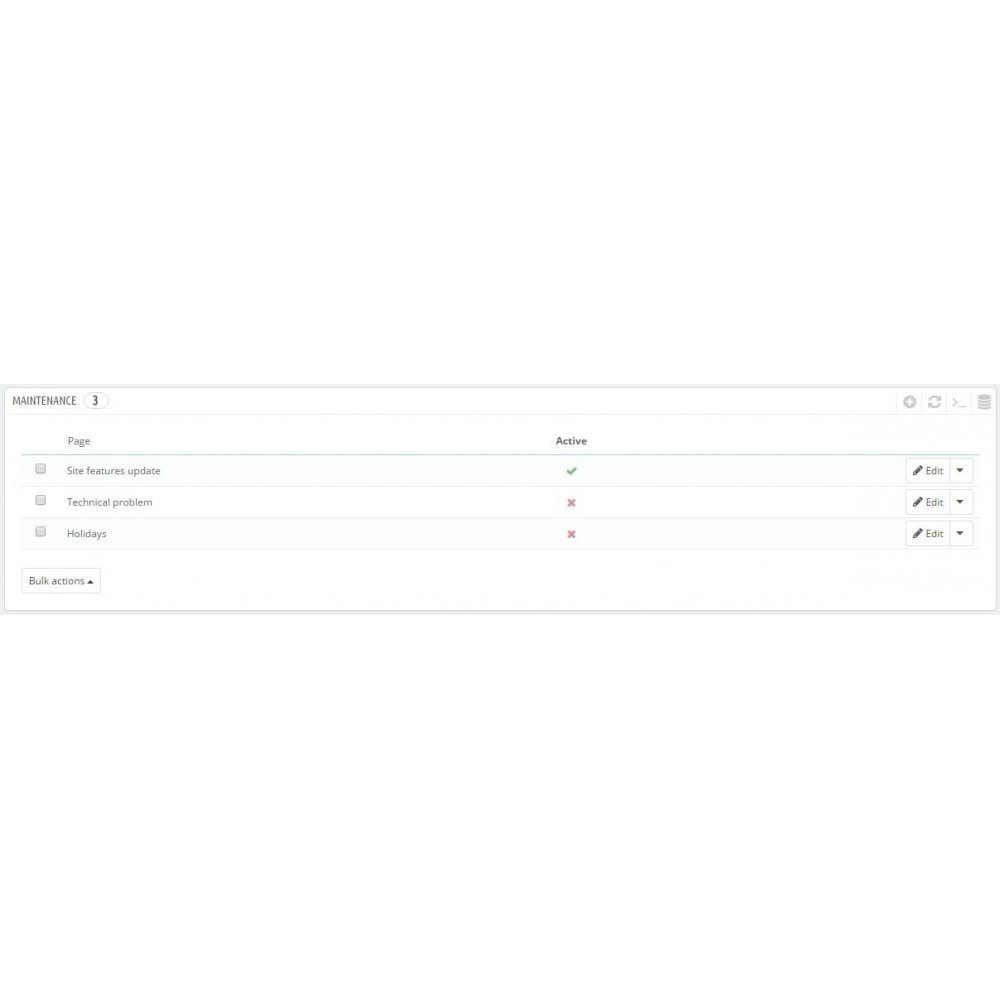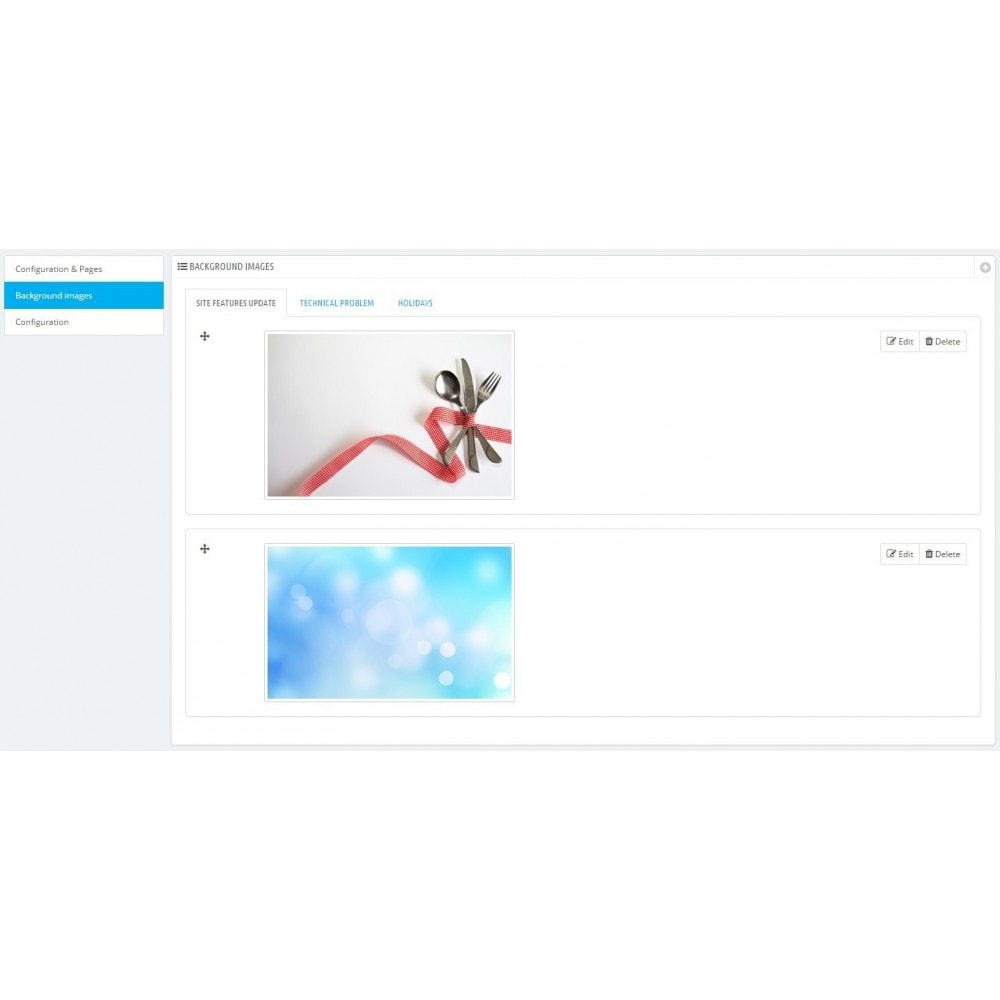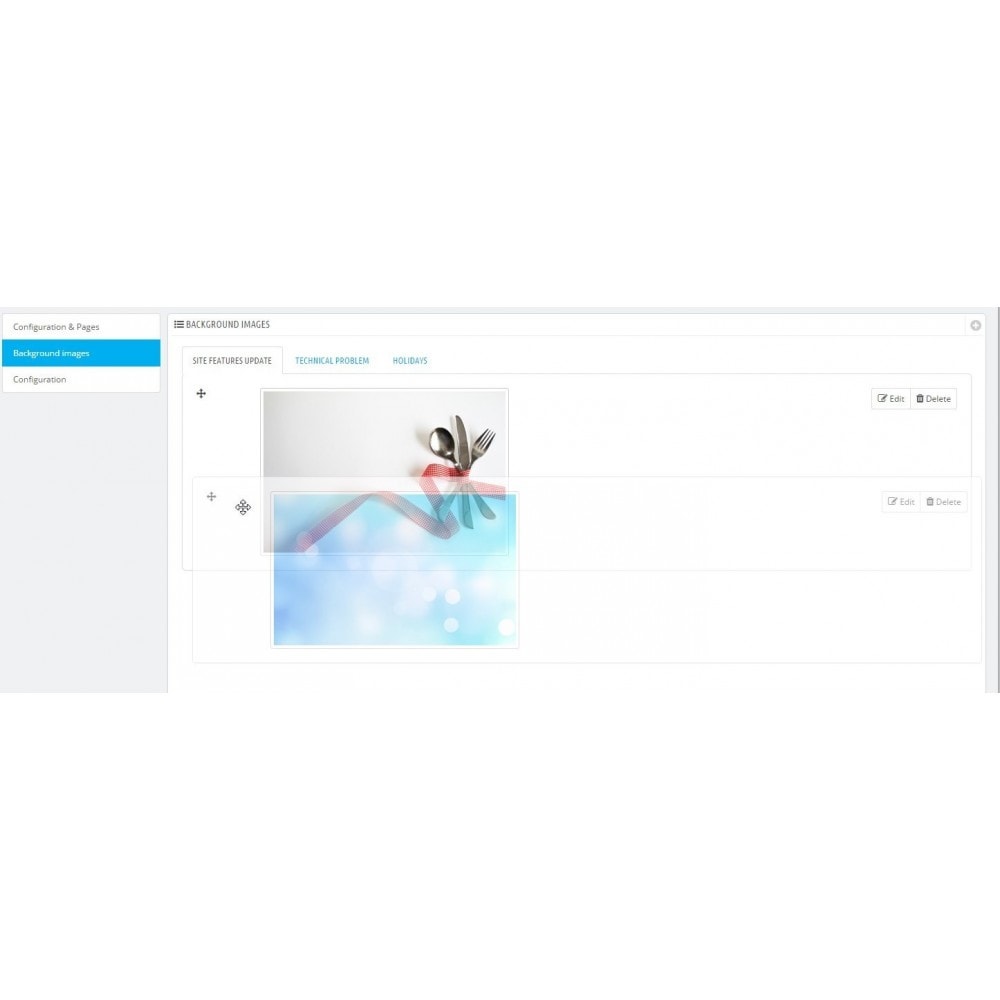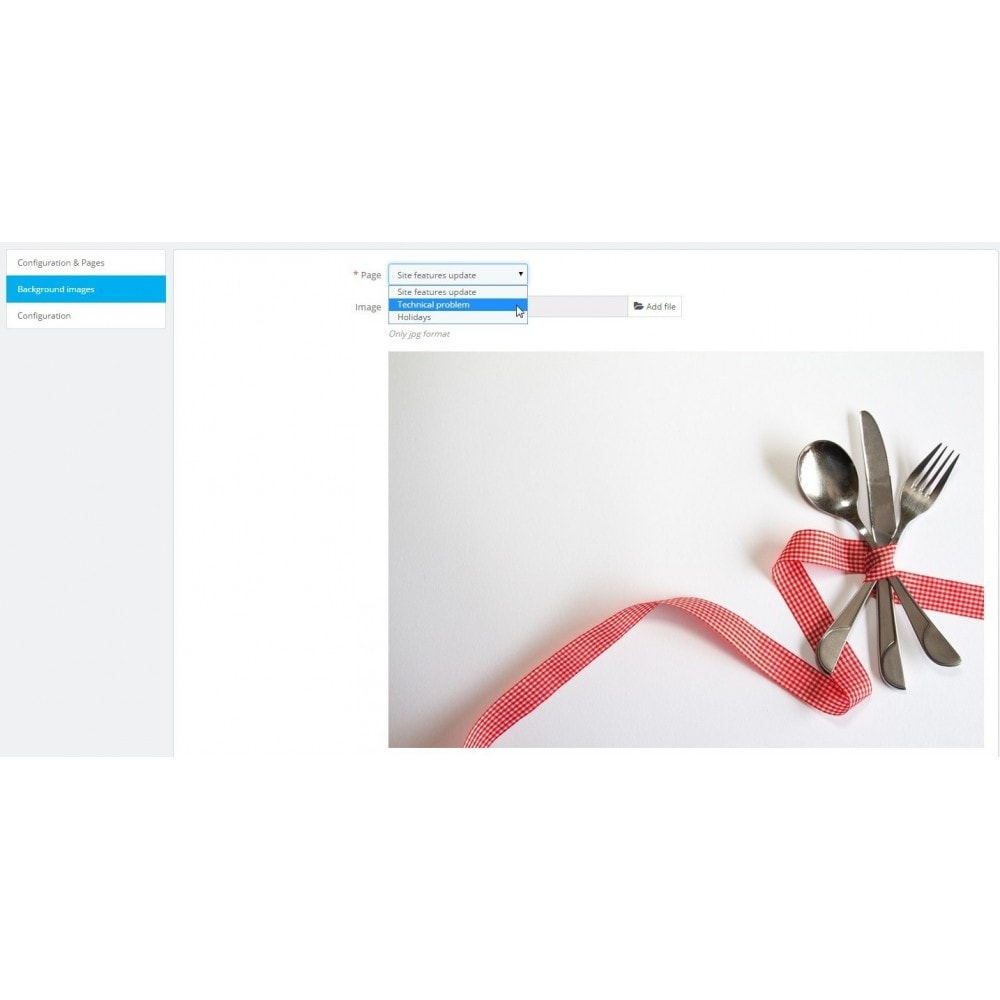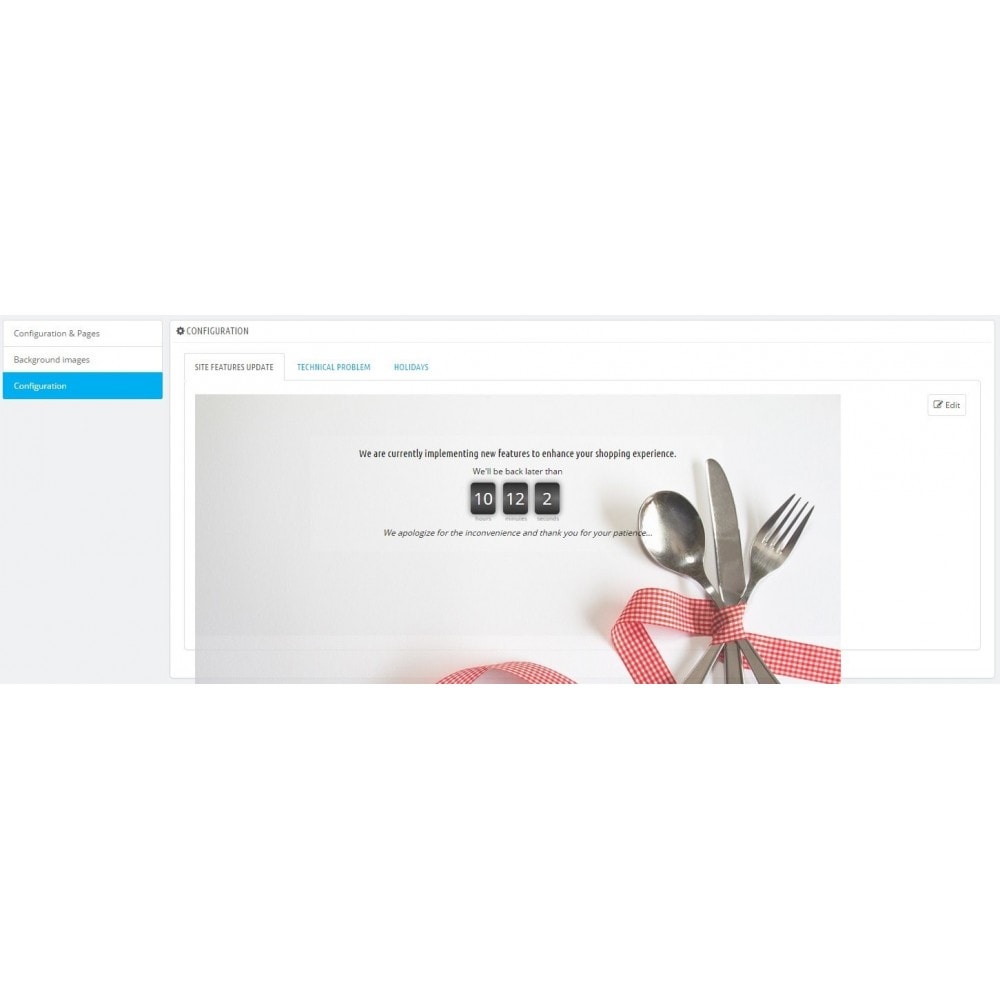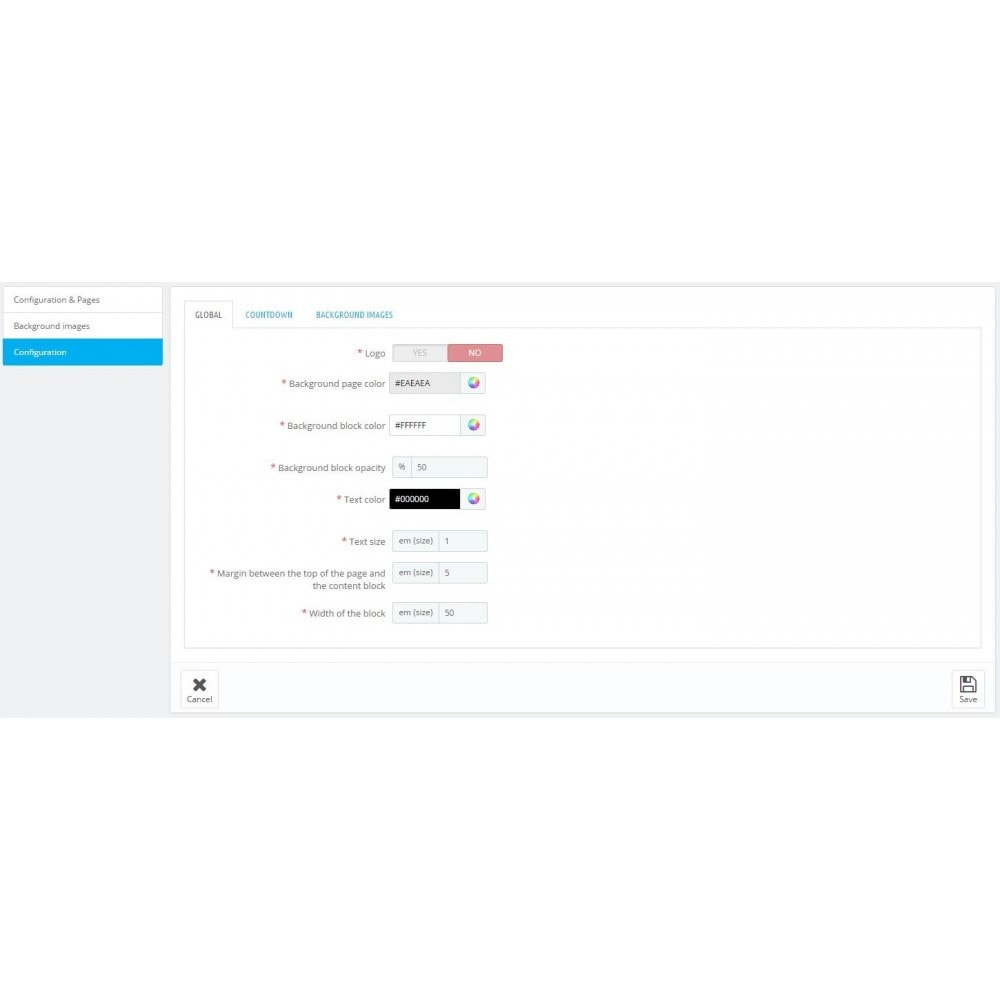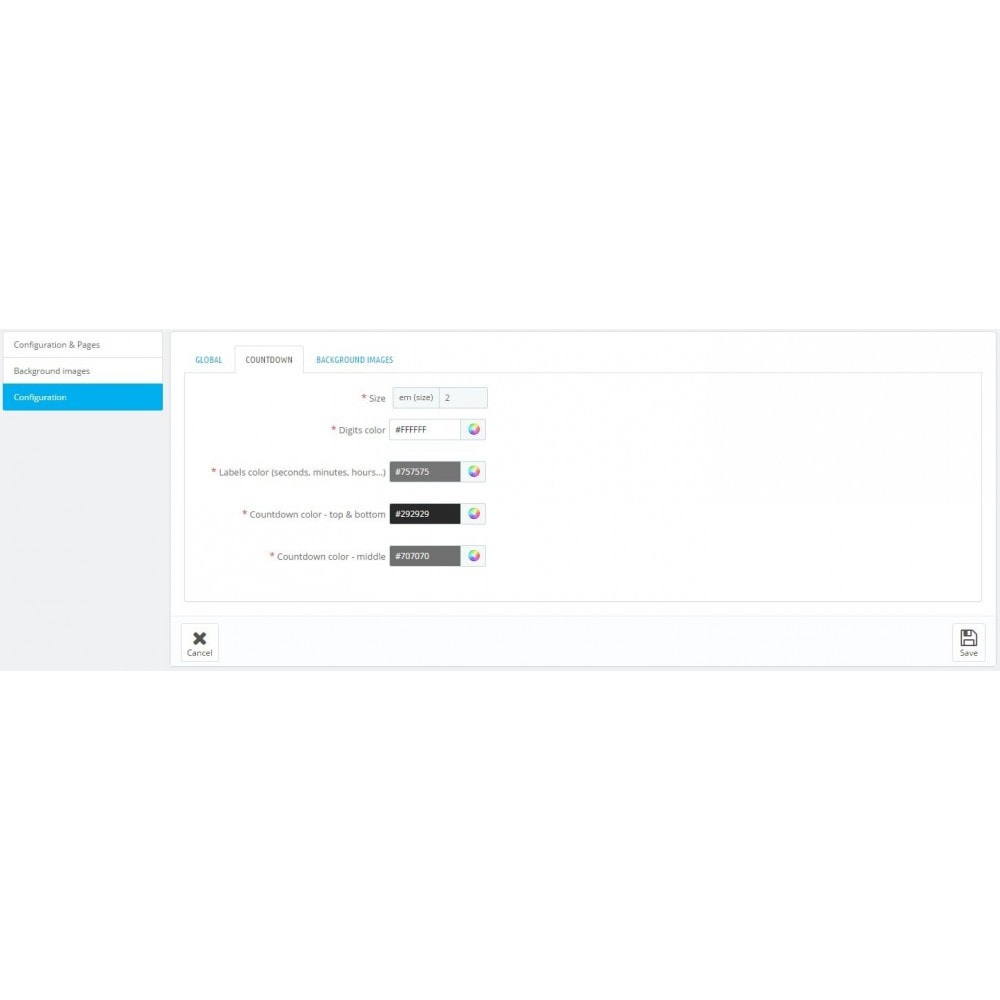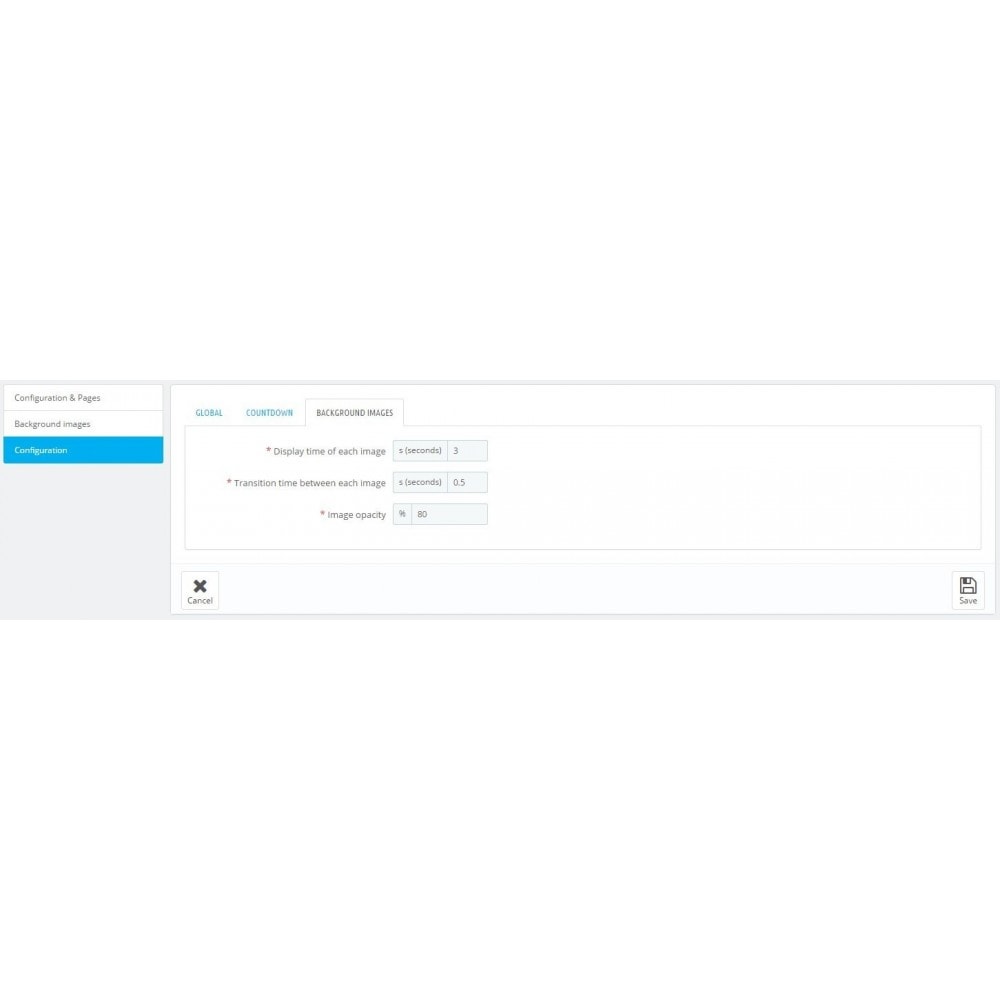 Prezentacja
This module allows you to easily customize the maintenance page of your shop from your Back Office by integrating rich contents of your choice, a full screen slideshow and a configurable countdown.

Korzyści wynikające z tego modułu
Nawigacja Personalizuje Twój sklep internetowy
Keep informed your customers and visitors of maintenance operations that you perform on your site with the ability to create multiple pages, each with its own custom content
Show background page visuals displaying your business activity or future marketing operations
Display a reactivation countdown to warn visitors
Preview your page in the Back Office before activating it
No technical knowledge required, all actions are done from your Back Office, with a simple but complete configuration
Funkcje
Full support of new features PrestaShop 1.6
Multi-shop management
Administration integrated in the Back Office with a directly accessible menu under the "Preferences" menu (and handling of PrestaShop permissions)
Content of your page fully customizable
Rich content like CMS pages
Customizable full screen slideshow (display time, transition time, opacity)
Customizable countdown (size, colors...)
Customizable global layout (logo display, margins, colors, sizes...)
Często kupowane w zestawie
BM Services Opracował

PrestaShop v1.6.1.0 - v1.6.1.17 Kompatybilność PrestaShop

PrestaShop Opracował

PrestaShop v1.6.0.4 - v1.7.2.4 Kompatybilność PrestaShop

PrestaShop Opracował

PrestaShop v1.5.3.1 - v1.7.2.4 Kompatybilność PrestaShop
Oto co spodoba się Twoim klientom
Be informed with custom messages on the unavailability of the shop
Know when the shop will be accessible again
Have a nice presentation with background visuals
Wsparcie techniczne oraz aktualizacje
Otrzymasz automatycznie 3 miesiące pomocy technicznej dla tego produktu.
Przez 90 dni po zakupie jesteś uprawniony do pomocy technicznej i funkcjonalnej, a także masz dostęp do aktualizacji dla tego produktu.
Instalacja
Once the module downloaded as a Zip archive, the installation process includes 2 steps:
Files installation on your site (2 possible ways)

Recommended way: decompress the Zip file in your "modules" folder and check that files are in the "bmsmaintenance" folder and not a subfolder.
Alternative way: in your PrestaShop Back Office, go to the "Modules" or "Modules and Services" menu and click the "Add new module" icon in the up and right corner. In the block that shows up, select the Zip file of the module and click the "Upload this module" button.
Module installation: in your PrestaShop Back Office

Go to the "Modules" or "Modules and Services" menu
Look for the "Rich maintenance page" menu
Click on "Install" button.
No further configuration is needed.
Co nowego w wersji 2.0.2(2015-10-07)
Removal of external contact links in module configuration
O wydawcy, BM Services
"BM-Services is a Prestashop Gold partner agency for the last 6 years.  BM-Services creates Prestashop-based E-shops, intervenes for Prestashop Search Engine Optimizations (SEO), maintains websites, makes specific developments and develops addons for software editors (Paybox, Videodesk …)  or to add new functions to Prestashop. BM-Services team counts 20 fully-trained professionals and has already developed hundreds of Prestashop sites and addons."
2012-08-02

Sprzedawca PrestaShop

France

Kraj region
Masz pytanie?
Potrzebujesz pomocy?
Wydawca odpowie Ci w ciągu