moduł myCollectionPlaces v2
Opracował
Community developer
(3 głosy)
Na średnią ocenę składają się wszystkie głosy otrzymane przez ostatnie pół roku.
PrestaShop
1.6.0.4 - 1.6.1.15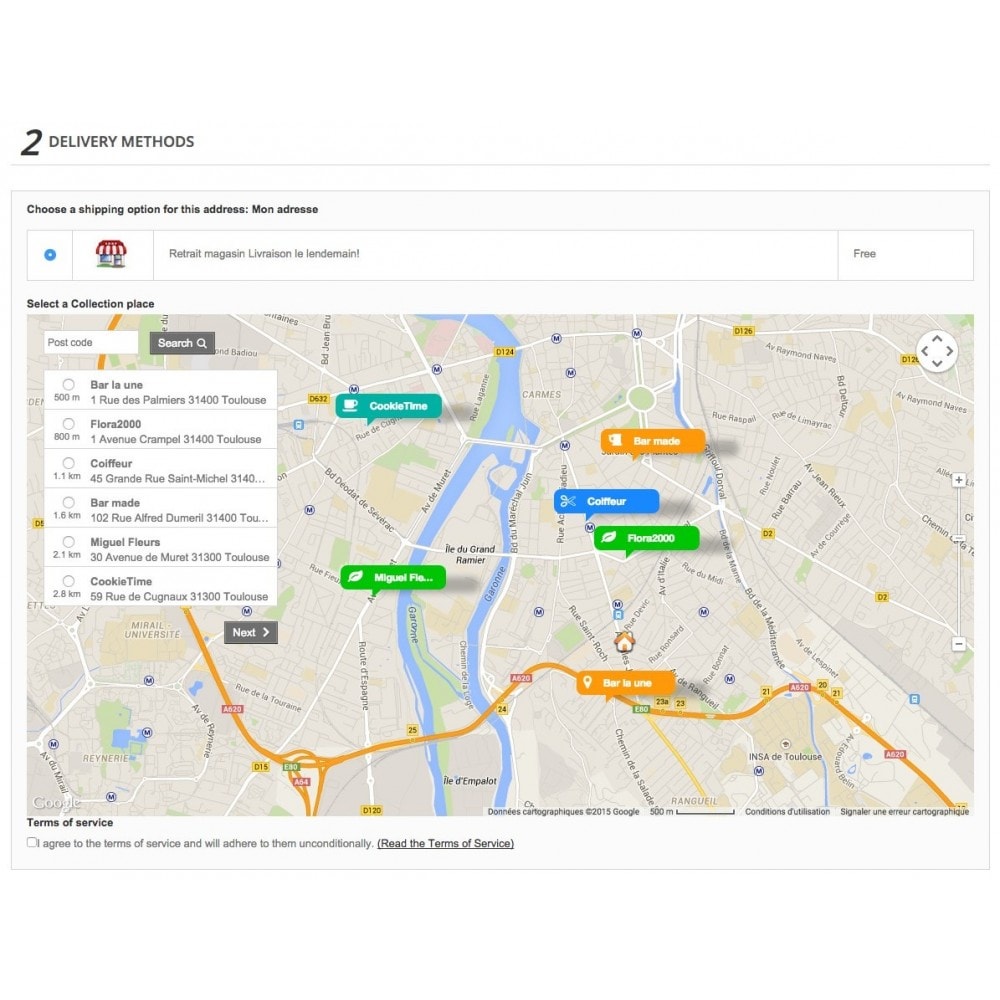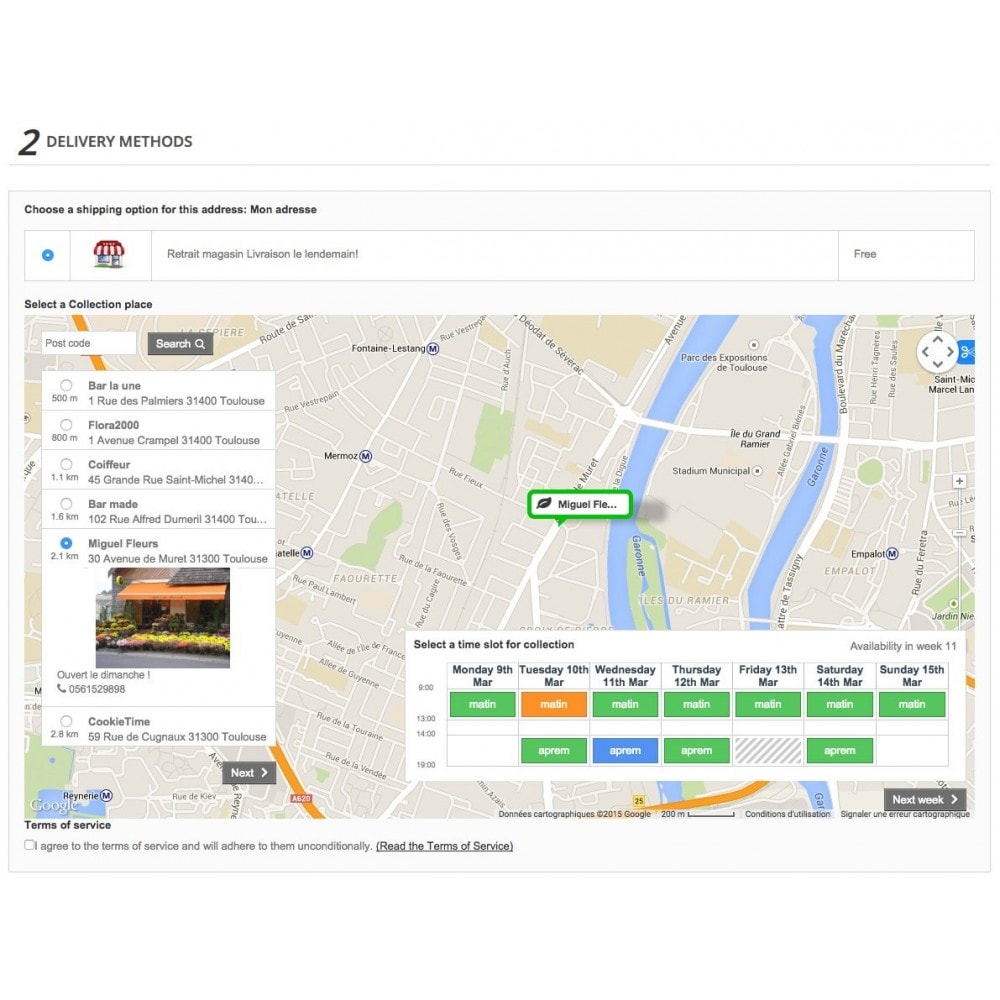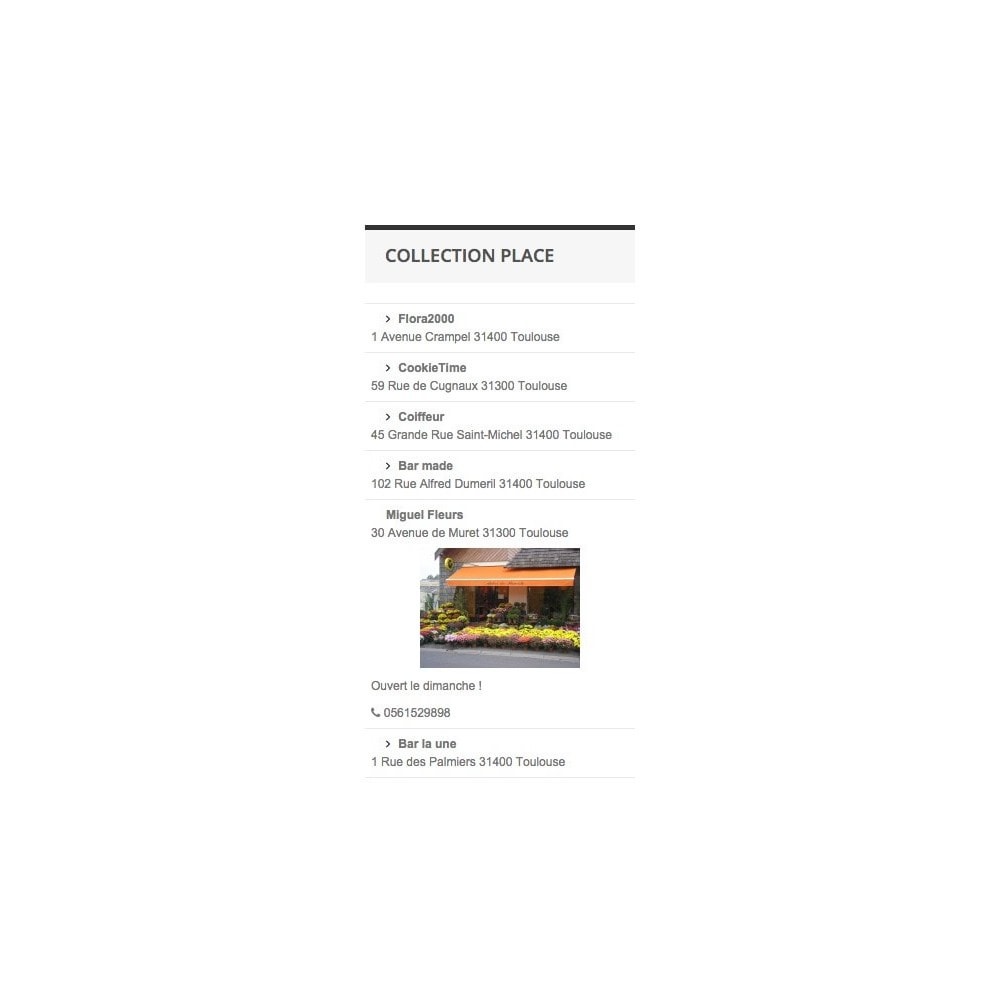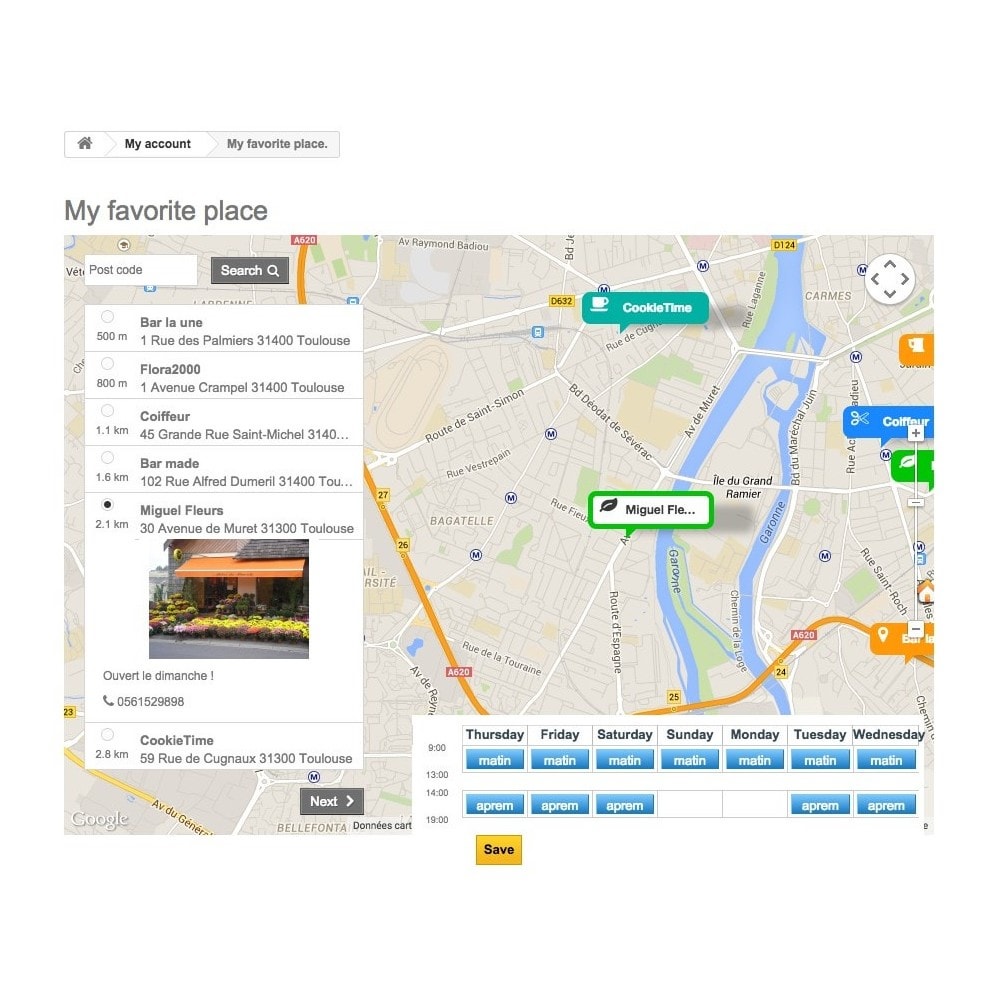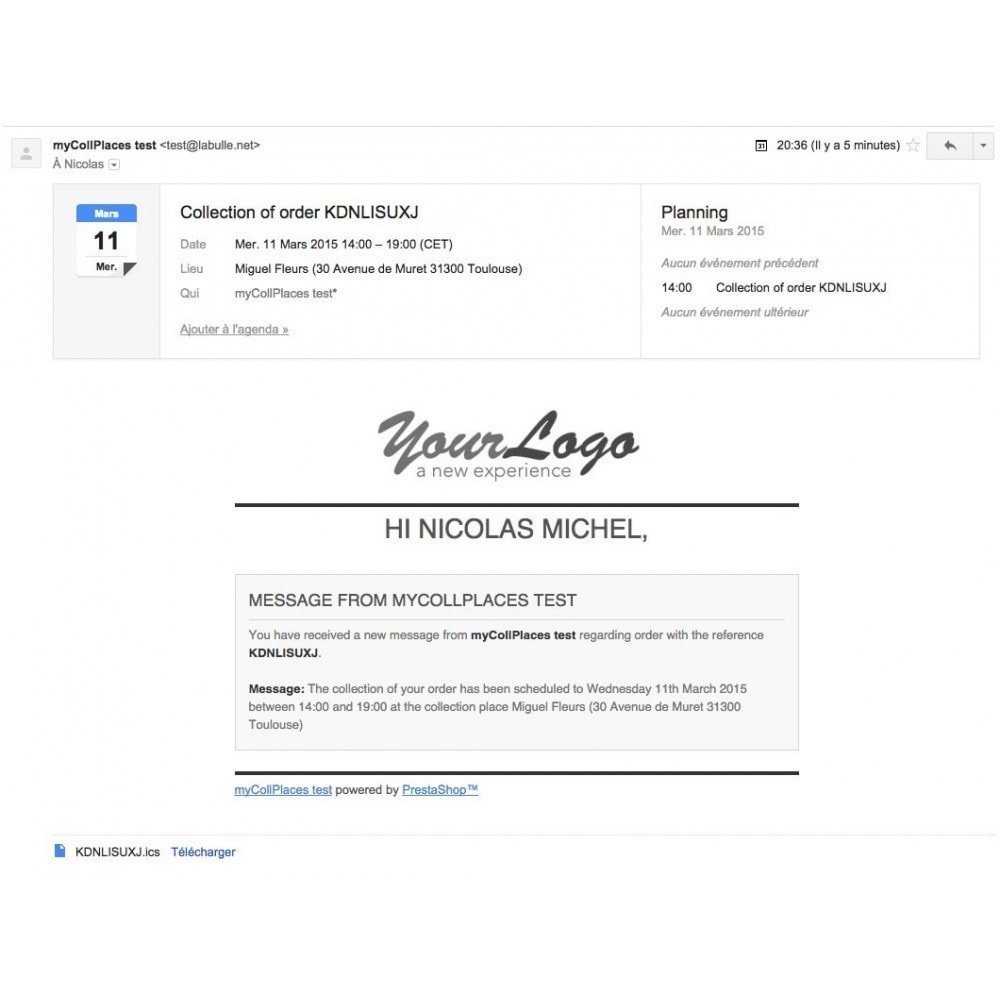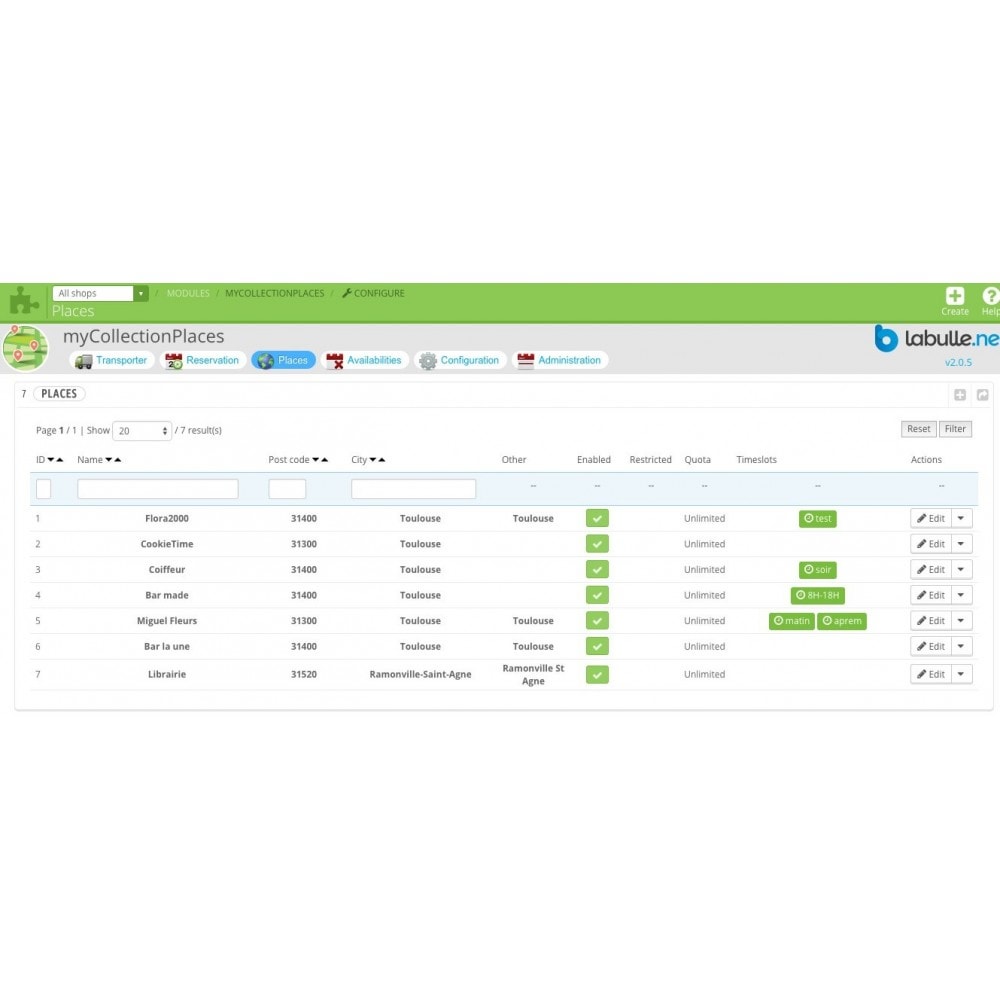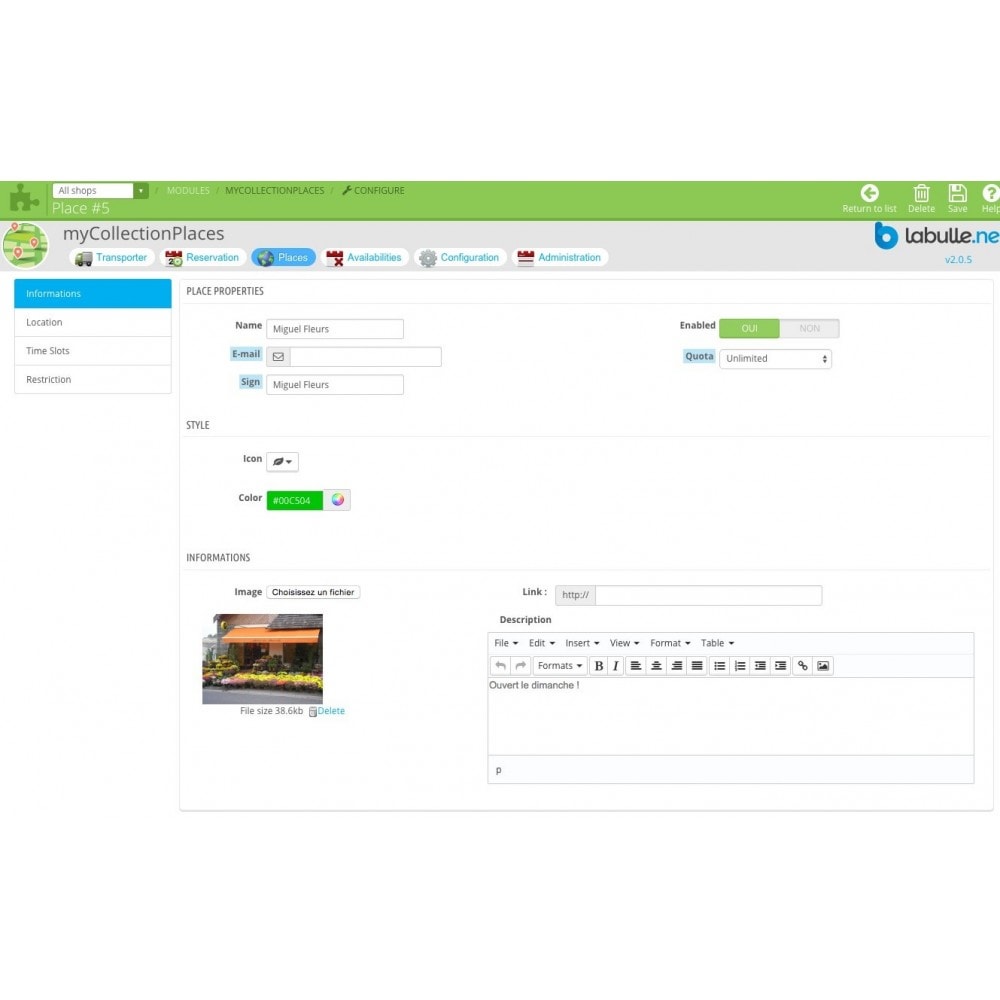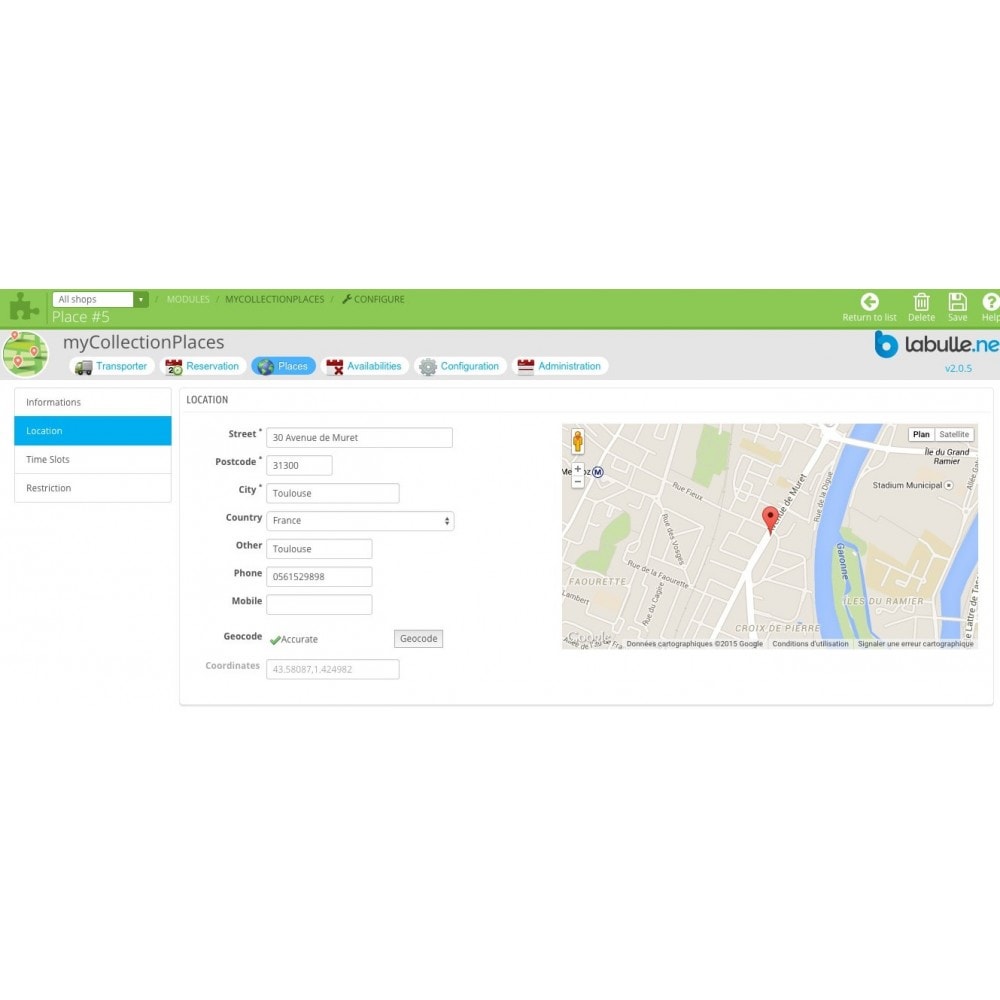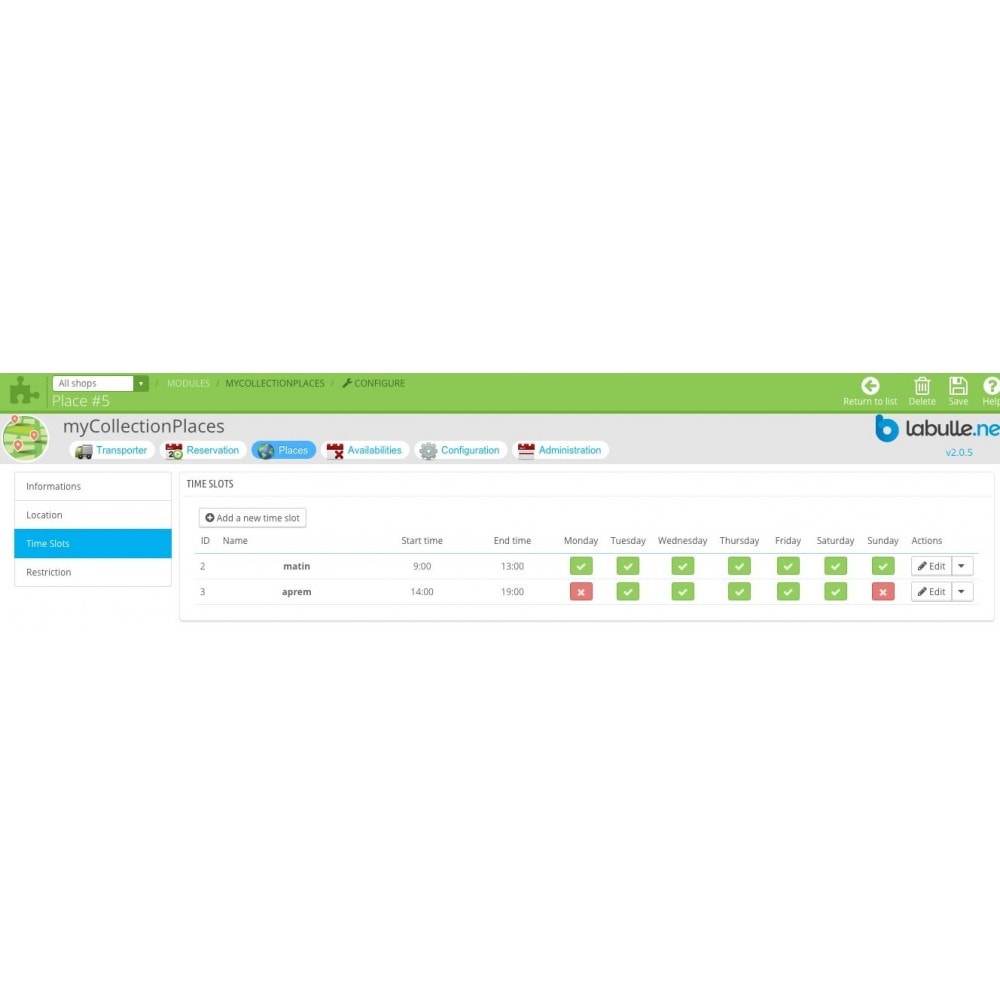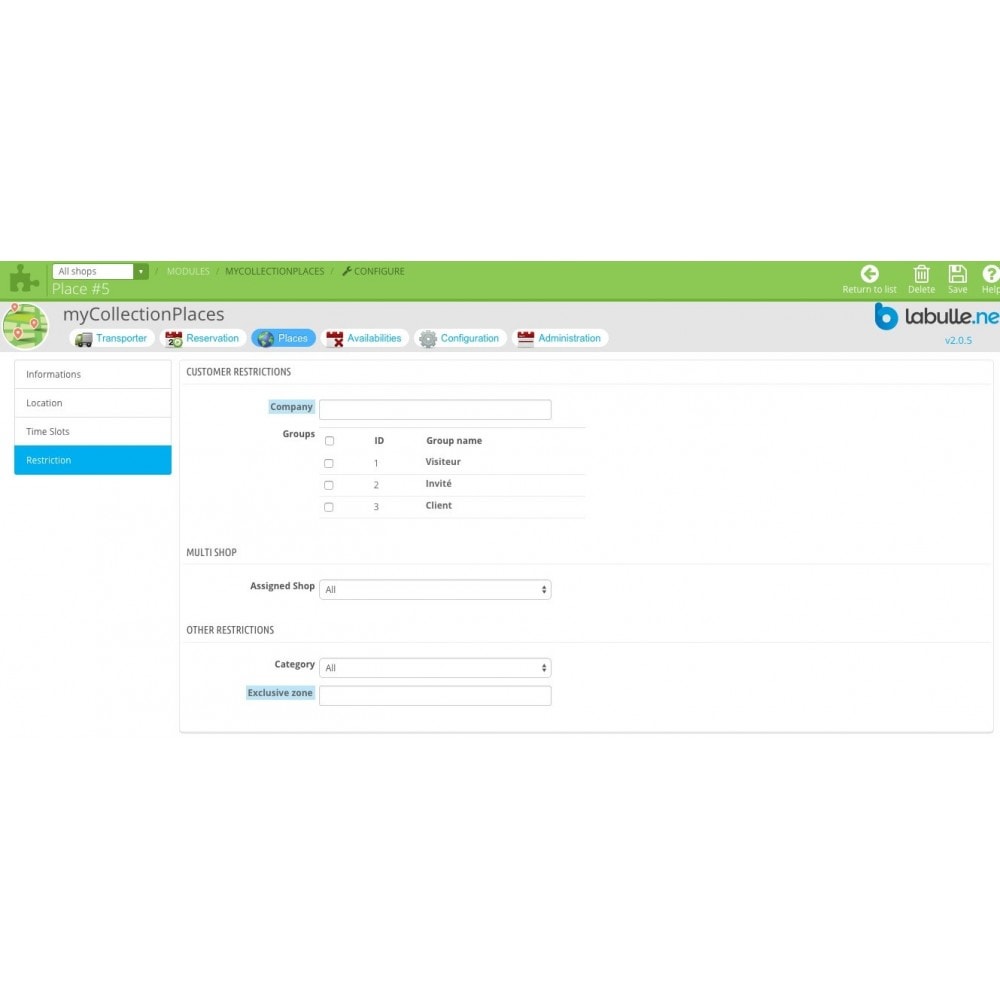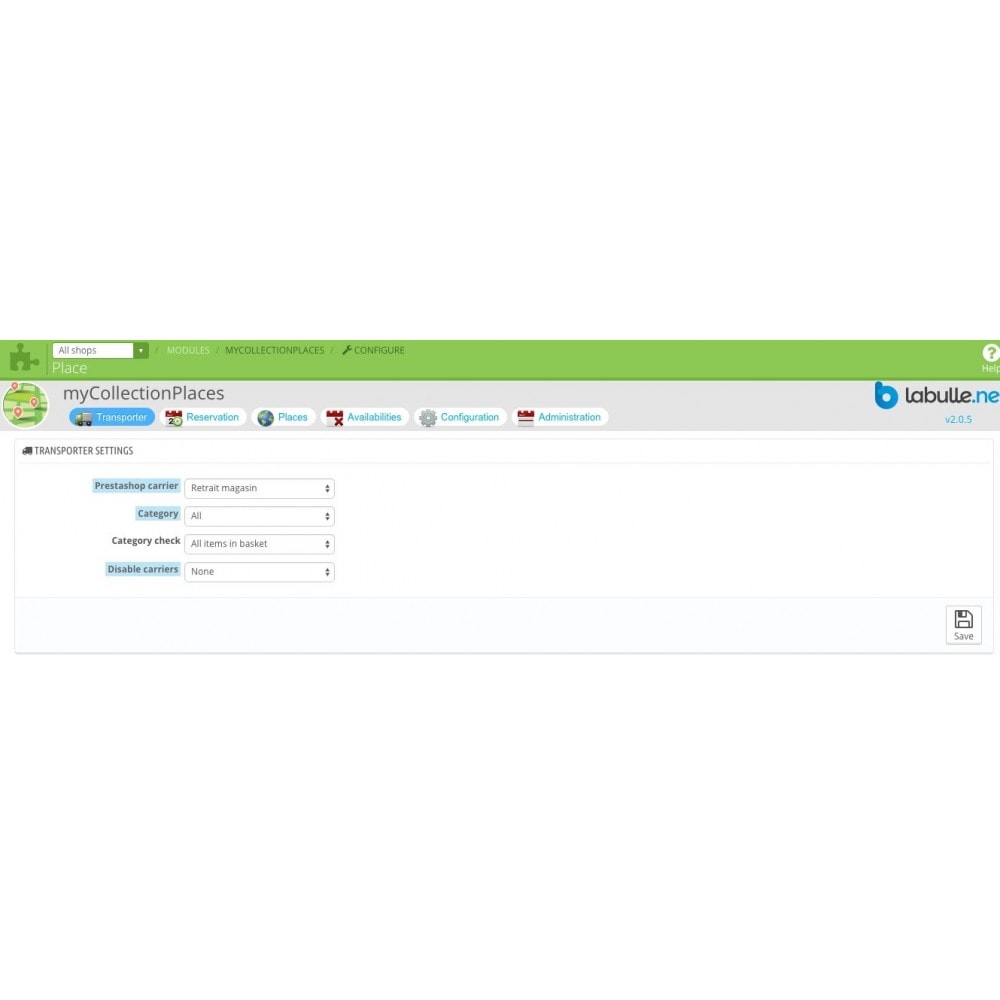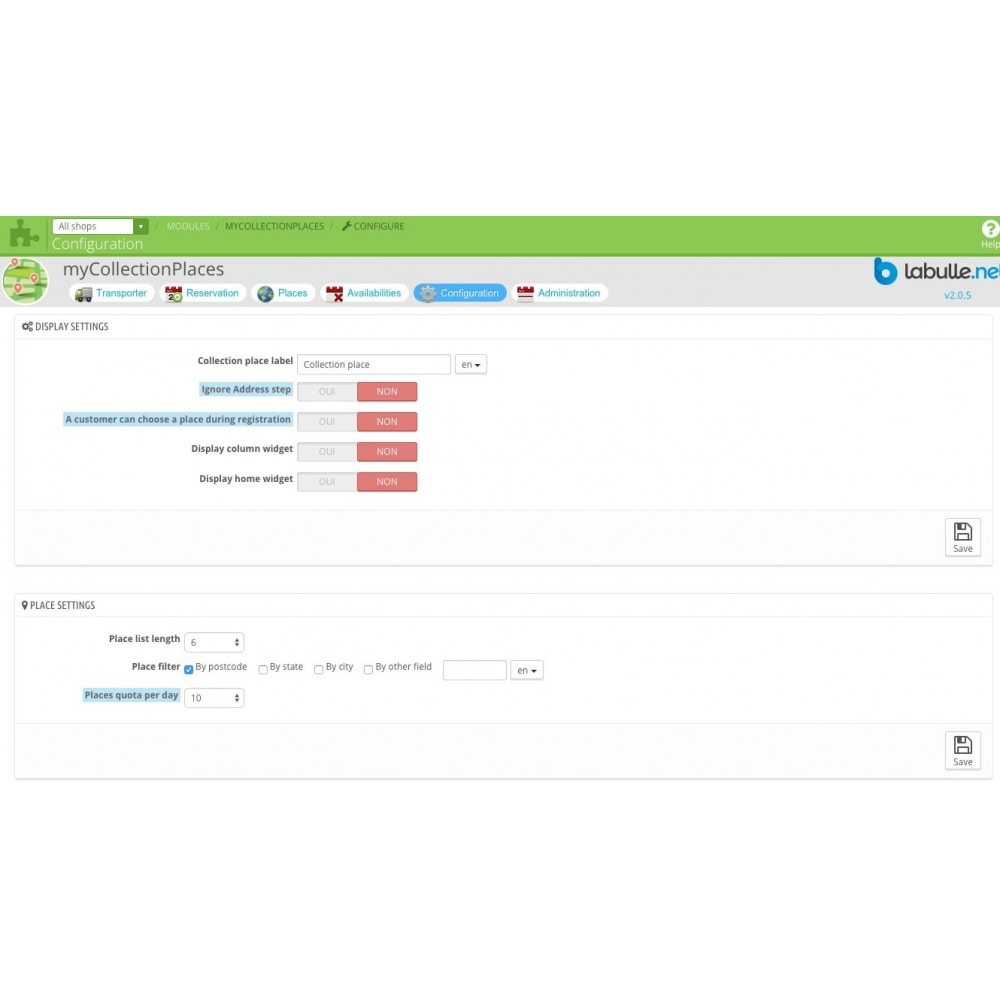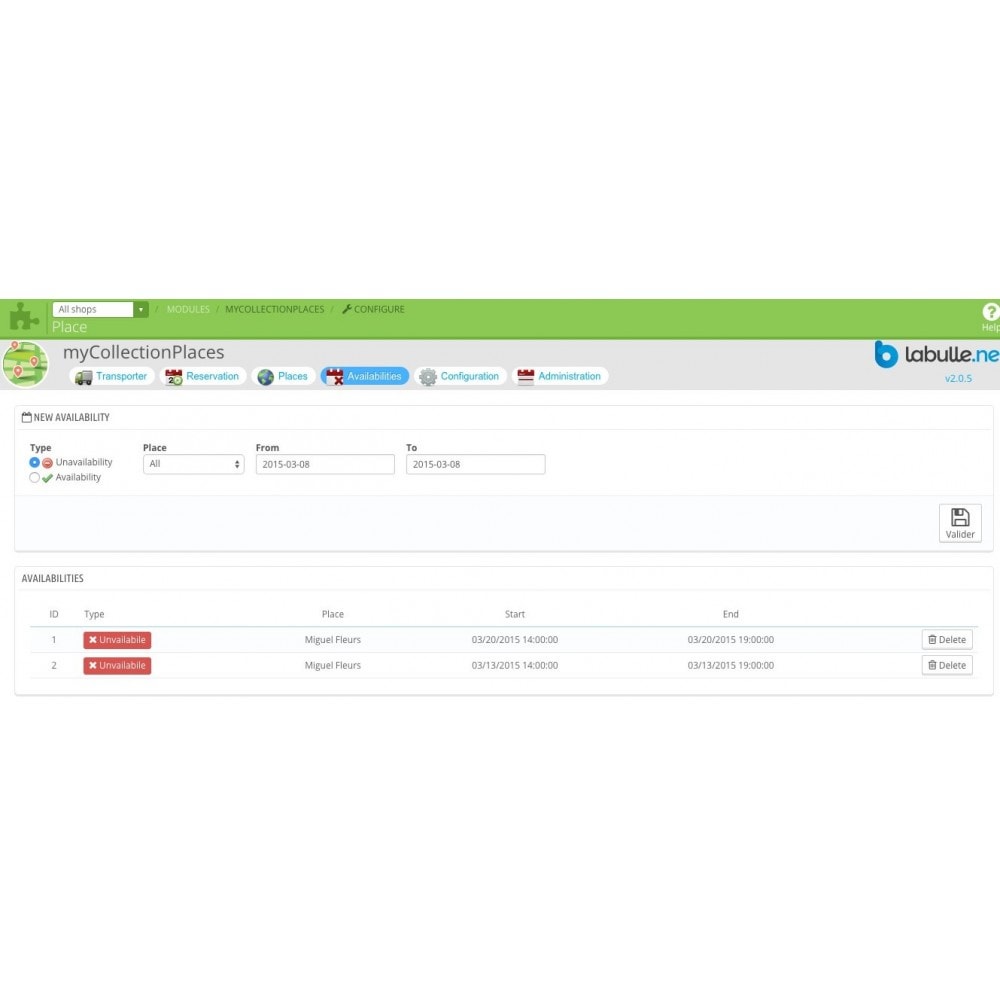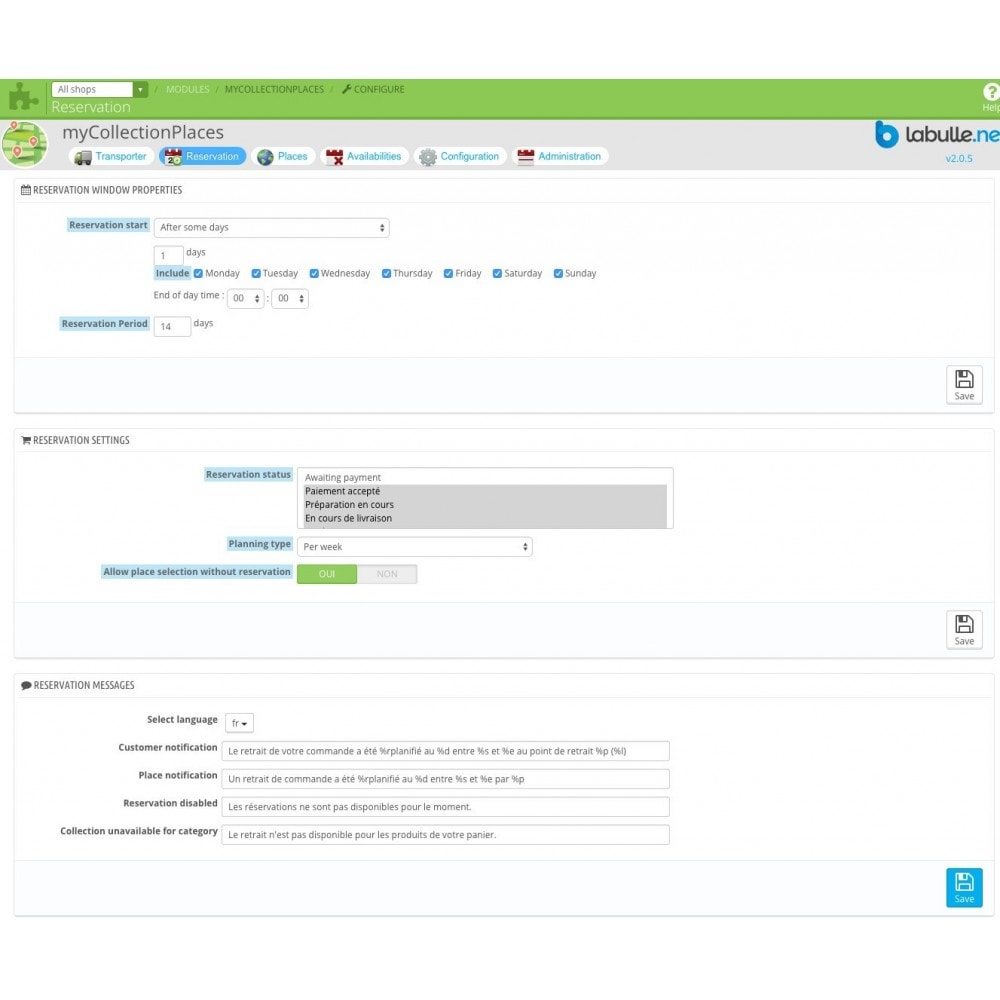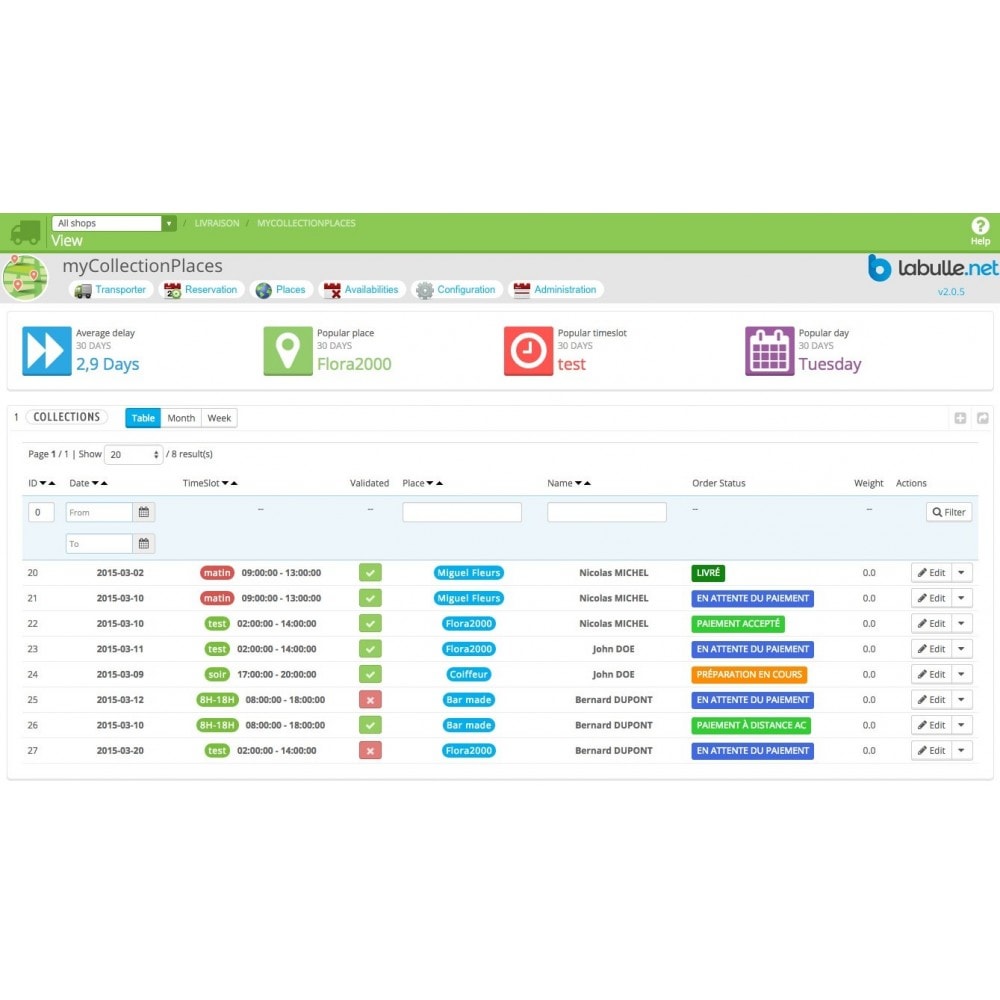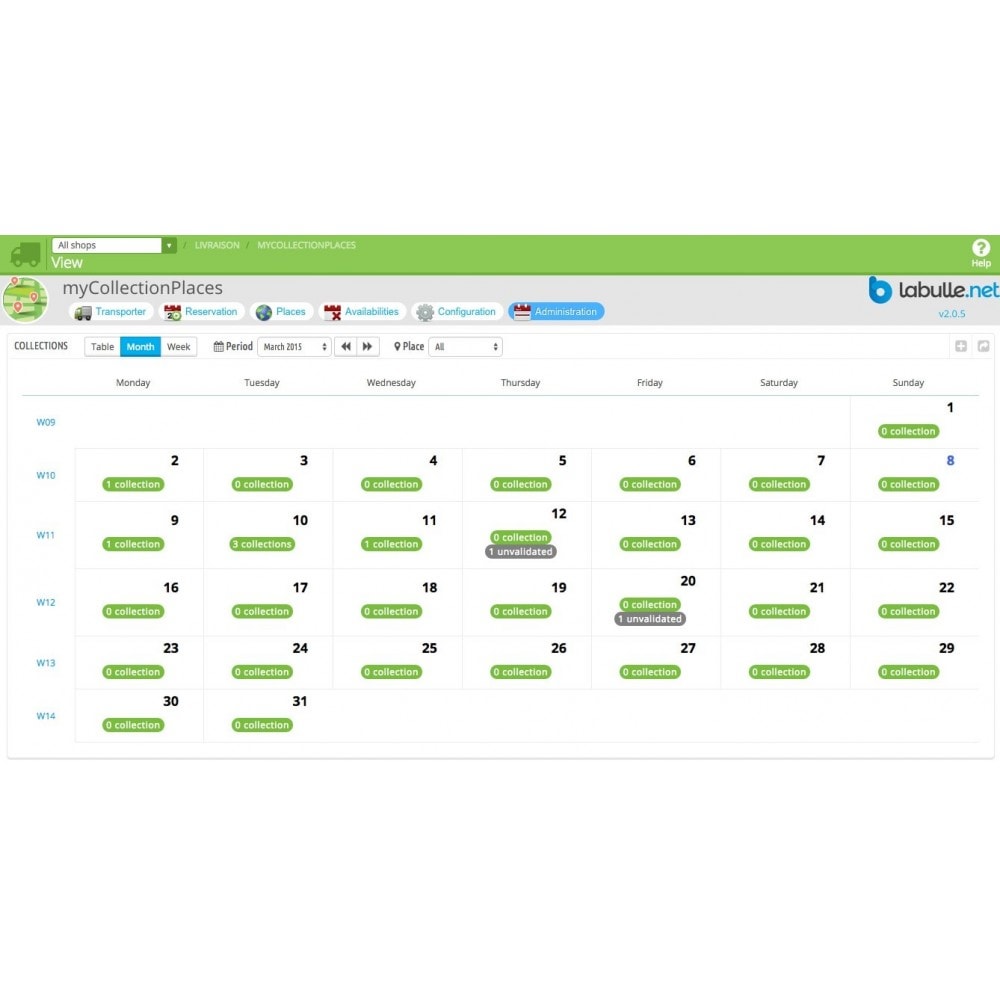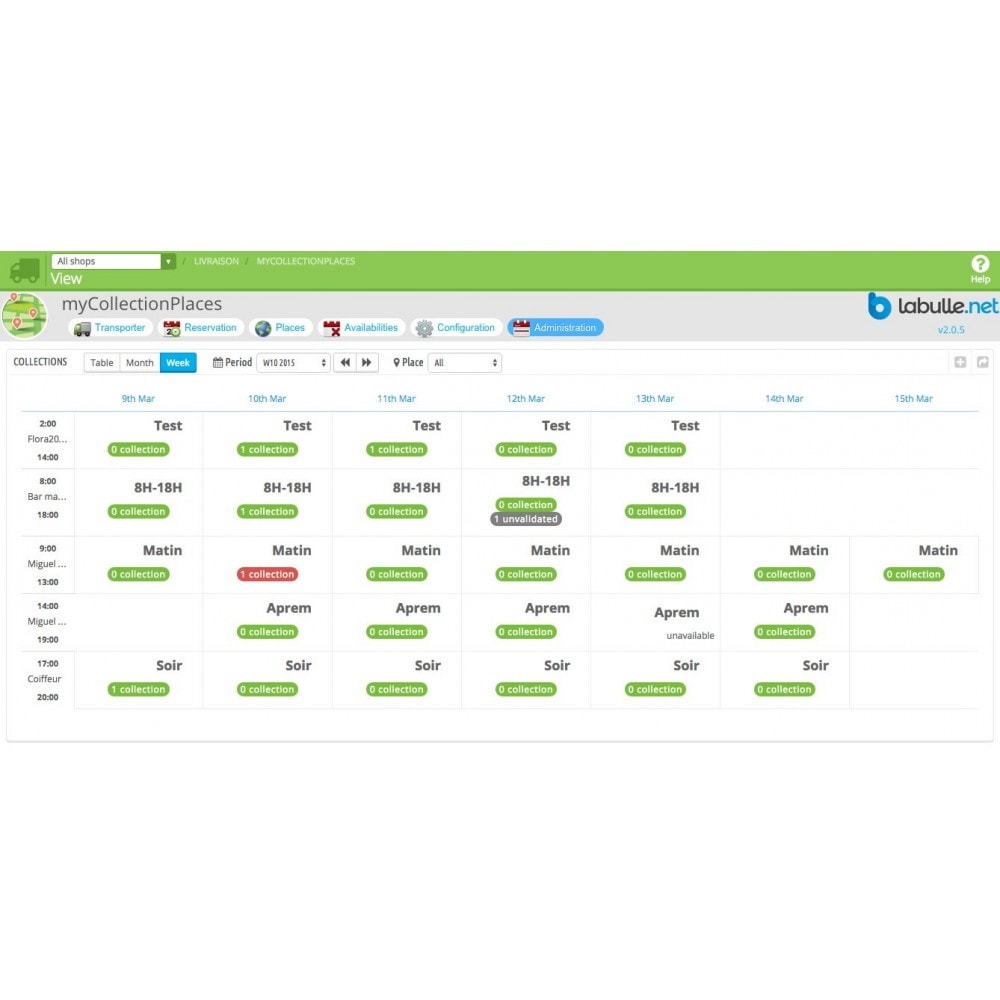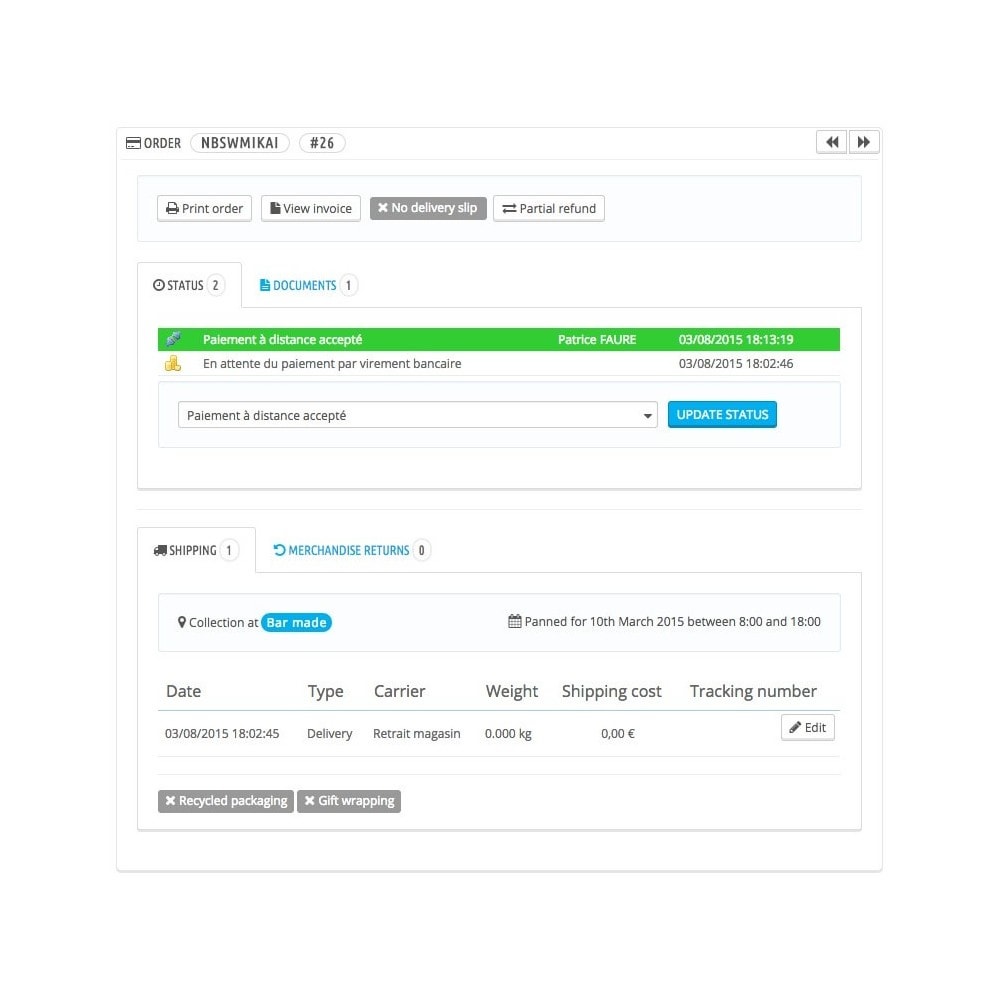 Prezentacja
myCollectionPlaces is a module that let you manage places to collect order : you can setup your own places and collection time slots that the customer can select during an order.
Korzyści wynikające z tego modułu
Konwersje Oferuje sposób dostawy dostosowany do Twoich klientów
Offer a new, more effective, delivery method
Manage opening hours and holiday period of collection places. 
Organize yourself to supply a maximum of collection places
Funkcje
Let your customers choose their nearest collection places and collection time slot
Places that are localized and sorted by their distances form the customer address.
Places are precisely located onto a map with their description and contact information.
It is possible to propose a filtering of places by their postal codes.
After the selection of the place the client chooses a time slot on a planning.
The delivery date and time slot chosen by customer are then confirmed by email with an iCalendar object and visible in order details
Widgets homepage or columns allows the customer to view the place list.
An admin panel list all collections by month week or day
The place and time slot of collection is visible in the order details on the back office.
A notification email can inform the collection places of collections that are affected to them.
The seller can visualize the occupation of its time slots through a calendar by month or week. 
You can filter the display by time slot, by subarea or order status. Multiple shortcuts let you quickly view the order, the delivery or location of the customer.
Collections may be rescheduled, or validated by hand.
Optimize the supply of collection places 
The delivery address for the order is updated with the address of the chosen collection place.
The step of selecting the delivery address on the order tunnel can be skipped.
Collections are validated automatically depending on the order status of the order.
A quota mechanism let you limit collection places depending on reservation already made by customers.
You can also limit the amount of available collections by time slot.
An option let disable one or more carriers when collection places are available.
Allows the customer to know where and when he can recover his order 
Indicate the name and address of the place and specifically choose their locations on a map. You can fill useful information for the client with a rich description, contact information and a picture.
You can define time slots for each place you create. 
Indicate holidays of your collection places to prohibit the reservation during theses periods.
You can restrict the places according to the company or group of customers, or product category.
The schedule proposed to the customer can be viewed by day, week, two weeks or month.
Messages showed to the customers are configurable and also the label 'collection places'.
Wsparcie techniczne oraz aktualizacje
Otrzymasz automatycznie 3 miesiące pomocy technicznej dla tego produktu.
Przez 90 dni po zakupie jesteś uprawniony do pomocy technicznej i funkcjonalnej, a także masz dostęp do aktualizacji dla tego produktu.
Inne
The addon is not responsive but the planning dsiplayed at carrier step will take available width and adapt the width of it cell but not text that is hidden.
Oto co spodoba się Twoim klientom
Allows the customer to choose a place and time slot for delivery during carrier choice
The delivery date and time slot chosen by customer are then confirmed by email (with an iCalendar obect) and visible in order details
Często kupowane w zestawie
Community developer Opracował

PrestaShop v1.6.0.4 - v1.6.1.15 Kompatybilność PrestaShop

Línea Gráfica Opracował

PrestaShop v1.5.0.0 - v1.6.1.15 Kompatybilność PrestaShop

Business Tech Opracował

PrestaShop v1.5.3.1 - v1.7.2.1 Kompatybilność PrestaShop
Co nowego w wersji 2.1.1(2016-03-24)
Added New visual interface to manage timeslots
Added Generating collection ref as tracking number
Added New feature to track package using qrcode
Added Collecction Place and time slot on delivery slip
Added Home widget search address bar
Enhanced integrated help doc
Corrected responsive
Improved Timeslots can overlap on disabled days
O wydawcy
2010-01-13

Sprzedawca PrestaShop

France

Kraj region
Masz pytanie?
Potrzebujesz pomocy?
Wydawca odpowie Ci w ciągu