moduł Official MailPlus connector
Opracował
Internetbureau gett
Partner
Agency
PrestaShop
1.5.0.0 - 1.6.1.17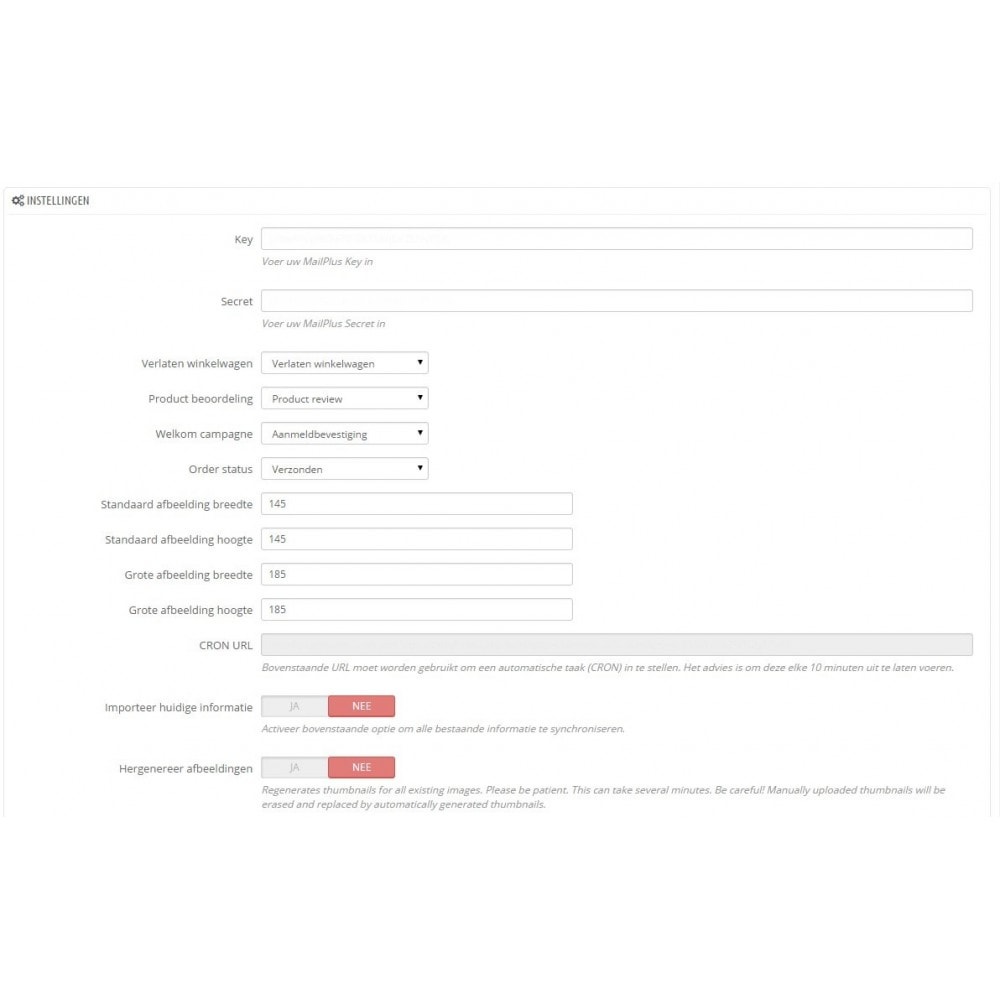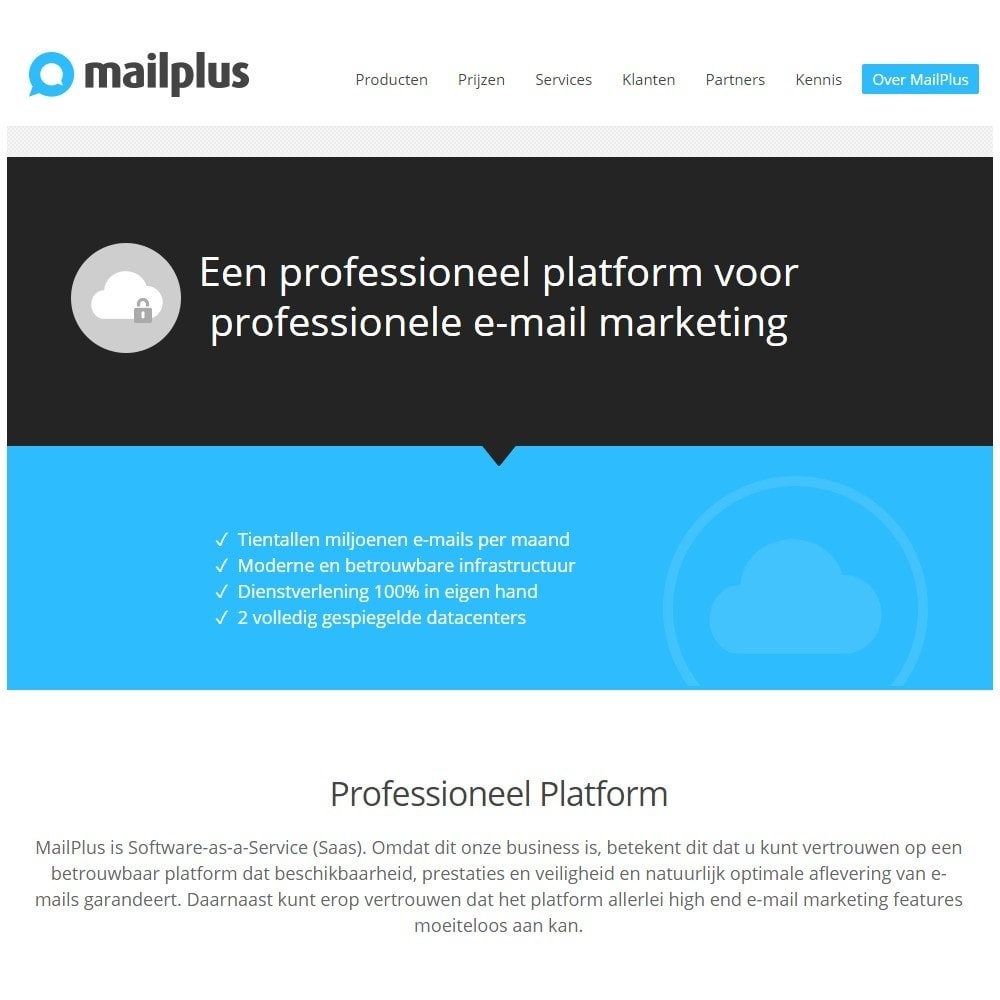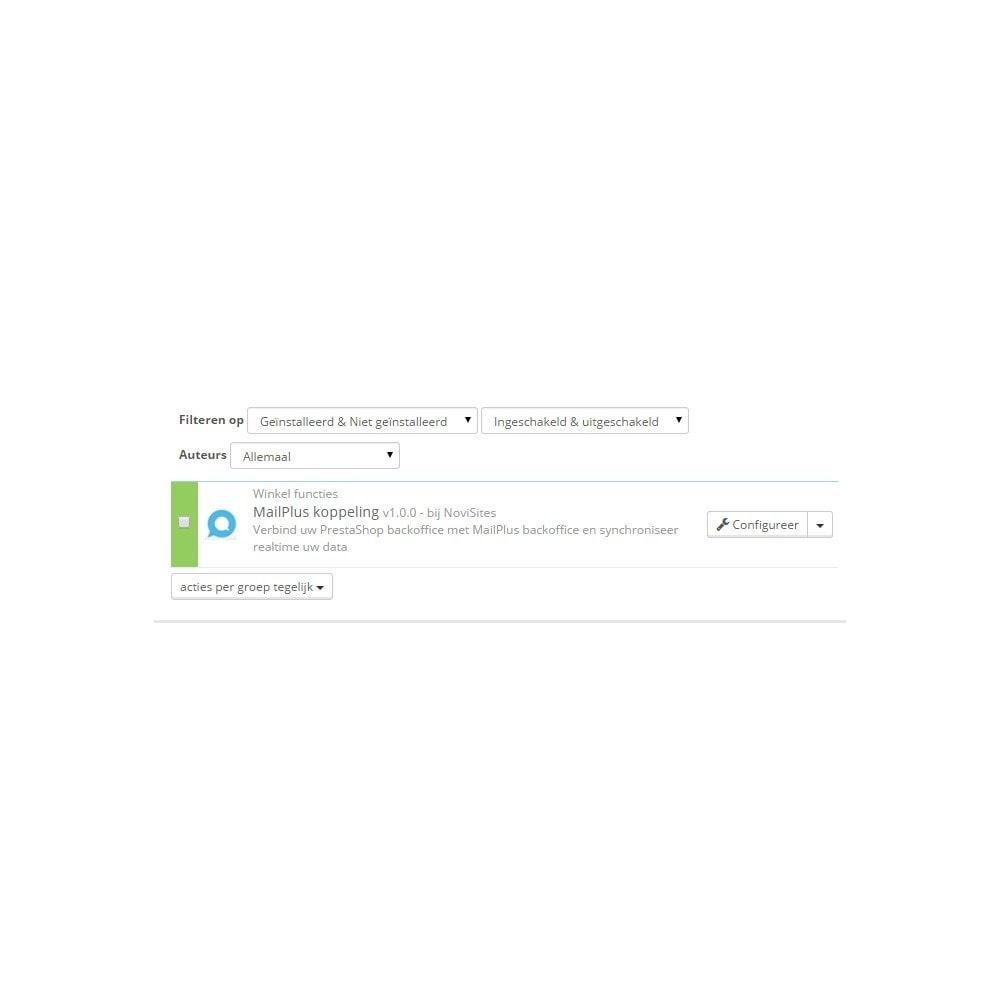 Prezentacja
The official MailPlus connector for PrestaShop enables you to optimize your email marketing activities. Sending out product newsletters, triggering and sending automatic personal email campaigns and measuring conversion results of your mailings.
Korzyści wynikające z tego modułu
Relacje z klientami Umożliwia uzyskanie lojalności klientów
With PrestaShop and the MailPlus connector you are able to:
• Compose and send a newsletter within 10 minutes;
• Automatically synchronize contact, product and orderdata between your shop and MailPlus so that the right data can be used in MailPlus;
• Use clear reports (including conversions) giving you insights in the performance of your newsletters and campaigns;
• Use automatic email campaigns, including 5 standard campaigns:
o Abondoned shopping card campaign
o Product review campaign
o Win back campaign
o Welcome campaign
o Birthday campaign
Funkcje
The connector that NoviSites has developed in cooperation with MailPlus ensures you that:
• Contact information automatically is beeing synchronised to your MailPlus account. This means you'll be able to send your newsletters and mailings to an up-to-date database at any given time;
• Bounces and deregistrations (unsubscribers) are processed in your database immediately after every mailing. Both in your MailPlus account as in your webshop database;
• All products (including all available information and an image) are synchronised to MailPlus. That's how you easily add products to your newsletter;
• All orders (including order history) are  synchronised to MailPlus. This enables you to segment your target groups based on what they've been ordering from your shop or to segment on the amount that your target groups have spend in your shop. You can send personalised offers to these segments;
• Campaigns can be triggered from PrestaShop and from MailPlus. Newsletter and campaign results, including conversions are clarified within MailPlus.
Często kupowane w zestawie
Internetbureau gett Opracował

PrestaShop v1.5.0.0 - v1.6.1.17 Kompatybilność PrestaShop

Community developer Opracował

PrestaShop v1.3.0.1 - v1.7.1.2 Kompatybilność PrestaShop

Business Tech Opracował

PrestaShop v1.5.3.1 - v1.7.2.4 Kompatybilność PrestaShop
Oto co spodoba się Twoim klientom
What your customers will appreciate:
The fact that your offers from your shop are based on previous transaction, preferences and interests and that they are directly placed in the inbox of your customers, will drive sales and will give your customers the feeling that you're really engaging with them.

General information about MailPlus (eCom)
MailPlus is a fast growing ESP that develops and offers the easiest software for professional email marketing. MailPlus is the most used email marketing software in the midmarket and top segment in the Benelux: More than 2,700 companies use MailPlus for their email marketing activities.
Sinds 2004 MailPlus has been developing MailPlus Marcom for marketing and communication professionals. One of the succesful other products within the portfolio is MailPlus eCom, a platform that is especially usefull to online shops and retailers with a ecommerce strategy.
Rekomendacja
The MailPlus module is compatible with the Product comments module developed by PrestaShop.
Whenever a customer decides the leave a comment on a product with the 'Product comments' module; the outcome will automatically be synced to MailPlus (Optional). 
Wsparcie techniczne oraz aktualizacje
Otrzymasz automatycznie 3 miesiące pomocy technicznej dla tego produktu.
Przez 90 dni po zakupie jesteś uprawniony do pomocy technicznej i funkcjonalnej, a także masz dostęp do aktualizacji dla tego produktu.
Instalacja
The MailPlus module is fully Plug'n'Play and easy to use.
The configuration of the module exists of filling in your MailPlus API Key and Secret (which can both be found in your MailPlus backoffice).
After filling in these authentication details the connection with the MailPlus service will be active immediatly.
Co nowego w wersji 1.1.0(2016-10-19)
[+] Added queue to load the balance on shop server and MailPlus API
[+] Added upgrade script for new queue table
[+] Added new controller for queue cron
[*] Changed version number for upgrading purpose
O wydawcy, Internetbureau gett
As PrestaShop partner from the Netherlands; we make it - with a team of Prestashop professionals - our everyday goal to improve the e-commerce market and provide the PrestaShop community with convenient tools for better sales and maintaining your webshop.
2012-06-07

Sprzedawca PrestaShop

Netherlands

Kraj region
Masz pytanie?
Potrzebujesz pomocy?
Wydawca odpowie Ci w ciągu