moduł Test Site Creator
Opracował
Community developer
PrestaShop
1.4.0.1 - 1.6.1.17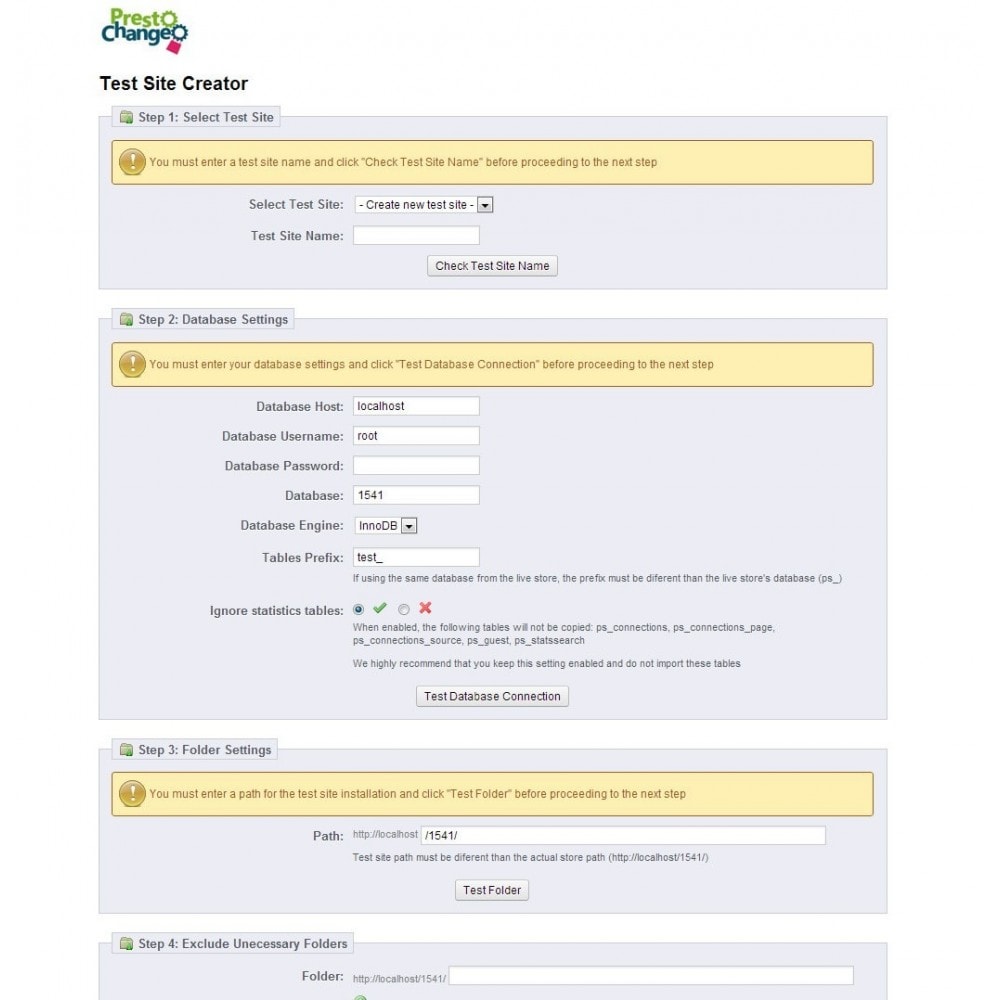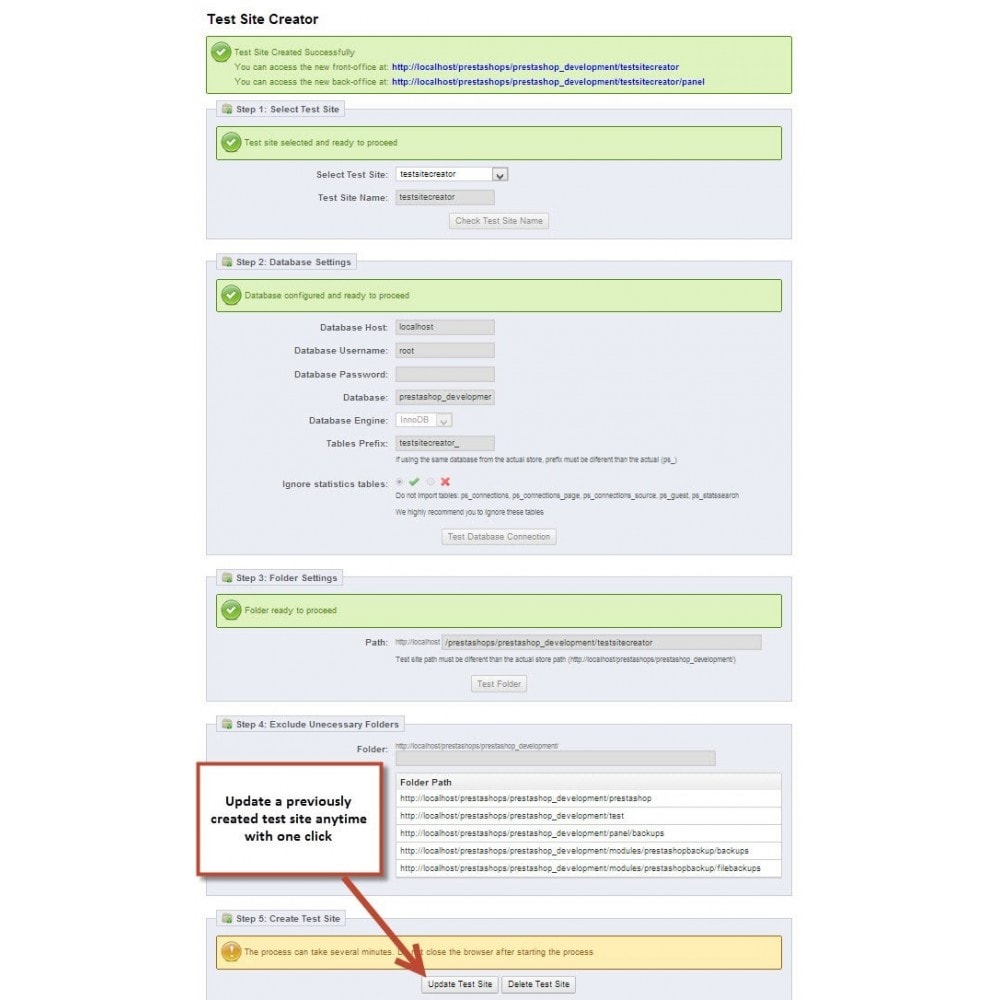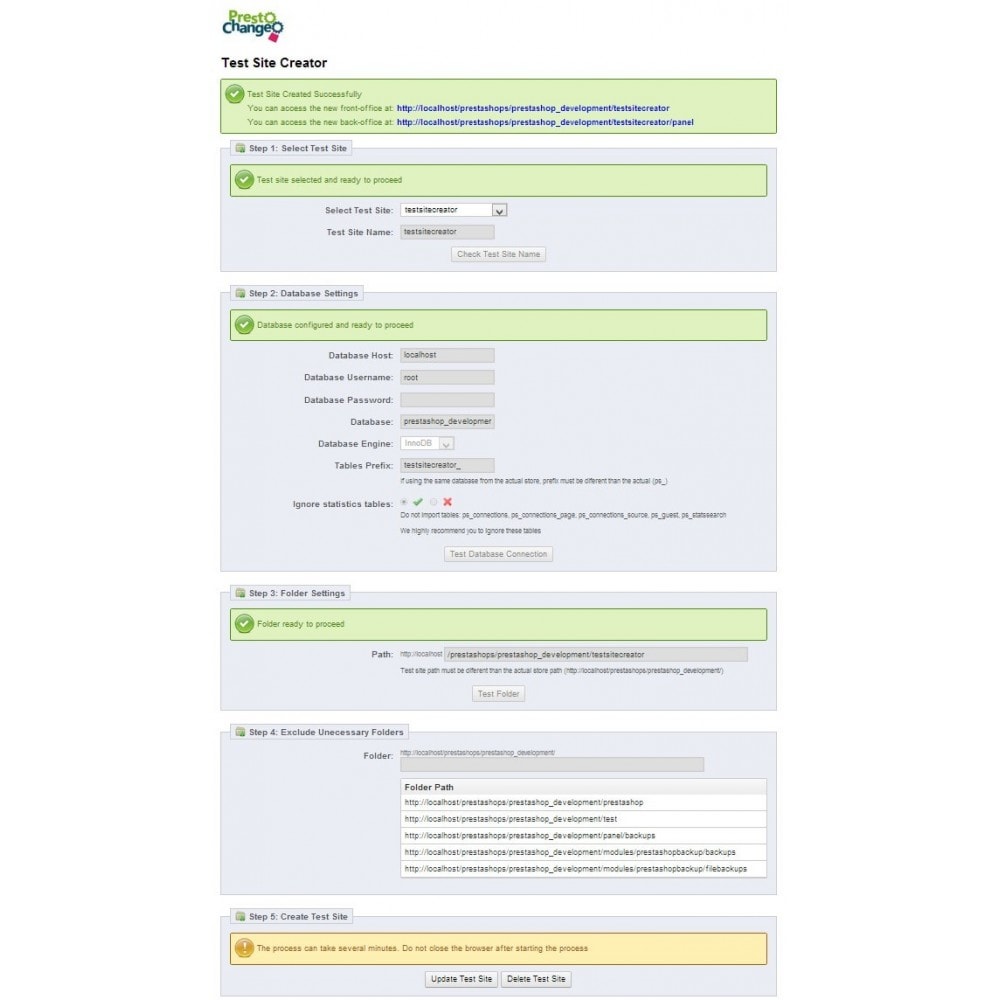 Prezentacja
Create a complete test site based on your live store with just a few clicks, and update the test site from the module's configuration page anytime. And create as many test / development sites as you need!
Korzyści wynikające z tego modułu
Produktywność Pozwala zaoszczędzić czas
Website changes, upgrades and modifications should always be made in a test or development environment first before being made to the live store, and this module makes that easier than ever before for your PrestaShop site.

Need to upgrade a module? Do it in a test site first! Need to see how that new image will look on your homepage? Upload it to your test site first! Need a snapshot of your website/databse while your live site stays open for business? Make an identical copy anytime with this module!
Funkcje
Create an identical copy of your live website to use for testing, development and updates.

Update a test site you've already created anytime to easily keep files and database tables up to date.

Choose where on your server to create the test sites.

Option to create a test site from a test site

Select folders / directories to exclude when creating or updating a test site.

Easy to install and use via the simple configuration page.
Często kupowane w zestawie
Community developer Opracował

PrestaShop v1.4.0.1 - v1.6.1.17 Kompatybilność PrestaShop

Ether Création Opracował

PrestaShop v1.4.0.1 - v1.7.2.4 Kompatybilność PrestaShop

Community developer Opracował

PrestaShop v1.5.0.0 - v1.6.1.17 Kompatybilność PrestaShop
Oto co spodoba się Twoim klientom
Reduce downtime and website issues by always testing new features or updates on a test site before making the changes on your live site. Your customers will thank you.
Rekomendacja
*Creating a test site can take several minutes, make sure your server's PHP Timeout settings can be increased if needed (actual time may differ between websites and servers).

*Compatible with self-hosted shops only, not compatible with PrestaShop Cloud.
Wsparcie techniczne oraz aktualizacje
Otrzymasz automatycznie 3 miesiące pomocy technicznej dla tego produktu.
Przez 90 dni po zakupie jesteś uprawniony do pomocy technicznej i funkcjonalnej, a także masz dostęp do aktualizacji dla tego produktu.
Instalacja
Installation is easy; upload via your back office Modules page or directly to your server via FTP. No code changes are needed.

Co nowego w wersji 1.1.1(2015-05-04)
v1.1.1 - Improved test site update process.
v1.1.1 - Fixed database connection issues when test site is using a different database name
v1.1.1 - Decreased Database insert batch size.
v1.1.1 - Automatically set the test site to maintenance mode.
v1.1.1 - Added option to create a test site from a test site.
O wydawcy
2014-07-07

Sprzedawca PrestaShop

United States

Kraj region
Masz pytanie?
Potrzebujesz pomocy?
Wydawca odpowie Ci w ciągu