moduł Super Top Horizontal Navigation - Zero Mega Menu
Opracował
Community developer
(9 głosy)
Na średnią ocenę składają się wszystkie głosy otrzymane przez ostatnie pół roku.
+100
downloads!
PrestaShop
1.6.0.4 - 1.6.1.15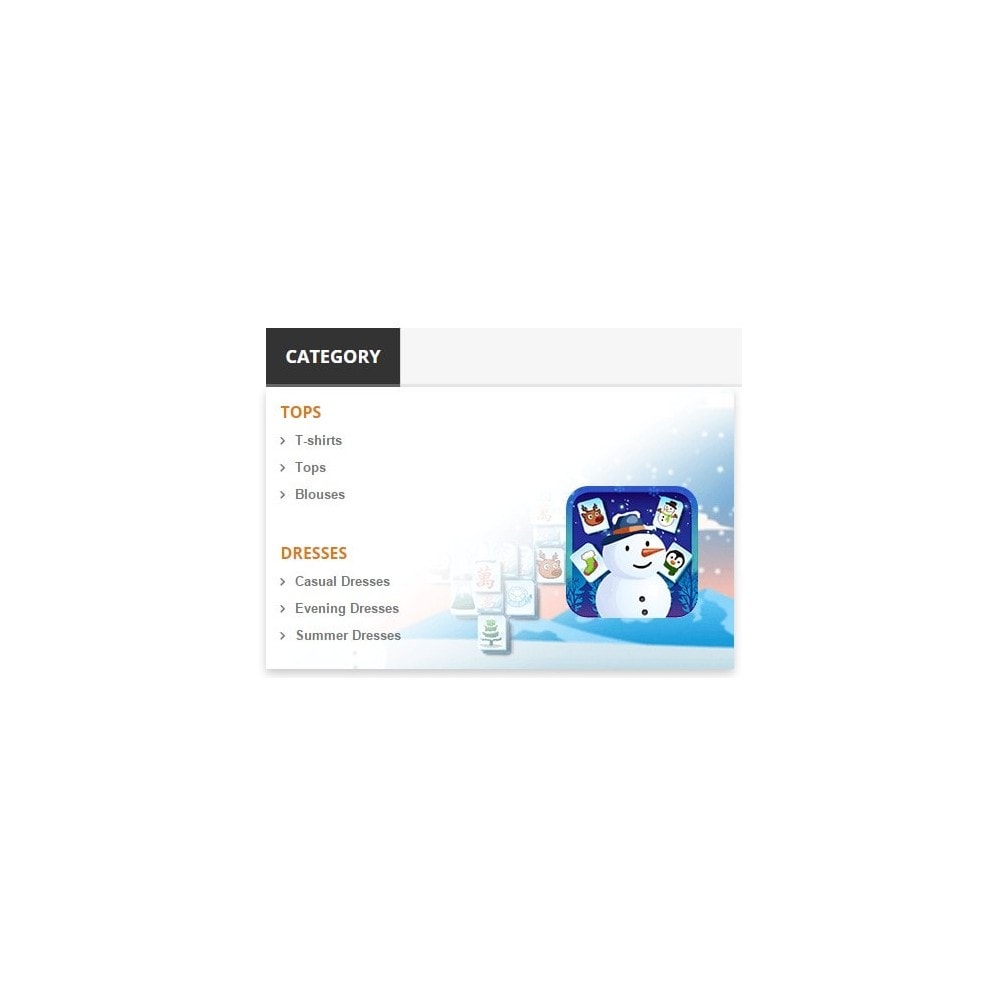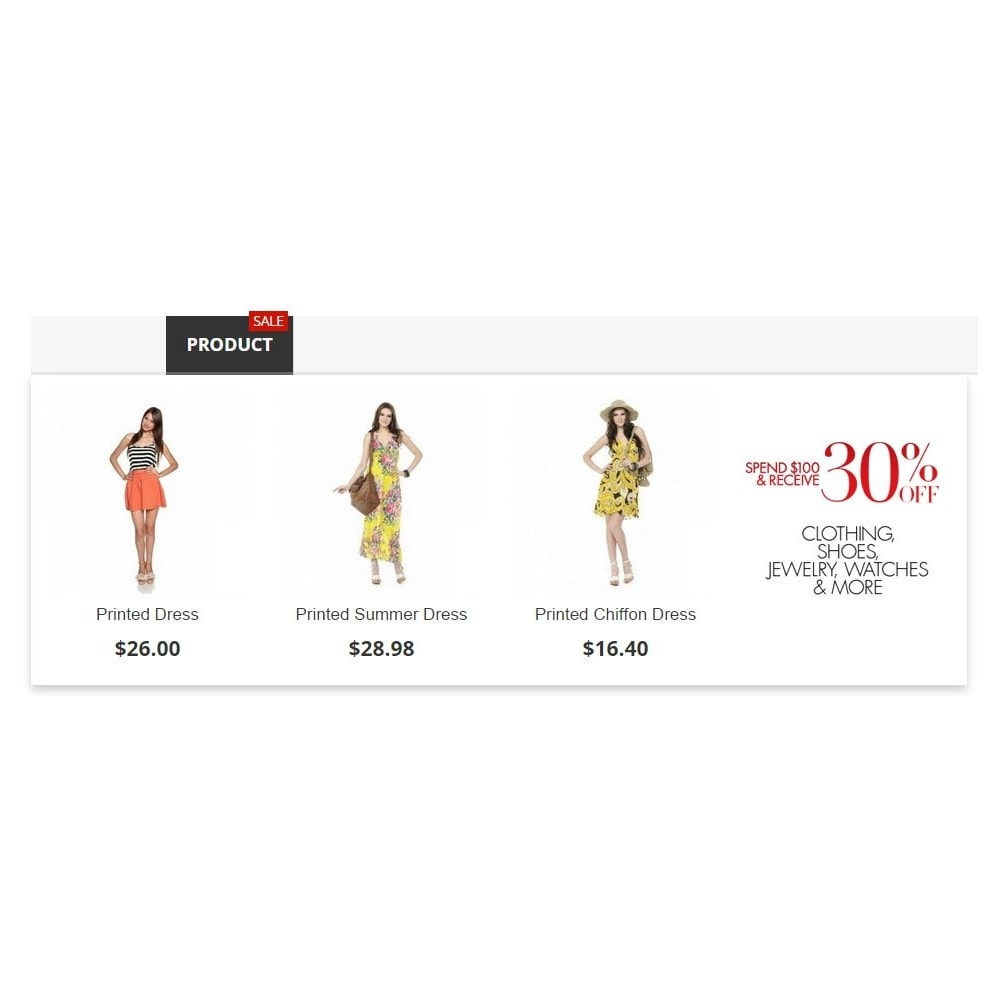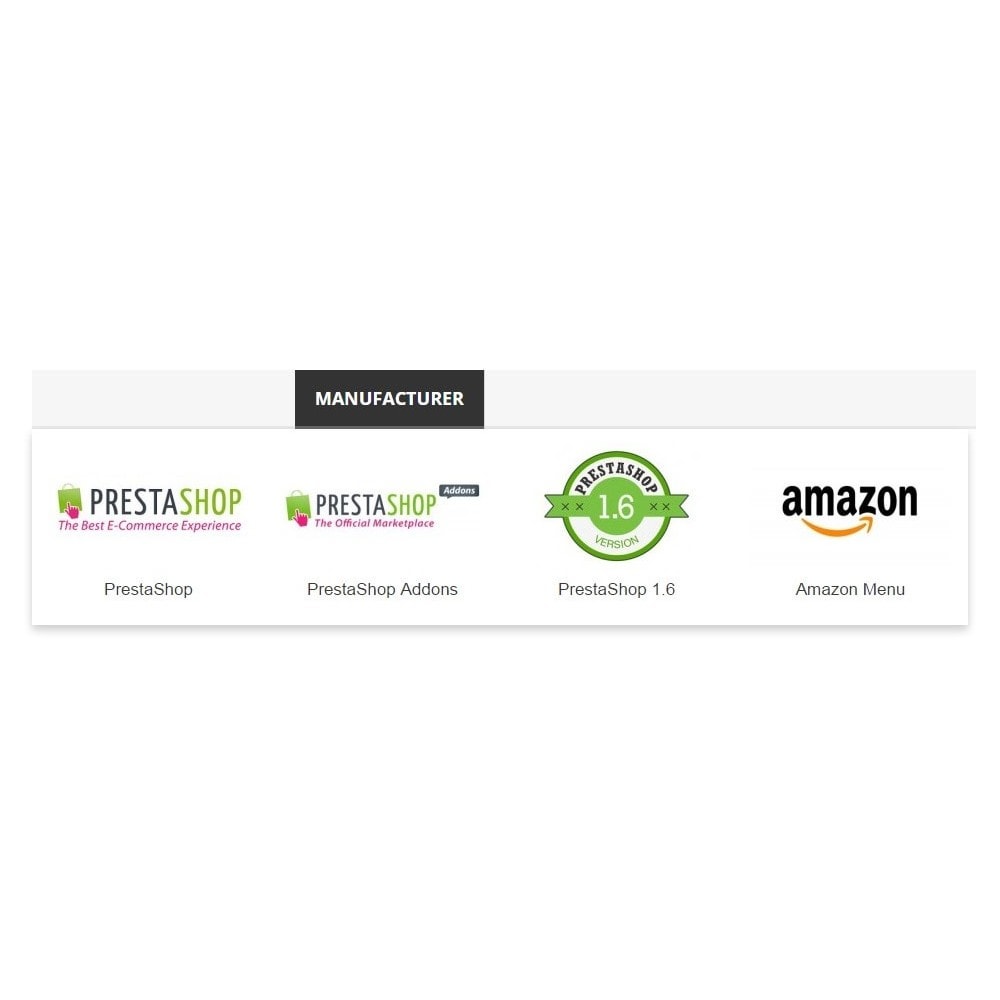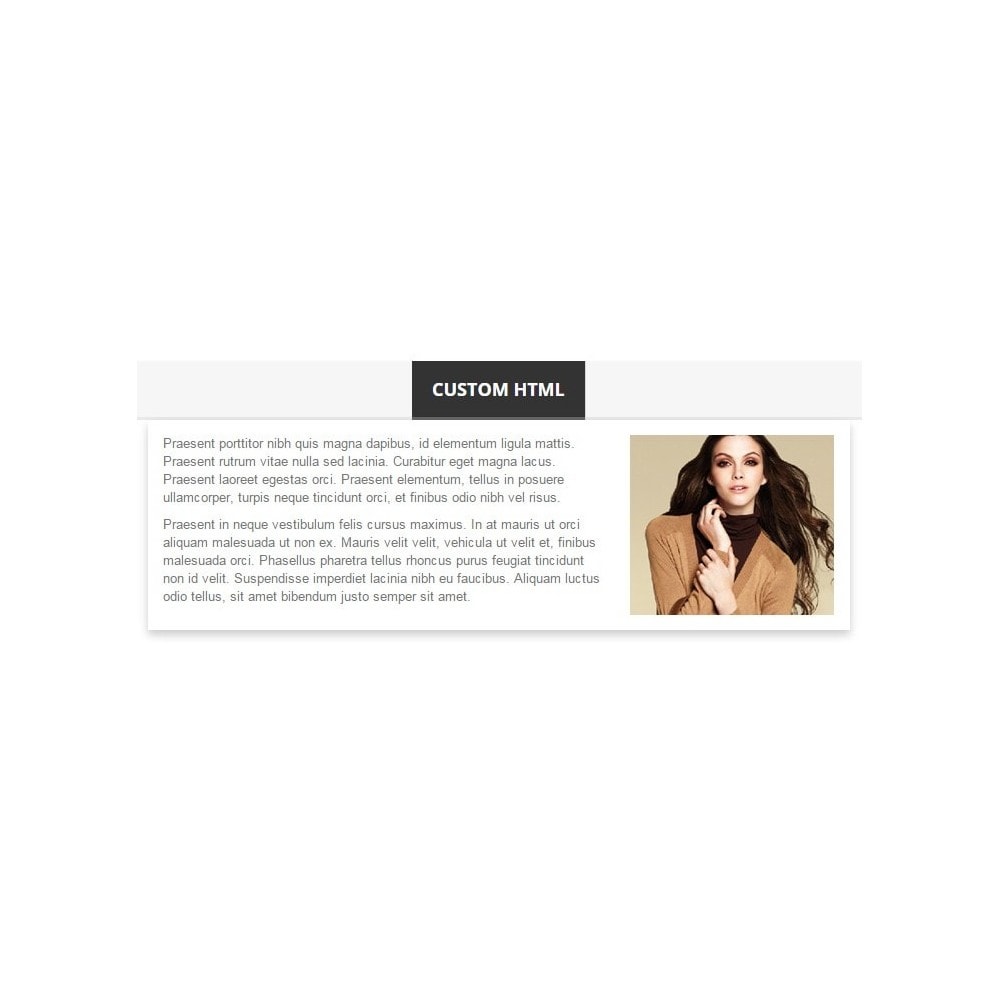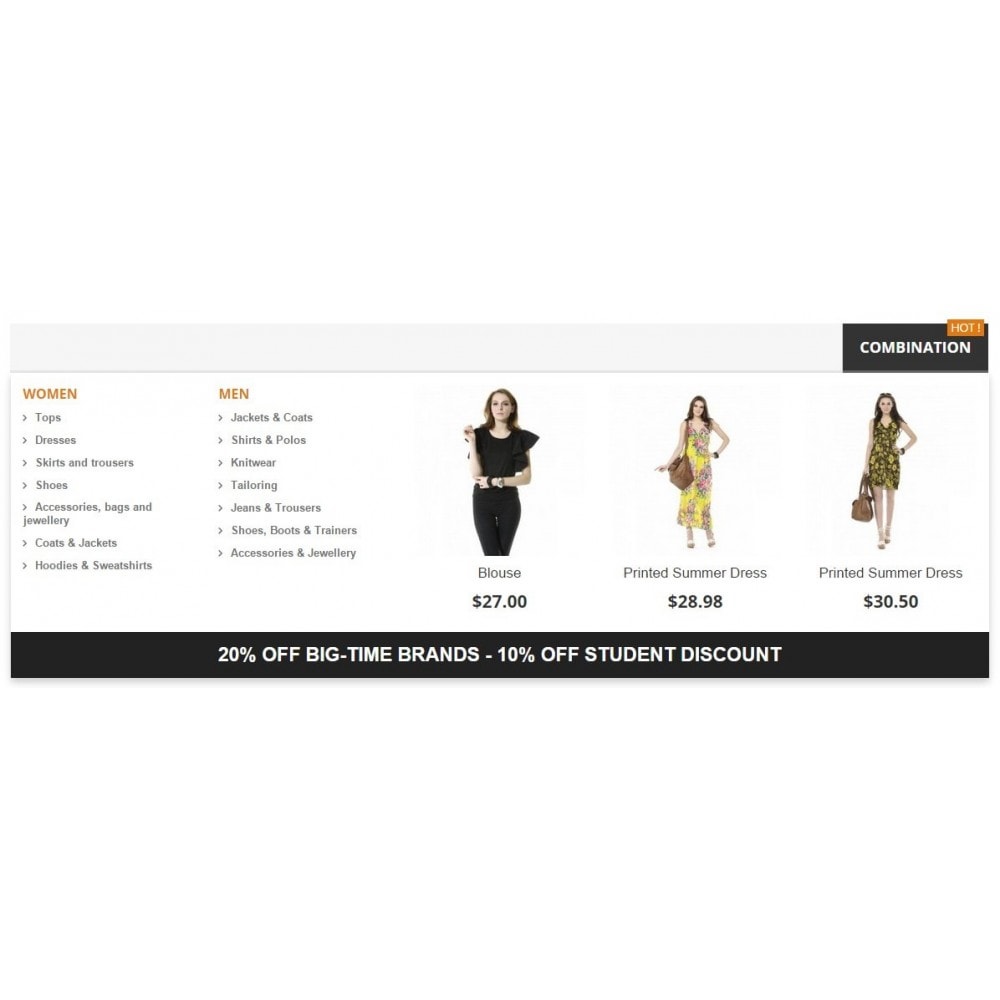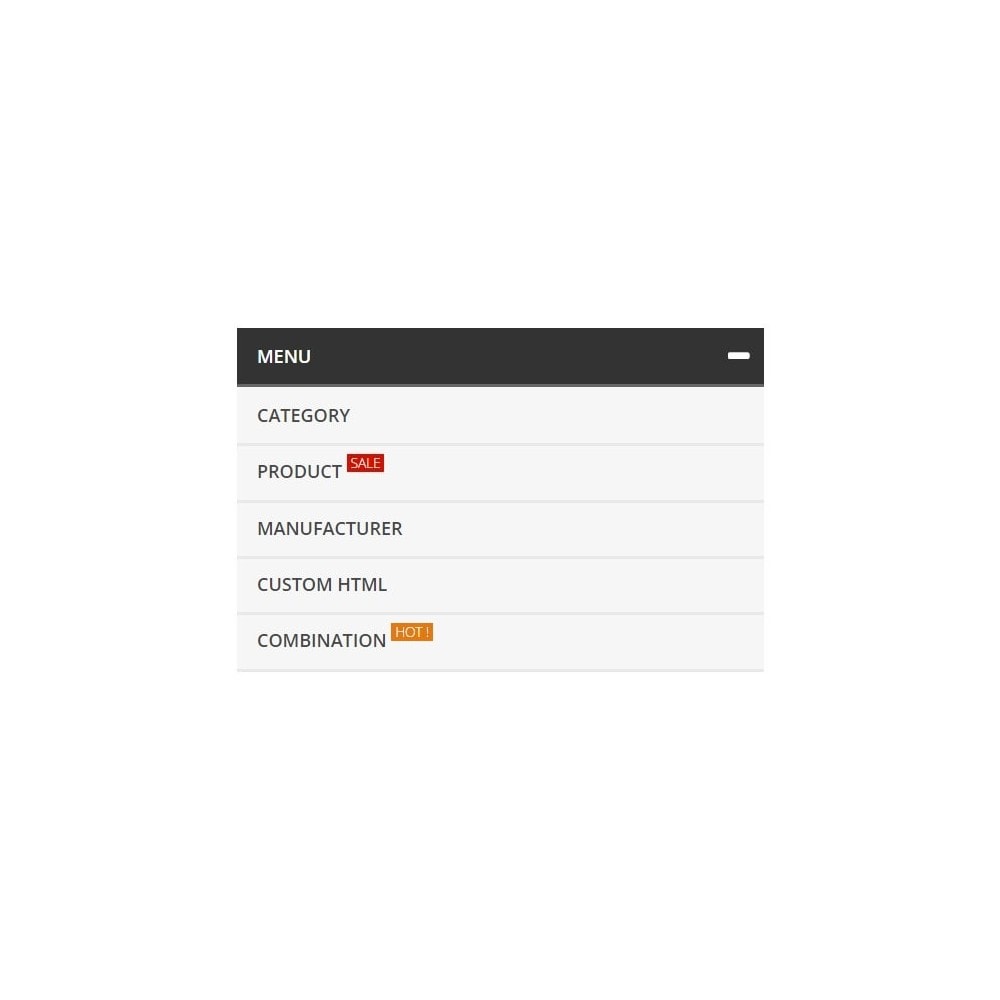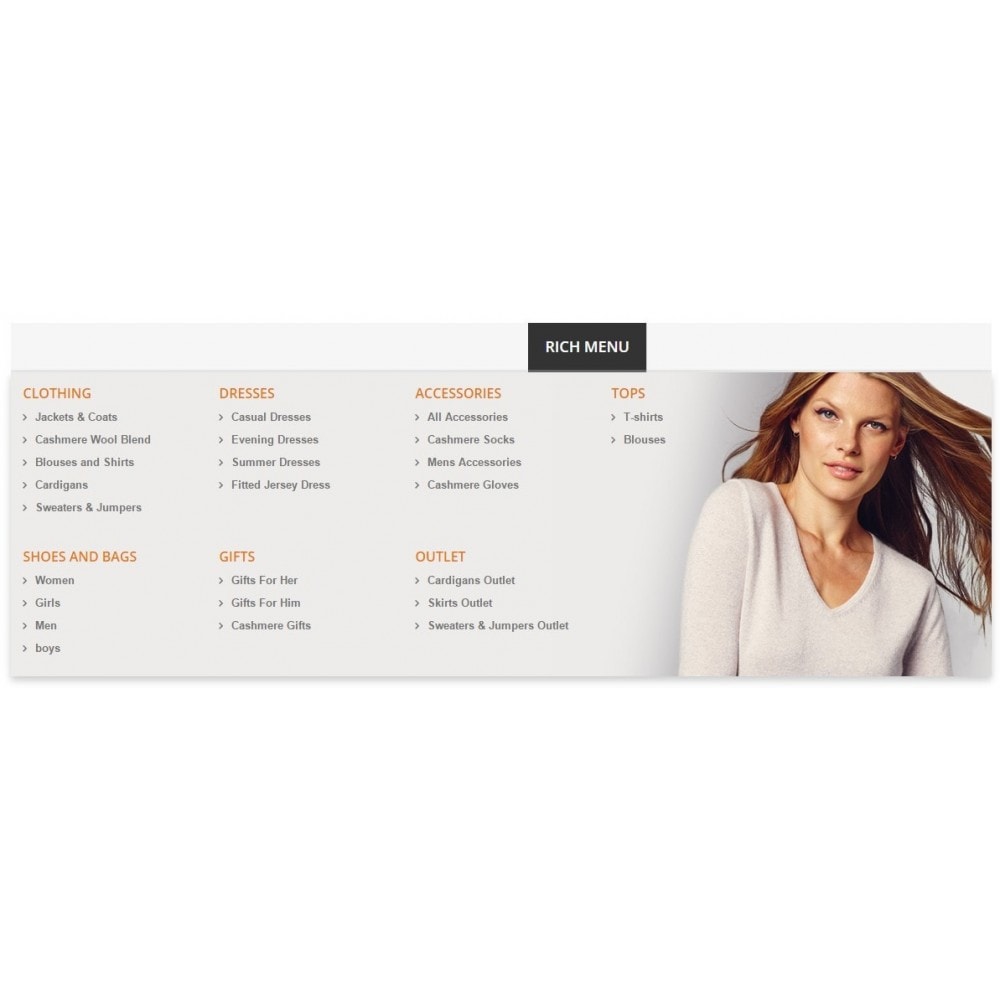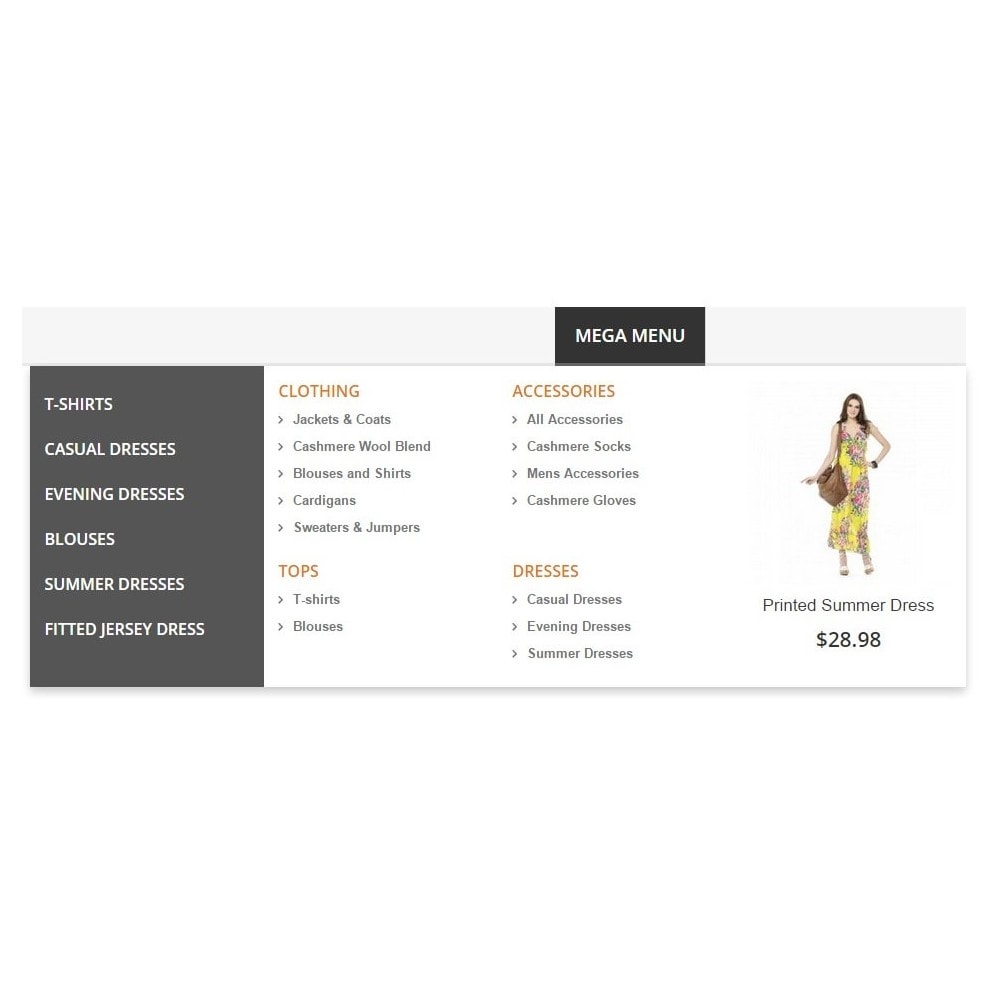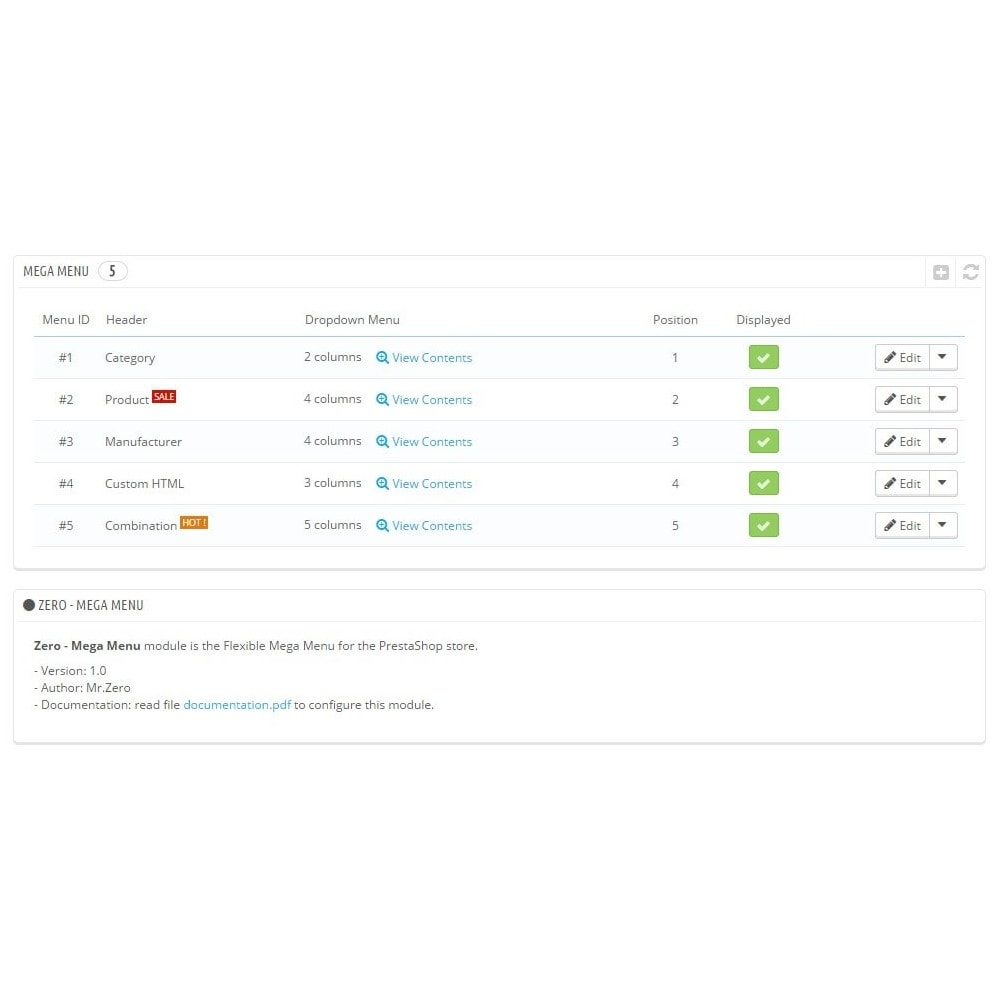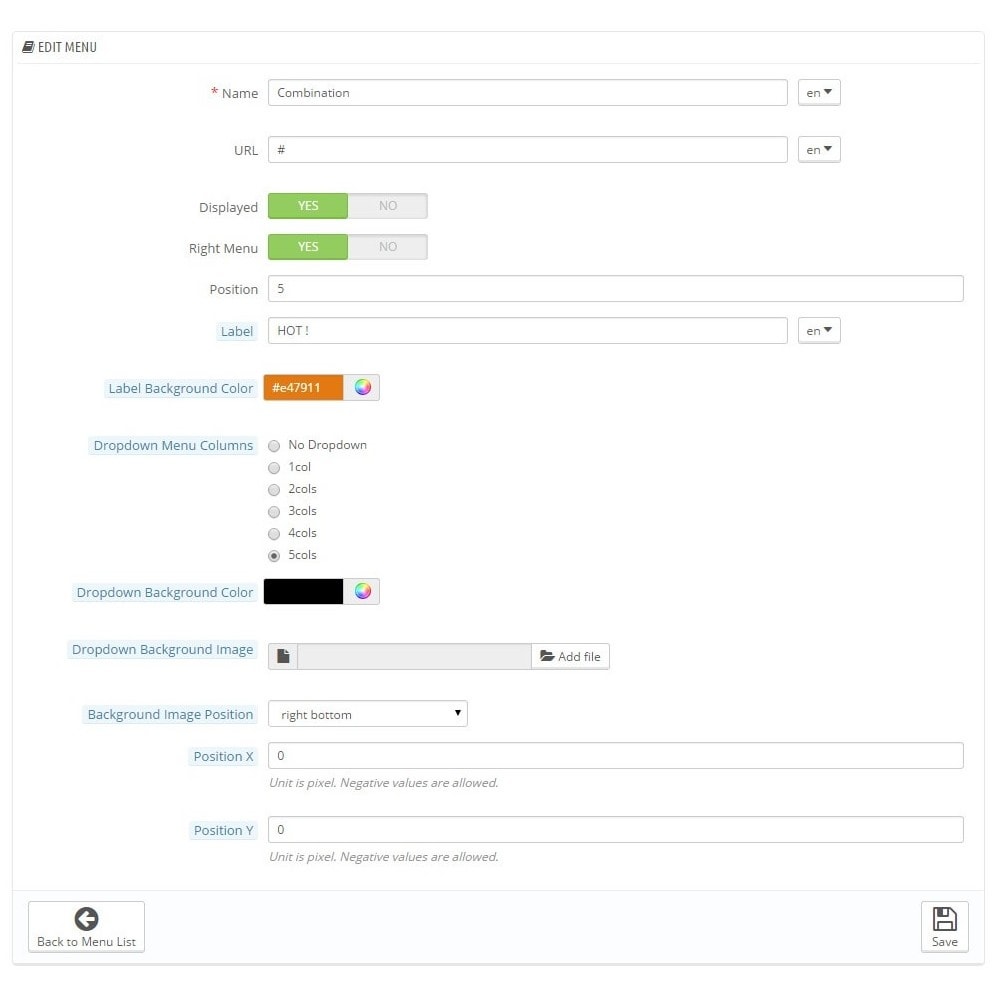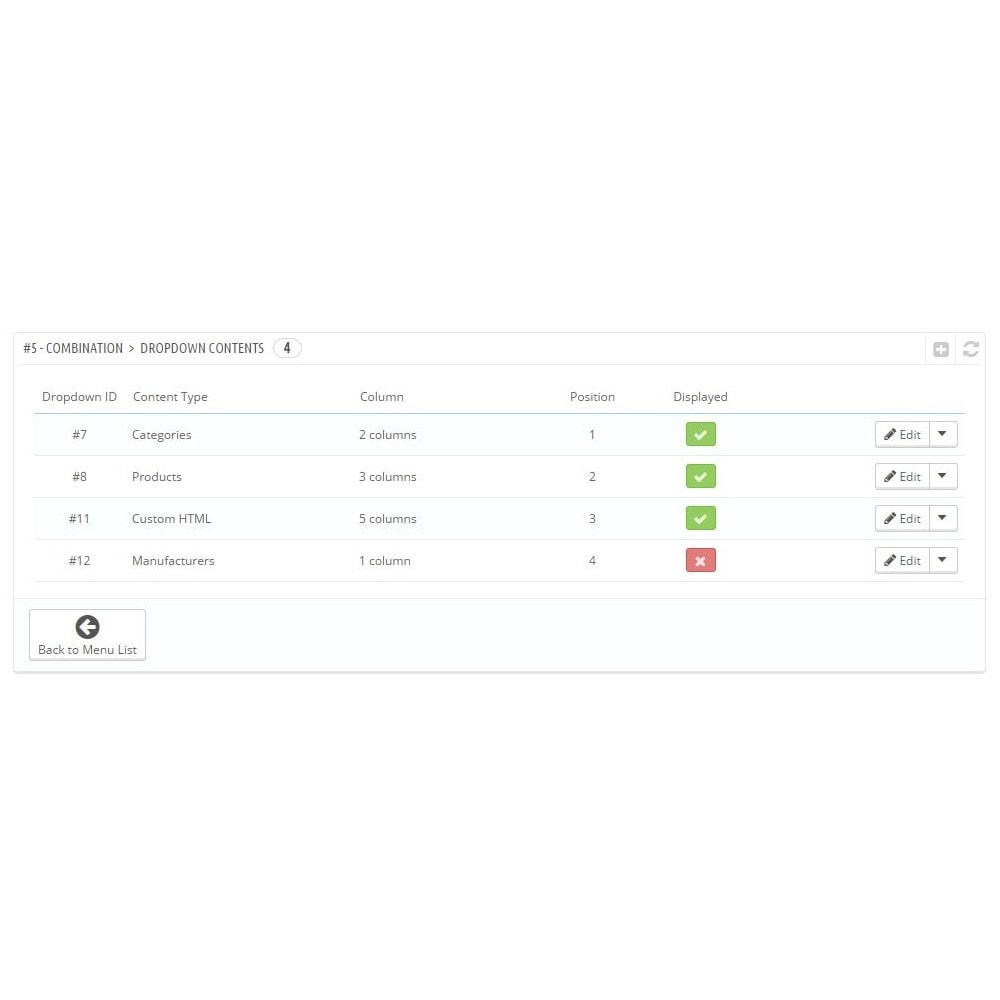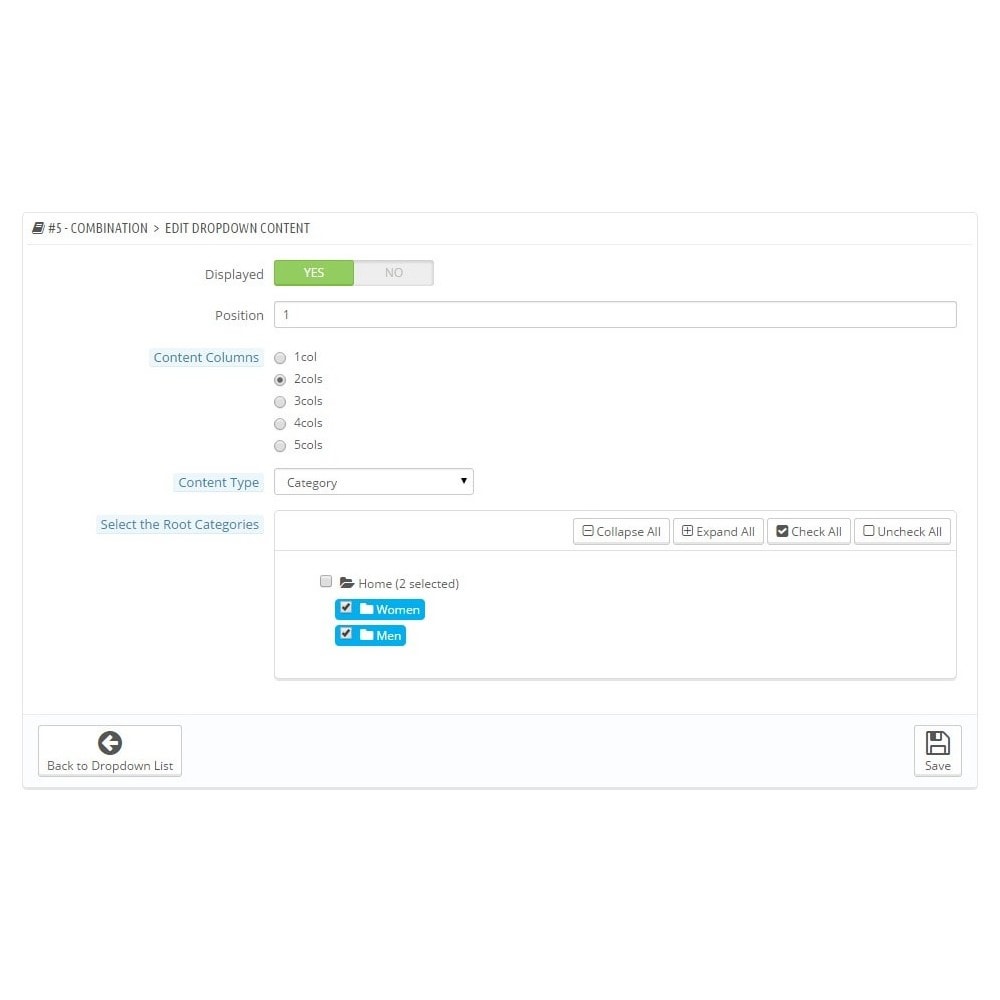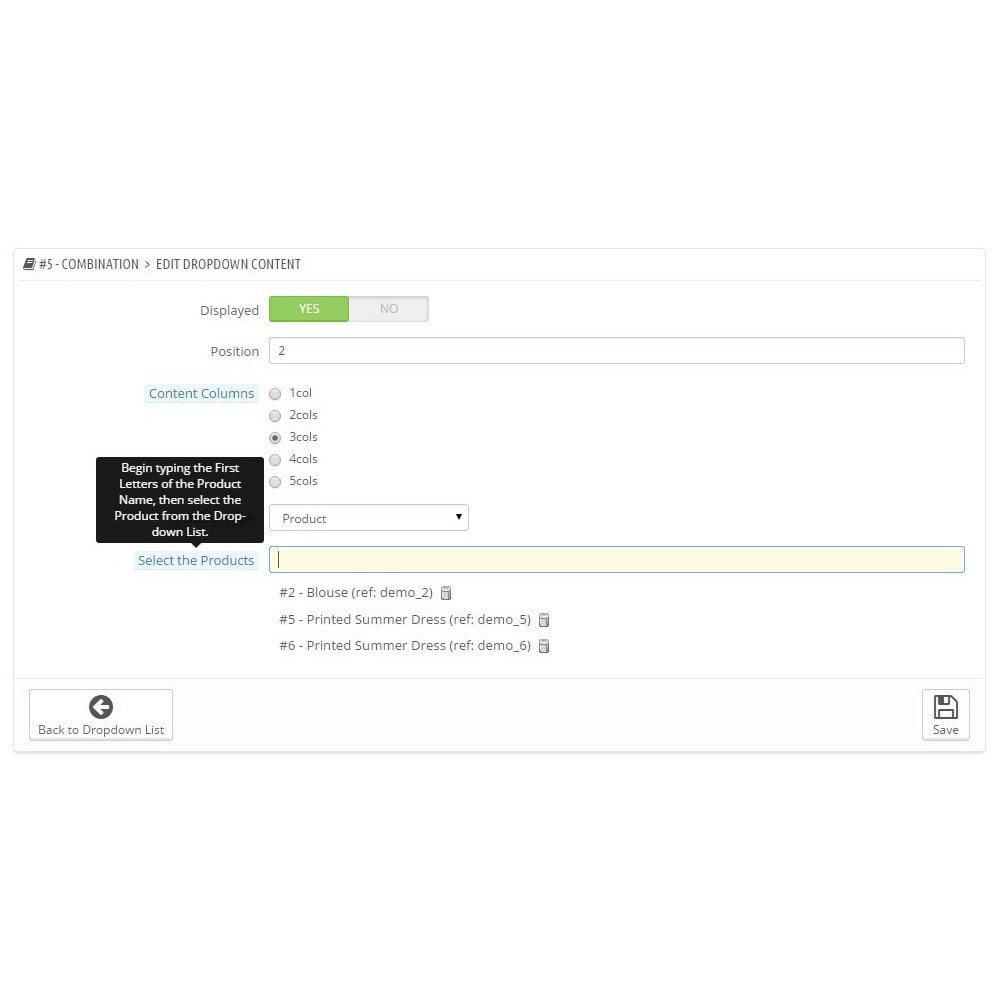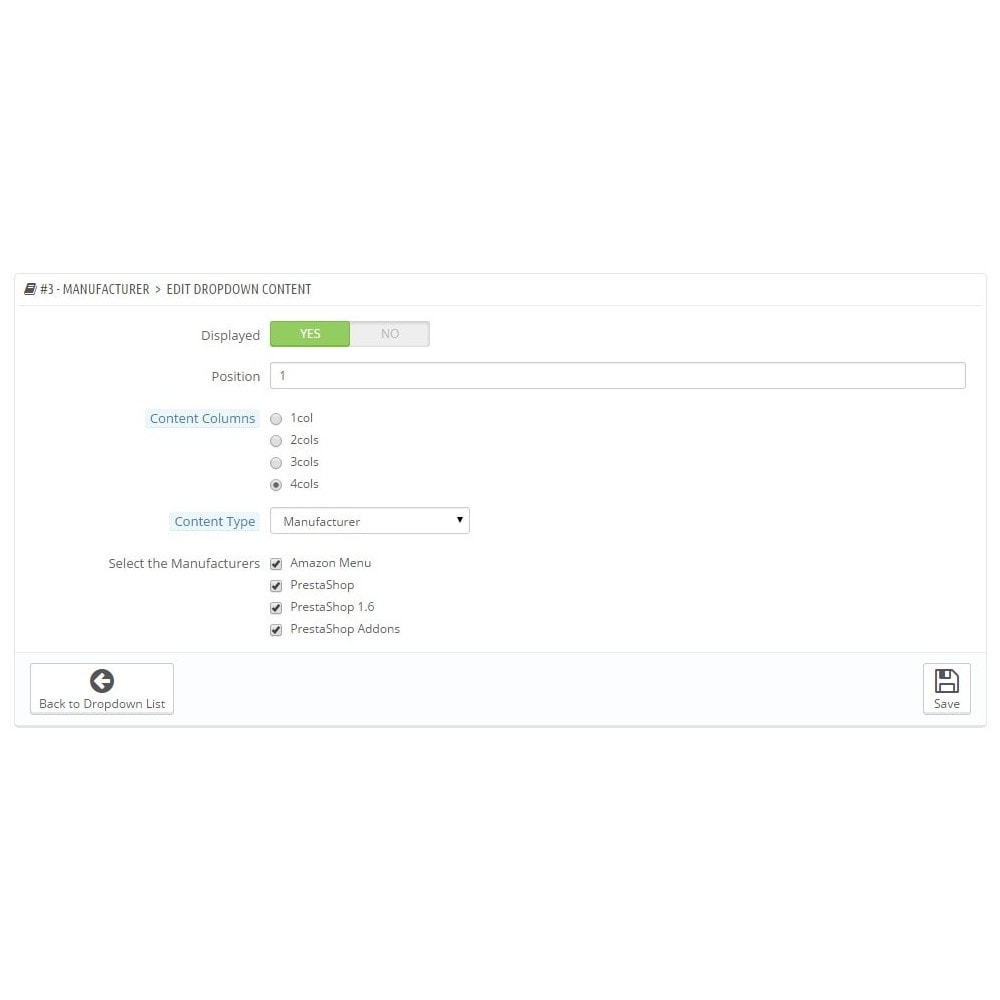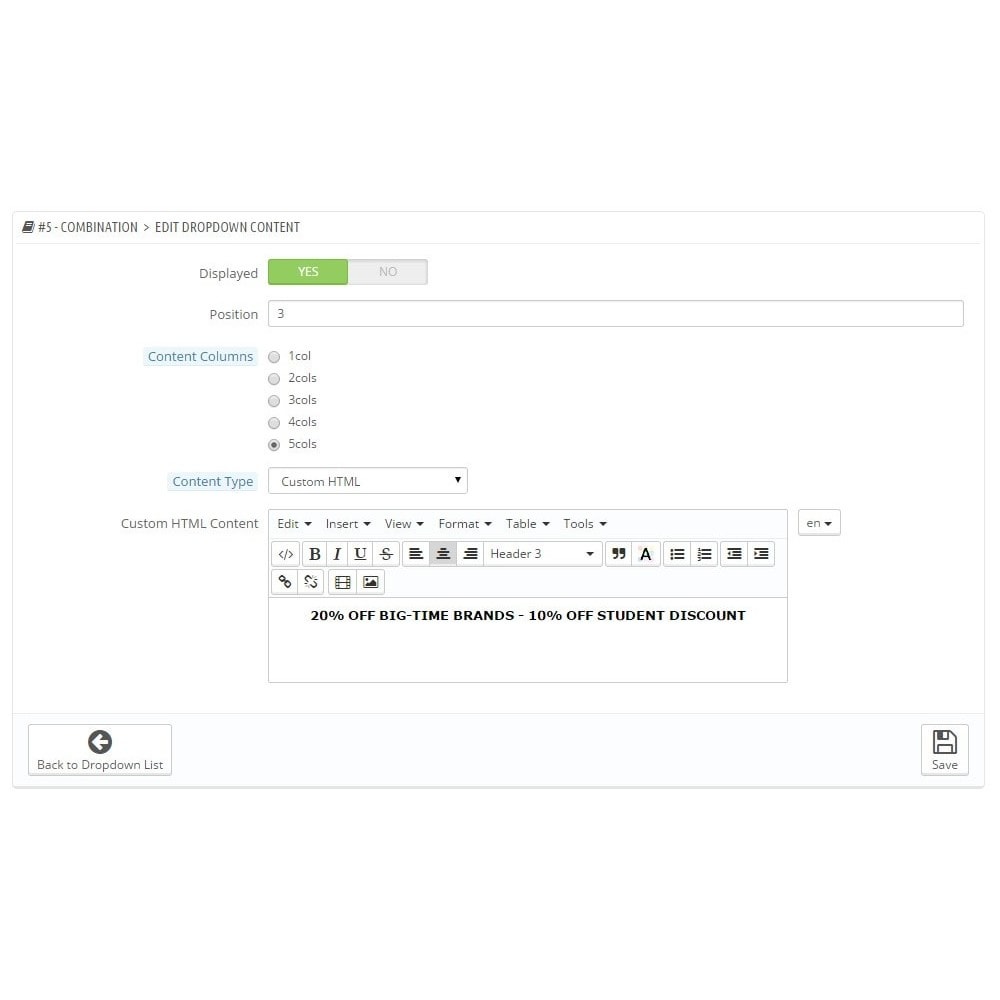 Prezentacja
ZERO - MEGA MENU is the horizontal menu in the top of website. You can build many types of navigation bars: single bar, drop-down menus, rich menu, mega-menu with columns. More specifically, you can add the background image for each menu.
Korzyści wynikające z tego modułu
Nawigacja Personalizuje Twój sklep internetowy
Dropdown content type includes:
Categories tree
Products
Custom HTML
Manufacturers
And more...
Popular Features:
Unlimited menu, dropdown contents
Menu Label
Dropdown background image
Responsive
Right menu
And more...
Funkcje
Menu:
Menu Title
Menu Link / URL
Open URL in new tab
Position
Enable / disable Right Menu
Menu Label
Label background color
Number of columns of Dropdown Content
Dropdown background color
Dropdown background image
Background image position
Admin layout: List / Add / Edit / Delete menu
Unlimited number of menu
A Dropdown Content:
Enable / disable Dropdown Content
Position
Number of columns for each Dropdown Content
4 content type:
Categories Tree
Products (auto-complete select product)
Custom HTML (TinyMCE editor): CMS, custom link, image, text, video,...
Manufacturers
Unlimited number of Dropdown Contents for each Menu
Ability to combine multiple dropdown content types together in the menu
Other Features:
Full Responsive Web Display
Desktop and Mobile layout
CSS3 Hover Effect Transitions
Unique class for each menu and dropdown content
Easy configure
Easy customize
Multi browser compatible
Full module cache
Multilingual
Full admin translations and front-end translations
Full documentation​
Wsparcie techniczne oraz aktualizacje
Otrzymasz automatycznie 3 miesiące pomocy technicznej dla tego produktu.
Przez 90 dni po zakupie jesteś uprawniony do pomocy technicznej i funkcjonalnej, a także masz dostęp do aktualizacji dla tego produktu.
Inne
INSTALLATION
On your PrestaShop Back Office, click No connected to PrestaShop Addons located at the top right corner of your page.
In the Login block, enter your PrestaShop Addons username and password then click SIGN IN. All PrestaShop Addons orders will now automatically appear in the back office.
Search and locate the Zero ­- Mega Menu module, then click Install. Once installed, the Configure button will be displayed.
SUPPORT
If you have any problem, click on Contact the developer link and send me a message.
RATING
- If you like this module, Please RATE for me 5 stars here http://addons.prestashop.com/en/ratings.php.
Thank you very much!
Często kupowane w zestawie
Community developer Opracował

PrestaShop v1.6.0.4 - v1.6.1.15 Kompatybilność PrestaShop

PrestaShop Opracował

PrestaShop v1.6.1.1 - v1.7.2.2 Kompatybilność PrestaShop

PrestaShop Opracował

PrestaShop v1.4.0.1 - v1.7.2.2 Kompatybilność PrestaShop
Co nowego w wersji 2.0.0(2015-07-07)
BO: Fix bug on PS 1.6.1.0
O wydawcy
2014-07-17

Sprzedawca PrestaShop

Vietnam

Kraj region
Masz pytanie?
Potrzebujesz pomocy?
Wydawca odpowie Ci w ciągu