moduł Shipping cost calculation by the Brazilian Correios
Opracował
BM Services
(14 głosy)
Ponad 90 % użytkowników poleca ten produkt
Na średnią ocenę składają się wszystkie głosy otrzymane przez ostatnie pół roku.
Poziom kompetencji
Użytkownicy oceniają że wymagany poziom kompetencji do tego produktu jest:
Dla początkujących użytkowników
9
Dla średniozaawansowanych użytkowników
4
Dla zaawansowanych użytkowników
1
Partner
Agency
Recommended
local module
PrestaShop
1.6.0.4 - 1.7.2.4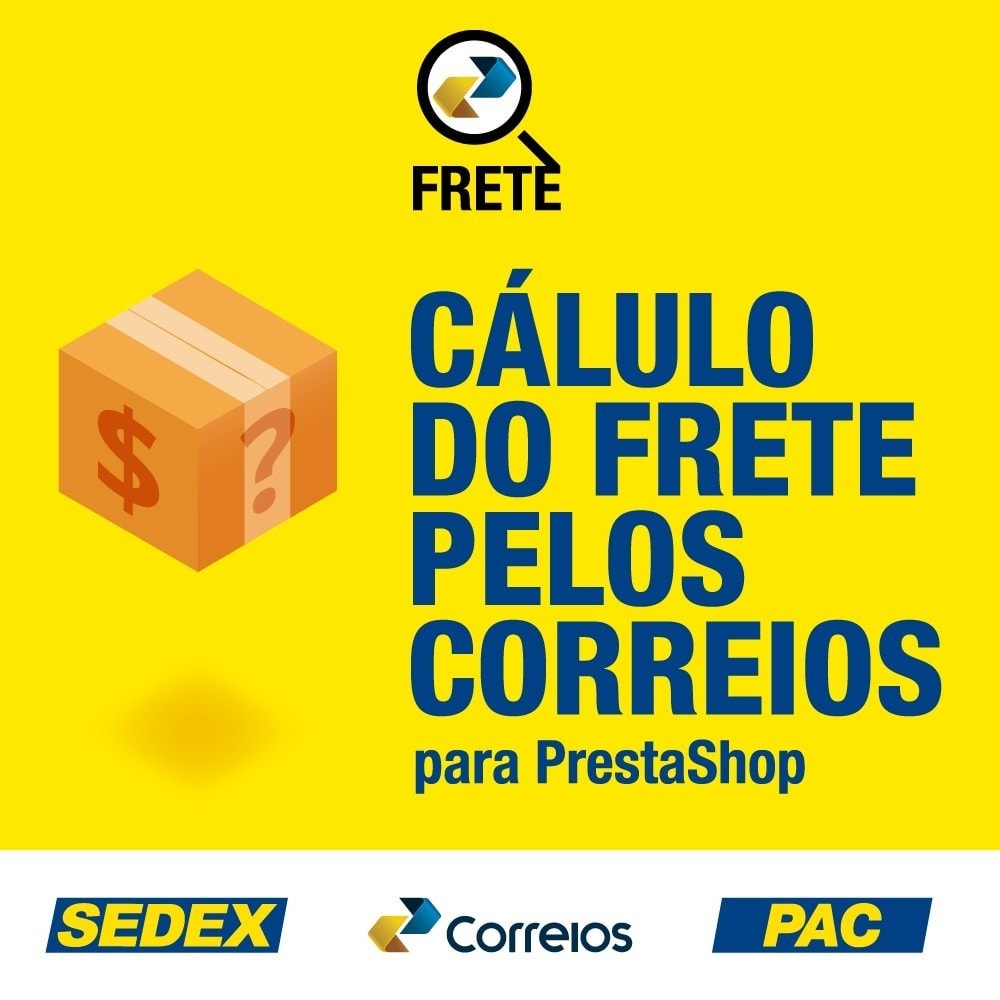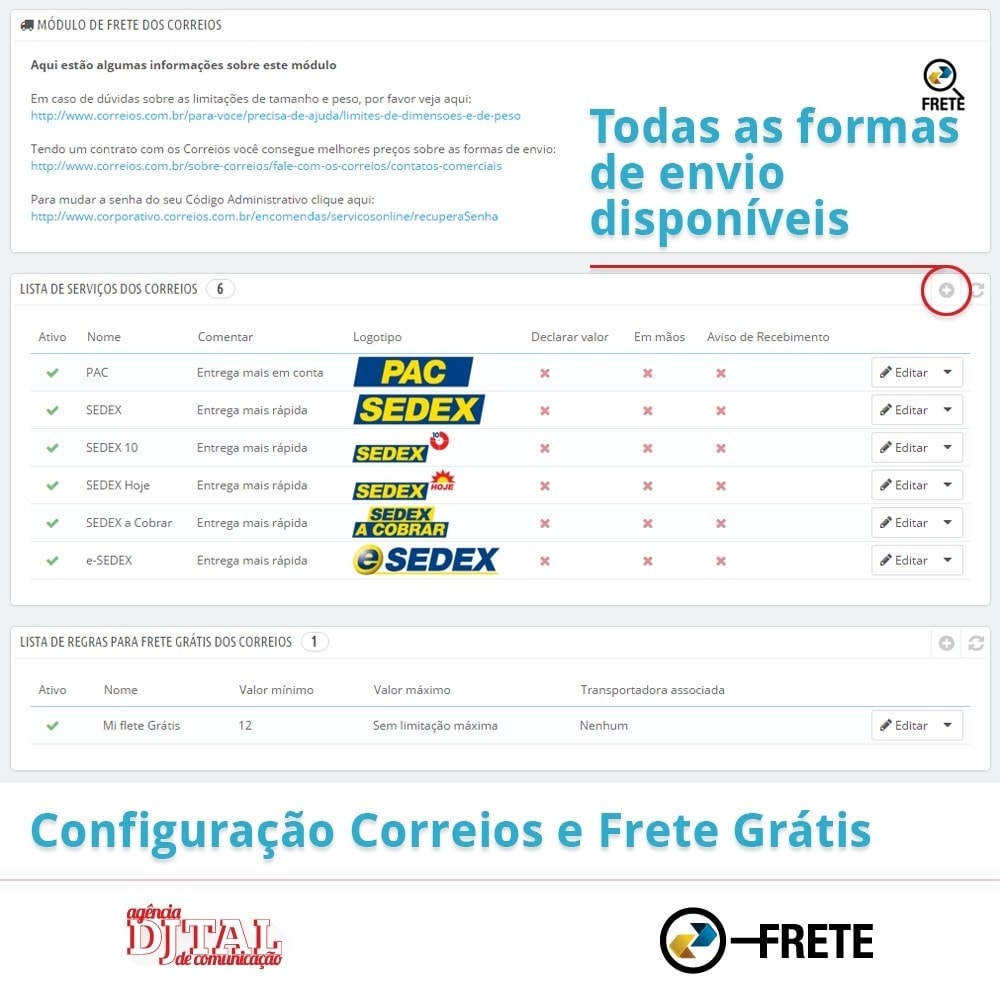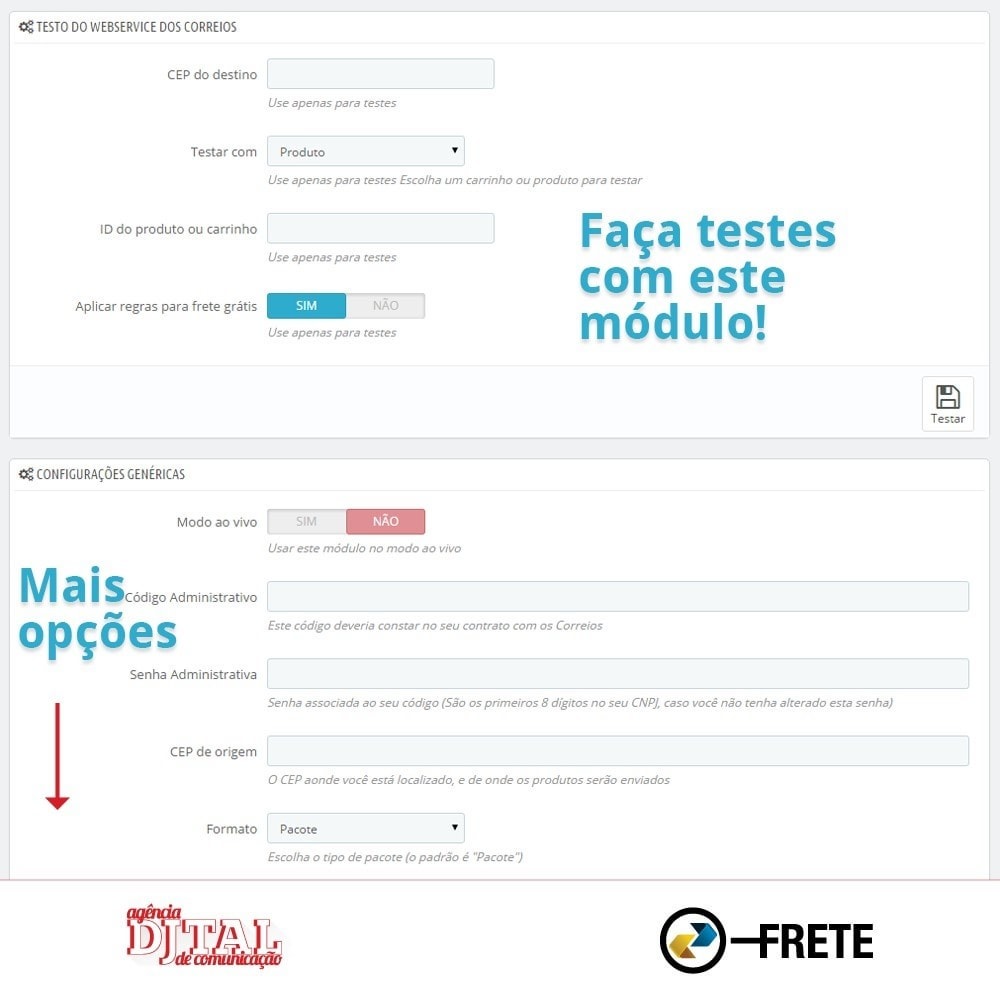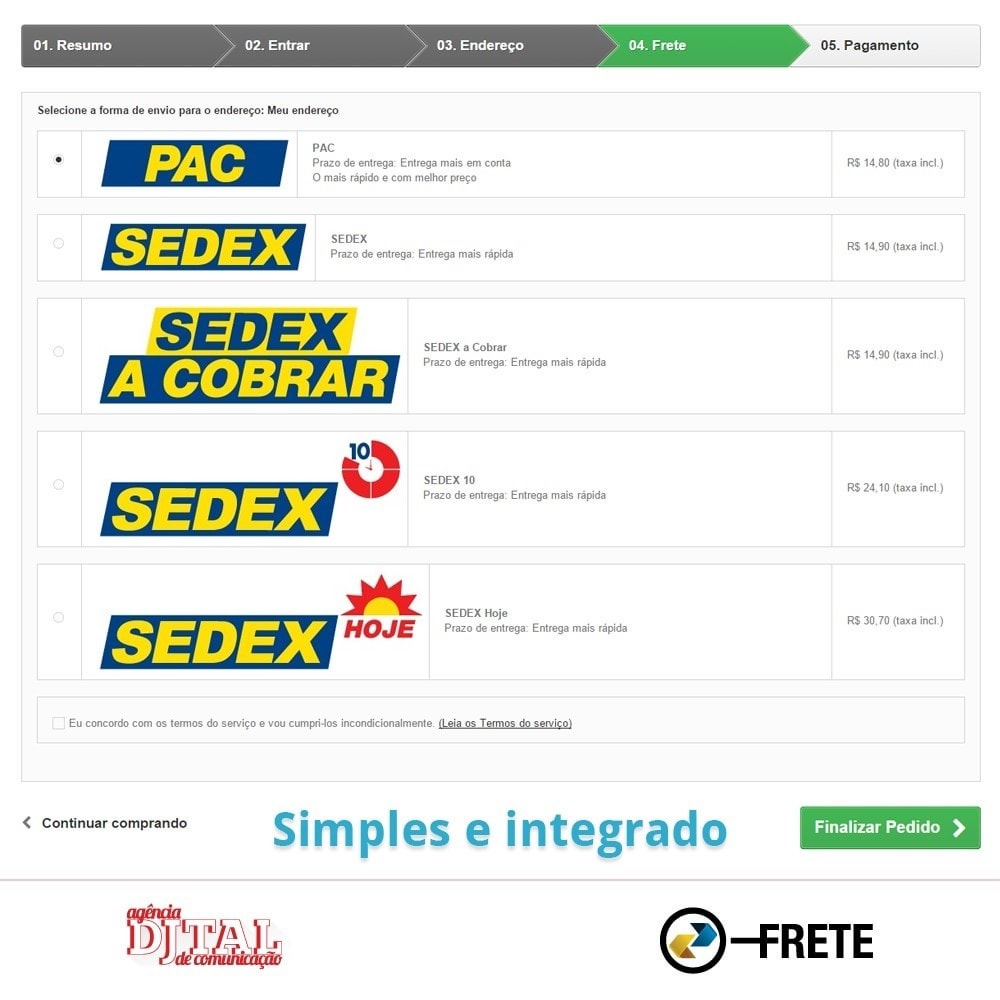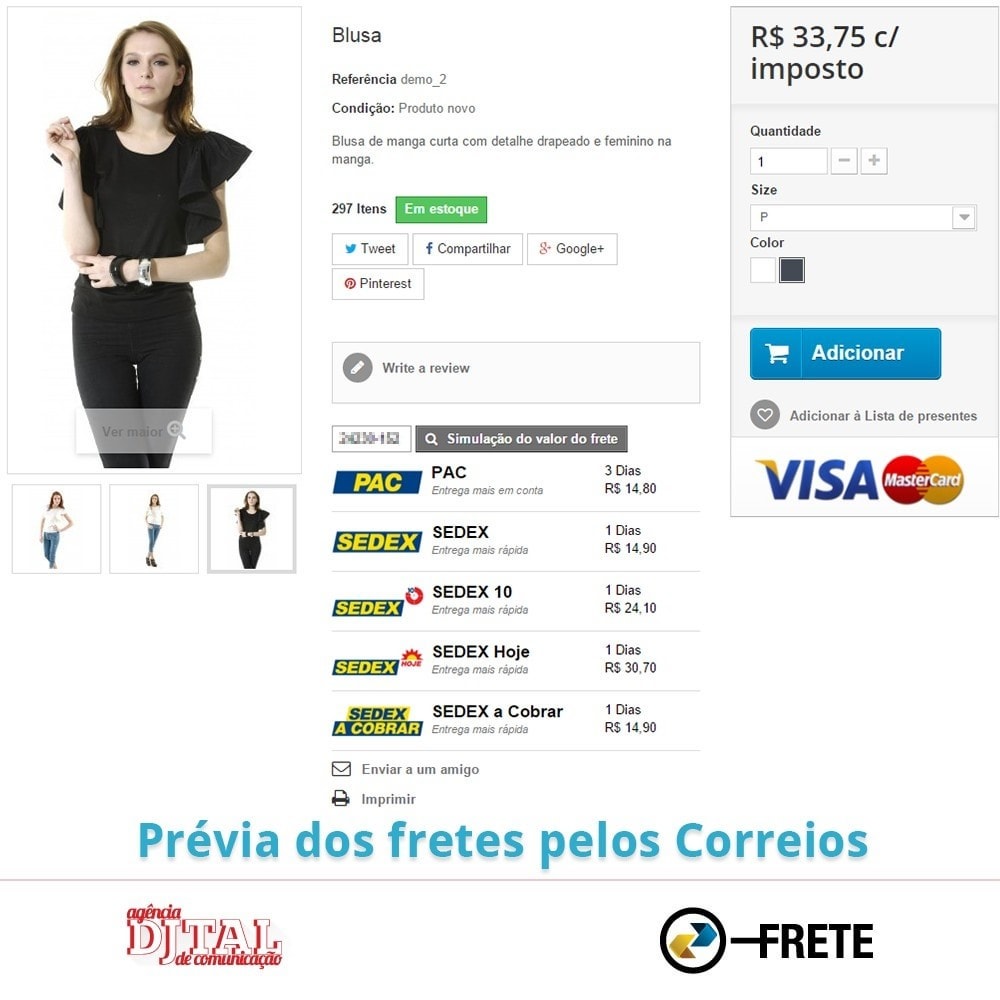 Prezentacja
"Shipping cost by the Brazilian Correios" is a fully configurable module that considers weight, transit and the store owner's rules for free shipping. We used Correios technology and made the whole process integrated inside PrestaShop's checkout.
Korzyści wynikające z tego modułu
Konwersje Oferuje sposób dostawy dostosowany do Twoich klientów
Have full control over the calculation system displayed to your customer. The integration with PrestaShop's cart and checkout is a clear and non intrusive one. Save time of your customer service people.
Shipping rate and transit time calculation – SEDEX, E-SEDEX, PAC and collect SEDEX.
Integrated calculation with PrestaShop – The weight configured in the product details of PrestaShop's dashboard is taken on account when calculating shipping.
Free Shipping Rules – The storeowner can optionally set a shipping range for the cart where the shipping becomes free of charge.
Correios technology - You can trust that our results will match with Correios rates and transit time.
Full configuration – The "Shipping cost calculation by the Brazilian Correios" module was conceived to fulfill your configuration needs and be a true storeowner's tool.
Less workload for the customer service people – The clients themselves do their shipping calculations.
Funkcje
The PrestaShop online store module "Shipping cost calculation by the Brazilian Correios" features:
Correios technology for the shipping calculation process.
CEP smart saving – Your client don't have to type his CEP for every calculation.
Dynamic full cart shipping calculation – Each change done to the cart by the visitor sets an automatic shipping calculation update.
Full integration in PrestaShop cart and checkout – The value of the las cart alteration appears in the confirmation of shipping step of the PrestaShop checkout.
Calculation results show the rate of shipping and transit time.
Calculation rules for free shipping instance.
Calculation for SEDEX, E-SEDEX, PAC and collect SEDEX.
Non intrusive web design.
Full module configuration by the storeowner.
Często kupowane w zestawie
BM Services Opracował

PrestaShop v1.6.0.4 - v1.7.2.4 Kompatybilność PrestaShop

Community developer Opracował

PrestaShop v1.6.0.4 - v1.6.1.17 Kompatybilność PrestaShop

PrestaShop Opracował

PrestaShop v1.5.0.0 - v1.6.1.17 Kompatybilność PrestaShop
Oto co spodoba się Twoim klientom
Your clients will have total freedom to do their own shipping calculations, this is done in only one click inside PrestaShop cart area. Results show freight's rate and transit time that stay connected with the cart content, updating this values instantly. More client satisfaction, less workload for your customer service.
Shipping calculations done in one click.
Smart window remembers the CEP of the client.
Update of shipping/free shipping values with each change to the cart.
Easy Free Shipping.
Wsparcie techniczne oraz aktualizacje
Otrzymasz automatycznie 3 miesiące pomocy technicznej dla tego produktu.
Przez 90 dni po zakupie jesteś uprawniony do pomocy technicznej i funkcjonalnej, a także masz dostęp do aktualizacji dla tego produktu.
Instalacja
Default installation of a Prestashop module.
Enter your Prestashop dashboard and go to your modules list.
Click in "Add a module" and select the "zip file" path.
Now the module appears in the list and is ready to be installed.
Co nowego w wersji 1.1.0(2017-02-07)
PrestaShop 1.7 compatibility
O wydawcy, BM Services
"BM-Services is a Prestashop Gold partner agency for the last 6 years.  BM-Services creates Prestashop-based E-shops, intervenes for Prestashop Search Engine Optimizations (SEO), maintains websites, makes specific developments and develops addons for software editors (Paybox, Videodesk …)  or to add new functions to Prestashop. BM-Services team counts 20 fully-trained professionals and has already developed hundreds of Prestashop sites and addons."
2012-08-02

Sprzedawca PrestaShop

France

Kraj region
Masz pytanie?
Potrzebujesz pomocy?
Wydawca odpowie Ci w ciągu