Germany 2017 eCommerce Calendar
Opracował
PrestaShop
(24 głosy)
Ponad 90 % użytkowników poleca ten produkt
Na średnią ocenę składają się wszystkie głosy otrzymane przez ostatnie pół roku.
Poziom kompetencji
Użytkownicy oceniają że wymagany poziom kompetencji do tego produktu jest:
Dla początkujących użytkowników
3
Dla średniozaawansowanych użytkowników
1
Dla zaawansowanych użytkowników
0
Made by
PrestaShop
+1000
downloads!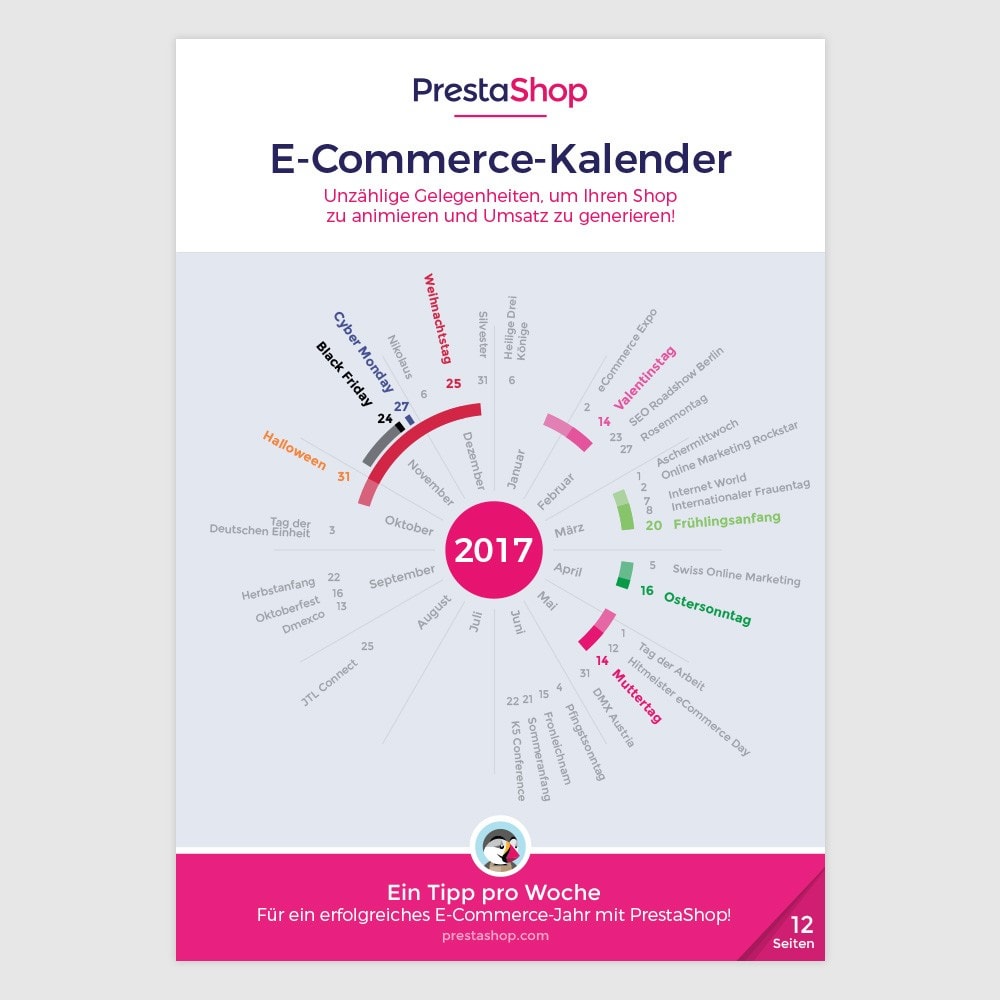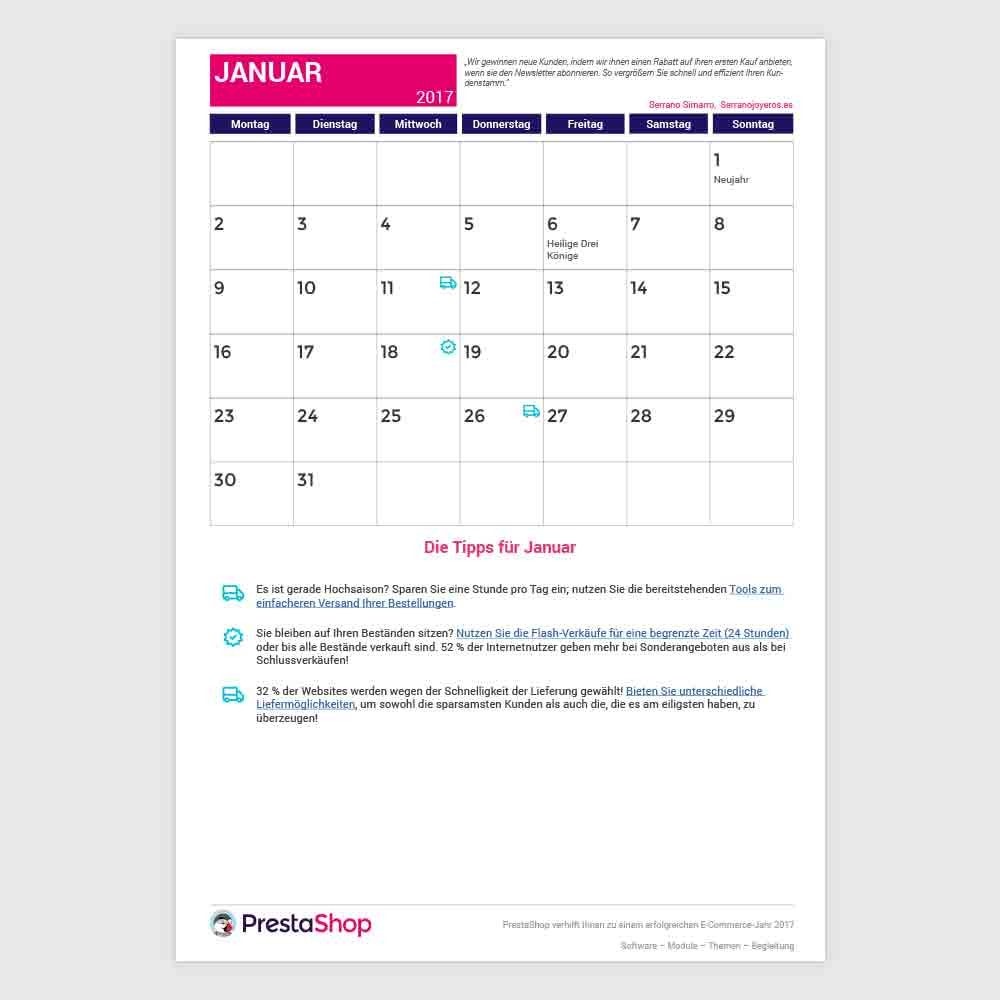 Prezentacja
Download your FREE 2017 e-commerce calendar to plan all your commercial campaigns ahead and optimise your sales!
This indispensable tool for all e-merchants in Germany will help you schedule week by week in order to boost your store all year round (available in German).
Korzyści wynikające z tego modułu
Produktywność Pozwala zaoszczędzić czas
Thanks to this complete e-commerce diary exclusively from PrestaShop, you will know when and how to prepare your online store for all commercial events in your country.

52 pieces of advice, 12 tips from e-vendors and 1 circular calendar with preparation periods to guide you week by week, help you be ready for all events and never let things get out of hand.
Funkcje
You get:
1 circular calendar that gives you an instant view of all the important moments in the year (sales, promotions…) as well as preparation time for promotions in your online store
12 pages that give you monthly support and as many tips from e-merchants
52 tricks of the e-trade (1 per week) and a selection of tools to save time, increase traffic, optimise your conversions and retain your customers
Wishing you all a great new year and lots of e-commerce success in 2017!
O wydawcy, PrestaShop
Poznaj wszystkie moduły opracowane przez PrestaShop oraz dodaj do swojego sklepu online:
- sposoby płatności, by zdobyć nowych klientów,
- funkcje pozwalające zwiększyć ruch na stronie, co przełoży się na wyższą sprzedaż, 
- rozwiązania w zakresie logistyki pozwalające zoptymalizować transport i dostawy Twoich zamówień, by klienci byli zawsze zadowoleni,
- oraz narzędzia ułatwiające codzienne zarządzanie sklepem, oszczędzając Twój czas!
2009-06-05

Sprzedawca PrestaShop

France

Kraj region
Masz pytanie?
Potrzebujesz pomocy?
Wydawca odpowie Ci w ciągu