moduł Restriction of payment methods by product categories
Opracował
Community developer
(15 głosy)
Na średnią ocenę składają się wszystkie głosy otrzymane przez ostatnie pół roku.
+100
downloads!
PrestaShop
1.4.0.1 - 1.6.1.15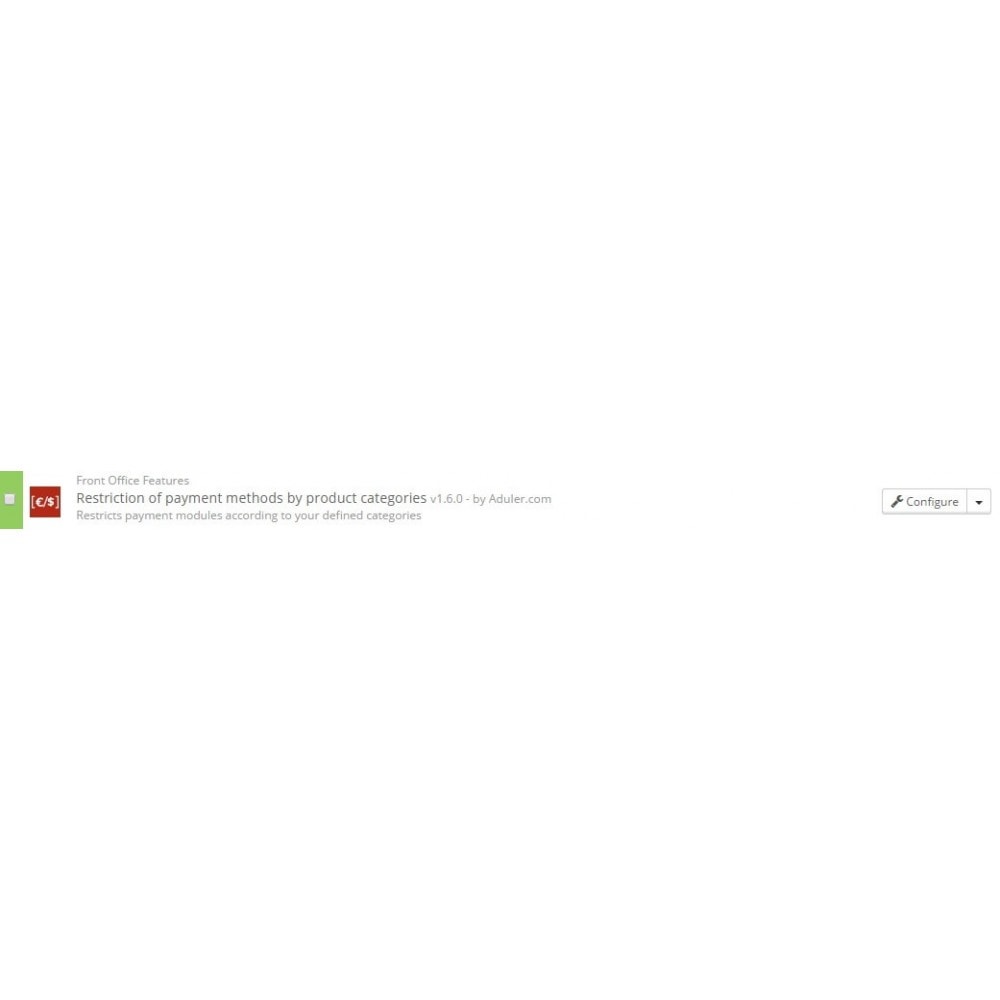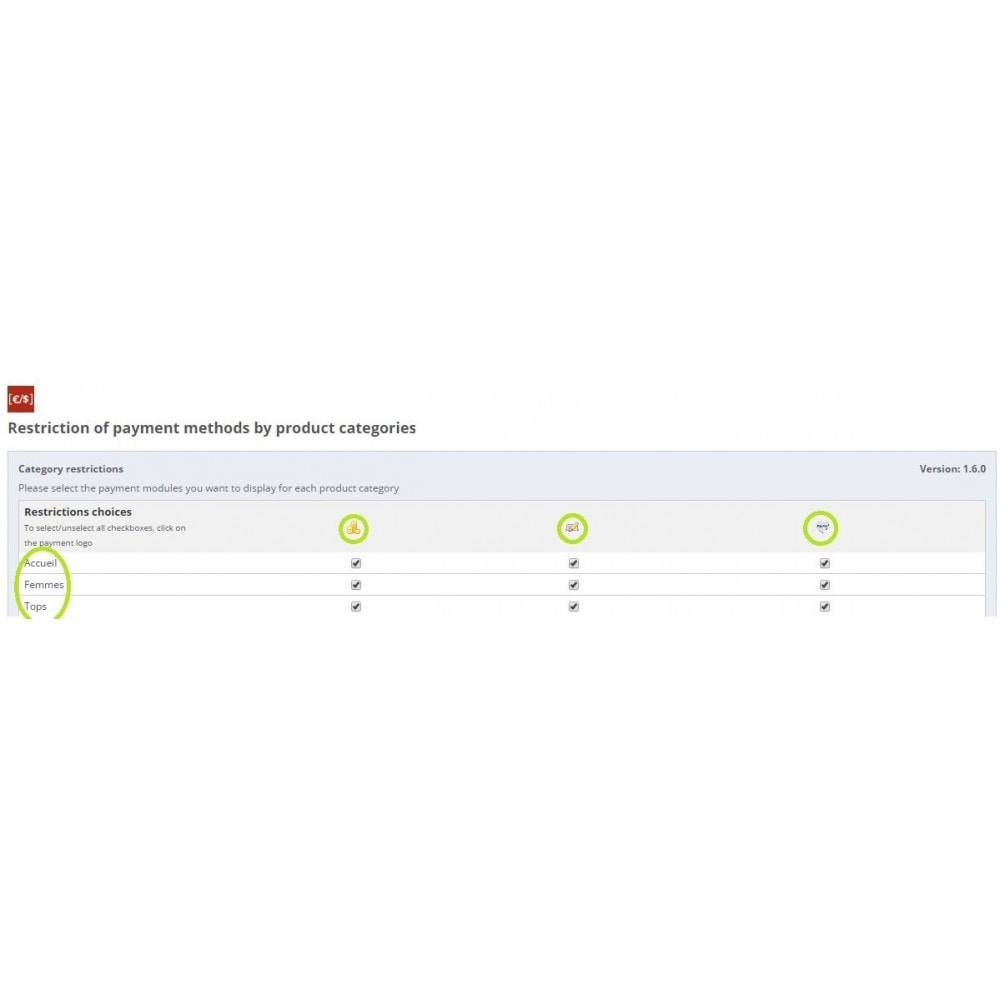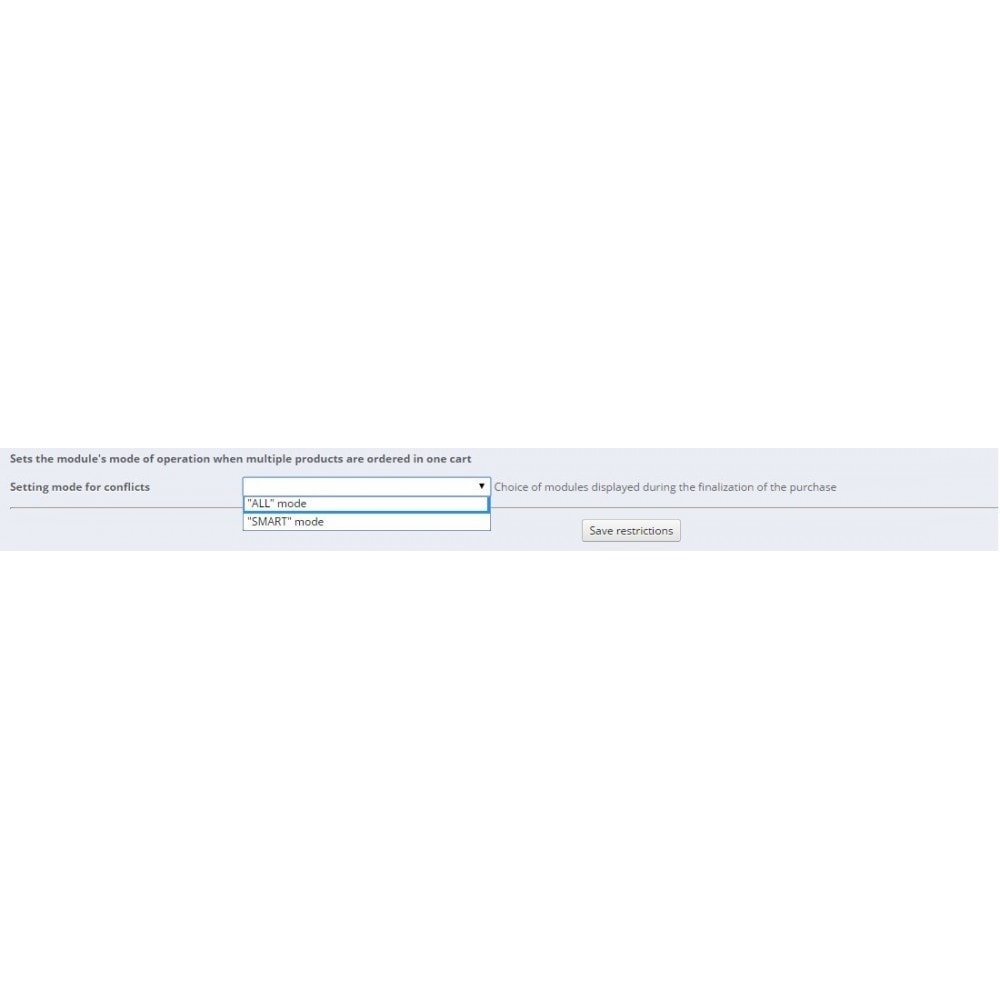 Prezentacja
The module allows you to choose payment methods that you want to display on final purchase step, based on product categories.
Korzyści wynikające z tego modułu
Konwersje Oferuje środek płatności dostosowany do Twoich klientów
Payment methods have different operating costs, it is financially attractive to offer modes whose commissions are most advantageous, or authorize the purchase of product's categories only with defined payment methods
For each product category you can select the payment methods available in the finale step of the purchase.
 
When multiple products with different restrictions are added in one basket, you choose the operation of the module; the new SMARTMODE displays only the identical methods of payment between products put in the same basket.
 
Continuous and free updates of the module.
Funkcje
Restriction of payment methods by product categories
Works with all installed payment modules and product categories present on your PrestaShop:
When a payment method is linked to a product category, all products linked to this category are are affected by default 
 
You can mix different modes of payment for a product category
Simple and intuitive restrictions setting 
Select / Unselect all categories and payment methods in one click
Automatic addition of your payment modules and product categories
Conflict management:
ALL mode: Shows all payments modules affected by the selected products.
​SMART Mode: Displays only identical payment methods between different products.
FORCED Mode: Allow one payment mod when conflict has been detected
Warning, the module don't manage conflicts between client group restriction and categories restriction
Wsparcie techniczne oraz aktualizacje
Otrzymasz automatycznie 3 miesiące pomocy technicznej dla tego produktu.
Przez 90 dni po zakupie jesteś uprawniony do pomocy technicznej i funkcjonalnej, a także masz dostęp do aktualizacji dla tego produktu.
Inne
The uses for this module are very large and have no limit;

After you have installed and configured the module, it displays a "mask" in the final purchase stage, making visible only short-listed payment methods based on product categories.
Rekomendacja
If you encounter some problems with the restriction of some payment modules, they must contain the variable "if (!$this->active) return;" (properly developed payment modules already have it);
We provide you a procedure in the technical documentation
Oto co spodoba się Twoim klientom
A wider choice of payment methods to settle their purchases
No visibility of the restriction in the front-office side 
Instalacja
Quick installation and configuration of the module from the PrestaShop administration panel or manual transfer with FTP.
Często kupowane w zestawie
Community developer Opracował

PrestaShop v1.4.0.1 - v1.6.1.15 Kompatybilność PrestaShop

Community developer Opracował

PrestaShop v1.5.0.0 - v1.7.1.2 Kompatybilność PrestaShop

Community developer Opracował

PrestaShop v1.5.0.0 - v1.6.1.15 Kompatybilność PrestaShop
Co nowego w wersji 1.7.1(2017-03-17)
Restriction by client group has been modified
Method to recover paymentmod has been modified
O wydawcy
2011-05-03

Sprzedawca PrestaShop

France

Kraj region
Masz pytanie?
Potrzebujesz pomocy?
Wydawca odpowie Ci w ciągu