moduł Mocean SMS Notification
Opracował
Community developer
PrestaShop
1.5.0.0 - 1.6.1.15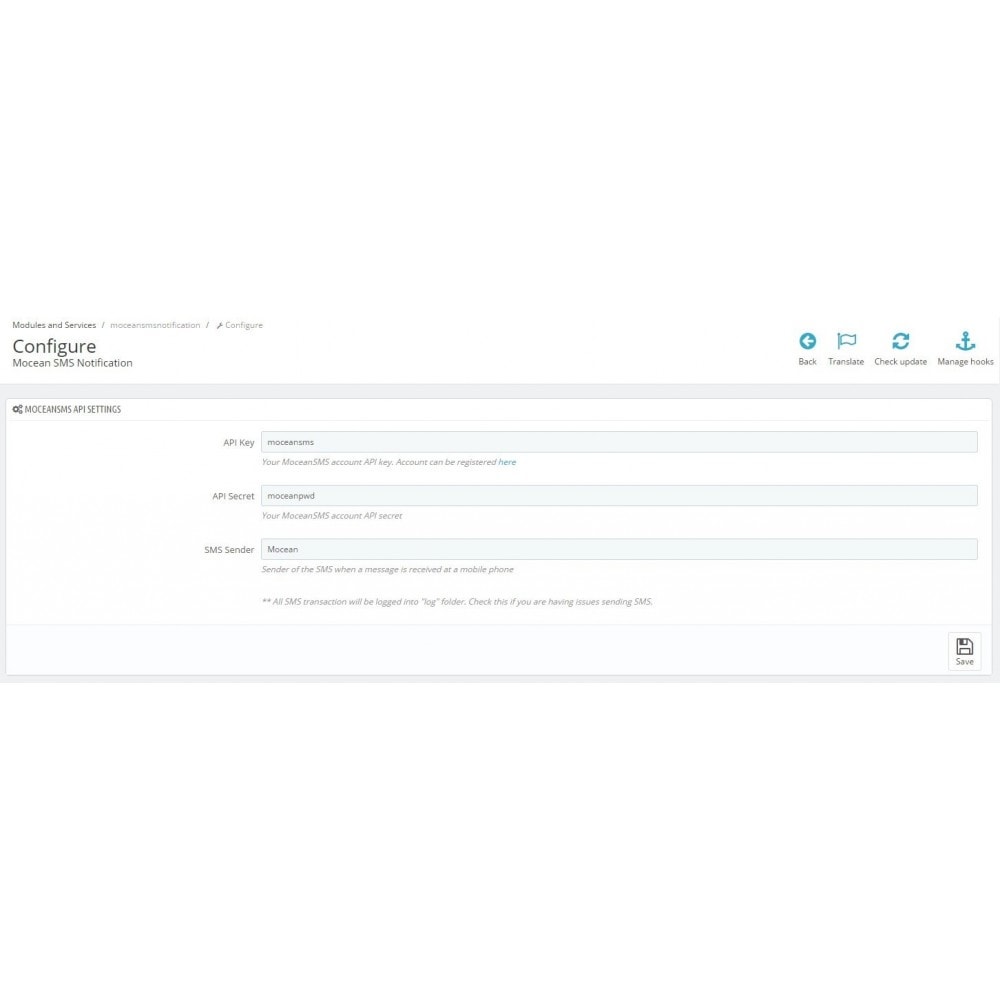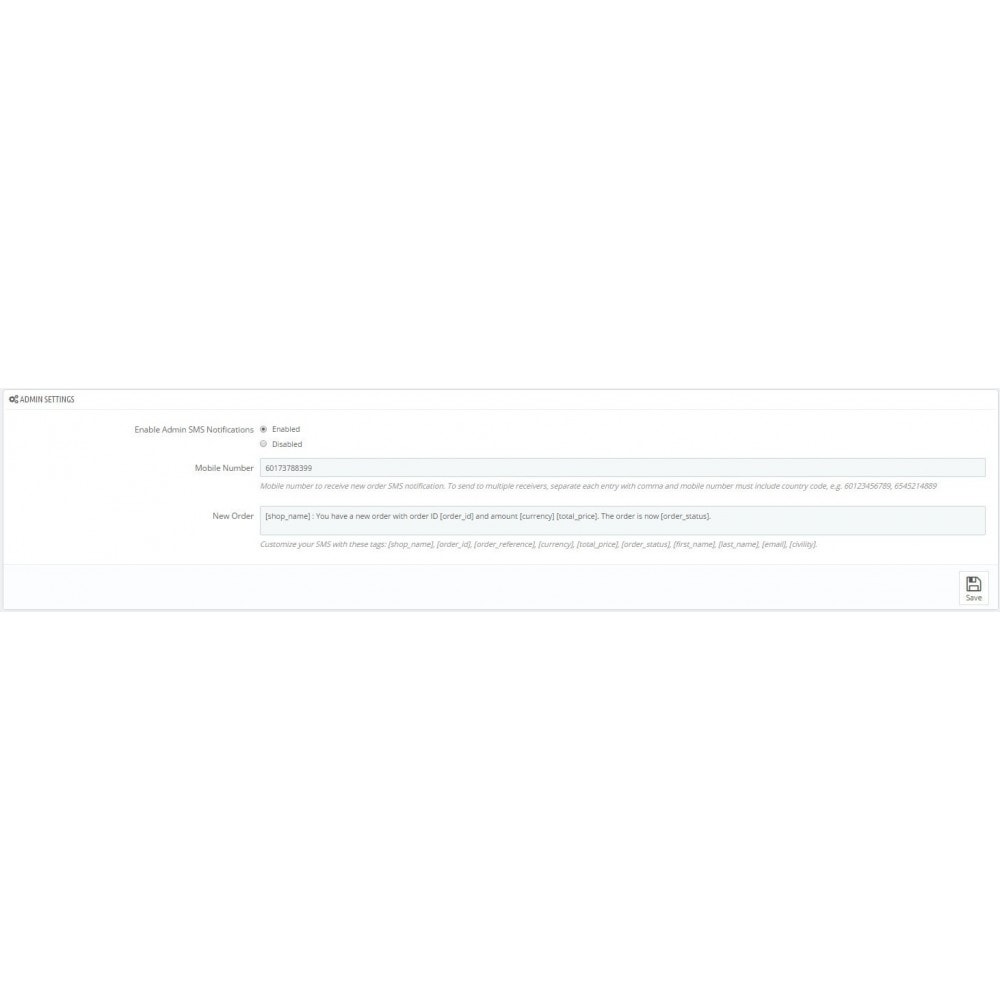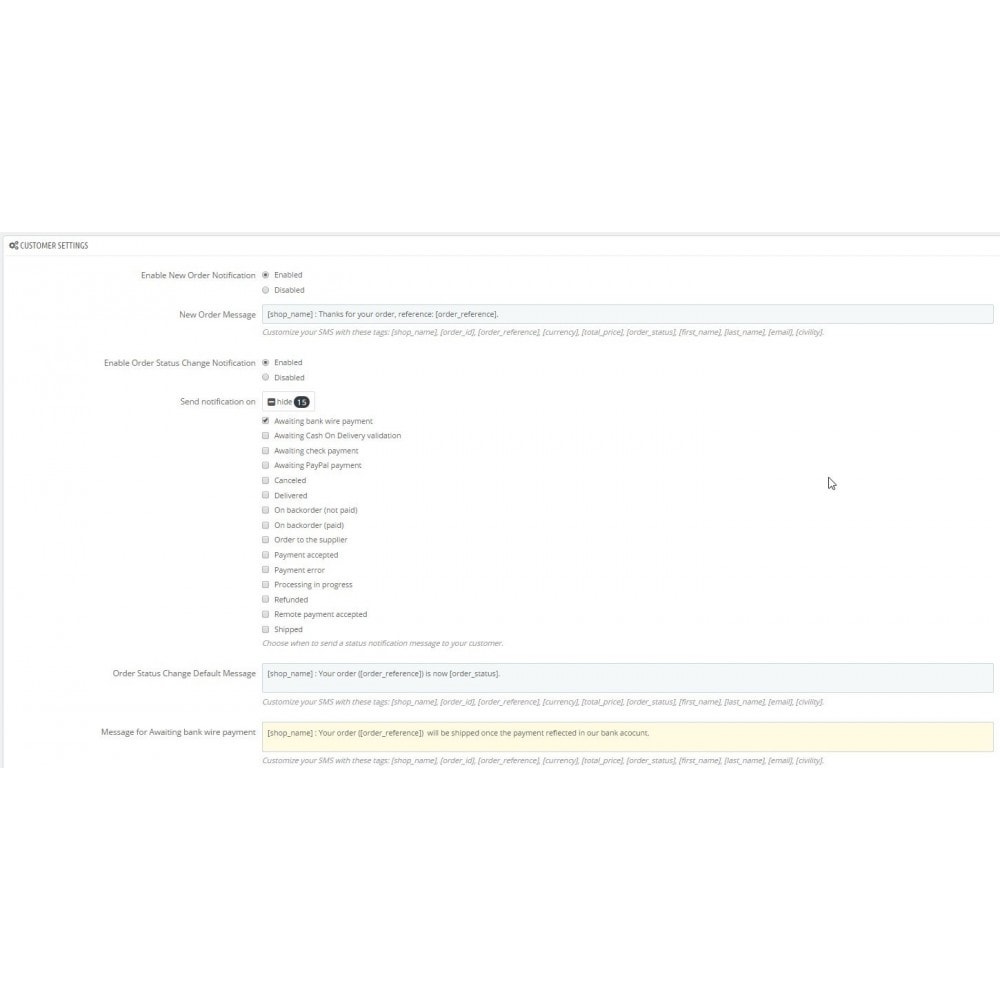 Prezentacja
A module to send SMS notification to both customers and seller after an order is placed at e-commerce. Customers can be informed via SMS for any order statuses.
 
Korzyści wynikające z tego modułu
Produktywność Ułatwia zarządzanie serwisem posprzedażnym
Shopping online and waiting for goods to be delivered can be an exciting process. As a seller, you can enhance the buyers' experiences by keeping them updated on the purchases and delivery. At the same time, keep yourself updated on each new order placed. In this way, you're always notified via SMS after an order is placed.
 
Funkcje
Notify seller whenever a new order is placed.
Inform buyer the current order status / whenever order status is changed.
SMS content can be customized for different order statuses.
SMS can be delivered to customers from all over the world.
Wsparcie techniczne oraz aktualizacje
Otrzymasz automatycznie 3 miesiące pomocy technicznej dla tego produktu.
Przez 90 dni po zakupie jesteś uprawniony do pomocy technicznej i funkcjonalnej, a także masz dostęp do aktualizacji dla tego produktu.
Rekomendacja
You are required to register for an HTTP API account on our website before SMS can be sent. 

Try for FREE. 20 trial SMS credits will be given upon registration. Additional SMS credits can be requested and is subject to approval by MoceanSMS.

10 Euro worth of SMS credits will be given upon module purchase. Kindly forward the proof of payment along with HTTP account username stated and send to MoceanSMS customer service. SMS credits will be topped up to your within 2 business working days.
Oto co spodoba się Twoim klientom
The mobile era has made SMS a fantastic opportunity to move away from stale email notifications for the e-commerce world. The ability to provide hassle free and prompt resolutions is the key to retain customers and increase purchases. The incredible popular method - SMS service for order notifications can help to provide exceptional experiences to the customers. 
Instalacja
In the modules tab, click on "Add a new module".
Click on "Choose a file" and select previously downloaded module archive file. Finally click on "Upload this module". The module will then appear in your list of modules under the Module tab.
Click on the " install " button to install the module.
New menu with name "MoceanSMS" will be appeared in left menu.
Co nowego w wersji 1.0.1(2016-03-01)
Solved problem for exceeding configuration name maximum length.
Enable seller to configure to send SMS by choosing the order status. Every order status can have different message.
Added mobile number validation before sending SMS.
O wydawcy
2016-01-11

Sprzedawca PrestaShop

Malaysia

Kraj region
Masz pytanie?
Potrzebujesz pomocy?
Wydawca odpowie Ci w ciągu