moduł Twiga product recommendations and liveStats
Opracował
Community developer
PrestaShop
1.6.0.5 - 1.7.2.4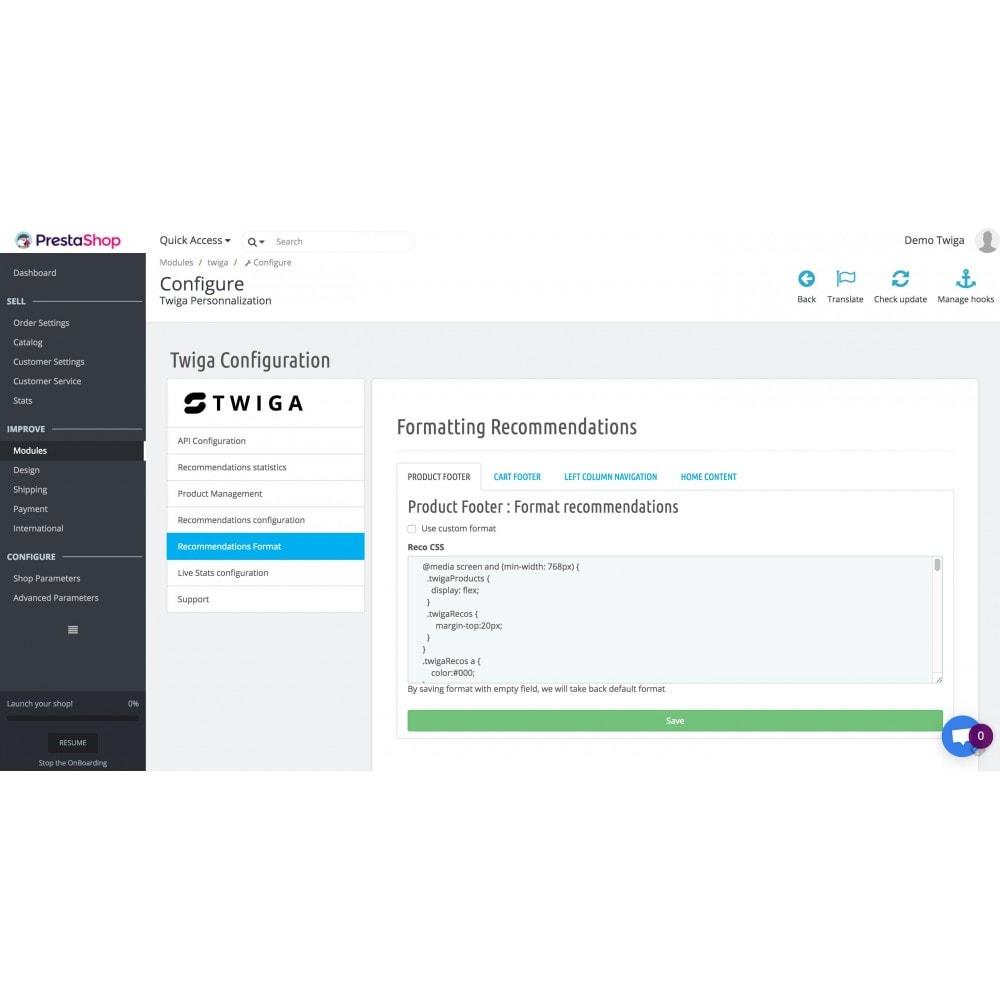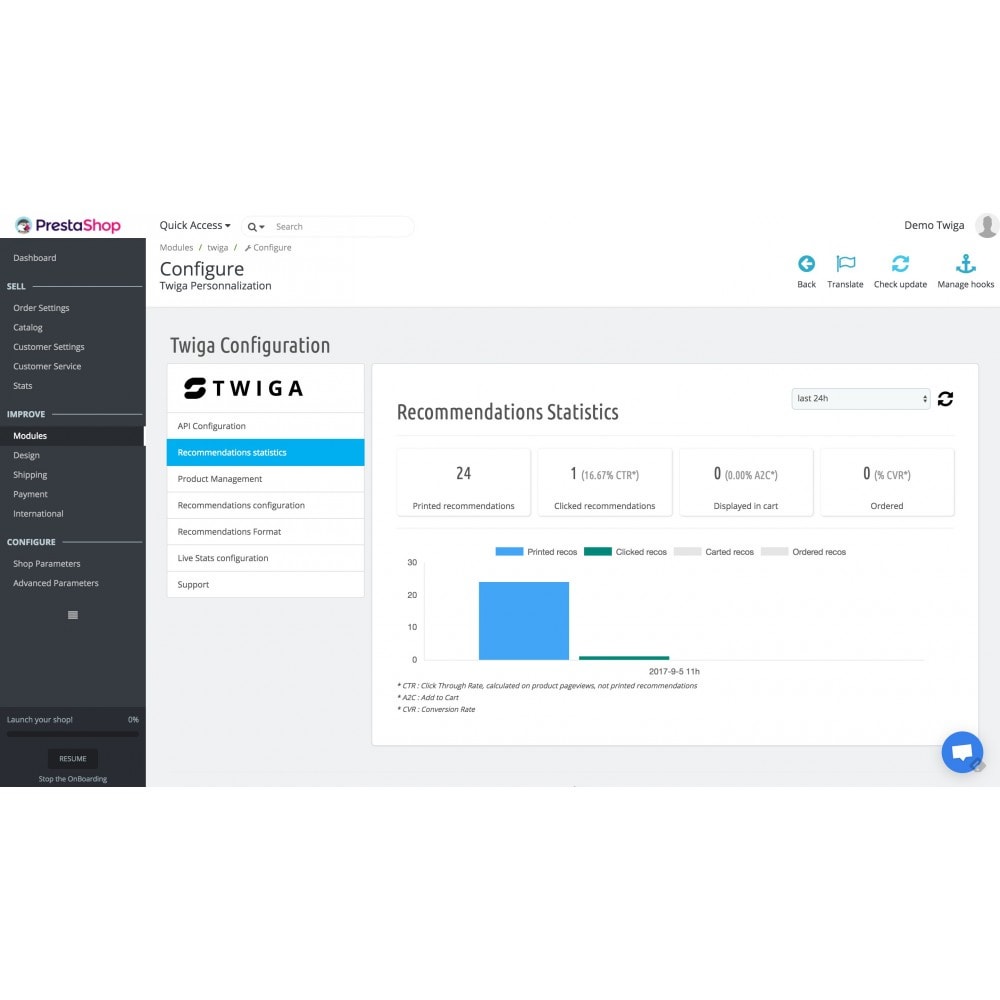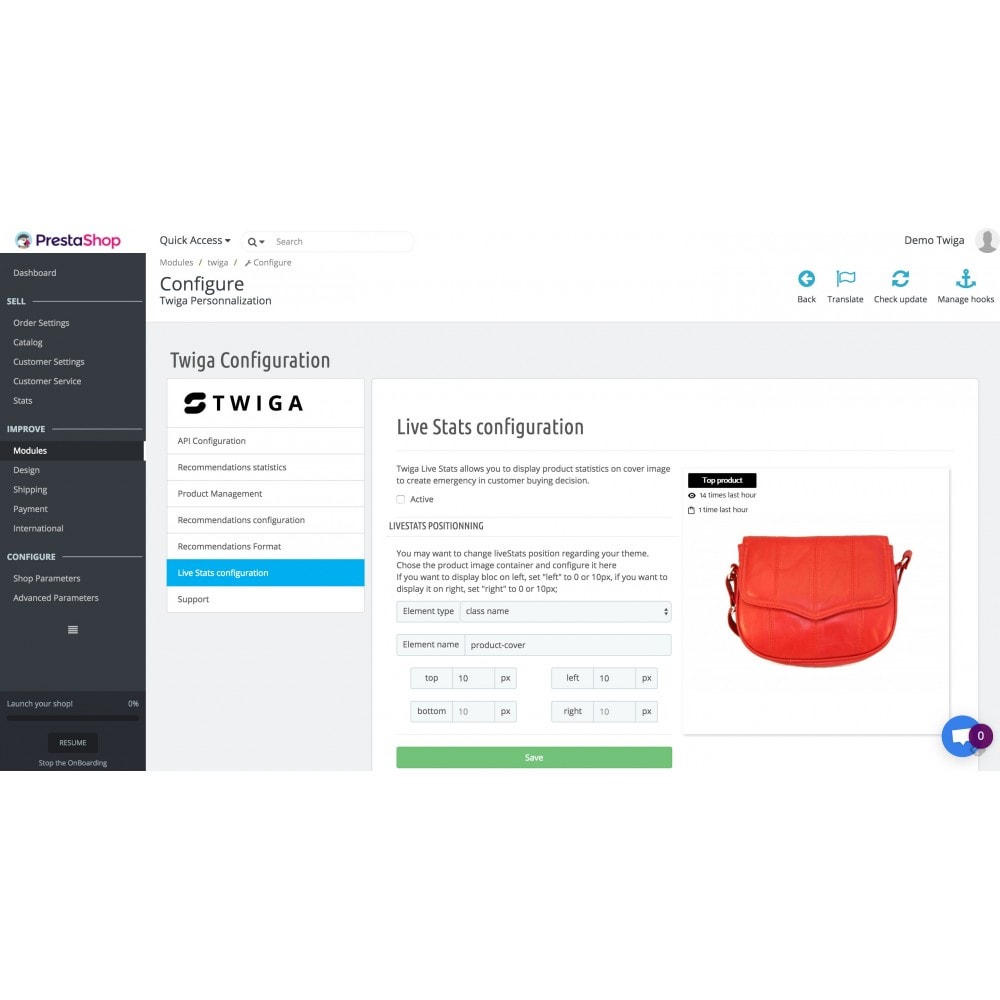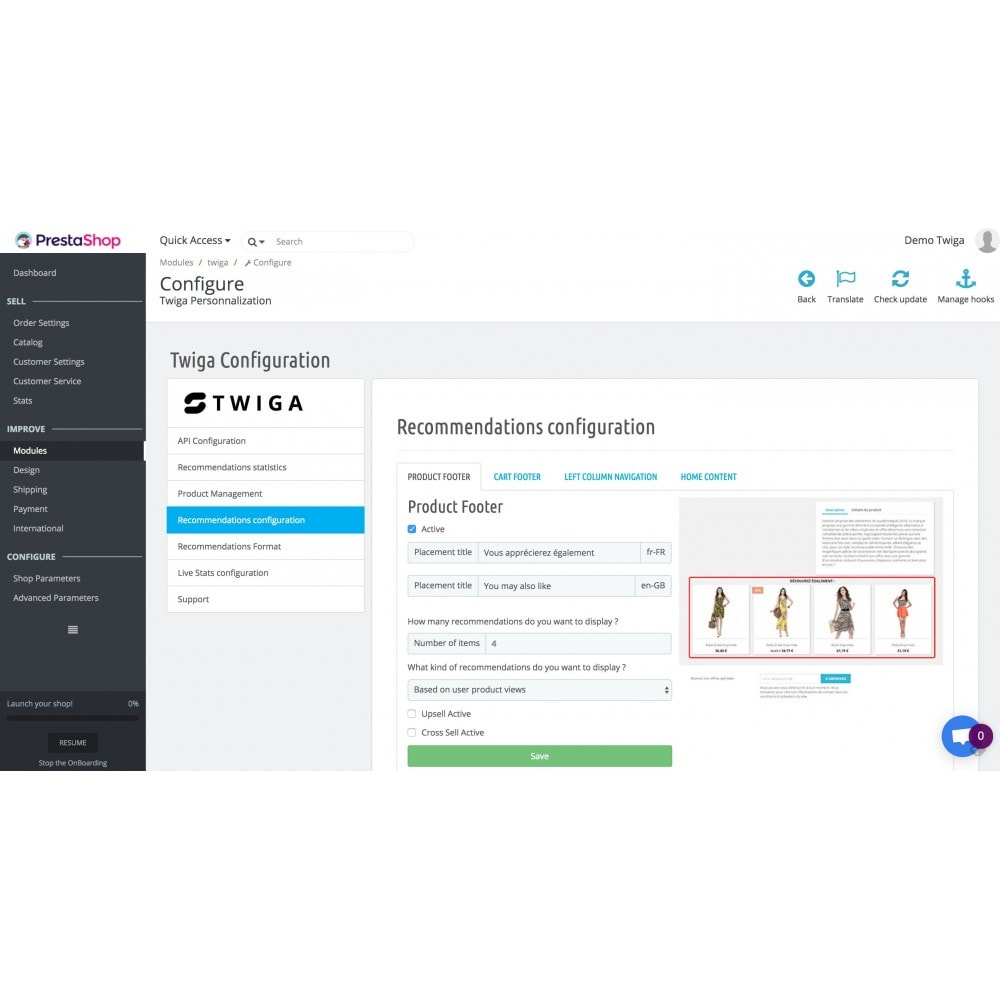 Prezentacja
Twiga gives access to real time big data tools to optimize your audience's navigation.Improve your conversion and your average order value using product recommendations and Twiga LiveStats.
Korzyści wynikające z tego modułu
Średnia wartość koszyka Oferuje cross-selling w Twoim sklepie
Engage your audience, increase your sales and your revenue!
Improve your performance: Increase your average order value and your conversion rate using product recommendations, Increase your click through rate displaying pertinent products along navigation
Be pertinent by being accurate: Our product recommendations are calculated in real time using your audience's data, page views, transactions…
Customizable: Configure your recommendation blocks to activate Up-sell, Cross-sell chose the type of recommendations or just change their "look and feel"
Scalable Strategies: No matter your traffic volume, Twiga will always calculate accurate and pertinent recommendations for your users!  
Quick Setup: a few minutes a required to install this module
100% Responsive: ready to fit all screens!
Multilingual: Twiga is multilingual/multi currency
Funkcje
Twiga Product Recommendation:
Your pages will have more to offer to your users. Advise your users all the way to the basket! Recommend products seen our bought by other users having a similar behavior or just try the similar products approach.
Use Cross-Sell or Up-Sell to improve your recommendations pertinence.
Keep control on the number of products you want to recommend per block.
Recommendation blocs available for the homepage, navigation, product pages and basket page.
Adapt your recommendations format to your website by editing directly CSS from the configuration plugin.
Twiga LiveStats :
Create urgency and scarcity by showing your audience how many times a product has been seen and purchased!
Select specific placement to display LiveStats in your product page.
Major e-commerce actors Increased by at least 4% the number of baskets!
Często kupowane w zestawie
Community developer Opracował

PrestaShop v1.6.0.5 - v1.7.2.4 Kompatybilność PrestaShop

PrestaShop Opracował

PrestaShop v1.6.0.4 - v1.7.2.4 Kompatybilność PrestaShop

PrestaShop Opracował

PrestaShop v1.6.0.4 - v1.7.2.4 Kompatybilność PrestaShop
Oto co spodoba się Twoim klientom
Anticipate your audience needs and propose them the products that suit them better.
Improve your website's navigation by helping your audience finding pertinent products.
Improve ergonomy for your visitors and avoid them using the "back button" too often.
Rekomendacja
Mysql 5+ is required
The Prestashop user of the database must have the right to create the table
php-curl needs to be installed.
Wsparcie techniczne oraz aktualizacje
Otrzymasz automatycznie 3 miesiące pomocy technicznej dla tego produktu.
Przez 90 dni po zakupie jesteś uprawniony do pomocy technicznej i funkcjonalnej, a także masz dostęp do aktualizacji dla tego produktu.
Instalacja
Download the zip file and install it in the modules section from Prestashop
Click on "configure"
Obtain you API Key on https://app.twiga.io & configure it in the general settings section
Choose "Update products" and click on "import products"
Your first recommendations are online! you're ready to start!
Co nowego w wersji 2.0.4(2017-09-21)
LiveStats text optimization
LiveStats positionning fix
O wydawcy
2016-10-31

Sprzedawca PrestaShop

France

Kraj region
Masz pytanie?
Potrzebujesz pomocy?
Wydawca odpowie Ci w ciągu