moduł Tailored Shirt Online
Opracował
Community developer
PrestaShop
1.6.1 - 1.6.1.3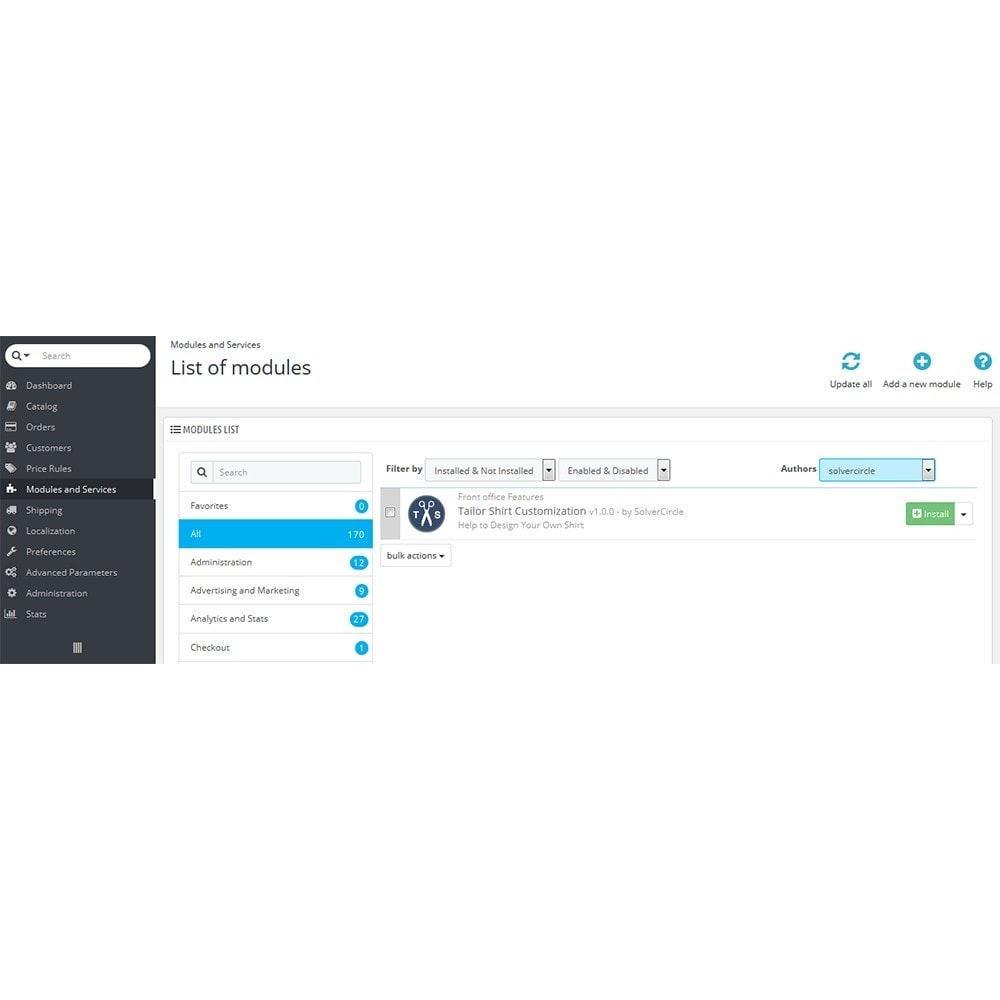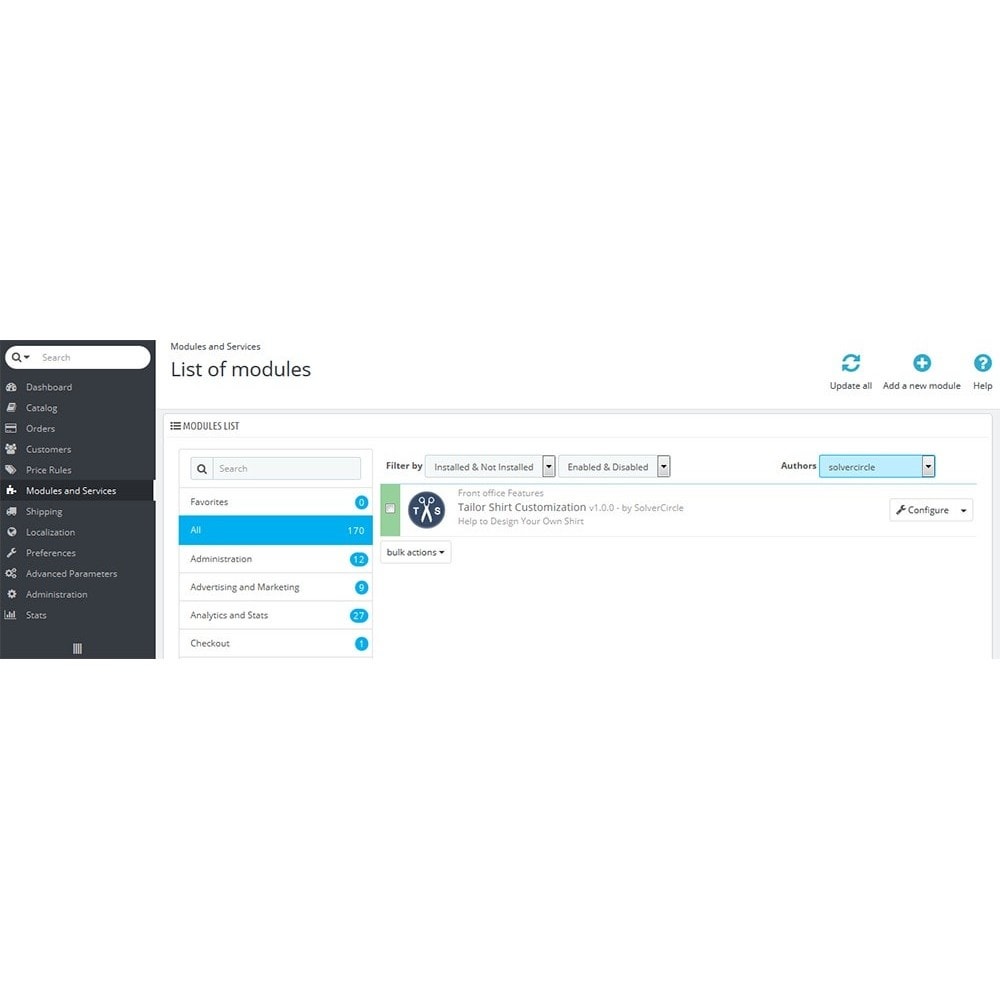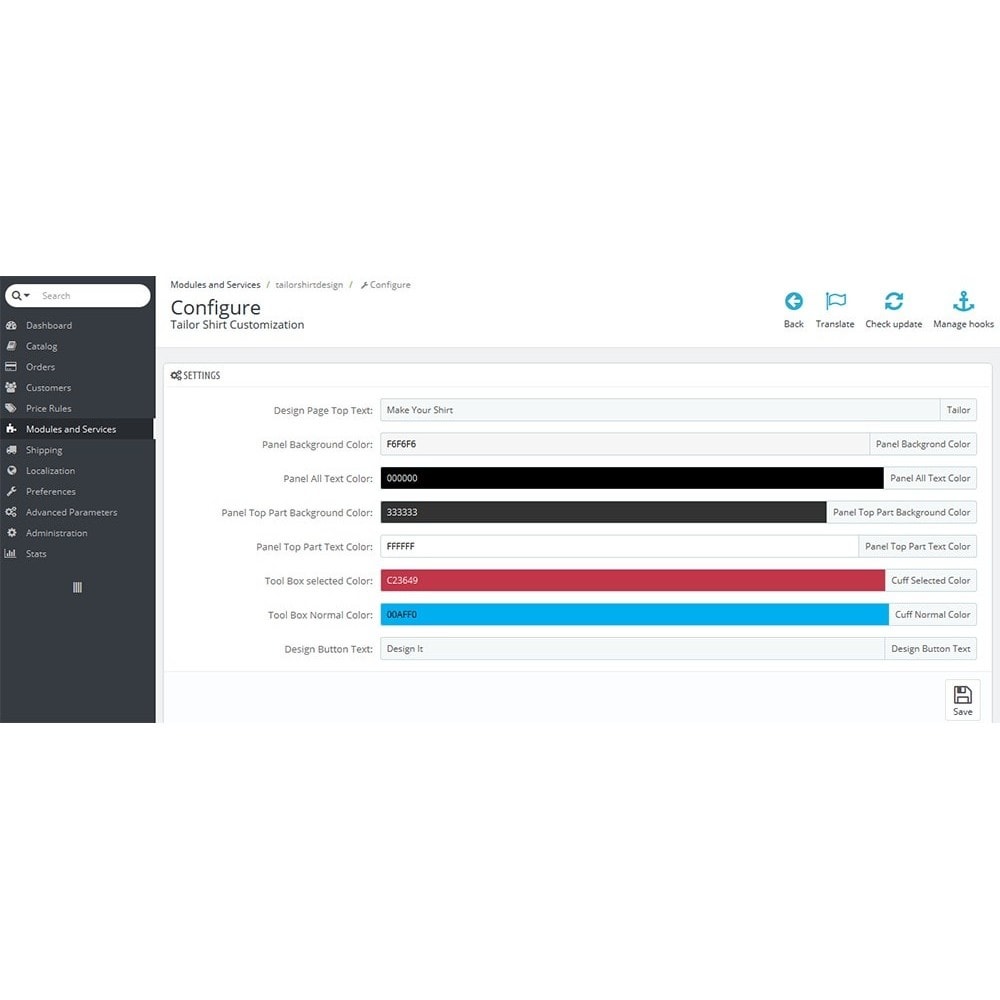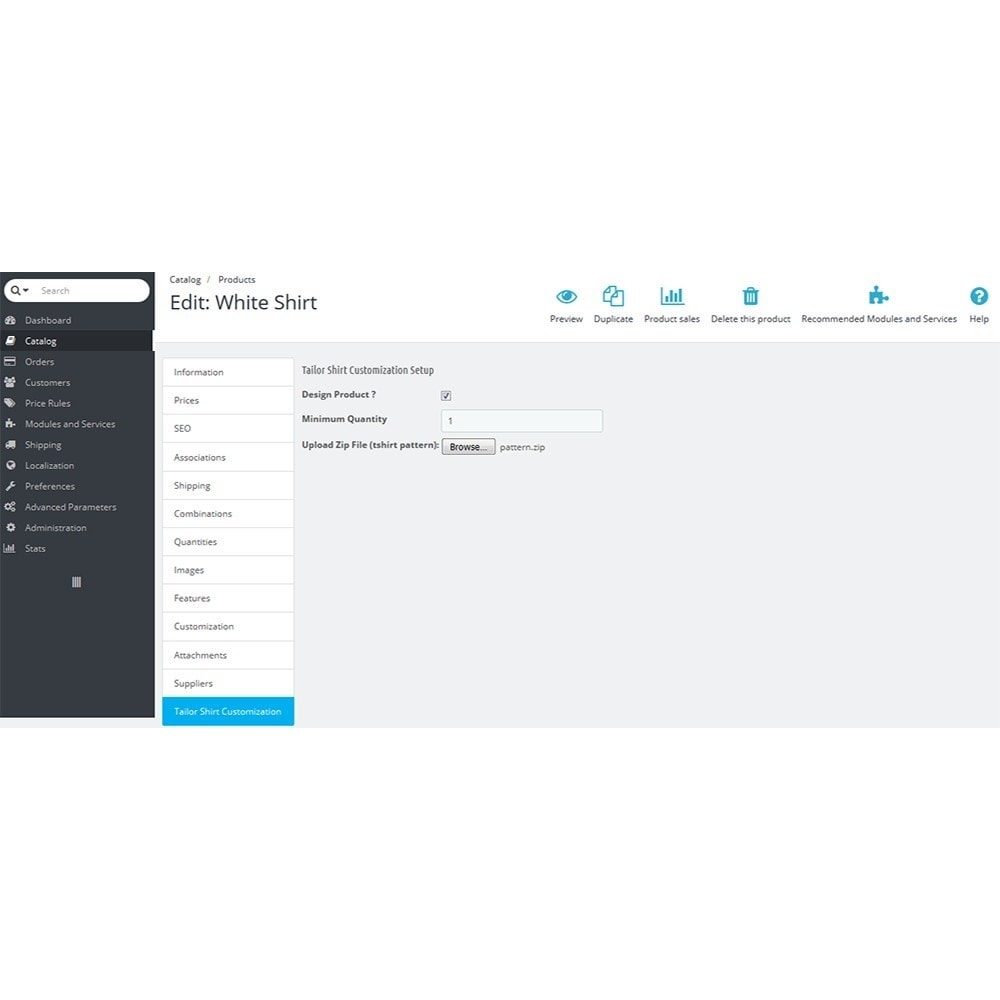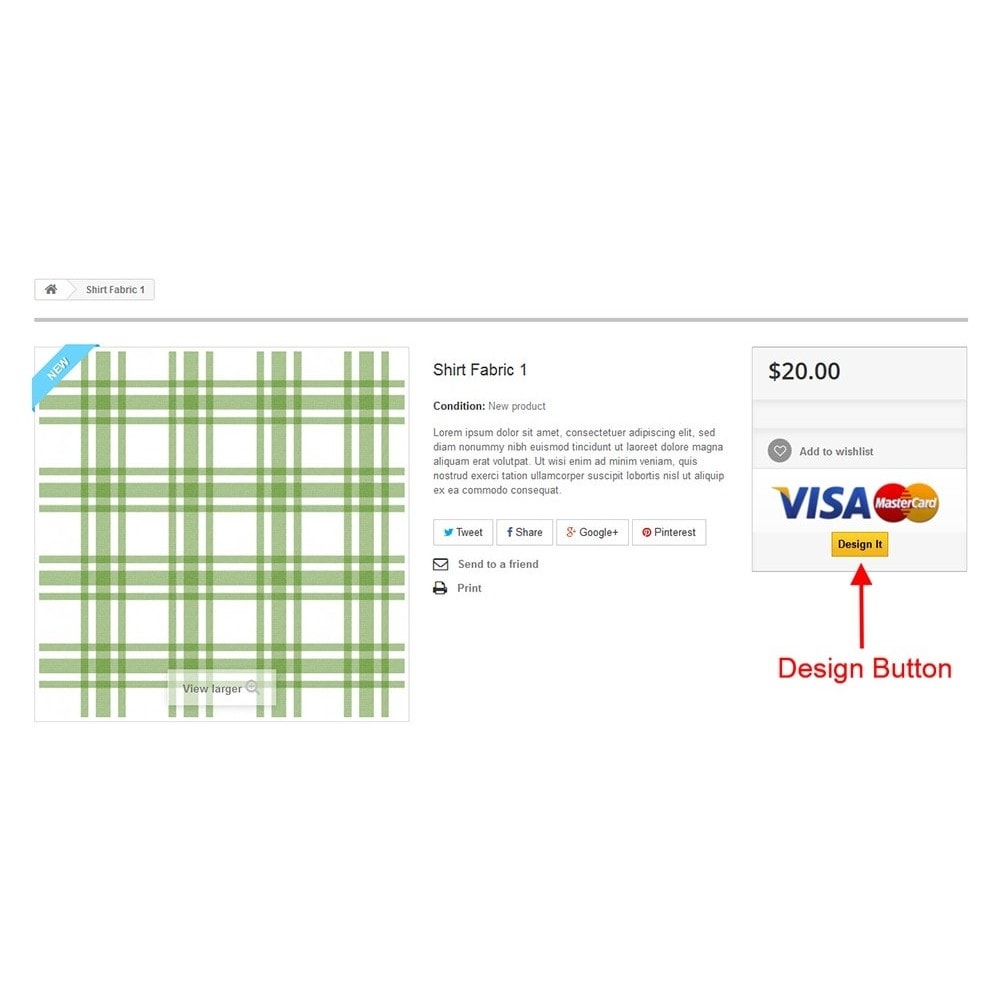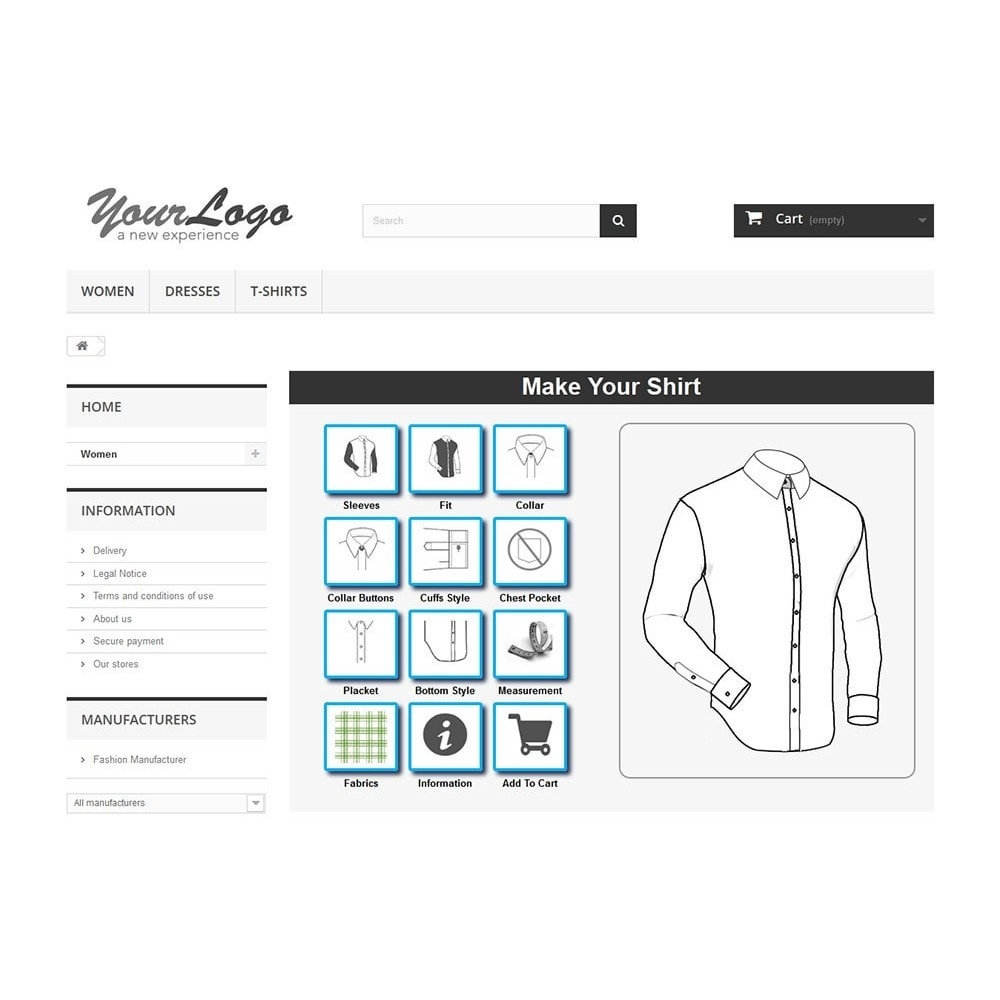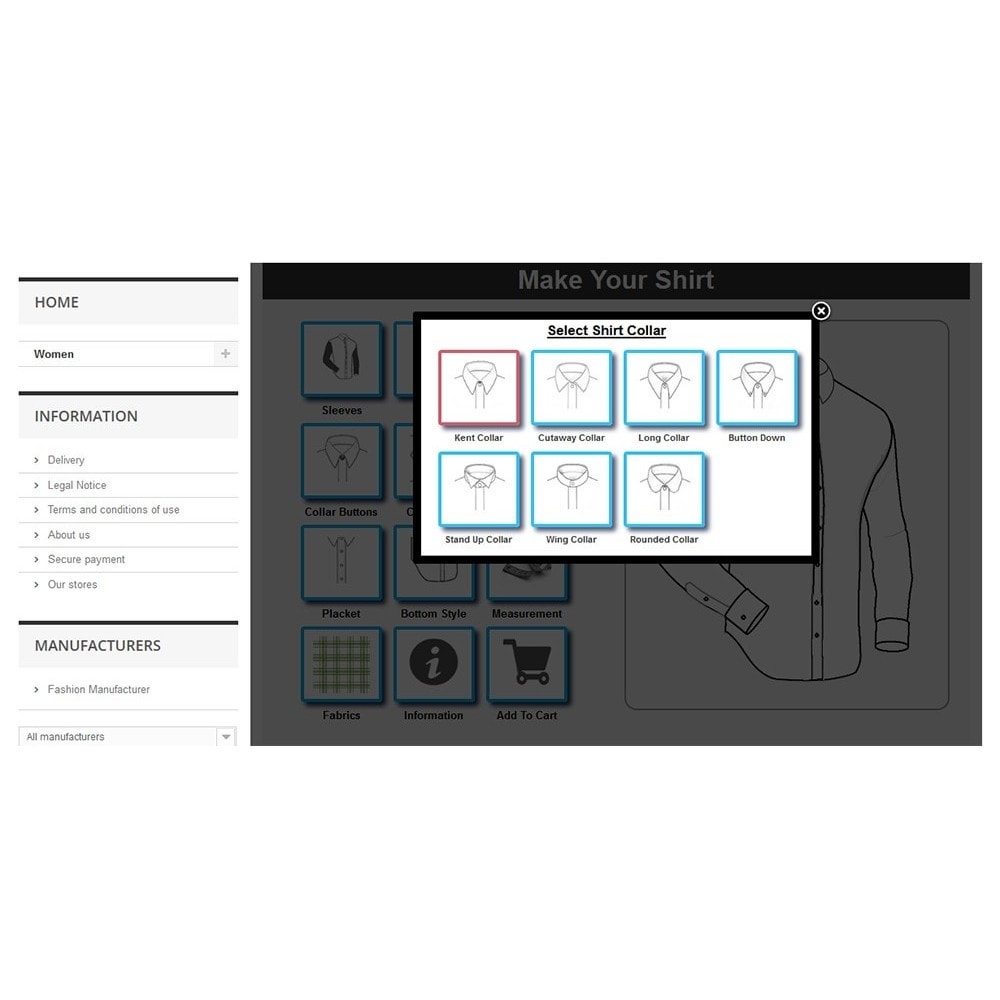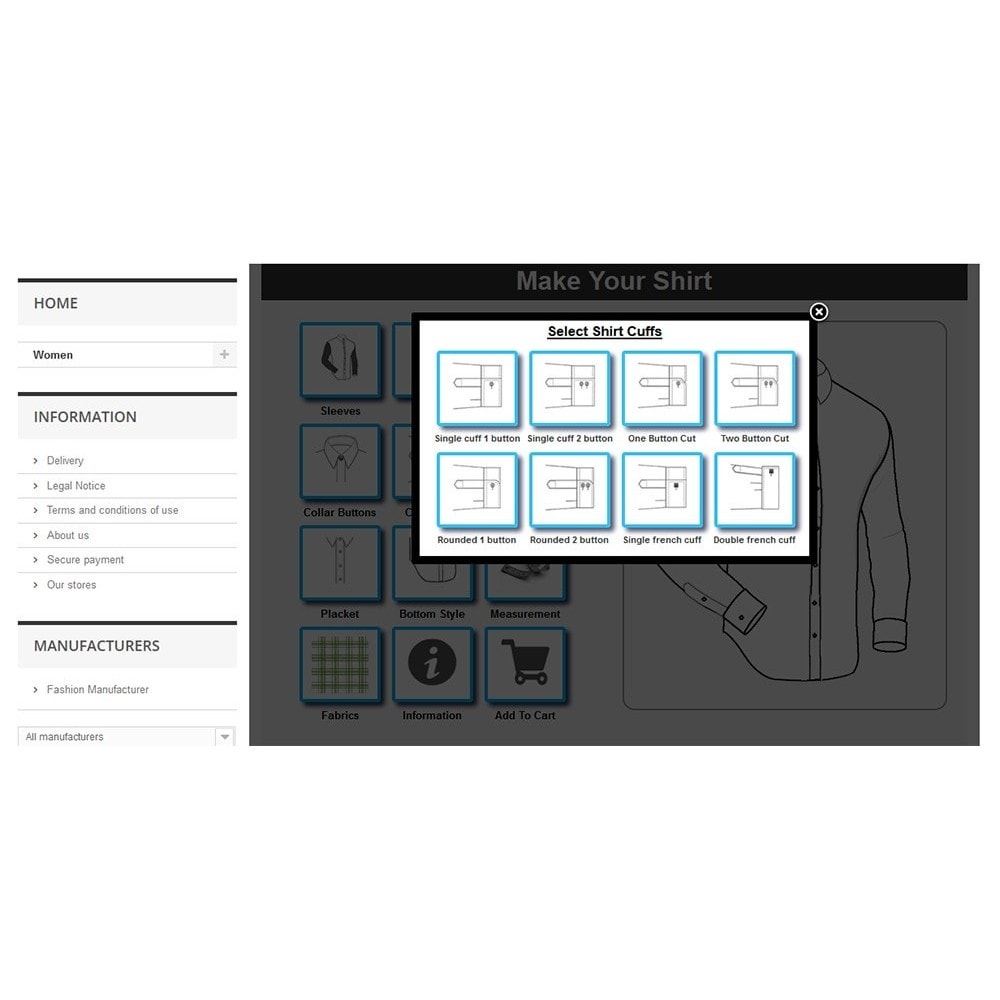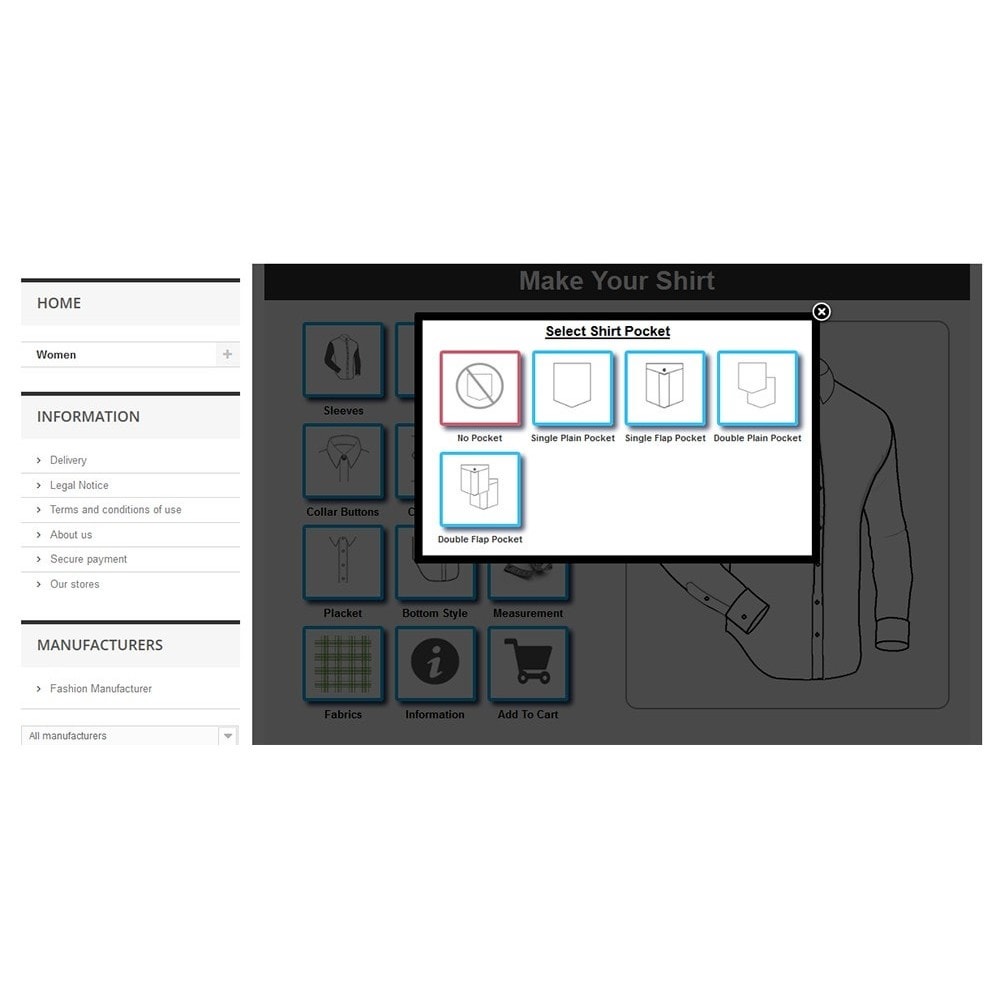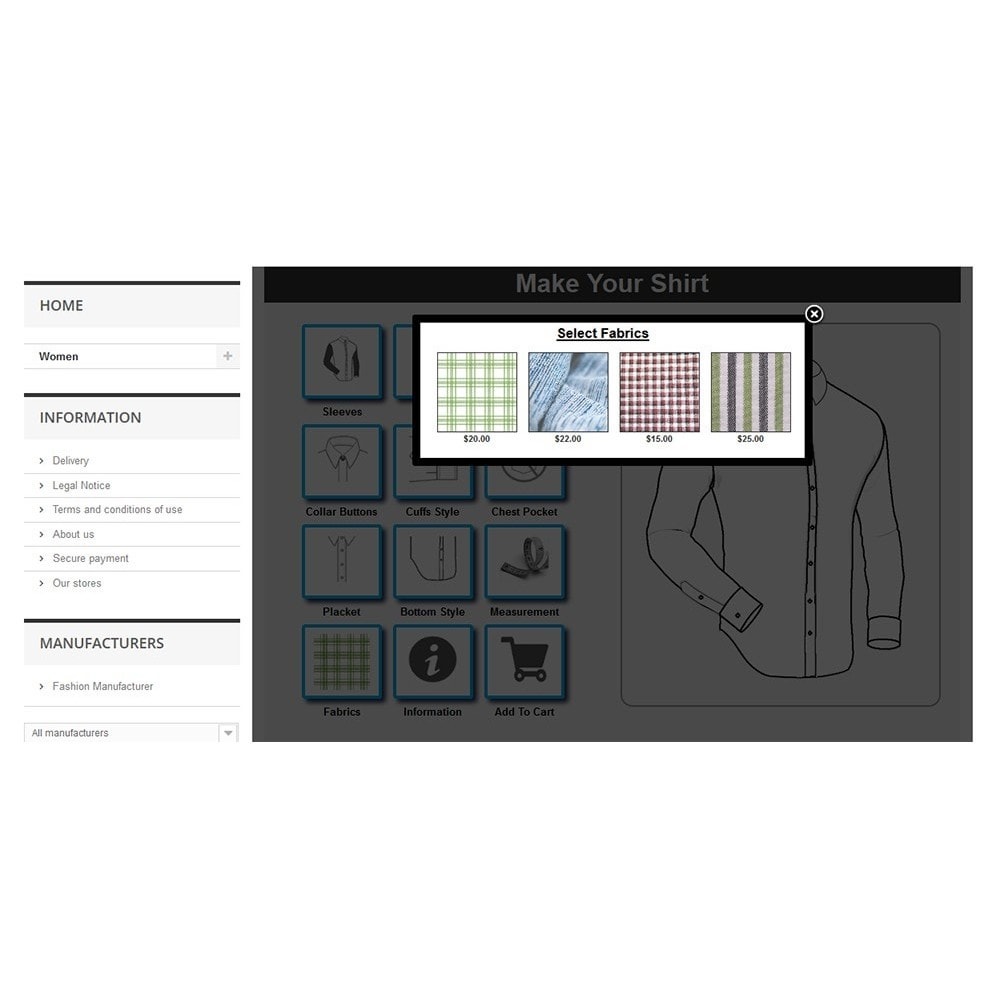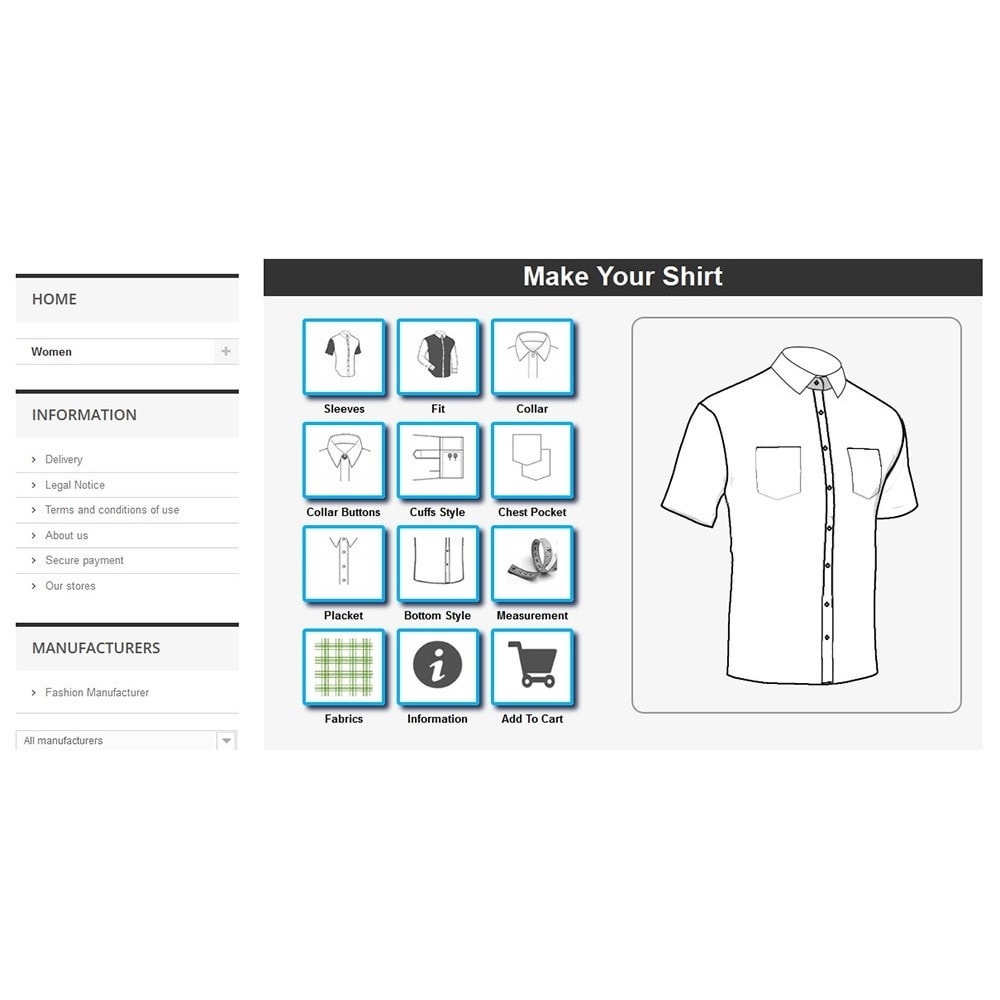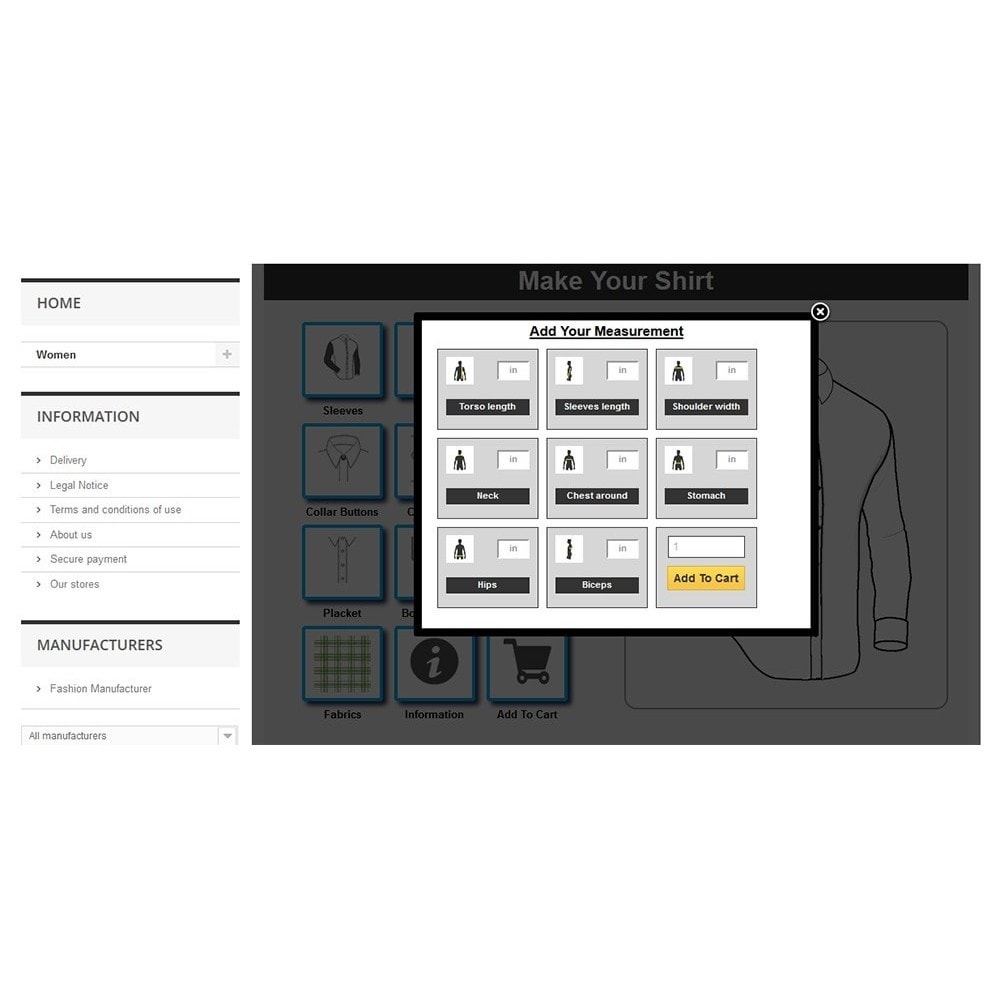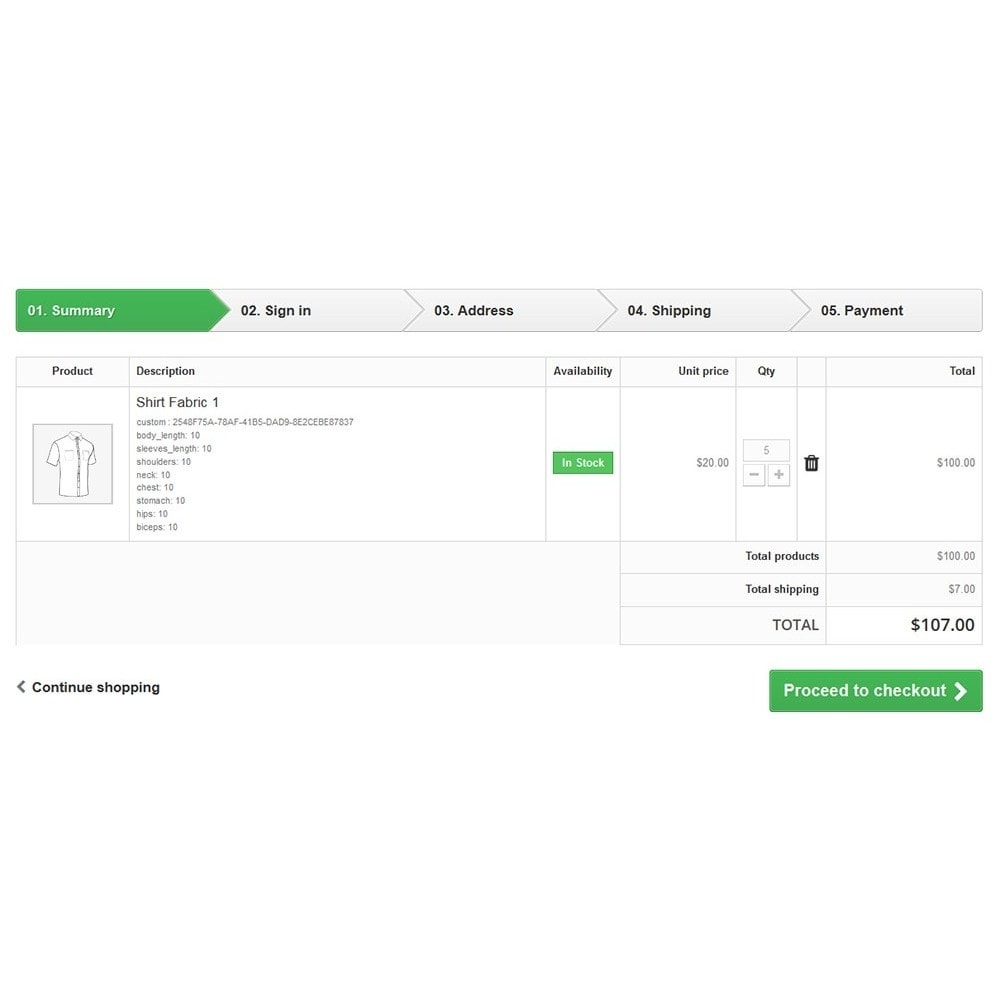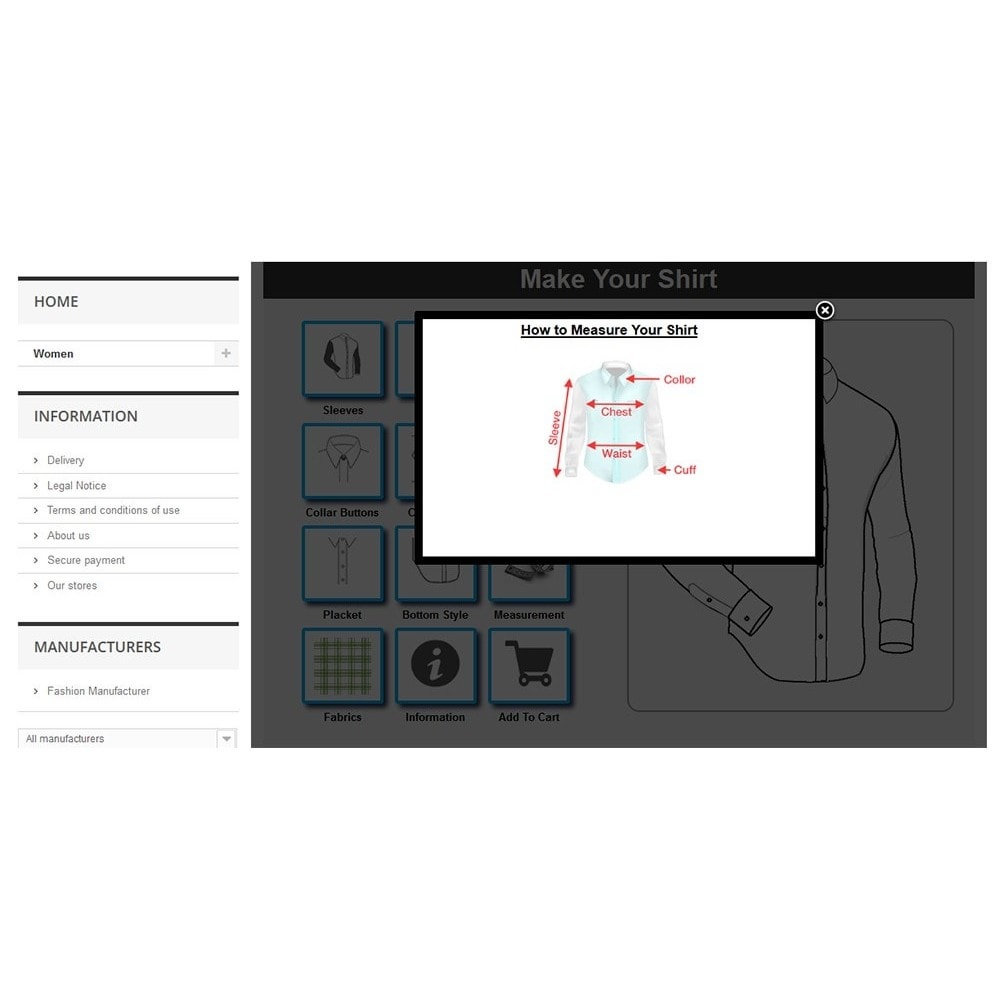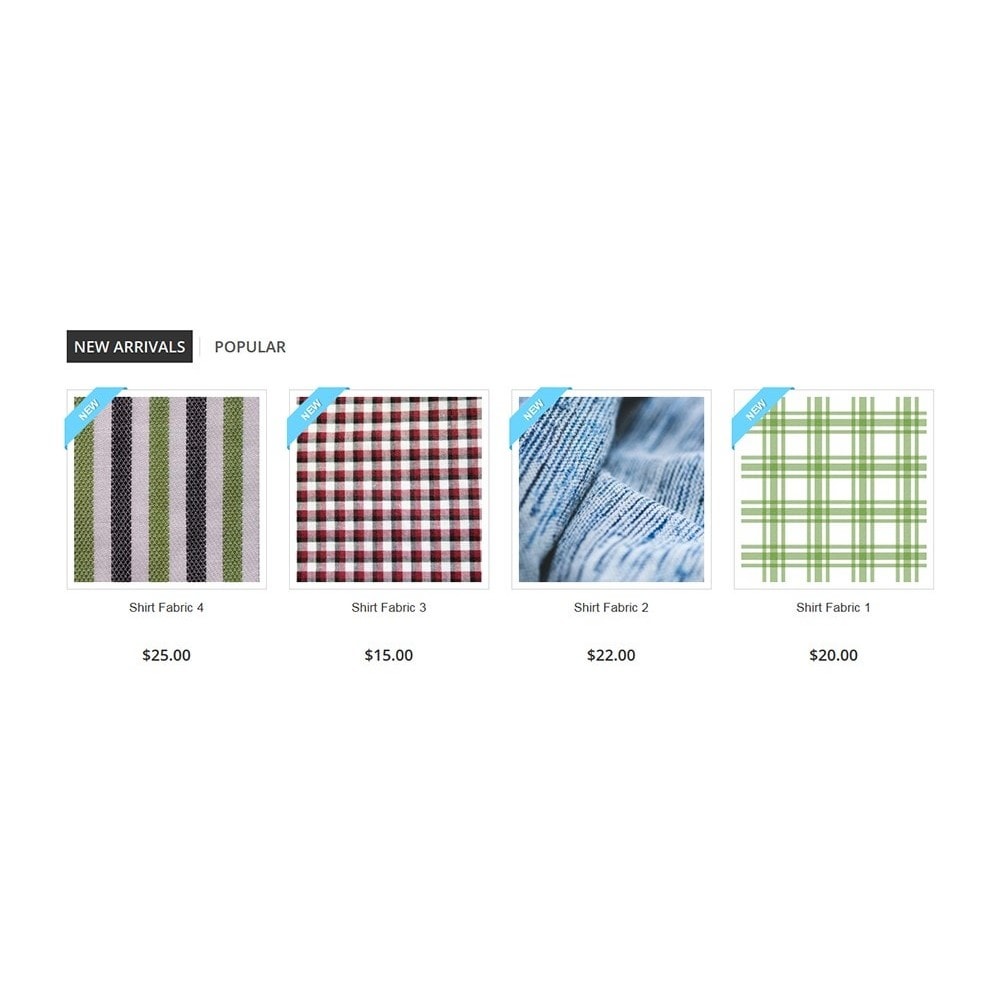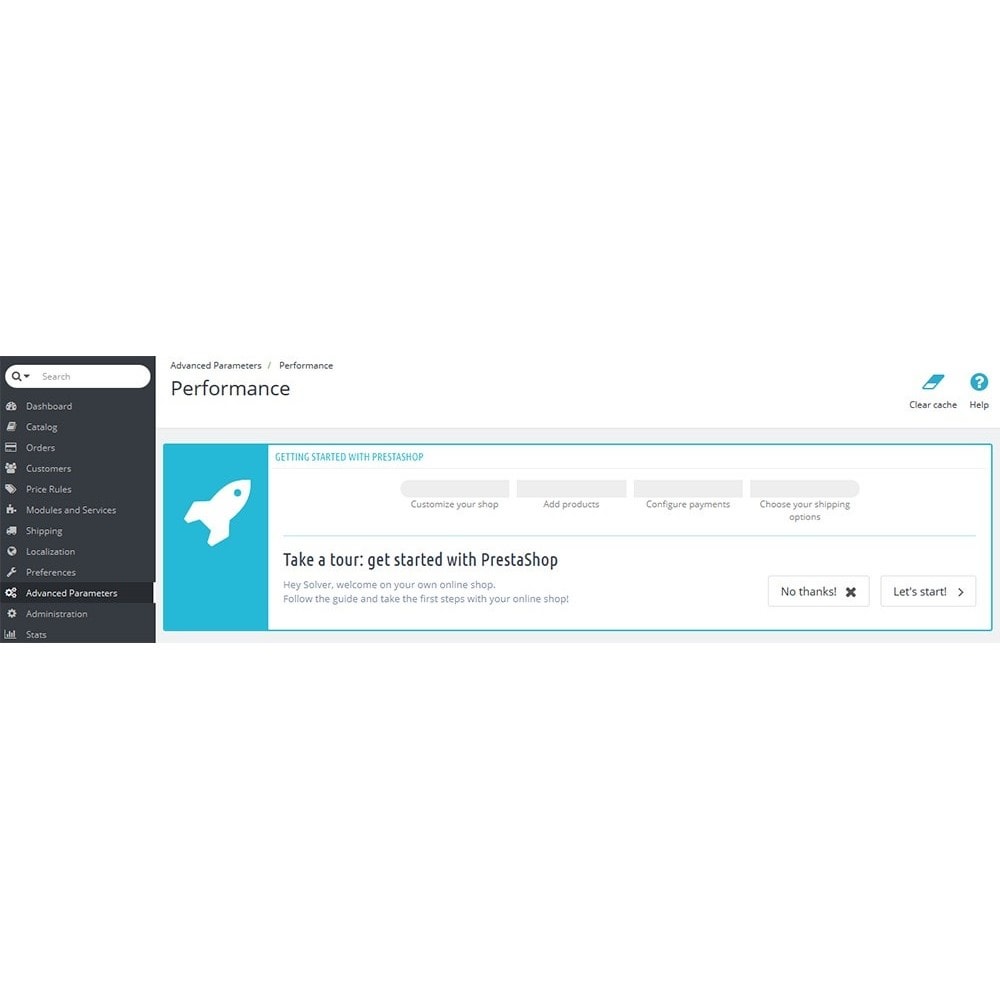 Prezentacja
 "Tailored Shirt Online" module is used to make or customize garments through online.
Korzyści wynikające z tego modułu
Konwersje Oferuje produkt dostosowany do Twoich klientów
Shoppers can easily customize garments through online.
Just chose a fabrics and start design.
Sleeves can be set for long or short.
Fit, normal and loose fit can be select.
Seven (7) types of collar can be select from design panel.
Collar buttons single/double option.
Eight (8) types of cuff style are available.
Different types of chest pocket can be select.
Different types of placket can be select.
Tail and square shaped bottom style is available.
Shoppers can set their shirts measurement.
Shoppers can add to cart with quantity from design panel.
Design preview is available in cart page.
Funkcje
Enable or disable design panel for specific fabrics.
Minimum customization quantity can set.
Zip file upload facilities.
Change all text of design panel from admins "Settings" option.
Change color and design view of frontend design panel.
Często kupowane w zestawie
Community developer Opracował

PrestaShop v1.6.1 - v1.6.1.3 Kompatybilność PrestaShop

PrestaShop Opracował

PrestaShop v1.6.0.4 - v1.7.2.4 Kompatybilność PrestaShop

PrestaShop Opracował

PrestaShop v1.6.0.4 - v1.7.2.4 Kompatybilność PrestaShop
Wsparcie techniczne oraz aktualizacje
Otrzymasz automatycznie 3 miesiące pomocy technicznej dla tego produktu.
Przez 90 dni po zakupie jesteś uprawniony do pomocy technicznej i funkcjonalnej, a także masz dostęp do aktualizacji dla tego produktu.
Instalacja
Download the module and unzip the files.
Upload the folders from "upload" folder (controllers, img, modules and themes) to the sites "root" directory.
Now Install/Activate the module from "Modules and Services" menu of Prestashop Admin.
Click on the "Configure" link of "Tailor Shirt Customization" modules. You will find the Settings option of this module. Now customize your settings.
Now add new products from Catalog > Products > Add new product (Insert the necessary fields) and press the "Tailor Shirt Customization" Tab to set "Minimum Quantity" and select "Design Product ?" checkbox to allow for customization at frontend. Here you will find a "Zip File" upload option. You should upload all piece of shirt image as a zip file. We have already uploaded example shirt image in module folder (ps_shirt_design > sample > pattern.zip). So if you upload other shirt images, you must follow exact same image format like image style, folder name and image name which we have provided. For other products, image folder name must be "pattern.zip" and upload it from admin.
Now check it at frontend (go to products detail page and click on to "Design Your Shirt" button) and play with this module :)
Co nowego w wersji 1.0.0(2015-12-04)
We changed success_msg from module core file
we also remove our all links and email from module, and we add pattern sample images into module img folder
O wydawcy
2015-07-24

Sprzedawca PrestaShop

Bangladesh

Kraj region
Masz pytanie?
Potrzebujesz pomocy?
Wydawca odpowie Ci w ciągu