module Import eBay, the essential addon for the eBay module
Ontwikkeld door
202 ecommerce
(8 stemmen)
Meer dan 90 % van onze gebruikers bevelen dit product aan
De gemiddelde waardering omvat alle beoordelingen van de afgelopen zes maanden.
Expertiseniveau
De gebruikers van dit product zijn van mening dat u voor dit product een niveau:
Voor startende gebruikers
2
Voor gemiddeld gevorderde gebruikers
1
Voor gevorderde gebruikers
1
Modules
Partner Creator
PrestaShop
1.5.0.0 - 1.6.1.17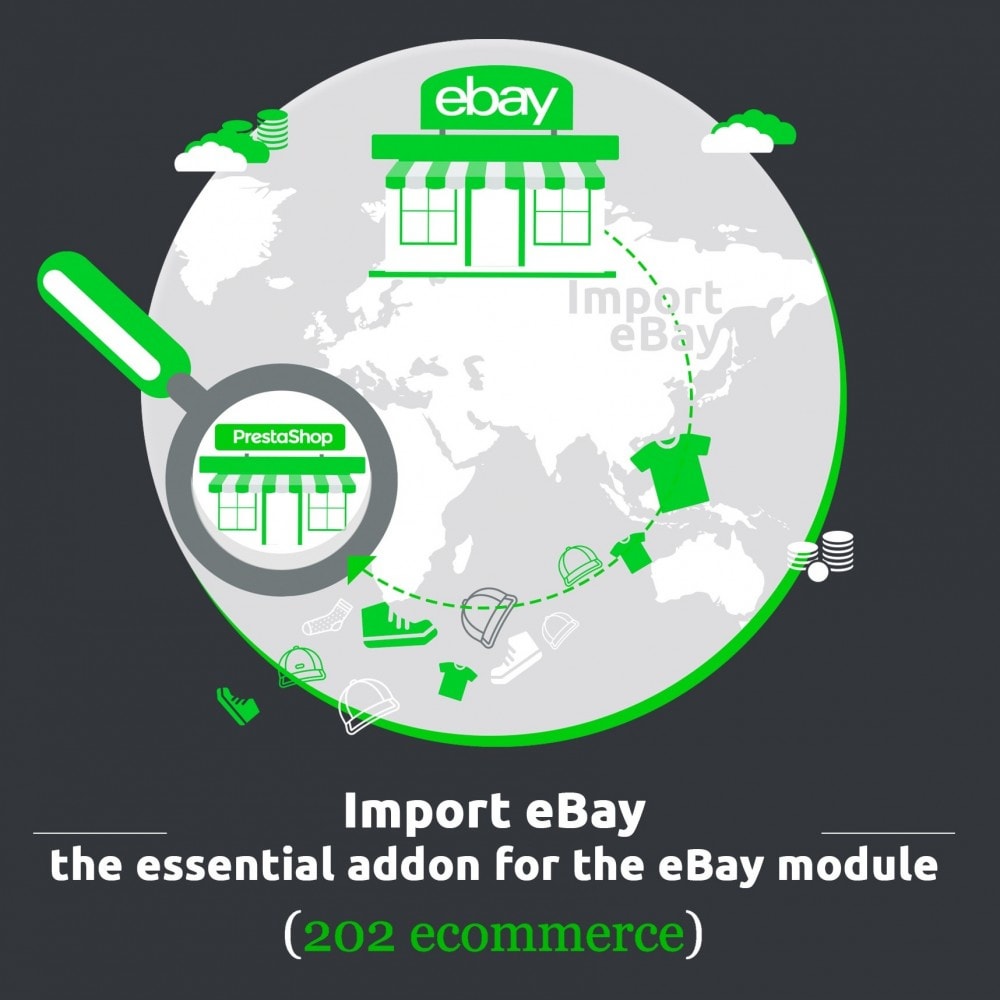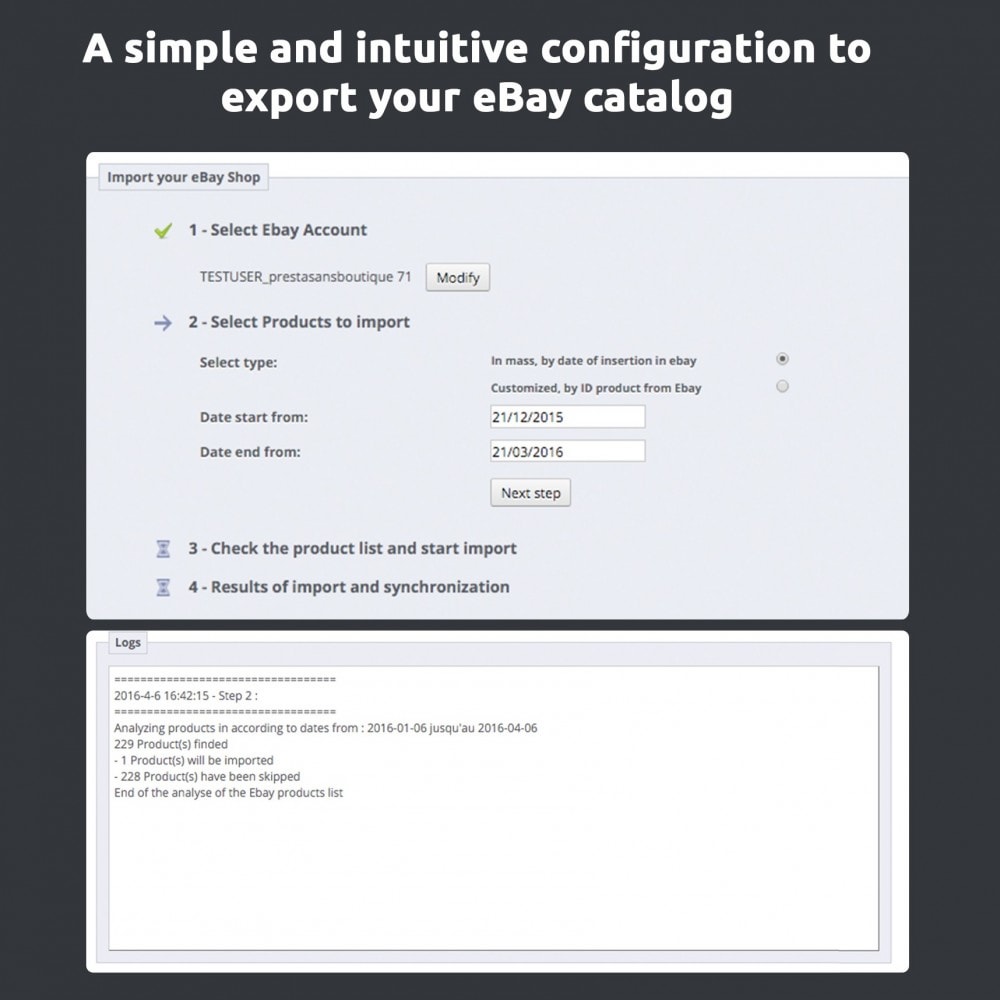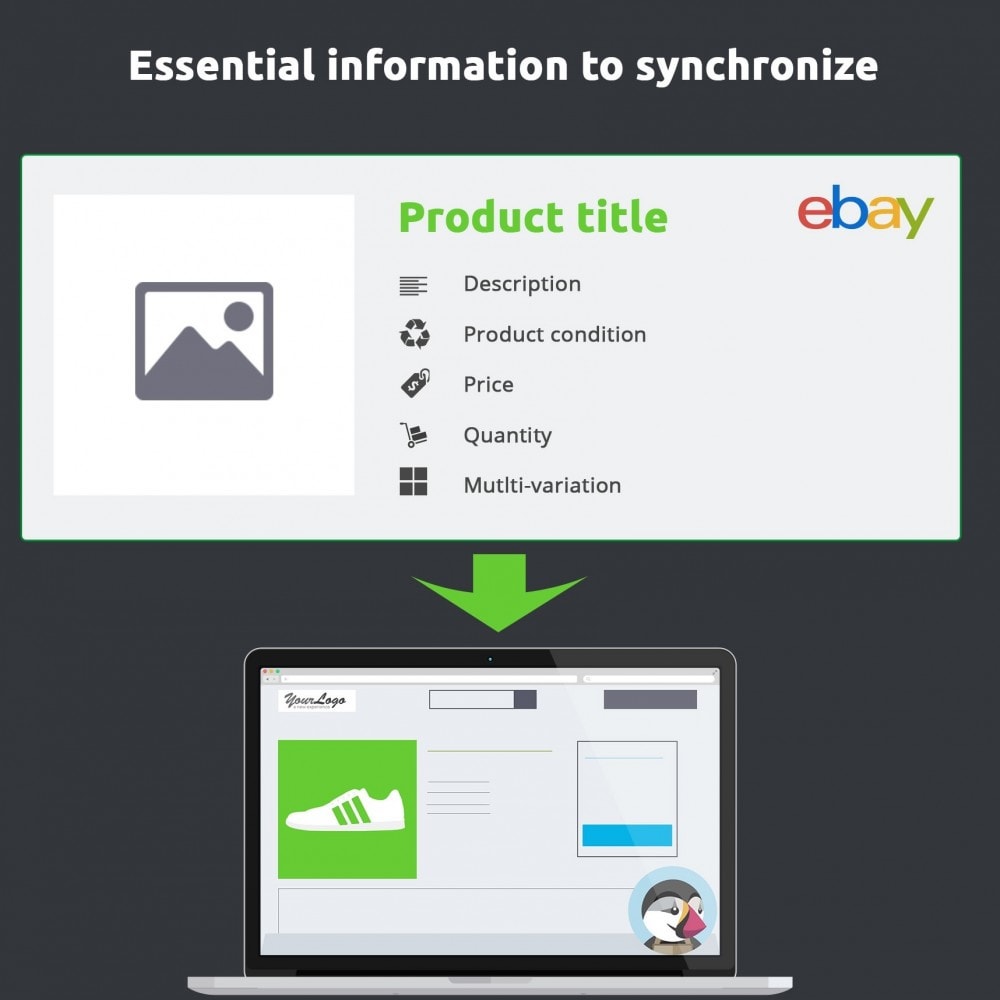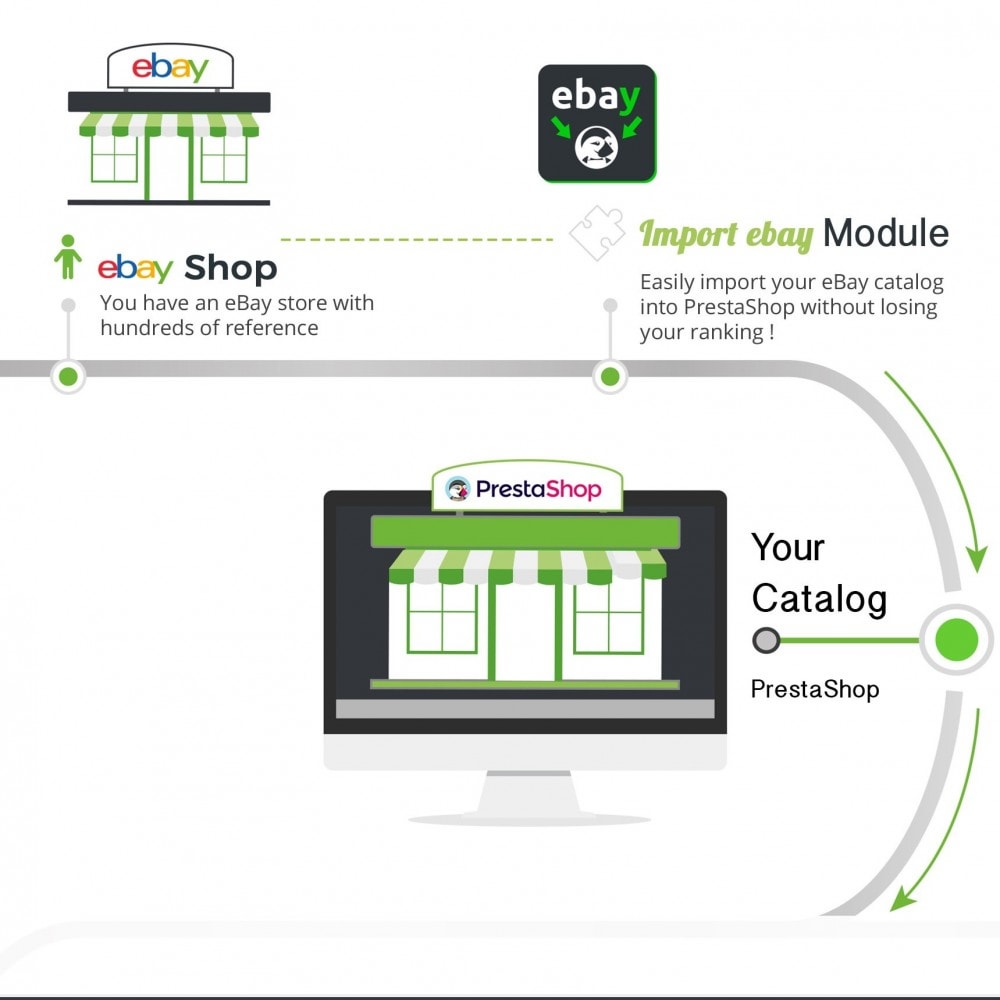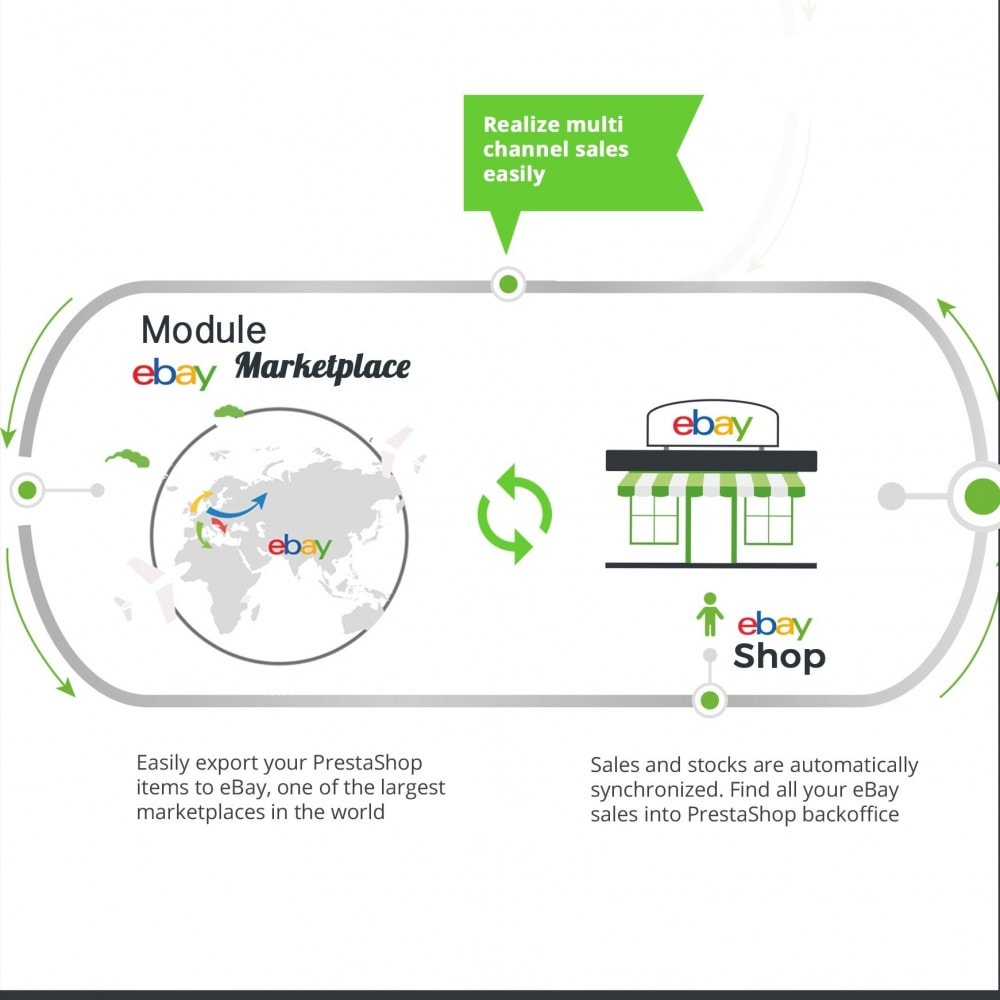 Presentatie
This module is the best way to import and synchronize your eBay shop with a new PrestaShop account. Import your eBay catalog into PrestaShop and set up synchronization between PrestaShop and eBay while retaining your existing eBay listings.
Wat deze module u te bieden heeft
Productiviteit Optimaliseert het beheer van uw catalogus
Avoid creating new products sheets : The official marketplace eBay module allows to transform your PrestaShop products into eBay listing. However, it does not allow to create Prestashop products from your eBay store. The Import module eBay is here to make this operation possible.
 
Avoid losing your eBay ranking: Manually Copy your existing eBay listings on eBay PrestaShop would lose your rankings.
 
Interconnection with the official eBay module : The « eBay import » module will allow you to import eBay products into PrestaShop and sale in your eBay store thanks to the eBay official module. It allows to transfer the invisible technical information that ensure the association of PrestaShop with eBay listings.
 
A listing improved product in your eBay store : With the official "eBay marketplace" module synchronize your Prestashop product with your eBay listing. So give the opportunity to your customers to enjoy a product sheet more functional and aesthetic.
Kenmerk
When transferring your products from your eBay store in PrestaShop, the following information is imported:
                  -  Product illustration 

                  -  The name of your item 

                  -  Product condition : new, second-hand 

                  -  Text description of your product 

                  -  Sell price excluding VAT 

                  -  The quantity 

                  -  Different versions including quantities and prices 

 
PLEASE NOTE: NO PRICE CONVERSION HAS BEEN MADE. THEREFORE THE CURRENCY FOR YOUR EBAY ACCOUNT MUST BE THE SAME CURRENCY USED IN YOUR PRESTASHOP ENVIRONMENT! 


This module is accompanied by documentation detailing each step of the configuration and installation process. This one is available for download in PDF file in this product sheet. Due to the complexity for configuring the module, 202-Ecommerce offers a paid service to install and configure it in your PrestaShop environment. If you're interested, thank you to contact us directly from this product sheet.
Overig
Other modules 202-ecommerce
We suggest the "Splash Screen" module for displaying your newsletter and a link to your Facebook fan page, so you can promote a product or to make an advertisement in your shop.

About 202-ecommerce
Web agency specialized in ecommerce web sites, we adapt web technologies to online sales. Composed of passionate web professionals in online retail, we are working alongside of e-businessmen enlivened by the same wish to always sell more.
Wat uw klanten zullen waarderen
 Your customers will appreciate to visit your eBay catalog from your PrestaShop store. They thus benefit of consistency between your PrestaShop and eBay store.
Ondersteuning en updates
U profiteert automatisch van 3 maanden ondersteuning bij dit product.
Tot 90 dagen na de aankoop profiteert u van technische en functionele ondersteuning en van toegang tot beschikbare updates voor dit product.
Kies de optie Zen om 12 maanden lang te profiteren van een goed werkend product!
Met de optie Zen heeft u gedurende een jaar na aankoop toegang tot ALLE updates van het product. De ontwikkelaar van het product beantwoordt via de mail al uw technische en functionele vragen.
Wat is de optie Zen?
De optie Zen omvat twee services:
een onbeperkte aftersales-service tijdens de optieperiode;
toegang tot alle updates van dit product in deze periode.
De optie Zen is tegen een gunstige prijs beschikbaar op het moment van de aankoop van dit product, maar u kunt deze ook aanschaffen na aankoop, dit vanuit uw klantaccount.rnDe optie is geldig tot een jaar na de aankoopdatum van uw product. Hoe vroeger u 'm koopt, hoe langer u ervan profiteert!
Wat omvat de Option Zen?
De optie Zen omvat:
antwoorden op vragen over het gebruik van de module/het thema;
oplossingen van technische problemen met de module/het thema;
toegang tot alle updates van de module/het thema.
Onderstaande diensten zijn niet inbegrepen in de optie Zen:
specifieke personalisering en ontwikkeling;
de installatie en update van de module/het thema:
het oplossen van problemen met de services van derde partijen, de hosting of de server, of met de software van PrestaShop.
Installatie
Caution : If an ERP is connected directly to eBay for your order management you need to connect it to PrestaShop before starting an import.
 
Prerequisite – Installation of Ebay module
Step 1 : In your environment, go to the modules tab to find the « Ebay Marketplace » module and install
Step 2 : In the module, connect using your eBay log in and password

Step 3 : Fill in all the requested parameters on the "Account Settings" and save your
changes
Step 4 : Go to "Advanced Settings" and select the radio button "by cron task" parameters "Sync orders" and "Sync Products".
Step 5: Finally, turn off eBay Module
 
 
Installation of the Import Ebay module
Step 1 : Download the module on addons.prestashop.com
Step 2 : Load the module into your Prestashop environment
Step 3 : In the « modules » tab of your backoffice, look for the « Import Ebay » module in the search bar.
Step 4 : After having clicked on « configure », the module will confirm if the installation has been successful.
 
 
Setup the official « eBay maketplace » module to synchronize 
After importing your eBay products into your Prestashop store with the Import eBay module, you must now synchronise your store. The official eBay module allows you to synchronise content information to your Prestashop product sheets and quantities available after an order, with your eBay store.
To begin synchronisation you must now enter the rest of the settings requested in your eBay module. If needed, a help is available for the official eBay module.
 
Due to the complexity for configuring and use the module, 202-Ecommerce offers a paid service to install and configure it in your PrestaShop environment. If you're interested, thank you to contact us directly from this product sheet.
Vaak samen gekocht
202 ecommerce Ontwikkeld door

PrestaShop v1.5.0.0 - v1.6.1.17 Compatibiliteit

PrestaShop Ontwikkeld door

PrestaShop v1.6.0.4 - v1.7.2.4 Compatibiliteit

Community developer Ontwikkeld door

PrestaShop v1.3.0.0 - v1.6.1.17 Compatibiliteit
Wat is er nieuw in versie 2.1.1(2016-10-03)
[*] Not displaying debug tools
Over de ontwikkelaar, 202 ecommerce
202 ecommerce is composed of experimented and passionate web professional in online sale. With a strong backgound on IT projects management, we also work with our customer on webmarketing topics. Our modules are based on our experience made at working with our customers.
202 ecommerce is a young dynamic ecommerce agency based in Paris.  
2009-09-11

PrestaShop-verkoper

France

Land regio
Vragen?
Hulp nodig?
De ontwikkelaar antwoordt u in het