module CSV Import no more 500 errors
Ontwikkeld door
Community developer
(42 stemmen)
Meer dan 90 % van onze gebruikers bevelen dit product aan
De gemiddelde waardering omvat alle beoordelingen van de afgelopen zes maanden.
Expertiseniveau
De gebruikers van dit product zijn van mening dat u voor dit product een niveau:
Voor startende gebruikers
9
Voor gemiddeld gevorderde gebruikers
4
Voor gevorderde gebruikers
1
+500
downloads!
PrestaShop
1.5.5.0 - 1.6.1.17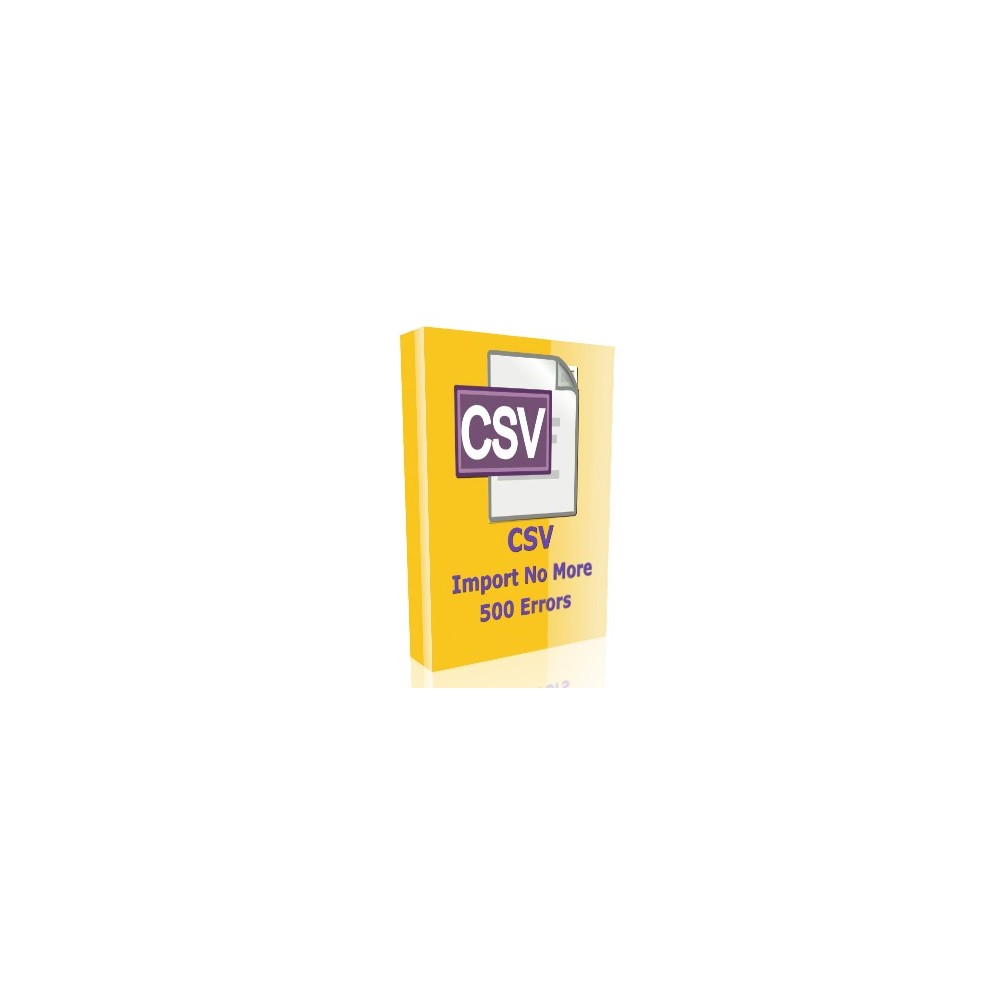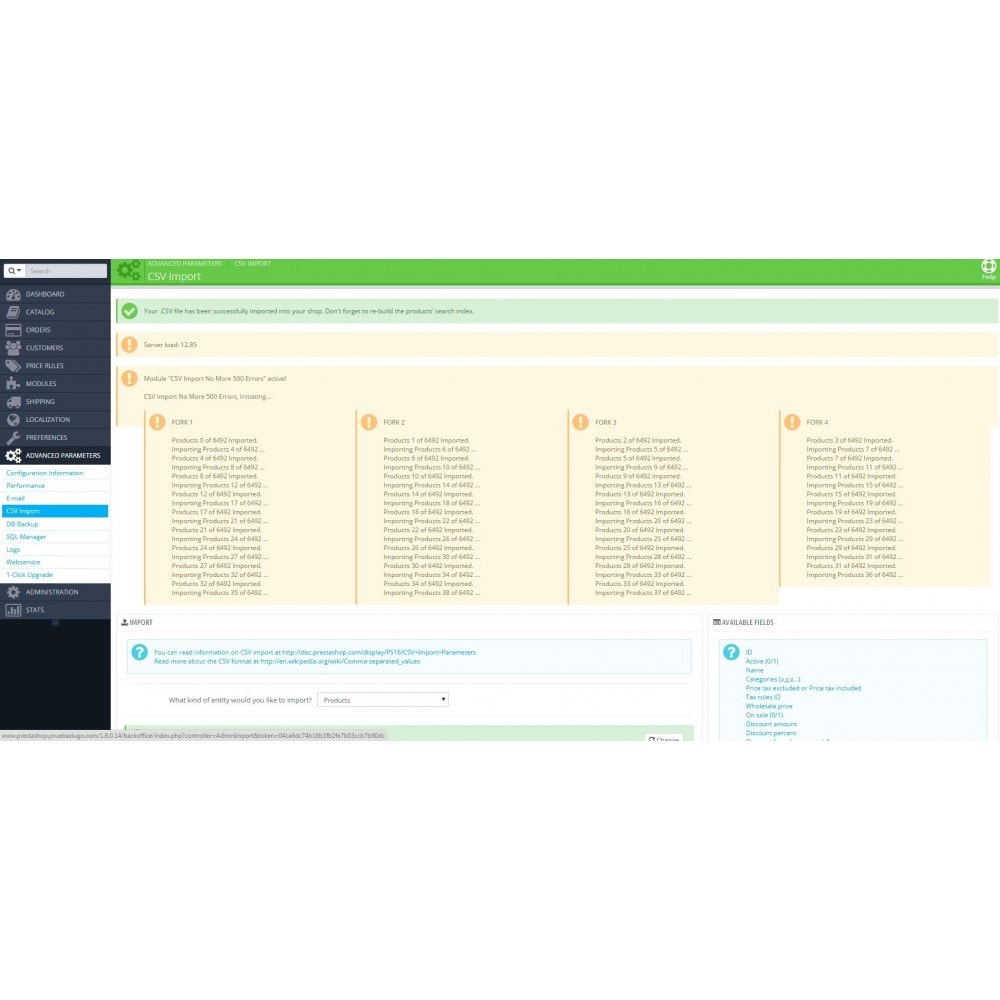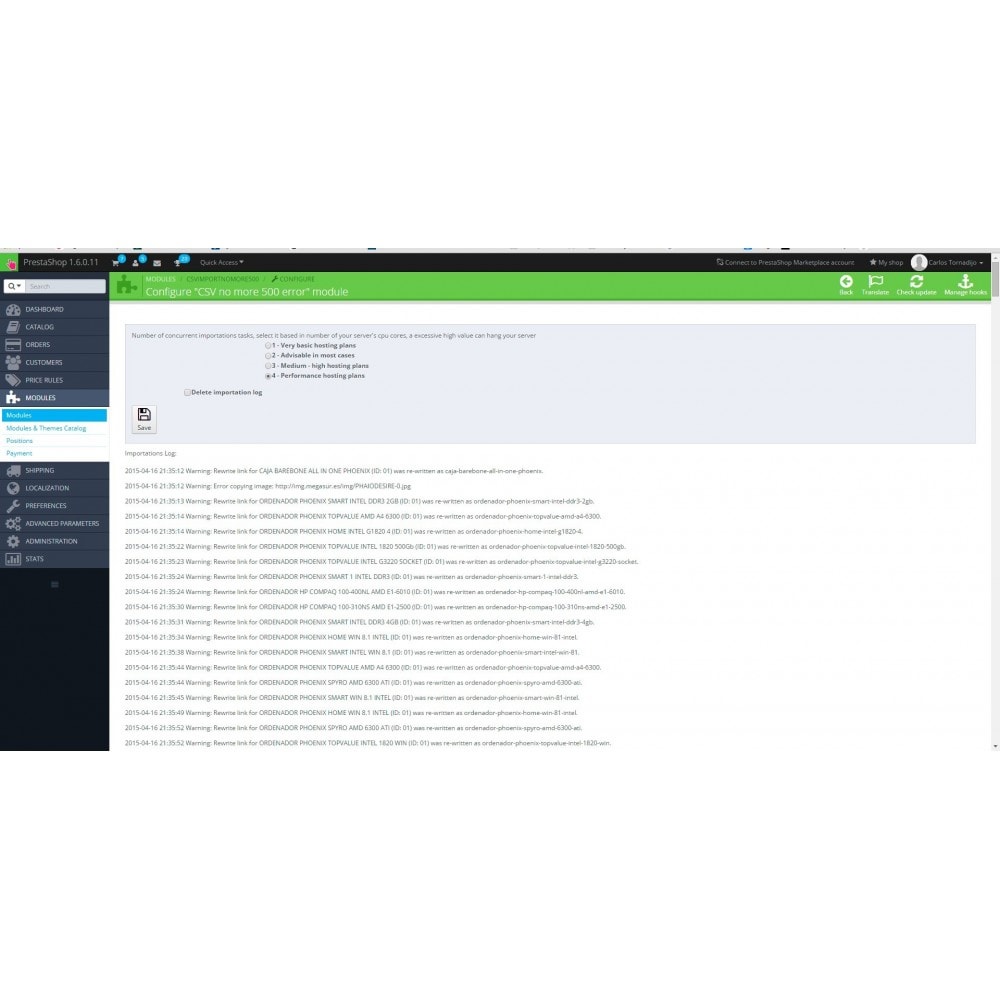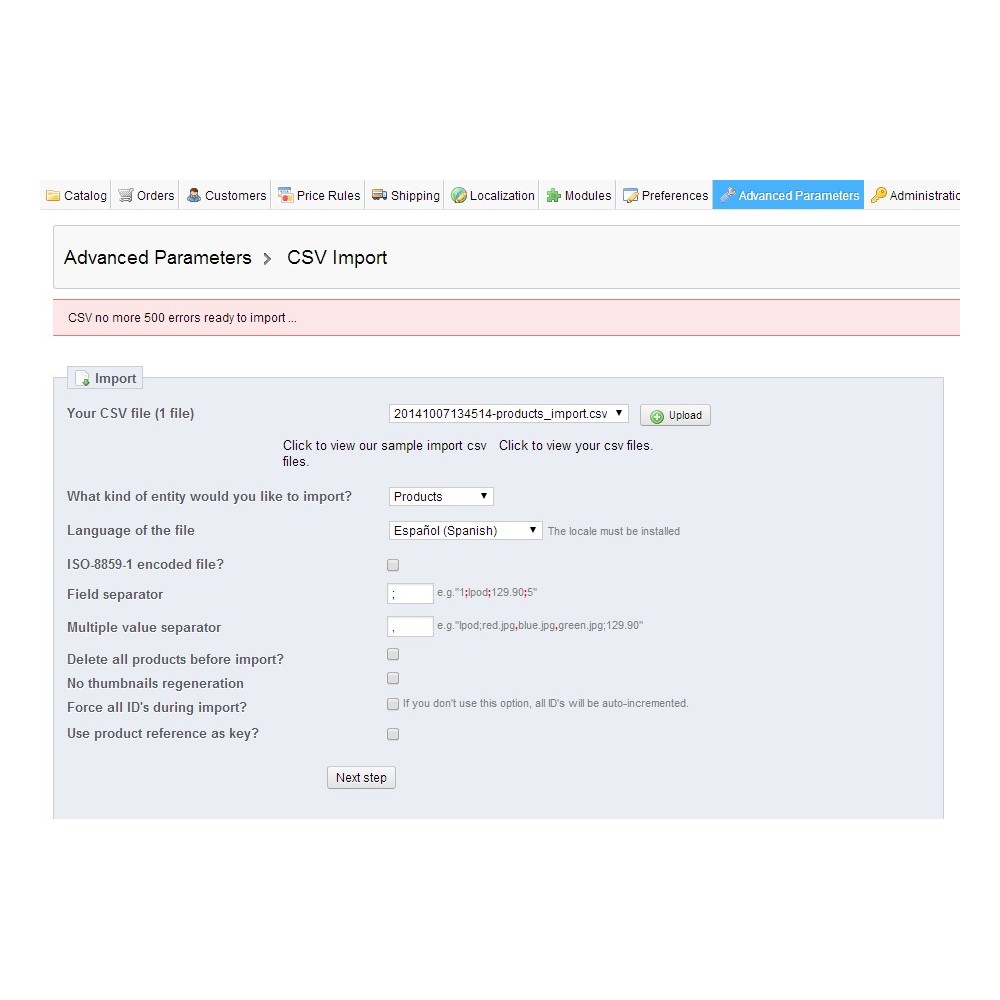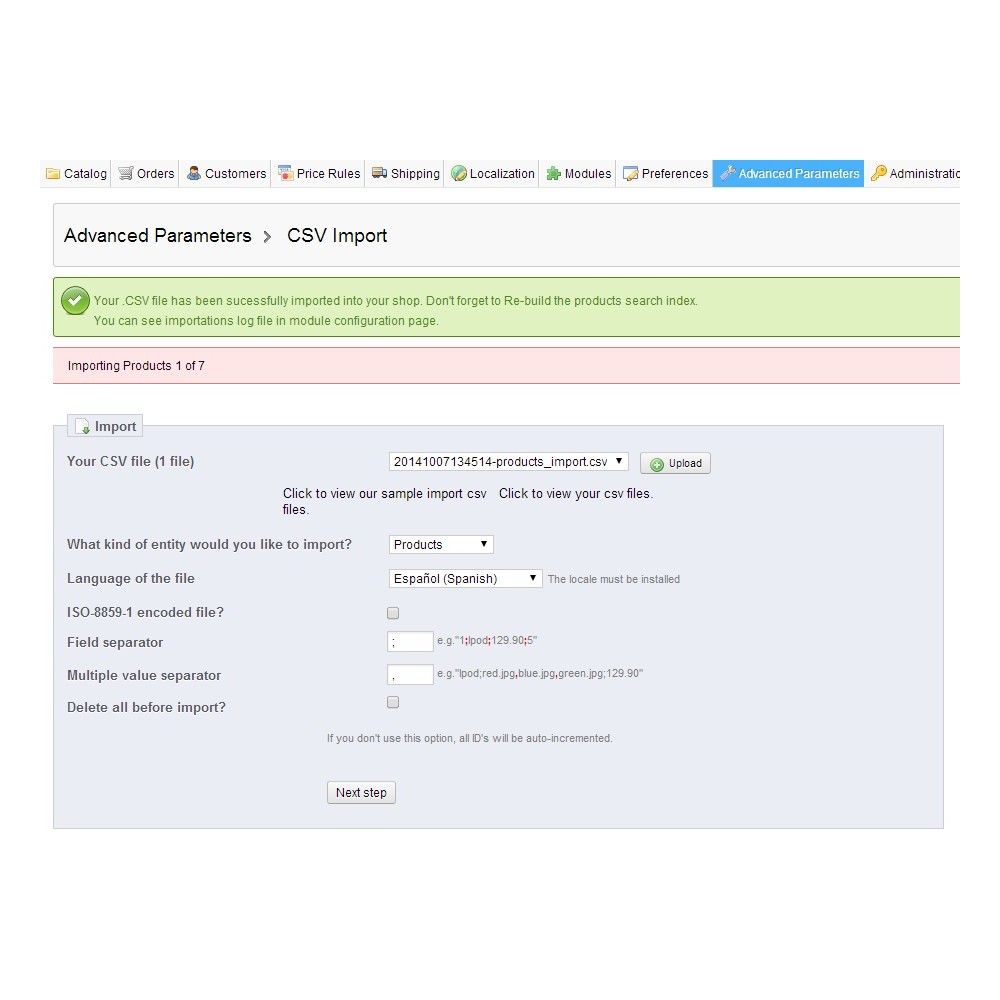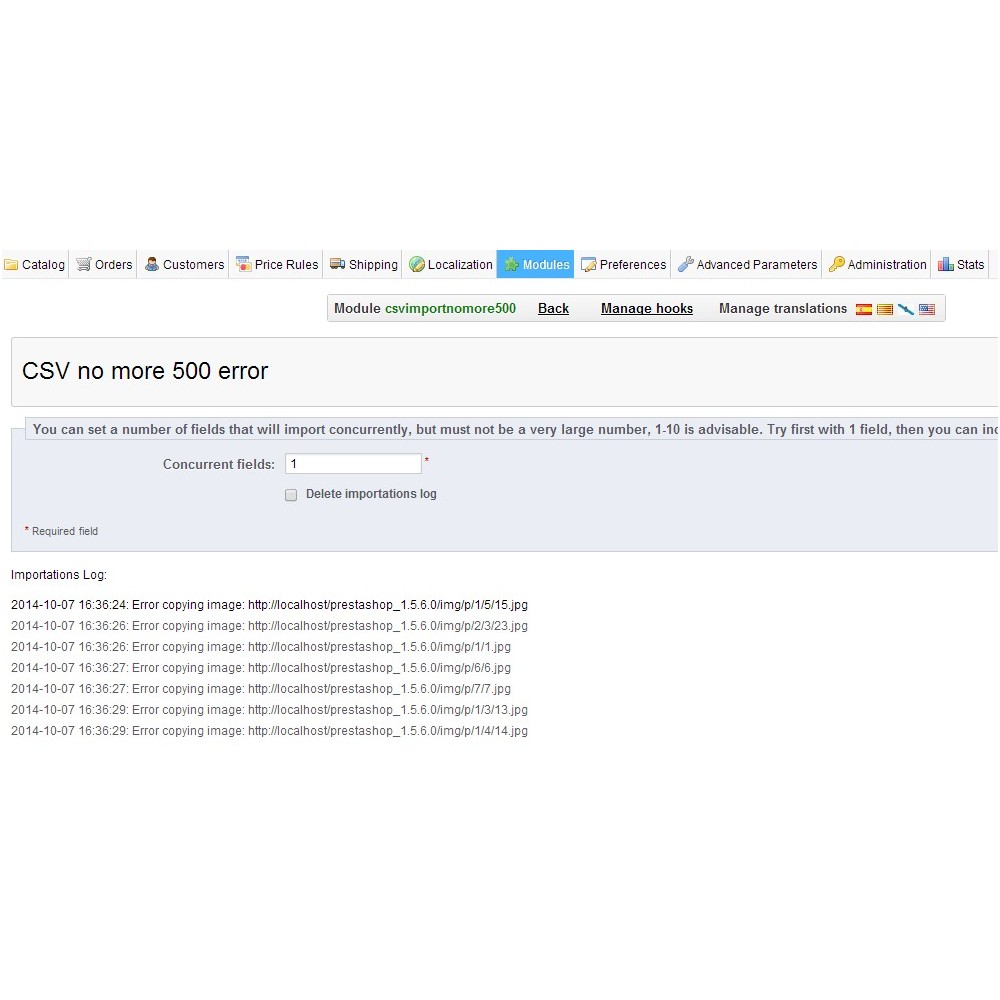 Presentatie
This module fixes error 500 due to an execution time limit in PHP, tipically shown in Shared Hosting, and Dedicated Servers, and multiply speed importing csv's of

- Products
- Categories
- Customers
- Address
- Combinations
Wat deze module u te bieden heeft
With this module, each importation rans in a separate PHP execution, so PHP execution time limit never reached, module improves importation speed, due concurrent tasks, many times faster than native method.

Even if you don't experiments 500 errors, module is a good system to improve importation speed.



Kenmerk
This module uses native Prestashop csv import interface so it's not needed any configuration. If you want, you can
specify a concurrent number of concurrent importations csv fields and a cpu load limit.

In this version module automatically adjusts importation speed based in cpu load, so importation speed is always optimal.


Wat uw klanten zullen waarderen
Importation speed depends of server speed and csv content, around 2-3 rows per second, Let it work and take a break!

Aanbeveling
To go back native csv import method, simply disable module.
Ondersteuning en updates
U profiteert automatisch van 3 maanden ondersteuning bij dit product.
Tot 90 dagen na de aankoop profiteert u van technische en functionele ondersteuning en van toegang tot beschikbare updates voor dit product.
Installatie
Simply install it, active it, configure concurrent csv import fields, and let's import!

Check that you already have set in "NO" (default is already well), Disable non native modules and disable overrides, Under Advanced parameters -> Performance.



Vaak samen gekocht
Community developer Ontwikkeld door

PrestaShop v1.5.5.0 - v1.6.1.17 Compatibiliteit

PrestaShop Ontwikkeld door

PrestaShop v1.6.0.4 - v1.7.2.4 Compatibiliteit

PrestaShop Ontwikkeld door

PrestaShop v1.7.0.0 - v1.7.2.4 Compatibiliteit
Wat is er nieuw in versie 2.2.2(2015-12-14)
Fix disabled importations
Over de ontwikkelaar
2013-12-19

PrestaShop-verkoper

Spain

Land regio
Vragen?
Hulp nodig?
De ontwikkelaar antwoordt u in het