Modulo Optimization and Cleaning
Sviluppato da
Community developer
(10 voti)
Oltre il 90 % dei merchant raccomanda questo prodotto
La valutazione media include tutte le recensioni degli ultimi sei mesi.
Livello di competenze
I merchant pensano che questo prodotto richieda un livello di competenza:
Per utenti principianti
5
+100
downloads!
PrestaShop
1.5.0.0 - 1.6.1.17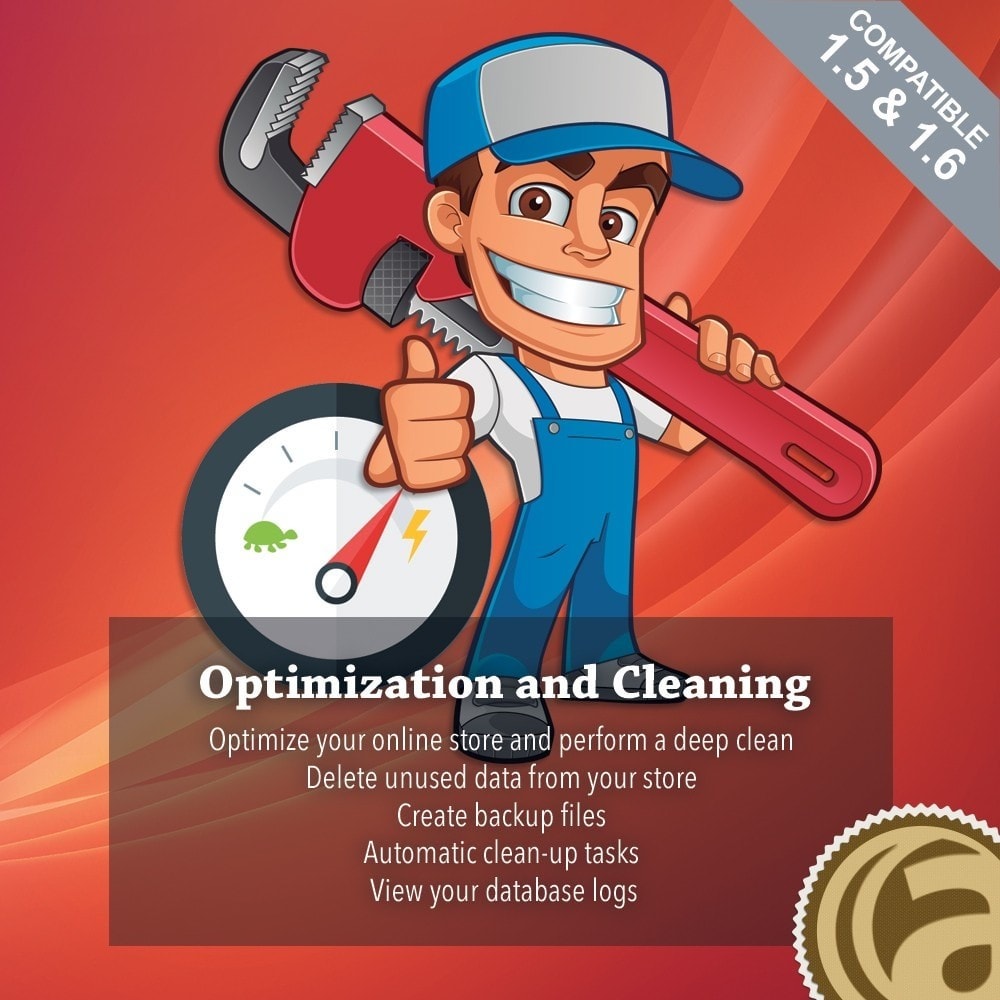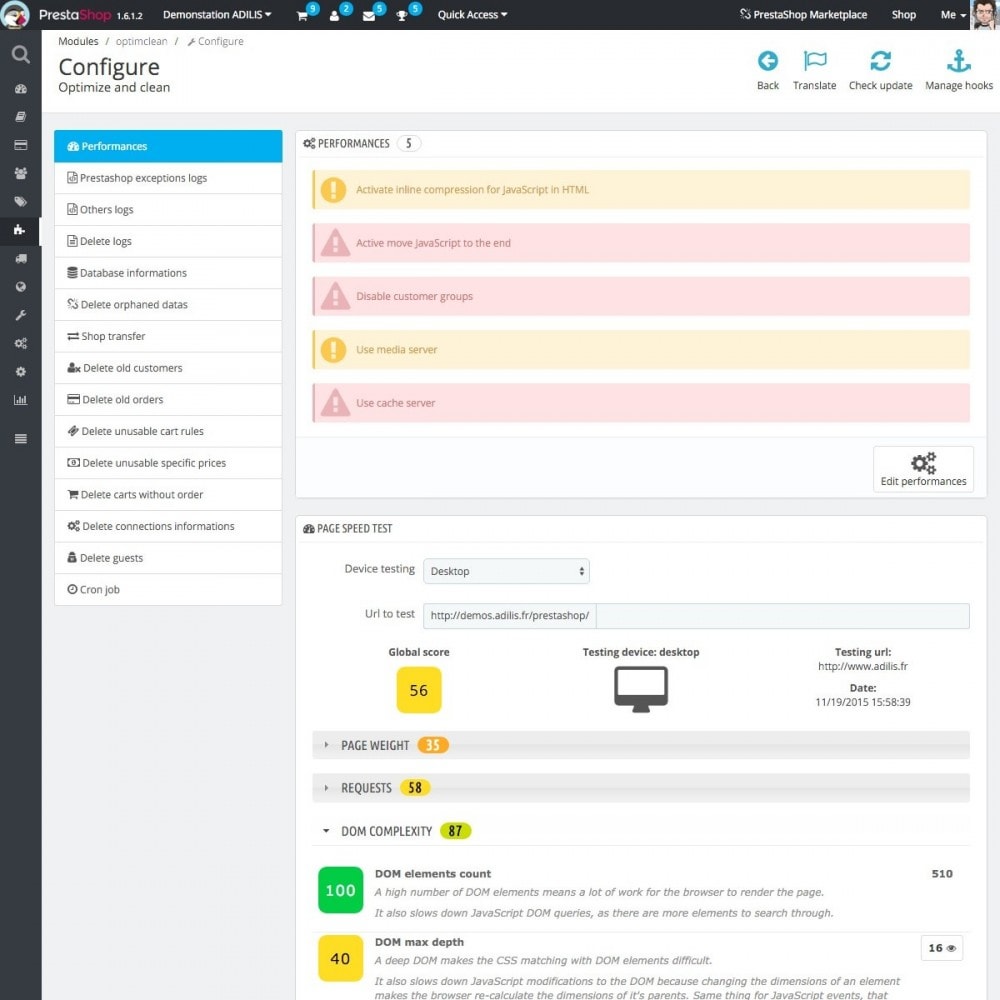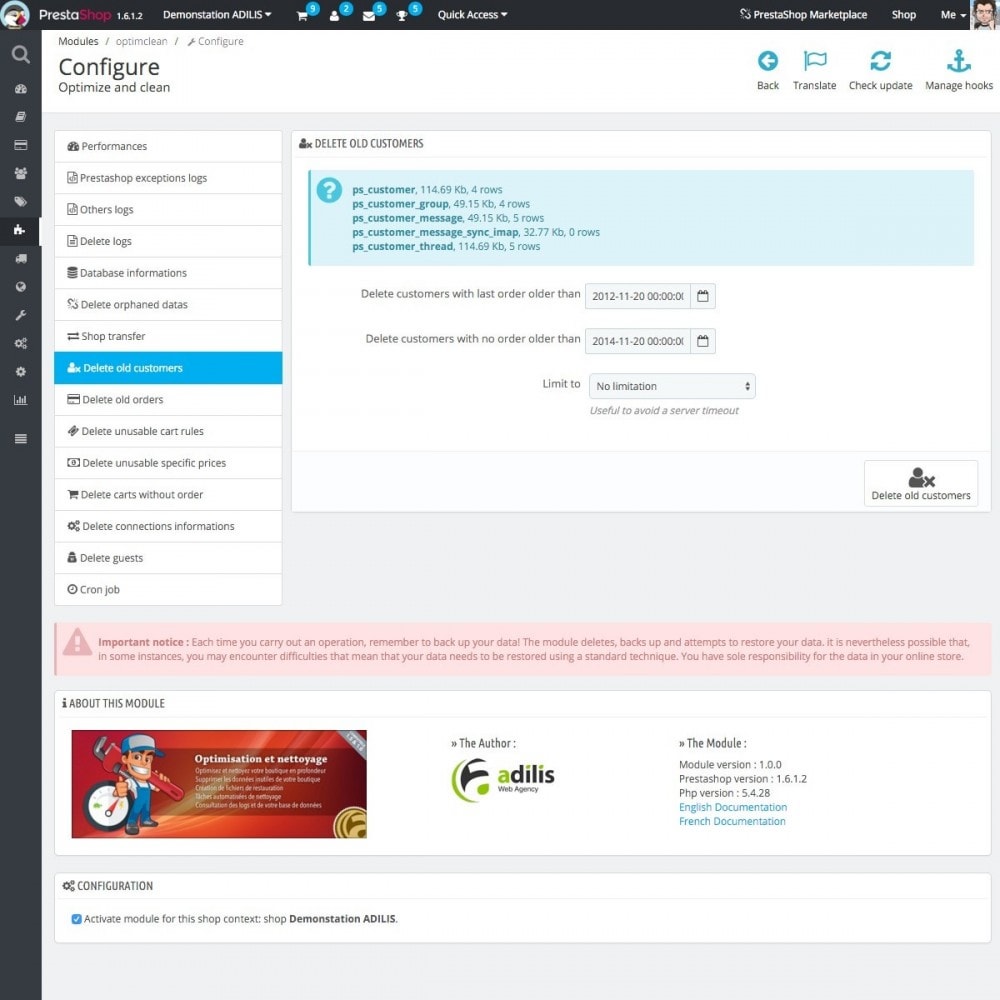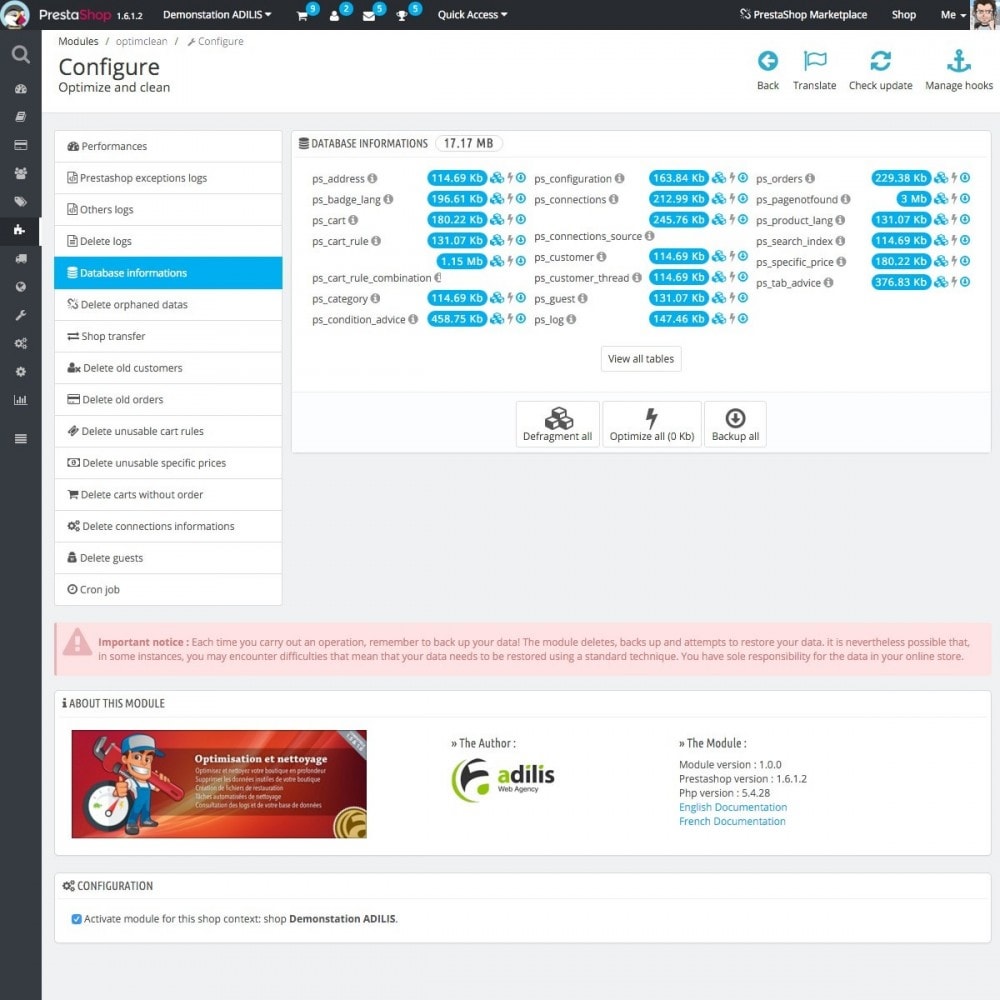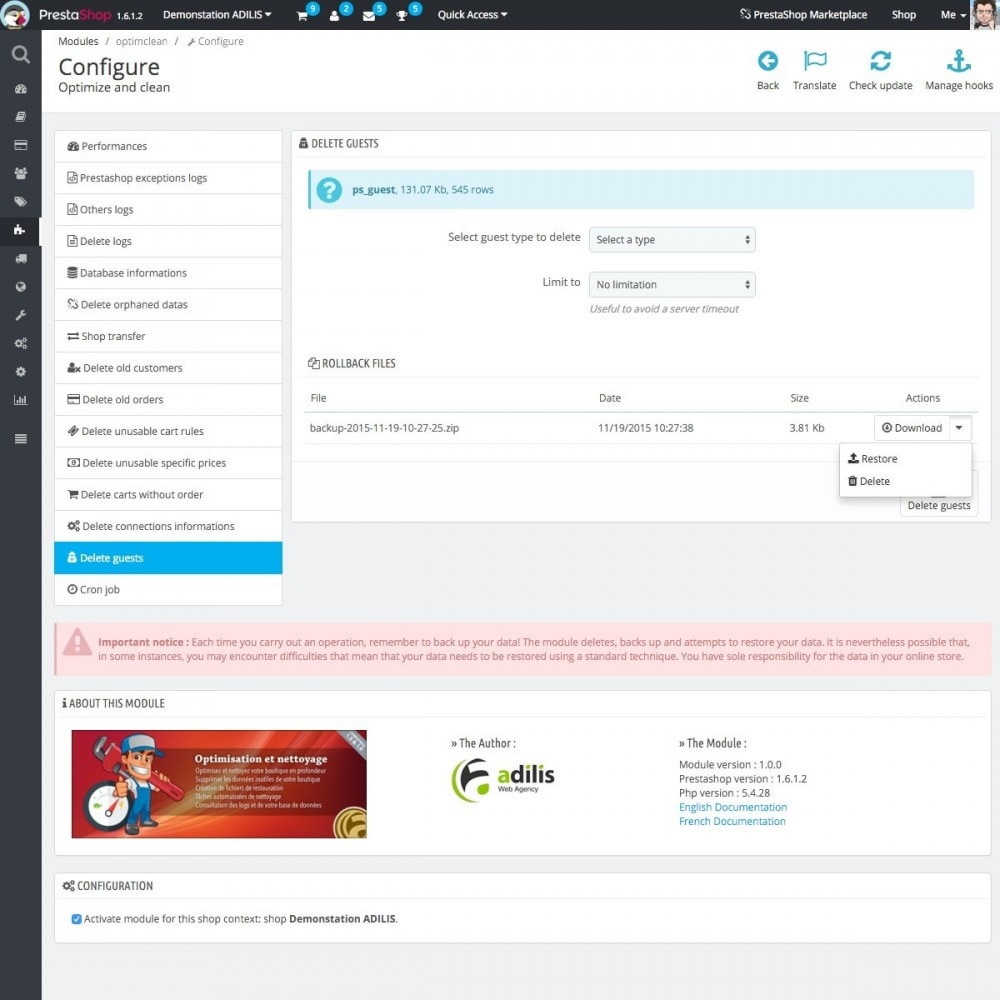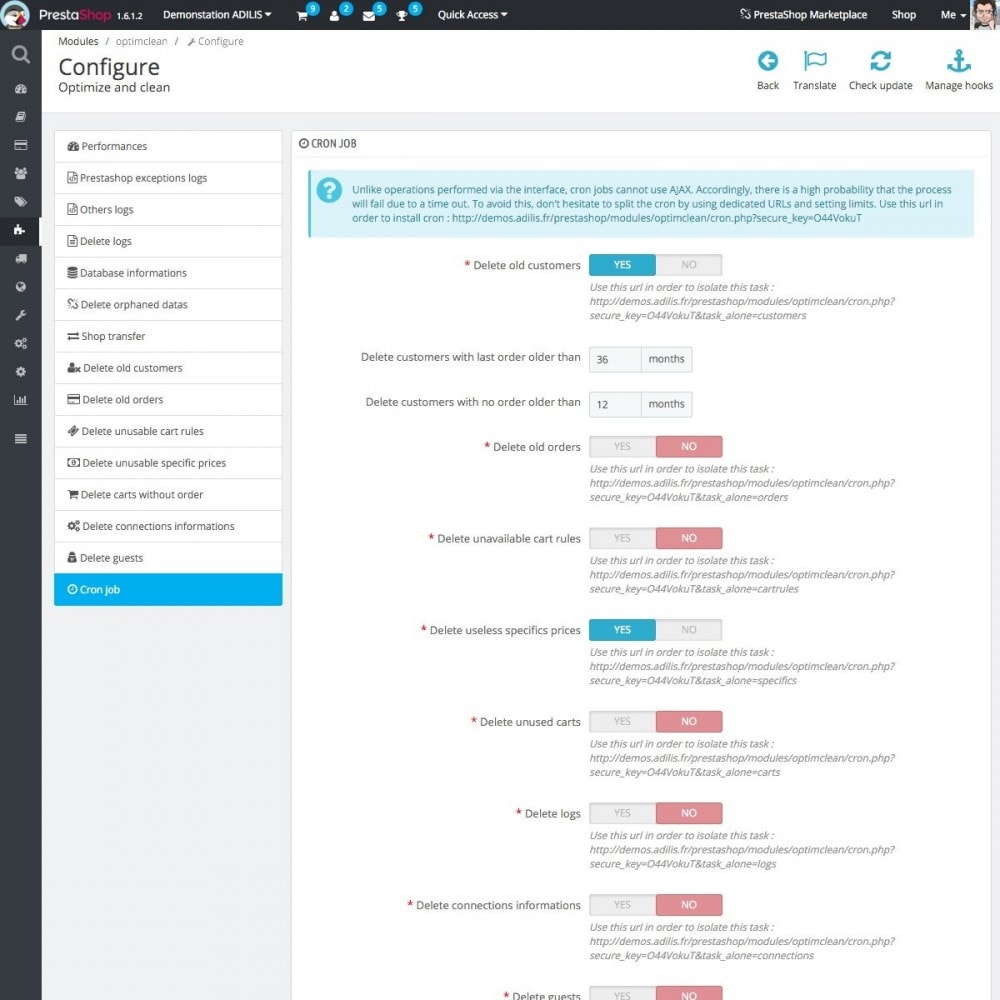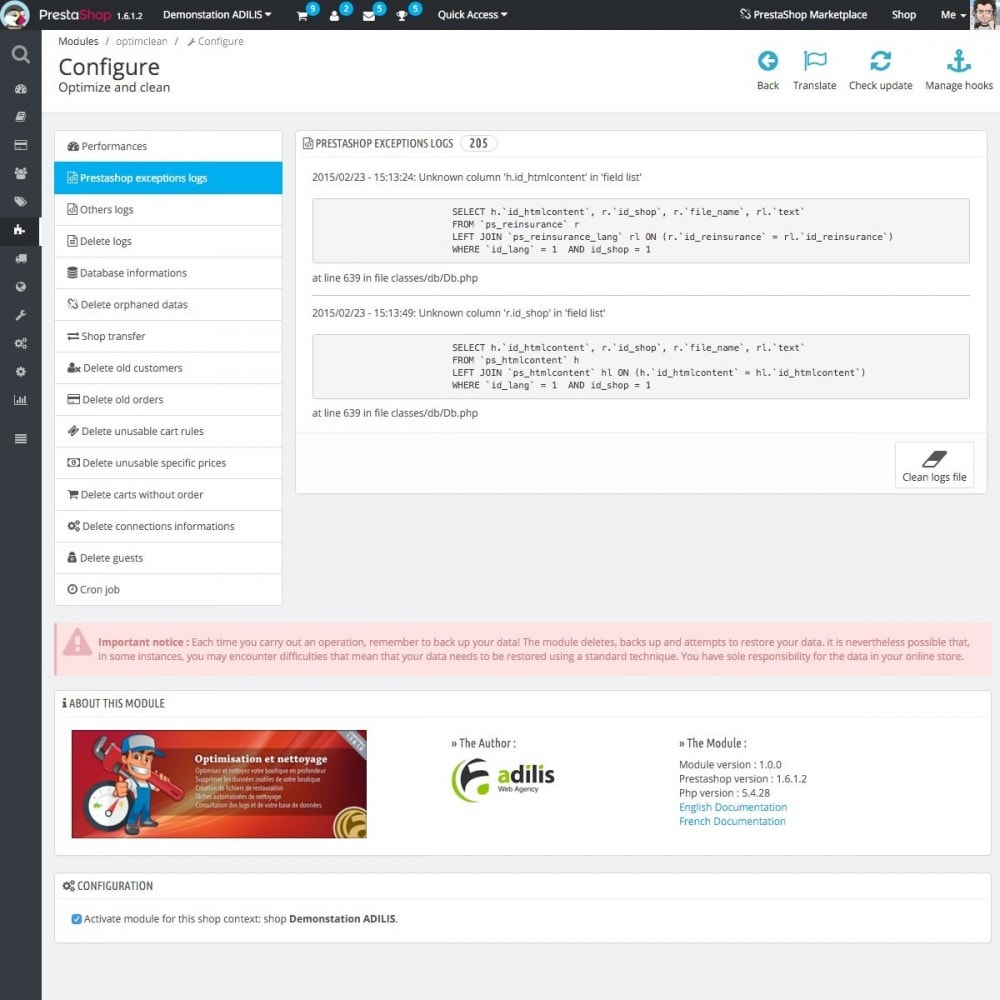 Descrizione
This module is an extremely versatile toolkit for your online store. Delete old or unused data, check your configuration and check the speed of your Prestashop - and relax knowing that you're protected by the integrated data recovery system.
Ciò che questo prodotto ti offre
Navigazione Aumenta la velocità del tuo sito
One of the most decisive aspects of your website, both in terms of SEO and conversion rates, is how quickly your
site is displayed. Over time, data builds up and slows down your store with abandoned shopping carts, used or
obsolete shopping cart rules, and obsolete orders. This module allows you to take a number of actions to clear out
your store and keep it running smoothly.

It also provides the facility to get advice and tips on the performance of your configuration or theme.

In addition to providing a complete clean-up tool, this module is the only one that allows you to maintain previous
versions as, for almost all options, a restore file is created to allow you to revert to a previous version where required.

Once your store has been cleaned up, you can automate the process by using the Cron
Acquistati di solito insieme
Community developer Sviluppato da

PrestaShop v1.5.0.0 - v1.6.1.17 Compatibilità

ProQuality Sviluppato da

PrestaShop v1.4.0.1 - v1.7.2.4 Compatibilità

Community developer Sviluppato da

PrestaShop v1.5.0.0 - v1.7.2.4 Compatibilità
Funzioni
Check the configuration of your online store to improve its performance.
Carry out speed tests and get tips and advice to correct any problems found.
Transfer data from Store A to Store B.
View your store's complete set of log files,
Udentify the modules that take too long to run,
View, optimize and back up your database table by table or as a whole,
Clean up your database by deleting duplicate or unusable data,
Delete inactive customers,
Delete outdated orders,
Delete unusable cart rules,
Delete unusable specific prices,
Delete shopping carts that have not been converted into orders,
Delete login histories,
Delete pages not found histories,
Delete information relating to guest users,
Delete customer relating to guest users,
Clean your SAV,
Systematically create a backup file,
Run AJAX processes to avoid server timeouts.
Optionally implement a Cron job.
Raccomandazione
Each time you carry out an operation, remember to back up your data!
Supporto e aggiornamenti
Disponi automaticamente di 3 mesi di supporto per questo prodotto.
Per 90 giorni dopo l'acquisto, benefici di un'assistenza tecnica e funzionale, oltre che dell'accesso agli aggiornamenti disponibili per questo prodotto.
Installazione
A required version of PHP higher or equal to 5.2 with ZipArchive et Curl.
Novità nella versione 1.1.9(02/06/2017)
More detailed logs
Many corrections in images process
Do not remove categories thumbs images
Splits large queries
Do not remove watermark images
Fix override install on 1.5.x
Informazioni sullo sviluppatore
29/12/2011

Venditore PrestaShop

France

Paese Regione
Hai una domanda?
Bisogno di aiuto?
Lo sviluppatore ti risponde in