Modulo SEO Redirect 301/302
Sviluppato da
Community developer
PrestaShop
1.5.0.0 - 1.6.0.9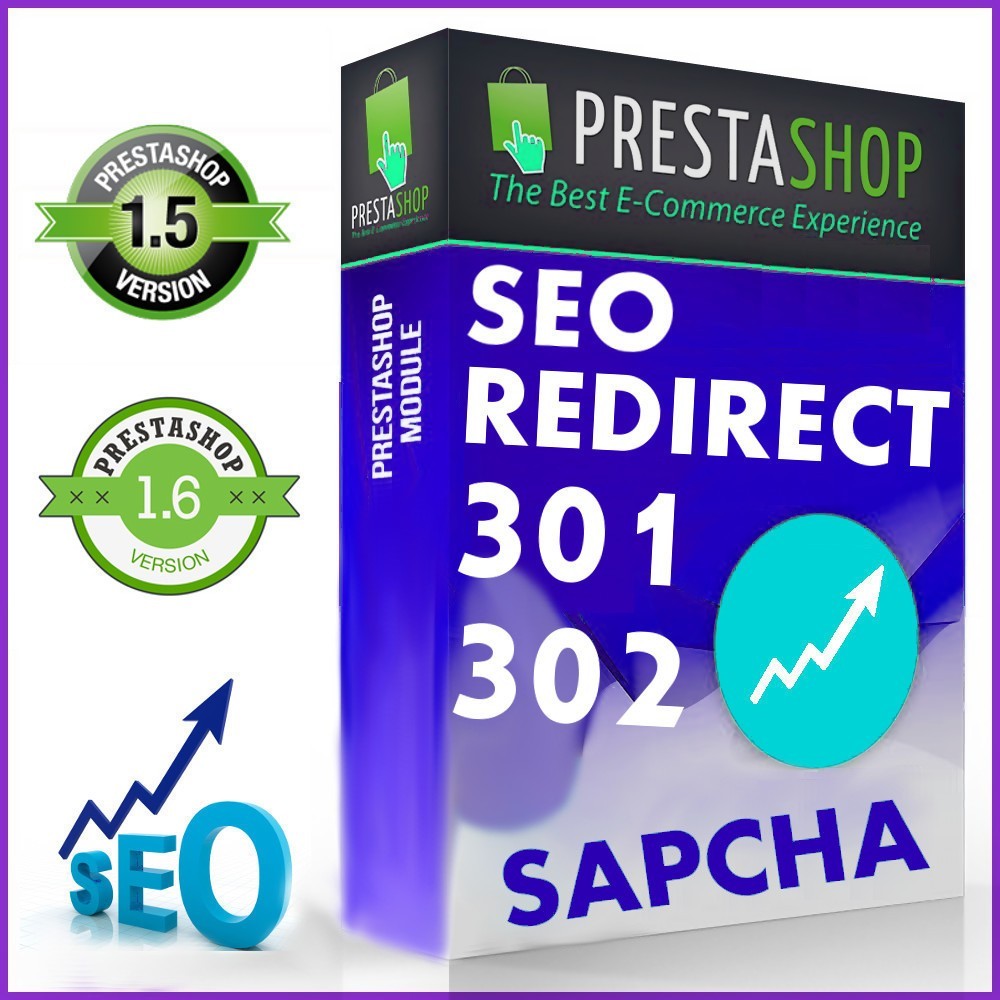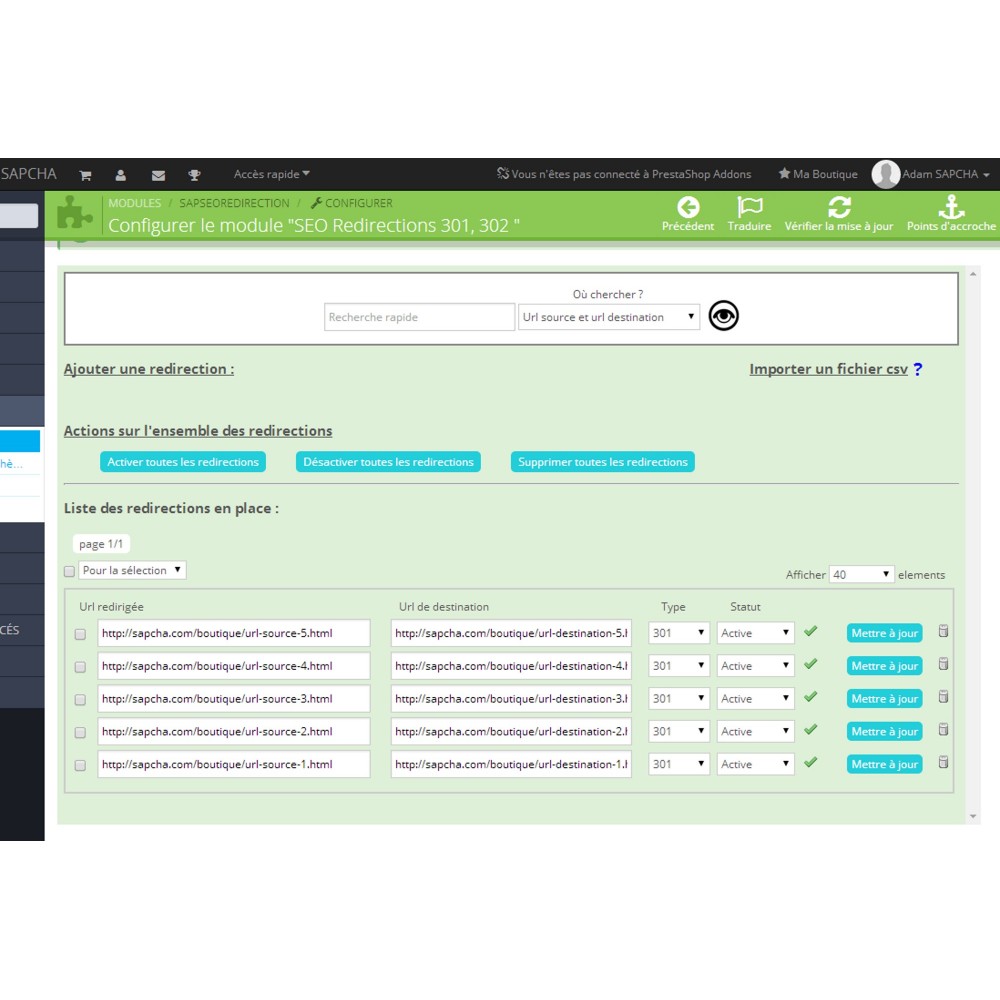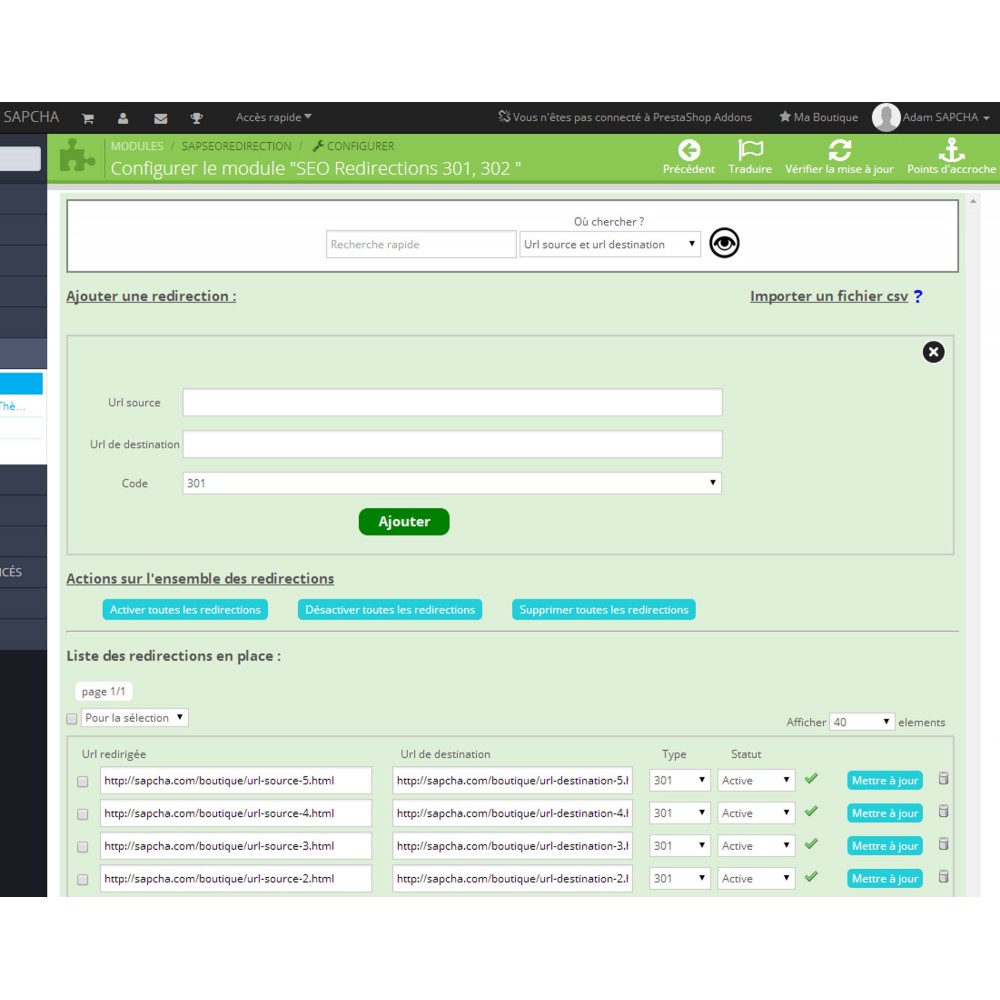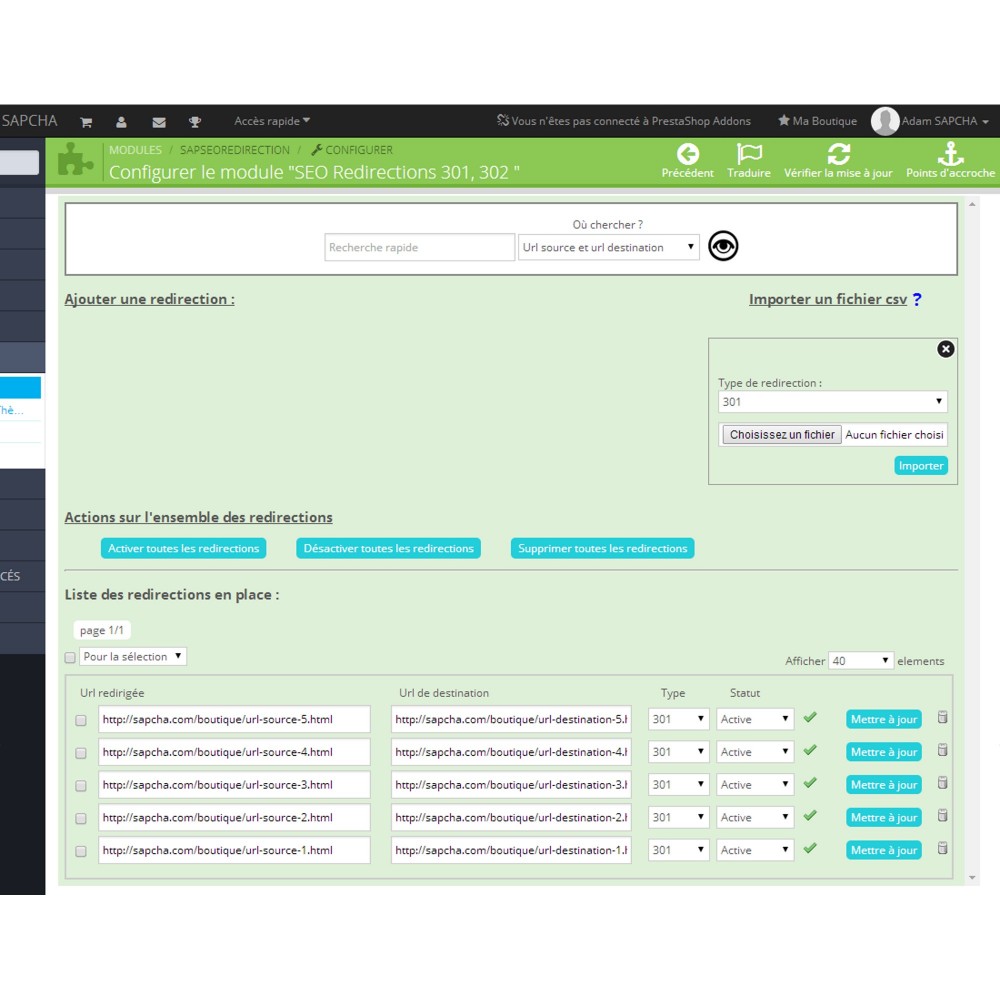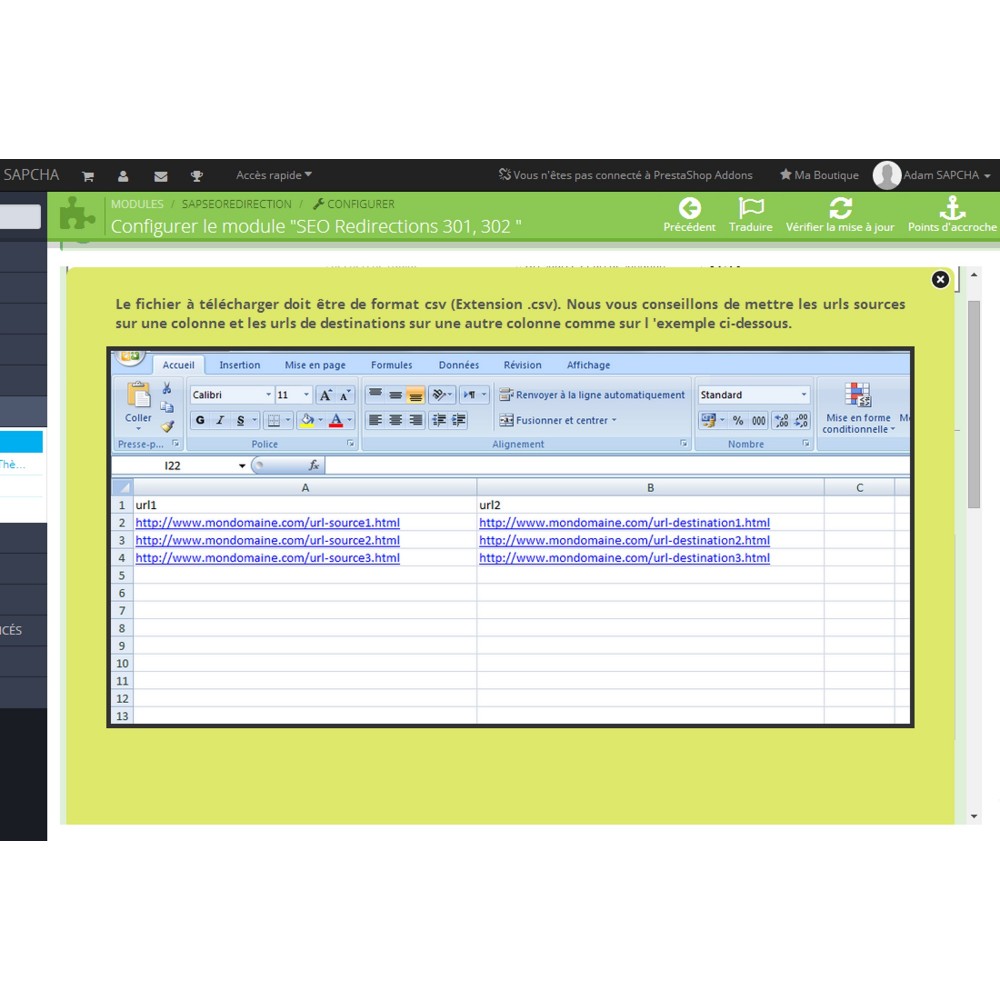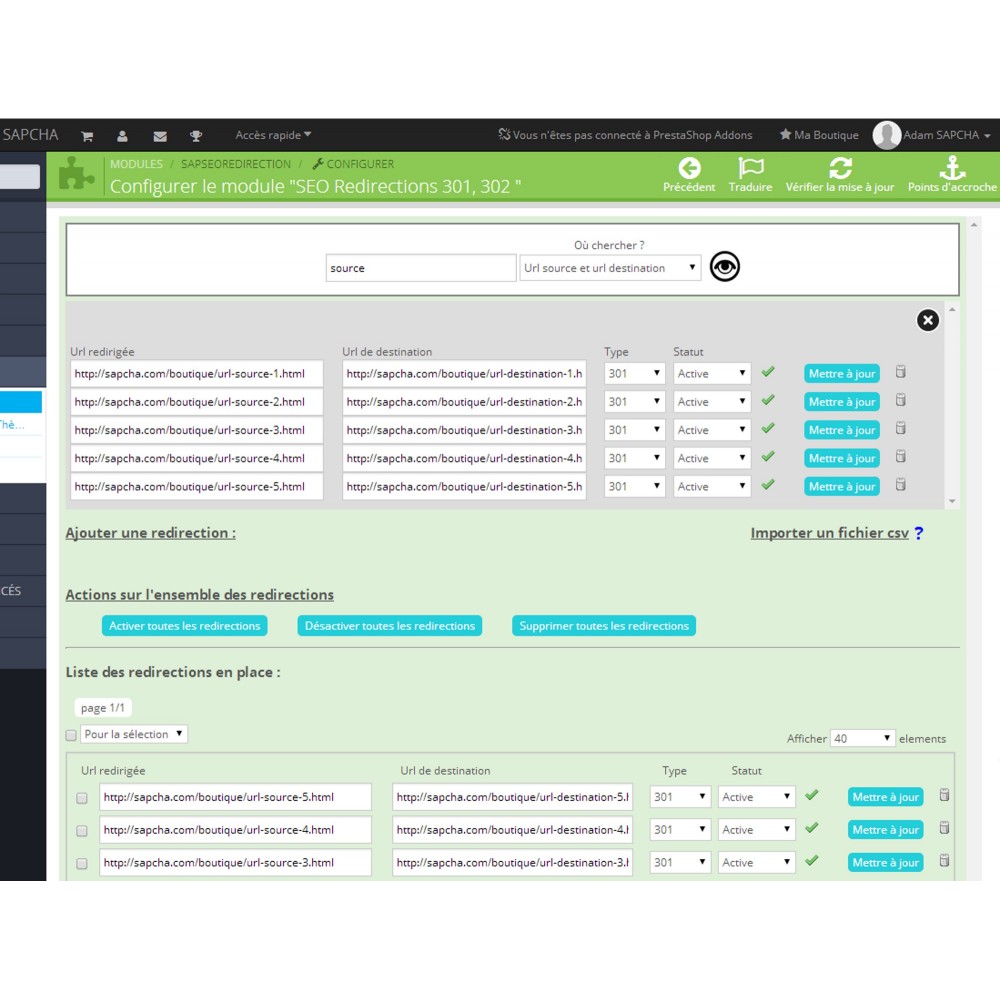 Descrizione
Optimize your PrestaShop SEO by implementing the module "Redirect 301/302"
This module allows you to import several redirects by uploading a CSV file from your computer.
 
Ciò che questo prodotto ti offre
 This module allows you to create as many redirects as you like. 
Boost your SEO PrestaShop in a click thanks to this module. 
You can perform redirects page by page or by mass importing a CSV file containing a list of redirects. 
With one click, the job is done!
This module allows you to choose the type of redirect to implement: 301 or 302. 
Two ways are availables to set up redirects: 
1) individually page by page 
    - Click on "Add a new redirect" 
    - Enter the url source and destination url 
    - Enter type of redirect 
    - Confirm 
   
2) Mass importing a CSV file from your computer 
- Click on "Import CSV file" 
- Select the code to use (301/302) 
- Confirm by clicking Import

You can enter a complete URL (include http / https) or just a relative url beginning with / .
You can create a redierct for any type of page : cms, categories, products, suppliers, brands ... 
The module is compatible with multi-language and multi-shop!

The module will not modify your htacces file, the redirect is effective directly in the code of the page on the server! 
 And finally, the module creates its own table in the database, so it not interferes in any way with any functionality of your PrestaShop. 
 The table is called prefix_sap_seo_redirection
Funzioni
1) Redirects between two pages of the same domain or between two pages from two different domains
2) Creation of individual redirect 
3) Creating redirects mass (importing CSV) 
4) No modification of .htaccess file 
5) Compatible with multi-shop mod 
6) Compatible with versions 1.5 and 1.6 of PrestaShop 
7) Two types of redirect : 301 and 302
8) Improved SEO, eliminating 404 errors and duplicate content 
9) Improved user experience, thanks to a better accessibility of pages 
10) Quick Saerch, go directly to the page that interests you 
11) Support in case of difficulty or problem 
12) Unlimited number of redirections 
13) No impact on site performance
 
Supporto e aggiornamenti
Disponi automaticamente di 3 mesi di supporto per questo prodotto.
Per 90 giorni dopo l'acquisto, benefici di un'assistenza tecnica e funzionale, oltre che dell'accesso agli aggiornamenti disponibili per questo prodotto.
Altro
 If you have any question, Our support is at your disposal at any time.
Raccomandazione
 Read readme_en.txt file for more information about the module.
Ciò che i tuoi clienti apprezzeranno
The module can eliminate 404 errors which leads to better accessibility of pages for users and a well optimized SEO. 
SEO improved for the greatest happiness of the search engines and therefore for your delight
 
Installazione
 Traditional method: 
  - From the BackOffice => Add Module 
  - By downloading the module in the modules directory of your FTP shop.
Acquistati di solito insieme
Community developer Sviluppato da

PrestaShop v1.5.0.0 - v1.6.0.9 Compatibilità

PrestaShop Sviluppato da

PrestaShop v1.6.0.5 - v1.7.2.2 Compatibilità

Línea Gráfica Sviluppato da

PrestaShop v1.4.5.1 - v1.6.1.15 Compatibilità
Novità nella versione 2.2(09/11/2014)
Add functionnality "if the module is disabled"
Informazioni sullo sviluppatore
02/01/2014

Venditore PrestaShop

France

Paese Regione
Hai una domanda?
Bisogno di aiuto?
Lo sviluppatore ti risponde in