Template Eramarket Responsive
Sviluppato da
Community developer
Responsive
template
PrestaShop
1.6.0.4 - 1.6.1.17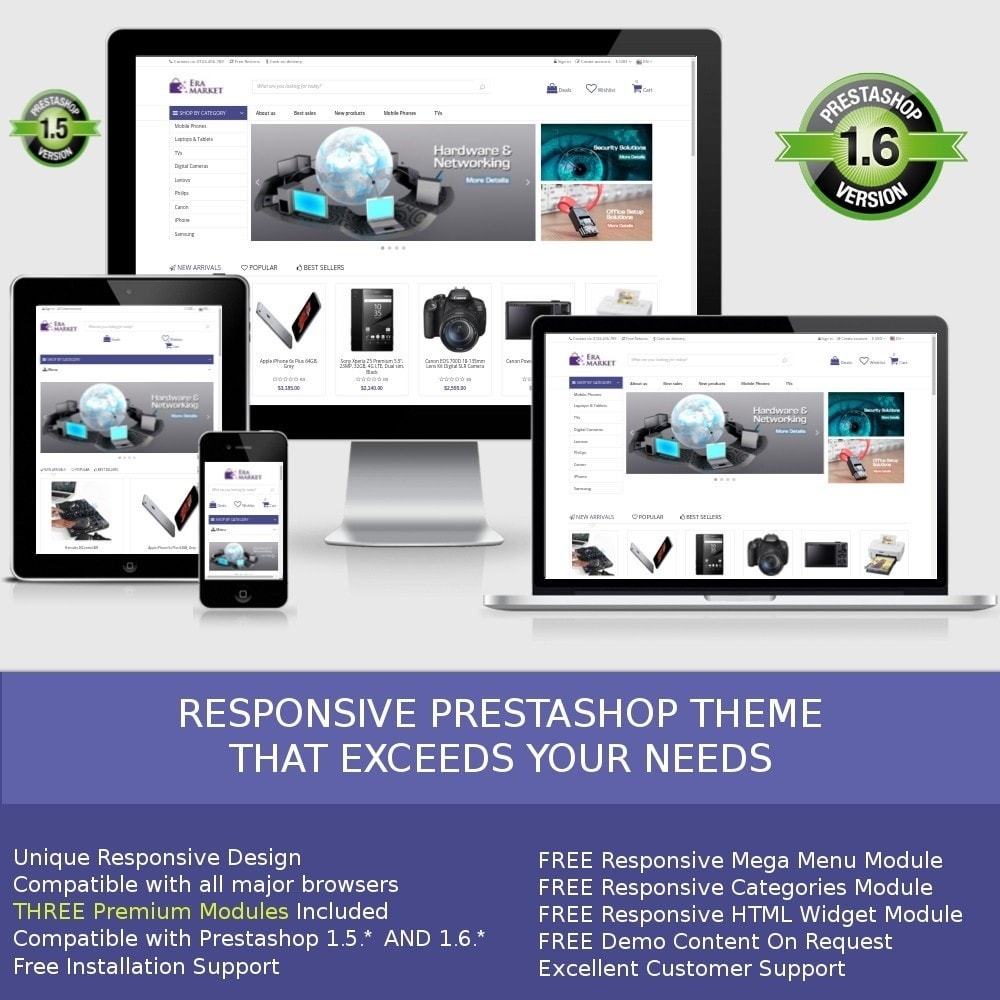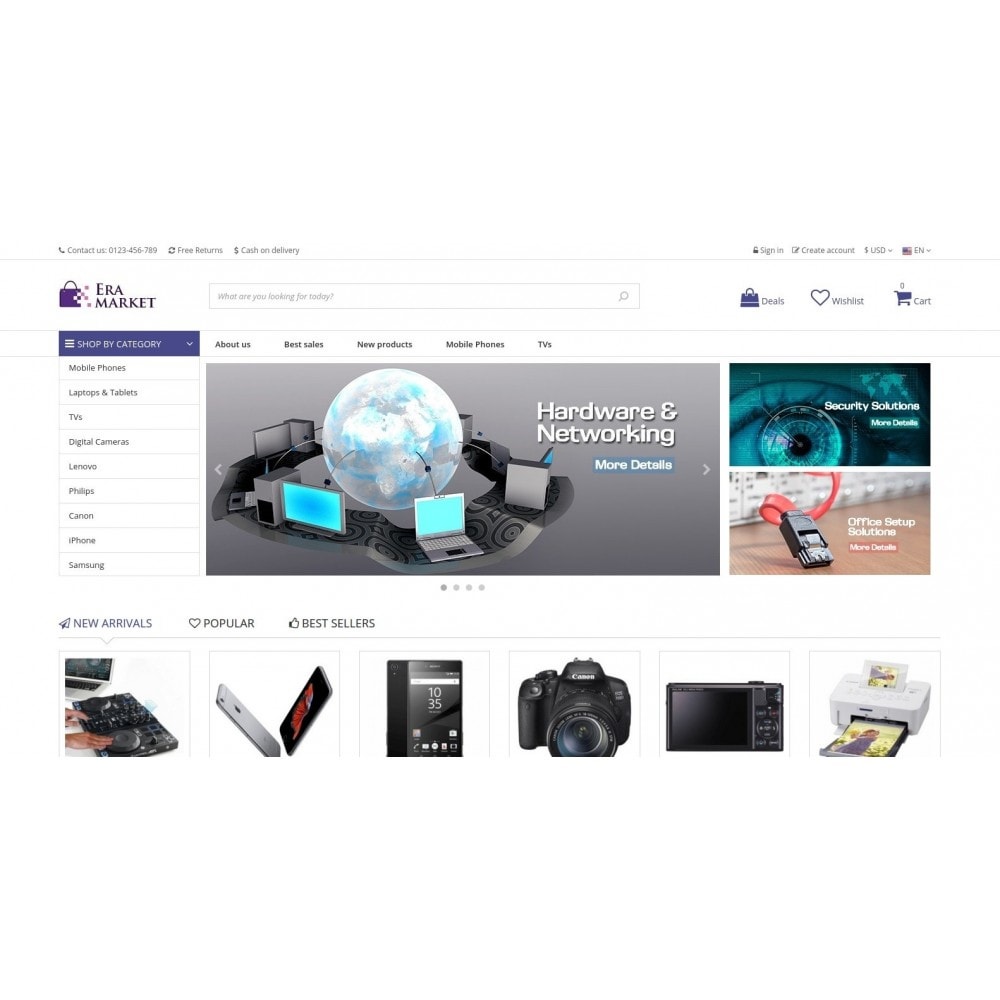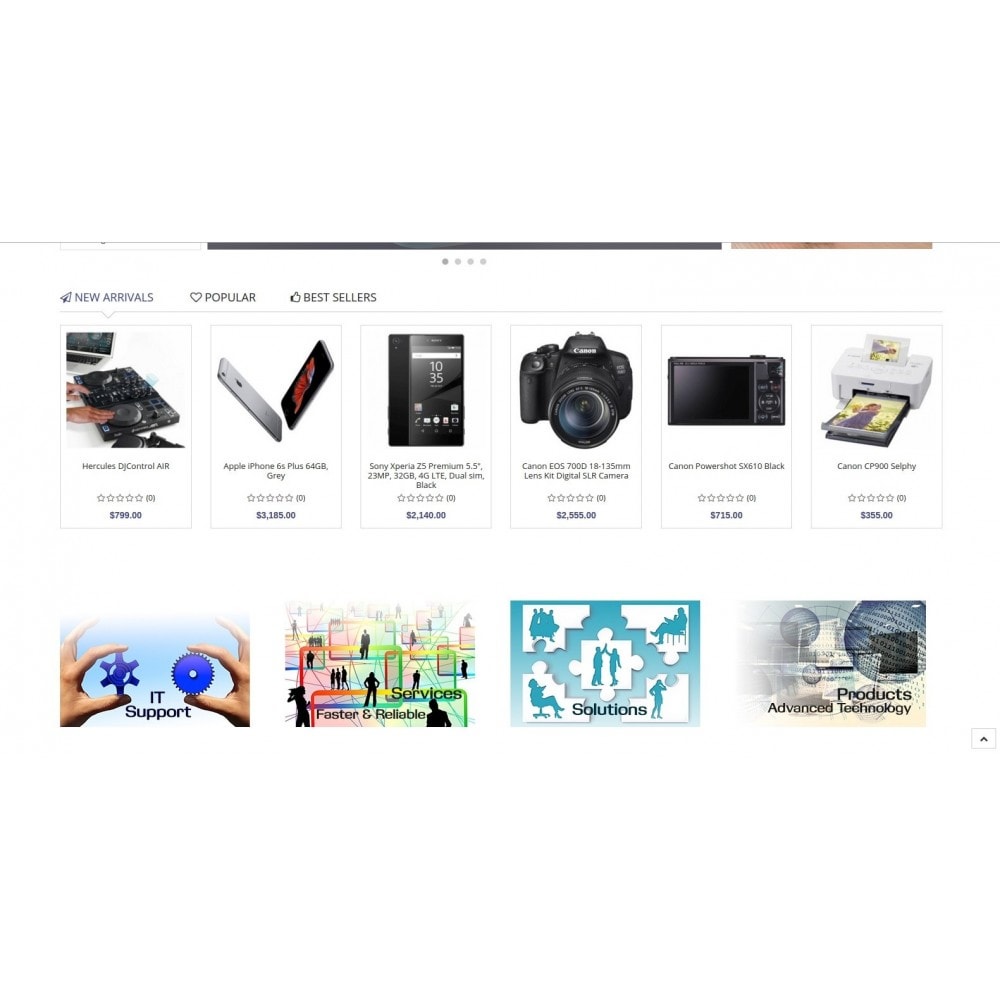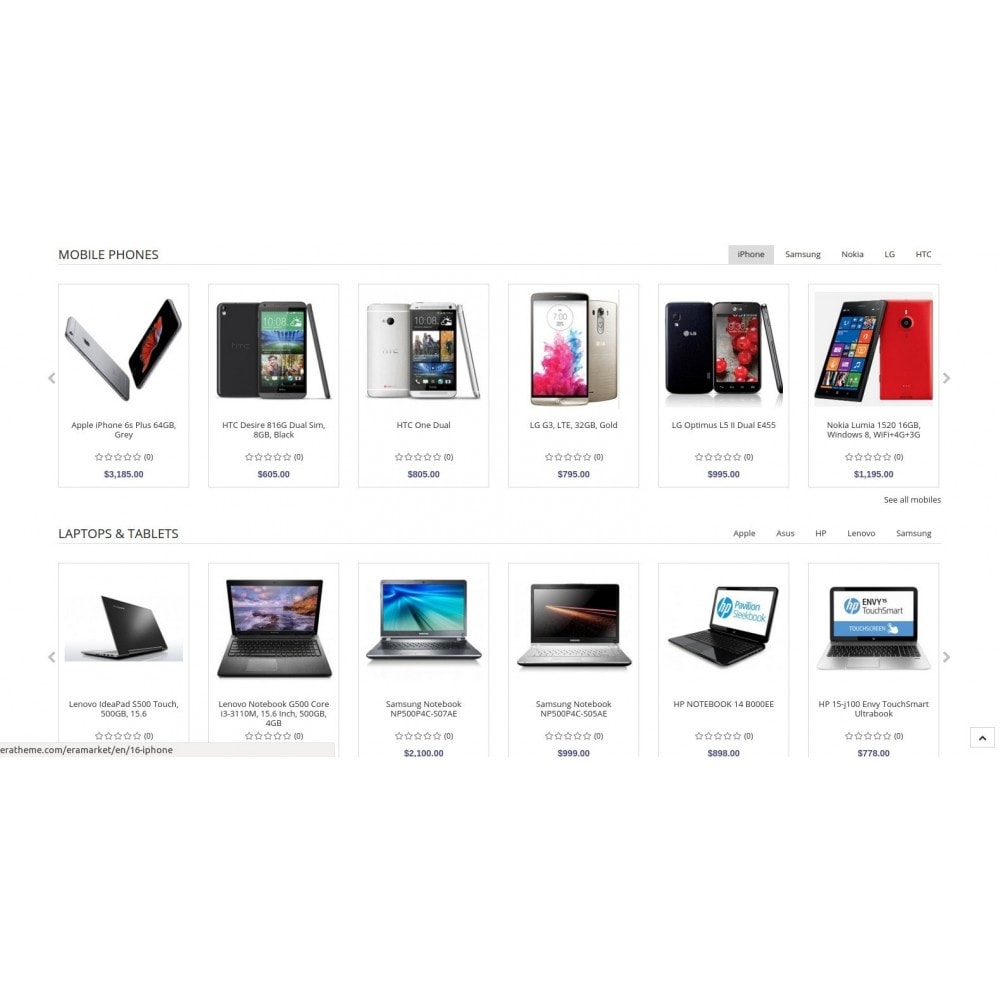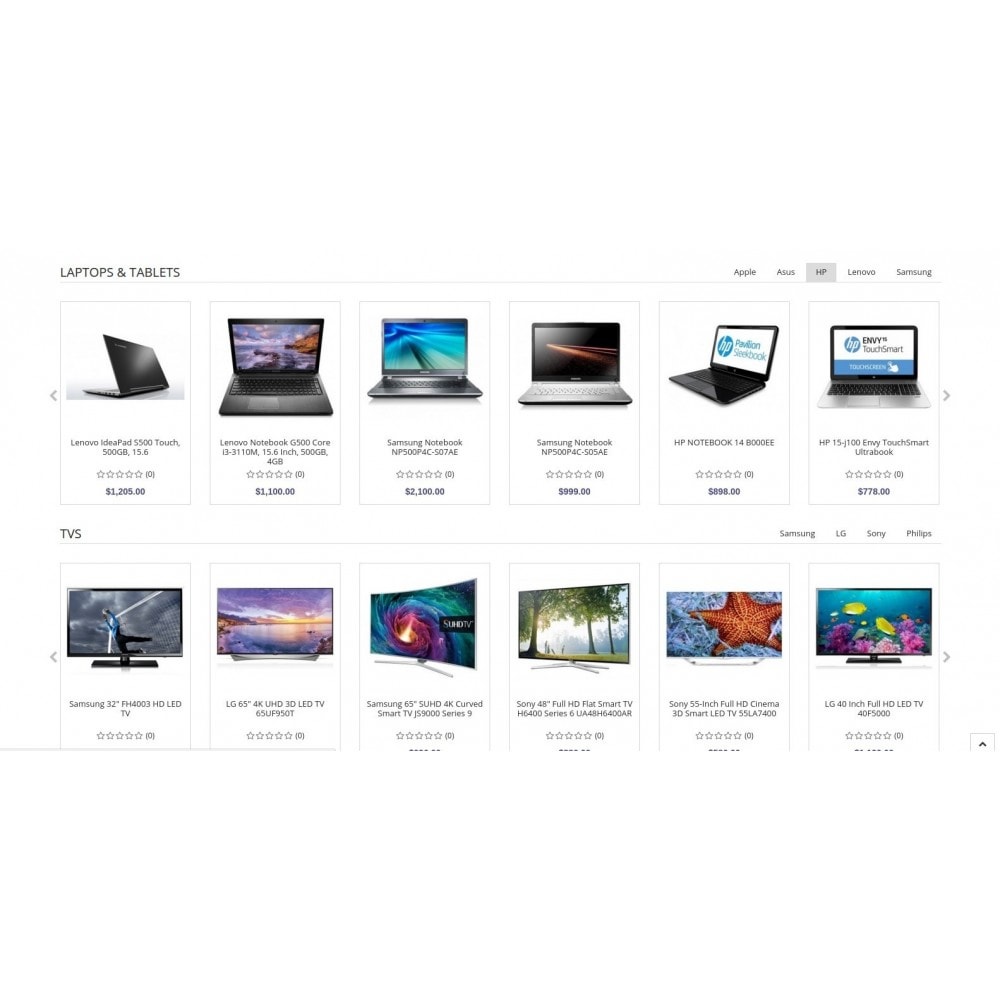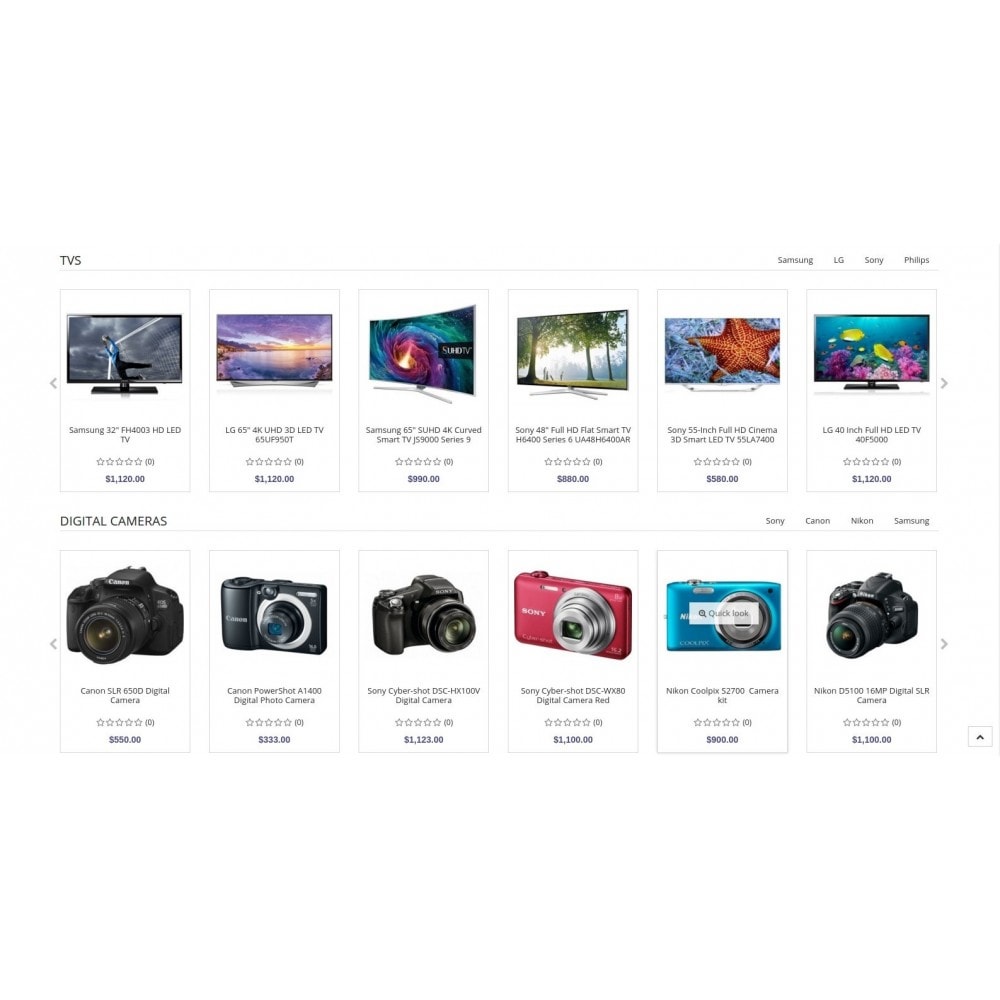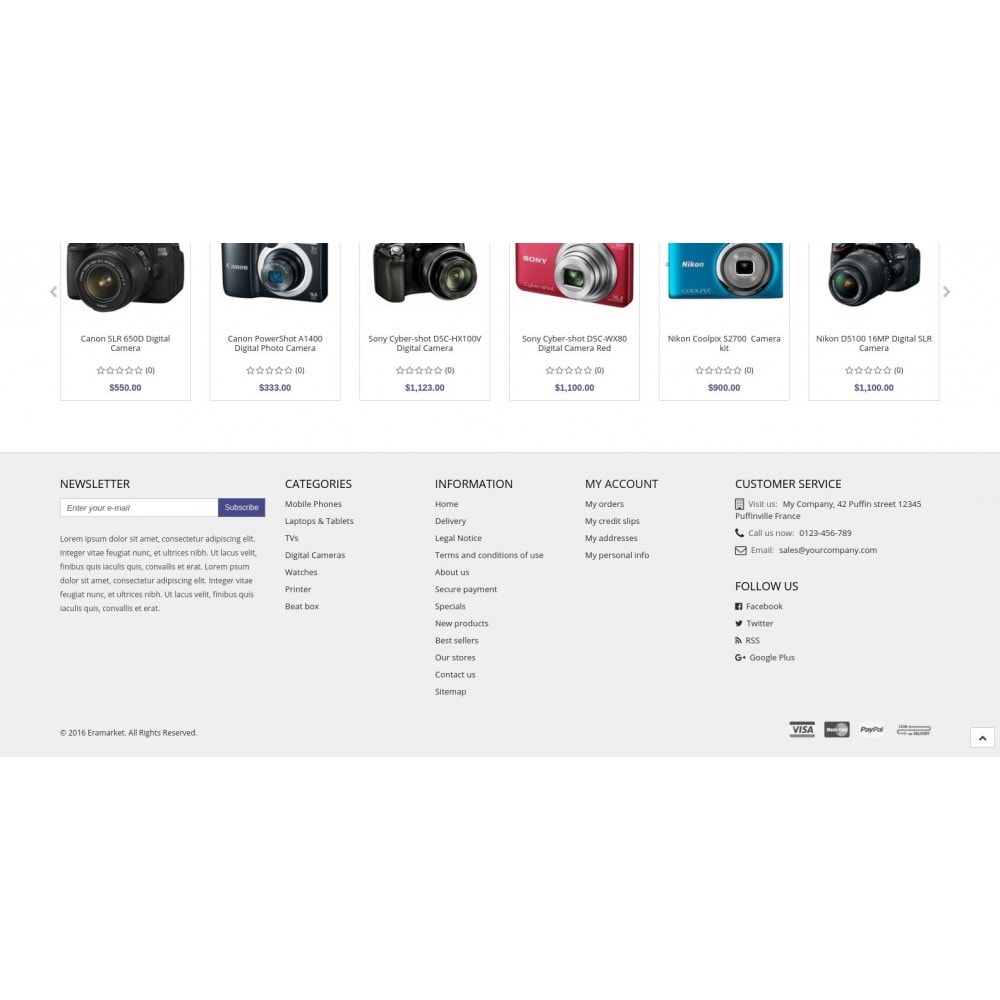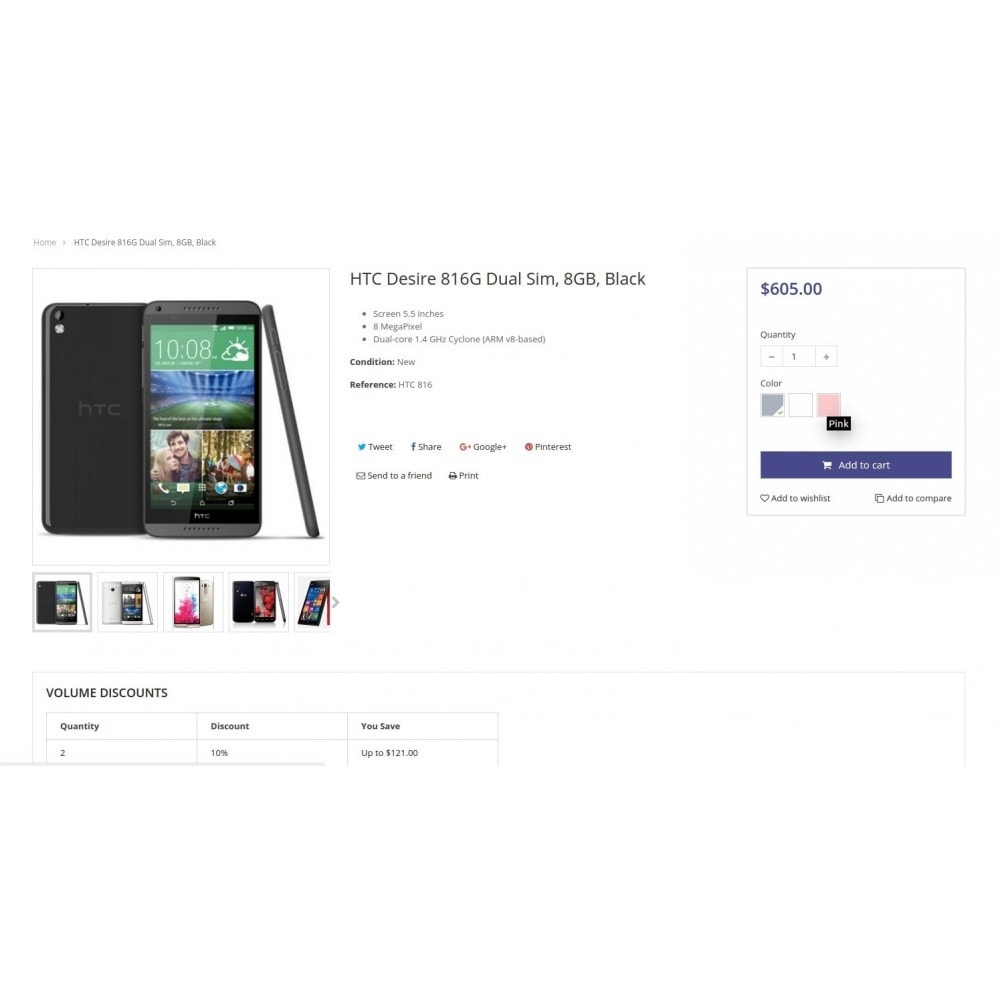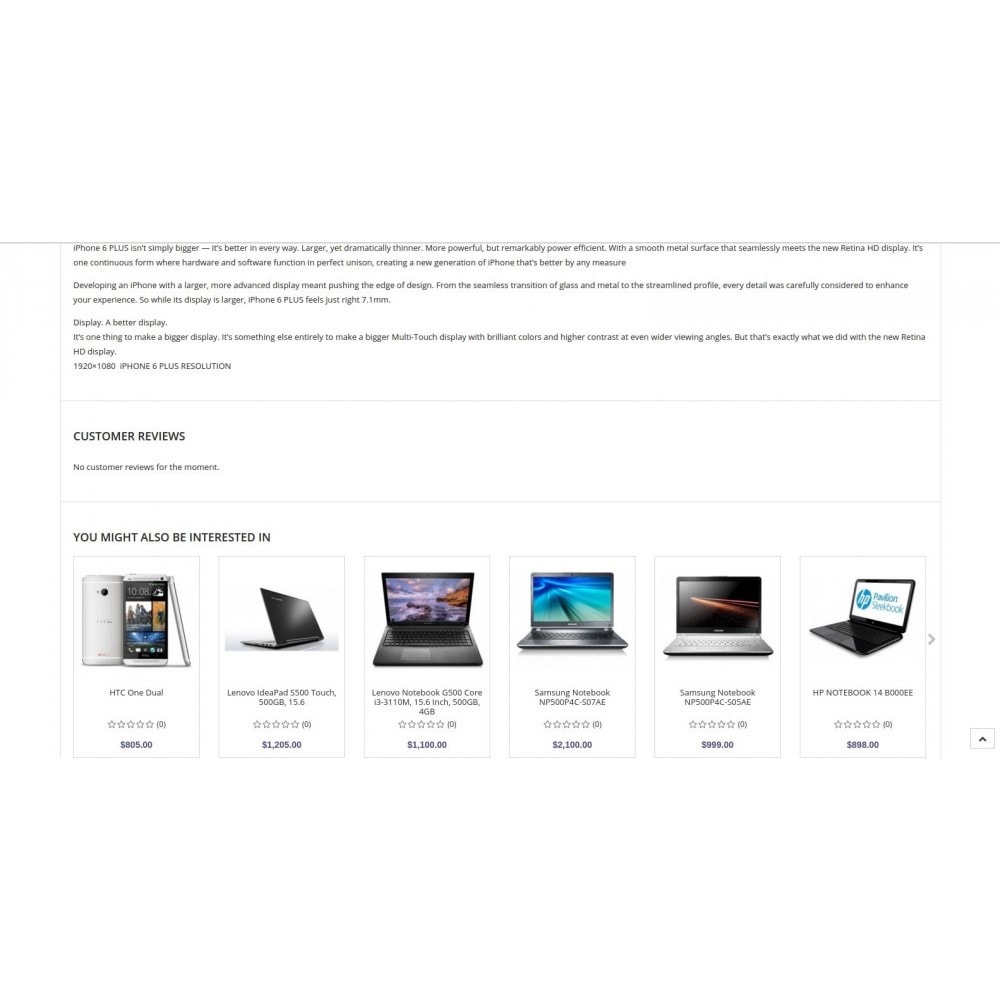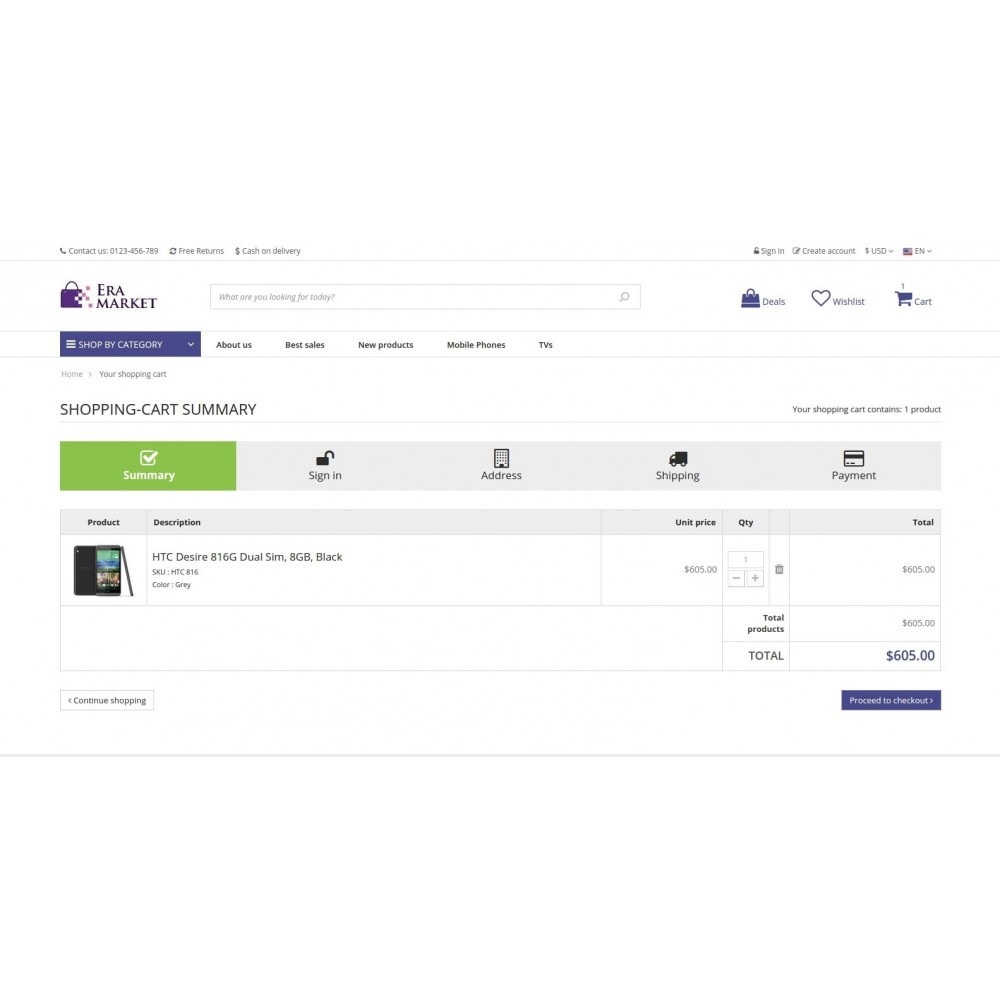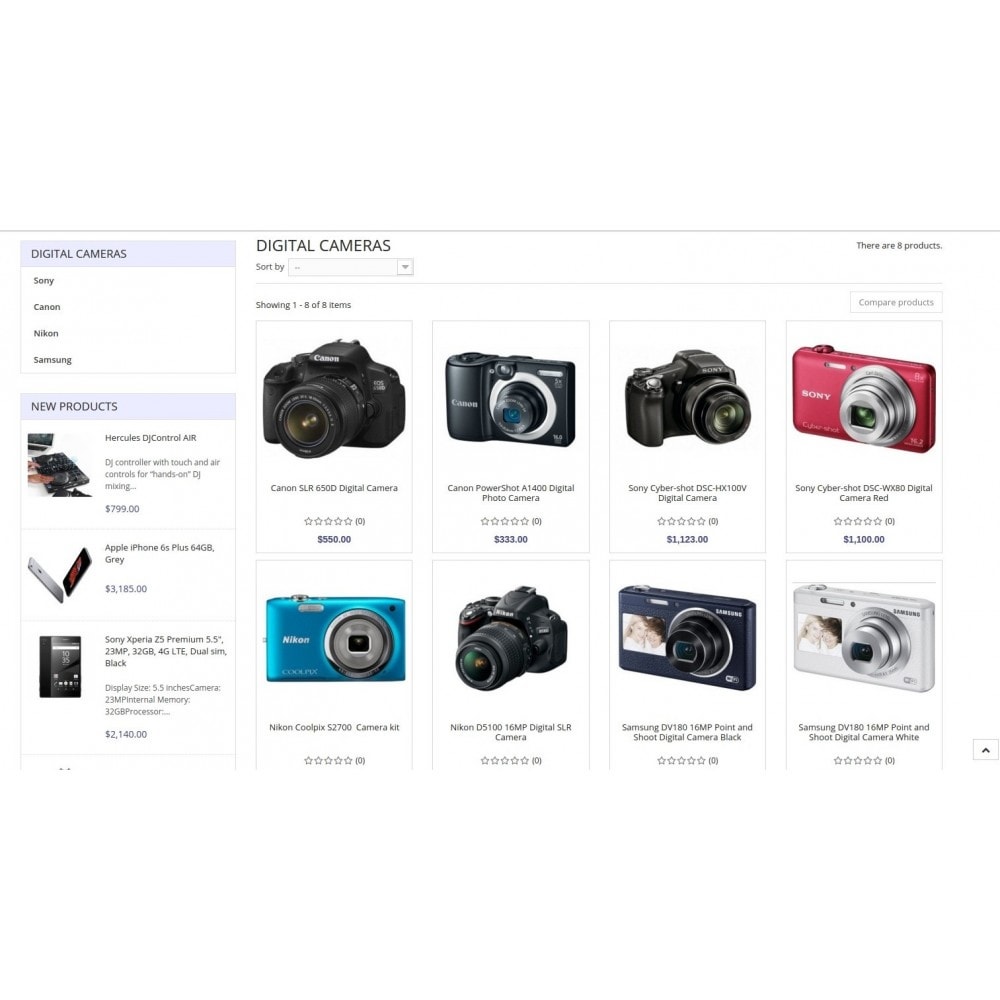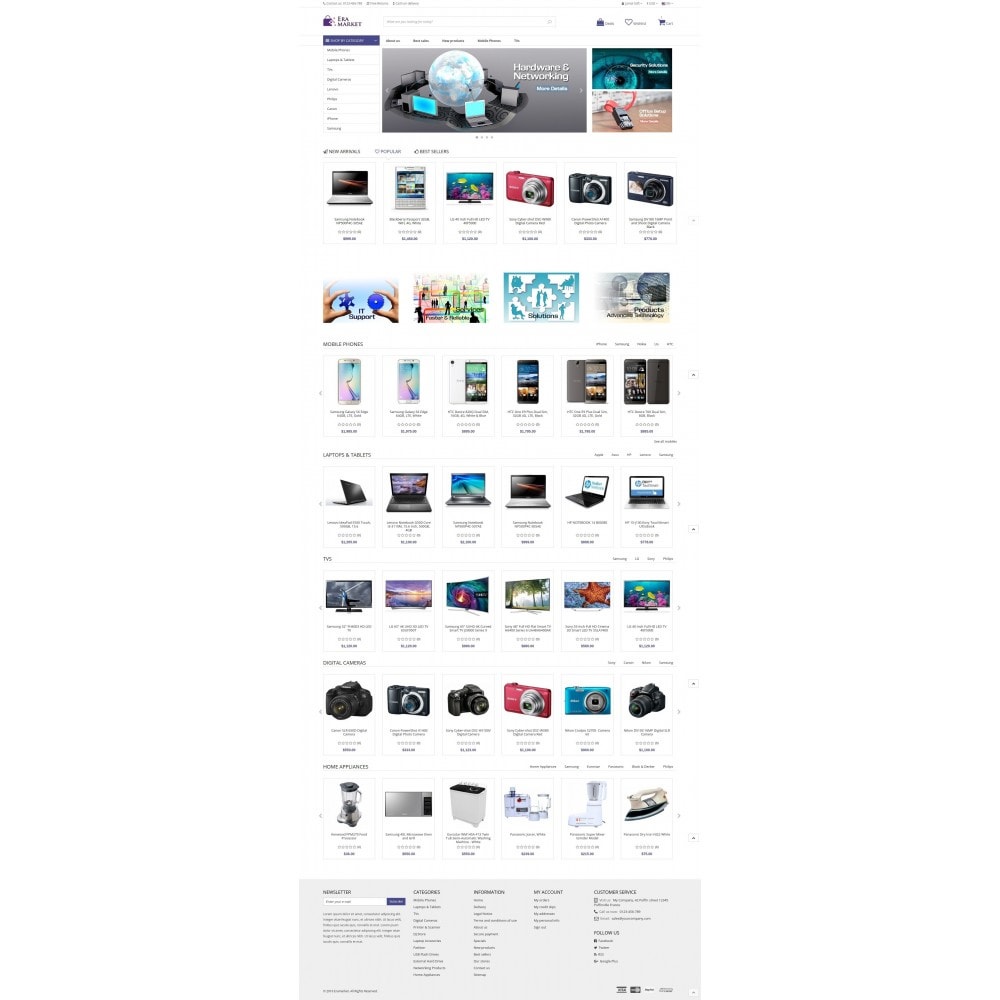 Descrizione
Eramarket is a unique theme that exceeds your expectations. It is clean, attractive, and simple, yet allows advanced customizations. It has been created using best practices and high quality standards taking present day requirements into account.
Acquistati di solito insieme
Community developer Sviluppato da

PrestaShop v1.6.0.4 - v1.6.1.17 Compatibilità

PrestaShop Sviluppato da

PrestaShop v1.6.0.4 - v1.6.1.17 Compatibilità

PrestaShop Sviluppato da

PrestaShop v1.7.1.0 - v1.7.2.4 Compatibilità
Funzioni
Generali
Ottimizzato SEO
Disponibile in varie lingue
Ottimizzato per la modalità multinegozio
Responsive
Navigazione
Menu
Menu verticale
Menu orizzontale
Contenuto personalizzabile
Menu a discesa
Mega Menu
Tecnologia
Bootstrap
Supporto linguaggio RTL (right-to-left)
HTML5 / CSS3
Sass / Less
Funzionalità base
Carrello Ajax
Slider marche/produttori
Lista dei desideri
Confronto prodotti
Blocco statico personalizzabile
Slider prodotti (prodotti di punta, novità, promozioni, più venduti)
Visualizzazione delle categorie sulla home page
Modulo di contatto
Pulsante di condivisione sui social
Compatibilità del browser
IE11+ / Edge

Firefox

Chrome

Safari

Opera
Altre funzioni
Responsive design
SEO friendly
Decent, clean and attractive design
Built-in premium smart customizable modules
Compatible with all major browsers
Supports all languages prestashop has to offer
Customizable, user-friendly mega menu module
Customizable, user-friendly category module
Advanced html widget module
Supports multistore
And many more surprises...
Altro
 Compatible with all prestashop modules and all hooks and pages have been adjusted accordingly.
Già tradotto in
Desideri modificare le traduzioni di questo template o aggiungerne altre? Nessun problema! Basta utilizzare lo strumento integrato nel back office del tuo negozio PrestaShop.
Raccomandazione
If you are not sure about how to do something that has been done on demo store, please refer to back-office and check with modules.
Supporto e aggiornamenti
Disponi automaticamente di 3 mesi di supporto per questo prodotto.
Per 90 giorni dopo l'acquisto, benefici di un'assistenza tecnica e funzionale, oltre che dell'accesso agli aggiornamenti disponibili per questo prodotto.
Installazione
Go to "Preferences" -> "Themes".
Click on "Add new theme".
On the "IMPORT FROM YOUR COMPUTER" section click "Add file".
Locate and select eramarket.zip file you have downloaded.
Click "Save".
Once the theme is uploaded, you will see a notification saying that upload was successful.
Scroll your window down to "SELECT A THEME FOR THE PRESTASHOP SHOP" section.
Locate Eramarket Responsive theme and click on "Use this theme" button on it.
Themes often include their own modules in order to work properly. This option enables you to choose which modules should be enabled and which should be disabled. If you are unsure of what to do next, just press the "Save" button and proceed to the next step.
If you see a notification saying "Eramarket Responsive theme has been successfully installed", click "Finish" button.
You may consider regenerating thumbnails of images, however this is often not required.
Now your theme has been installed and you are ready to enjoy it!
Well... does it not look as nice as you have expected? That is perfectly fine! There are some configurations that you need to adjust and modules that you need to feed with some content.
Okay, don't worry, this guide will take you through all steps that you need to get your store nice and clean.
Go to "Preferences" -> "Themes" page again.
Now go ahead and check with Logo and icons and make sure they are correct.
Under the first section which is named "YOUR CURRENT THEME" find "Advanced settings" button and click on it.
Here it is up to you to configure these settings, but my recommendation is to disable "Default left column" and "Default right column" and enter 12 for "Number of products per page".
On the same page, you can see "APPEARANCE OF COLUMNS" section. Here I advice you to disable "Right column" on all pages and leave "Left column" on pages that you think make sense to you.
Now go to "Modules" -> "Positions" page.
Here you need to adjust positions of modules. For example, find "displayTopColumn" hook and make sure "Era Responsive Mega Menu Pro" comes first.
Now go to "Modules" page and check with the following modules and make sure they have correct configuration and content according to your needs (you may check with demo back-office to get an idea of how content is managed there):
Theme configurator
Custom CMS information block
CMS block
Era Responsive Mega Menu Pro
Era Home Product Catalog Categories
Era Custom Static HTML Blocks Widget
Informazioni sullo sviluppatore
17/01/2015

Venditore PrestaShop

United Arab Emirates

Paese Regione
Hai una domanda?
Bisogno di aiuto?
Lo sviluppatore ti risponde in