Modulo Landing Page PopUp
Sviluppato da
Community developer
PrestaShop
1.4.0.1 - 1.6.1.17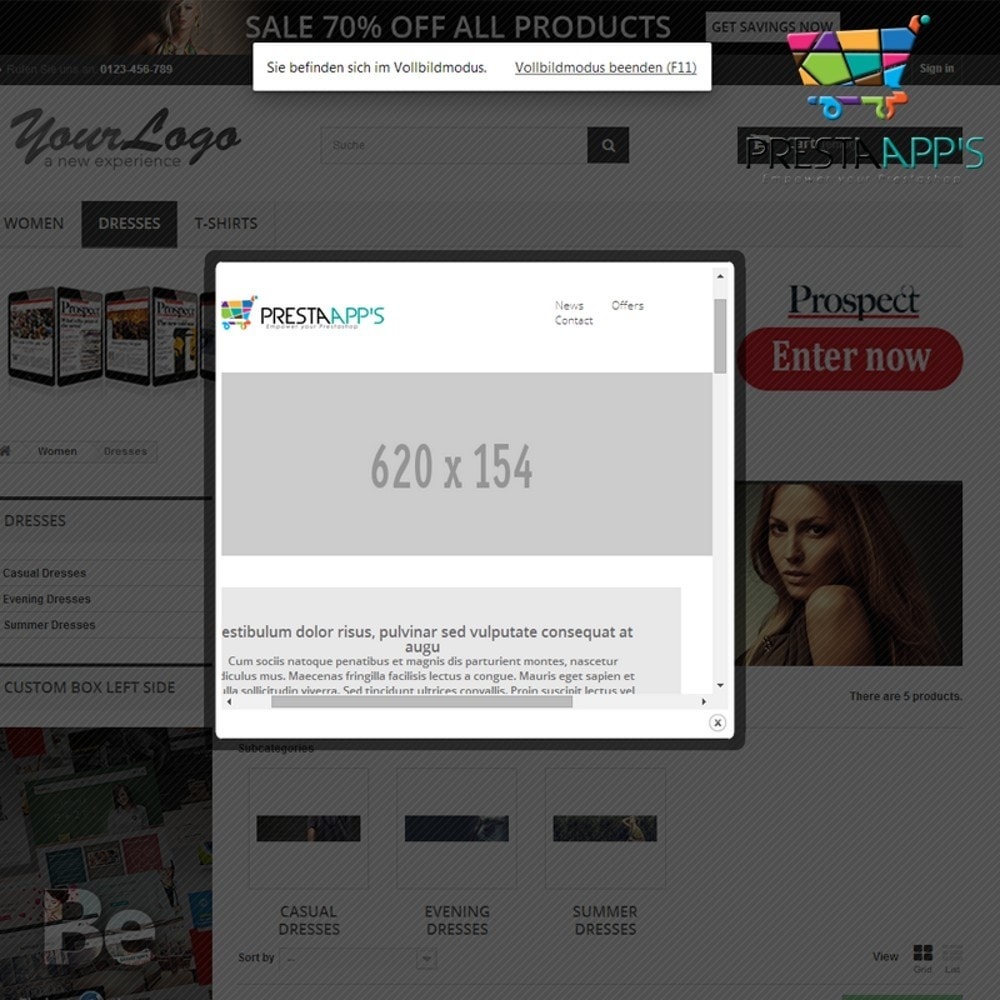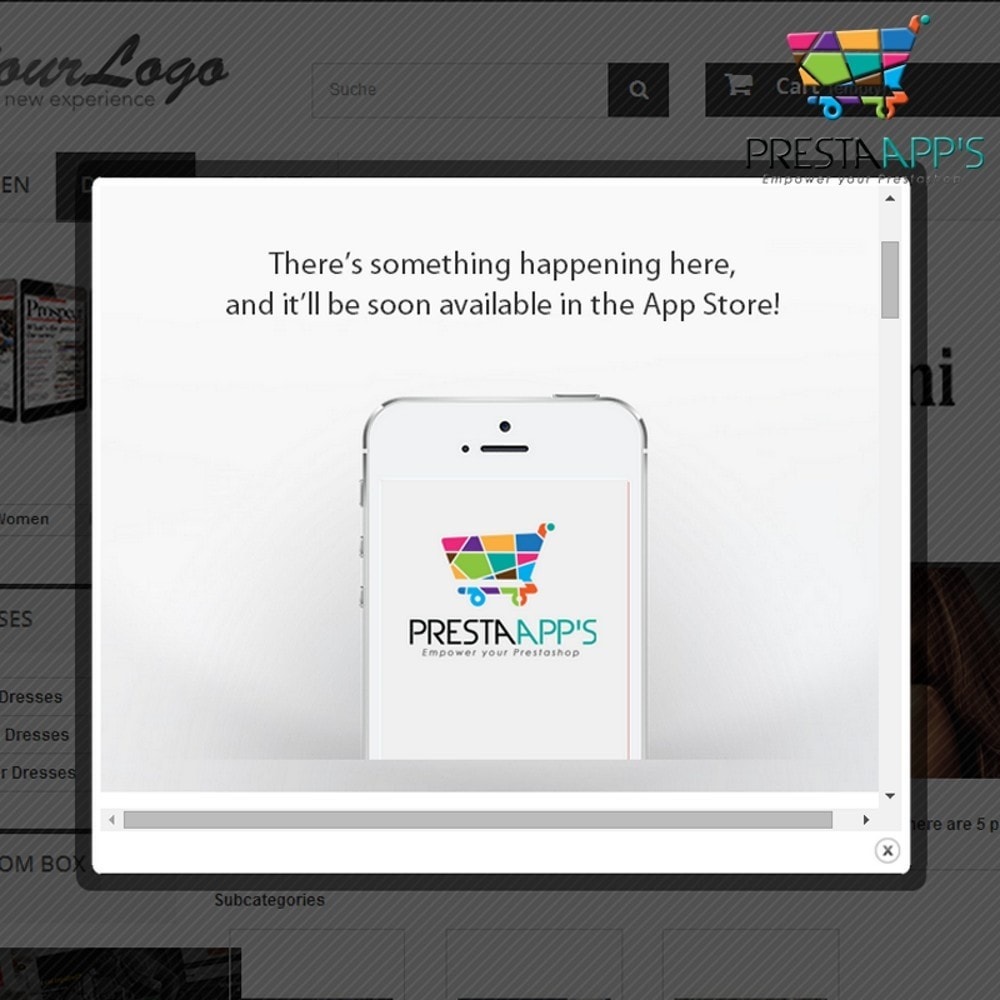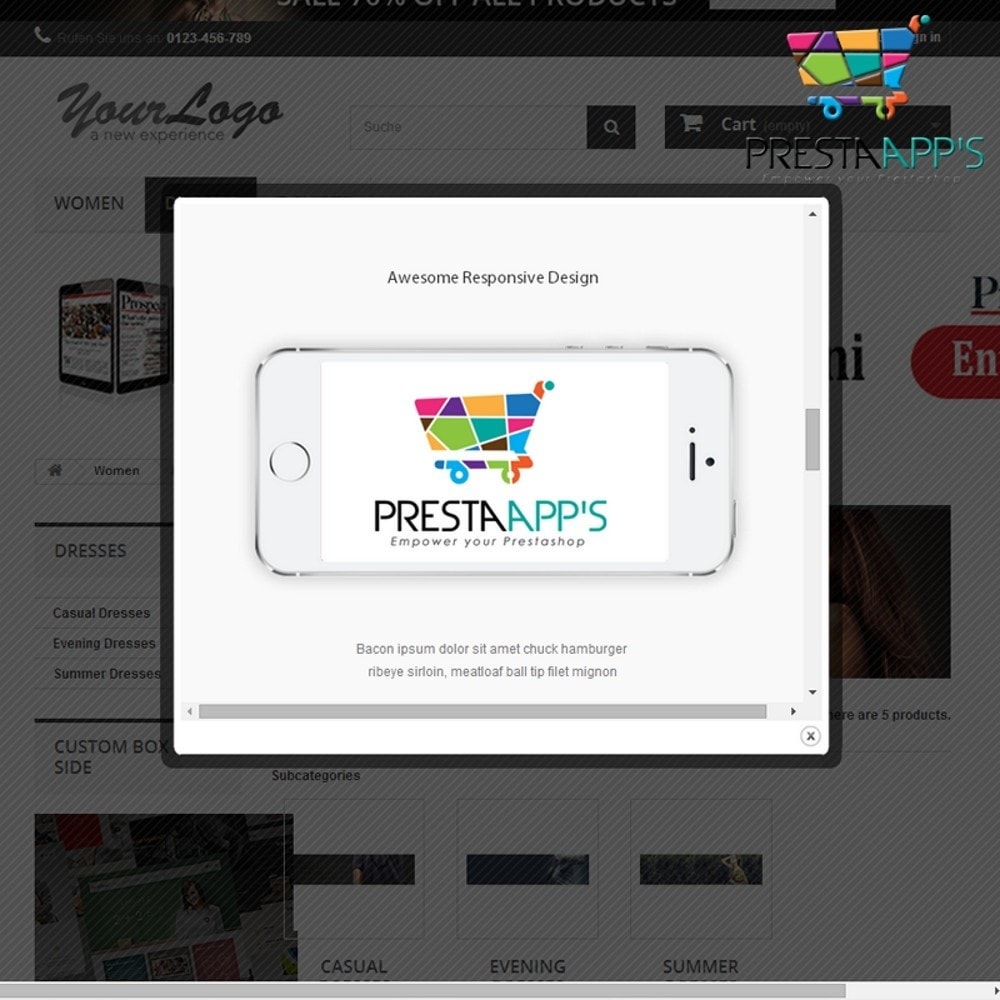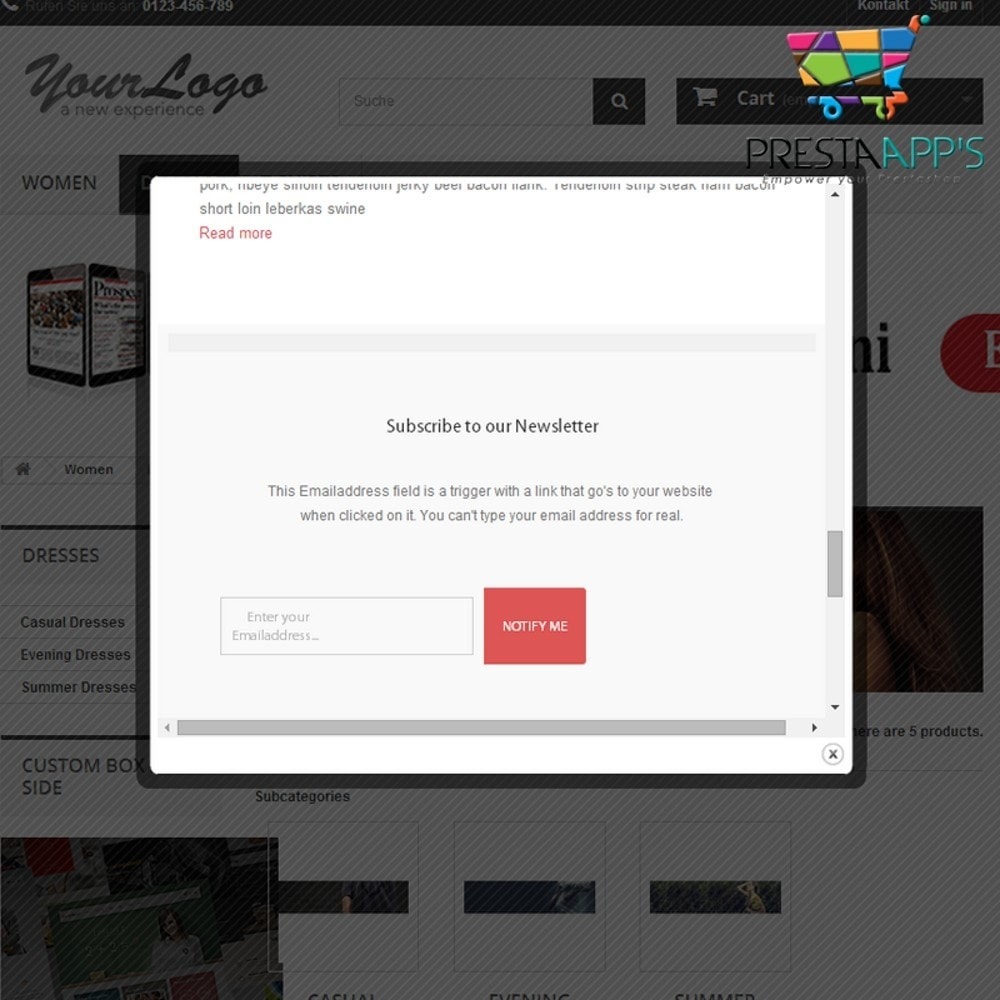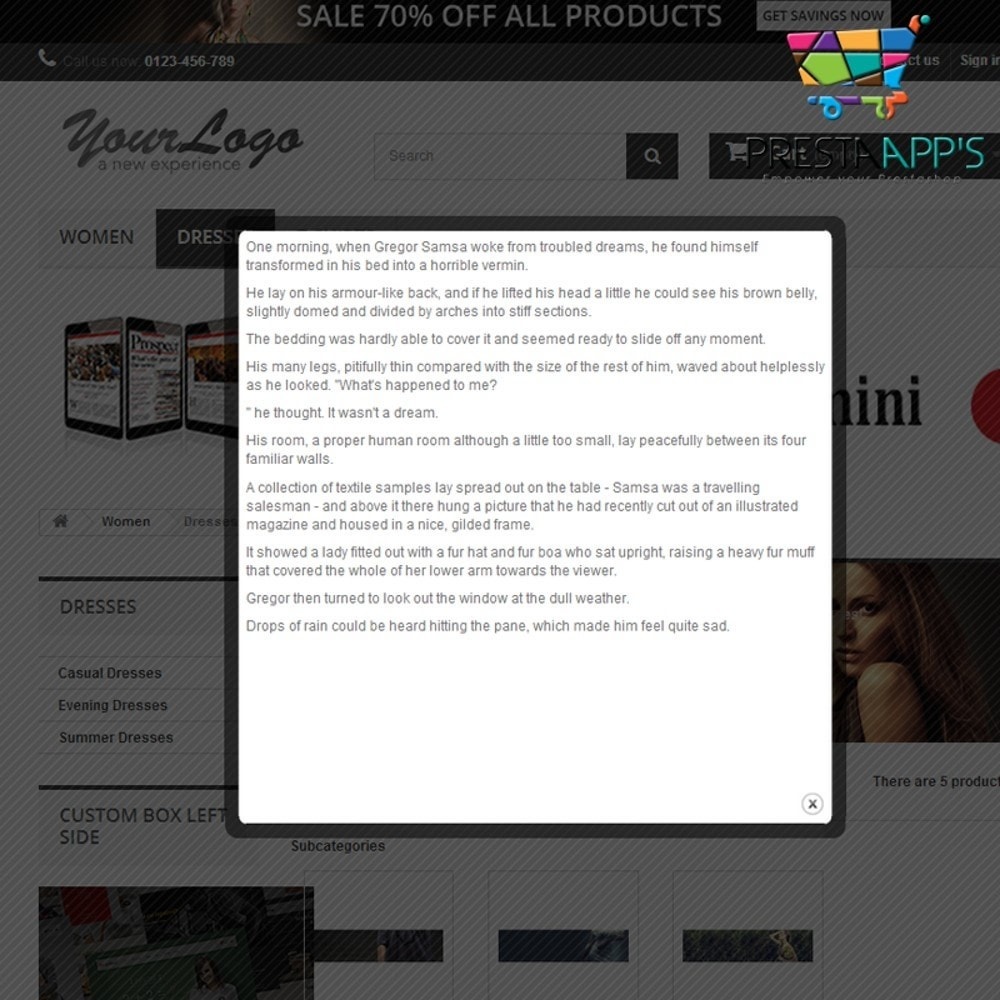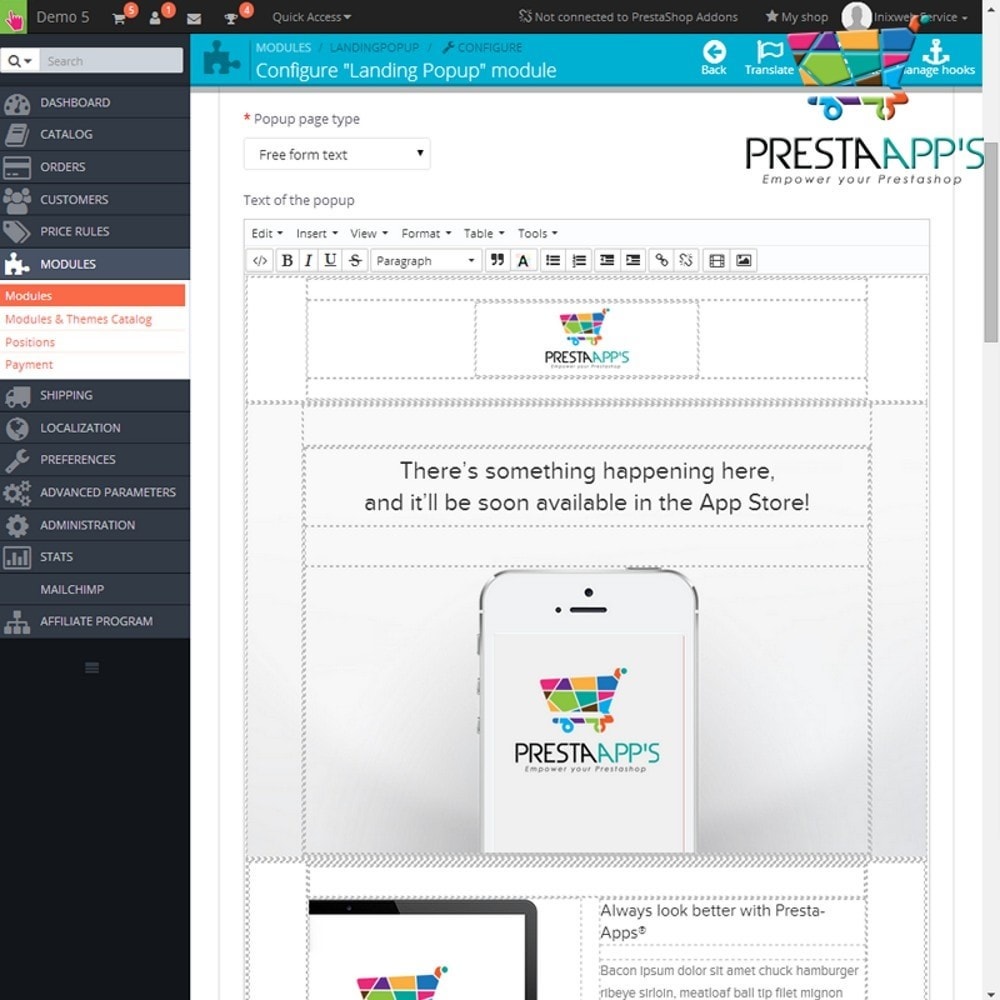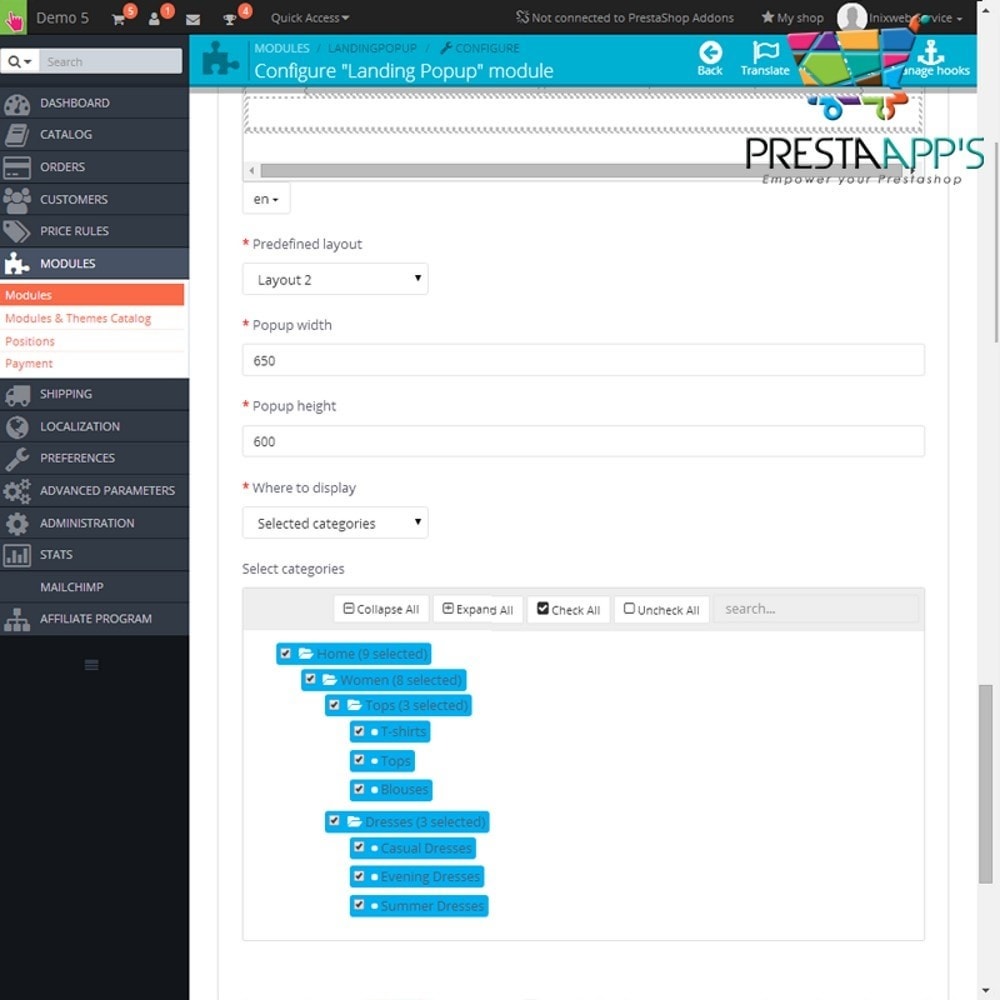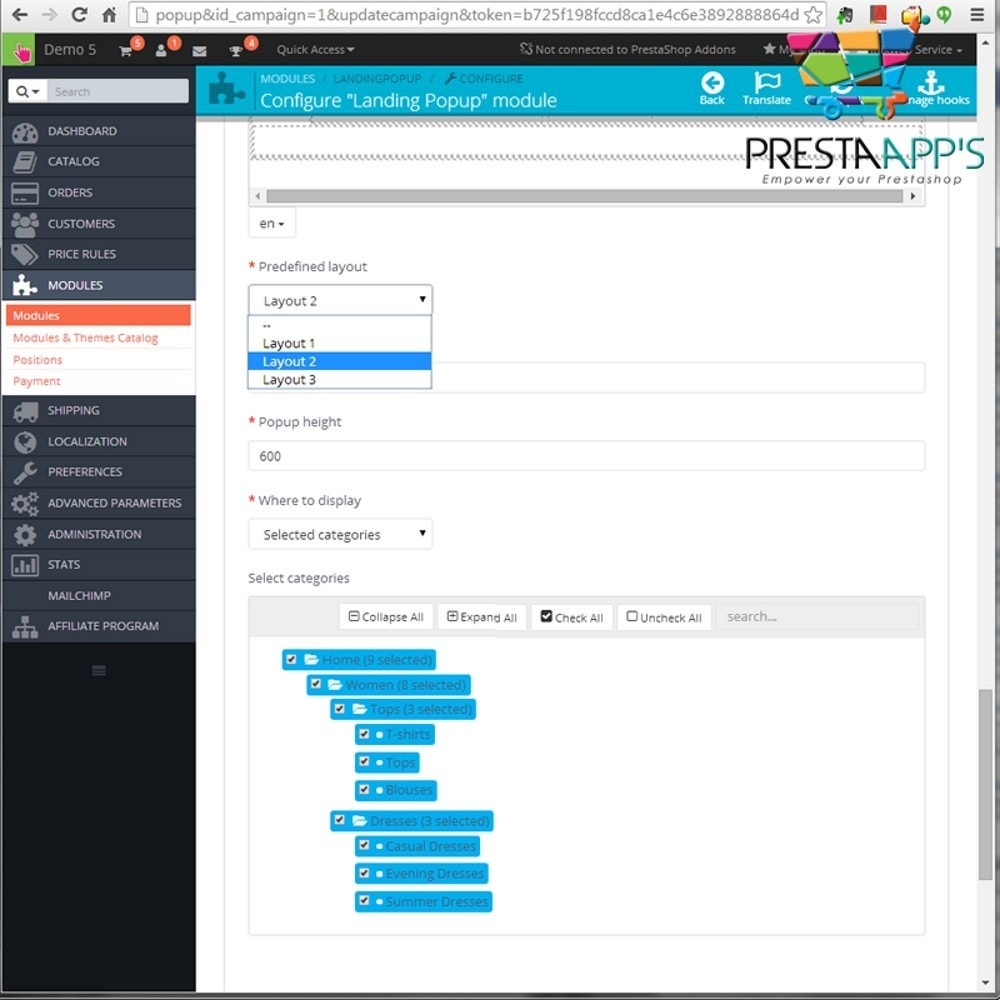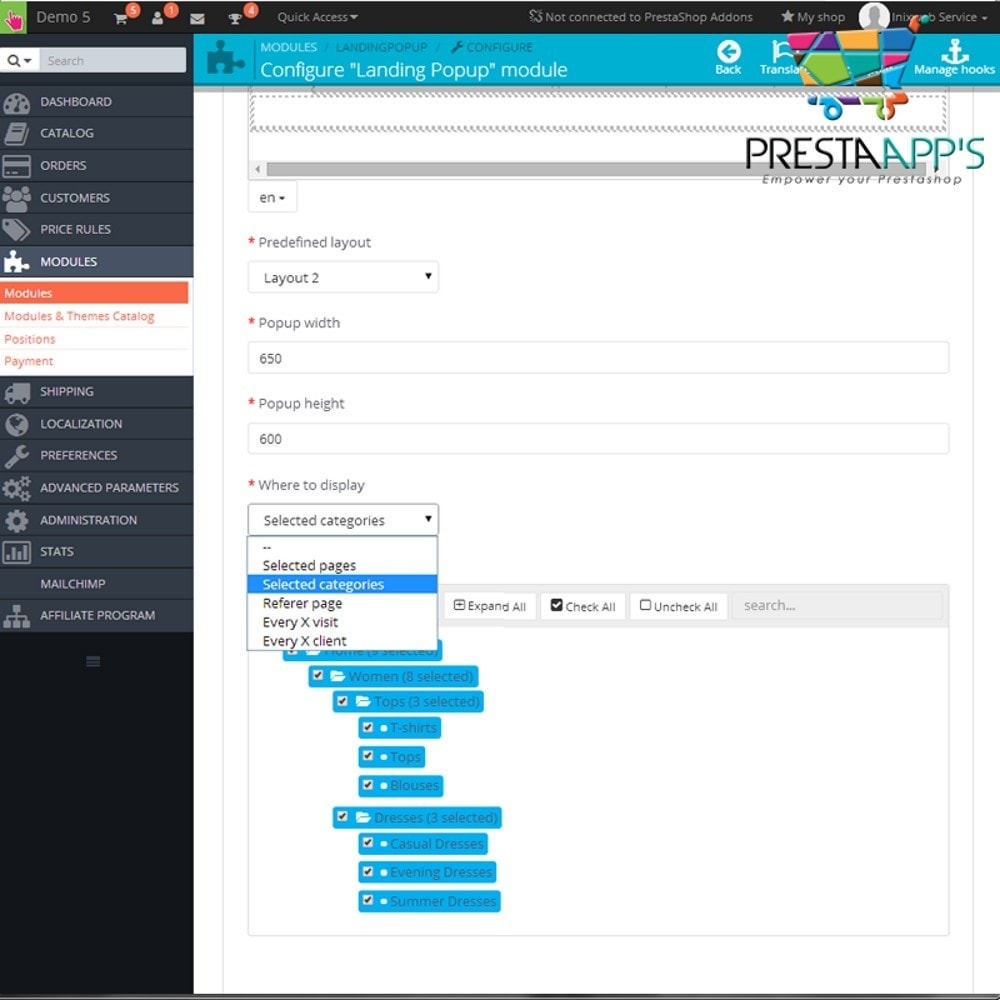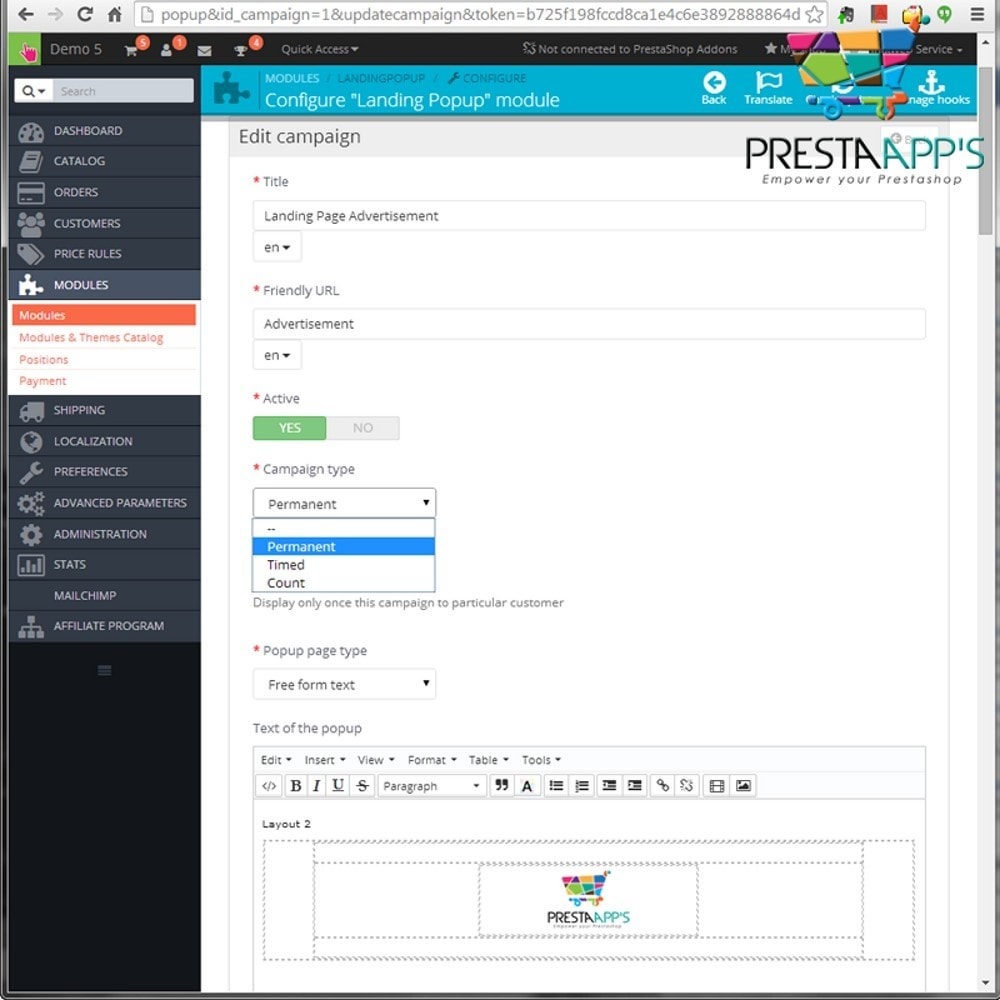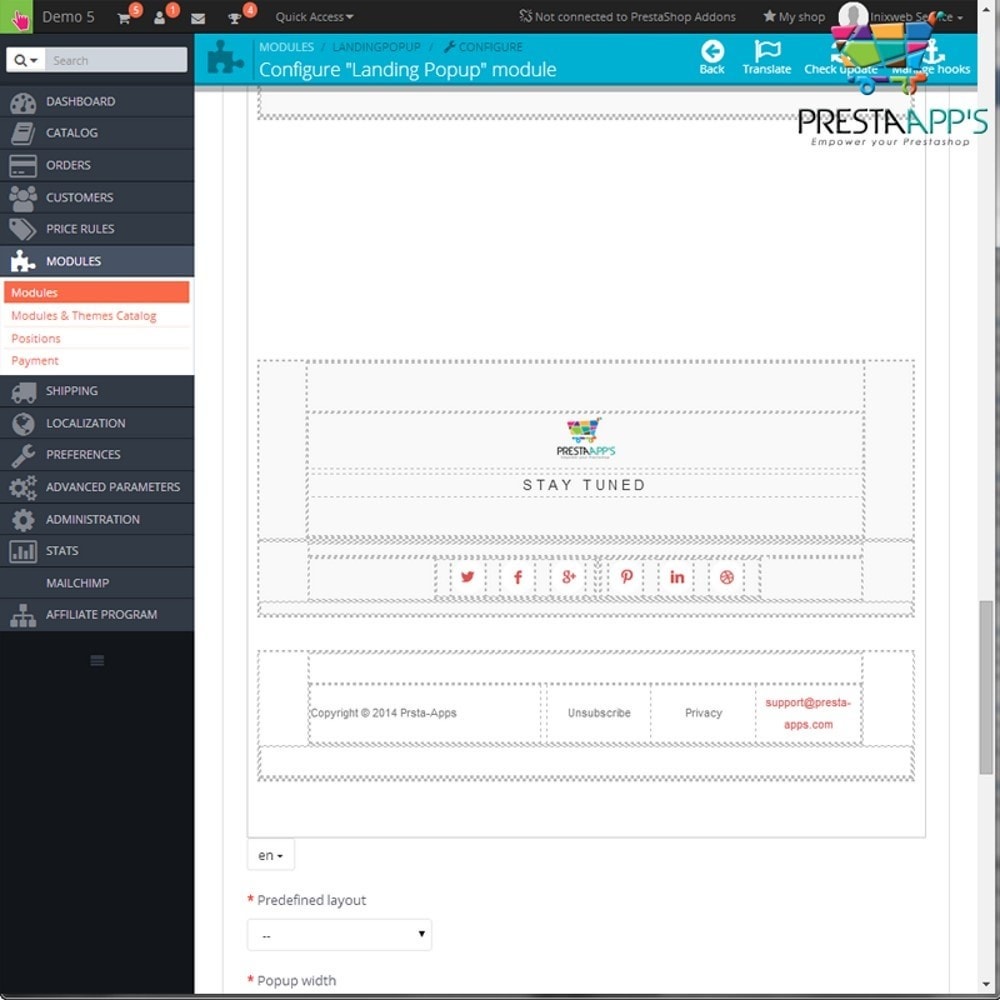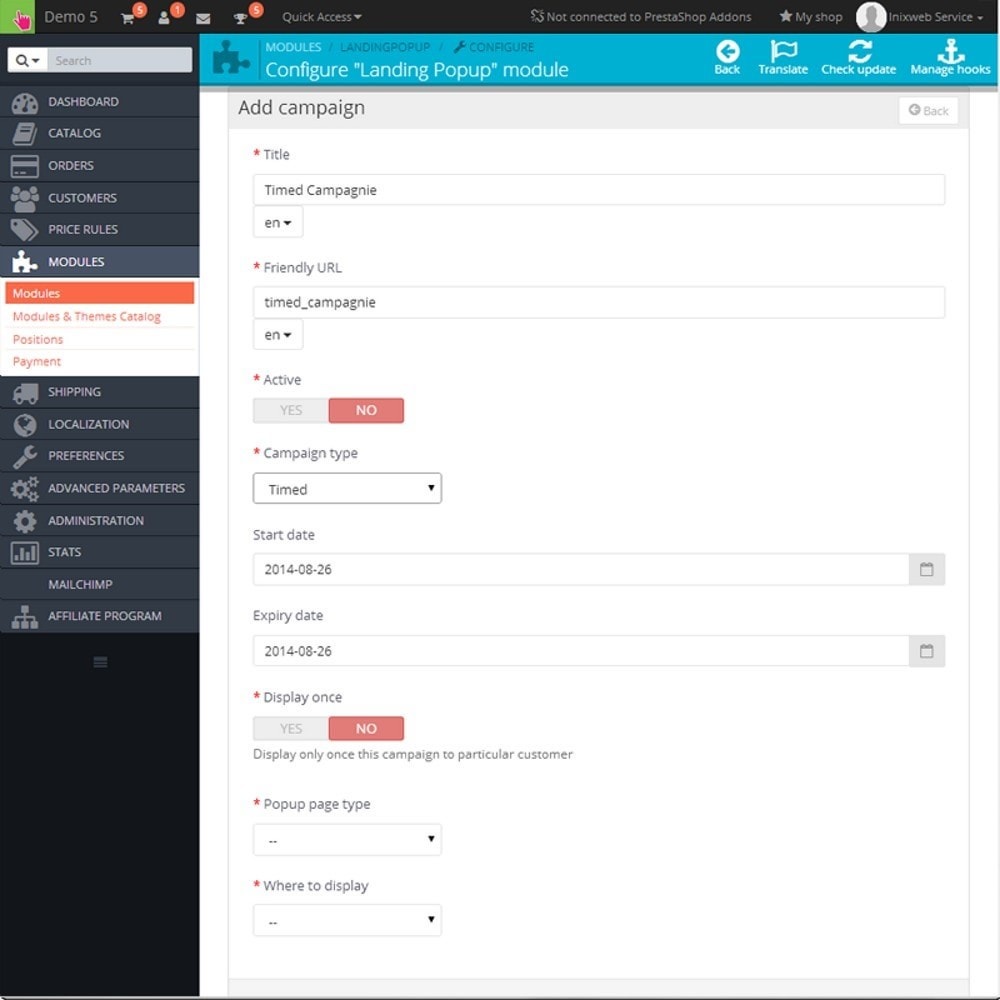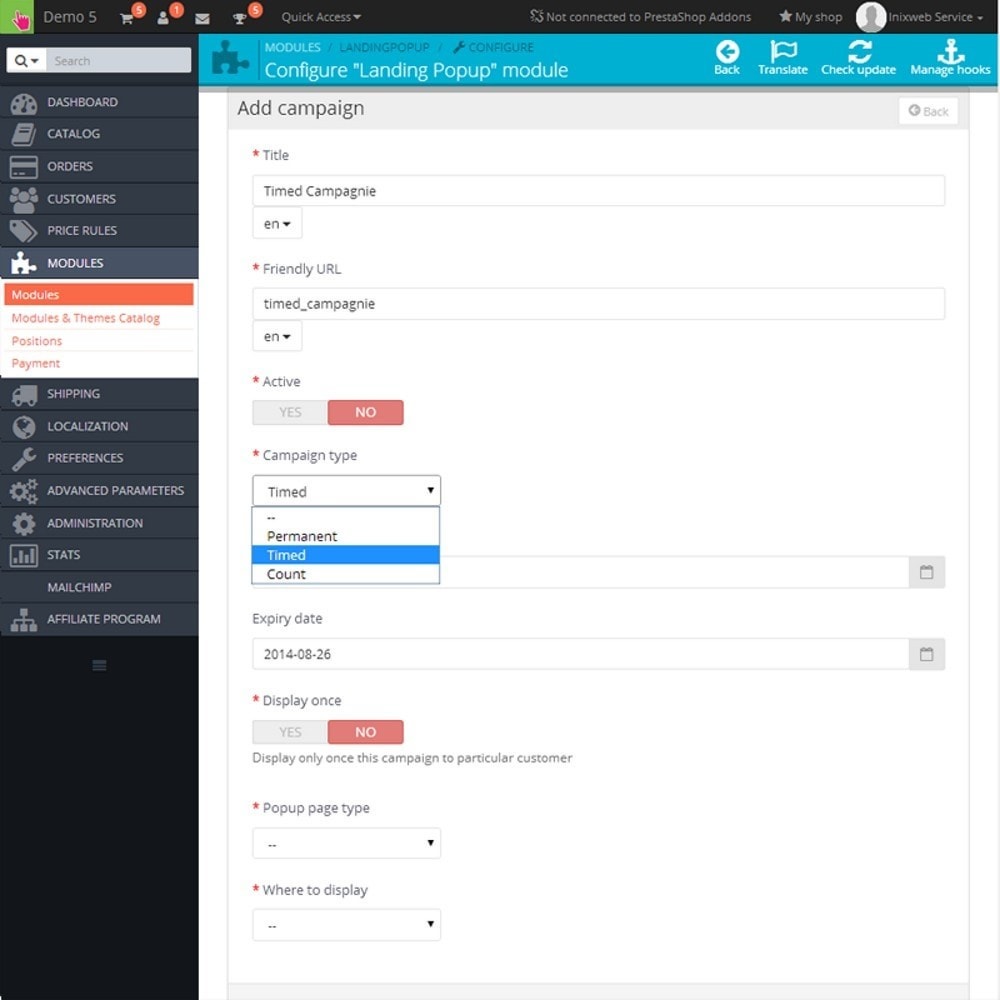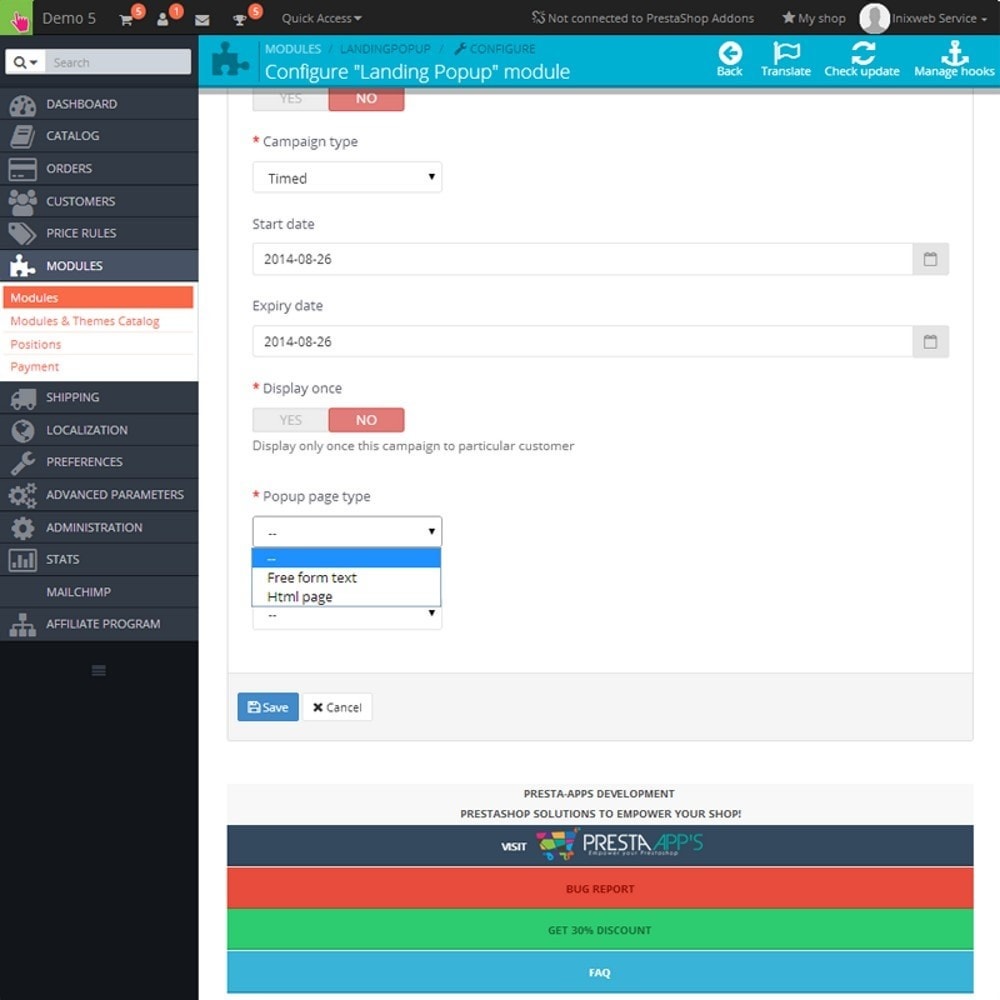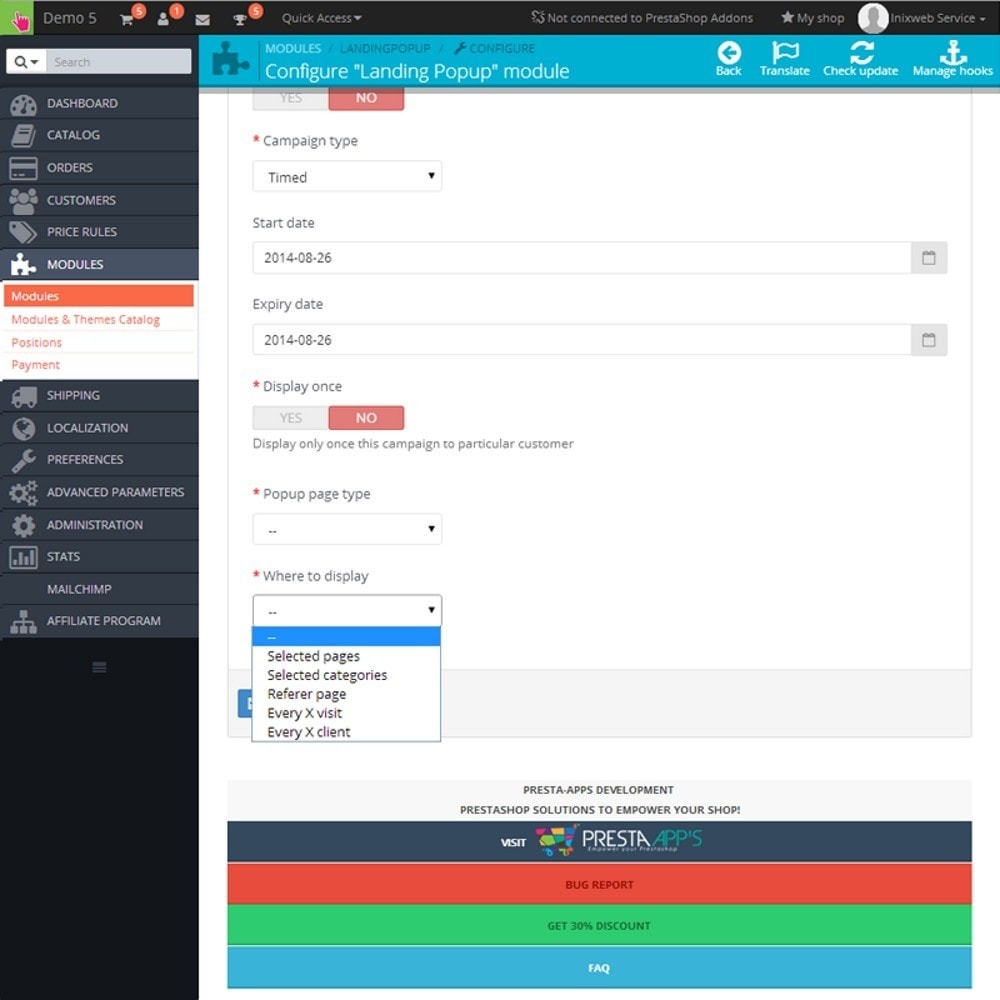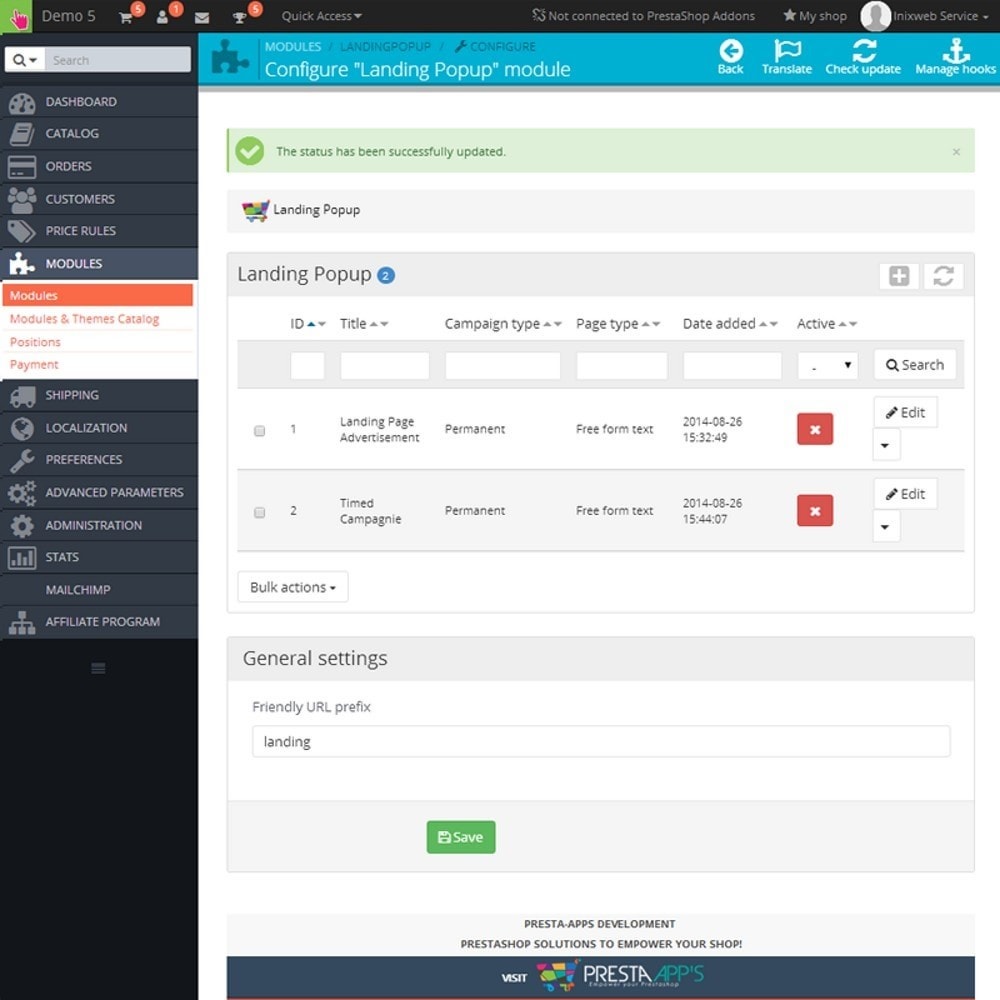 Descrizione
Enables cross-sale promotioms and customer satisfaction

This module gives you the opprotunity to make different Landing Pages for your different campaignes.
Ciò che questo prodotto ti offre
PrestaShop Landing Page / Popup Module

The best way to select a grounp of customers which can receive some special Bonus, Voucher or Product Promotion. The module gives you the opportunity to make different auctions for different group of customers and show the auctions as timed, counted or permanent format.
Funzioni
Functions:
-possible to set different campagnes for different customer group's
-campagne's type - permanent, times from ...to..., count (times)
-display count - Display only once this campaign to particular customer
-popup / landing page type - html or WYSIWYG editor
-landing page dimensions - page widht and page height
-where to be displyed -
-selected -php pages
-selected category's
-visitors soming from referrer site (example: to all coming from ebay, or amazon or partner site)
-every X visit - Show the campaign on every ( specified above, for example 5 ) visit of the shop
-every X client - Show the campaign on every ( specified above, for example 5 ) customer of the shop
-fully customizable without any HTML knowledge
Altro
As our customer you receive 100% free access to our Secure Online HelpDesk.
Please kindly direct all support-related inquiries to our HelpDesk so that our dedicated support team can gladly assist you in the most timely and efficient manner.
Support for all of our distributions includes:
Responding to questions or problems regarding the item and its features
Fixing bugs and reported issues
Providing updates to ensure compatibility with new software versions
we answer each customer message in 24h
Just contact us!
If you find this extension useful, please share the love by leaving a review and positive feedback. We love hearing your positive feedback. 
Thank you!
Presta-App's TEAM
Ciò che i tuoi clienti apprezzeranno
Achieve Real Results
Presta-Apps Development was founded by email marketers and eCommerce experts, who understand online retailers' goals and challenges alike - we've been there. Making the most of your customer data - from the products they've purchased, to their demographics, to their purchase and engagement history - is invaluable, but often hard to do.

Getting it right leads to phenomenal results from more intelligent email marketing campaigns that your customers want to open, because they speak directly to them. In the fierce and growing competition for inbox attention, you can't afford to send generic messages. Our customers' results speak for themselves. We look forward to helping you!
Raccomandazione
Compatibility:
-no core modification needed
-easy to use Back Office Interface
-Compatable with all Version of Prestashop: 1.6.x.x
-Compatable with all Version of Prestashop: 1.5.x.x
-Compatable with all Version of Prestashop: 1.4.x.x
-tested on all browsers: Google Chrome, Mozilla Firefox, Opera, Safari, Internet Explorer
-tested on different servers: Windows, Linux, Mac, UNIX
Supporto e aggiornamenti
Disponi automaticamente di 3 mesi di supporto per questo prodotto.
Per 90 giorni dopo l'acquisto, benefici di un'assistenza tecnica e funzionale, oltre che dell'accesso agli aggiornamenti disponibili per questo prodotto.
Installazione
Compatibilitate with the latest PrestaShop release.
Acquistati di solito insieme
Community developer Sviluppato da

PrestaShop v1.4.0.1 - v1.6.1.17 Compatibilità

Community developer Sviluppato da

PrestaShop v1.6.0.4 - v1.7.2.4 Compatibilità

PrestaShop Sviluppato da

PrestaShop v1.6.0.4 - v1.7.2.4 Compatibilità
Informazioni sullo sviluppatore
01/08/2011

Venditore PrestaShop

Germany

Paese Regione
Hai una domanda?
Bisogno di aiuto?
Lo sviluppatore ti risponde in