Modulo WPRICE - Selling Price Automatic Update Solution
Sviluppato da
Wasato
(12 voti)
Oltre il 90 % dei merchant raccomanda questo prodotto
La valutazione media include tutte le recensioni degli ultimi sei mesi.
Livello di competenze
I merchant pensano che questo prodotto richieda un livello di competenza:
Per utenti principianti
4
Partner
Agency
+100
downloads!
PrestaShop
1.3.1.0 - 1.6.1.17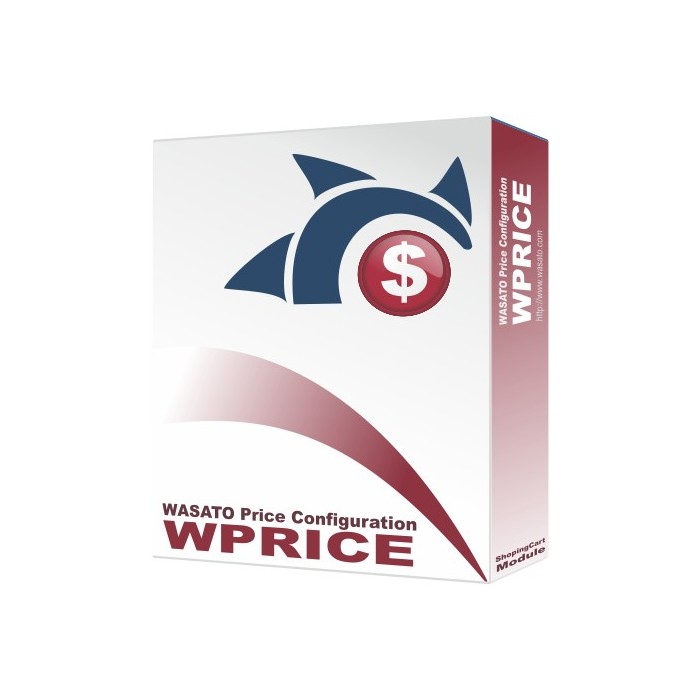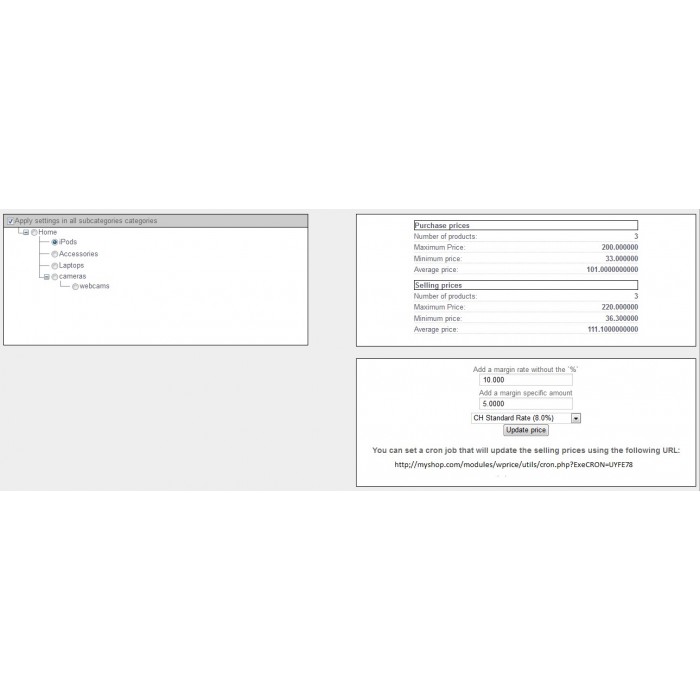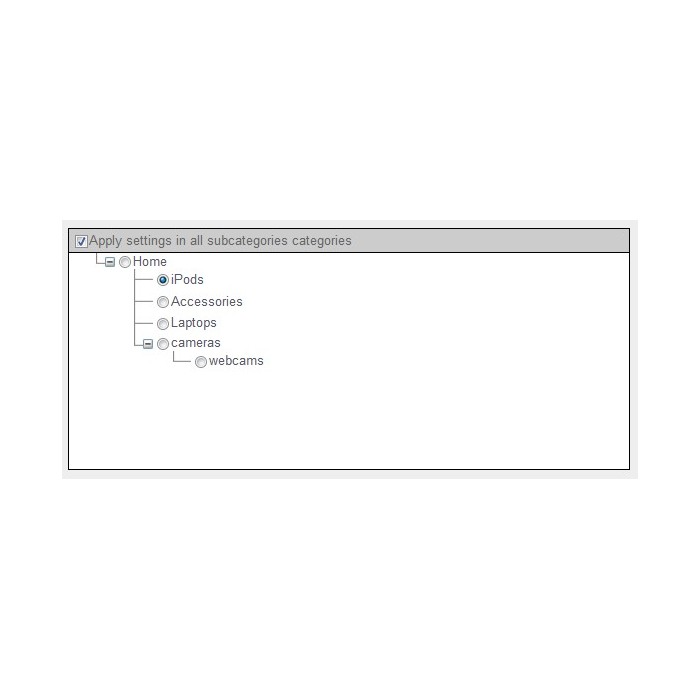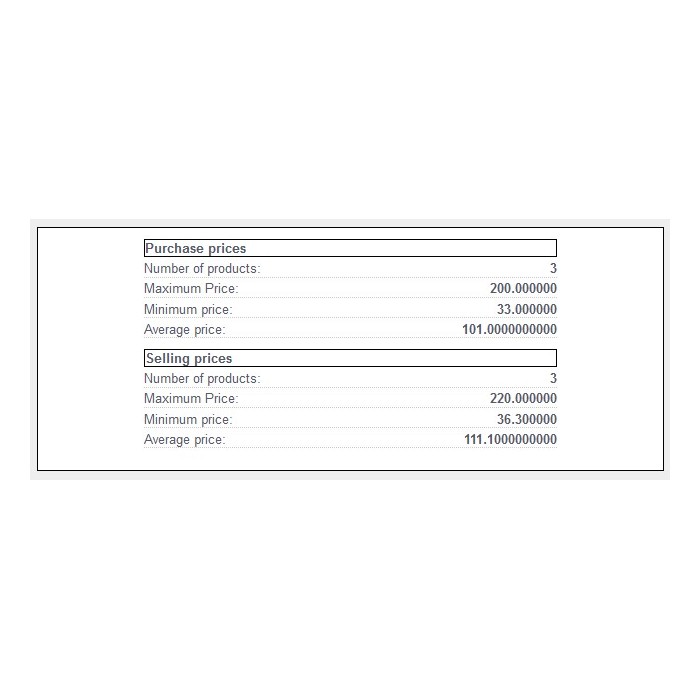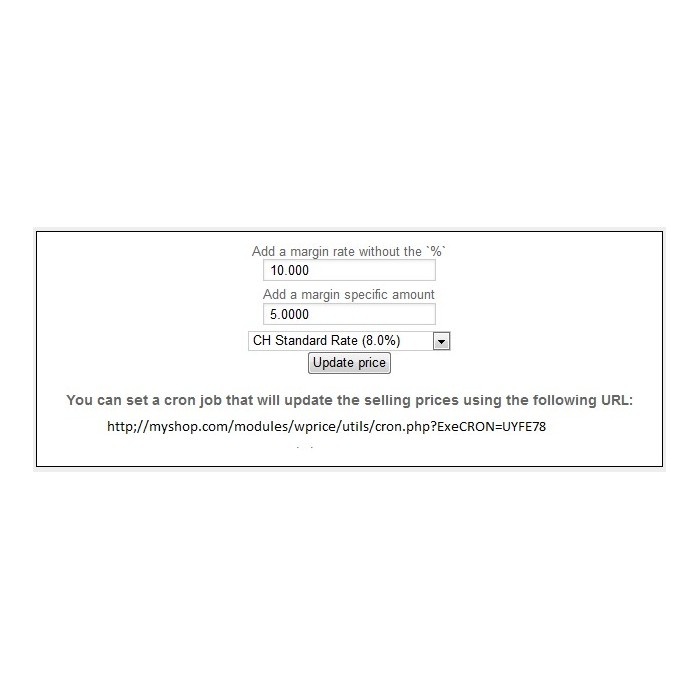 Descrizione
The WPRICE solution allows you to automatically update the selling price of all your products in milliseconds, just add your margins once by category and keep your shop updated.
Ciò che questo prodotto ti offre
Forget about remembering to update your selling price, now with this easy to use tool you can keep your selling price updated and never lose a sale again.
 
This solution will automatically update your complete database by a click of mouse; you only need to set your profit margins once by category or select to save the same settings on all sub categories. You have the option to add a fix amount, a percentage or a combination of both depending only on your selling strategies.
 
This solution is also fully integrated with the WDAILY Module supplier's integration tools of WASATO, so it will automatically run after the new buying prices have been updated.
Funzioni
Easy installation like any other PS module
Add your selling margins by a percentage, a fix amount or a combination of both
Apply the required Tax to each category
Automatically executed when added to the CRON jobs
The selling price update is done in milliseconds
Acquistati di solito insieme
Wasato Sviluppato da

PrestaShop v1.3.1.0 - v1.6.1.17 Compatibilità

Community developer Sviluppato da

PrestaShop v1.5.1.0 - v1.7.2.4 Compatibilità

Wasato Sviluppato da

PrestaShop v1.6.1.0 - v1.6.1.17 Compatibilità
Supporto e aggiornamenti
Disponi automaticamente di 3 mesi di supporto per questo prodotto.
Per 90 giorni dopo l'acquisto, benefici di un'assistenza tecnica e funzionale, oltre che dell'accesso agli aggiornamenti disponibili per questo prodotto.
Installazione
The module includes an activation WIZARD to help you on checking out the server system requirements and activating the license.
 
Before installing this module, you need to verify that the server has the minimal system requirements

To run this solution you need:
 
PHP 5.3.+
Supports PrestaShop from v1.2.x to v1.6.x
Maximum amount of memory a script may consume = 512M, recommended = 1024M
Maximum size of POST data that PHP will accept = 20M
Maximum execution time of each script, in seconds = 0
Maximum amount of time each script may spend parsing request data = -1
MySQL - Max allowed packet MIN 4M
MySQL - LOAD LOCAL INFILE enable
Ouput Buffering to 1
Allow URL open
GZIP enable
You need as well to have the following libraries:
Zlib
XML
Curl
mysql
DOM
Json
Informazioni sullo sviluppatore, Wasato
WASATO is a company that has enterprise-grade solutions made to help shop owners and web developers to create and manage any online store.It is a company that helps merchants all over the world to develop and grow online sales with flexible, innovative and cost-effective solutions.The company  powers hundreds of stores, and it is focused to help the users to setup and manage their store products' catalogue based on the data of their suppliers.
20/12/2011

Venditore PrestaShop

Switzerland

Paese Regione
Hai una domanda?
Bisogno di aiuto?
Lo sviluppatore ti risponde in