Modulo SMS Gateway Notifications
Sviluppato da
Community developer
(3 voti)
La valutazione media include tutte le recensioni degli ultimi sei mesi.
+100
downloads!
PrestaShop
1.6.0.6 - 1.7.2.4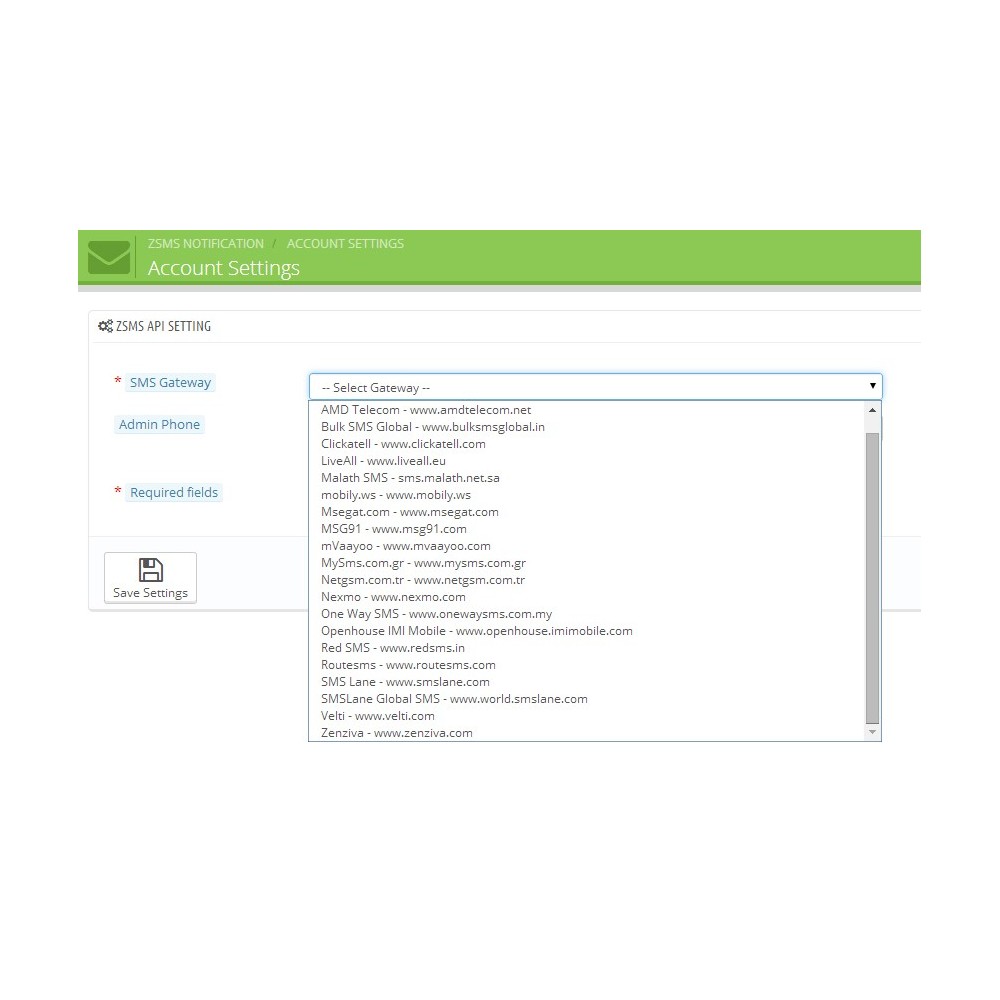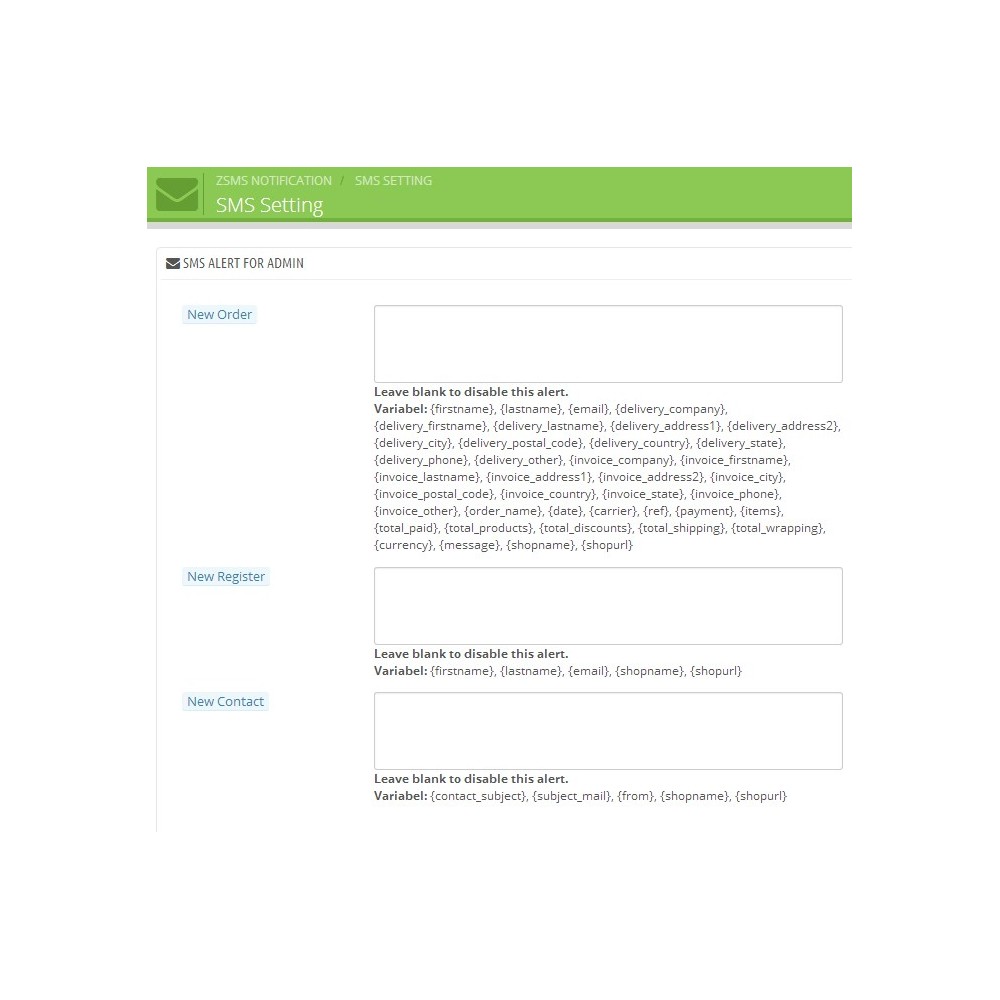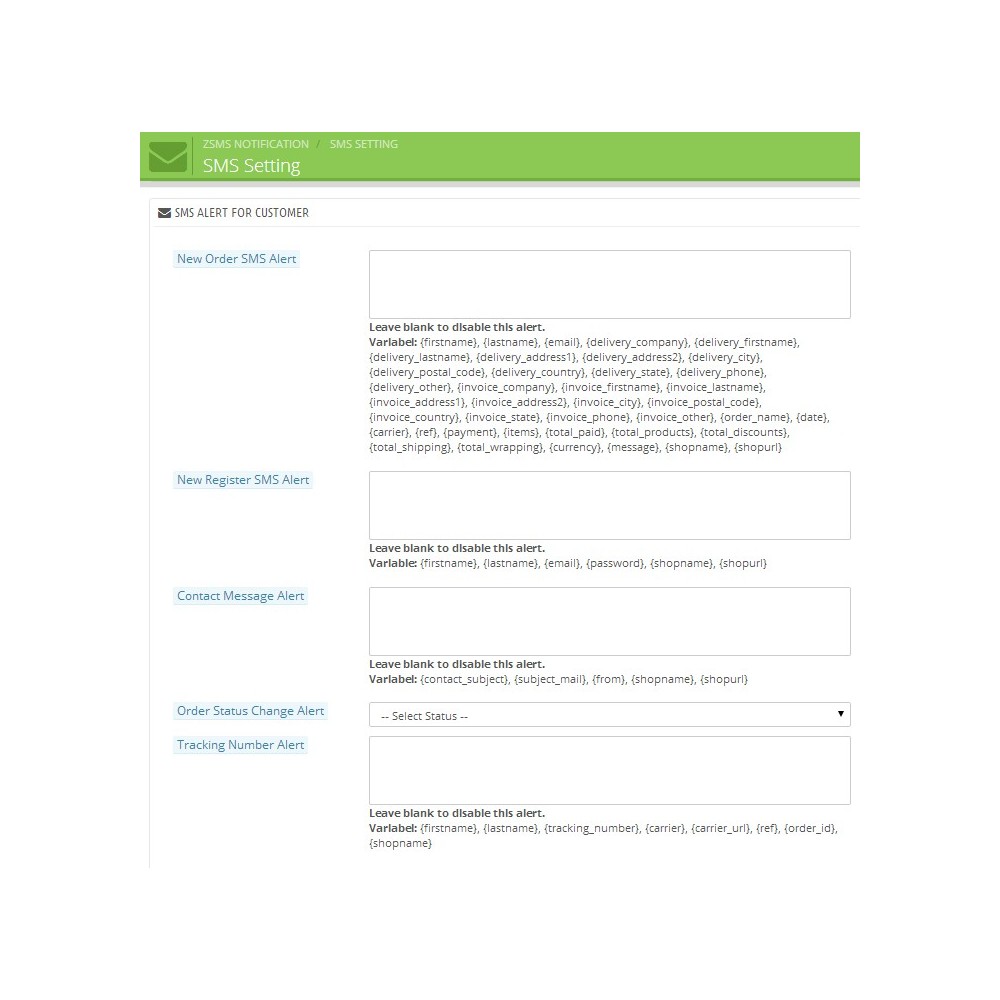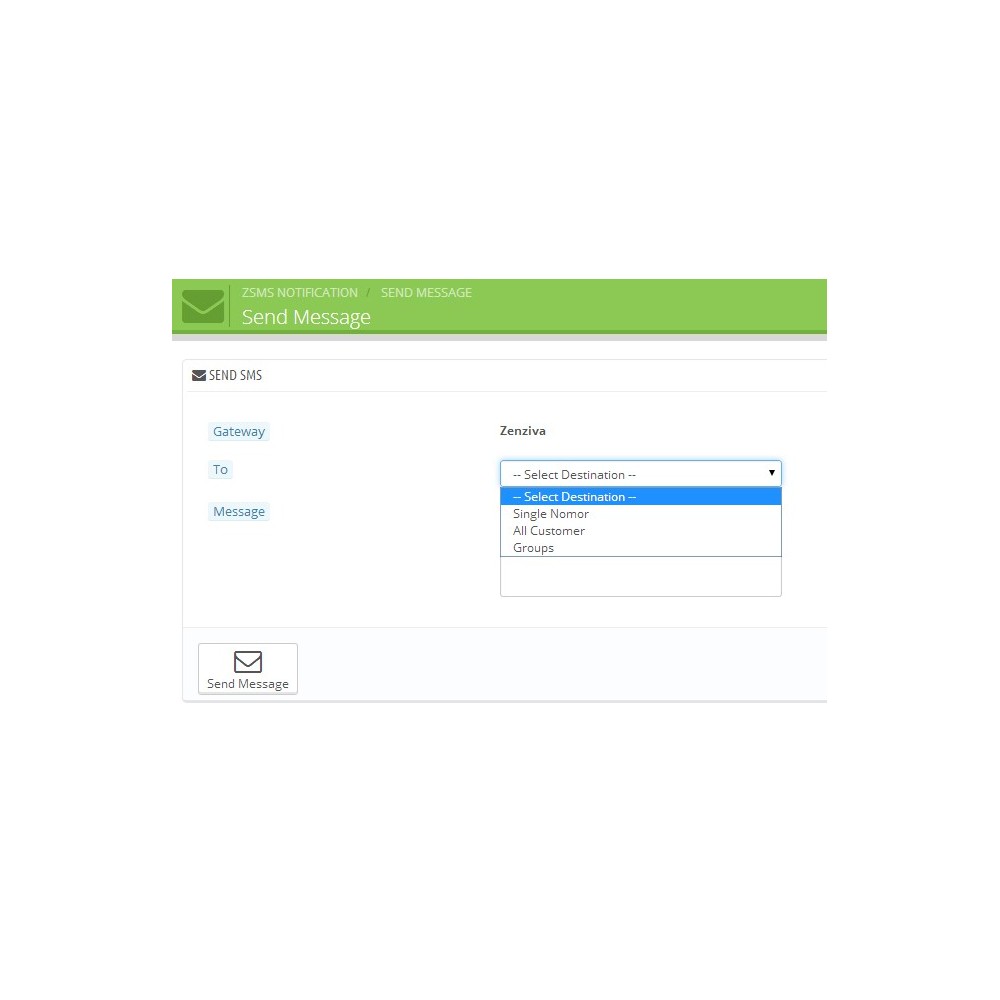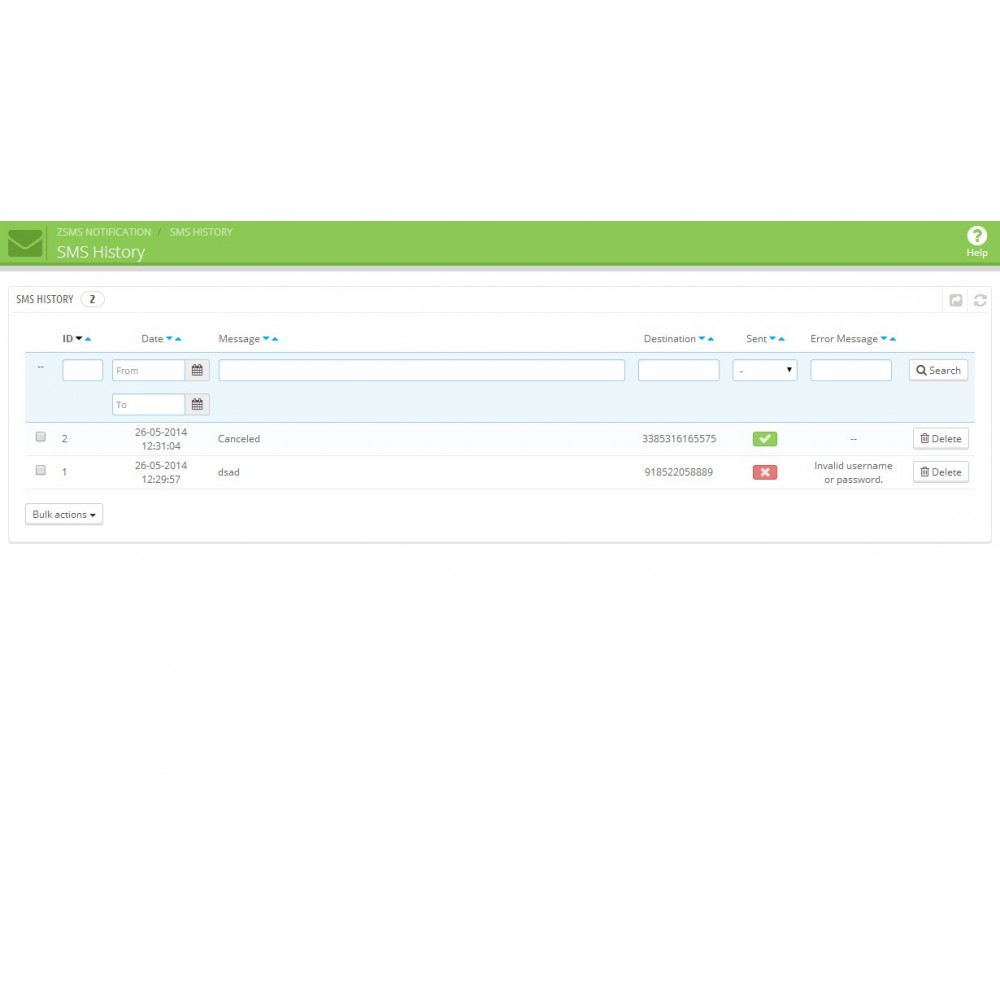 Descrizione
Send SMS notification or alert or autoresponse on different events to admin and customers on new order, change status order, add tracking number, and new register.
Ciò che questo prodotto ti offre
Produttività Facilita la gestione del tuo servizio post-vendita
This module allow PrestaShop to send SMS notification or alert or autoresponse on different evens. And also administrator for send message to custom destinations number like to one destination number, group and all Customers.
Keep in touch with your Customer by SMS.
Send informations to customer by SMS.
Customer not must check their email to know about order status information.
Send your promotion by SMS to Group or all Customer.
Funzioni
SUPPORTED MULTIPLE SMS GATEWAYS PROVIDERS
AMD Telecom - International
mVaayoo - India
Nexmo - International, over 200 countries and 800 carriers
Velti - India
Zenziva - Indonesian Provider Only
Clickatell - Worldwide
MySms.com.gr - Greek
Red SMS - India
SMS Lane - India
SMSLane Global SMS - Worldwide
Bulk SMS - Worldwide
Bulk SMS Global - Worldwide
One Way SMS - Malaysia
LiveAll.eu
Openhouse IMI Mobile
Msegat
Netgsm.com.tr
Routesms - Worldwide
MSG91
Mobily.ws
Malath SMS
HQSMS
LiveSMS.eu
SMS GupShup -
MoceanSMS - dev.moceansms.com (Worldwide)
ASPSMS - www.aspsms.com (Worldwide)
SMS.net.gr - Greece and International
AMD Routee Platform - go.routee.net
Spirius - Worldwide
continue...
SMS Notifications For Admin:
Send a SMS Notification to the store owner when a new order is created.
Send SMS Notification to store owner when a new account is registered.
SMS Notifications For Customer:
Send SMS about order details when place order.
Send SMS login account informations when register proccess success.
Send SMS to customer when their order status has changed. Every order status can have different message.
Send SMS to Customer when Tracking Number had updated.
Send Custom Message to:
One destination mobile phone number.
Selected Group
All Customer
SMS History:
In SMS History, you can view sms message who had sent with another informations like Date, Message, Destination Number, Status of message (Sent or Not Sent with detail information)
Acquistati di solito insieme
Community developer Sviluppato da

PrestaShop v1.6.0.6 - v1.7.2.4 Compatibilità

Idnovate Sviluppato da

PrestaShop v1.4.0.1 - v1.7.2.4 Compatibilità

Community developer Sviluppato da

PrestaShop v1.6.0.4 - v1.7.1.2 Compatibilità
Ciò che i tuoi clienti apprezzeranno
Customers will keep informed by SMS about their orders.
Customers will receive SMS about Tracking Number when their order was shipped.
Customers not only must check email for their orders informations.
Customers will always obtain current information wherever they are.
Supporto e aggiornamenti
Disponi automaticamente di 3 mesi di supporto per questo prodotto.
Per 90 giorni dopo l'acquisto, benefici di un'assistenza tecnica e funzionale, oltre che dell'accesso agli aggiornamenti disponibili per questo prodotto.
Installazione
Go to the MODULES page in the administration Dashboard of your PrestaShop website.
Click Add a new module button and click Choose a file button select from your Computer the previously downloaded zsms.zip module and click Upload this module button.
After module uploaded, the module will be in Administration category with the name is zSMS Notification. Click Install button and module will be installed.
In the left Menu will added new menu with name ZSMS NOTIFICATION. Go to Account Settings sub menu and set your gateway detail who will be used.
Novità nella versione 1.2.4(10/12/2017)
Add new Clickatell SMS Platform API
Add new Spirius sms gateway
Informazioni sullo sviluppatore
13/06/2012

Venditore PrestaShop

Indonesia

Paese Regione
Hai una domanda?
Bisogno di aiuto?
Lo sviluppatore ti risponde in