Modulo JPS Data Mass Export (Orders : XML + FTP + CRON + PROFILES)
Sviluppato da
Community developer
PrestaShop
1.3.0.1 - 1.6.0.11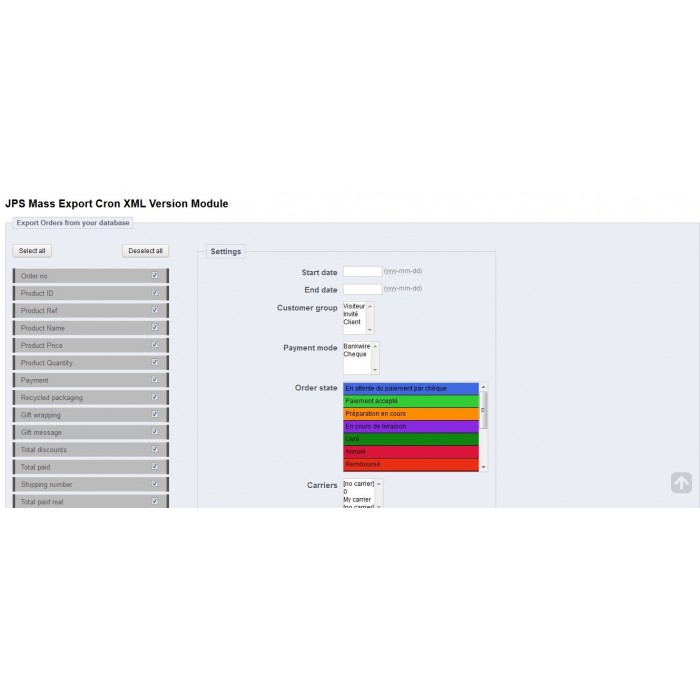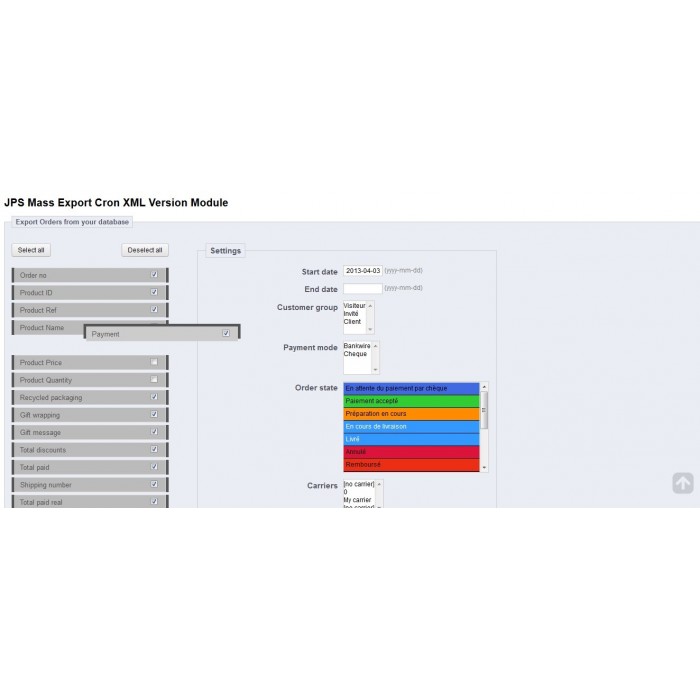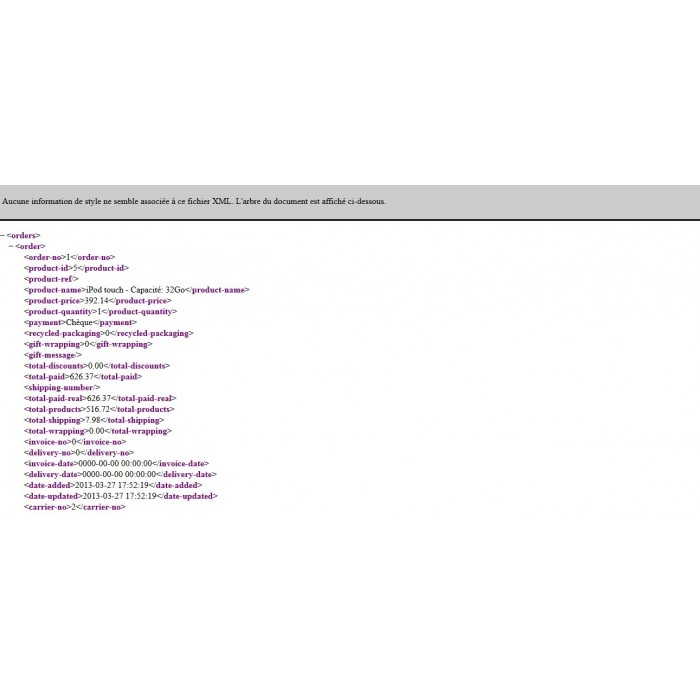 Descrizione
This module allows you to export your shop orders as a XML file. Supports international characters and number formatting. (Cron Task +)
Ciò che questo prodotto ti offre
This module allows you to export your shop orders as a XML file. Supports international characters and number formatting.
Funzioni
Features :

Export in XML Format
Drag and drop for the position
Show header
Date start (with datepicker)
Date end (with datepicker)
Filter by Customer groups
Filter by Payment mode
Filter by Carrier
Filter by Order state
You can export csv in a FTP server
Choose any details you want (cf. Fields)
Additionnal empty fields
Cron task programmable

Fields :

Order No
Product ID
Product Ref
Product Name
Product Price
Product Quantity
Payment
Recycled packaging
Gift wrapping
Gift message
Total discounts
Total paid
Shipping number
Total paid real
Total products
Total shipping
Total wrapping
Invoice no
Delivery no
Invoice date
Delivery date
Date added
Date updated
Carrier no
Validity
Total products with tax
Customer no
Name carrier
Firstname
Lastname
Email
Delivery address line 1
Delivery address line 2
Delivery postcode
Delivery city
Delivery phone
Delivery phone(mobile)
Delivery VAT
Delivery DNI
Delivery state
Delivery country
Invoice address line 1
Invoice address line 2
Invoice postcode
Invoice city
Invoice phone
Invoice phone (mobile)
Invoice firstname
Invoice lastname
Invoice company name
Delivery country iso code
Acquistati di solito insieme
Community developer Sviluppato da

PrestaShop v1.3.0.1 - v1.6.0.11 Compatibilità

PrestaShop Sviluppato da

PrestaShop v1.6.0.4 - v1.7.2.4 Compatibilità

PrestaShop Sviluppato da

PrestaShop v1.6.0.4 - v1.7.2.4 Compatibilità
Altro
Files are generated in the exports directory in the folder of the module.

Cron link is : jpsmassexportcronxml/jpsmassexportcronxmlcron.php
Supporto e aggiornamenti
Disponi automaticamente di 3 mesi di supporto per questo prodotto.
Per 90 giorni dopo l'acquisto, benefici di un'assistenza tecnica e funzionale, oltre che dell'accesso agli aggiornamenti disponibili per questo prodotto.
Installazione
Install it like any other module, place the jpsmodule in the "modules" directory in PrestaShop, then go to Modules Management Tool in back-office and click on Install. Go to "Settings" and that's all !
Informazioni sullo sviluppatore
26/07/2012

Venditore PrestaShop

France

Paese Regione
Hai una domanda?
Bisogno di aiuto?
Lo sviluppatore ti risponde in