Modulo Canada Post Contract Rates and Labels
Sviluppato da
Community developer
(5 voti)
Oltre il 90 % dei merchant raccomanda questo prodotto
La valutazione media include tutte le recensioni degli ultimi sei mesi.
PrestaShop
1.5.0.0 - 1.7.2.4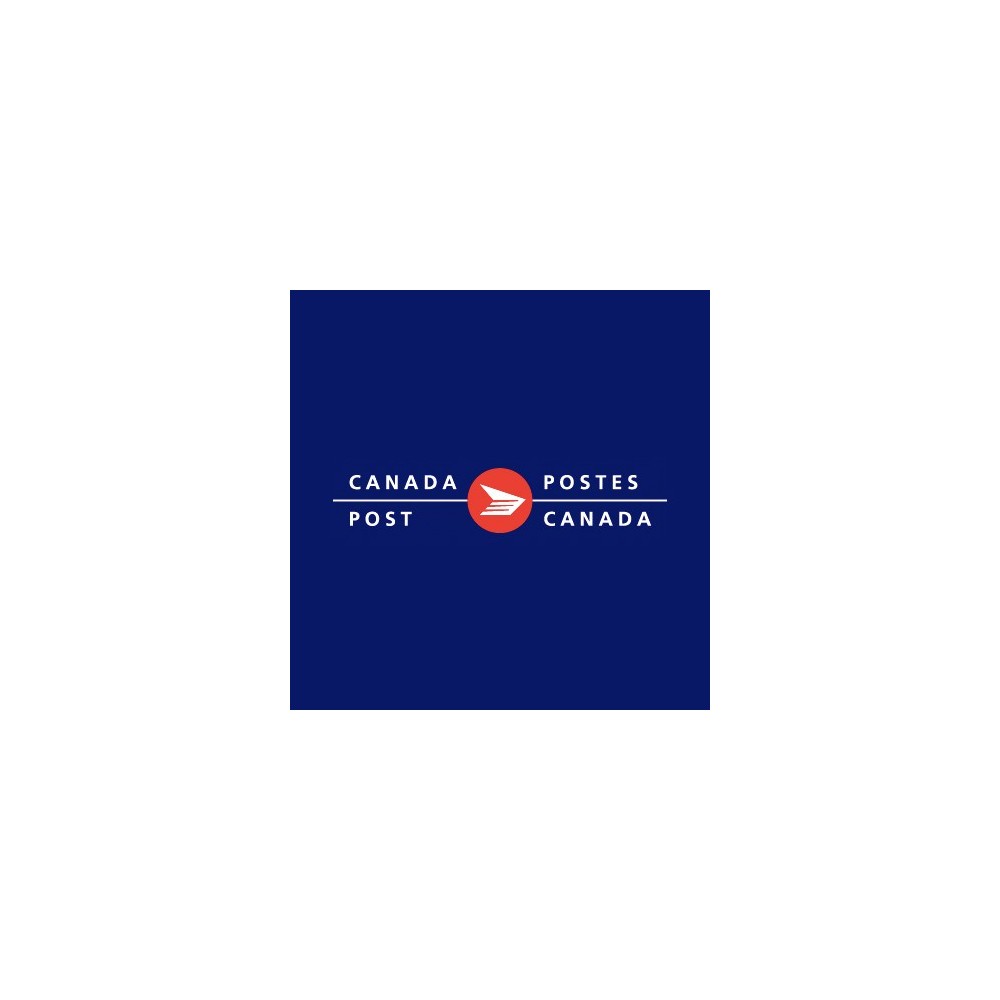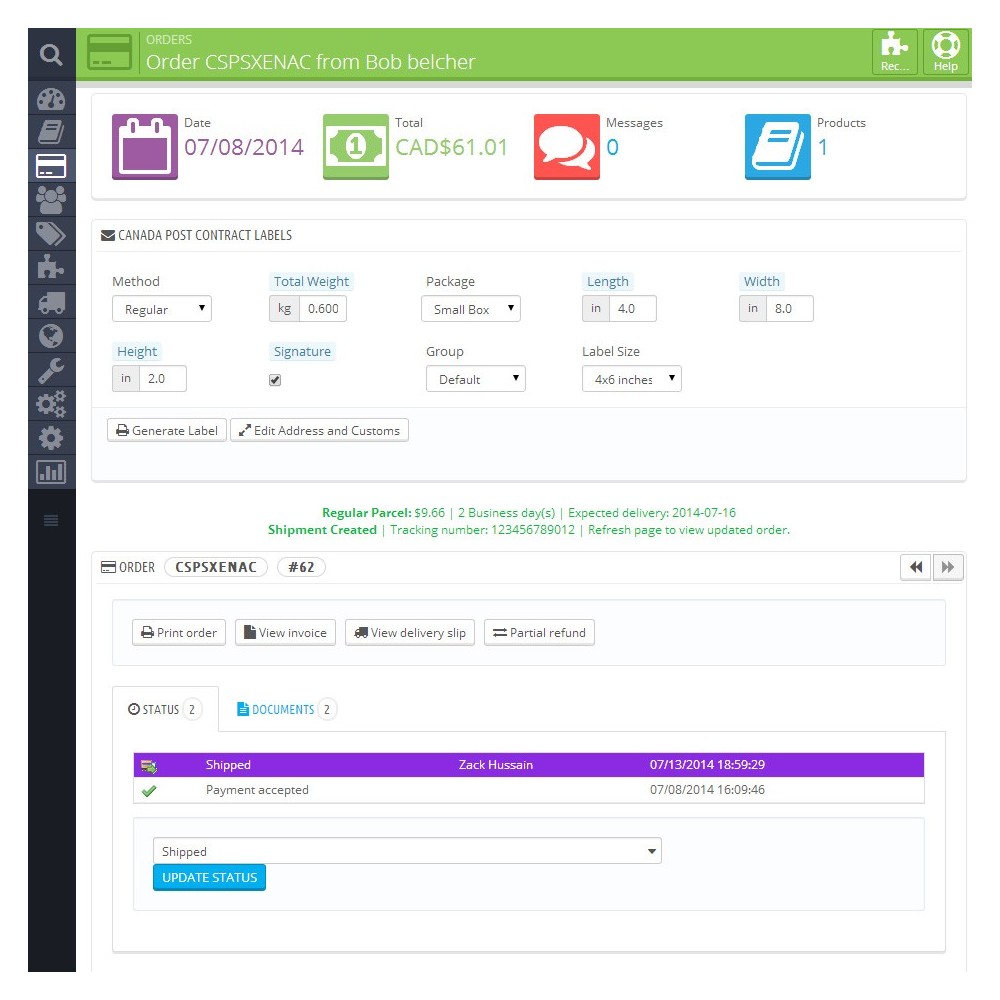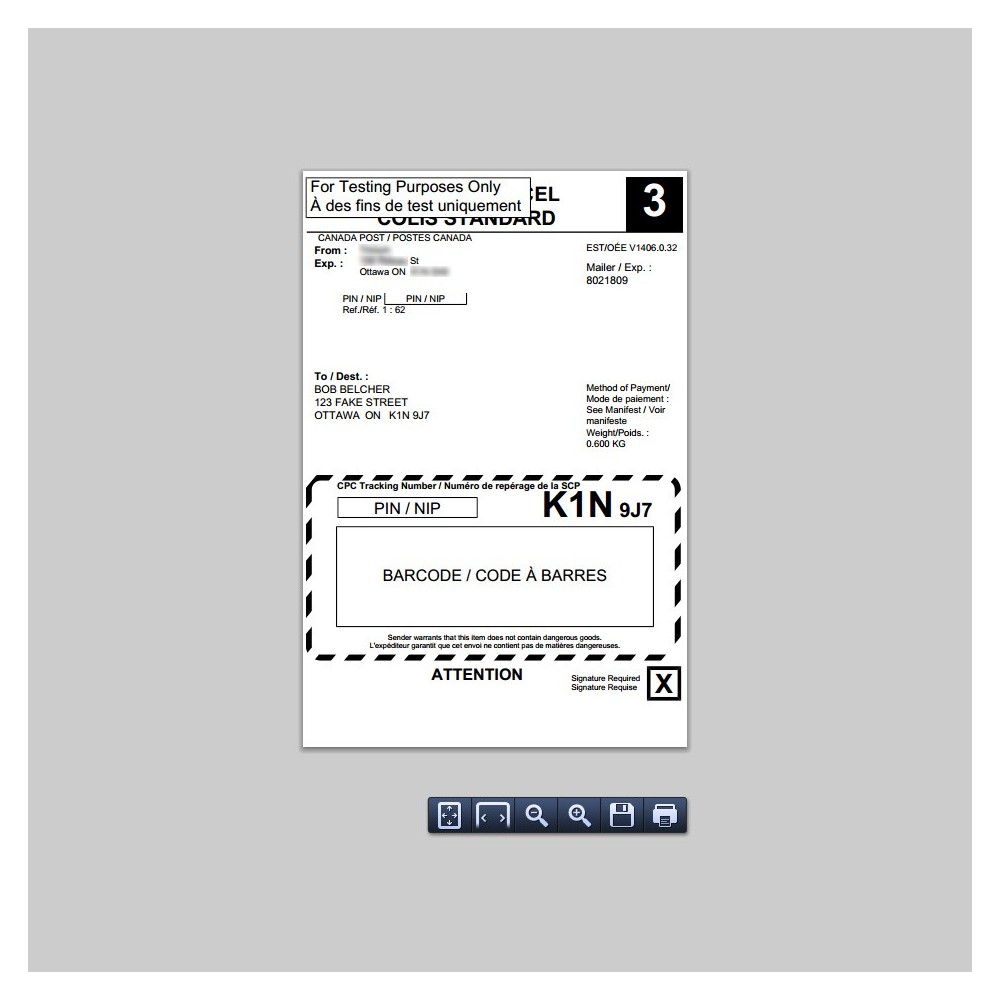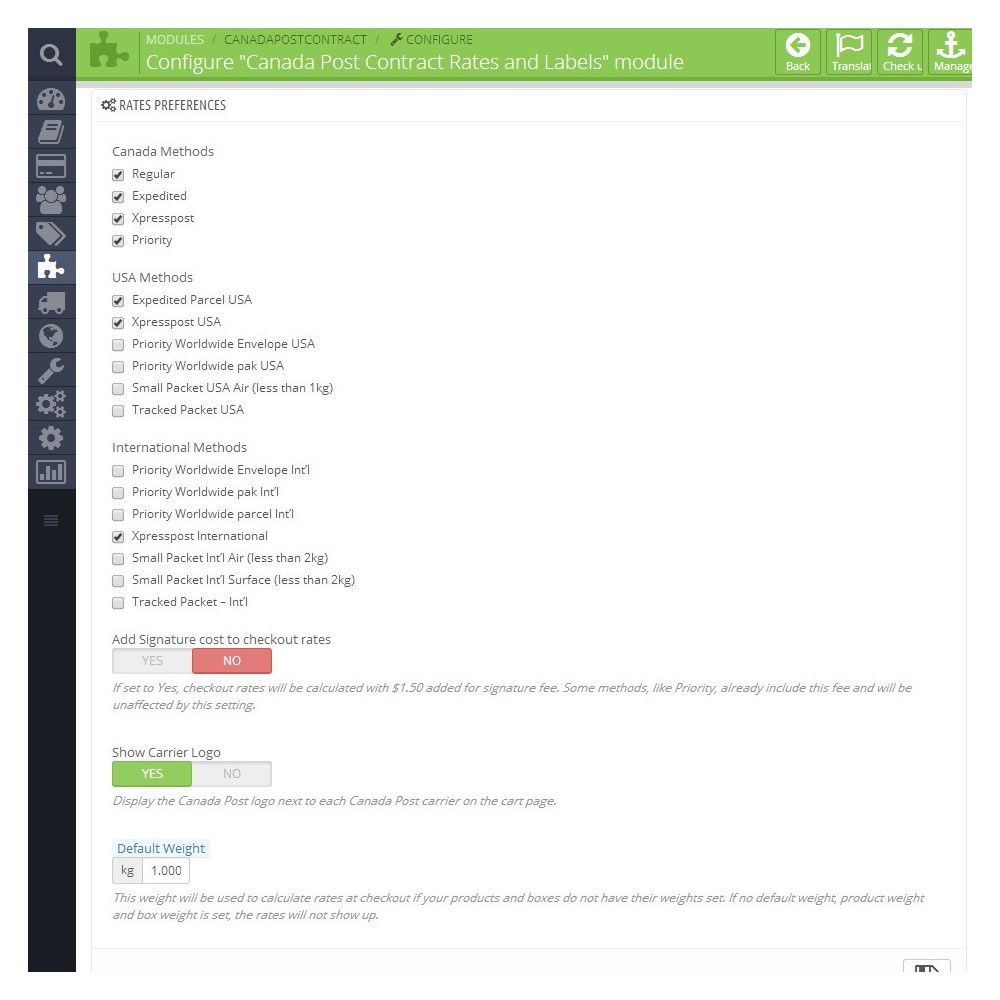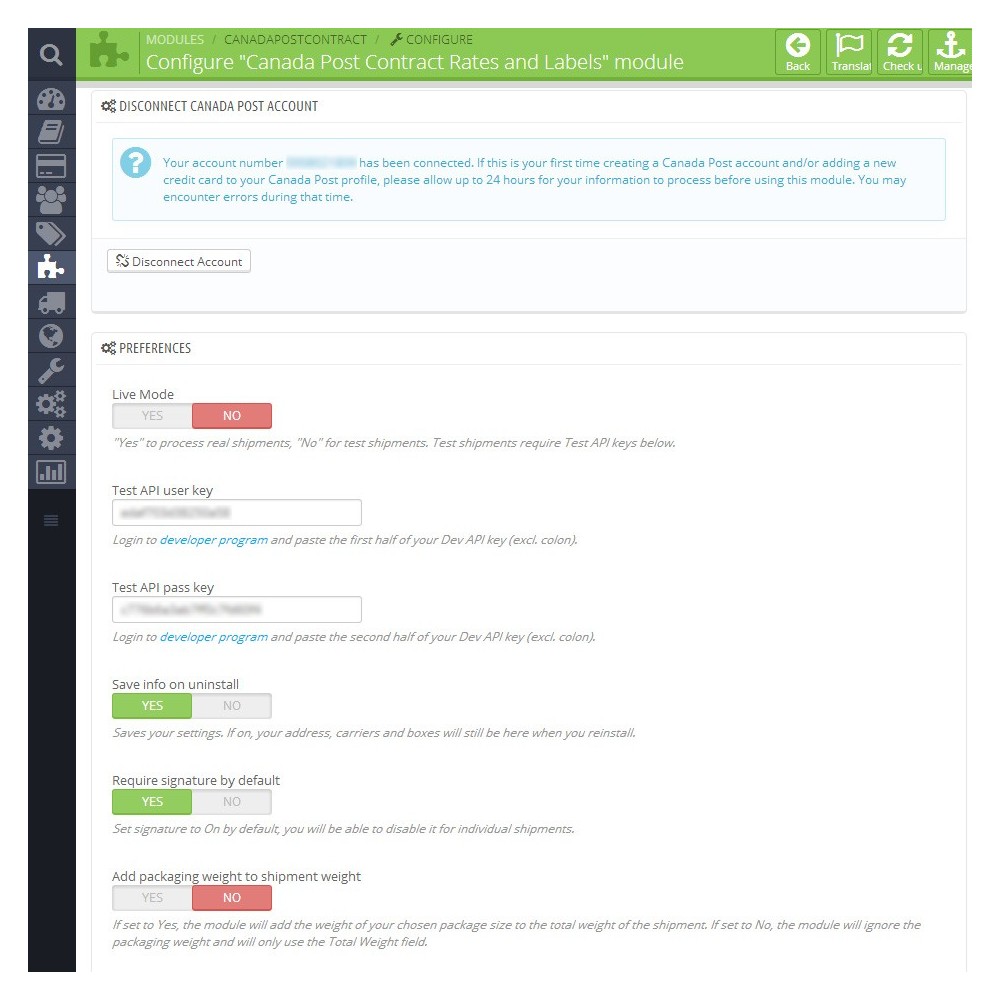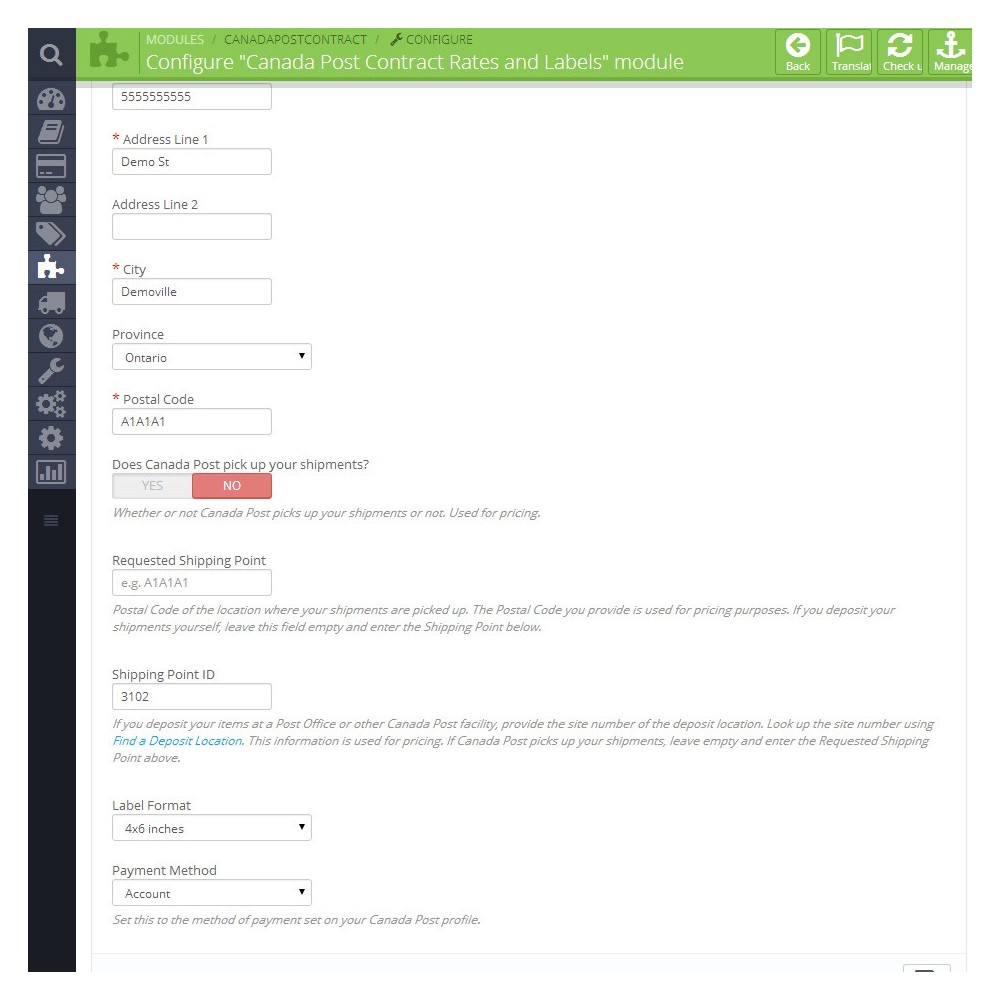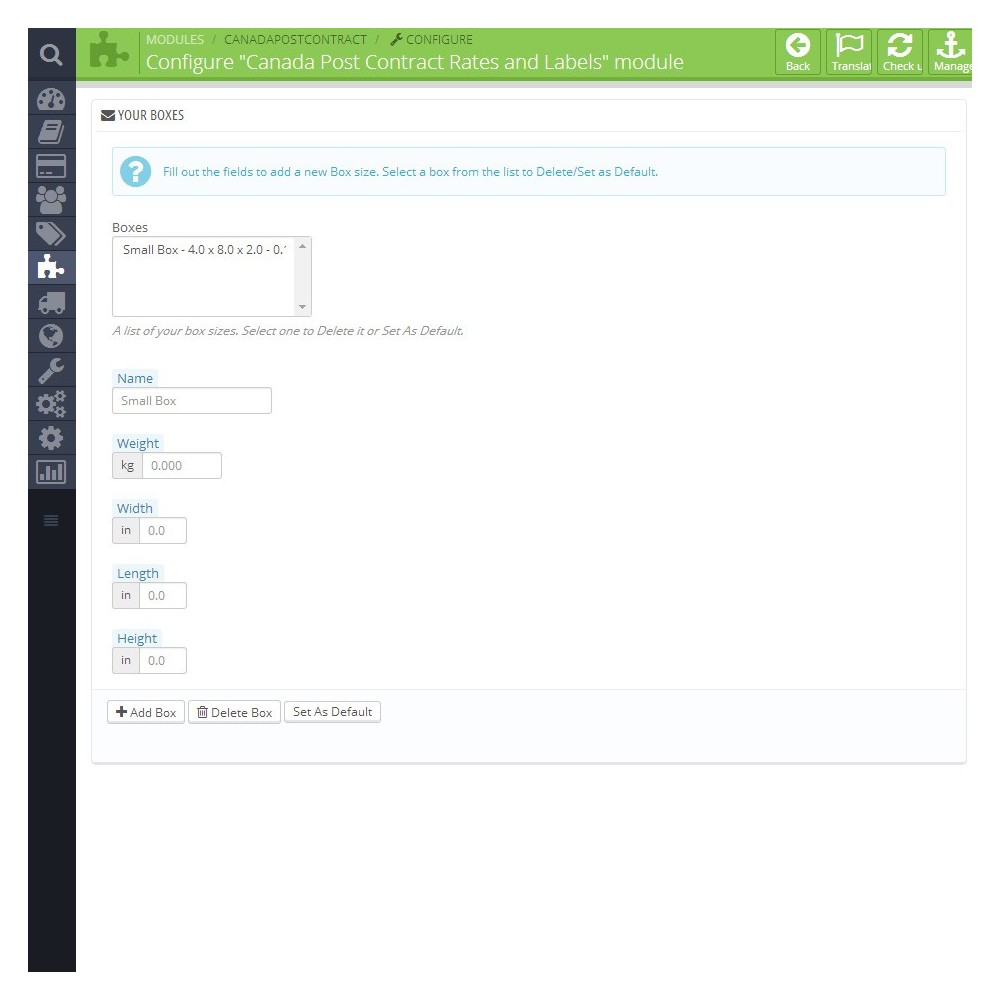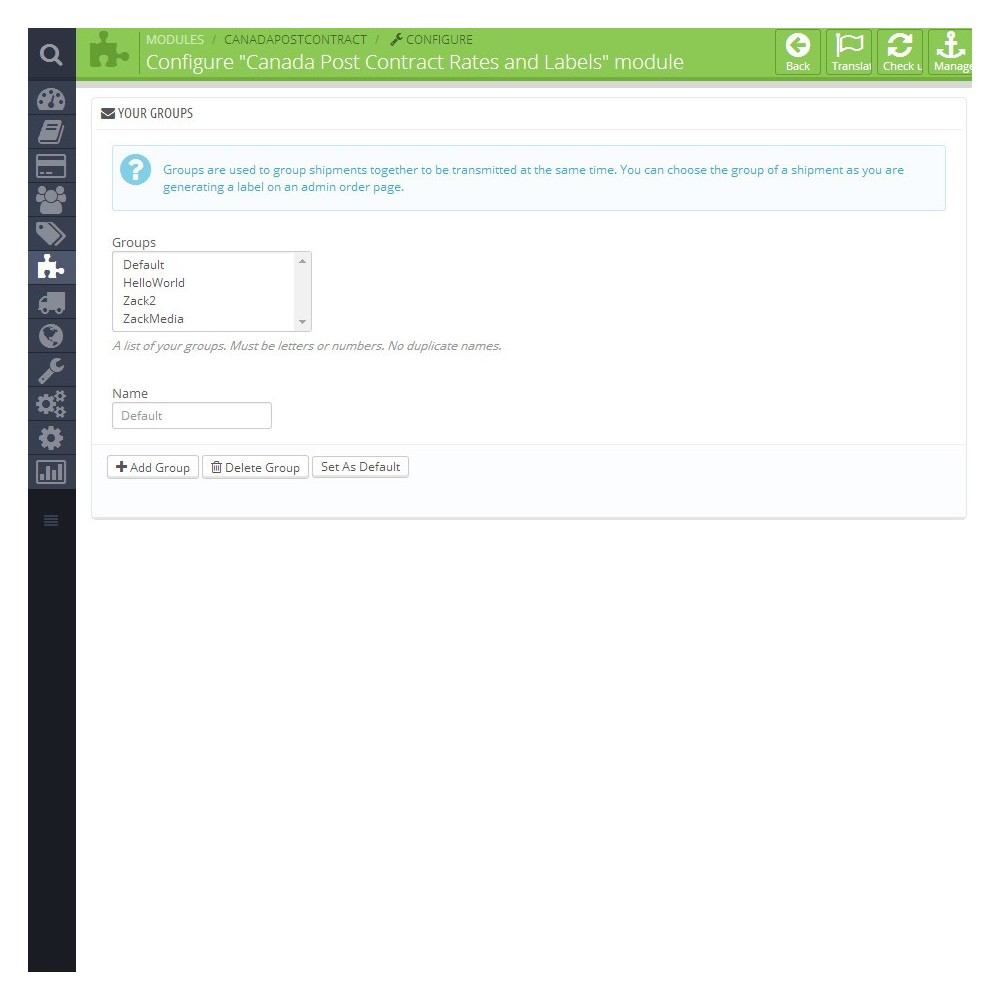 Descrizione
Allows Commercial/Contract Canada Post customers to display real-time discounted rates to customers and generate/print Canada Post barcode labels and manifests from their Prestashop back-offices.
Ciò che questo prodotto ti offre
Conversioni Propone una modalità di consegna adatta ai tuoi clienti
Q: What's the difference between the two Canada Post Rates & Labels modules on the Addons Store?
A: There are two types of Canada Post accounts, Regular/VentureOne and Commercial Contract. Commercial Contract accounts are Canada Post customers who have signed a contract with Canada Post to get discounted rates and other features (this requires that you ship at least 750 parcels a year). All other Canada Post accounts are Regular. Regular customers cannot use the Contract module, and Contract customers cannot use the Regular module.
Developed and updated by a company that uses this module for their own Prestashop stores, quality is a priority.
Very quick to setup.
No more copy and pasting addresses into separate apps, this module automatically retrieves all customer information and product dimensions.
No need to pay a monthly fee for a shipping service.
Extremely simple Manifest generation. Just click 'Transmit' and print the new manifest.
Save money by offering accurate and discounted real-time dynamic rates to customers.
Save hours of time by printing labels in one click.
Funzioni
Rates
Display real-time rates for Canada Post to customers on the cart/checkout page.
Display accurate delivery estimate times.
Your negotiated/discounted rates will show.
The module installs the carriers into your back-office for you.
Accurate rates. Rates will be calculated using the package sizes that you enter into the module. The smallest package that will fit the products (according to each products' dimensions) in the cart will be used to calculate rates.
Labels
Fast Labels. Click "Generate Label" and print the PDF for an order. It only takes one click.
Automatically fills in the tracking number and updates the order status.
Automatically emails the customer with a direct link to their tracking page on canadapost.ca
Store all your package sizes in the built-in package manager; the module chooses the best size for each order based on the products ordered.
View real-time dynamic rates from Canada Post before you click generate.
Look up past shipments and re-print/void them if needed.
Ability to perform test shipments to check and see if everything is working.
Connect
Extremely easy to setup. The module will link you to the Canada Post website where you can login and agree to give the module permissions to place shipments on your behalf. You can revoke these permissions any time from the Canada Post website.
Uses Canada Post Webservices. Canada Post has stopped supporting the old "Sell Online" program and released the new Webservices program which this module uses.
Altro
Requirements
STRONGLY RECOMMENDED: The latest version of the Chrome or Firefox web browser (possibly Safari as well). This module was built for speed and the ability to print PDFs. These browsers are the only mainstream browsers that support in-browser PDF viewing. Other browsers like Internet Explorer or Opera will be clunky and inconvenient.
You must be running at least Prestashop 1.5
You must be a Commercial Canada Post customer with a contract agreement. Customers without a contract agreement will not be able to process shipments.
You must have a payment method enabled on your Canada Post profile.
You must have your own boxes/envelopes. This module does not process letter mail (stamps) or pre-paid boxes. All shipments are treated as parcels.
If you are new to Contract shipping for Canada Post, please read this page:
https://www.canadapost.ca/cpo/mc/business/productsservices/developers/services/shippingmanifest/backgrounder.jsf
If you DO NOT have a contract agreement with Canada Post, you will need to instead purchase the Canada Post Labels module.
Installation
Once installed in your back-office, go to the module configuration page and click "Sign in with Canada Post".
You'll be redirected to the Canada Post website. You can sign in or register here and add a credit card to your profile. If this is your first time creating a Canada Post profile and/or adding a new credit card, please allow up to 24 hours for your registration to process before using the module.
Once you are connected, fill in all the settings on the configuration page such as address info and preferences.
Ciò che i tuoi clienti apprezzeranno
Customers save money by being offered accurate discounted real-time rates.
With quick label generation, customers get their orders shipped much quicker.
Canada Post processes officially labeled parcels much quicker as their systems are built for it (as opposed to custom made printed addresses).
Customers are more likely to order again from you if they are satisfied with the speed of delivery.
Customers receive a tracking link via email immediately after you generate a label. This makes the customer feel like the shipping is happening very fast.
Supporto e aggiornamenti
Disponi automaticamente di 3 mesi di supporto per questo prodotto.
Per 90 giorni dopo l'acquisto, benefici di un'assistenza tecnica e funzionale, oltre che dell'accesso agli aggiornamenti disponibili per questo prodotto.
Acquistati di solito insieme
Community developer Sviluppato da

PrestaShop v1.5.0.0 - v1.7.2.4 Compatibilità

PrestaShop Sviluppato da

PrestaShop v1.6.0.4 - v1.7.2.4 Compatibilità

Community developer Sviluppato da

PrestaShop v1.5.0.0 - v1.7.2.4 Compatibilità
Novità nella versione 3.0.4(04/10/2017)
FIX uninstall bug in Prestashop 1.7.2.2
FIX delivery estimate bug
FIX integer casting
Informazioni sullo sviluppatore
06/05/2013

Venditore PrestaShop

Canada

Paese Regione
Hai una domanda?
Bisogno di aiuto?
Lo sviluppatore ti risponde in