Modulo Sales Distribution Per Attribute
Sviluppato da
Community developer
PrestaShop
1.6.1.0 - 1.6.1.17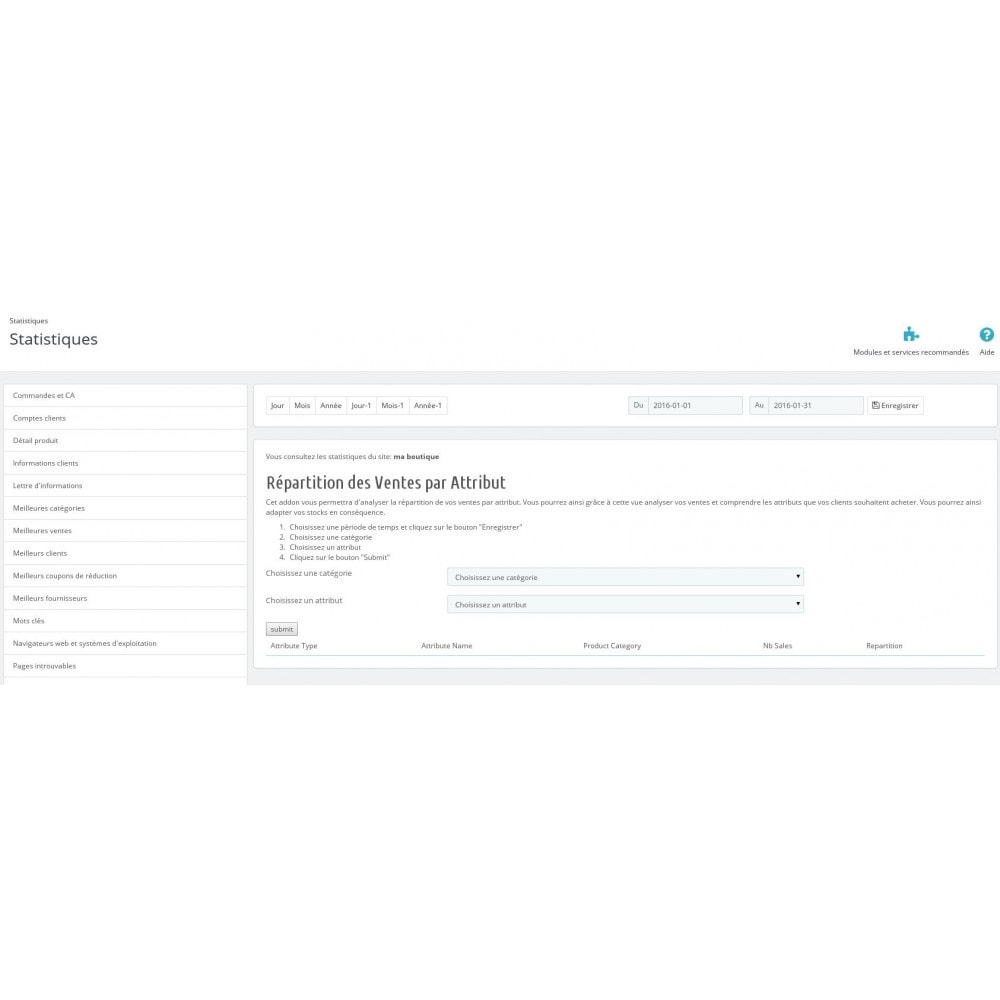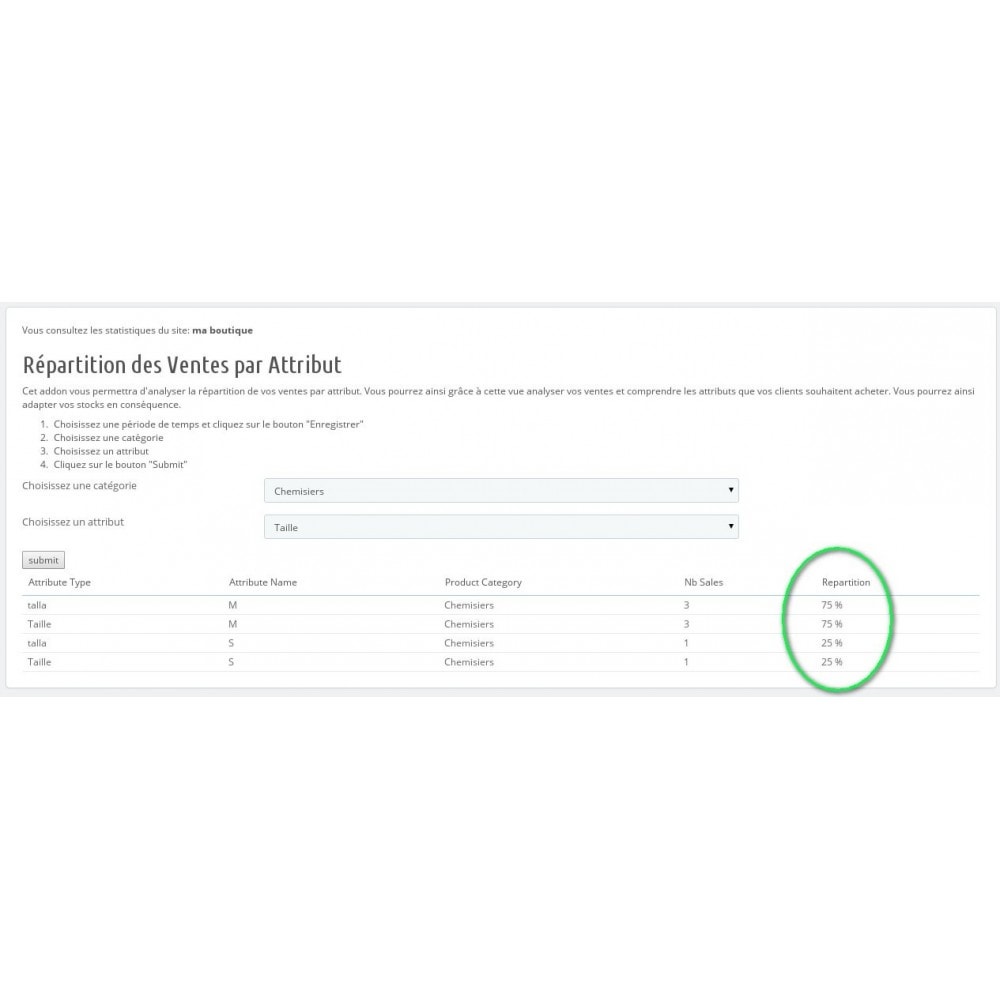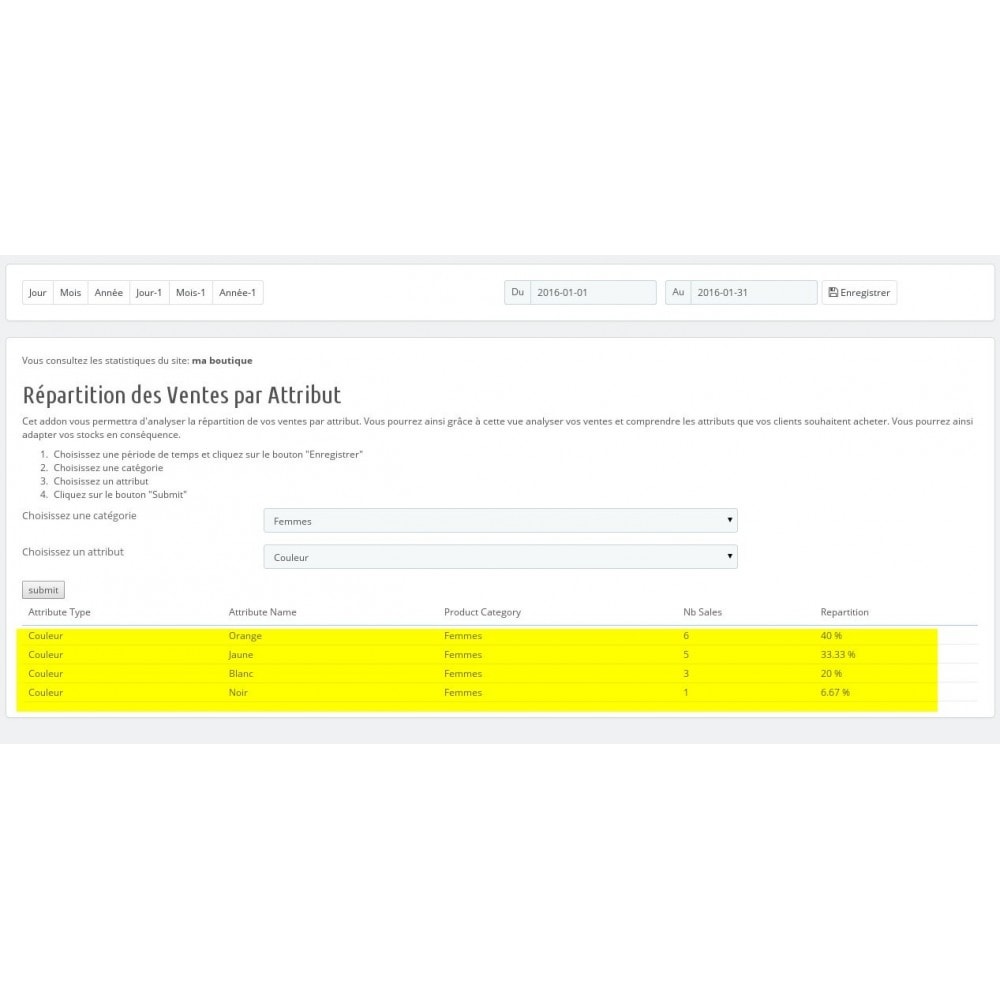 Descrizione
Methodology used by professional retailers !
This addon will allow you to quickly analyze your sales per attribute and get the distribution immediately. What size do your customer purchase per category? What color do the pick up?  
Ciò che questo prodotto ti offre
Produttività Consente di analizzare l'attività del tuo negozio
By understanding your sales by attribute (color, size, ...) , you will be now able to answer these questions :
Do I have the right product mix when it comes to sizes? Are my customer buying more in XS, S, M or XXL ? What shoe size?
What mix of attribute should I purchase for my next collection to make sure we don't miss opportunity ?
What did my customers want in terms of attribute?
Am I already missing some sales because of attributes with not enough stocks?
How does a new color performs over time ?
Analytical decision-making process
:
You will be able to get your team make decision based both on their market knowledge instinct 
but also on the sales. 
Most of the time, teams make decisions based on their feeling over analytics. You'll be able to understand what really value your customers when it comes to attributes.
Easy Installation and usage:
Easy to use. Just plug and play.
Funzioni
Choose a time period.
Choose a category of product. Parent or child category - for a more granular analysis.
Choose an attribute corresponding to the category of product.
 You will be able to analyze the sales distribution per attribute both in absolute value and in relative (%) value.
Acquistati di solito insieme
Community developer Sviluppato da

PrestaShop v1.6.1.0 - v1.6.1.17 Compatibilità

PrestaShop Sviluppato da

PrestaShop v1.6.0.4 - v1.6.1.17 Compatibilità

PrestaShop Sviluppato da

PrestaShop v1.6.0.4 - v1.7.2.4 Compatibilità
Ciò che i tuoi clienti apprezzeranno
This methodology of analysis is actually something very common in large off-line and on-line retail businesses. To adapt their mix of product, purchasers need to know what they could expect in terms of sales repartition per attribute. 
You'll be able now with this plugin to get this information straight, too.
Supporto e aggiornamenti
Disponi automaticamente di 3 mesi di supporto per questo prodotto.
Per 90 giorni dopo l'acquisto, benefici di un'assistenza tecnica e funzionale, oltre che dell'accesso agli aggiornamenti disponibili per questo prodotto.
Installazione
Install it like any other addon and go to the "Statistics" section located in your back-office. Then go to "Sales repartition per attribute". Very easy.
Novità nella versione 1.0.0(05/02/2016)
Informazioni sullo sviluppatore
01/02/2016

Venditore PrestaShop

France

Paese Regione
Hai una domanda?
Bisogno di aiuto?
Lo sviluppatore ti risponde in