Modulo Bitcoin Total Shop
Sviluppato da
Community developer
(4 voti)
Oltre il 90 % dei merchant raccomanda questo prodotto
La valutazione media include tutte le recensioni degli ultimi sei mesi.
+100
downloads!
PrestaShop
1.5.0.0 - 1.7.0.6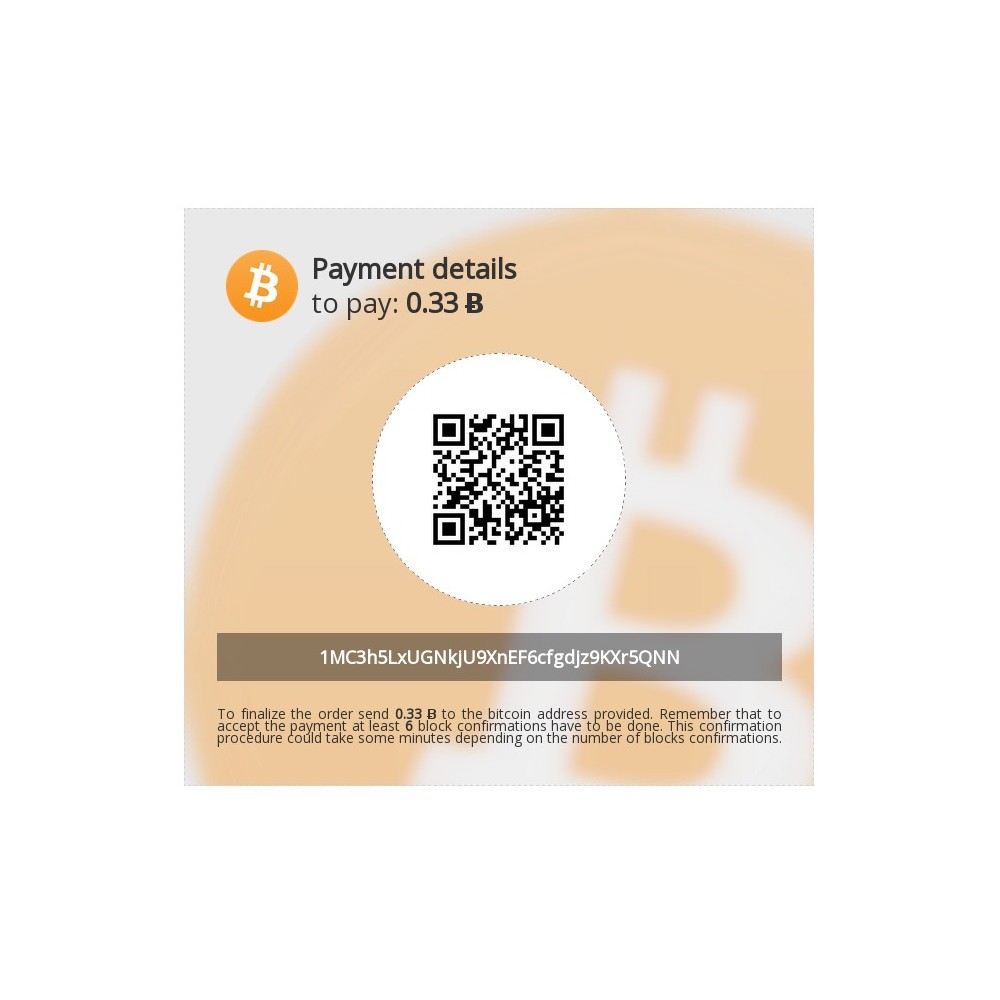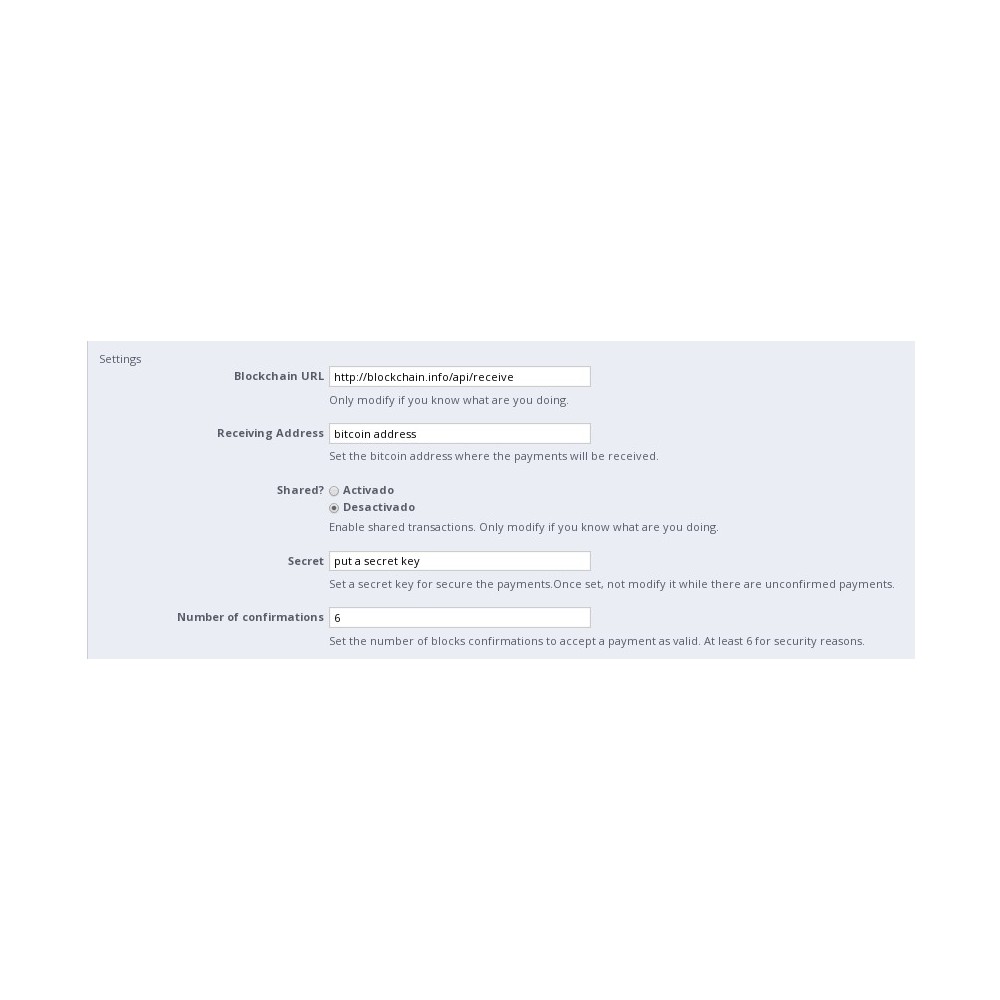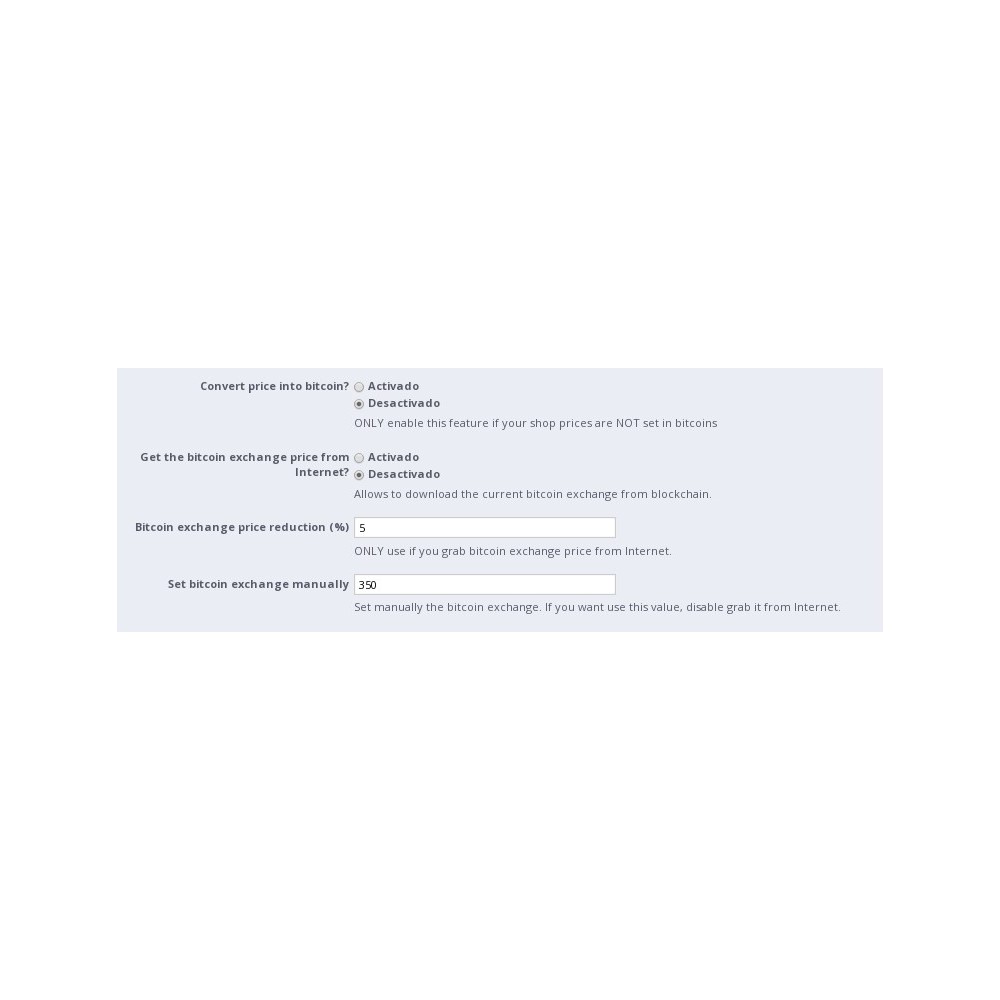 Descrizione
This module incorporates to your store the option to make payments using bitcoins. Moreover, you do not need to set up the prices, the module automatically changes the prices into bitcoins when the user selects to pay using bitcoins.
Ciò che questo prodotto ti offre
This module allows a mechanims to start accepting bitcoin in their shop, directly using their bitcoin wallet to receive the payments. Using this you do not need third party companies to accept payments, the payments for your products will be received in your configured bitcoin address. So, you do not need to pay fees for using external services.

Moreover, the module manage the price conversion so, the merchanims do not need to change the products' price. This allows a fast way to accept this emerging payment system.

Funzioni
This module is highly configurable, you can set the bitcoin address where the payments will be received, a secret key for security and the number of bitcoin blocks confirmations, that you consider acceptable, to consider the payment valid.
Moreover, it supports QR codes where the payment address will be coded to provided mobile payments using mobile bitcoin wallets. Also, to provide merchant's anonymity, in every new order's payment a different bitcoin address is generated. The payment received in this address is redirected to the merchant address by the blockchain's api.
In addition to bitcoin price, the module could be configured:
Allowing to enable or disable the bitcoin price conversion.
Allow to grab bitcoin price exchange from Internet (from blockchain API).
Allow to set a fixed bitcoin exchange price.
A lot of country currencies supported: USD CNY JPY SGD HKD CAD NZD AUD CLP GBP DKK SEK ISK CHF BRL EUR RUB PLN THB KRW TWD
If your shop support more than one currency, the module made the bitcoin price calculation using the currency used by the client.
Allows to set a Bitcoin exchange price modificator (%) in order to provide seller security over price decreases.
Ciò che i tuoi clienti apprezzeranno
This benefits customers due to add a new payment method that is growing in popularity. Morever, it provides secured and fast payments.

Raccomandazione
Follow the module configuration indications, if you do not know what you should add leave with the default value, just only configure bitcoin address for receiving the payments.

Supporto e aggiornamenti
Disponi automaticamente di 3 mesi di supporto per questo prodotto.
Per 90 giorni dopo l'acquisto, benefici di un'assistenza tecnica e funzionale, oltre che dell'accesso agli aggiornamenti disponibili per questo prodotto.
Installazione
Instalation is quite simple just follow the prestashop module manager instructions to load the module. Once the module has been loaded, just click on install button.

Then, you need to configure the module by adding the merchant bitcoin address where the payments will be received, the number of bitcoin blocks confirmation to consider the payment valid, the secret to key to provide extra security and other parameters like the blockchain api url (set by default) and the shared parameter (set by default). Moreover, bitcoin price conversion should be configured enabling or disabling it and configuring the different paramenters like fixed bitcoin exchange price or grab it from Internet, add the bitcoin exchange price modificator percentage if grab from Internet bitcoin exchange price is used.

Acquistati di solito insieme
Community developer Sviluppato da

PrestaShop v1.5.0.0 - v1.7.0.6 Compatibilità

PrestaShop Sviluppato da

PrestaShop v1.6.0.4 - v1.7.2.3 Compatibilità

PrestaShop Sviluppato da

PrestaShop v1.6.0.4 - v1.7.2.3 Compatibilità
Novità nella versione 2.1.0(23/11/2016)
Informazioni sullo sviluppatore
27/02/2014

Venditore PrestaShop

Spain

Paese Regione
Hai una domanda?
Bisogno di aiuto?
Lo sviluppatore ti risponde in