Prestashop to Dolibarr PRO Module
Developed by
Community developer
PrestaShop
1.5.0.0 - 1.6.1.17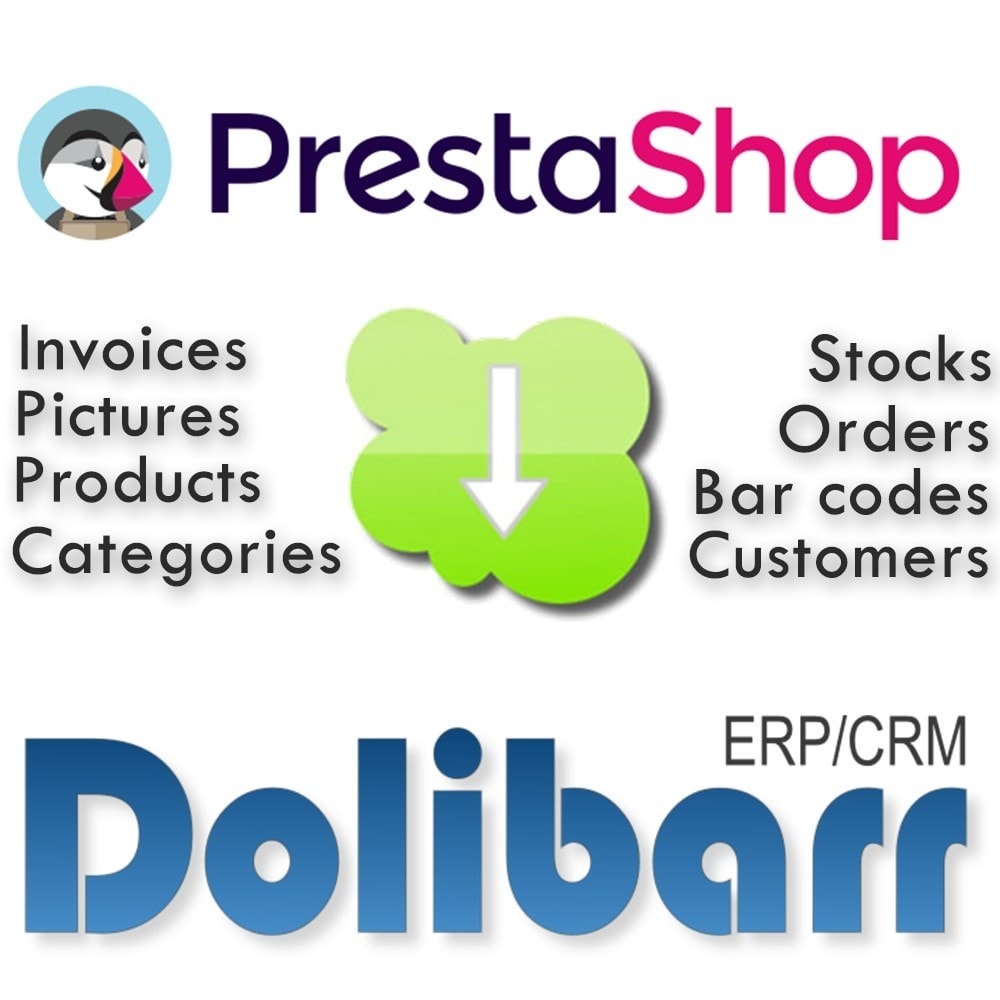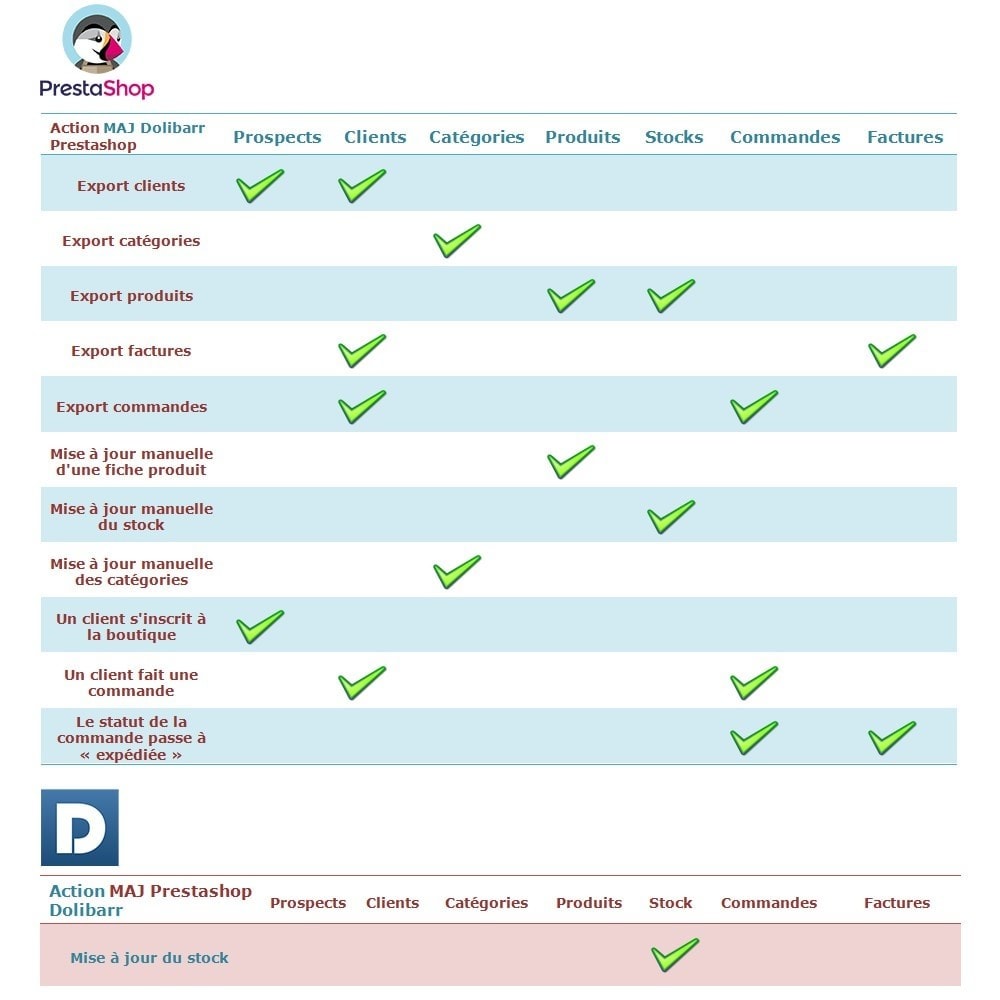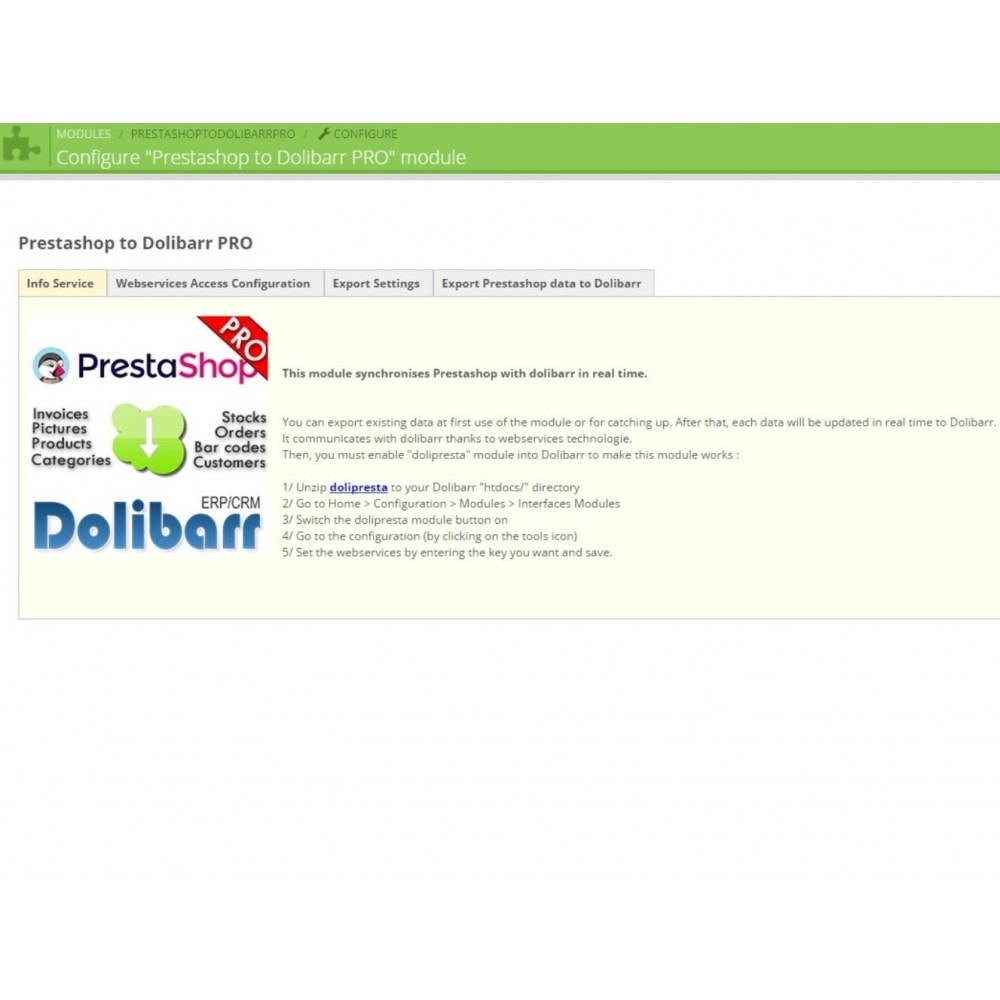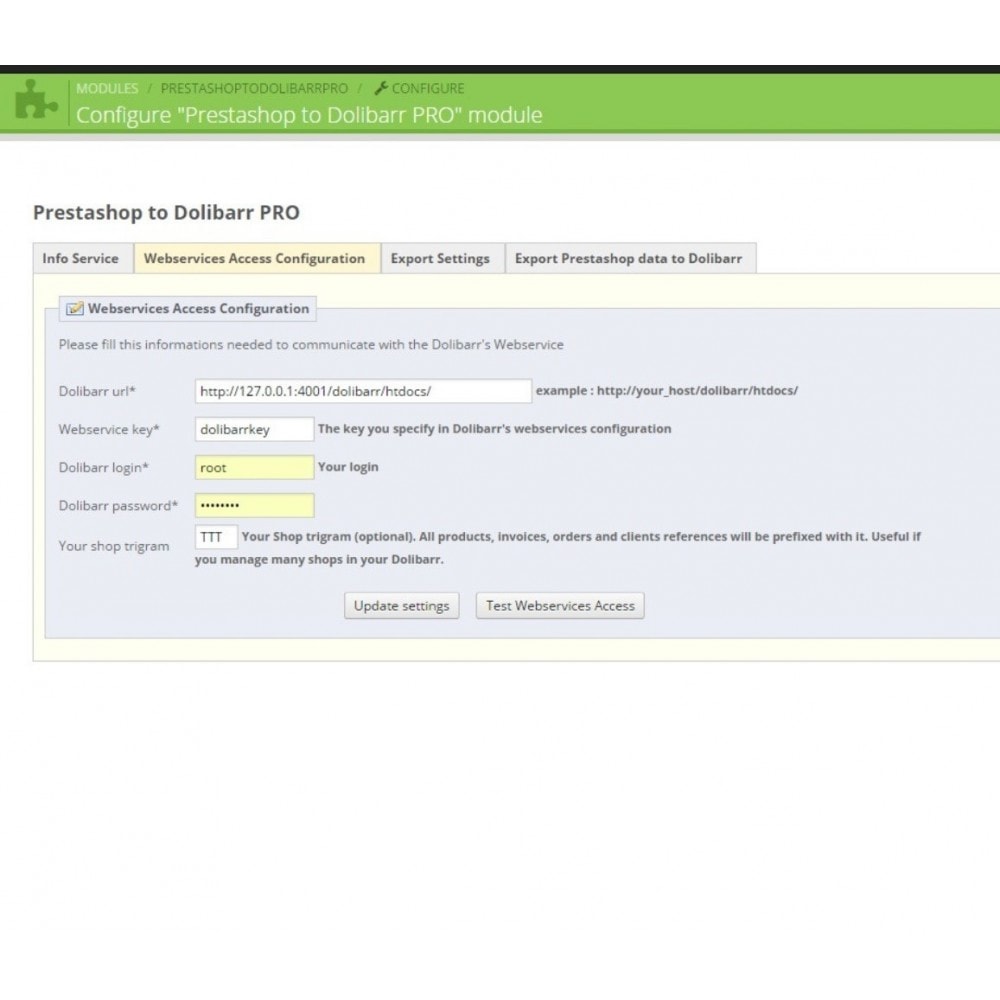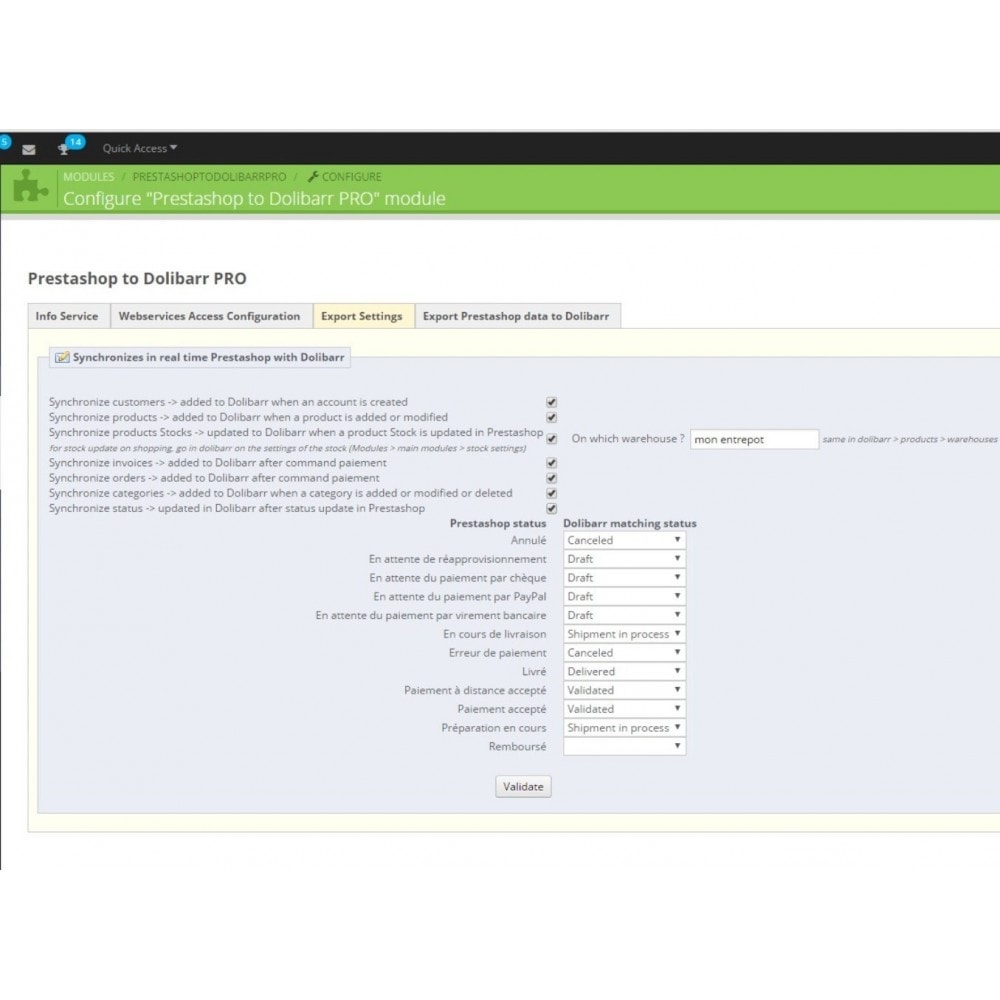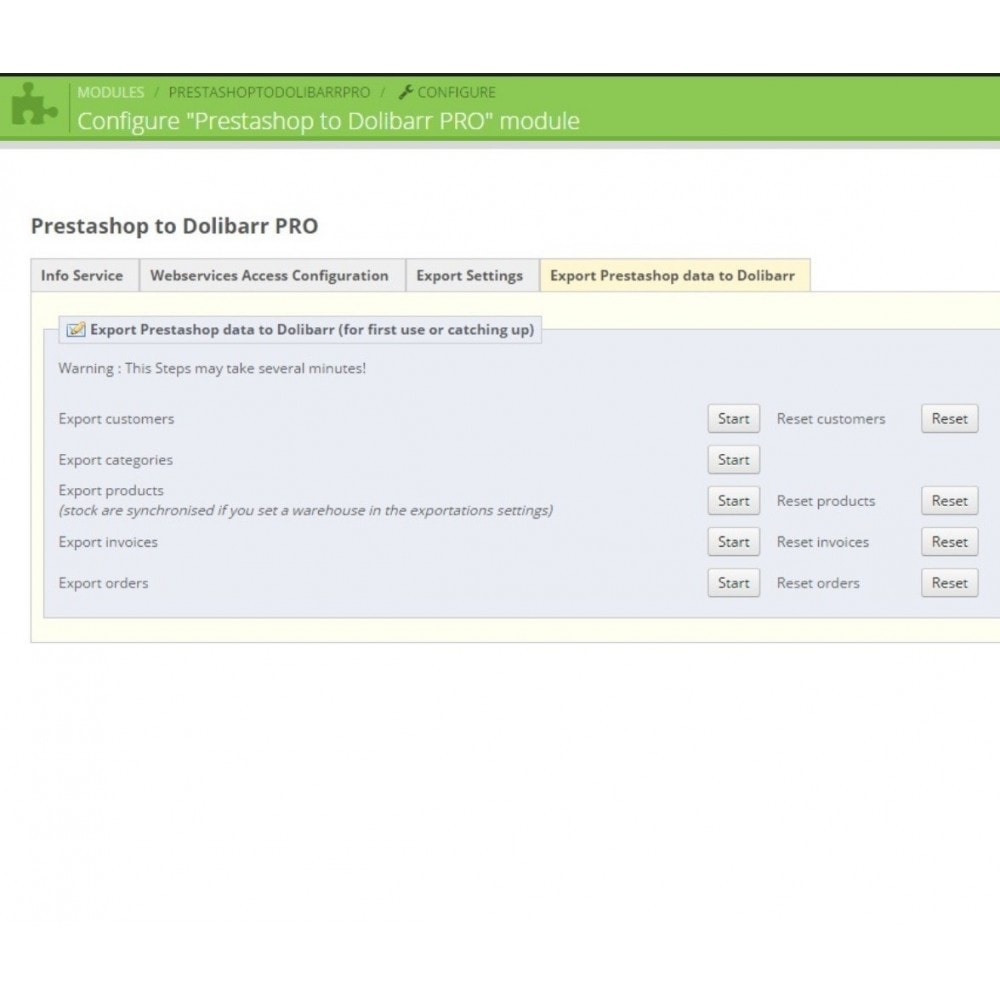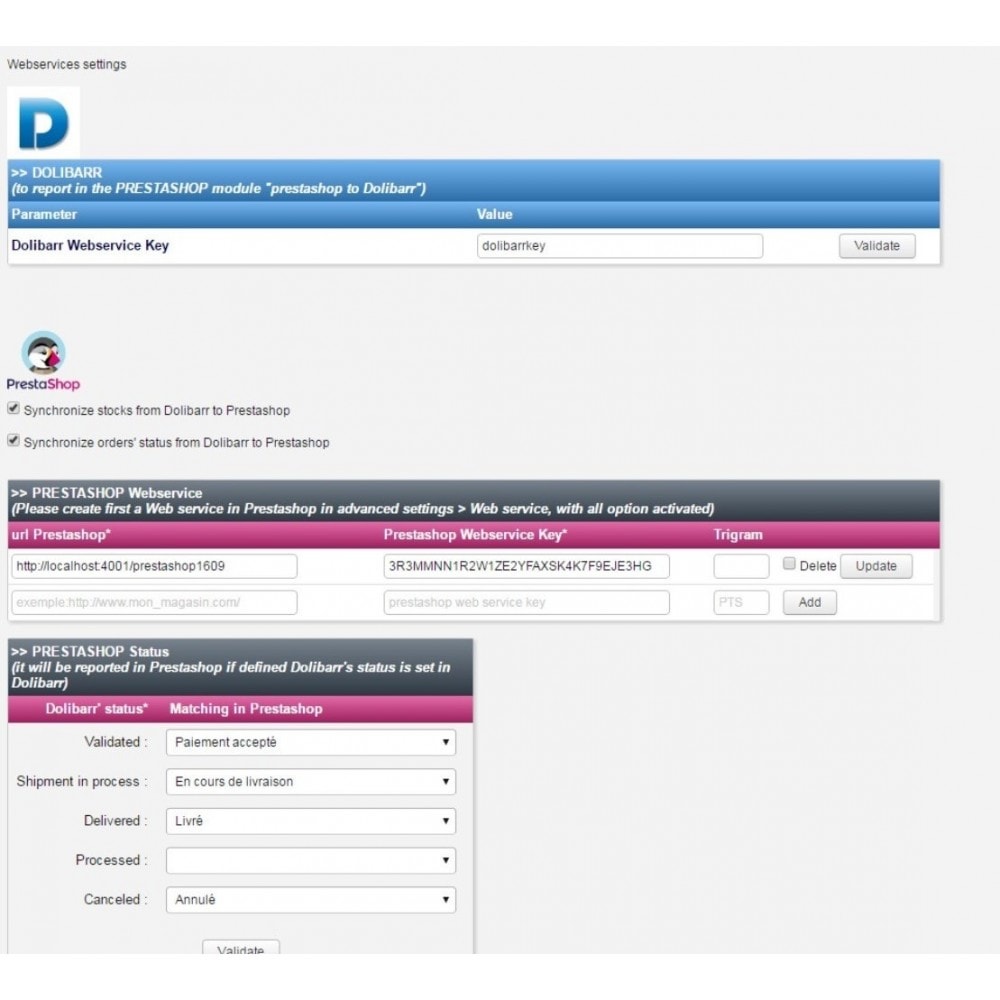 Overview
Synchronisation module in real time from Prestashop to Dolibarr ERP/CRM
What this product does for you
Productivity Help save time
Prestashop to Dolibarr Pro

The first Prestashop to Dolibarr Module comes back in a Pro version.
This multi module (one Prestashop and one Dolibarr) lets you synchronise all of your PrestaShop stores with Dolibarr.
It allows synchronization of:
     1. Your customers, intelligently sorted by prospects or customers in Dolibarr.
     2. Your categories.
     3. Your products, stored in their categories with their picture, barcode and inventory according to your warehouse.
     4. Your orders with repercussion of internal links to your internal products and your internal customers into Dolibarr.
     5. Bills with also impact internal links to your products and your customers into Dolibarr.
 
The module works by communicating with Dolibarr's web-services. So you can have your PrestaShop and your Dolibarr on two different machines.
The Prestashop to Dolibarr Pro module is the only one to synchronize so much data. This, with an auto-stop technology and intelligent recovery that will stop communicating himself  before time-out of the server. And, with our technology you can sync all your data without server crashes and can catch without duplicates up as we can see in other similar modules. Moreover, when a phase shift occurs, a notification is inserted into PrestaShop.
This module is certifiedd by Prestashop and Dolibarr
 
Module Version: 1.1 PRO
Publisher / License: PJ-Conseil / AGPL
User interface language: French, English, Spanish
Prerequisites:
Dolibarr min Version: 3.6
Dolibarr Max Version: 3.9+
Install:
Download the archive file of module (.zip file) from website DoliStore.com
Go to PrestaShop  and click on modules and services
click on add (on the top right)
follow the instructions
Features
You can set as desired the features you want to use:
- Export prospects / customers (Name, address, telephone number ...)
- Export products categories
- Export products (stock, price, description, reference, barcode, photo ...)
- Export orders (order details, discounts, transport, delivery and billing address, payment method ...)
- Export invoice (invoice detail, discounts, transportation, delivery and billing addresses ...)
 
This, in real time, triggered by different actions in Prestashop. You can also export with a total mass management step by step according to the timeout of your server.
 
Frequently purchased together
Community developer Developed by

PrestaShop v1.5.0.0 - v1.6.1.17 Compatibility

Línea Gráfica Developed by

PrestaShop v1.4.0.1 - v1.7.2.4 Compatibility

PrestaShop Developed by

PrestaShop v1.6.0.4 - v1.7.2.4 Compatibility
What your customers will like
Export of data is transparent to the costumer. He may proceed its purchases normally
 
Support and updates
You automatically get 3 months of support for this product.
For 90 days after your purchase, you can enjoy technical and feature support, as well as access to updates available for this product.
Installation
Easily follow the installation steps outlined in the module.
The installation of a Dolibarr side module is required (provided free with this module
 
What's New in Version 1.1.5(09/02/2016)
bug fix on order status
bug fix on product attribute reference
About the developer
06/12/2015

PrestaShop member

France

Country
Question?
Need help?
This developer answers your questions in: