Advanced traffic acquisition on the Twenga network Module
Developed by
PrestaShop Partners
(11 votes)
The average rating includes all reviews over the last six months.
Official
Partner
+5000
downloads!
PrestaShop
1.6.0.4 - 1.6.1.15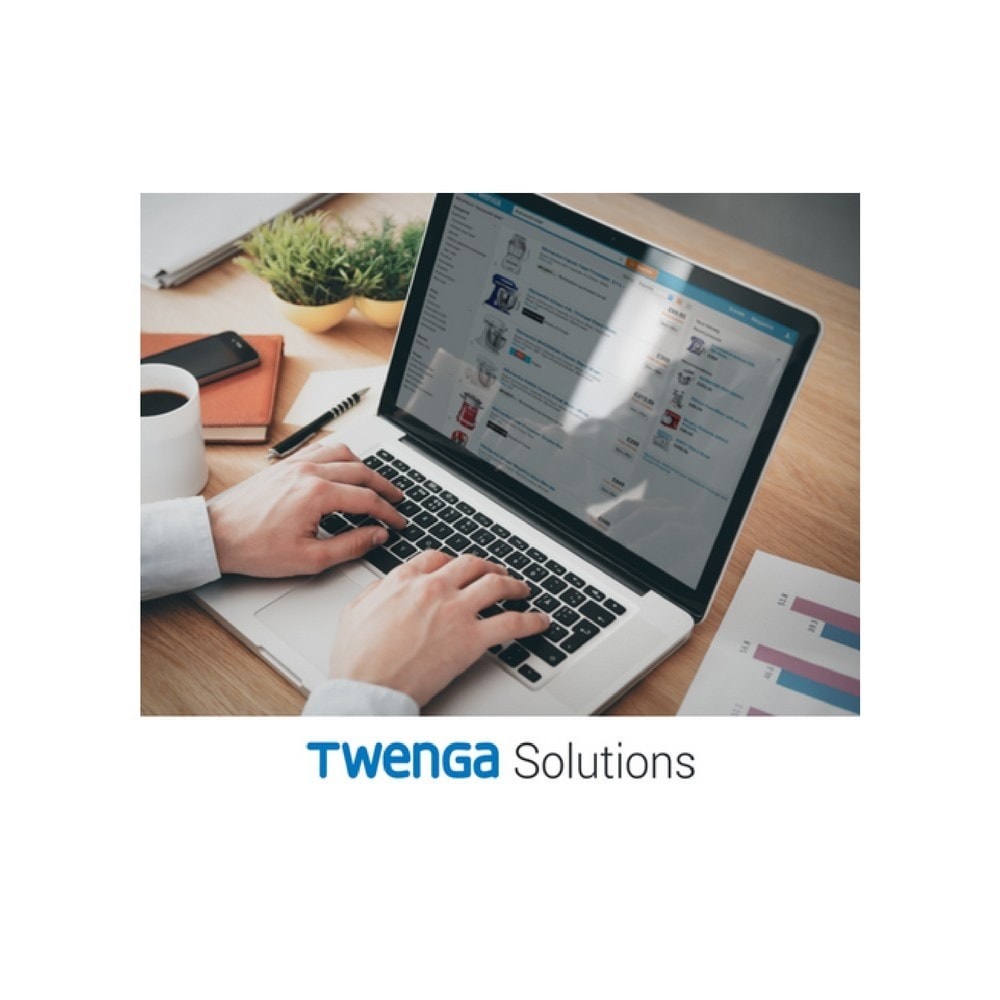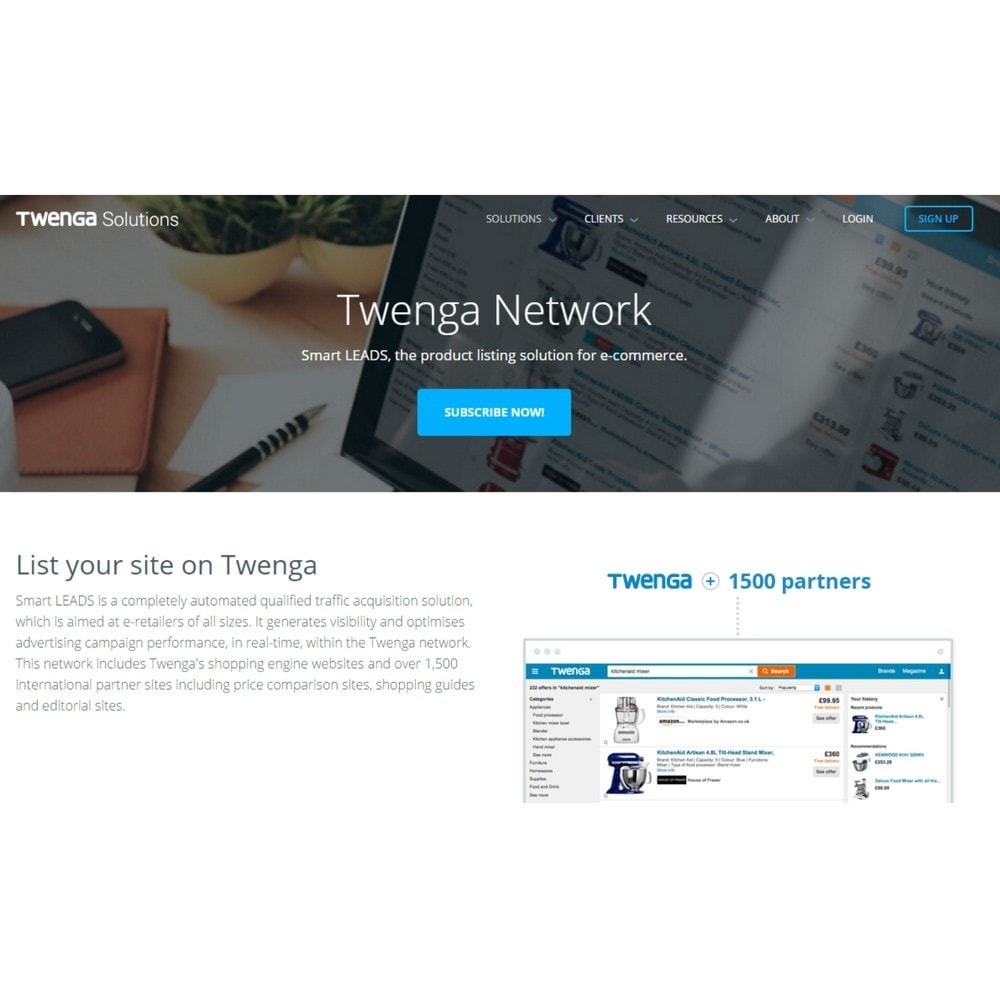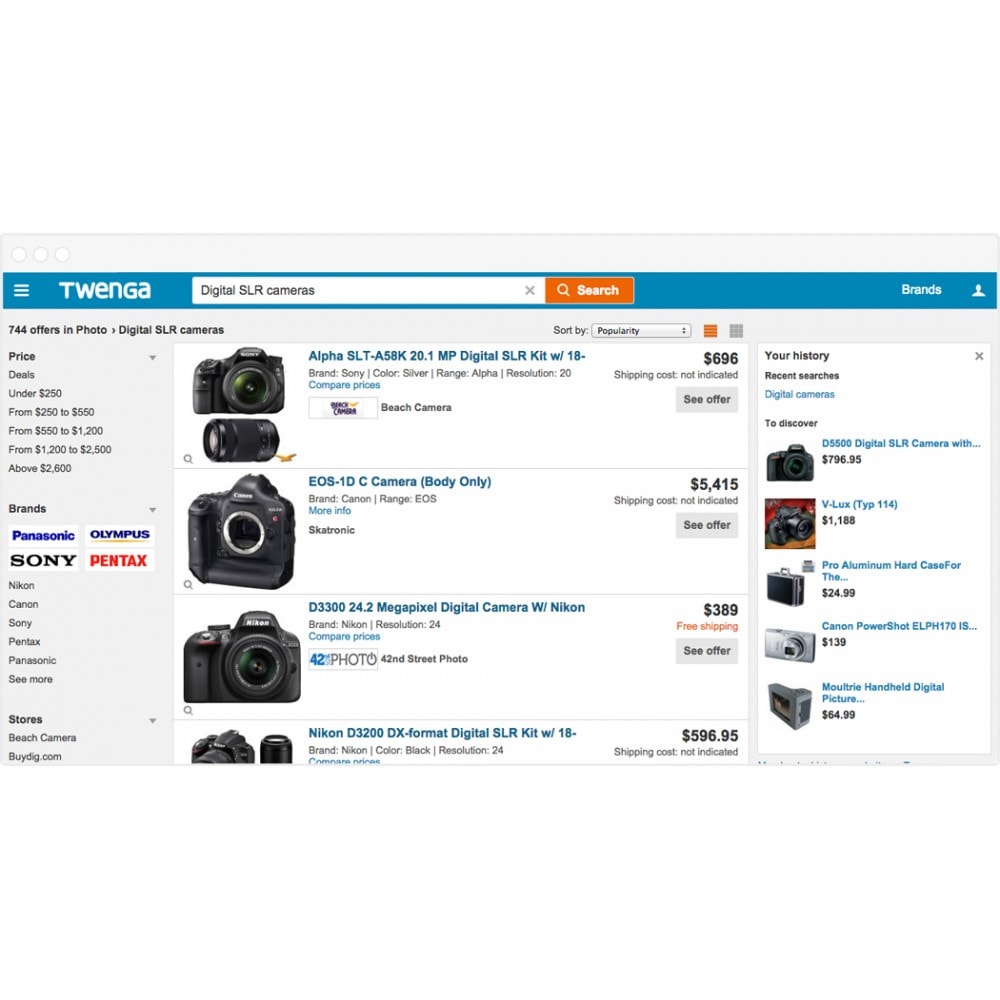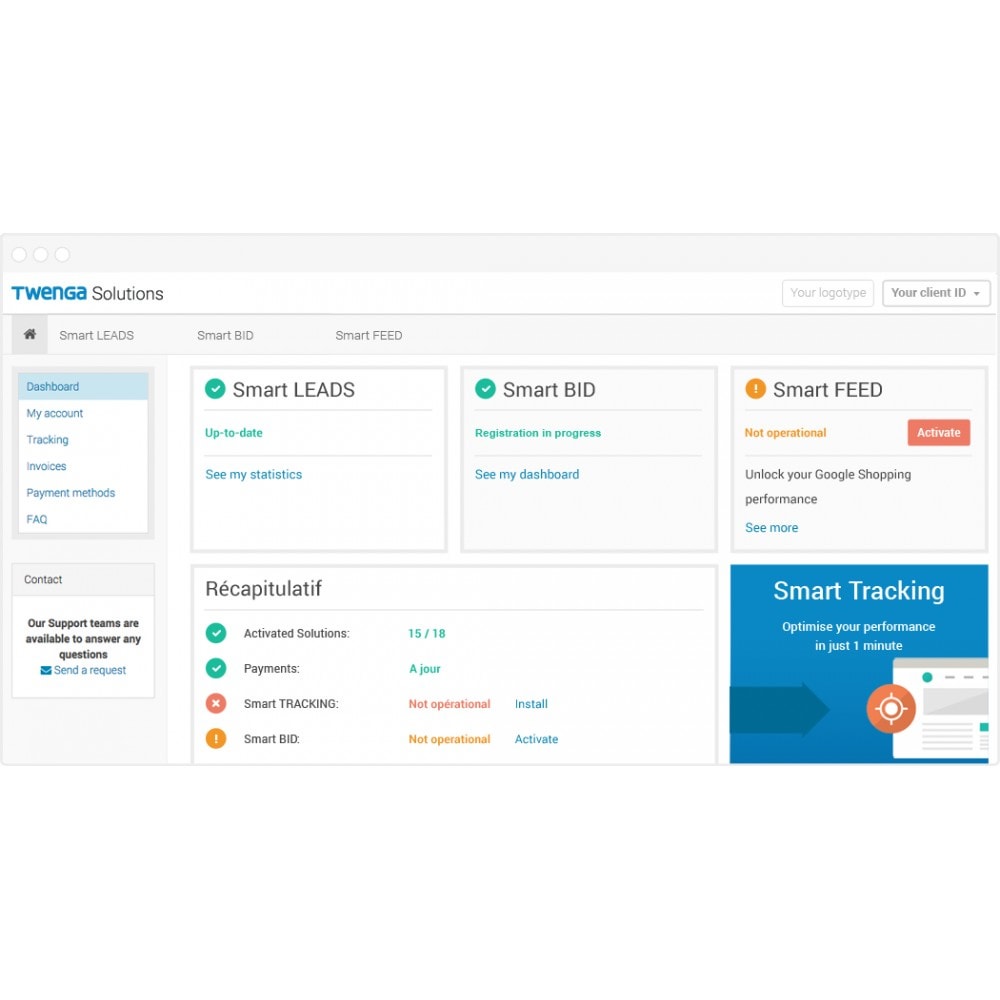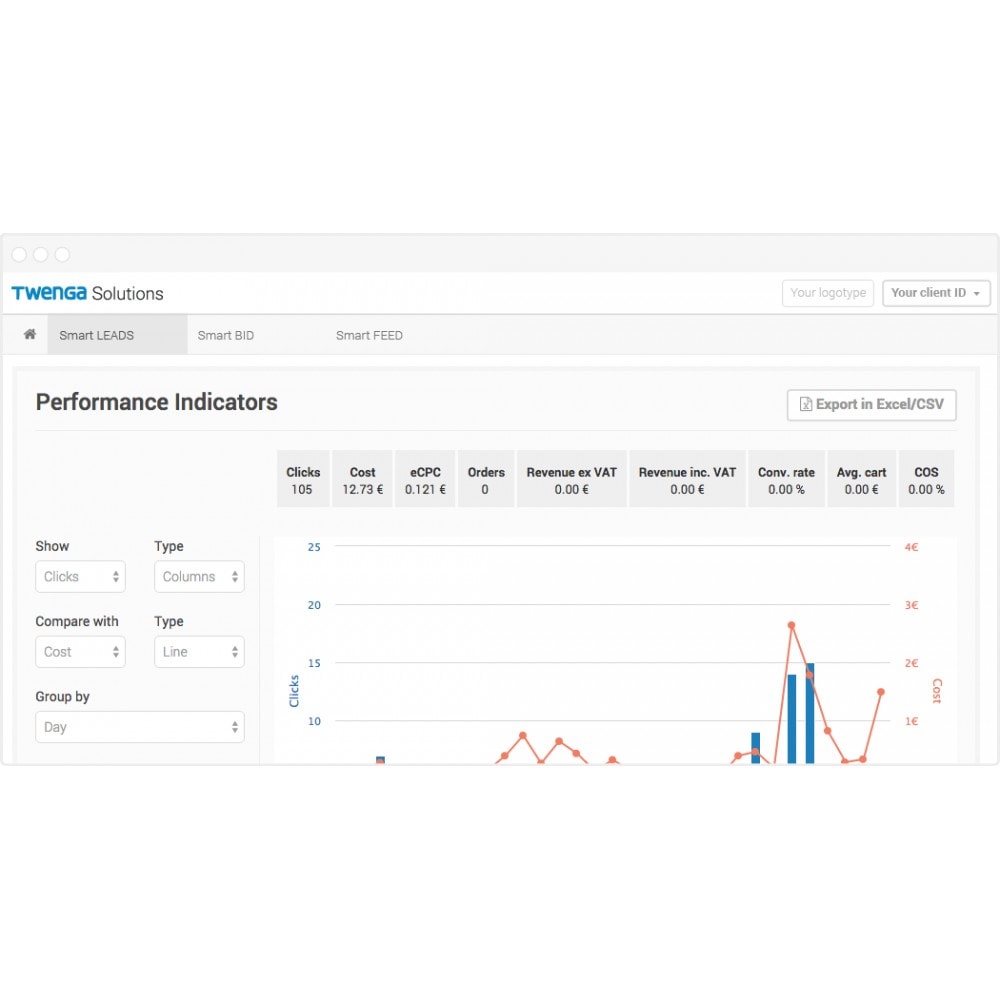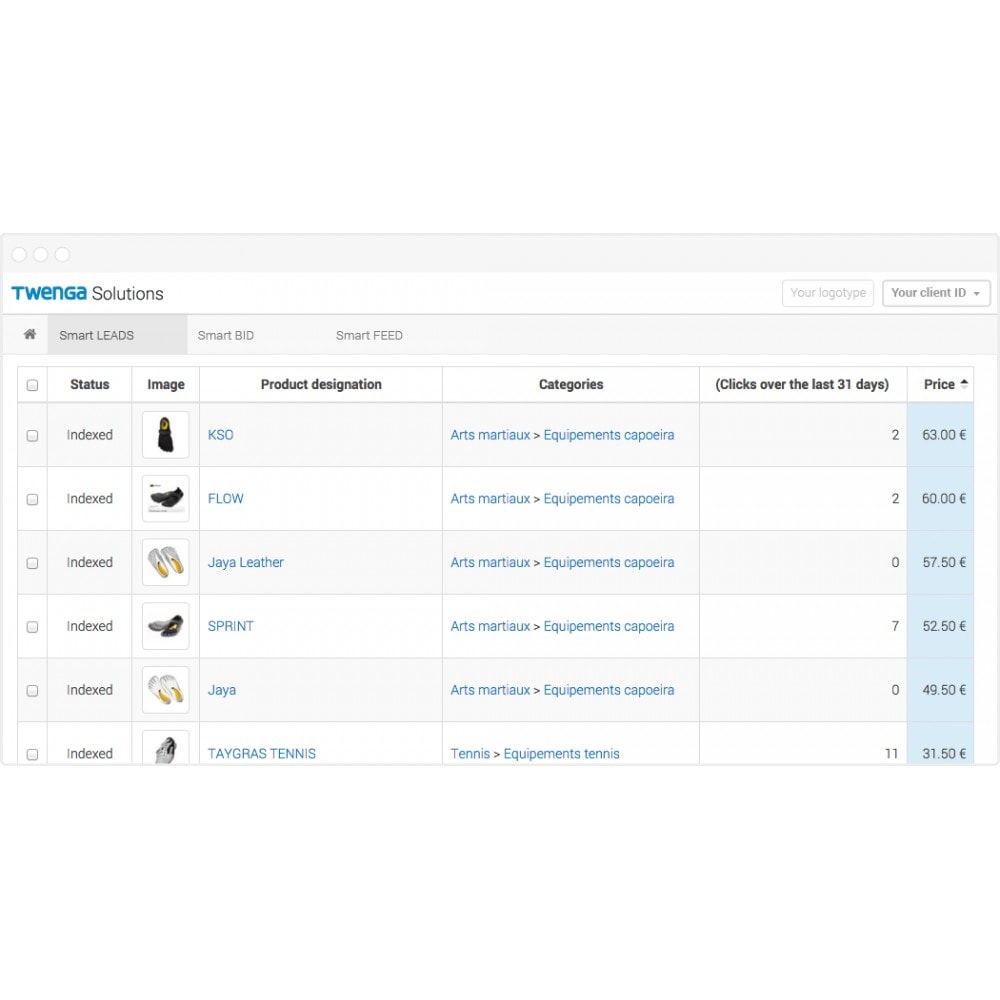 Overview
Integrate your product feed onto the Twenga search engine, as well as on over 1,500 partner sites, thanks to Smart LEADS by Twenga Solutions.
What this product does for you
Traffic Increase visibility on price comparison engines
Traffic Help acquire new customers
Smart LEADS is a completely automated qualified traffic acquisition solution, which is aimed at e-retailers of all sizes.
It generates visibility and optimises advertising campaign performance, in real-time, within the Twenga network.
This network includes Twenga's shopping engine websites and over 1,500 international partner sites including price comparison sites, shopping guides and editorial sites.
About Smart LEADS:
Smart LEADS analyses product performance using many different indicators (conversions, average spend, best selling products...).
Customer profiling based on 40 different factors (search history, customer type, location, time...)
Calculate buyers' affinity with your products.
Rank products according to performance criteria and affinity, and push those with the highest probability of generating sales. This logic is applied, in real-time, for each product display on the Twenga network.
Increase sales and improve revenue with a unique solution! 2* Conversion
Target highly qualified users and audiences
3* Clients
Significantly increase your sales and client base
6* Revenue
Optimise your cost per acquisition objectives at the finest level
Features
Reference your products on the Twenga network

The solution allows you to export your product catalogue onto the Twenga price comparison website, and gives you access to the Twenga network for a drastic increase in visibility.

Automated product ranking

Identification of the most popular and highest performing products from your catalogue in real-time, to best promote them to potential buyers in our network.

Dynamic pricing in relation to conversion potential

Our algorithm estimates the probability of conversion for each product click. This allows us to apply a dynamic pricing system: the Cost Per Click is calculated automatically, based on the quality of generated traffic and sales potential. This allows us to significantly optimise your acquisition costs and revenue.

Personalised offers for each user

A selection of personalised products displayed to each visitor in the Twenga network, which correspond to the buyer's profile, in order to increase engagement and conversion.

User segmentation

Twenga's Smart TRACKING can be installed on your website in just 5 minutes. It segments users according to behaviour and in relation to precise criteria, directly linked to your merchant activity: interests, intention to buy, products searched, new clients...

Automated control of your campaigns, based entirely on performance

Our management interface allows you to define your performance indicators and adjust your objectives in each category of your catalogue, thanks to a practical and intuitive dashboard.

This module is available in the following countries: France, Germany, Spain, Italy, Netherlands, Poland and the United Kingdom
Installation
Before installing the module, please ensure that you do not already have a previous version of the Twenga module installed. If this is the case, all you need to do is update your module.
How does it work?
Create a product export feed, optimised for Twenga, in just 1 click.
Easily install Twenga's sales tracking: benefit from optimised traffic which focusses on products with the highest potential
Free technical and commercial assistance
Signing up to the merchant program is free and without commitment
​
This module is already pre-installed and is ready to use. To activate, go to the "module" section in your back office and click "Install"!
What's New in Version 3.0.3(06/02/2016)
Fix some errors with some files not found
Dirty temporary fix for connection problems with existing merchants
About the developer, PrestaShop Partners
04/25/2016

PrestaShop member

France

Country
Question?
Need help?
This developer answers your questions in: